August 16, 2014
Chai Caramel Banana Bread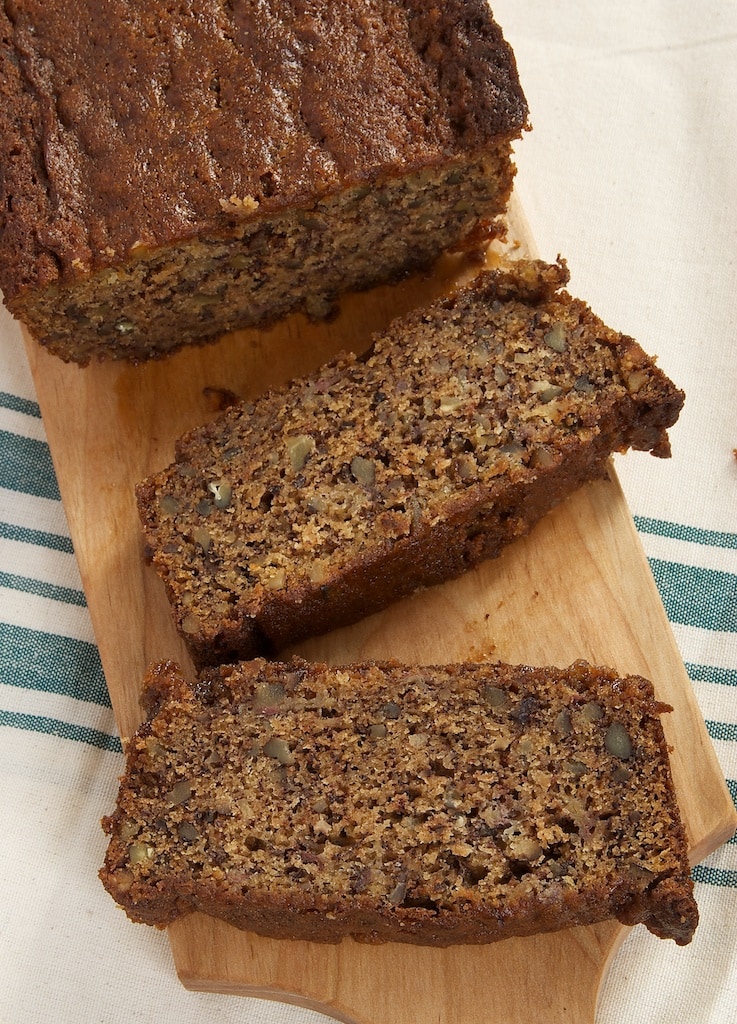 Banana bread is one of those things that I just never seem to turn down. It's one of my ultimate comfort foods. And, it seems I'm always trying to find new ways to change it up and keep it interesting.
Recently, Stonewall Kitchen sent me a couple of their new products to try. One of those was Vanilla Chai Caramel Sauce. I adore chai spices, and we all know I love caramel. With some ripe bananas on my kitchen counter, I knew combining the two was meant to be.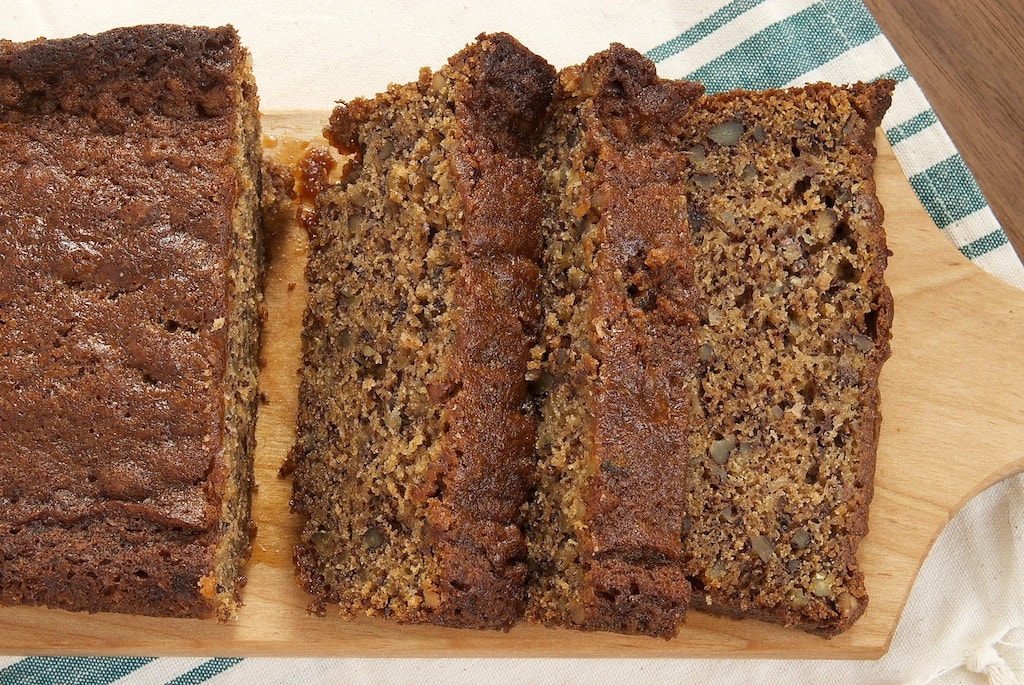 The banana bread itself holds no surprises. It's pretty much a traditional banana bread with plenty of brown sugar, nuts, a bit of sour cream, and a hint of cinnamon. You could stop right there and be pretty happy with your freshly baked loaf of banana bread.
Add that Vanilla Chai Caramel Sauce to it, though, and you get something pretty amazing. That swirl of rich caramel and wonderful spices makes this bread pretty irresistible. It's a perfect combination of flavors in my book. Be sure you have someone around for sharing, or you could easily get in trouble. This one tends to disappear quickly!
Scroll past the recipe for details on a great giveaway from Stonewall Kitchen!
Chai Caramel Banana Bread
Yield: 10 to 12 servings
Prep Time:25 minutes
Cook Time:1 hour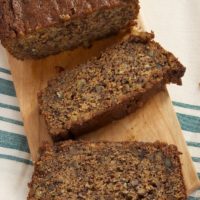 Ingredients:
1 & 1/4 cups all-purpose flour
1 teaspoon baking soda
1/2 teaspoon salt
1/2 teaspoon ground cinnamon
1/2 cup unsalted butter, melted
1/2 cup granulated sugar
1/2 cup packed light brown sugar
1 large egg
2-3 ripe bananas, mashed
1 teaspoon vanilla extract
1/2 cup sour cream
1 cup chopped pecans
1/4 cup Vanilla Chai Caramel Sauce
Directions:
Preheat oven to 350°. Generously grease a standard 9″x 5″ loaf pan.
Whisk together flour, baking soda, salt, and cinnamon. Set aside.
In a large bowl, stir together butter, sugar, and brown sugar until combined. Add egg, bananas, and vanilla, and mix well.
Add flour mixture in 3 portions, alternating with 2 portions of sour cream. Mix just until combined. Stir in pecans.
Transfer batter to prepared pan and spread evenly. Drop caramel by tablespoonfuls over the batter. Use a knife to swirl the caramel gently into the batter, only reaching about halfway down into the batter.*
Bake for 1 hour or until bread is browned and a pick inserted into the center comes out clean.
Cool in pan for 15 minutes. Then, run a knife around the edges of the bread and remove from pan to a wire rack to cool completely
Notes:
*The caramel sauce will sink into the bread as it bakes. To avoid a mess, keep the swirling to the top half of the bread.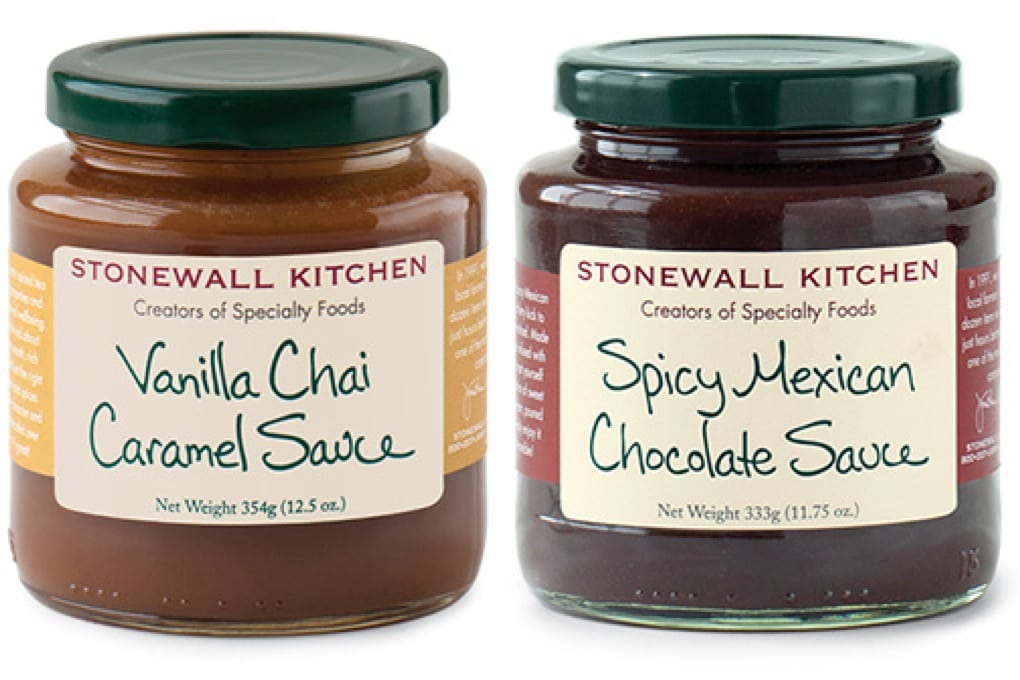 Stonewall Kitchen has some great new products, including Vanilla Chai Caramel Sauce and Spicy Mexican Chocolate Sauce. And, one lucky Bake or Break reader will get their own jar of each!
See the widget below for entry details and requirements. Please note that the winner must be a U.S. resident 18 years or older. If you are unable to see the widget, make sure your browser is updated or try viewing this page in another browser.
Be sure to add bakeorbreak at gmail dot com to your contacts so that a winning email from me doesn't end up in your spam folder. If a winner doesn't respond to my email within 48 hours, another winner will be chosen.
Good luck!
Stonewall Kitchen provided products for my own use and for this giveaway. All opinions written are my own.