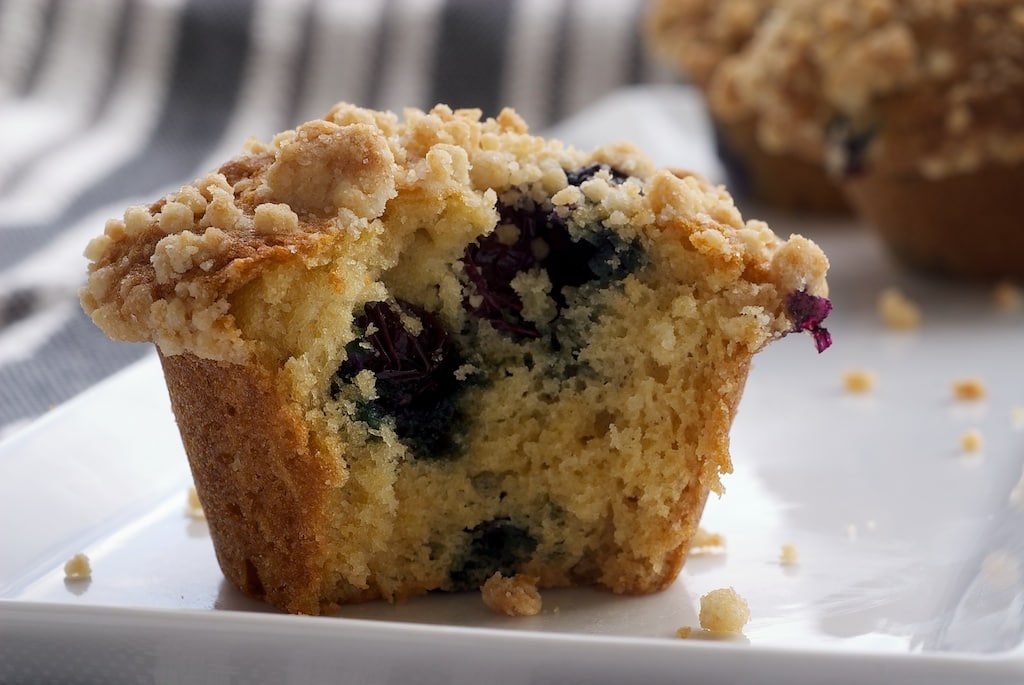 As I mentioned earlier, the lovely Joanna of Cup of Jo began a "best recipe" series a few months back. Her goal is to curate the best versions of basic recipes. To do this, she asked several food bloggers to contribute recipes, ranging from cookies to pasta sauce to cocktails.
Last week on National Blueberry Muffin Day, Joanna featured my favorite recipe for blueberry muffins. As I told Joanna, I prefer for-real muffins versus the cake-like versions that have evolved. If you're with me on this, I think you'll love these as much as I do.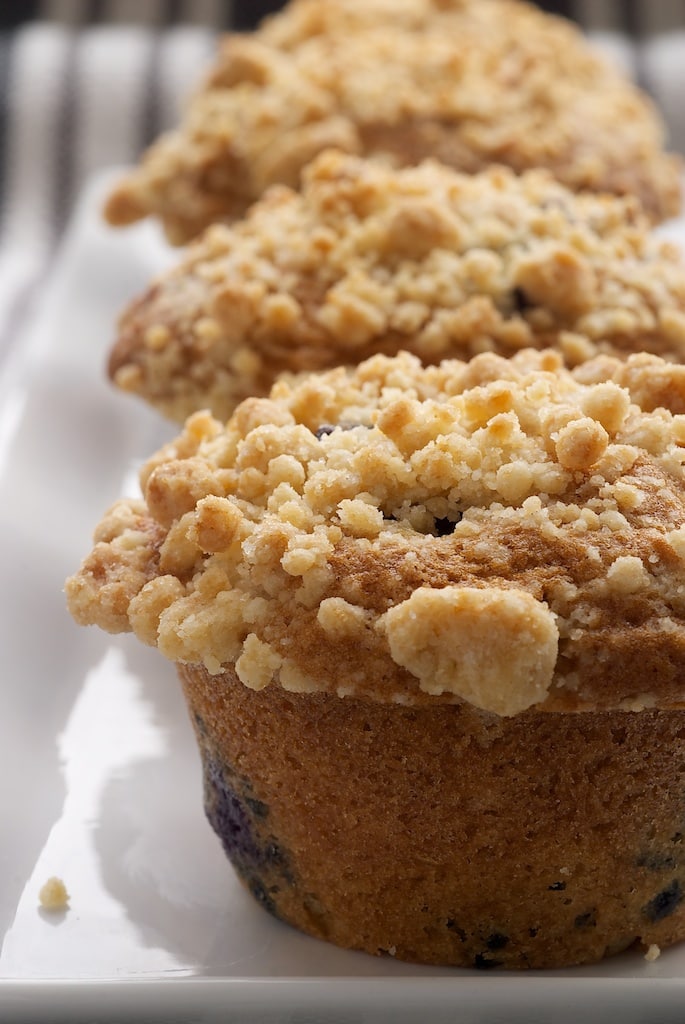 I do include a crumb topping, which is maybe a bit of a departure from traditional muffins. But, it's just so good, I can't resist! These are perfect for a weekend morning treat, especially when fresh blueberries are abundant. You can have them mixed up quickly and get back to your lazy morning. Enjoy!
Find more muffin recipes in the Recipe Index.
Yield: 12 standard-size muffins
Prep Time: 20 minutes
Cook Time: 16 minutes
Blueberry Crumb Muffins are a classic breakfast treat. These traditional muffins get a little extra flavor from a sweet crumb topping.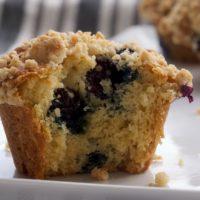 For the crumb:
3/4 cup all-purpose flour
2 tablespoons light brown sugar
2 tablespoons granulated sugar
4 tablespoons unsalted butter, melted
1/4 teaspoon vanilla extract
pinch of salt
For the muffins:
2 & 1/4 cups all-purpose flour
2 teaspoons baking powder
1 teaspoon baking soda
pinch of salt
2 large eggs
1/2 cup buttermilk
1/2 cup firmly packed light brown sugar
1/2 cup granulated sugar
1 teaspoon vanilla extract
1/2 teaspoon lemon zest (optional)
1/2 cup unsalted butter, melted
3/4 to 1 cup blueberries*
Directions:
To make the crumb:
Preheat oven to 400°F. For crisper edges, grease a standard muffin pan. For softer edges, use liners in each cup instead.
Using a fork, mix all the crumb ingredients together until well-combined. Set aside.
To make the muffins:
Whisk together the flour, baking powder, baking soda, and salt in a medium-sized bowl. Set aside.
In a large bowl, lightly beat the eggs. Stir in the buttermilk. Add both sugars and mix until combined. Stir in the vanilla and lemon zest. Stir in the melted butter.
Add the flour mixture in 2-3 portions. Mix until there are still streaks of flour remaining. Stir in the blueberries, mixing just until combined.
Scoop about 1/4 cup of batter into each cup of the prepared pan. This should fill each cup almost to the top (about 3/4 full). Sprinkle the tops of each muffin with the crumb mixture.
Bake for 14-16 minutes, or until a pick inserted into the center comes out with moist crumbs. Cool in the pan on a wire rack.
Notes:
*The more blueberries you use, the more muffins you'll make. I like to use the lesser amount, and I get exactly 12 muffins with lots of crumb for each.