May 15, 2013
Chocolate Chip-Hazelnut Scones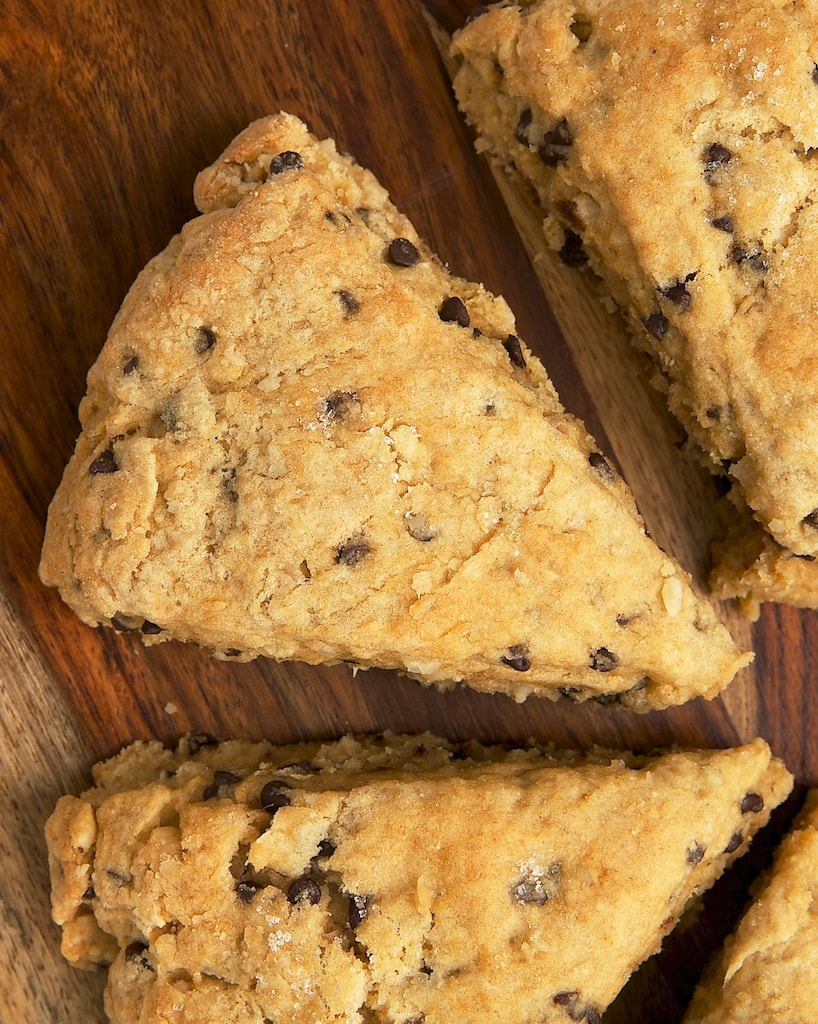 During my time at King Arthur Flour's Blog & Bake™, I found a new love. Now, don't worry. Quinn is not going anywhere. I found a new baking love – white whole wheat flour.
Sure, I'd seen it before, but I always kind of discounted it and went with traditional wheat flour when needed. But, I found out that white whole wheat flour has all the benefits of whole wheat flour, but it produces lighter-colored baked goods with a milder flavor. There's red wheat, where we get whole wheat flour, and then there's white spring wheat, which gives us white whole wheat flour.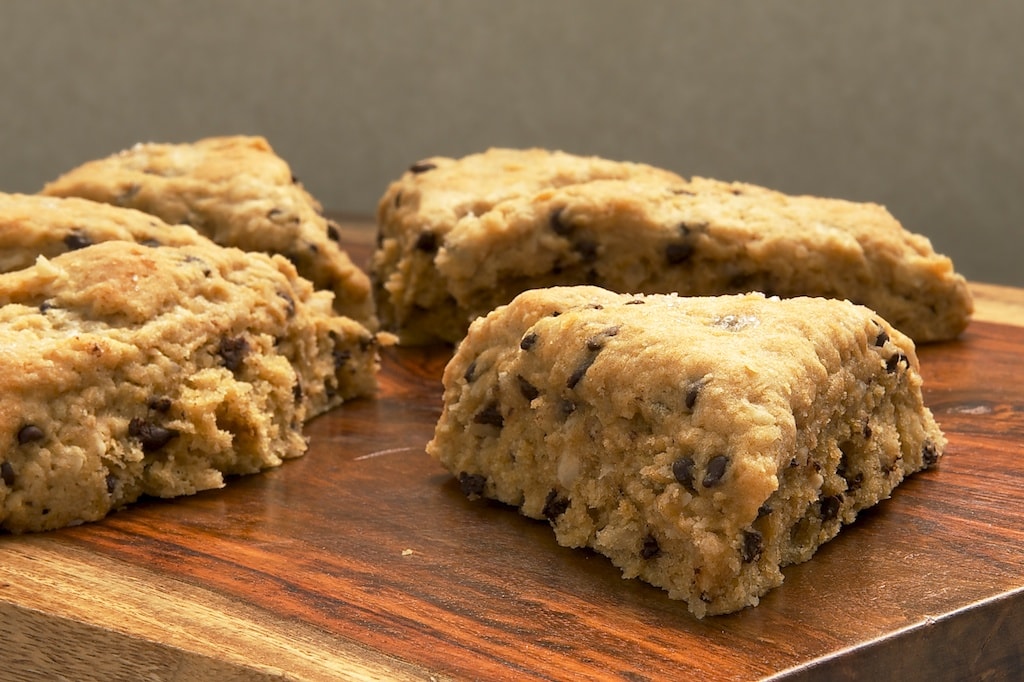 Once I got back, I got a couple of bags of my new love – one to use now and one for the freezer. The freezer is your and your wheat flour's friend. If you don't use up wheat flour quickly, it will go rancid. Freezing will help it stay fresher longer.
The first thing on my white whole wheat flour baking list was a recipe that we made at Blog & Bake™. We started our scone-baking with a discussion about how lots of people don't like scones because they are usually dry and just unpleasant to eat.
If that's your opinion of scones, then these beauties will turn you into a believer. They are so soft and moist and just plain delicious. I find them pretty irresistible. In fact, I couldn't resist eating one of these not long after they came out of the oven.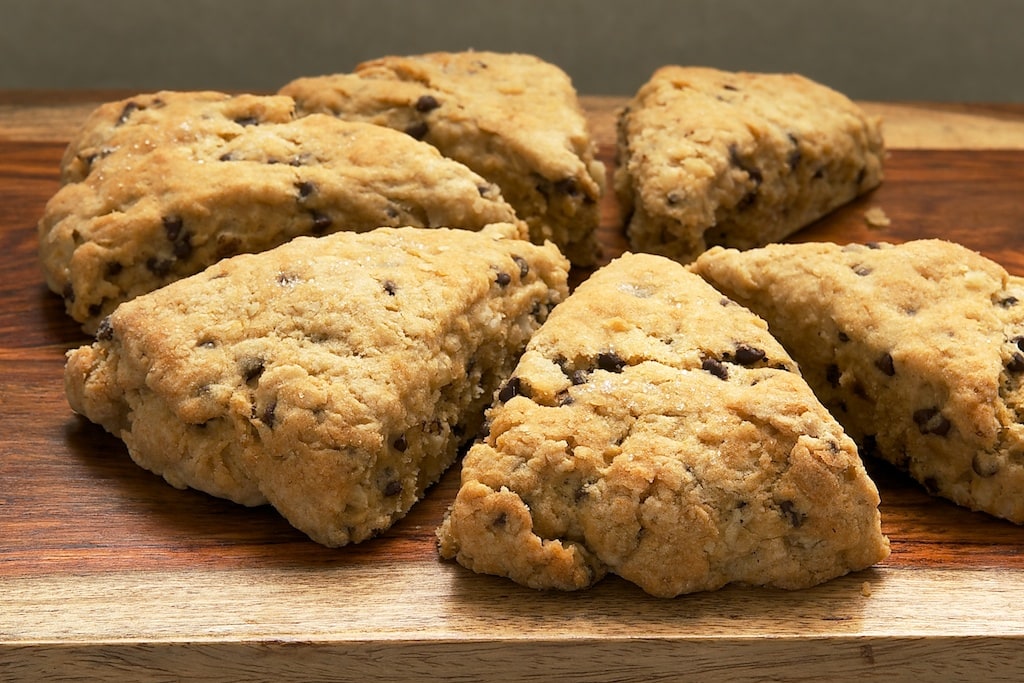 This is an incredibly simple recipe that is great to have in your breakfast/brunch repertoire. All you need is a a big bowl, some measuring cups & spoons, a big spoon, a clean surface, and a pan. You'll have these mixed up and in the oven in no time.
I've made these scones a few times since first being introduced to the recipe at King Arthur Flour. It's one of those wonderfully adaptable recipes that you never have to make the same way twice. Nuts, chips, dried fruits – they all work well in this recipe. Use a different extract or just leave it out. Feel free to add a little ground cinnamon or other spice to the dry ingredients. Get creative and find your favorite flavor combination!
Recommended Equipment:
Chocolate Chip-Hazelnut Scones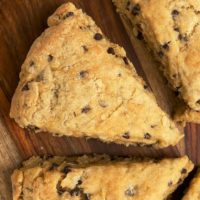 Ingredients:
2 cups white whole wheat flour
2 tablespoons granulated sugar
2 teaspoons baking powder
1/2 teaspoon baking soda
1/2 teaspoon salt
1/2 cup unsalted butter, cold & cut into 1/4-inch cubes
1/4 cup chopped hazelnuts
1/4 cup mini semisweet chocolate chips
3/4 cup (6 ounces) buttermilk
1 egg yolk
1/2 teaspoon vanilla extract
1 egg white (optional)
sanding sugar or sparkling sugar (optional)
Directions:
Preheat oven to 375°. Line a baking sheet with parchment paper or a silicone liner.
Combine flour, sugar, baking powder, baking soda, and salt in a large mixing bowl. Add butter and cut into flour mixture with a pastry blender or a fork until the mixture resembles coarse meal. Stir in hazelnuts and chocolate chips.
Whisk together buttermilk, egg yolk, and vanilla. Add to flour mixture, and stir until a dough forms.
Transfer dough to a lightly floured work surface. Knead lightly for a few turns.
Gently pat the dough into a flat disk about 7 inches in diameter. Cut into 6-8 wedges.
Transfer wedges to prepared pan. For soft, higher-rising scones, leave the wedges close together in a circle. For crispier scones, separate the wedges. Brush with egg white and sprinkle with sparkling sugar or sanding sugar.
Bake 18-25 minutes, or until light golden brown. Cool in pan on wire rack.
This post contains affiliate links.