White whole wheat flour gives these decadent chocolate chip-hazelnut scones a boost of nutrition without sacrificing flavor! Customize the recipe with your favorite mix-ins and spices.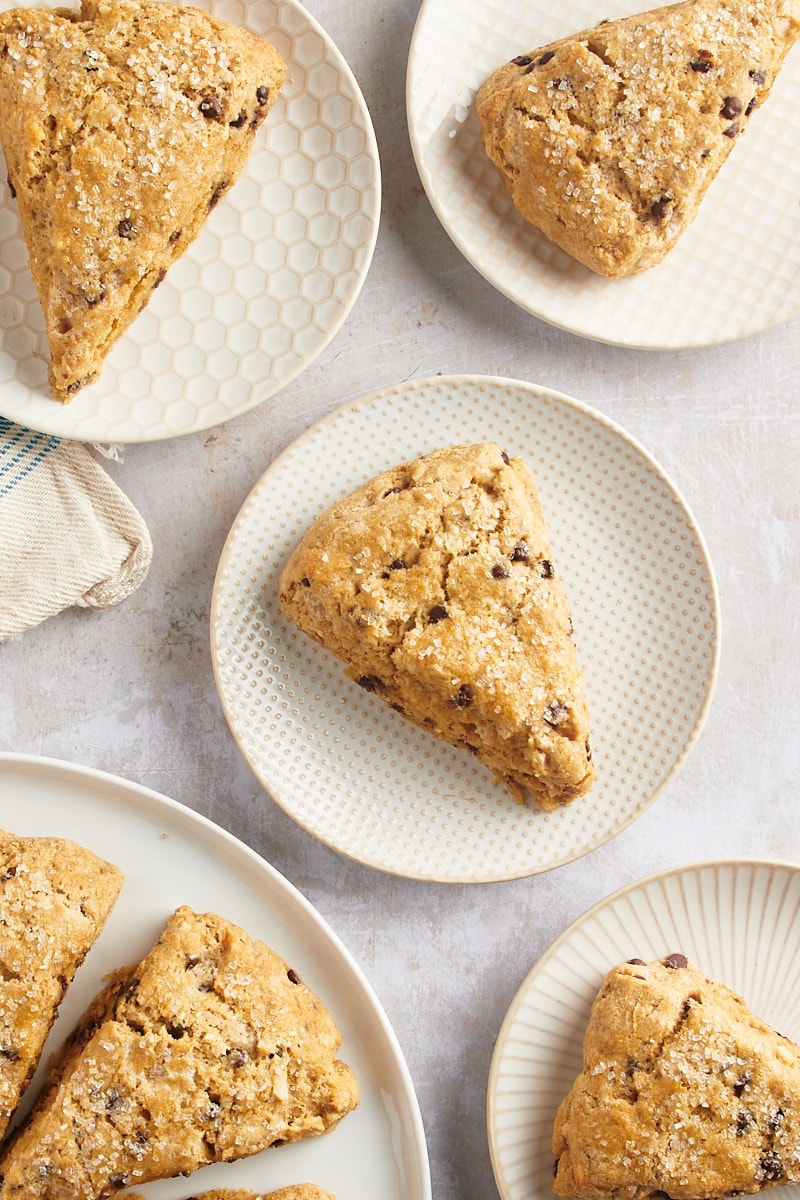 Chocolate Chip Scones with Whole Wheat Flour
This was a recipe shared with me during a visit to King Arthur Flour, and let me tell you—it was a revelation. Prior to this, I had never baked with white whole wheat flour, let alone made scones with it. But these chocolate chip-hazelnut scones made me a believer.
Sure, I'd seen white whole wheat flour before, but I always kind of discounted it and went with traditional whole wheat flour when needed. But, I found out that white whole wheat flour has all the health benefits of traditional whole wheat flour, without the earthy flavor and dense, heavy texture.
These chocolate chip-hazelnut scones are the perfect example. They are so soft and moist and just plain delicious. They're also incredibly easy to make, and wonderfully adaptable. Nuts, chips, dried fruits—they all work well in this recipe, so feel free to make it your own.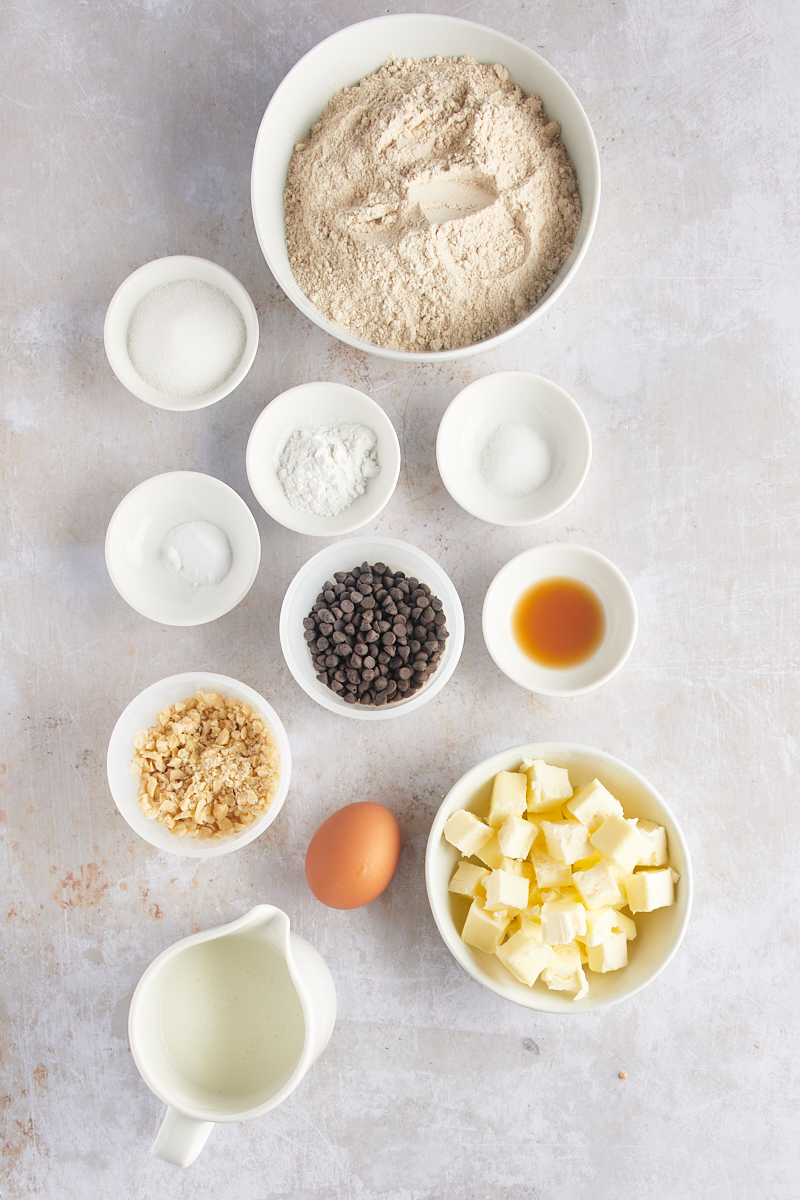 What You'll Need
Scroll down to the recipe card to find the ingredient quantities and recipe instructions.
White whole wheat flour – Learn more: A Baker's Guide to Wheat Flours
Granulated sugar
Baking powder
Baking soda
Salt
Unsalted butter – Use very cold butter for that irresistible flaky scone texture.
Chopped blanched hazelnuts – Or substitute another chopped nut.
Mini semisweet chocolate chips
Buttermilk – Use store-bought or make a buttermilk substitute, but don't use regular milk—the acidity of the buttermilk reacts with the baking soda to make the scones rise while they bake.
Egg yolk
Vanilla extract – Store-bought or homemade vanilla extract both work.
Egg white – This is optional; it helps the sanding sugar stick.
Sanding sugar or sparkling sugar – Optional, but delicious—it gives your scones a crunchy topping and an extra hit of sweetness.
How Do You Toast Hazelnuts?
Toasting the hazelnuts brings out their nutty flavor and really enhances the taste of these scones. Plus, it's easy to do! Preheat your oven to 350°F and spread the hazelnuts in an even layer on a baking sheet. Bake for 8-10 minutes, stirring once or twice, until the nuts are golden brown and fragrant.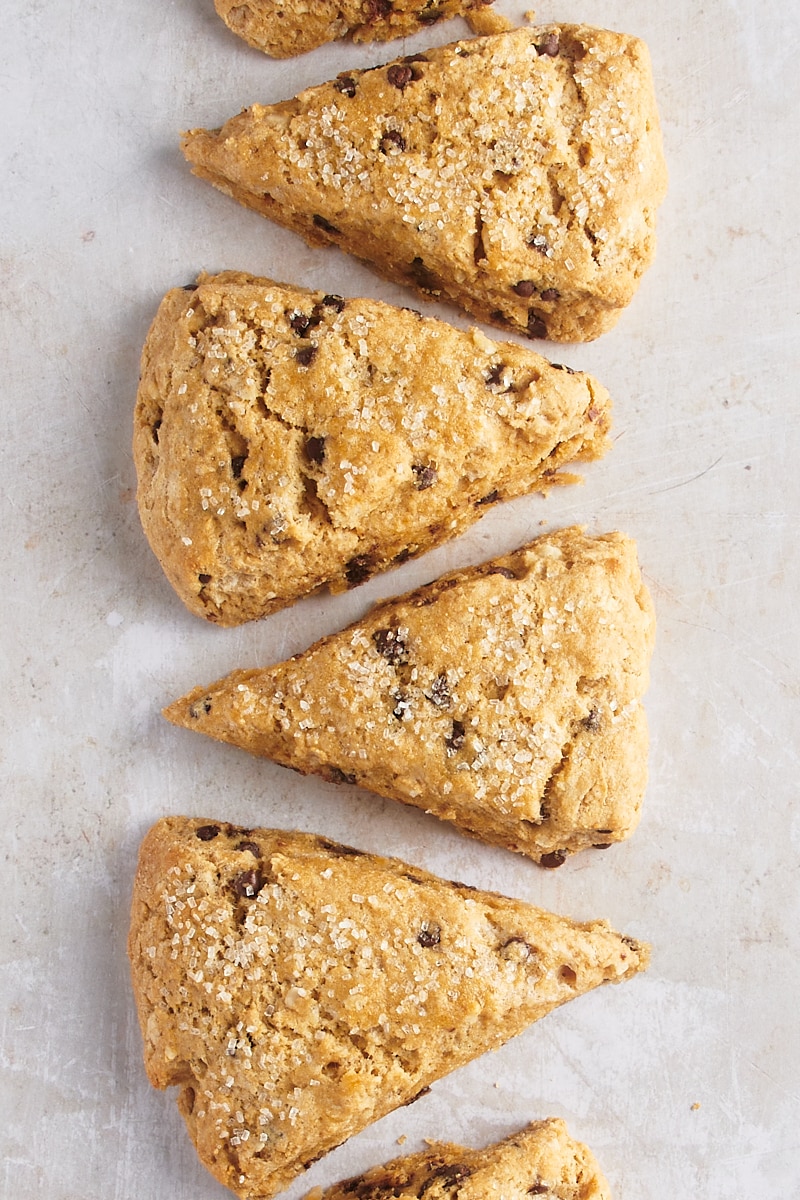 How to Make Chocolate Chip-Hazelnut Scones
Scones have a reputation for being fussy, but I don't think they deserve it. Use cold butter and don't over-mix and you can't go wrong.
Prepare. Preheat your oven to 375F° and line a baking sheet with parchment paper or a silicone liner.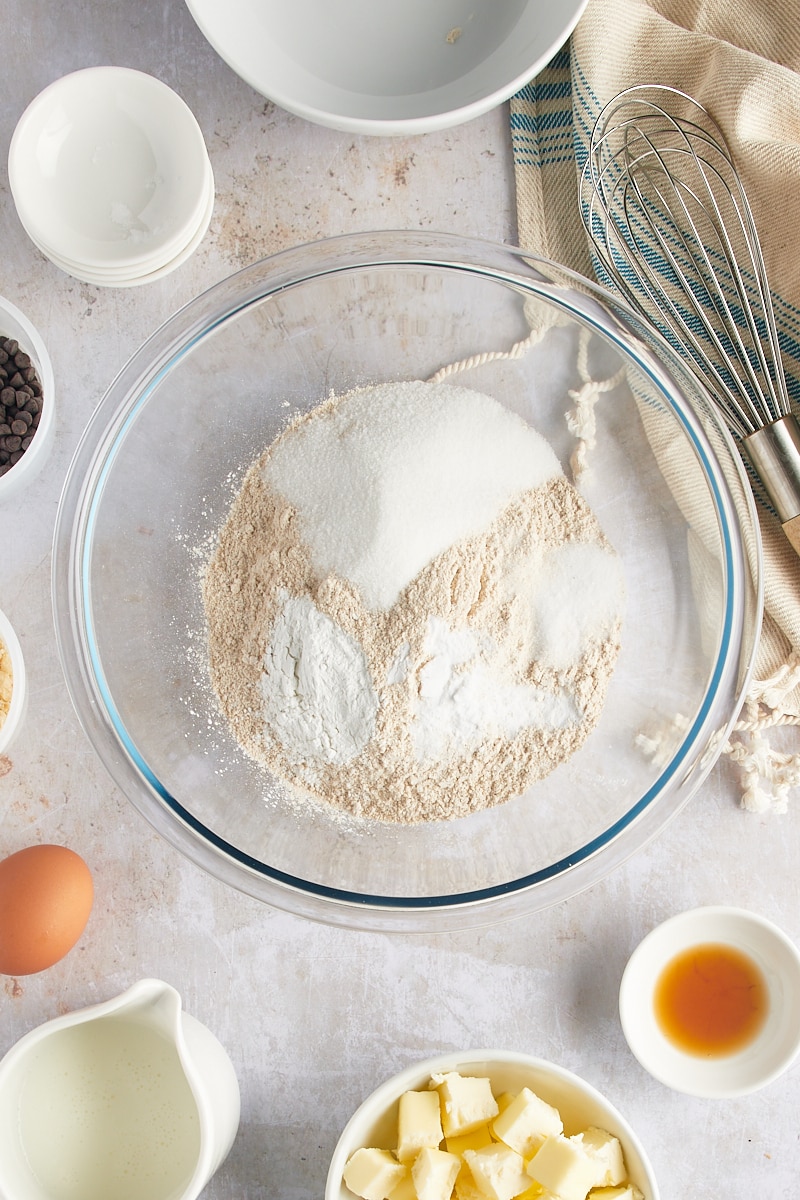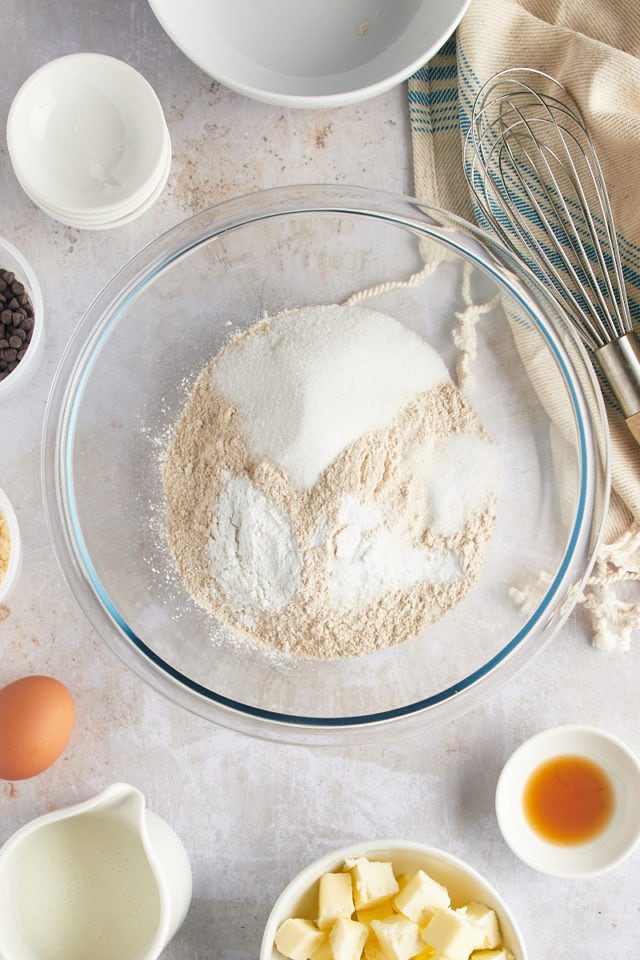 Mix the dry ingredients. Whisk the flour, sugar, baking powder, baking soda, and salt in a large mixing bowl.
Cut in the butter. Add the butter to the dry ingredients and cut it in using a pastry blender or fork until the mixture resembles coarse meal. Stir in the hazelnuts and chocolate chips.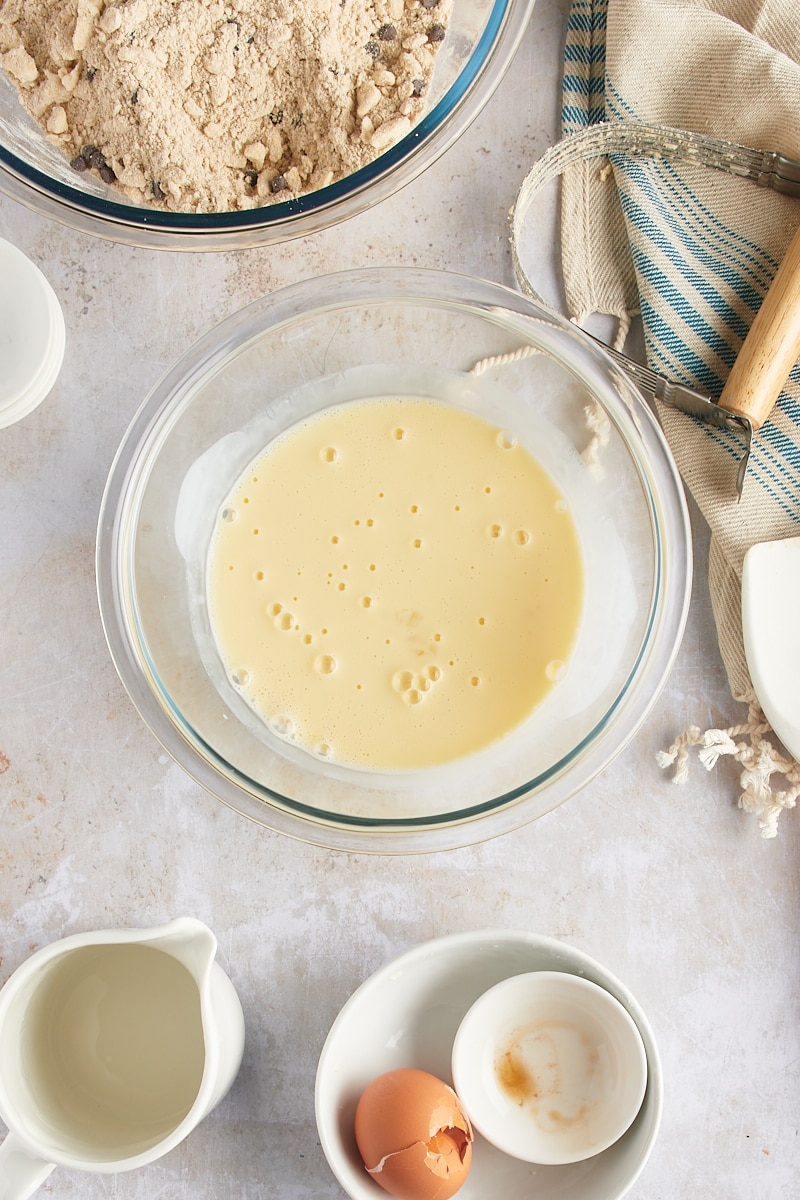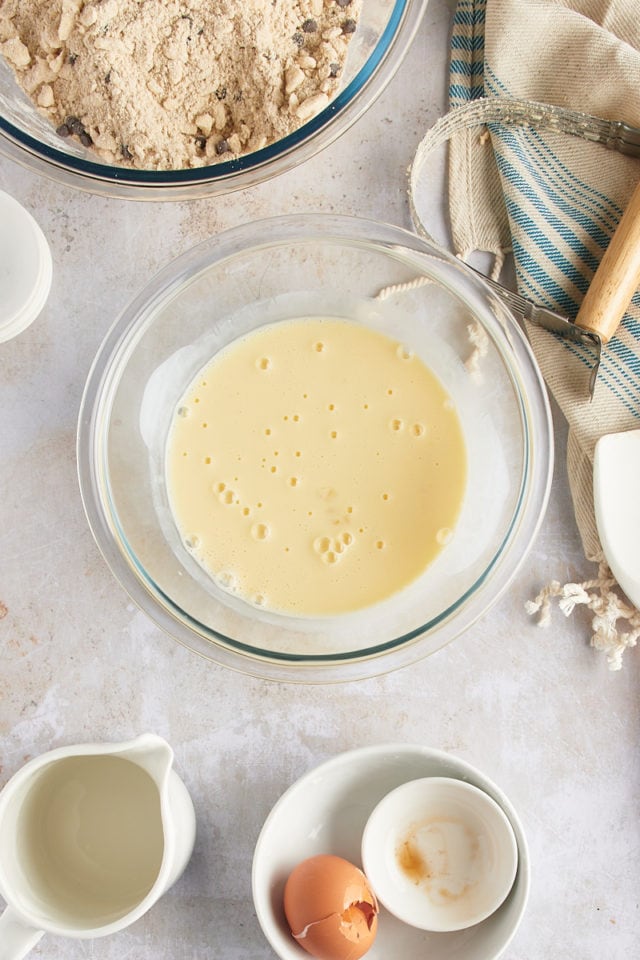 Add the liquid ingredients. Whisk the buttermilk, egg yolk, and vanilla in another bowl. Pour this into the flour mixture, then stir just until a dough forms.
Knead. Turn the dough out onto a lightly floured work surface and knead it lightly for a few turns, until the dough comes together.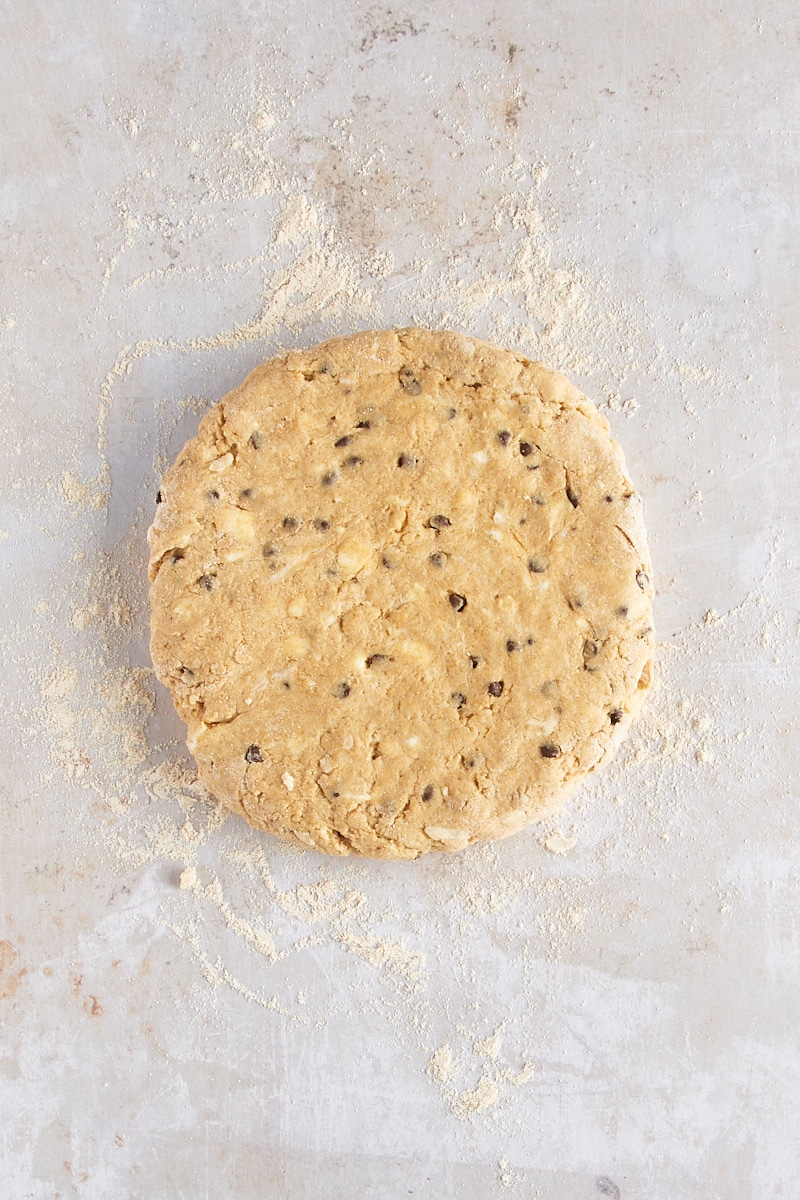 Cut the scones. Gently pat the dough into a flat disk about 7 inches in diameter, then use a sharp knife to cut it into 6 to 8 wedges.
Bake. Place the scones on the prepared pan. For soft, higher-rising scones, set them close together in a circle; for crispier scones, place them further apart. Brush with the egg white and sprinkle with sugar, if using, then bake for 18 to 22 minutes, or until light golden brown.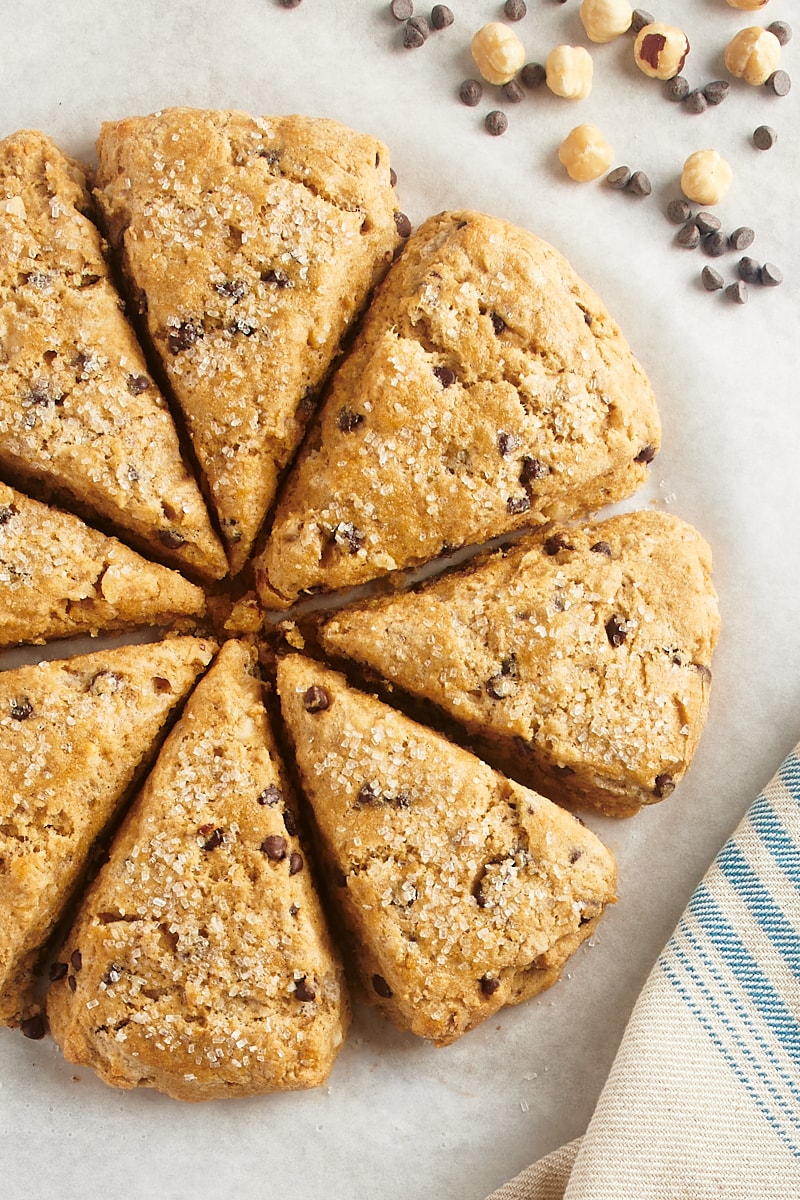 Cool. Let the scones cool on the pan on a wire rack. If they've baked together, use a thin knife or bench scraper to reapply the cuts.
Tips for Success
Read over my baking tips for beginners, then follow these additional tips for perfect chocolate chip-hazelnut scones.
Don't over-mix or over-knead. The more you work the dough, the more the butter will melt into it—and that's how you end up with dense, hard scones.
Make sure the butter is very cold. If it's your first time making scones, you may even want to pop it in the freezer for a bit just to give yourself a little leeway. The colder it is, the flakier your scones will be!
Stick with the original proportions. I share some variation ideas below, and you can feel free to make your own substitutions too. Just make sure you have the same ratio of dough-to-mix-ins; i.e., don't add more than 1/2 cup of mix-ins.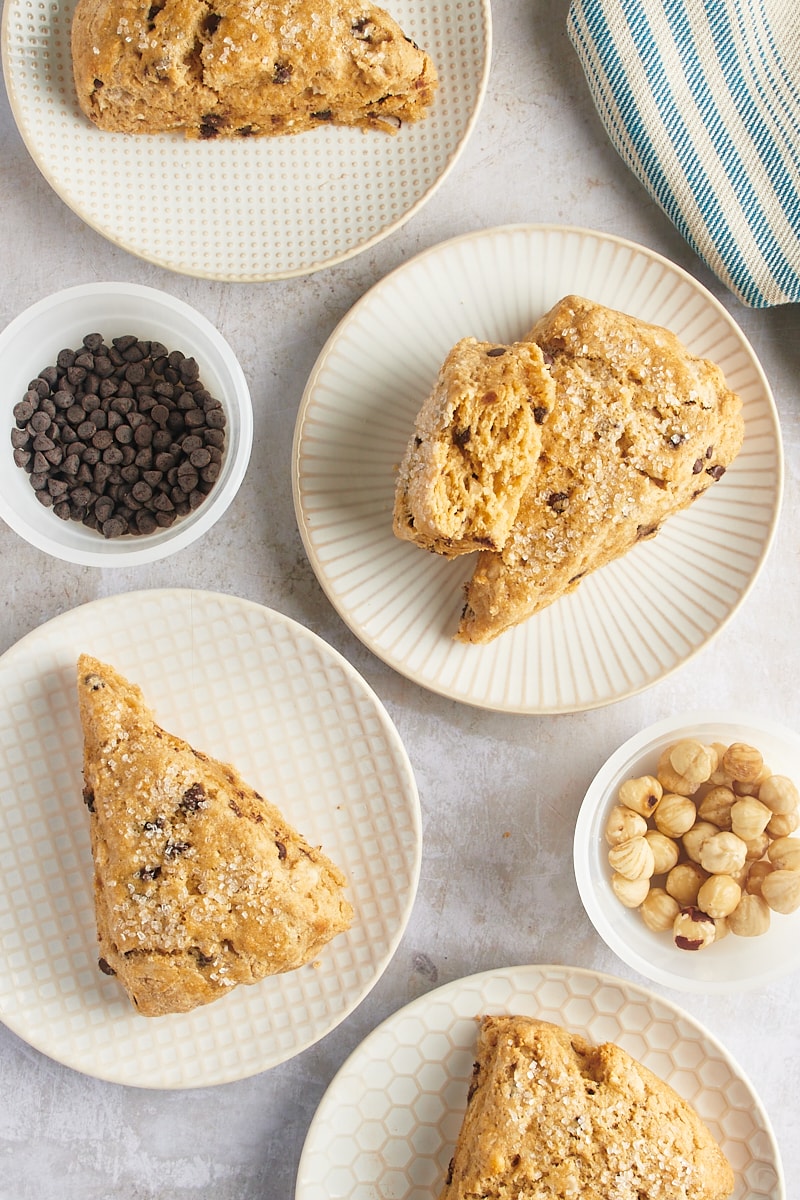 Variations
Try adding a different kind of nut or different flavor of chocolate chips; dried fruit and citrus zest are also delicious, and fresh fruit can be folded into the dough after adding the liquid ingredients. Another option is to add spices—you can never go wrong with cinnamon, but cardamom is an unexpected delight, particularly when paired with orange zest and dark chocolate.
How to Store
These scones are best enjoyed within a day or two; after that, they will begin to dry out.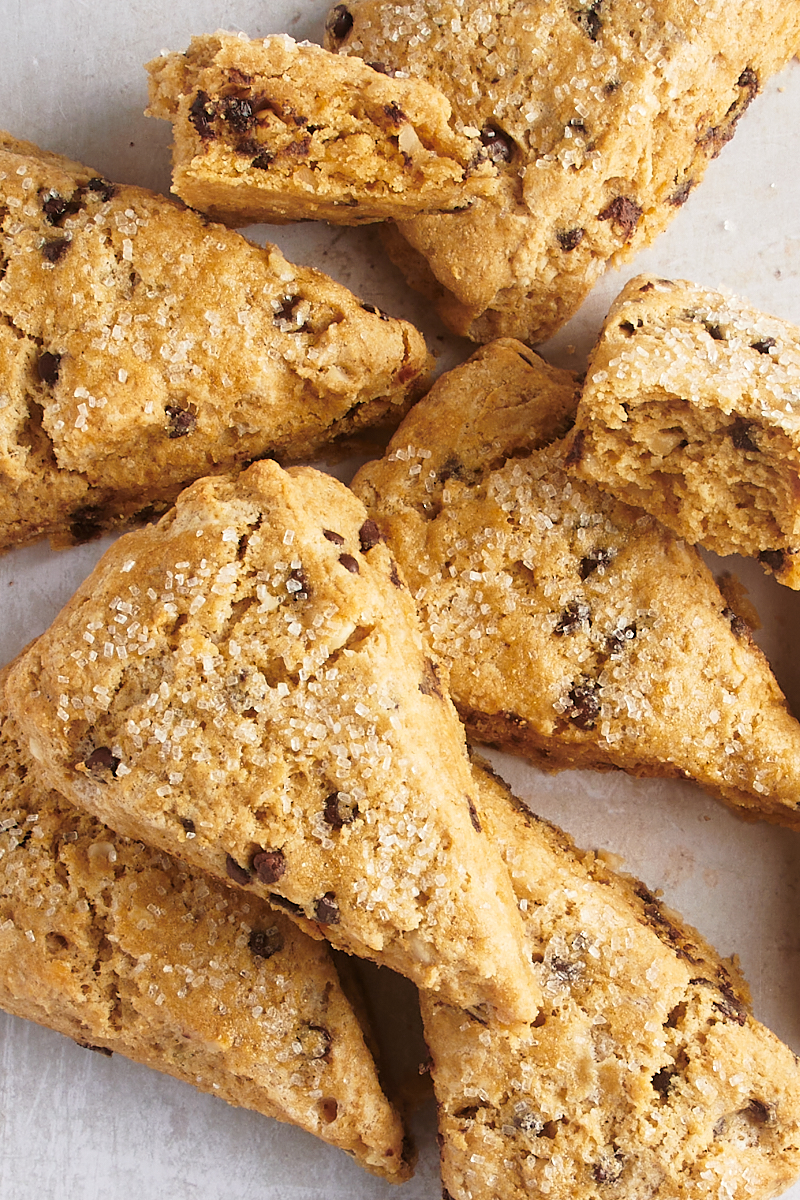 Can This Recipe Be Frozen?
Yes, these scones can be frozen for up to three months. Place the cooled scones in a single layer on a baking sheet and freeze them until they're solid. Transfer the frozen scones to an airtight container or freezer bag, then let them thaw at room temperature before serving.