Turn your leftover pie crust dough into these quick and easy Pie Crust Cookies! They're dressed up simply with cinnamon-sugar for a fun and tasty treat.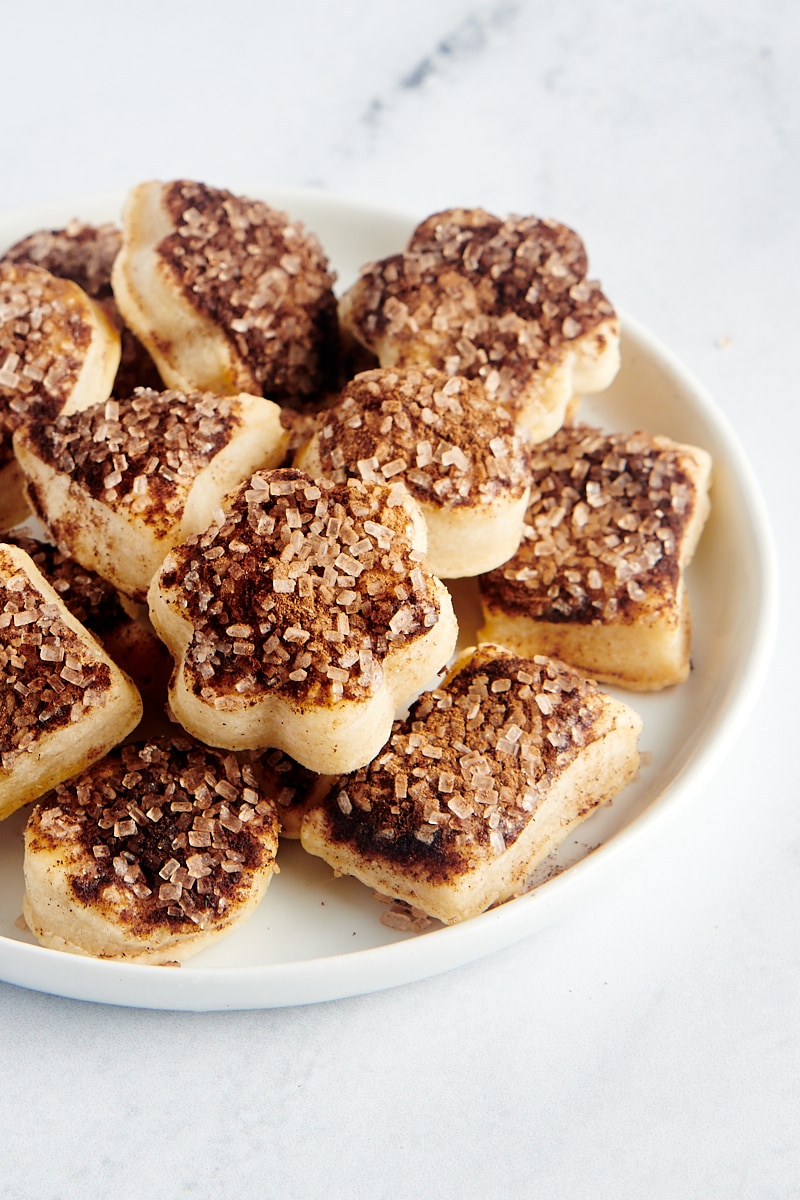 Easy Pie Crust Cookies
We all know that homemade pie is the best, but you know what goes right along with that? Pie crust cookies!
The idea here is to make use of the pie dough that's trimmed when fitting and crimping your pie crust in the pan. You can turn that dough into these little cookies quickly and easily!
Of course, the amount of dough you have left will likely vary. But the beauty of this recipe is that it can scale effortlessly to accommodate whatever amount of dough you have. And I can't say I'd blame you for making a batch of pie dough just to make these cookies!
The cookies you see here were made after I made a batch of Mini Pecan Pies. I usually make enough dough for a double-crust pie for those and often have a nice bit of leftover pie crust scraps after cutting them out. But even if you just have a small amount left over, it's absolutely worth it to make even just a few of these cookies!
Once you've baked the cookies, they're perfect little sweet bites all on their own. But you can also use them to top off a bowl of ice cream or for dipping in a flavored whipped cream or a dessert dip.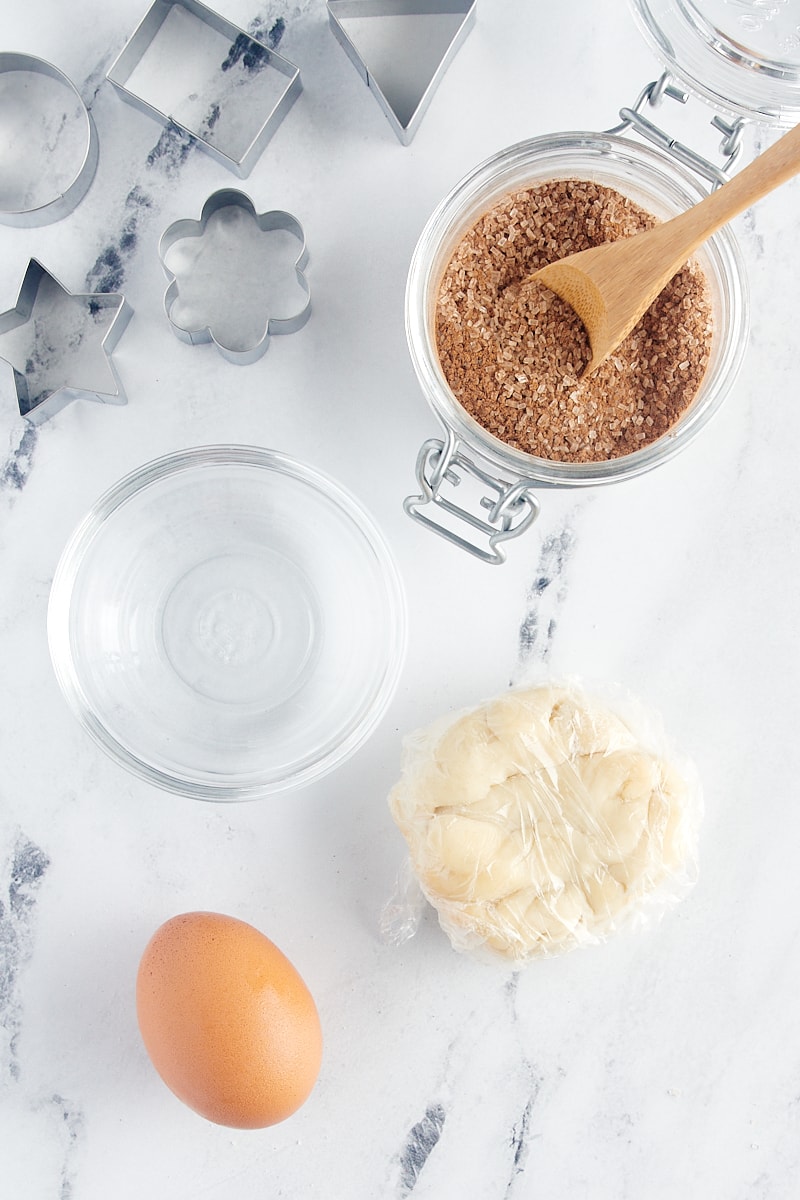 What You'll Need
This short ingredient list is all you need to make a quick batch of Pie Crust Cookies! See the recipe card at the bottom of this post for full instructions.
Pie crust dough – Use pie dough remnants from trimming your pie crust. Or if you really love these cookies (and why wouldn't you?!), dedicate a batch of dough just for these cookies!
Egg – You'll use this with the water to make an egg wash to help the cookies brown nicely.
Water
Cinnamon-sugar – You can use store-bought, but it's really easy to make your own. I prefer a ratio of 4:1 sugar to cinnamon. You can use either granulated sugar or coarse sugar, as pictured here. Learn more: How to Make Cinnamon Sugar
Can I Use Store-Bought Pie Crust?
If you prefer store-bought pie crust, that will work fine for these cookies. If it's already rolled, then it may be thicker than what I recommend for these cookies. That will still work, but they may need a little less baking time.
The cookies in these photos were made using my all-butter pie crust, but it should work with your favorite pie crust recipe.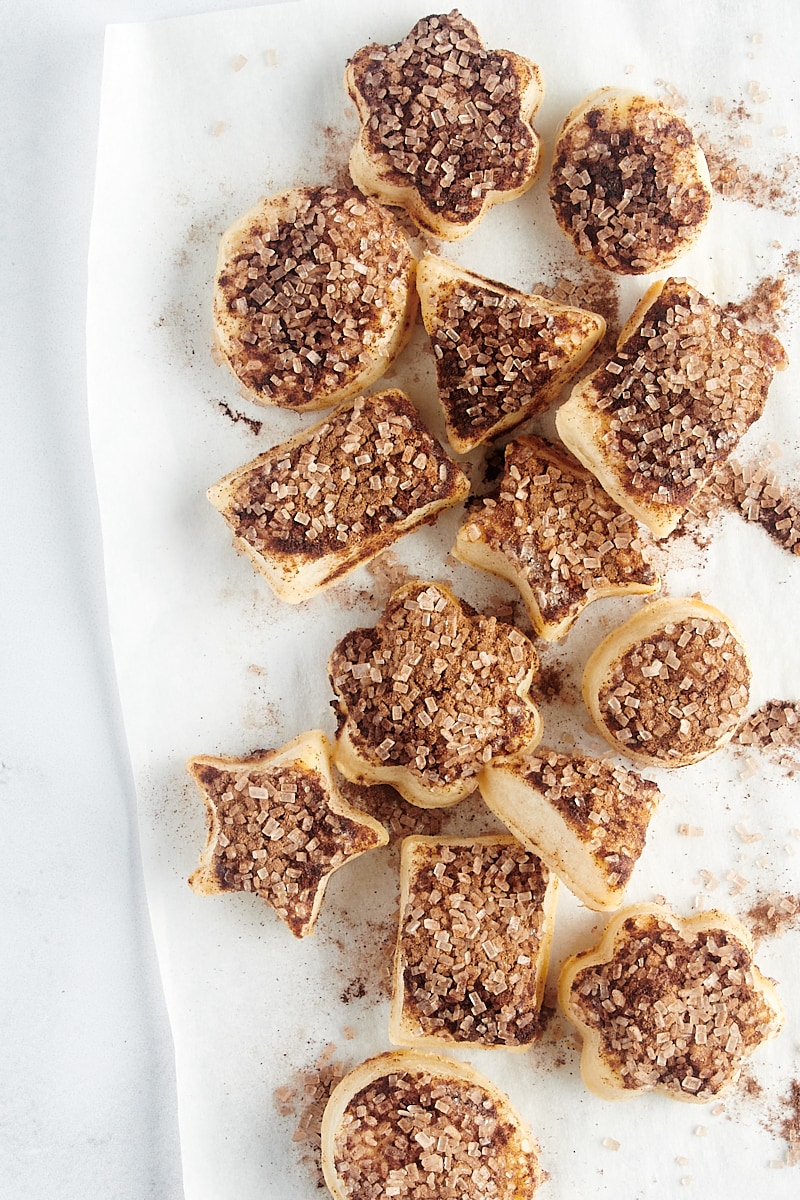 How to Make Pie Crust Cookies
Just roll, cut, top, and bake! If you've just made pie, then you've already got your rolling pin ready. Grab some cookie cutters and a sheet pan, and you're all set!
Roll out the dough. Gather the dough together and place it on a lightly floured surface, and roll it to 1/4-inch thickness.
Cut out the cookies. Use a small cookie cutter to cut out the cookies. Gather and re-roll the dough, and repeat. Place the cookies on a baking sheet lined with parchment paper or a silicone liner.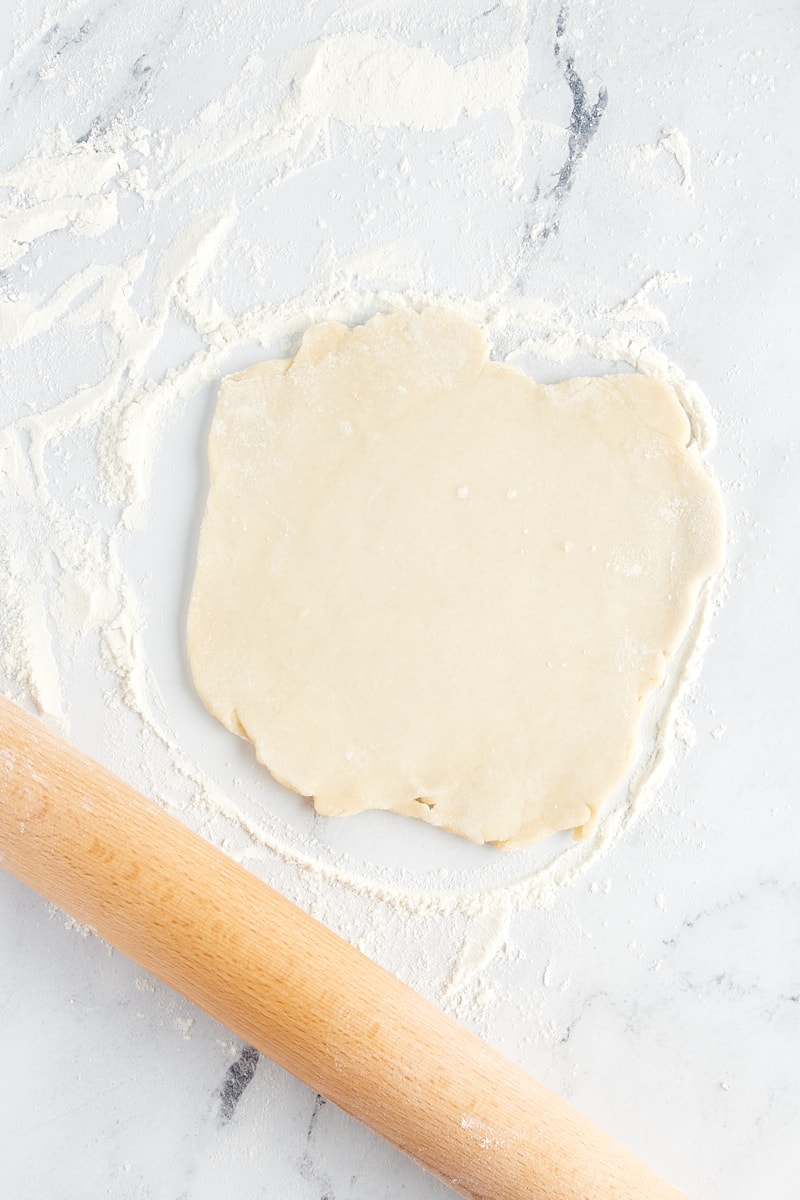 Refrigerate the cookies. Place the pan in the refrigerator for about 30 minutes, or until the dough is chilled.
Heat the oven. Preheat the oven to 375°F.
Make the egg wash. Combine the egg and water in a small bowl, mixing well. Brush over the chilled cookies. Depending on how many cookies you're making, you may not need all of the egg wash.
Top with cinnamon-sugar. Sprinkle the tops of the cookies with cinnamon-sugar.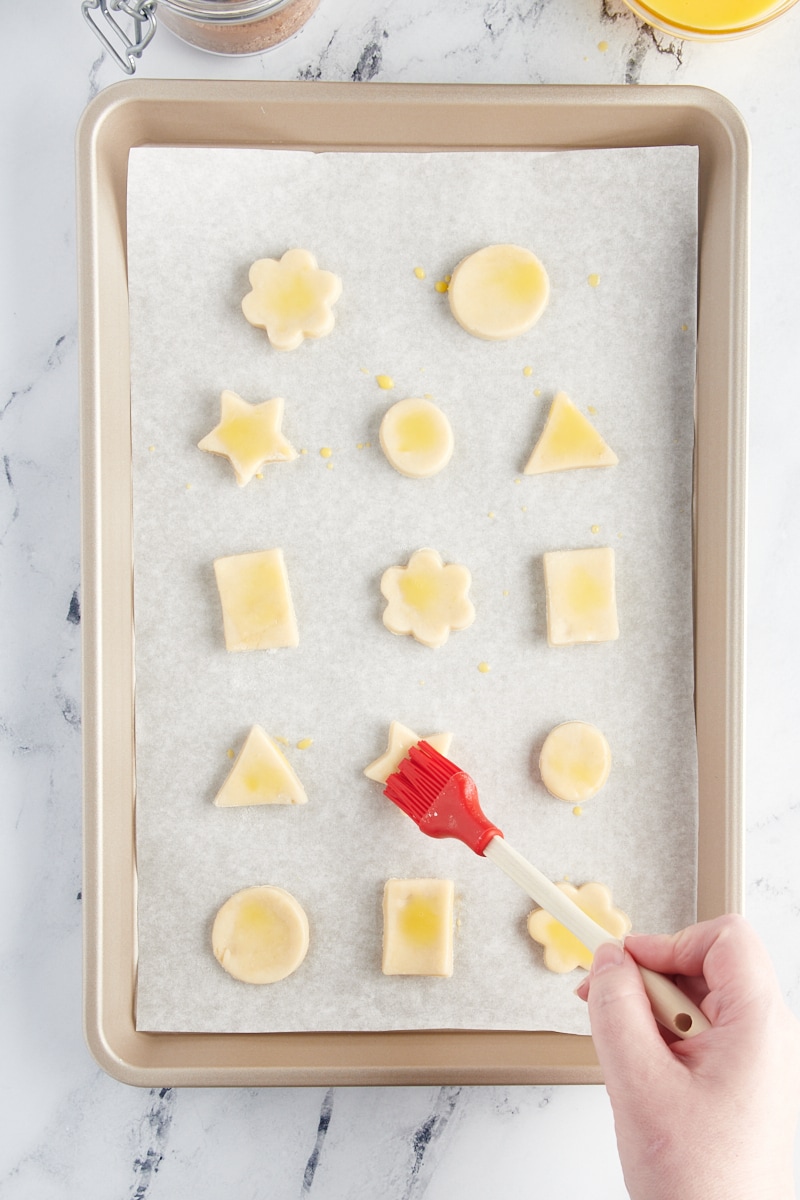 Bake. Place the pan in the heated oven, and bake 10 to 12 minutes or until the cookies are golden brown.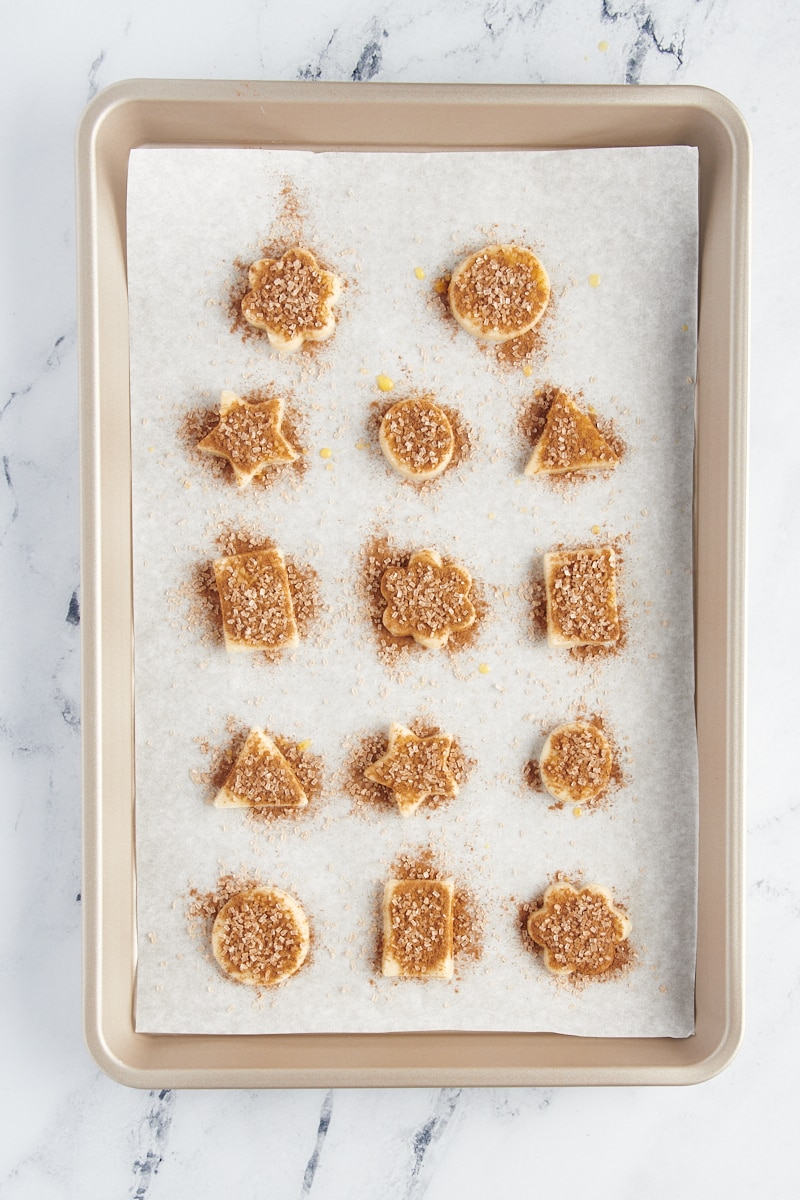 Cool. Place the pan on a wire rack and allow the cookies to cool for 5 minutes. Then transfer the cookies directly onto a wire rack to cool completely.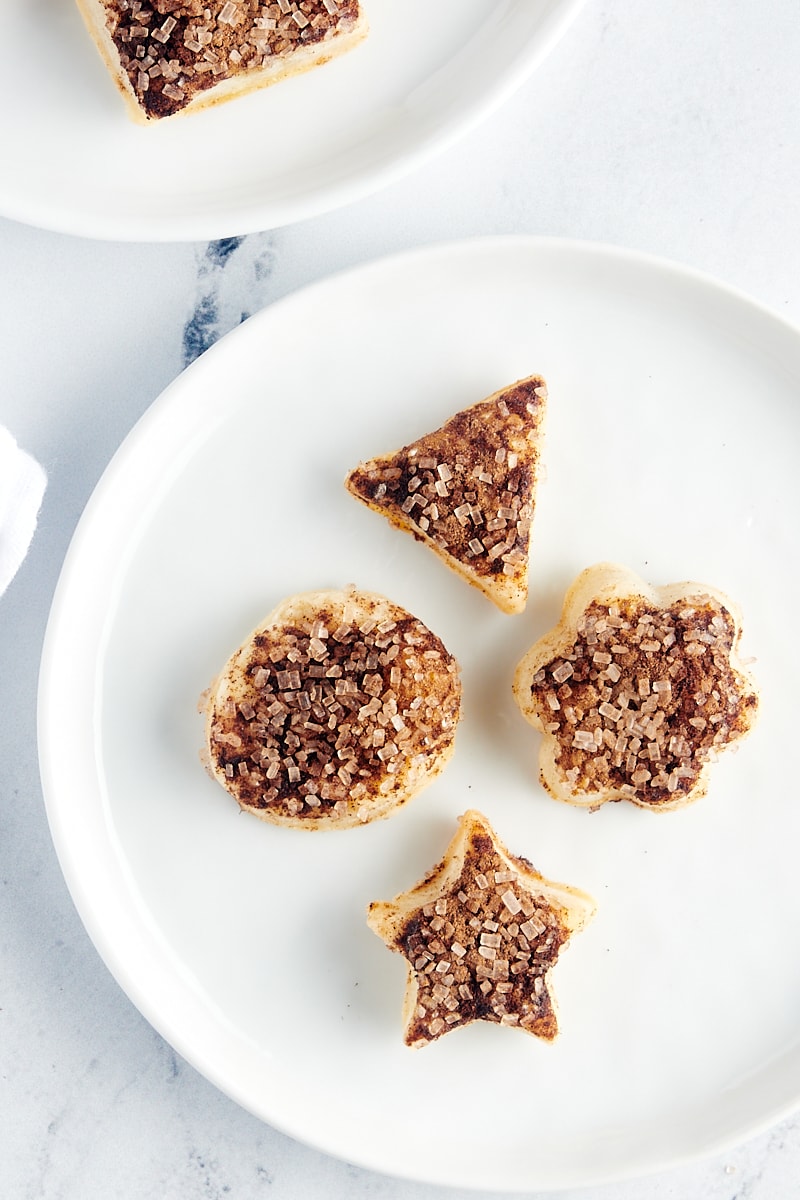 Tips for Success
Rolling the dough. I recommend rolling the dough to 1/4-inch thick. This is thicker than you'd roll it for a pie crust (usually 1/8 inch).
Don't skip the chilling time. Your cookies will hold their shape better and have a flaky texture.
Use small cookie cutters. This is especially important if you're using leftover pie crust, as you won't have much dough to use. The cutters I used for this batch (linked below the recipe) are about 1.5 inches in diameter. You can gather and re-roll the dough to cut out more cookies, but as with any rolled doughs, you'll get diminishing returns in texture and shape.
Simplify. To keep things extra simple, just use a sharp knife to cut the cookies after rolling the dough. You can even use trimmed crust scraps just as they are with no rolling or cutting. Both ways are quick and there's zero waste.
How to Store
These cookies are likely to be devoured quickly after they're baked, but you can store any leftovers in an airtight container for about 3 days. They'll last a couple more days in the refrigerator if you need to extend that.
Can These Cookies Be Frozen?
Yes, you can freeze pie crust cookies! Place them in an airtight, freezer-safe container or bag. Properly stored, they should keep in the freezer up to 3 months. Thaw for an hour or so at room temperature.