Pecan sandies are a classic cookie recipe that combines a sweet, buttery shortbread with crunchy chopped pecans. Simple and delicious!
If you're a big fan of homemade shortbread, try these 3-ingredient shortbread cookies, this butter pecan shortbread recipe, or this chocolate shortbread, too!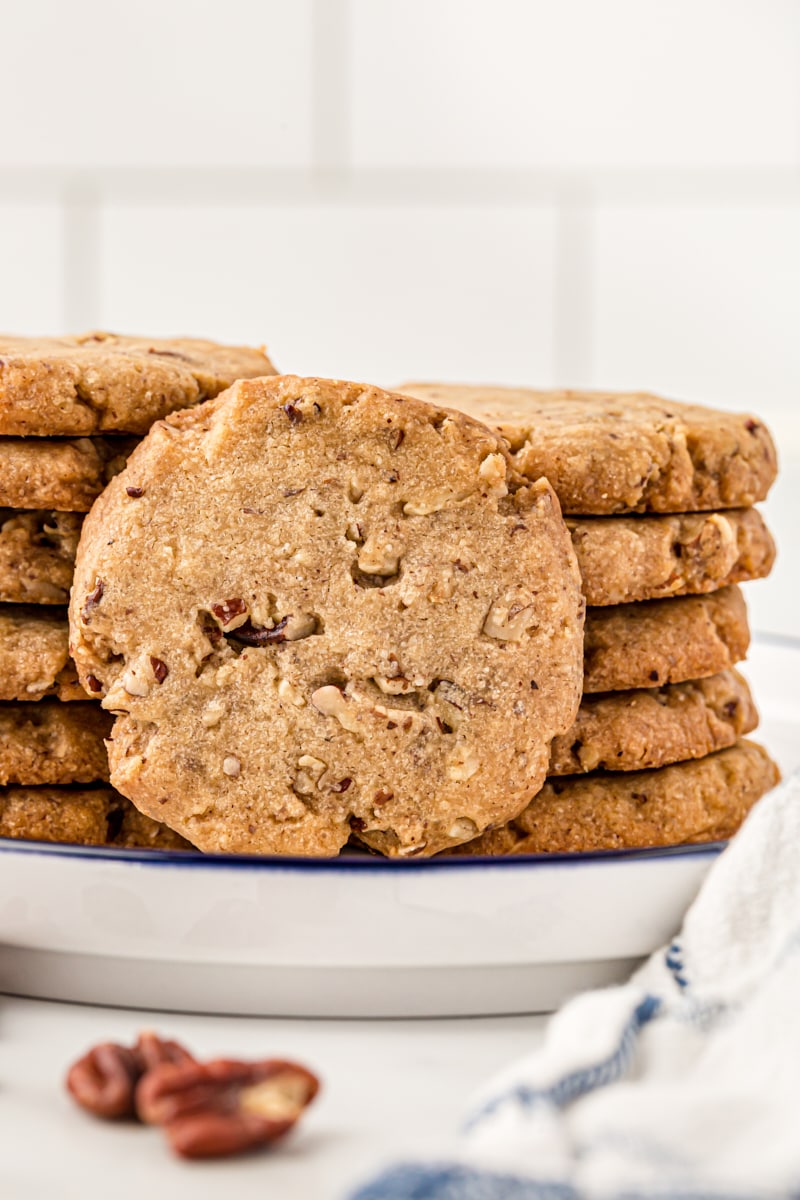 Homemade Pecan Sandies Cookies
I loved, loved, loved pecan sandies as a child—the store-bought ones, that is. In my adult years, though, I have come to prefer homemade baked goods to the store-bought varieties. I simply couldn't pass up the chance to make my very own pecan sandies.
This recipe is adapted from Martha Stewart and you can consider it a classic, old-fashioned pecan sandies recipe. There are no unexpected additions or tweaks here, and the flavor is exactly what you want it to be—a much-improved version of grocery store sandies.
The dough comes together quickly and easily, but do note that it's a bit crumbly. While this texture isn't ideal for forming into balls, it's key to that melt-in-your-mouth quality that the best pecan sandies all have in common.
Why You'll Love This Pecan Sandies Recipe
Here's why this pecan sandies recipe should be up next on your list of must-make cookies:
Buttery and crunchy. Sweet, melt-in-your-mouth shortbread studded with chopped pecans is an unbeatable combination.
Quick and easy. It takes just over half an hour to make these cookies from start to finish!
Freezer-friendly. I often make a batch of these cookies and freeze them for any time I need a quick snack!
What Are Pecan Sandies?
Pecan sandies are shortbread cookies with chopped pecans thrown in. If you're wondering where the name comes from, it has to do with their texture. As mentioned above, when the dough comes together it is quite crumbly and sand-like.
What You'll Need
Scroll down to the recipe card to find the ingredient quantities and recipe instructions.
What Is the Best Way to Chop Pecans?
When it comes to chopping pecans, you have a few different options. You can use a food processor, a blender, or a chef's knife. I prefer using a knife, as it is easier to control the size of the pecan pieces. Place the pecans on a large cutting board, then coarsely chop them. Repeat until the pecans reach your desired size.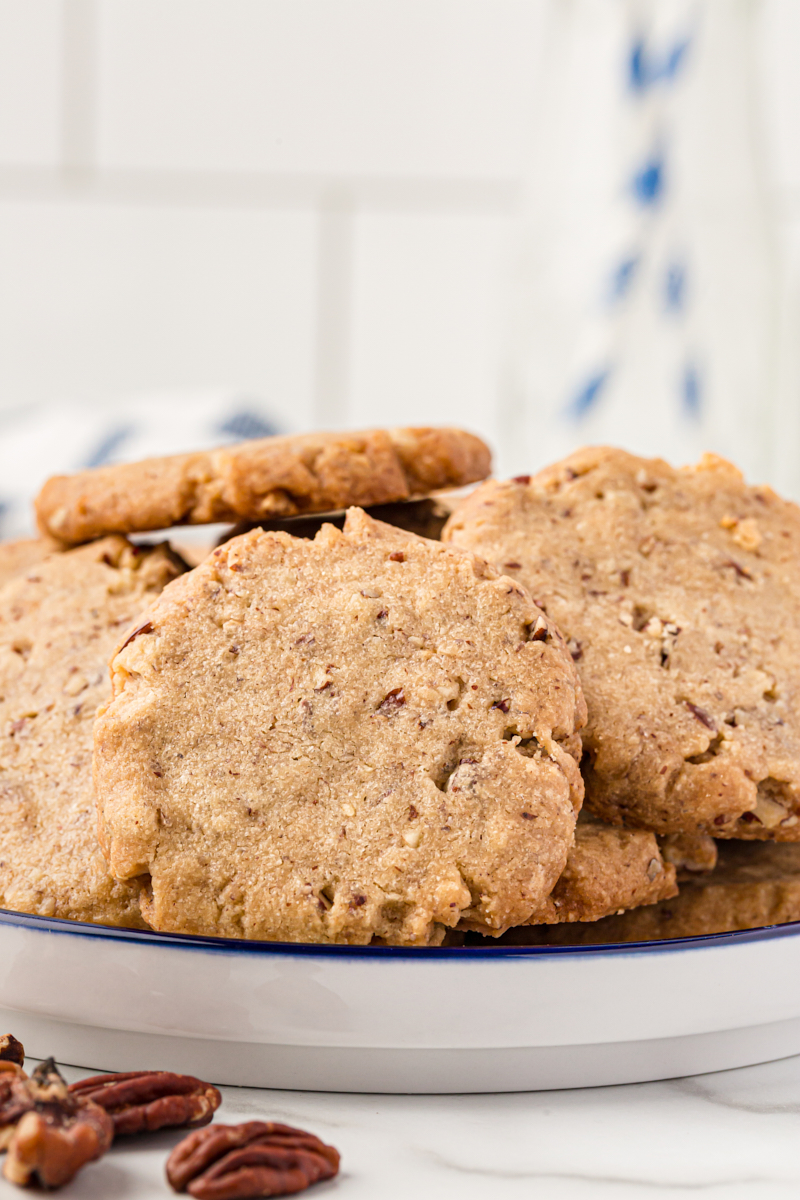 How to Make Pecan Sandies
With simple recipes like this, it's all about technique and the quality of the ingredients. Don't stray from the directions below and you won't go wrong.
Prepare. Preheat your oven to 350°F and line baking sheets with parchment paper or silicone liners.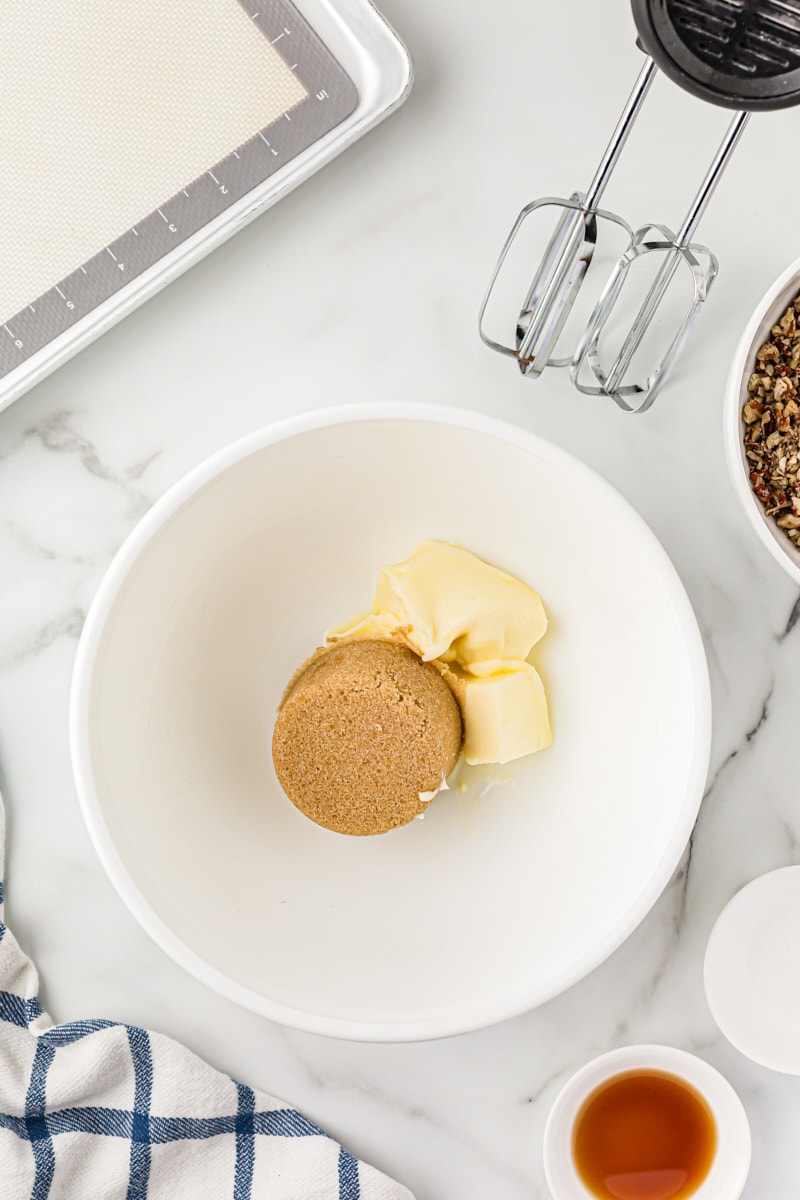 Cream the butter and sugar. Use an electric mixer on medium-high speed to beat the butter and sugar for 3 to 4 minutes, or until they're fluffy. Next, beat in the vanilla extract and salt.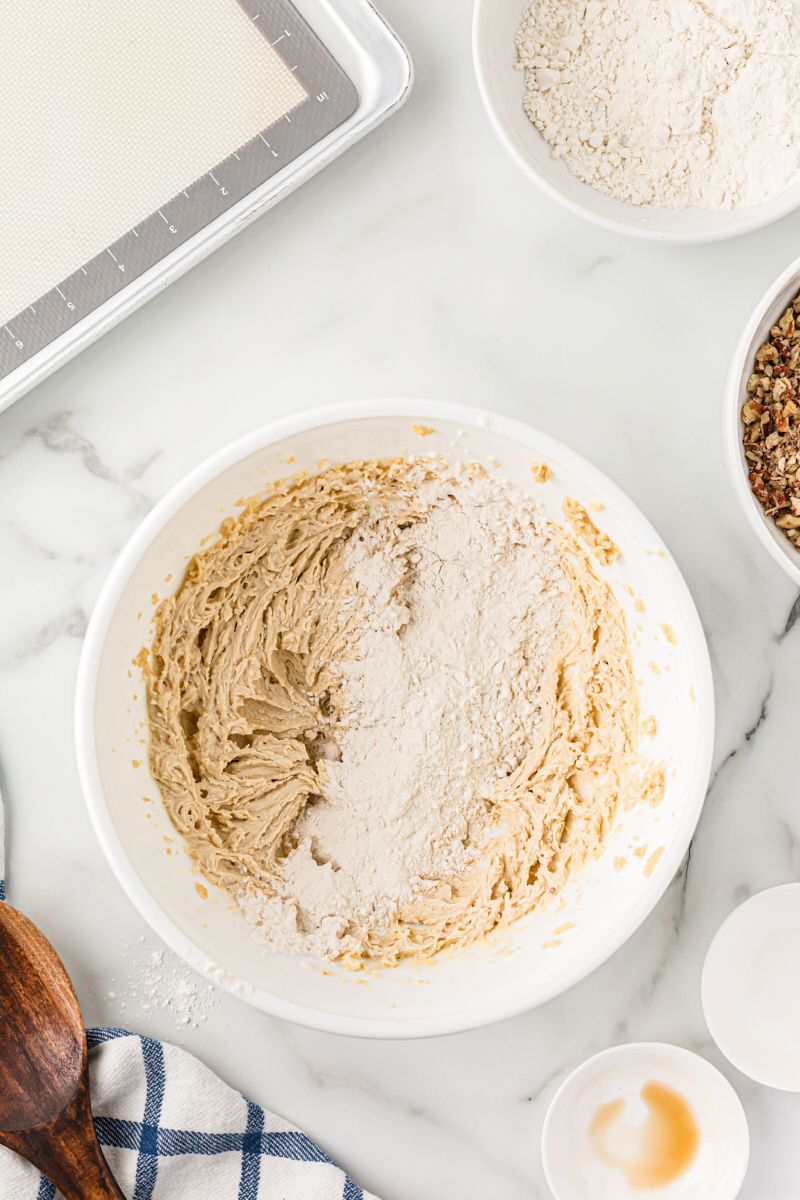 Finish the dough. Reduce the mixer speed to low, then gradually add the flour and beat just until combined. Fold in the nuts.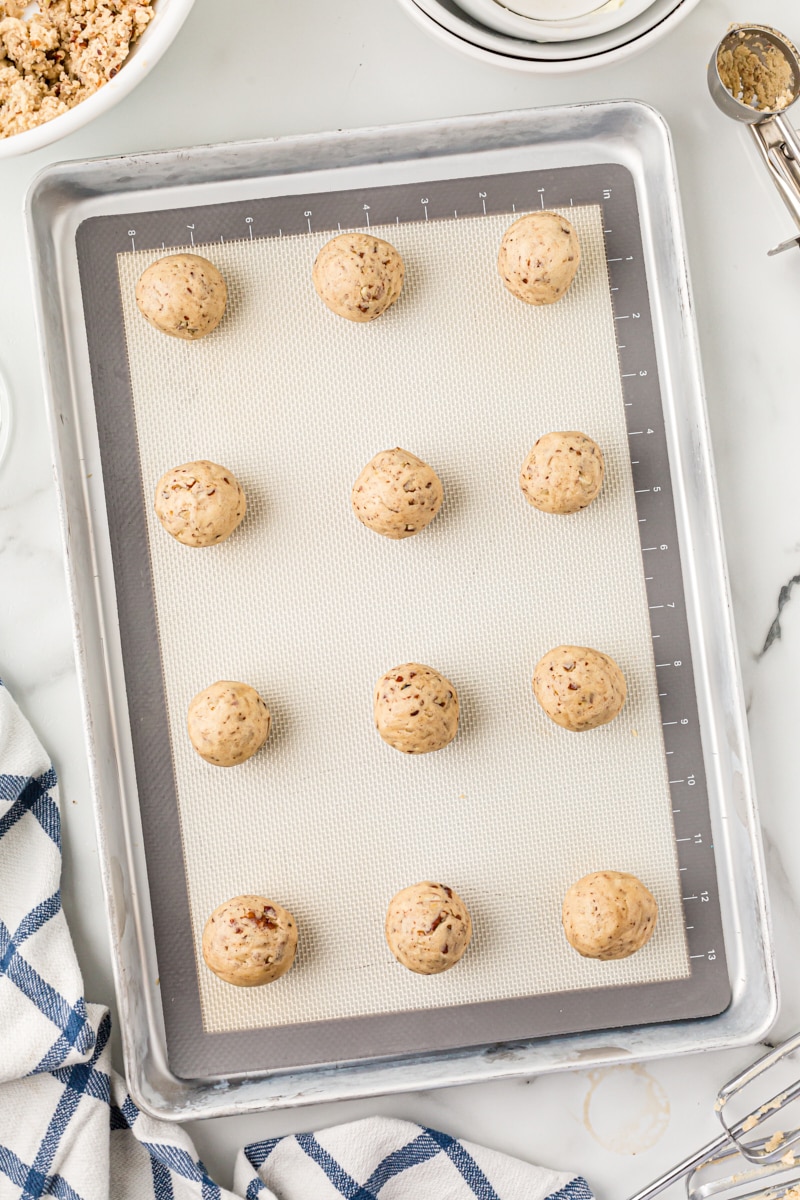 Form the cookies. Roll the dough into 1 1/2-inch balls and place them about 2 inches apart on the prepared baking sheets. Dip the bottom of a glass in water, then use it to lightly flatten each ball of dough.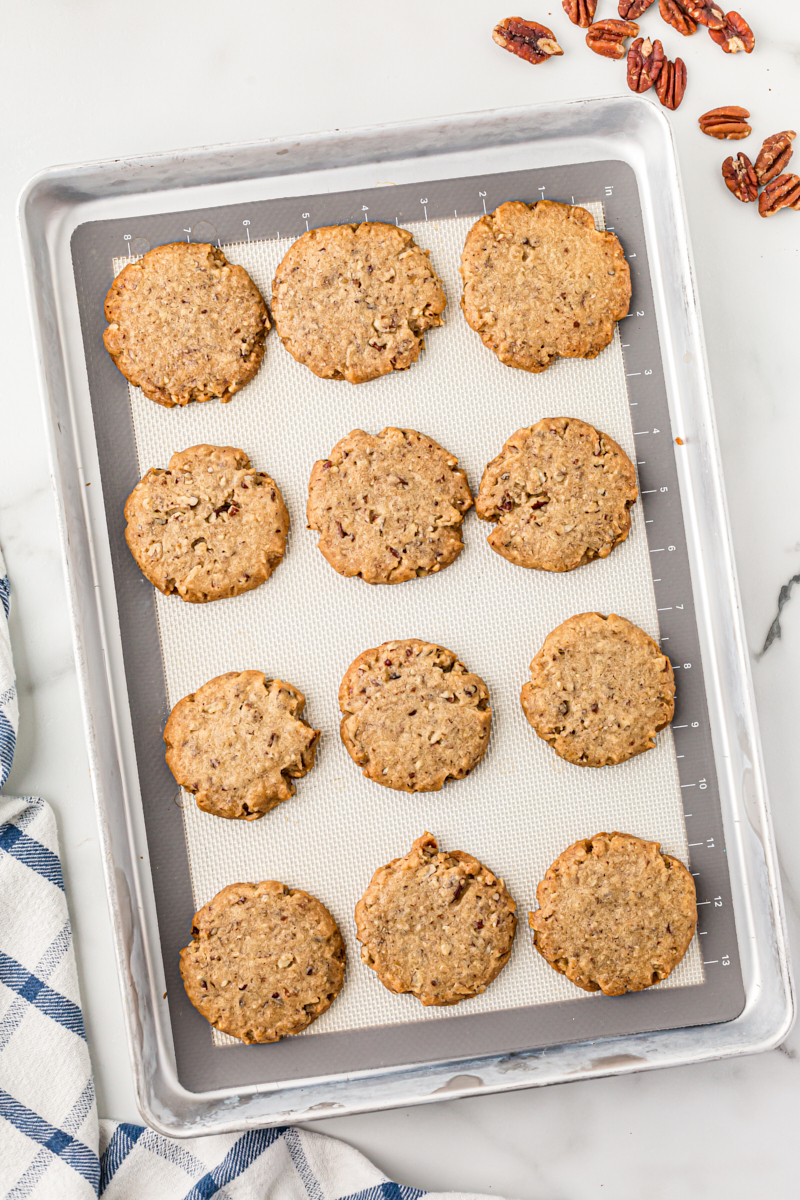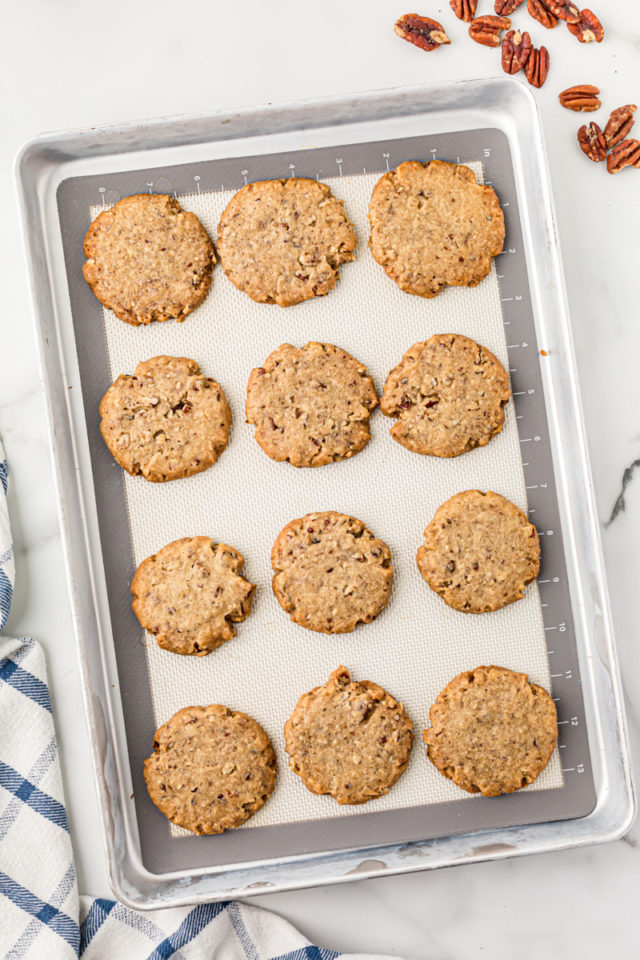 Bake. Bake the cookies one pan at a time for 12 to 16 minutes, or until they're golden brown.
Cool. Set the hot pans on a wire rack and let the pecan sandies cool for 10 minutes. Then, transfer the cookies directly onto the wire racks to finish cooling. (Learn more by reading about why every baker needs wire cooling racks.)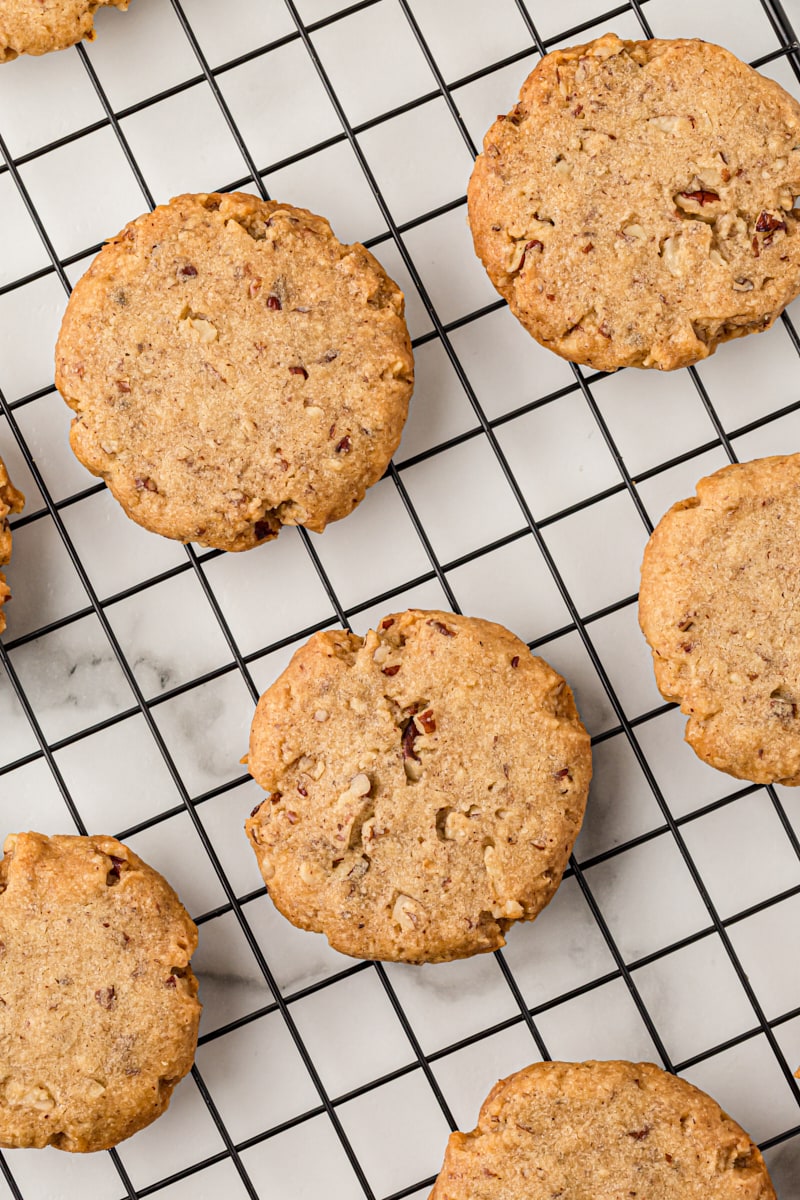 Tips for Success
If you're new to baking, start with my baking tips for beginners. Here are some additional pointers for this pecan sandies recipe.
Use the best quality ingredients you can find. Pecan sandies are a variation of shortbread, which means the butter you use is quite important. It's a key player, so spring for the good stuff.
Don't over-bake the cookies. Doing so will dry them out and they'll be more likely to crumble when handled or stored.
Let pans cool between batches. If you don't have enough pans to fit all of the cookie dough, let your pans cool before you add more dough to make another batch. This will keep your cookies from spreading and over-baking on the bottoms.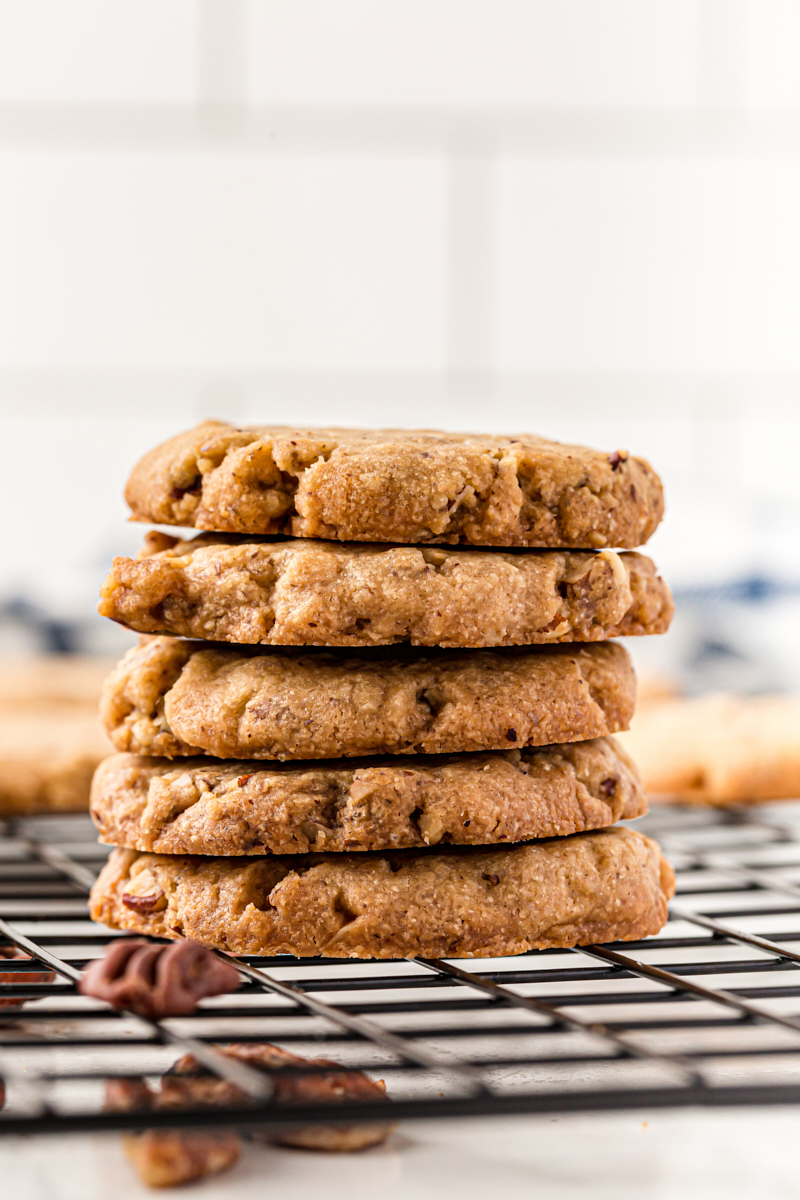 Substitutions & Recipe Variations
This is a recipe where proportions are important, so you don't want to make any big changes to these pecan sandies, but you can make some small tweaks:
Nuts: Swap out the pecans for chopped walnuts, hazelnuts, or macadamia nuts.
Spices: Add a sprinkle of cinnamon or nutmeg to the batter for a warm, cozy flavor.
Extracts: Replace the vanilla extract with almond or rum extract.
Chocolate: Dip the cooled cookies in melted dark chocolate.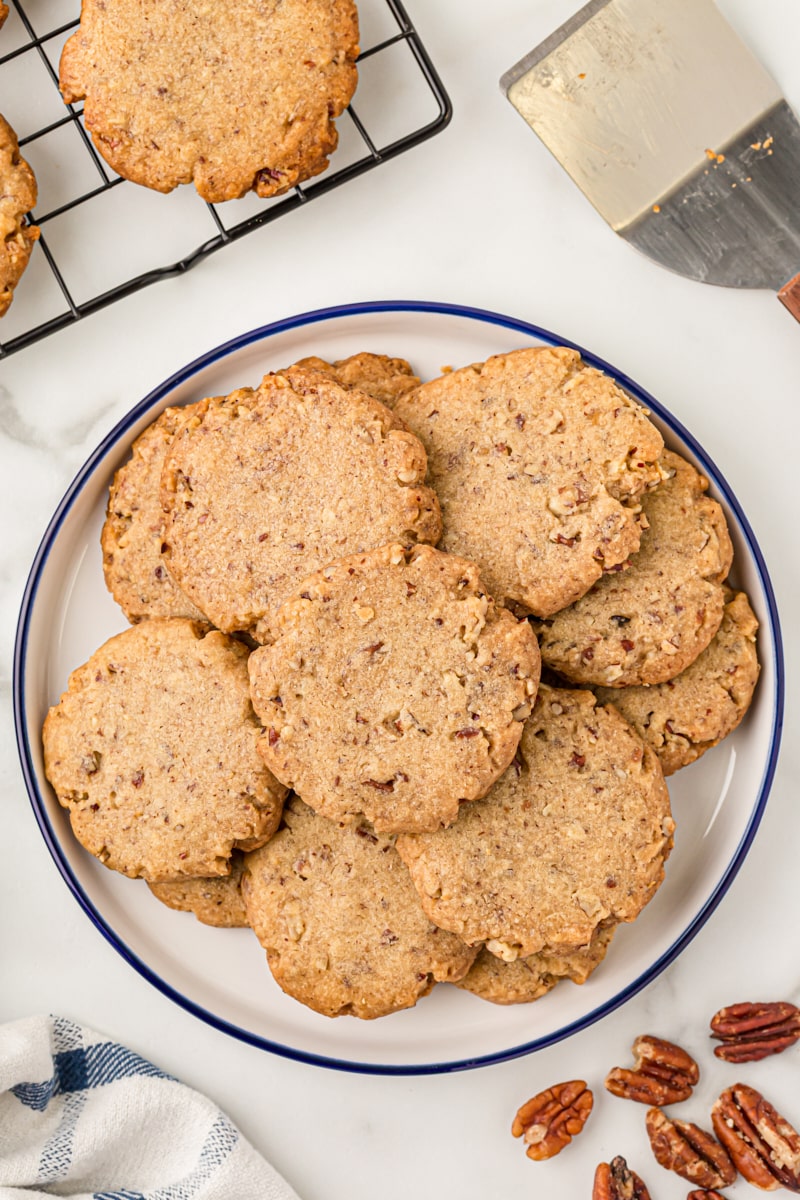 How to Store
Store these pecan sandies in an airtight container at room temperature. They will keep for up to 5 days when stored properly.
Can I Freeze Pecan Sandies?
Yes, you can freeze these pecan sandies. Simply allow the cookies to cool completely, then store them in an airtight container or freezer bag. When you're ready to enjoy them again, let the cookies thaw at room temperature, then serve.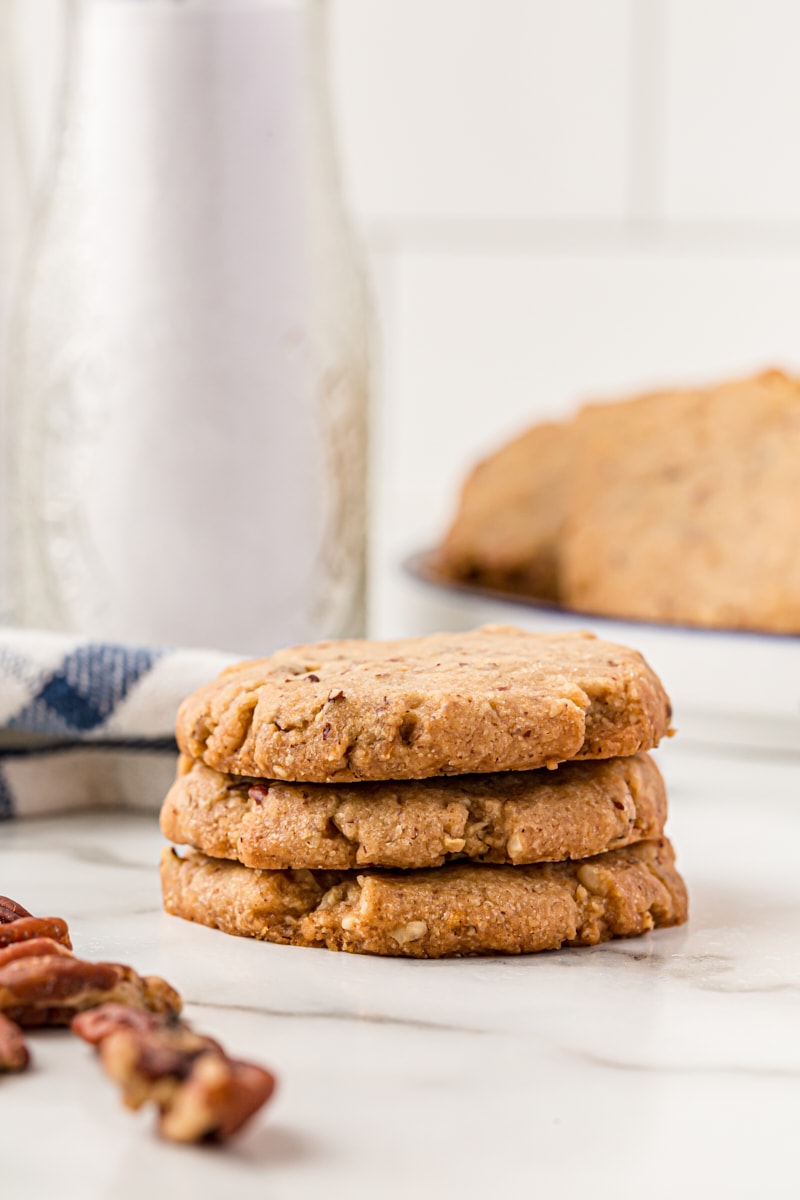 More Shortbread Recipes
If you loved this pecan sandies recipe, be sure to check out some of these other easy shortbread recipes!