December 3, 2007
Pistachio Oat Sandies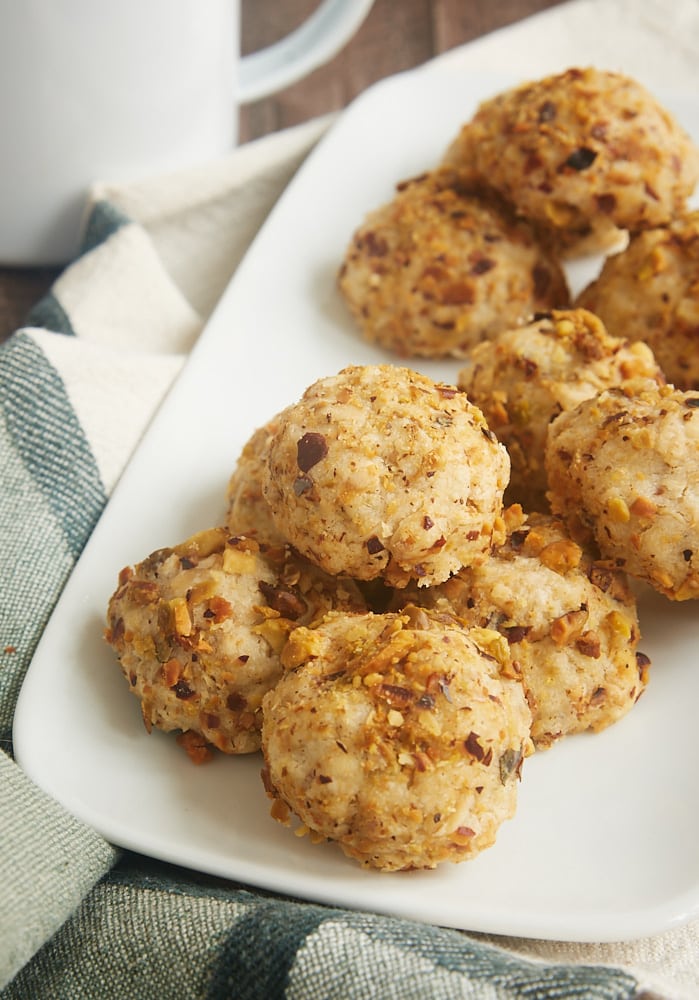 Nuts are one of my favorite baking ingredients. I'm admittedly more likely to turn to pecans, hazelnuts, or almonds, but I also love to bake with other nuts. Like pistachios!
These little Pistachio Oat Sandies are a simple shortbread cookie combined with an oatmeal cookie and all disguised as a drop cookie. You get the simple deliciousness of shortbread with a little chewiness from the oats. And instead of cut-out cookies or a pan of shortbread, you get little rounded cookies full of and covered with plenty of pistachios.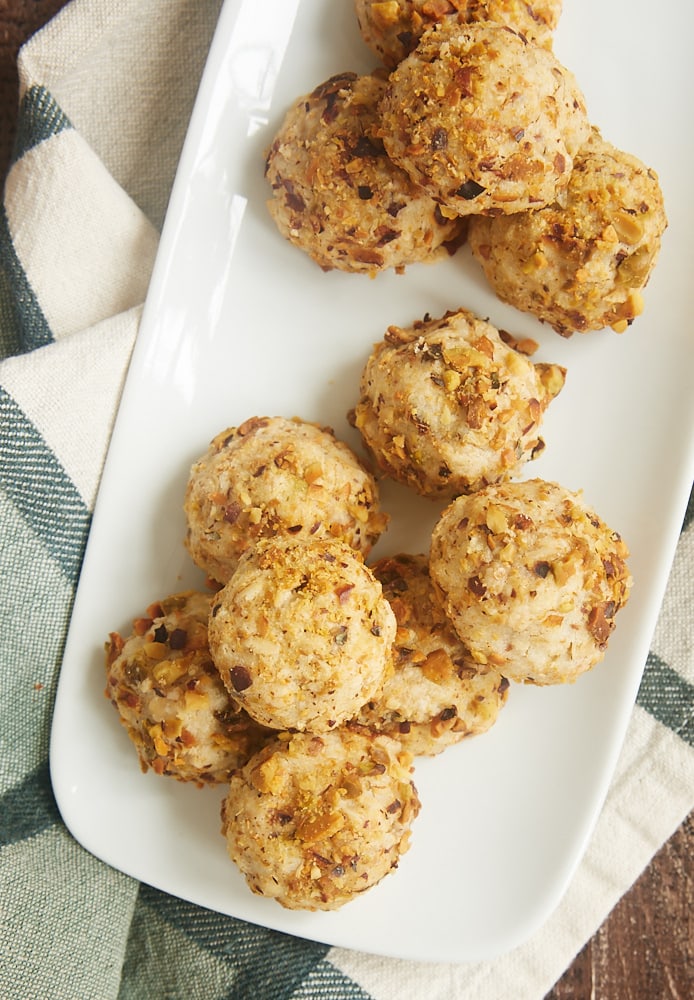 As with any shortbread recipe, the mixed dough will be loose and crumbly. If you've carefully measured all of your ingredients, all will be fine. When it's time to shape and bake the cookies, I use a 1-tablespoon scoop to portion the dough, compact those portions a bit so they hold together better, then roll it into balls.
When you're in a hurry, I know it's tempting to skip that hour of chilling the dough. It will, however, help these cookies keep their shape as they bake. Shortbread is often made in a pan or as cut-out cookies. Making them into shaped drop cookies makes that chilling step pretty important.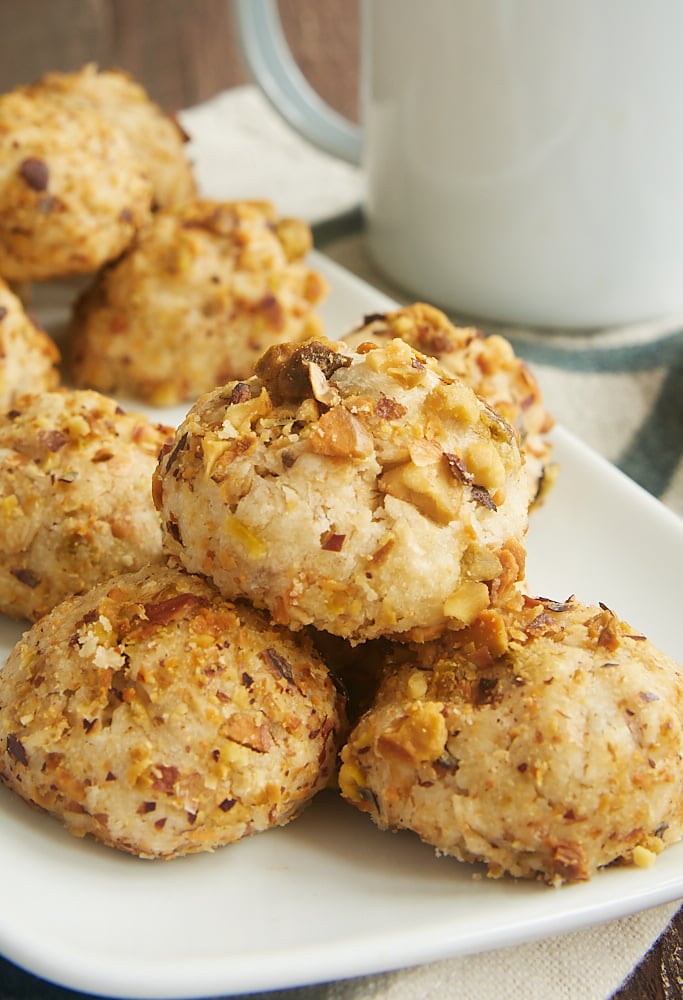 If you're looking for a simple, nutty cookie, then these little guys are for you. The flavor is subtly sweet, and the crunch from the pistachios is just right. A perfect little cookie package!
Find more cookie recipes in the Recipe Index.
This post contains affiliate links. If you make a purchase through one of the links, I'll receive a
small commission at no additional cost to you.
Pistachio Oat Sandies
Yield: 36 cookies
Prep Time:20 minutes
Cook Time:18 minutes per pan
Pistachio Oat Sandies are sweet, nutty little cookies!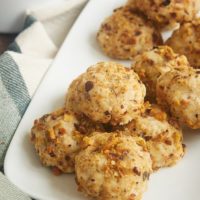 Ingredients:
1 & 1/2 cups all-purpose flour
1 cup regular or quick-cooking oats
1/2 teaspoon salt
1 cup unsalted butter, softened
1/2 cup confectioners' sugar, sifted
1 teaspoon vanilla extract
1 cup finely chopped pistachios, divided into 1/2 cup portions
Directions:
Whisk together the flour, oats, and salt. Set aside.
Using an electric mixer on medium speed, beat the butter and sugar until light and creamy. Add the vanilla and mix well.
Reduce mixer speed to low. Gradually add the flour mixture, mixing just until combined. Mix in 1/2 cup of pistachios. The mixture will be crumbly but will hold together when pinched.
Cover the dough and refrigerate for an hour.
Preheat oven to 325°F. Line baking sheets with parchment paper or silicone liners.
Using 1 tablespoon of dough at a time, roll the dough into balls. Roll each ball in the remaining 1/2 cup chopped pistachios, coating well.
Place the dough balls about 2 inches apart on the prepared pans. Bake 15 to 18 minutes, or until the edges are slightly browned.
Cool the cookies on the pans for 5 minutes. Then transfer to wire racks to cool completely.