Make your weekend breakfast extra special with a basket of warm blueberry biscuits. This easy drop biscuit recipe is perfect for beginning bakers—or anyone who doesn't want a lot of fuss and muss first thing in the morning!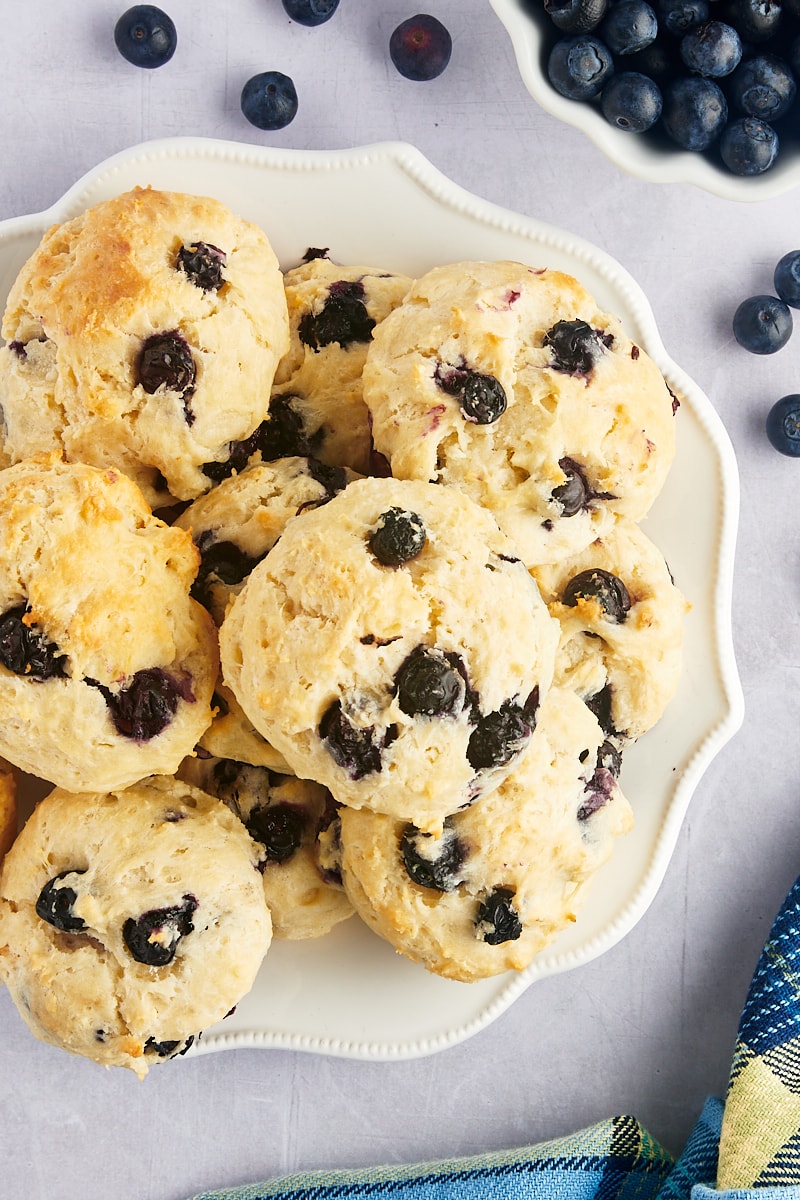 Easy Blueberry Drop Biscuit Recipe
I confess that I'm more than a little intimidated by the prospect of baking biscuits from scratch first thing in the morning. They seem a bit time-consuming for an anti-morning person like myself. All that dough-shaping and biscuit-cutting and such is just a lot to ask so early in the day.
Enter: drop biscuits. And, more specifically, these blueberry biscuits.
Drop biscuits are biscuits for the rest of us. (You know, the ones who don't want to roll out biscuit dough at 6am.) There's no rolling or cutting, which means cleanup is a breeze too.
The inspiration for these blueberry biscuits came from a couple of things. First, I had a beautiful container of blueberries sitting in my refrigerator just begging to be baked up into something delicious. Secondly, I recently remembered sour cream biscuits that a friend used to make. I put those two ideas together and after just a little bit of time and effort, we were eating incredible blueberry biscuits.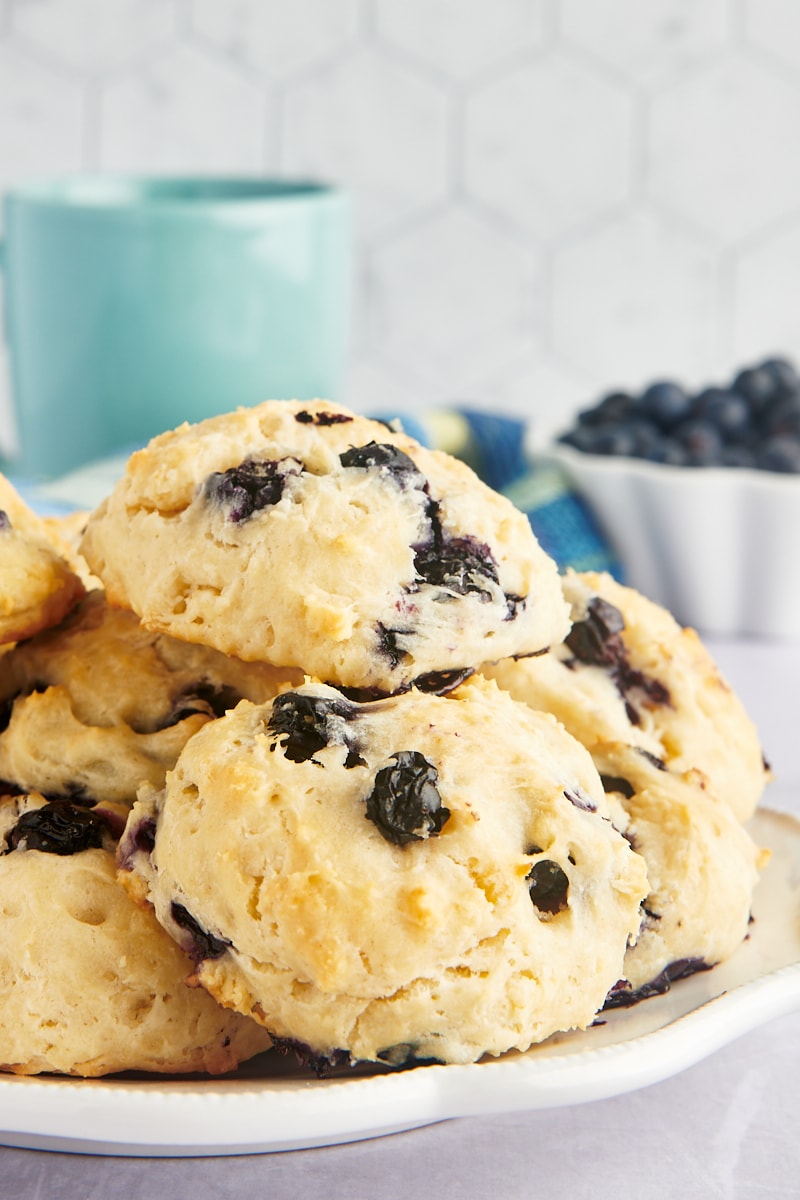 Why You'll Love This Blueberry Biscuit Recipe
Here's what makes this recipe a keeper:
Simple. The dough mixes together in one bowl. Then, scoop the dough onto a baking sheet and bake. That's it!
Everyday ingredients. Aside from the blueberries, you're likely to have (almost) everything else you need for this recipe in your kitchen already.
Versatile. Although I wanted to give traditional drop biscuits a sweet spin by adding blueberries, you can easily adapt this recipe to your own tastes and the ingredients you have on hand.
Soft and delicious. The addition of sour cream gives these blueberry biscuits a lovely, tender crumb. No dry biscuits here!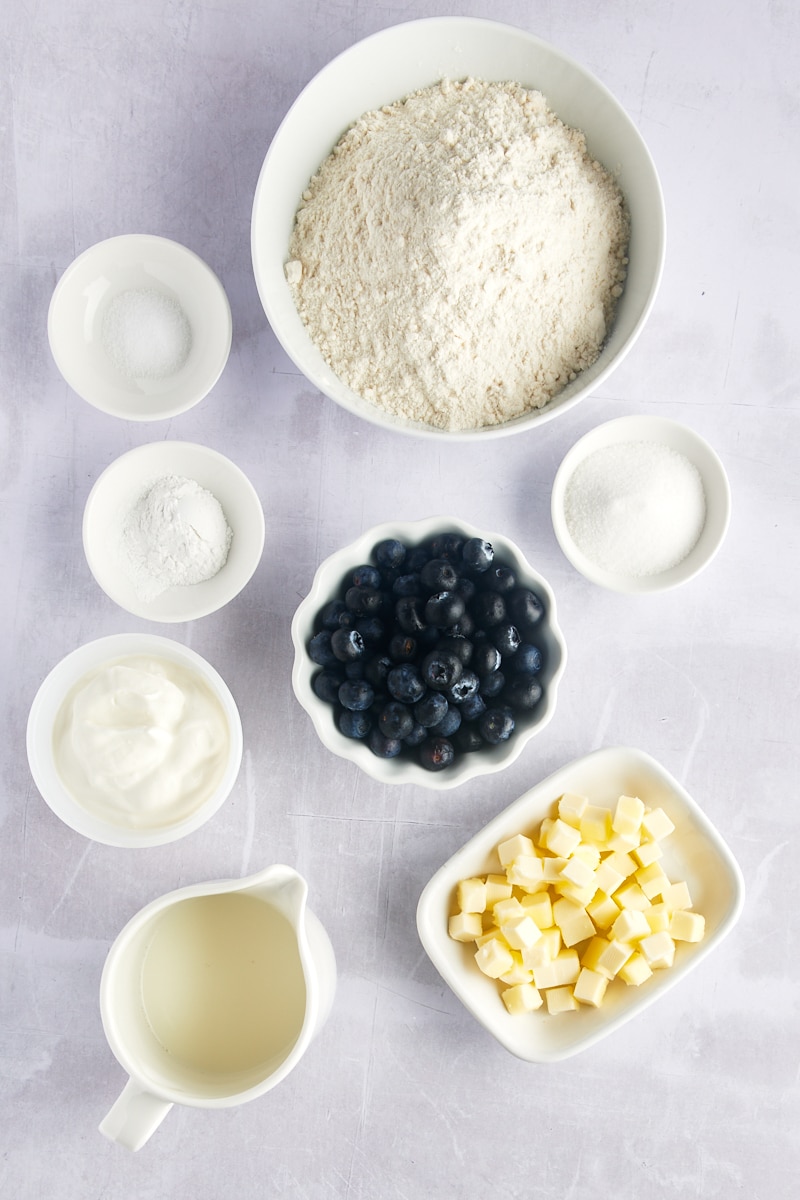 What You'll Need
Scroll down to the recipe card to find the ingredient quantities and recipe instructions.
All-purpose flour – Here's how to measure flour for baking.
Granulated sugar
Baking powder – Biscuits are leavened with baking powder or soda rather than yeast.
Salt
Butter – Soften the butter, then cut it into pieces.
Sour cream – Full-fat sour cream is best.
Milk – I prefer baking with whole milk, but you can use whatever you have on hand.
Blueberries – For the best results, use fresh blueberries. Learn more: Fresh vs Frozen Fruits in Baking
How to Make Blueberry Biscuits
Although these blueberry biscuits are easy enough to make in the morning, you can also make them at night and warm them up when you're ready to eat breakfast!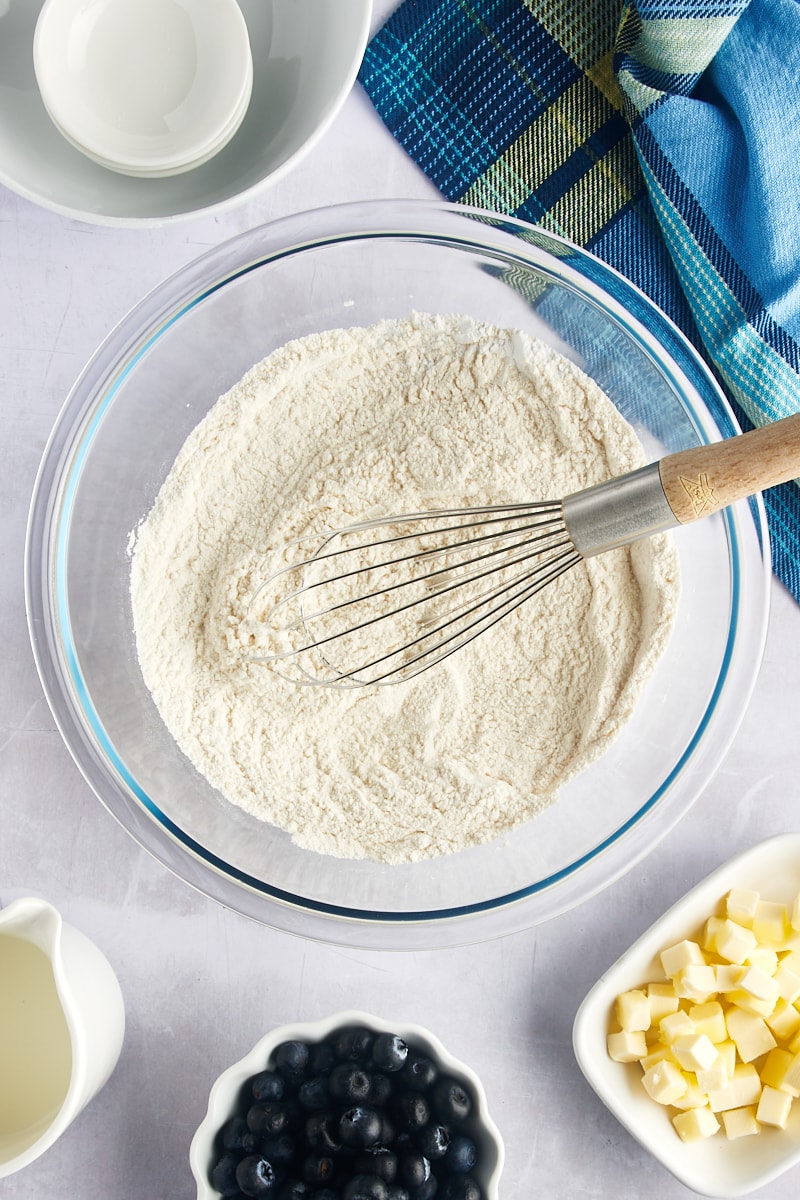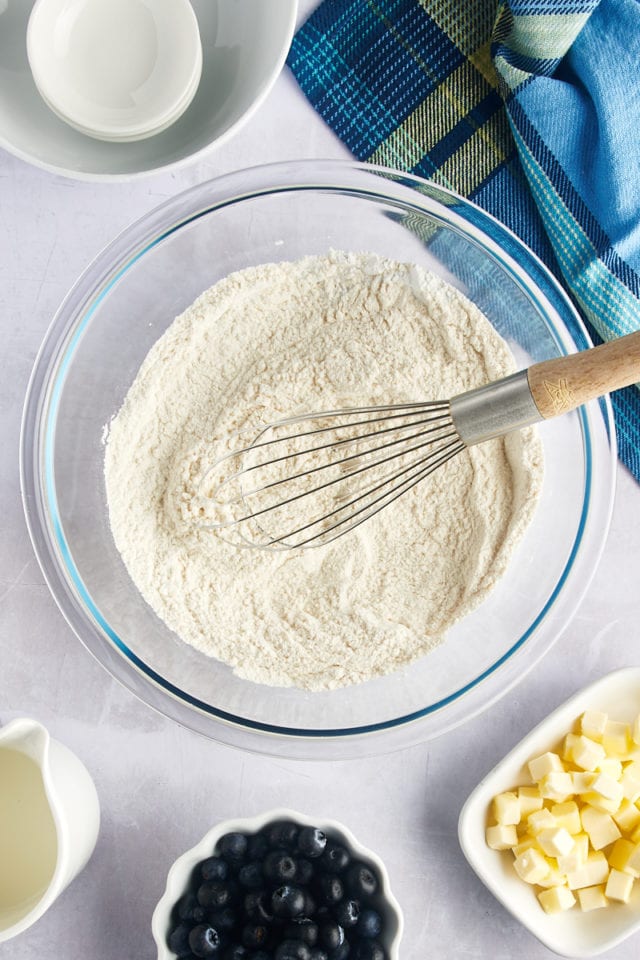 Prepare. Preheat your oven to 375°F and line a baking sheet with parchment paper.
Mix the dry ingredients. Whisk the flour, sugar, baking powder, and salt in a mixing bowl.
Work in the butter. Add the butter to the flour mixture and incorporate it with a fork, a pastry blender, or your hands.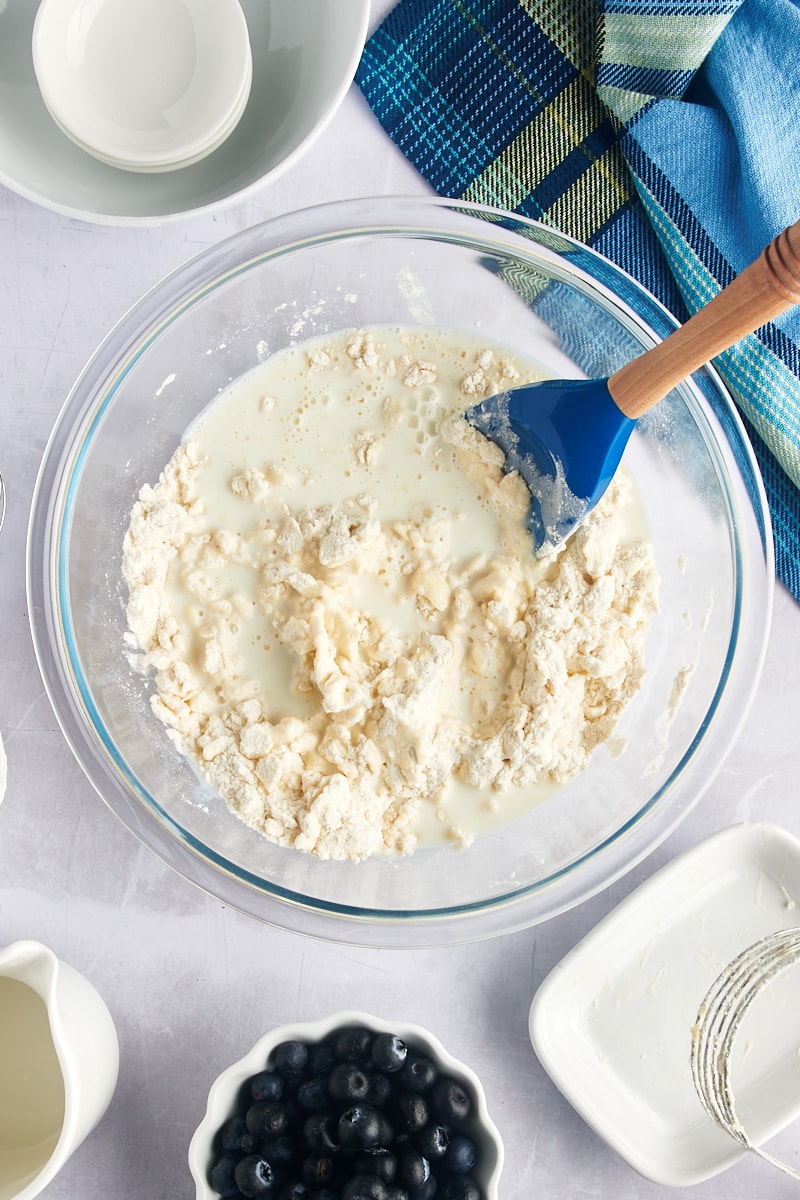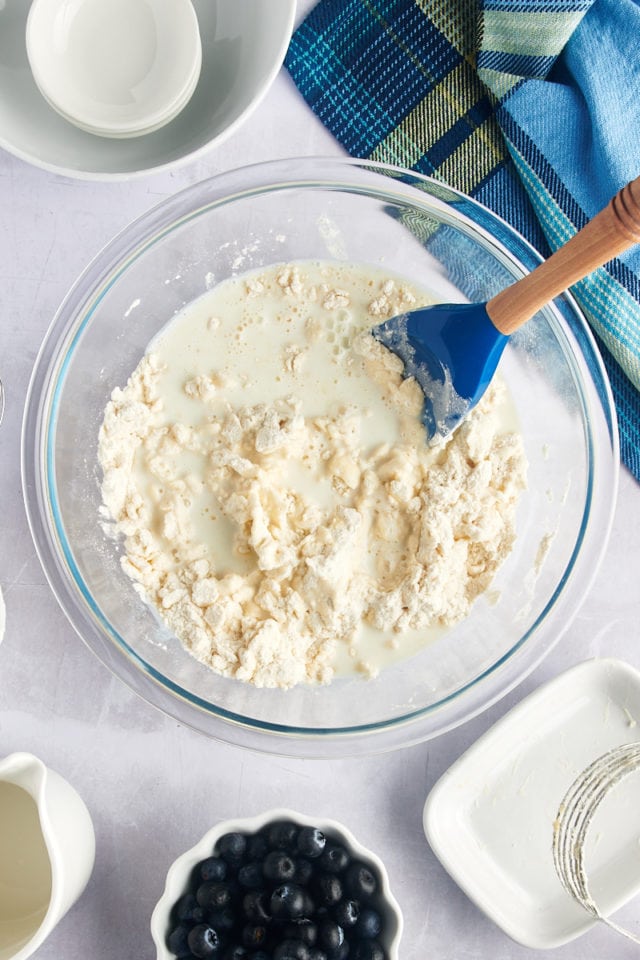 Finish the dough. Stir in the sour cream, followed by the milk. Gently fold in the blueberries.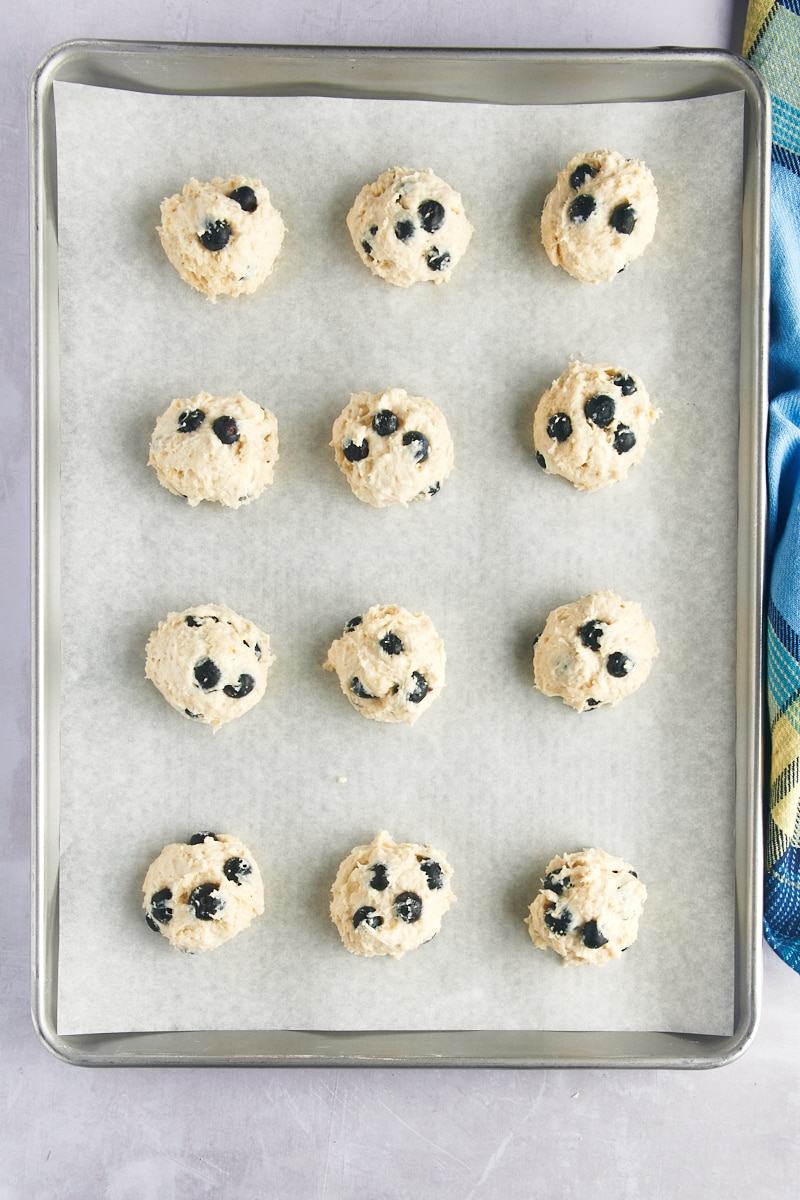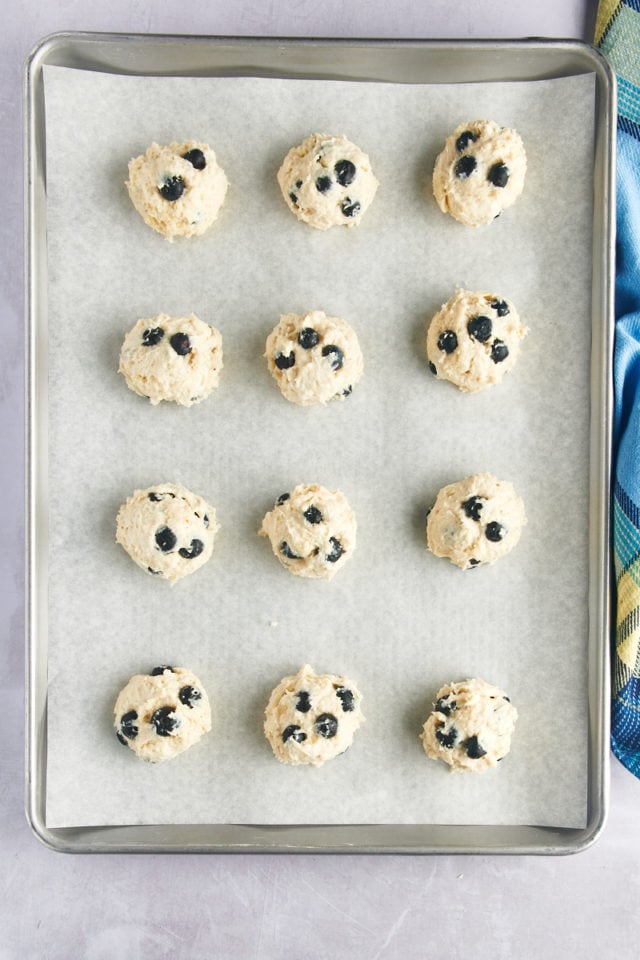 Bake. Drop the dough onto the baking sheet in 3-tablespoon portions. Bake for 20 to 25 minutes, or until the biscuits are lightly browned and feel set when you lightly tap the top.
Tips for Success
Read over my baking tips for beginners, then follow these additional tips and pointers for perfect blueberry biscuits:
Don't over-mix. Doing so will cause the gluten in the flour to toughen, which will result in flat, tough biscuits.
Be gentle when adding the blueberries. If you stir too vigorously, they'll break and stain the batter. A few crushed berries is fine, but you don't want a lot of them!
Use a scoop for the dough. If you have a large cookie scoop or ice cream scoop, it will be your best friend for dropping the dough onto the baking pans. I have this 3-tablespoon scoop that works perfectly for getting the dough cleanly onto the pans and ready to bake.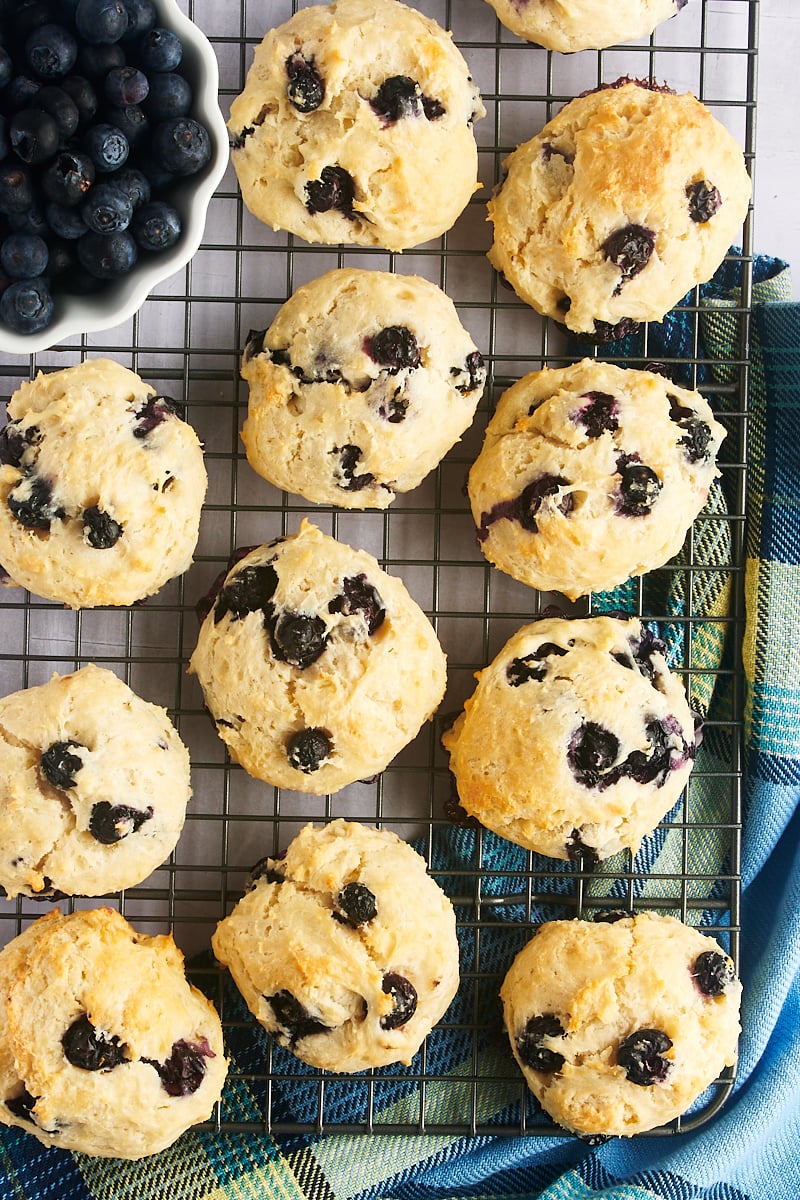 Variations
Use different berries if you want—raspberries would be fabulous, or try chopped strawberries. Diced peaches would be a delight too.
Alternatively, you can omit the fruit altogether, or make savory drop biscuits by cutting the sugar in half. If you do go the savory route, try adding some spices and cheese. I love to add garlic powder, freshly ground pepper, and Parmesan cheese for a perfect soup companion.
Serving Suggestions
Serve your blueberry biscuits with a pat of honey butter or your favorite preserves. Lemon curd also pairs well with the blueberries, adding a little bit of tart flavor to complement their sweetness.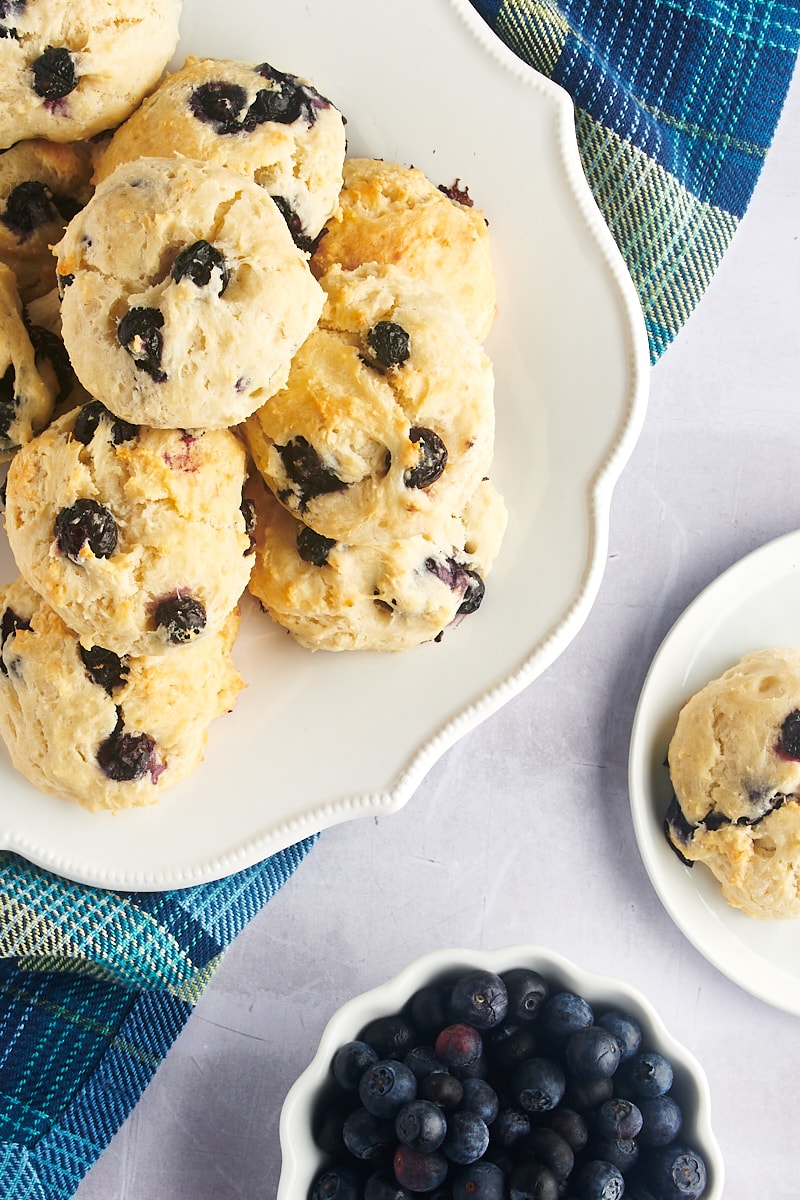 How to Store
Store blueberry biscuits in an airtight container at room temperature for 2 to 3 days.
Can This Recipe Be Frozen?
You can freeze blueberry biscuits before or after baking them.
To freeze before baking, place the portioned dough on a parchment-lined baking sheet and put it in the freezer. Once the dough is frozen through, transfer it to an airtight container or freezer bag. It will keep this way for up to 3 months; bake the biscuits directly from frozen, adding a few extra minutes to the baking time to account for them starting out frozen.
Already baked blueberry biscuits can be frozen in a freezer bag or airtight container for up to 2 months. Let them thaw at room temperature or heat them in the microwave before serving.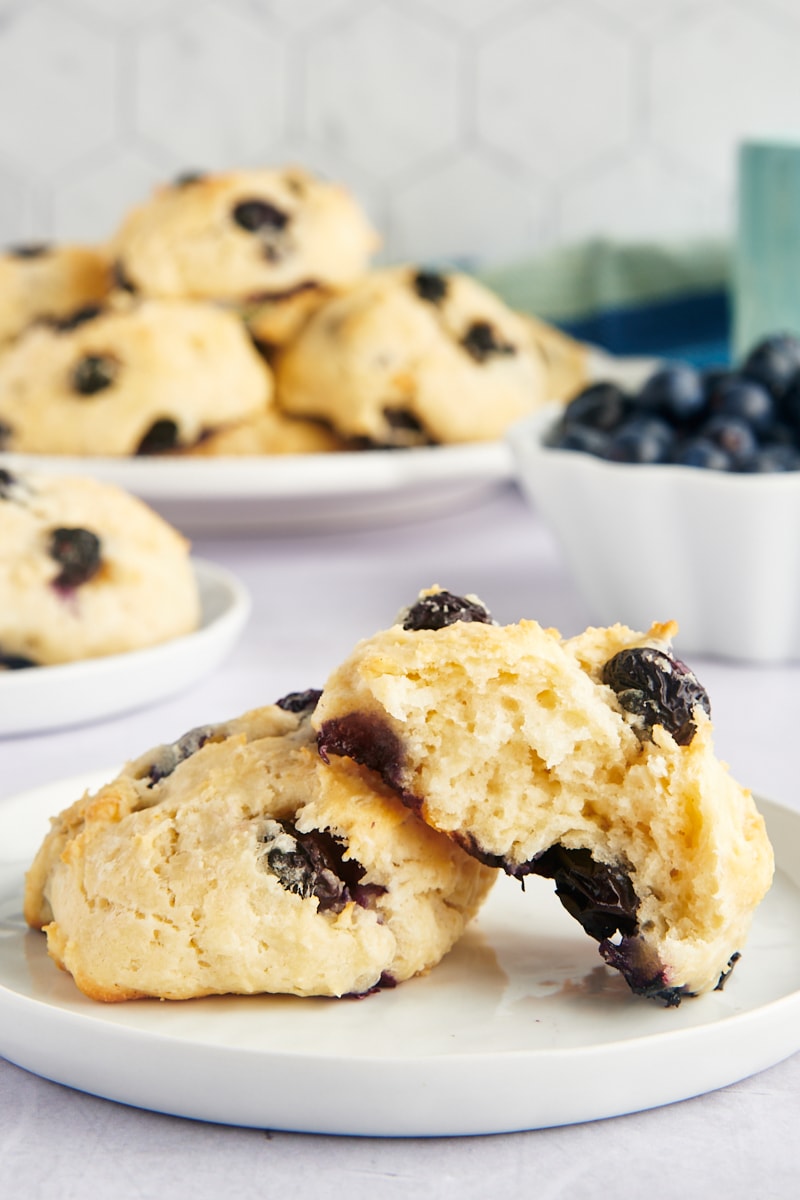 More Blueberry Recipes