Lemon Zucchini Muffins are soft, not-too-sweet muffins with fantastic fresh flavor. A great recipe for using your abundance of summer zucchini!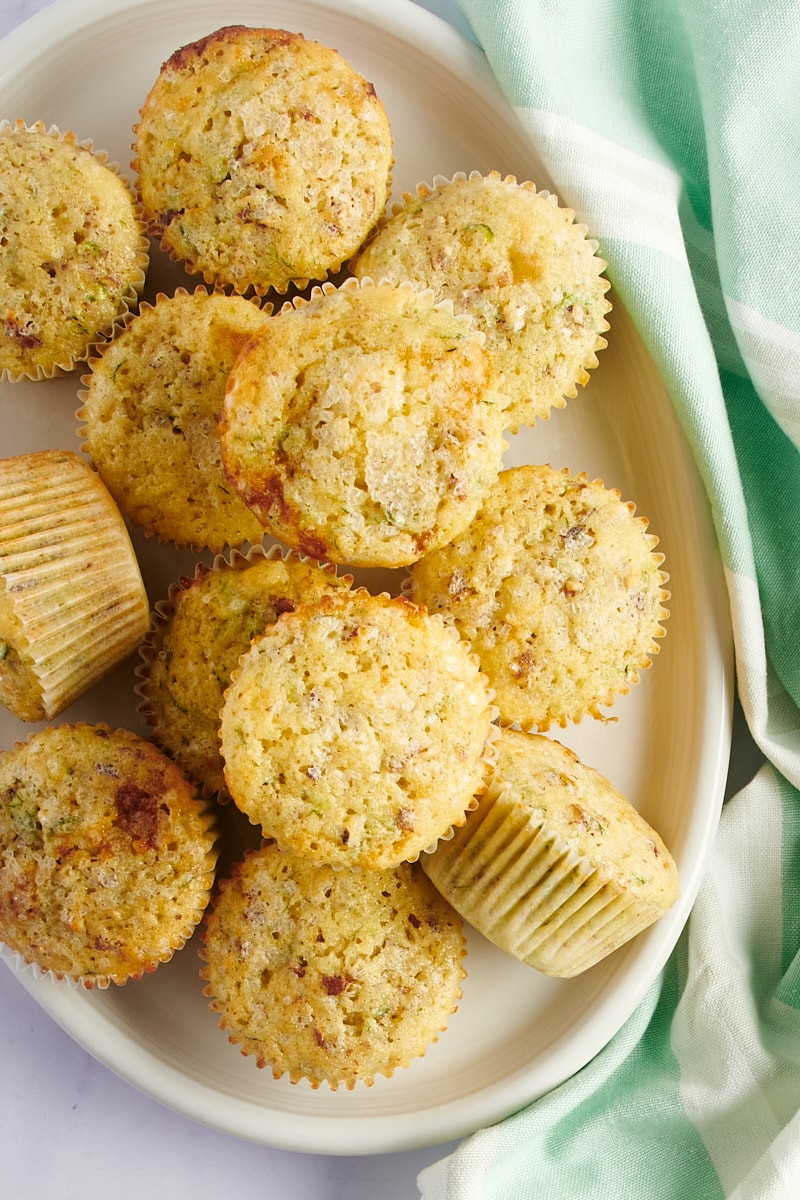 Moist Lemon Zucchini Muffins
If your summer is always filled with fresh zucchini, then you know that you can bake some pretty amazing things with it. Its mild flavor and ability to make baked goods super moist makes it a perfect candidate for baking!
These Lemon Zucchini Muffins are just what I want a muffin to be. They're wonderfully soft, moist, and not too sweet. Their light lemon flavor adds a little zing to brighten your breakfast or afternoon snack.
If you are new to baking with zucchini and are dubious, rest assured that the zucchini flavor isn't obvious. It adds some bulk to these muffins while providing moisture. Be sure to grate it finely, and it will basically disappear into the batter!
Ready to try more zucchini quick breads? Make Pineapple Zucchini Bread, Chocolate Chip Zucchini Muffins, or Chocolate Zucchini Bread next!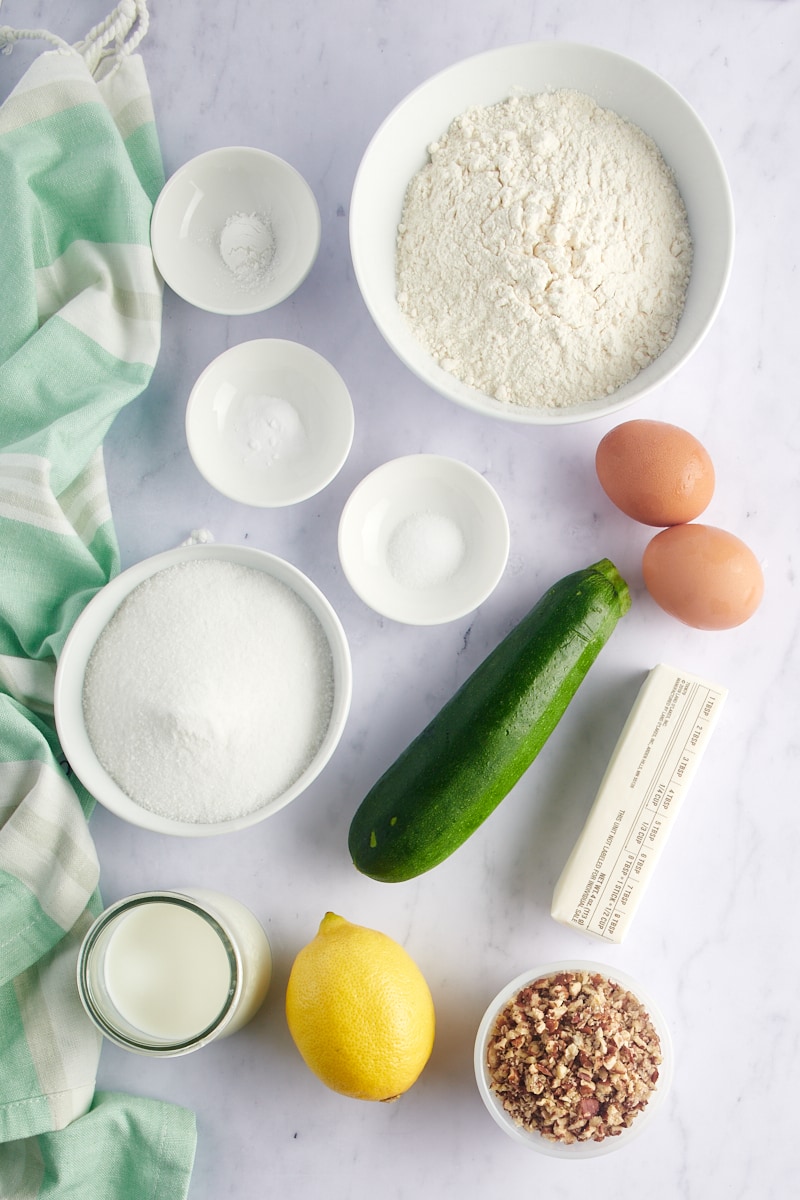 What You'll Need
Besides the zucchini and lemon, you likely have everything you need to make a batch of Lemon Zucchini Muffins. Scroll down to the recipe card at the bottom of this post for ingredient quantities and full instructions. Here are some helpful notes about the ingredients.
All-purpose flour – Measure by weight or use the spoon and sweep method. Learn more: How to Measure Flour
Granulated sugar
Baking powder
Baking soda
Salt
Lemon – You'll need both lemon zest and lemon juice for these muffins. I've put a range for each in the recipe below, so you can adjust the amount of lemon to your tastes. One medium lemon should be sufficient. Learn more: How to Zest and Juice Lemons
Unsalted butter – After melting the butter, let it cool for a few minutes before mixing it with the other ingredients.
Milk – Let the milk come to room temperature. I recommend baking with whole or 2% milk.
Eggs – Let these come to room temperature, too. I recommend baking with large eggs.
Zucchini – Finely shred the zucchini with a box grater or a Microplane. One medium zucchini is usually enough to get a cup.
Chopped nuts – These are optional but add a nice crunch and flavor. Pecans, almonds, and walnuts are all good choices.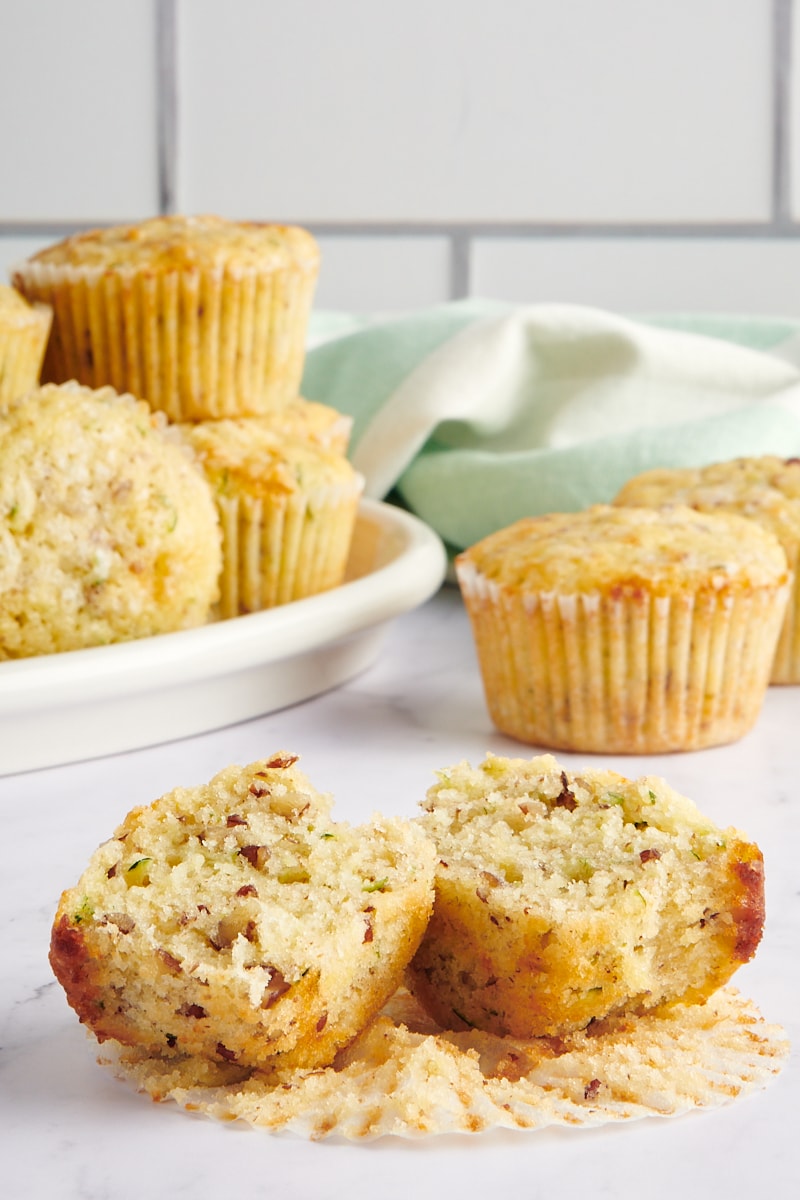 Should zucchini be drained before baking?
For most zucchini recipes, I like to remove some of the moisture before stirring it into the batter. Simply place a paper towel over the zucchini after grating it, and the towel will absorb some of the water. It should still feel slightly wet to the touch.
While zucchini is usually available year-round, you'll find that zucchini that's in-season or from your own garden will have a higher water content. If yours seems especially wet, you can be a bit more aggressive in removing some of that water. And if your grated zucchini seems dry, sprinkle a little water on top of it.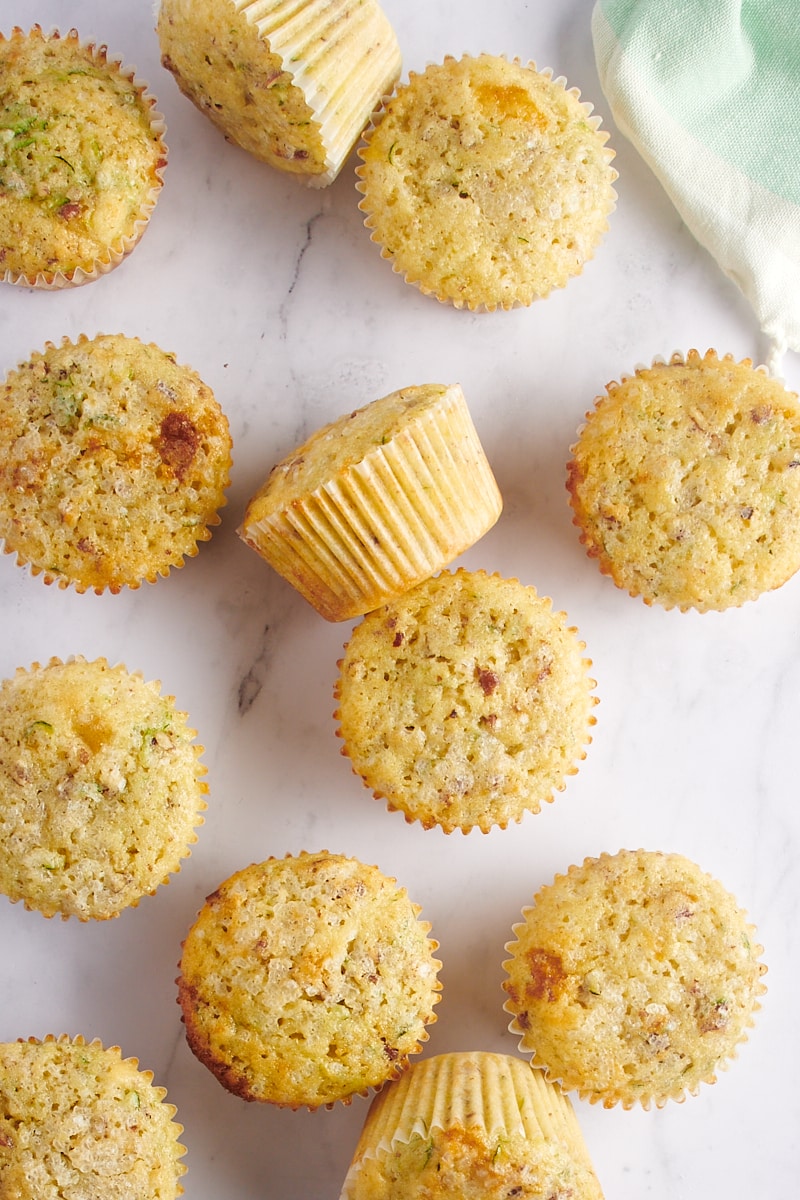 How to Make Lemon Zucchini Muffins
This easy zucchini muffin recipe follows the muffin method, making it a great no-fuss recipe. No need to get out your mixer; these muffins mix easily with just a mixing spoon.
Prepare for baking. Heat the oven to 375°F. Line a 12-cup muffin pan with paper liners. If you don't want to use liners, grease the muffin cups. I recommend a cooking spray with flour, like Baker's Joy or Pam Baking.
Combine the dry ingredients and sugar. Whisk together the flour, sugar, baking powder, baking soda, salt, and lemon zest. Make a well in the center of the mixture.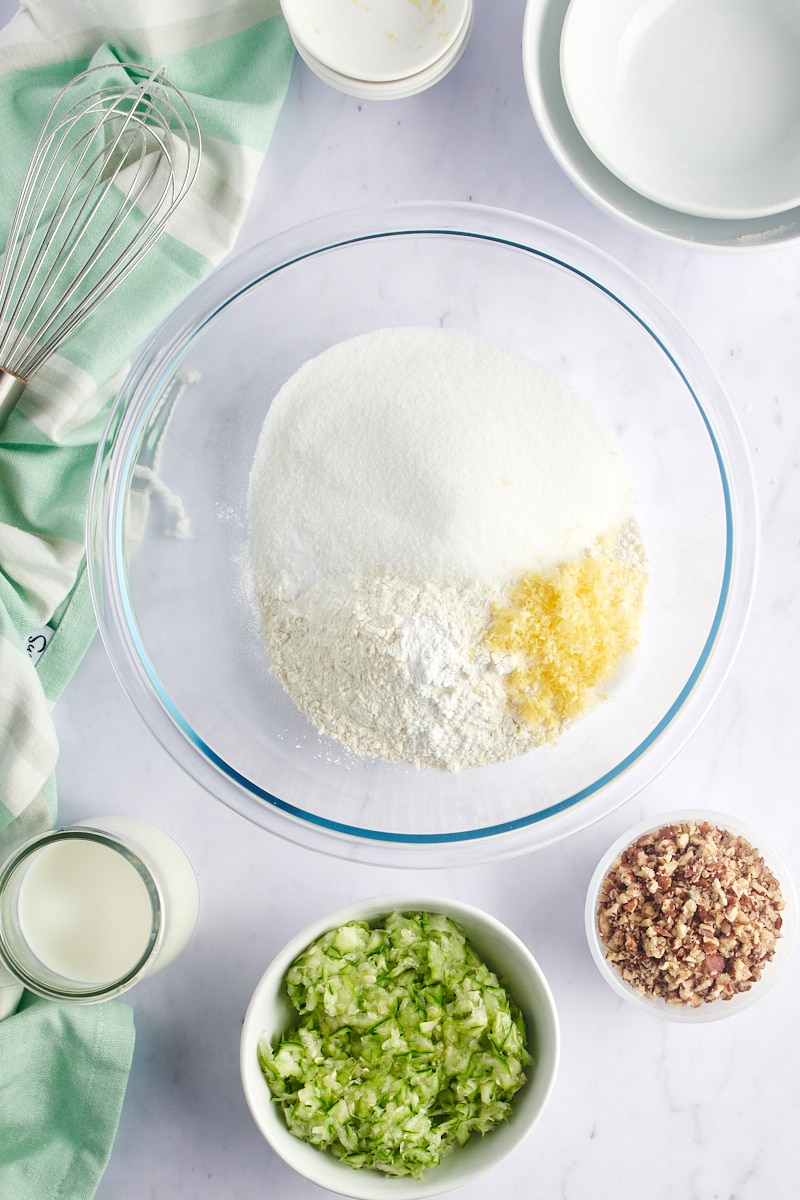 Combine the wet ingredients. Stir together the melted butter, milk, eggs, and lemon juice in a separate bowl.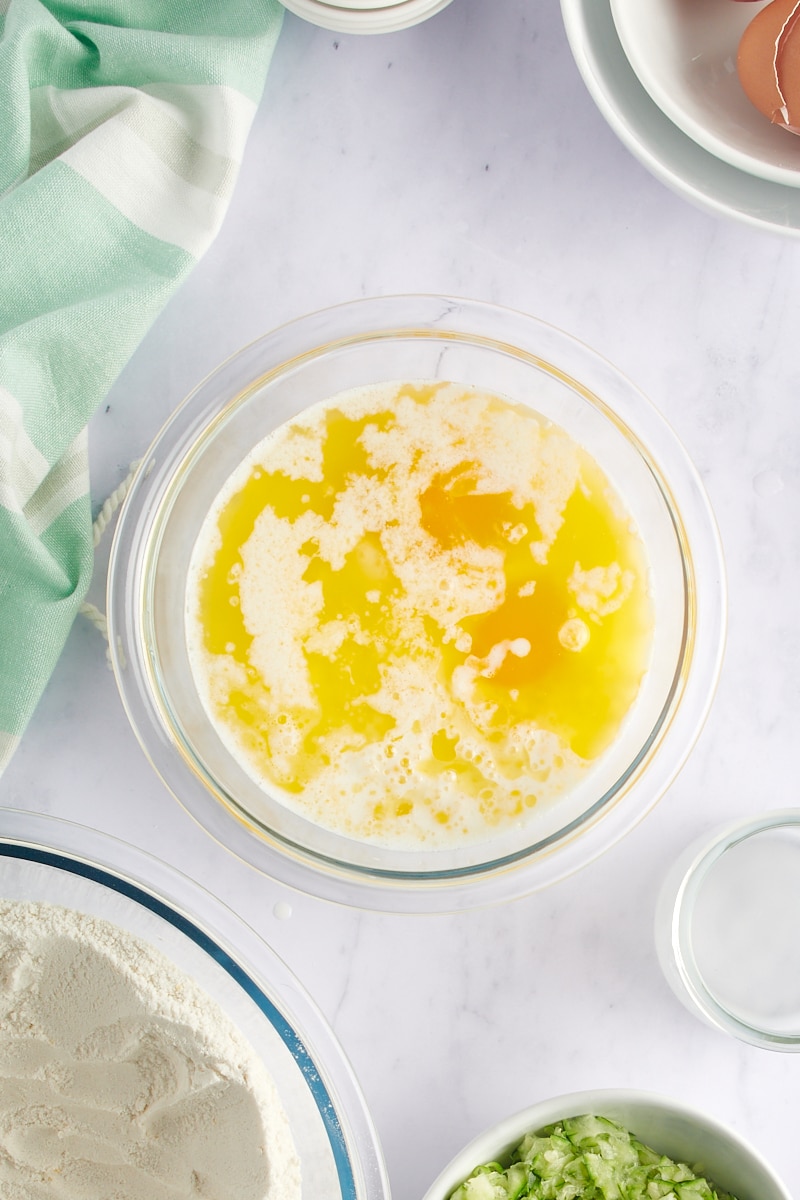 Add the wet ingredients to the dry ingredients. Pour the butter mixture into the well in the flour mixture. Stir just until combined or a few streaks of flour remain.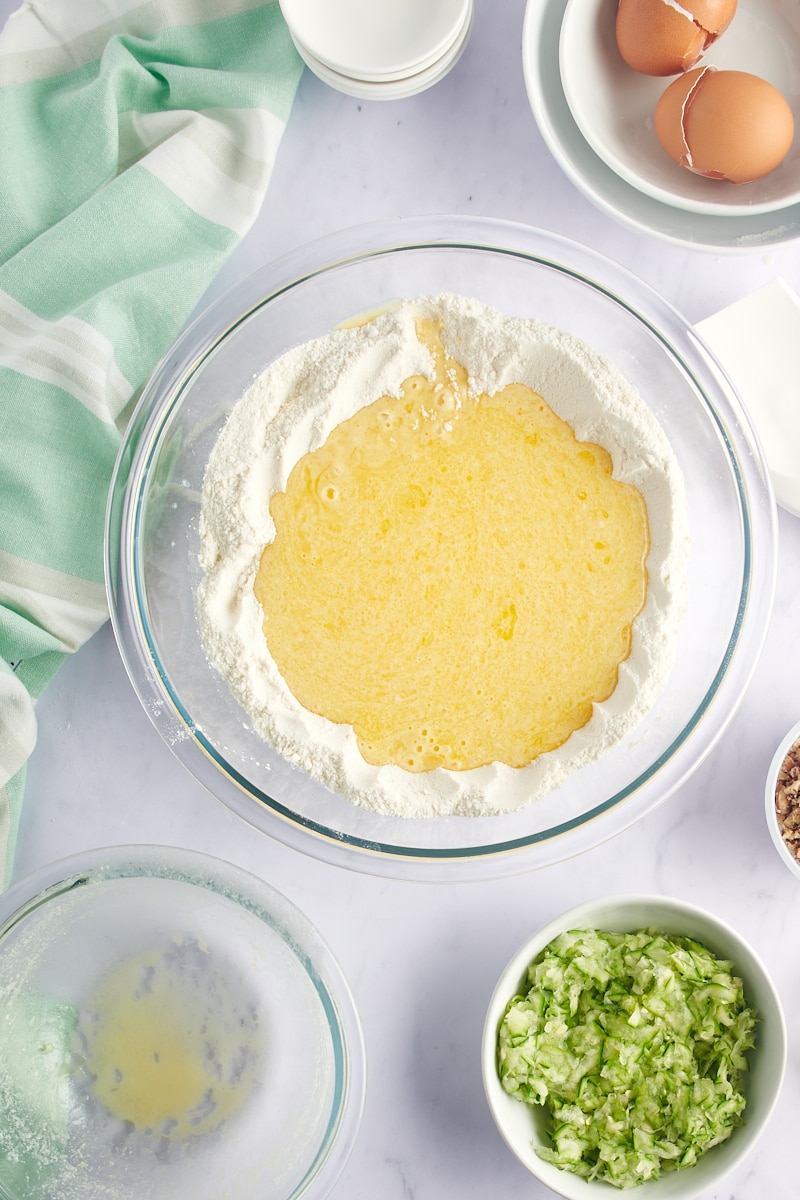 Add the zucchini and nuts. Gently stir the shredded zucchini and nuts into the batter.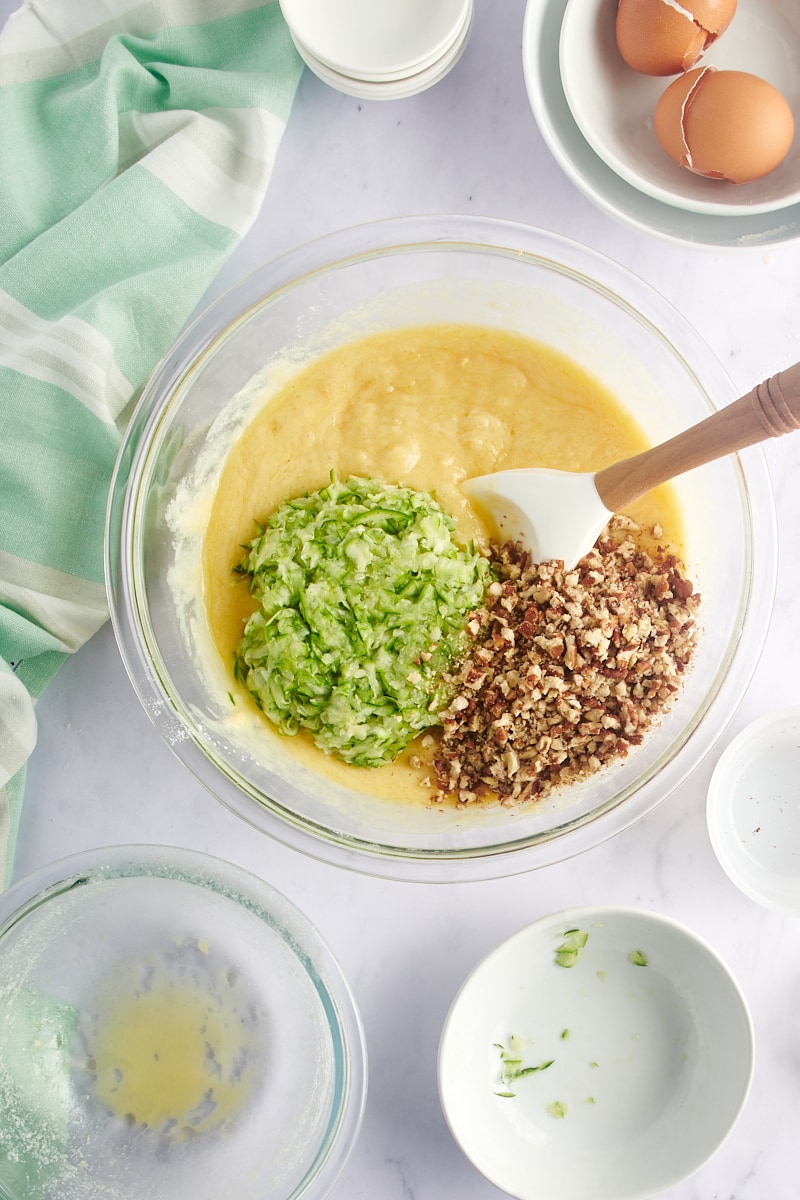 Bake. Divide the batter among the prepared muffin cups, using about 3 tablespoons of batter to fill each cup 3/4 full. If you're adding coarse sugar, sprinkle a pinch on top of each muffin. Place the pan in the heated oven, and bake 20 to 25 minutes. When the muffins are golden brown and a toothpick inserted into the center comes out clean, they're ready to come out of the oven.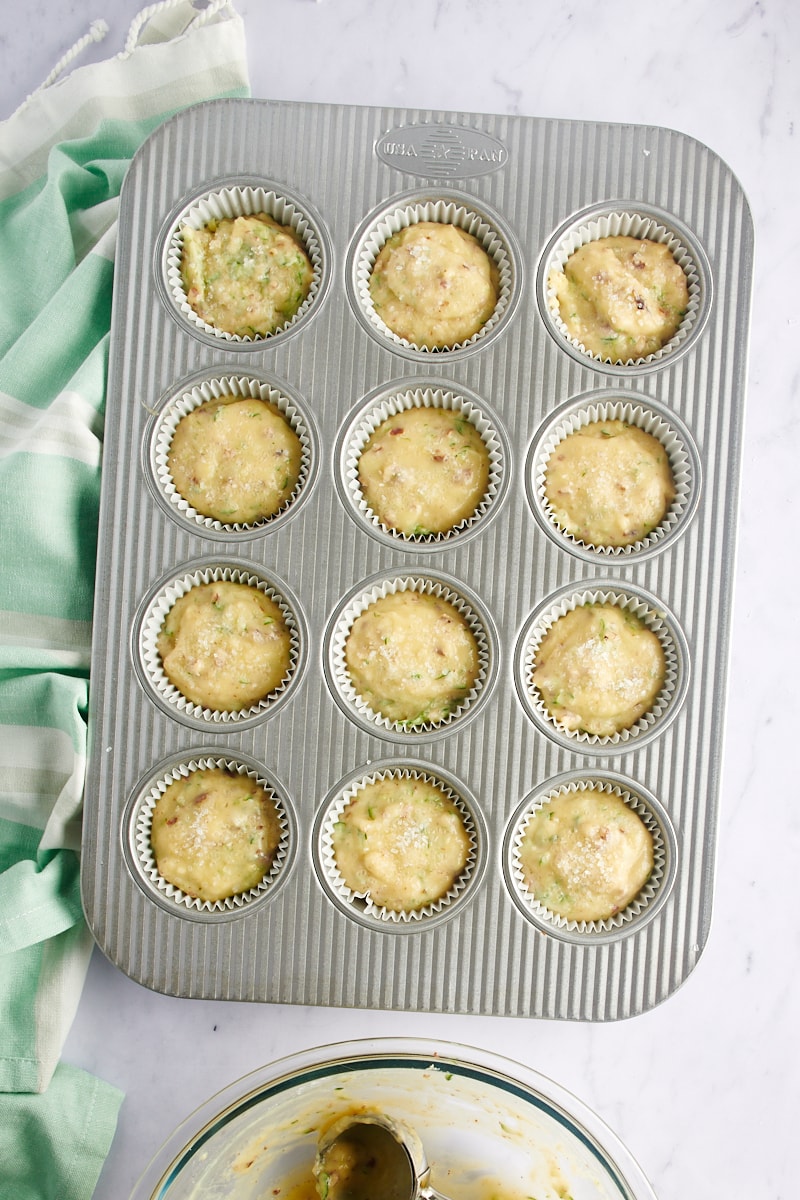 Cool. Place the pan on a wire rack and allow the muffins to cool for 10 minutes. Then remove the muffins from the muffin tin and place them directly on a wire rack to allow them to cool completely.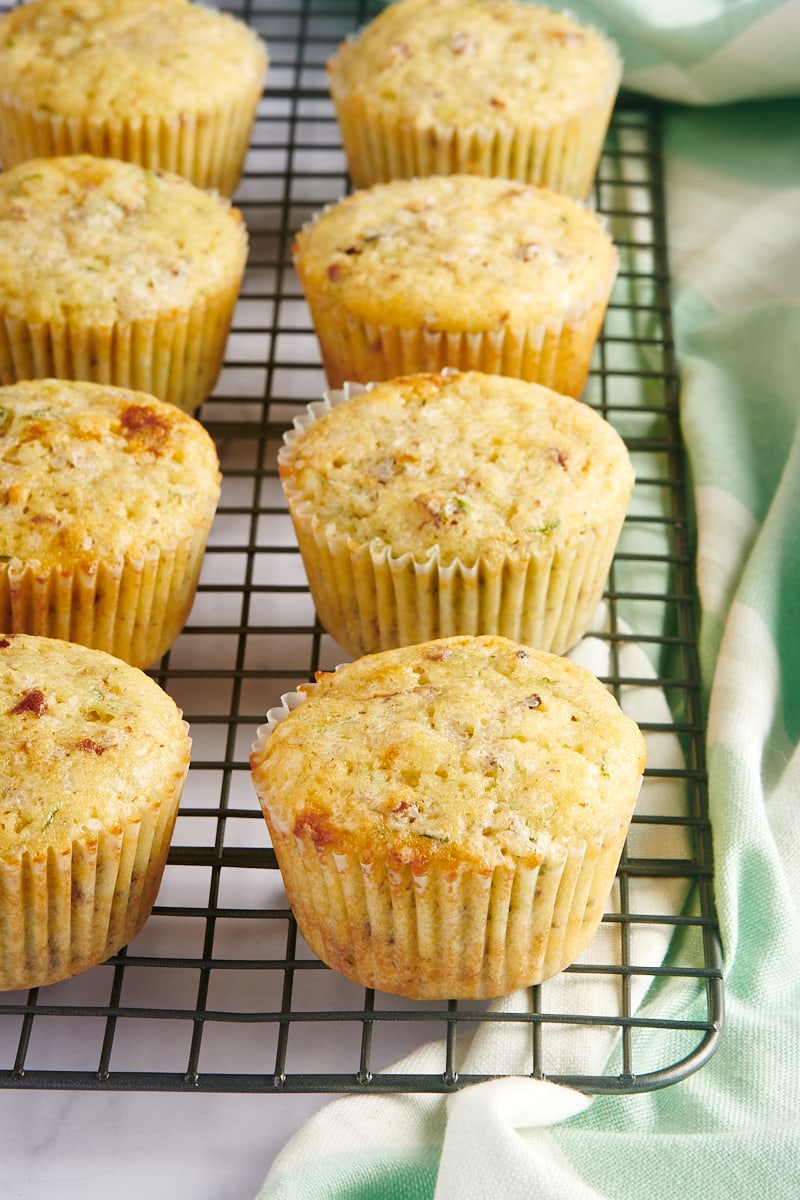 Topping Ideas
I usually add a pinch of coarse sugar to the top of these Lemon Zucchini Muffins to give them an extra bite of sweetness and a little sparkle. Sanding sugar or turbinado sugar are both good choices.
If you'd like to top the baked muffins with a glaze, try a simple sweet glaze like the one on Triple Citrus Poppy Seed Muffins. For a lemon glaze, simply add a squeeze of lemon juice. Drizzle the glaze over the cooled muffins.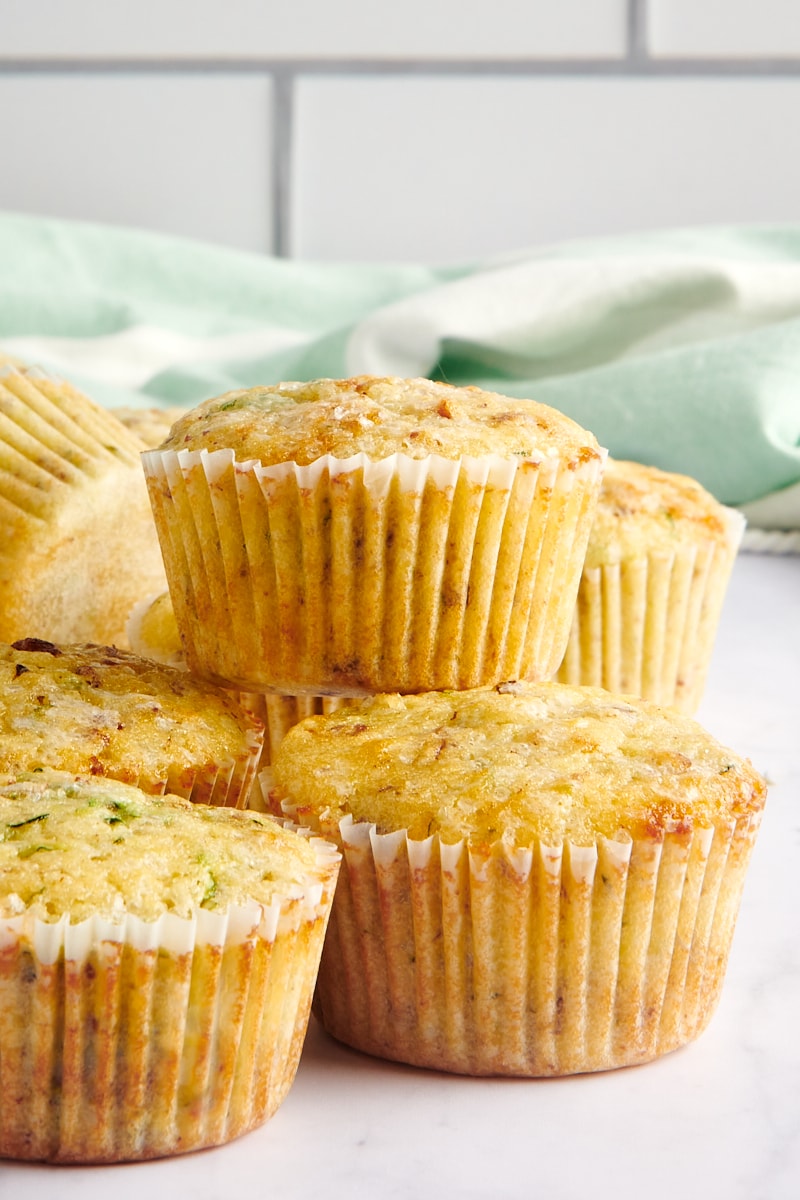 Tips for Success
Don't over-mix. Too much mixing means tough, dry muffins. Mix just until combined or you can see a few small streaks of flour in the batter.
Use a light-colored metal pan. Your muffins will bake more thoroughly and evenly.
Peeling the zucchini. You don't have to peel the zucchini, as that peel will soften as the muffins bake. But you can peel it if you prefer fewer green flecks in your muffins.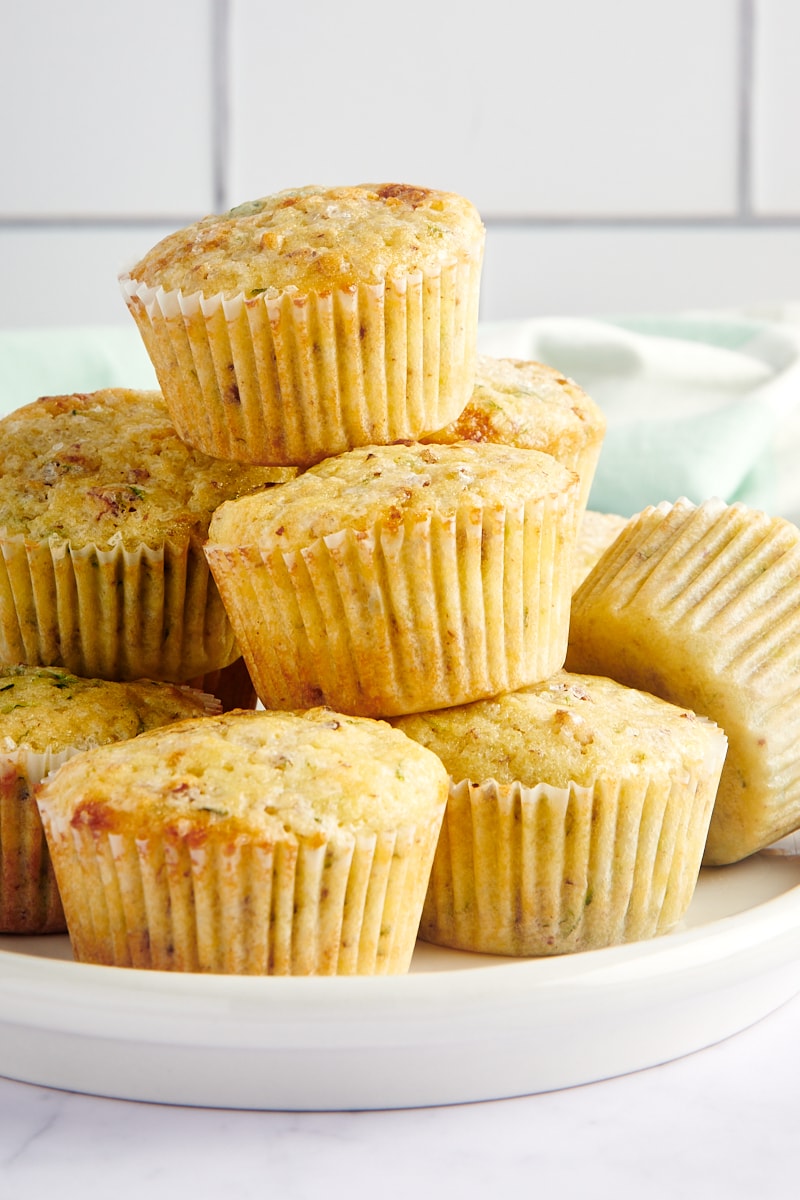 How to Store Lemon Zucchini Muffins
After the muffins have cooled, place them in an airtight container. They should keep at room temperature up to 3 days. To keep them from becoming soggy, you can place paper towels in the bottom of the container as well as between layers of muffins and on top of the muffins.
Can These Muffins Be Frozen?
Yes, you can freeze these muffins. Place the cooled muffins in an airtight, freezer-safe container or bag. Properly stored, the muffins should keep in the freezer up to 3 months. Thaw for an hour or two at room temperature, or warm briefly in the microwave.