July 24, 2018
Blueberry Peach Crisp
This Blueberry Peach Crisp celebrates two great summer flavors in a quick and easy crisp. Just add ice cream for a perfect summertime dessert!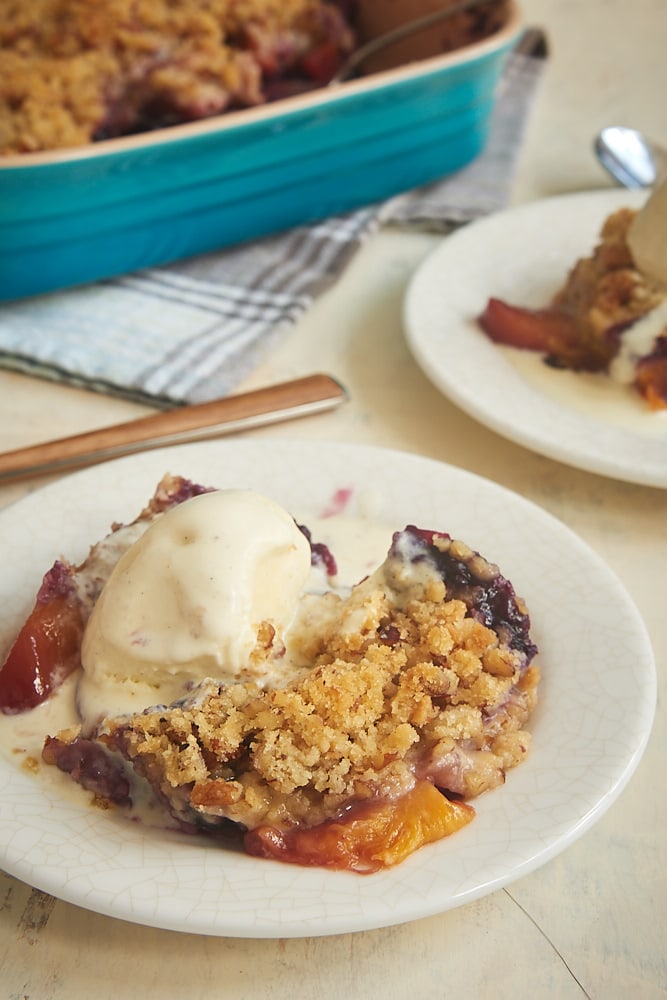 One of my favorite things to bake in the summer is a good fruit crisp filled with plenty of seasonal fruits. I find that combination of sweet, gooey, warm fruit filling and a streusel topping to be pretty irresistible.
This Blueberry Peach Crisp is no exception. Sweet blueberries and peaches are such a great flavor combination. Add in a little bit of lemon juice, and you've got a great flavor start to this dessert. Then top that with a nutty streusel topping, and you're going to be in fruity dessert heaven!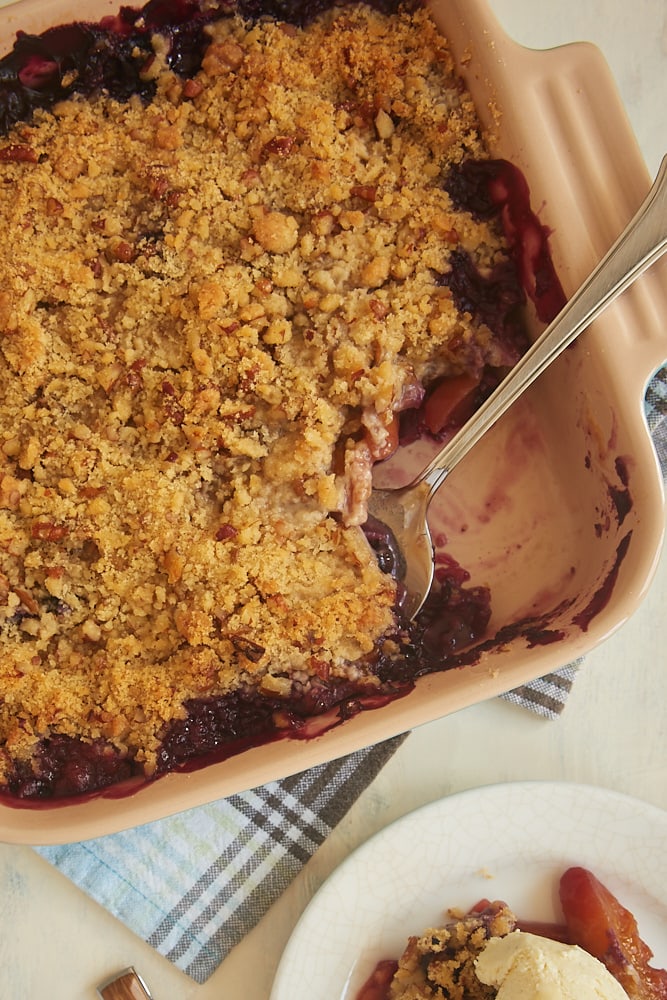 The nuts in the topping are optional if you prefer not to use them, but I think they're pretty fantastic for a nice crunch and a bit of extra flavor that goes oh-so well with the other flavors. I most often use pecans because that's what I'm mostly likely to have in my kitchen, but feel free to use hazelnuts, almonds, or another favorite.
You can also change up the filling if you like. Peaches go well with lots of other berries, too. Try raspberries or a combination of berries. Or try apricots or plums in place of (or combined with) the peaches. Desserts like this one are wonderfully adaptable to suit your tastes and to use whatever fruits you have in your kitchen.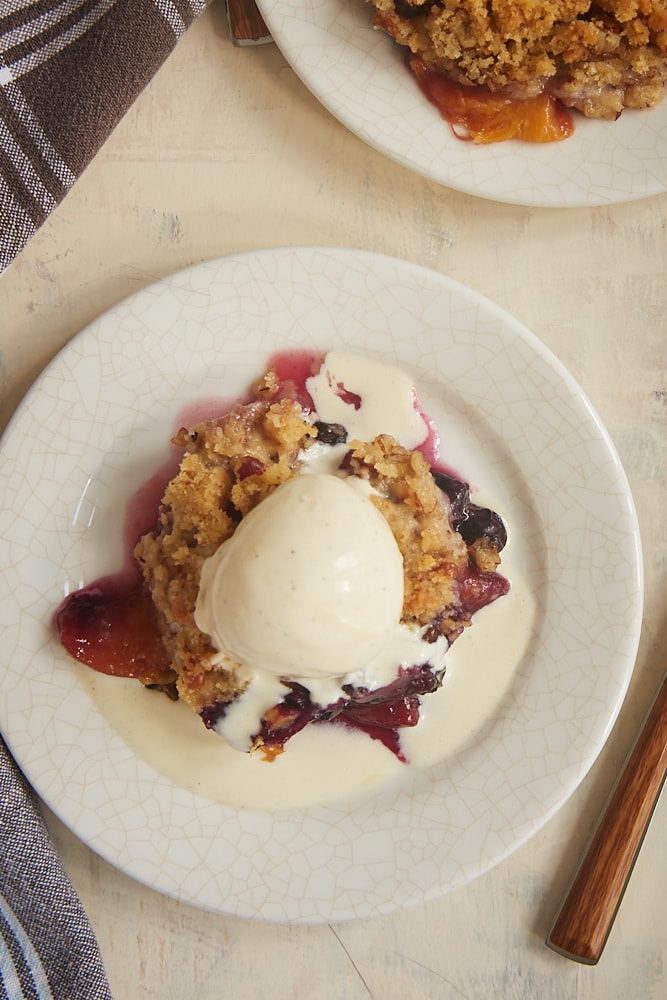 Besides the irresistible flavor, the best thing about this Blueberry Peach Crisp is how quick and easy it is. Just stir the filling, mix the topping, add everything to the baking dish, and you're ready to bake. I think it could become one of your new favorite summer desserts!
Find more cobblers, crisps, and crumbles in the Recipe Index.
More Summer Fruit Desserts
Blueberry Peach Crisp
Yield: 8 to 10 servings
Prep Time: 20 minutes
Cook Time: 45 minutes
Blueberry Peach Crisp is what your summer dessert dreams are all about! That sweet filling plus the streusel topping is just perfect served warm with a big scoop of ice cream!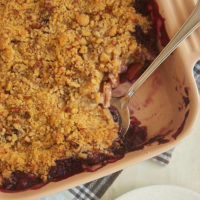 Ingredients:
For the filling:
6 medium peaches, peeled and sliced (about 4 cups)
1 cup blueberries
3 tablespoons granulated sugar
juice of 1 medium lemon (about 2 tablespoons)
1 tablespoon cornstarch
For the topping:
3/4 cup all-purpose flour
1/2 cup firmly packed light brown sugar
1/2 cup chopped nuts, such as pecans or hazelnuts
pinch of salt
5 tablespoons unsalted butter, cold and cut into 1/2-inch cubes
Directions:
To make the filling:
Preheat oven to 375°F.
Combine the peaches, blueberries, sugar, lemon juice, and cornstarch. Set aside.
To make the topping:
Combine the flour, brown sugar, nuts, and salt in a small bowl.
Add the butter, and mix with a pastry blender or fork until the mixture forms crumbs. Set aside.
To assemble and bake:
Transfer the peach and blueberry mixture to a 2-quart baking dish. Sprinkle the topping over the fruit mixture. Place the pan on a lined, rimmed baking sheet to catch any potential spills.
Bake 40 to 45 minutes, or until the top is brown and the filling is bubbly.