This Blueberry Peach Crisp combines two summer favorites in a quick and easy crisp. Just add ice cream for a perfect summertime dessert!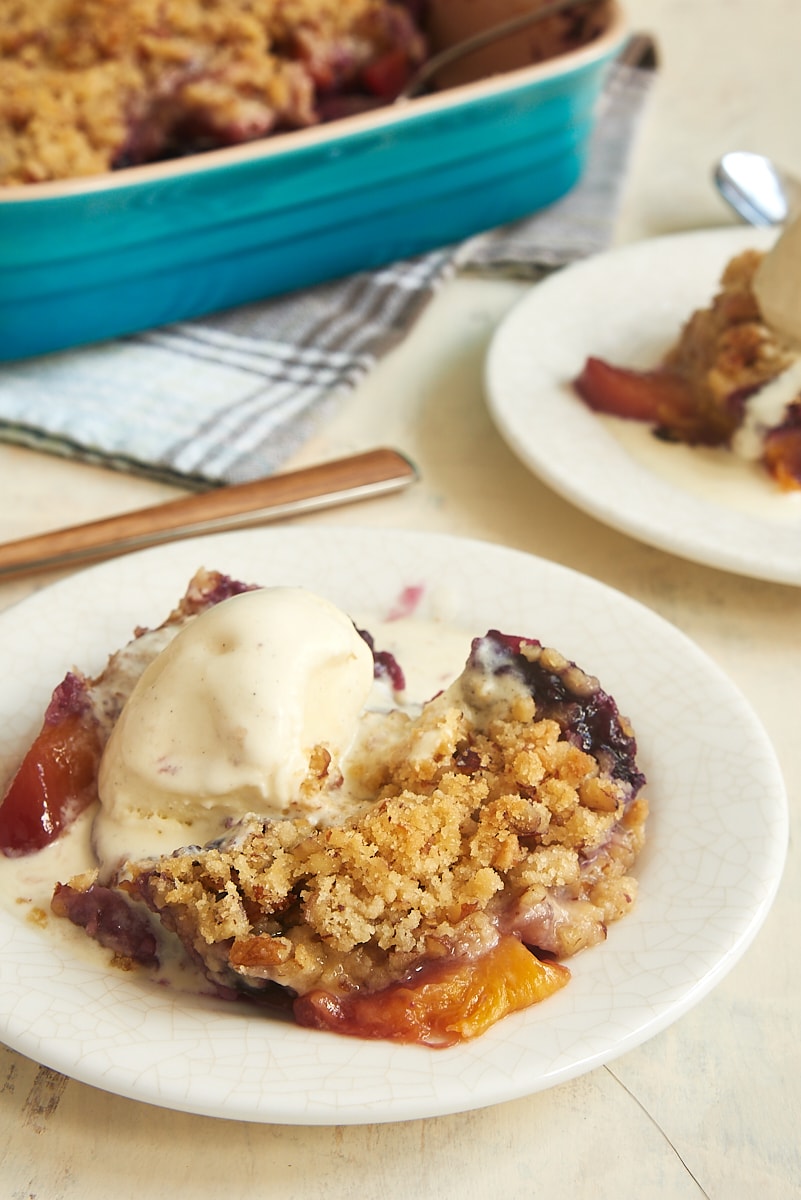 An Effortless Summer Dessert Recipe!
One of my favorite things to bake in the summer is a good fruit crisp filled with plenty of seasonal fruits. I find that combination of sweet, gooey, warm fruit filling and a streusel topping to be pretty irresistible.
This Blueberry Peach Crisp is no exception. Sweet blueberries and peaches are such a great flavor combination. Add in a little bit of lemon juice to balance all that sweetness, then top that with a nutty streusel topping and you're going to be in fruity dessert heaven!
The nuts in the topping are optional if you prefer not to use them, but I think they're pretty fantastic for a nice crunch and a bit of extra flavor that goes oh-so-well with the other flavors in this Blueberry Peach Crisp. I most often use pecans because that's what I'm most likely to have in my kitchen, but feel free to use hazelnuts, almonds, or another favorite.
(Love baking with peaches? Try my Peach Hand Pies, Peach Shortbread Cookies, or Ginger Pecan Peach Cobbler next!)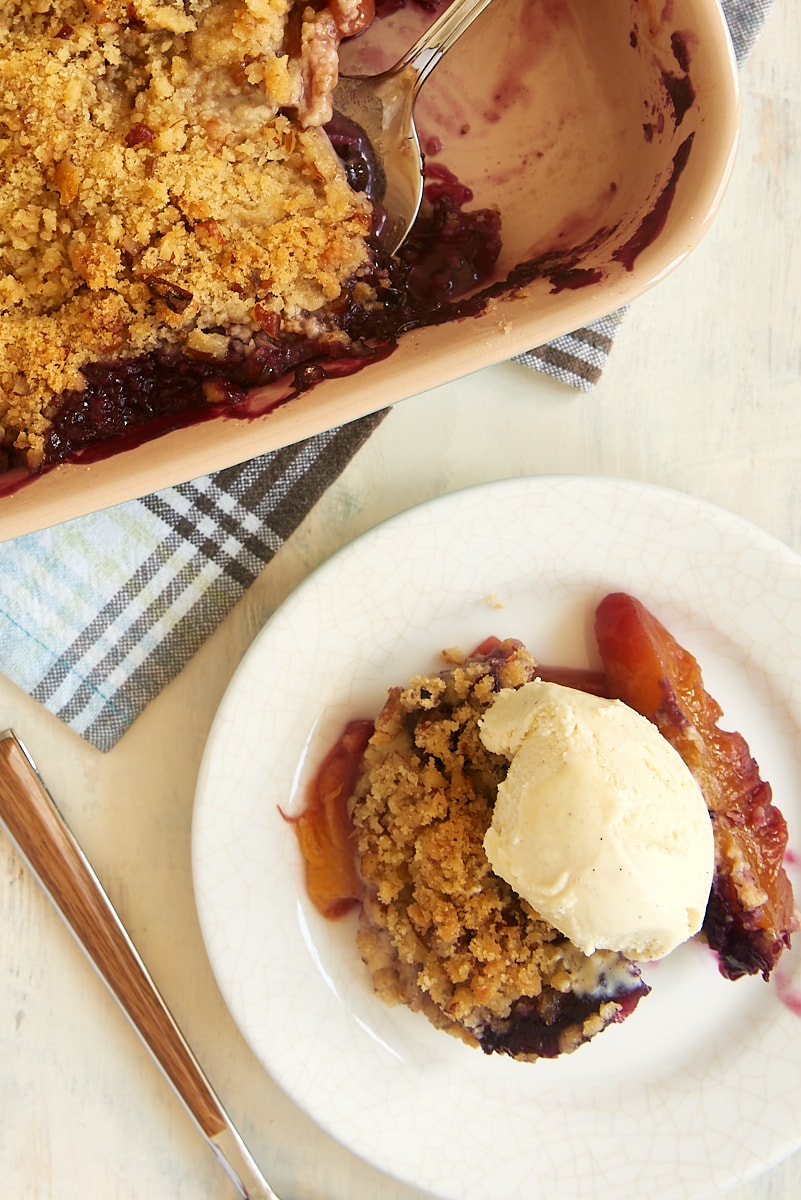 What You'll Need
Scroll down to the recipe card below this post for ingredient quantities and full instructions.
For the filling:
Peaches – Peel, pit, and slice them.
Blueberries
Granulated sugar
Lemon juice – Here's how to juice a lemon.
Cornstarch
For the topping:
All-purpose flour
Light brown sugar
Chopped nuts – I prefer pecans or hazelnuts.
Salt
Unsalted butter – This needs to be cold and cut into 1/2-inch cubes.
You can also change up the filling in this Blueberry Peach Crisp if you like. Peaches go well with lots of other berries, too. Try raspberries, blackberries, or a combination of berries. Or try apricots, nectarines, or plums in place of (or combined with) the peaches.
How to Peel a Peach
If you've never peeled a peach before, it's actually really easy to do, and one of those kitchen tasks that ends up being oddly satisfying.
Cut a small X in the bottom of the peach, then drop it into boiling water for 30 to 60 seconds. Remove the peach from the water with a slotted spoon and place it in a bowl of ice water for a minute or two, until it's cool enough to handle.
The skin should practically slide right off after this. If you're having trouble, use a paring knife to help loosen it.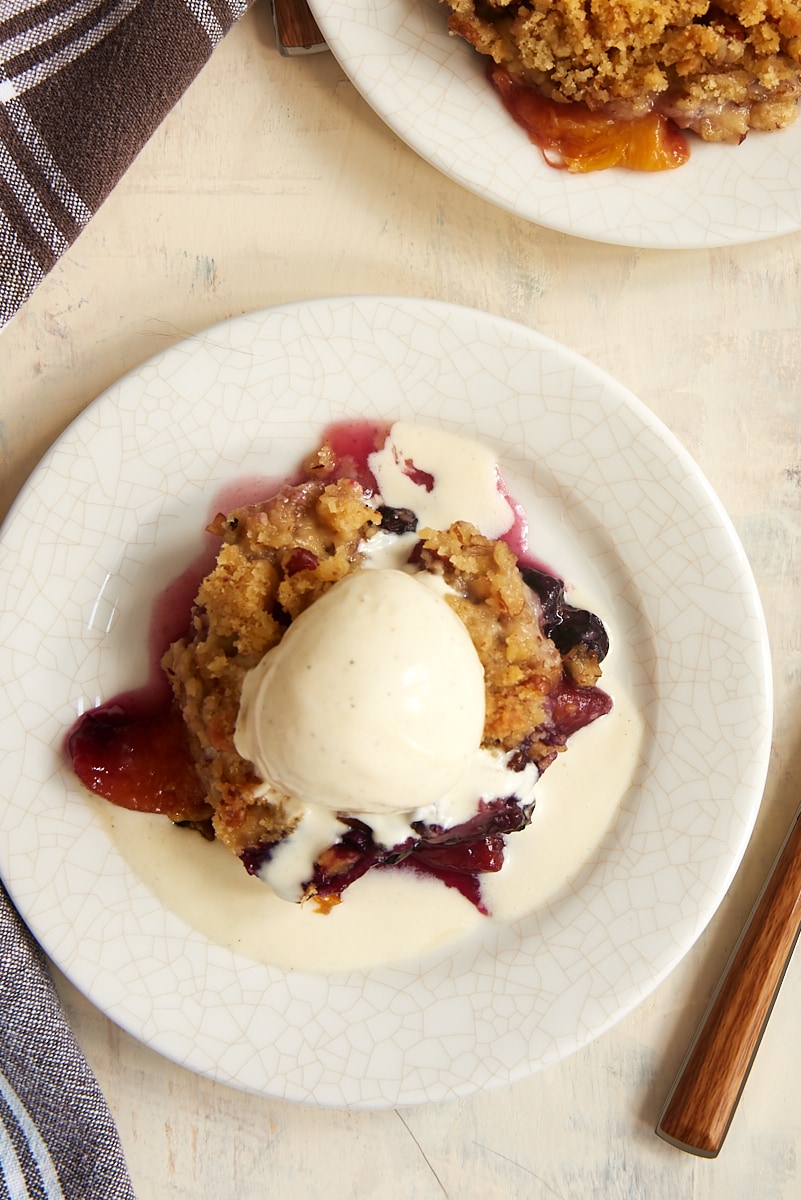 How to Make Blueberry Peach Crisp
Besides the irresistible flavor, the best thing about this Blueberry Peach Crisp is how quick and easy it is to make. Just stir the filling, mix the topping, add everything to the baking dish, and you're ready to bake!
Prepare. Preheat your oven to 375ºF.
Make the filling. Toss the peaches, blueberries, sugar, lemon juice, and cornstarch in a large bowl.
Make the topping. In a small bowl, combine the flour, brown sugar, nuts, and salt. Mix in the butter with a pastry blender or fork until coarse crumbs form.
Assemble. Pour the fruit mixture into a 2-quart baking dish, then sprinkle the crumb topping over the fruit.
Bake. Place the baking dish on a rimmed baking sheet to catch any overflow, then bake for 40 to 45 minutes, or until the filling is bubbling and the topping is brown.
Tips for Success
This Blueberry Peach Crisp recipe is easy enough, but here are a few quick tips to make sure it turns out perfect.
Use good fruit. This is the key to any fruit dessert recipe. Under-ripe, bland, or past-its-prime fruit will yield a lackluster dessert.
Don't overmix the topping. If it becomes one mass of dough, rather than a sandy, coarse crumb, you won't get a crumbly topping.
Let it sit a bit before serving. The sauce will thicken as it cools, making the crisp easier to scoop and serve.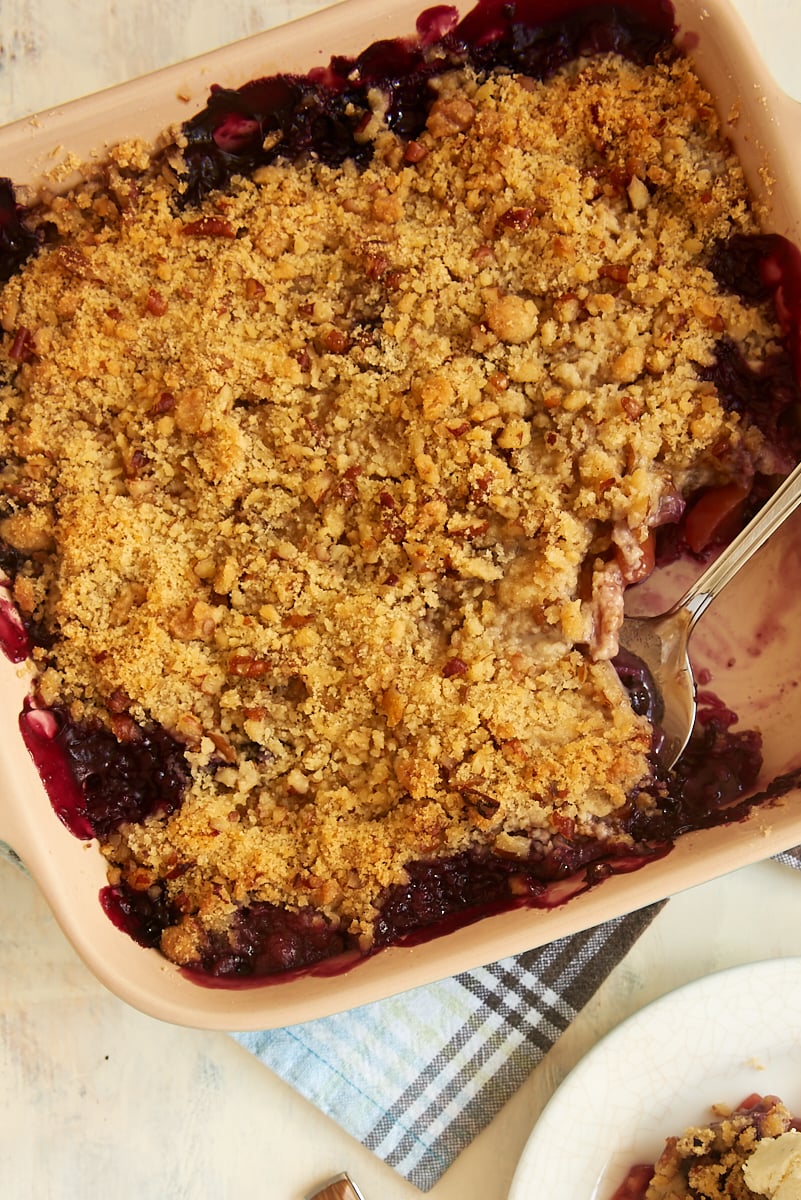 Serving Suggestions
A scoop of vanilla ice cream or a dollop of sweetened whipped cream are natural pairings with a summery Blueberry Peach Crisp, but I also quite like serving them with a sprig of fresh mint, thyme, or basil for an herbaceous note.
How to Store Leftovers
Leftover crisp can be stored in an airtight container at room temperature for 2 to 3 days. Reheat individual servings in the microwave, or you can warm up the entire crisp in a 350ºF oven.
Can This Recipe Be Frozen?
This Blueberry Peach Crisp freezes well. Just place it in a freezer-safe container and freeze it for up to 3 months. I recommend letting it thaw in the refrigerator and then reheating it according to the instructions above.
Find more cobblers, crisps, and crumbles in the Recipe Index.
More Summer Fruit Desserts