Enjoy a nostalgic flavor pairing in these delicious Peanut Butter and Jelly Muffins! They're great for an on-the-go breakfast or sweet snack.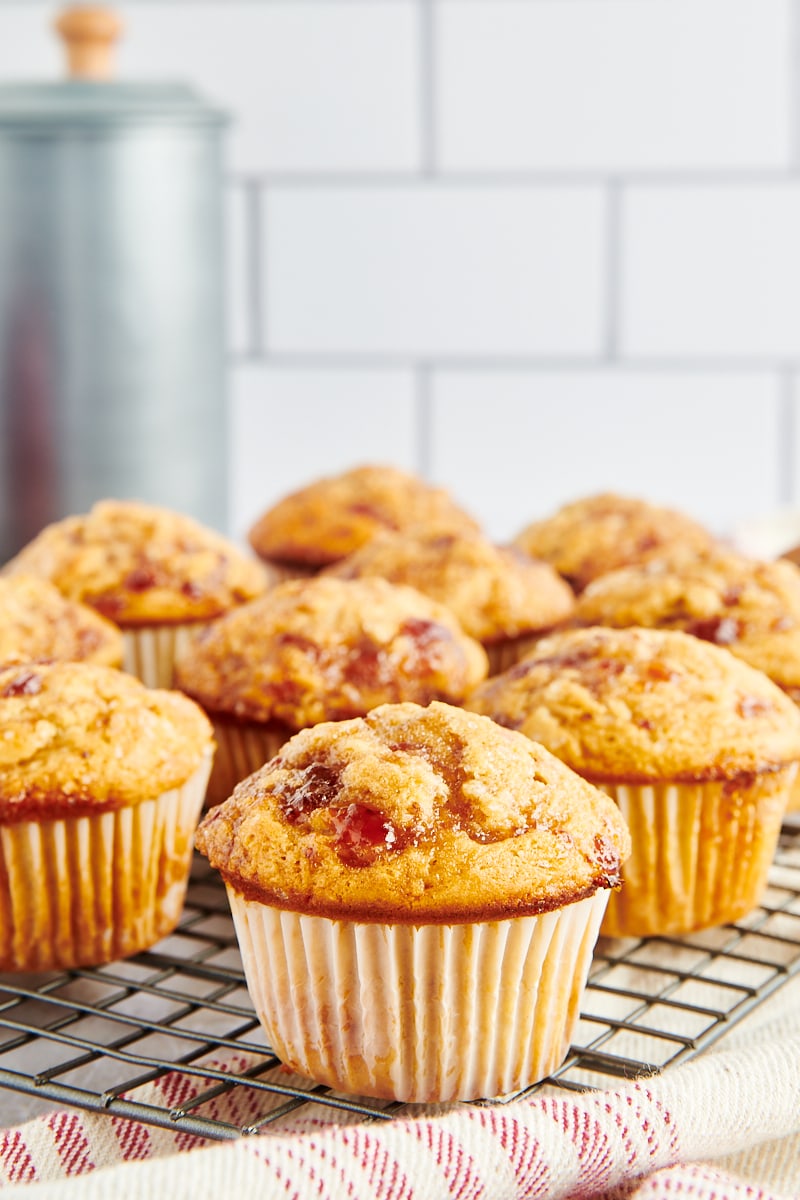 Peanut Butter Muffins with a Fruity Swirl
When it comes to nostalgic favorites, peanut butter and jelly is likely at or near the top of most of our lists. That combination of sweet fruit with peanut butter is certainly one of my favorites!
These Peanut Butter and Jelly Muffins are such a fun way to feed your PB&J cravings. It all starts with a simple peanut butter muffin. Then add a swirl of fruity flavor before baking. The result is a flavorful treat with a bit of sweet fruit and wonderful peanut butter flavor. These muffins are perfect for a grab-and-go breakfast or a quick snack.
Everyone has their own opinion about the best fruit flavor to pair with peanut butter. For these muffins, I especially like strawberry. But raspberry and grape are pretty darn good, too. Just go with your favorite, or use a variety of flavors!
And if you're craving even more of this fantastic flavor pair, try Peanut Butter and Jelly Bars, Peanut Butter and Jelly Thumbprint Cookies, and Peanut Butter and Jelly Icebox Pie, too!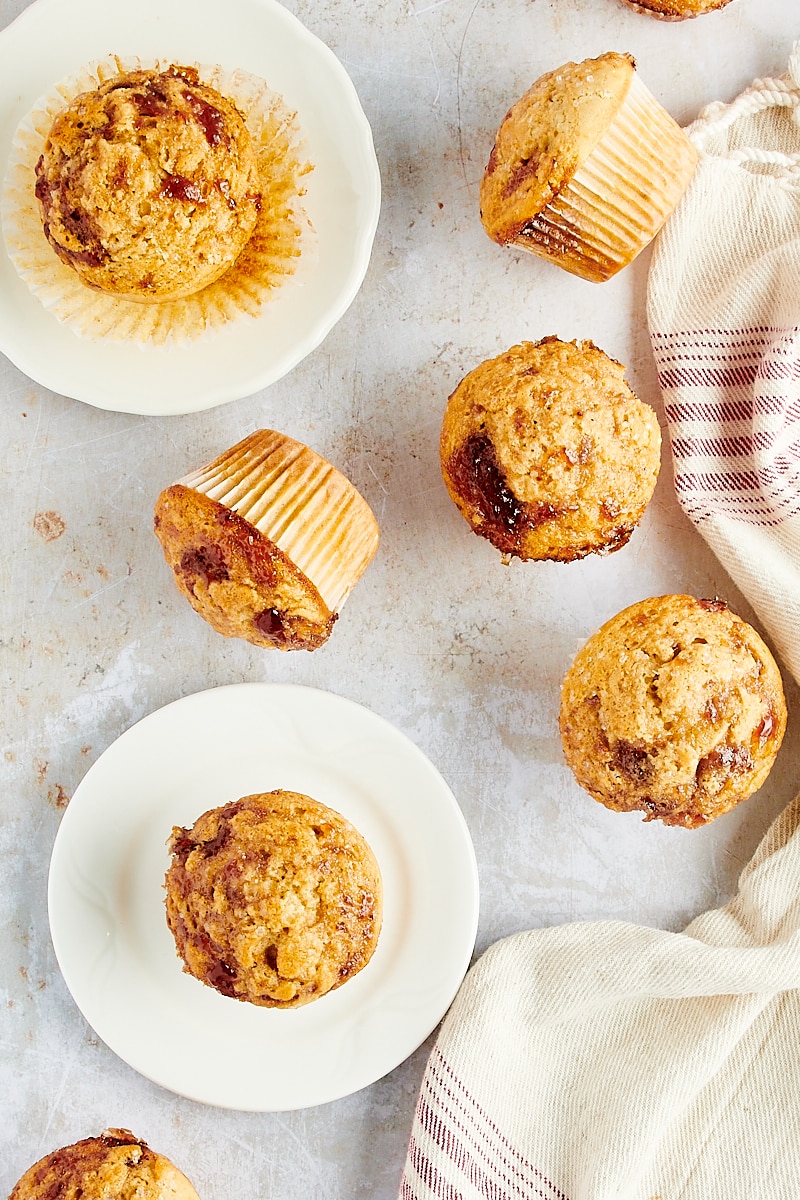 What You'll Need
See the recipe card at the bottom of this post for ingredient quantities and full instructions. Here are some notes about the ingredients you'll need to make these peanut butter muffins.
All-purpose flour – Measure by weight for the best results. Otherwise, use the spoon and sweep method. Learn more: How to Measure Flour
Granulated sugar
Brown sugar – I recommend light brown sugar for these muffins, as dark brown sugar will overpower the other flavors.
Baking powder
Baking soda
Salt
Unsalted butter – After melting the butter, let it cool until it's still warm but not hot.
Peanut butter – See my note below about baking with peanut butter.
Milk – I recommend whole milk or 2% milk for baking. Although I've not tried it, a non-dairy milk should work, too.
Sour cream – Full-fat sour cream works best. You can instead substitute an equal amount of Greek yogurt.
Eggs – Set these out on your kitchen counter to bring them to room temperature before mixing.
Vanilla extract
Jelly, preserves, or jam – Jelly is thinner, while preserves and jam are thicker. Any of these should work, just be sure to break up any lumps or large pieces of fruit before adding to your muffins.
Coarse sugar – Add an optional pinch of a coarse sugar on top of the batter before baking to give your muffins a little sparkle and an extra bite of sweetness.
What Kind of Peanut Butter Should I Use for Baking?
Traditional shelf-stable peanut butters (like Jif and Skippy) work best for baking. Natural peanut butters have a great deal of variance in consistency and oil content among brands and even within the same jar. That makes it difficult to get good, consistent results using them in baking.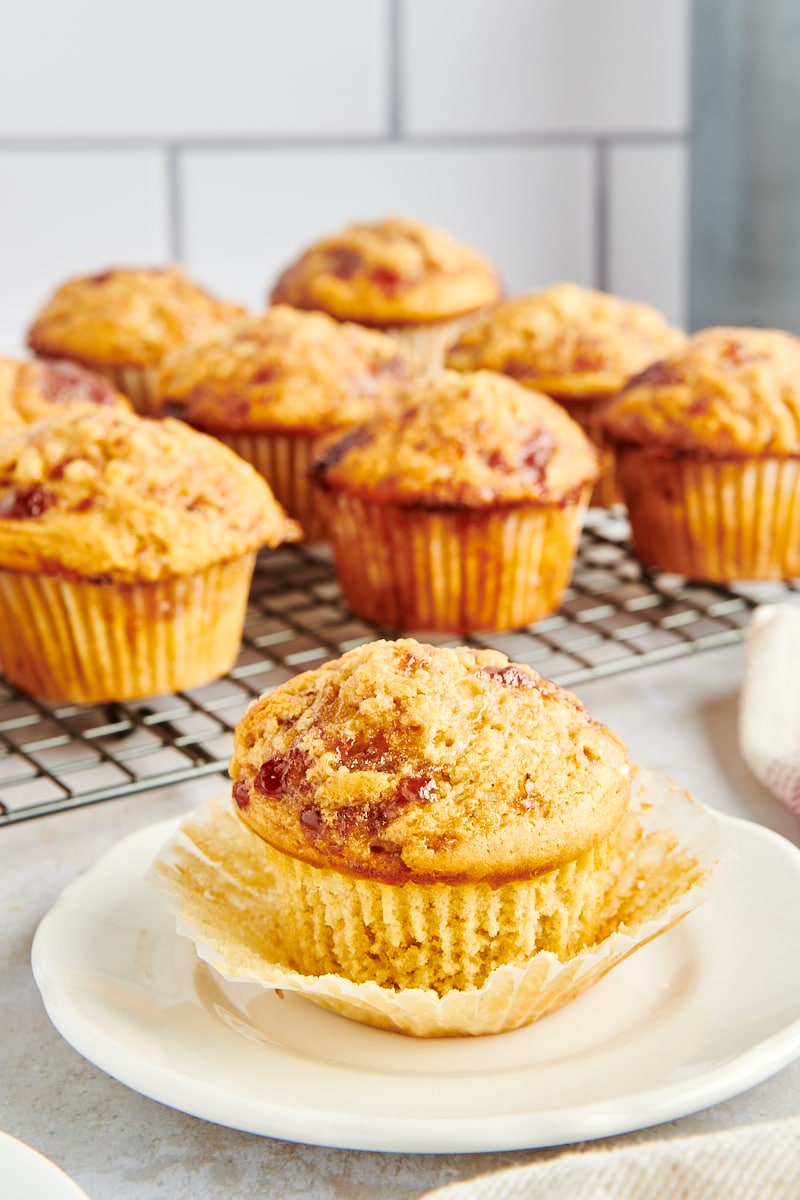 How to Make Peanut Butter and Jelly Muffins
You'll have these muffins ready for the oven in just a matter of minutes. Ready to make a batch? Let's go!
Prepare for baking. Heat the oven to 400°F. Line a 12-cavity standard muffin pan with paper liners. (You can also use two 6-cavity pans.)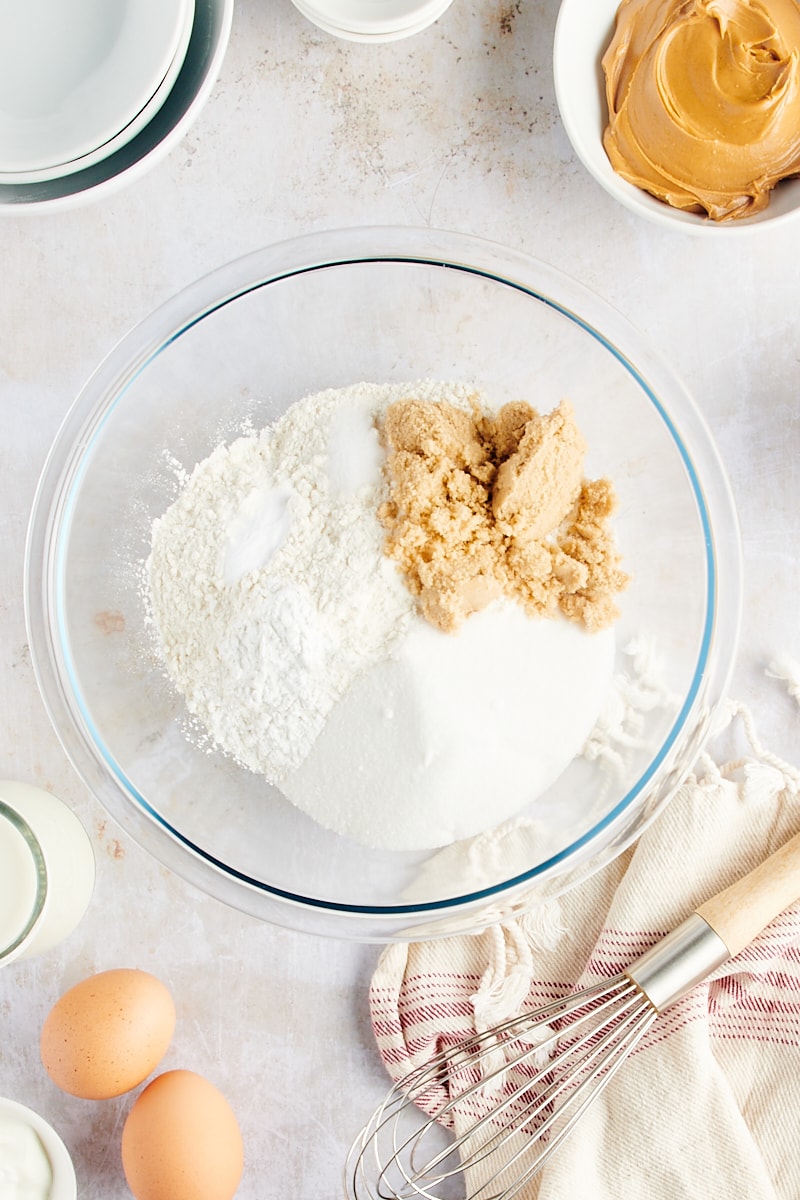 Combine the dry ingredients and sugars. Whisk together the flour, sugar, brown sugar, baking powder, baking soda, and salt in a large bowl. Make a well in the center.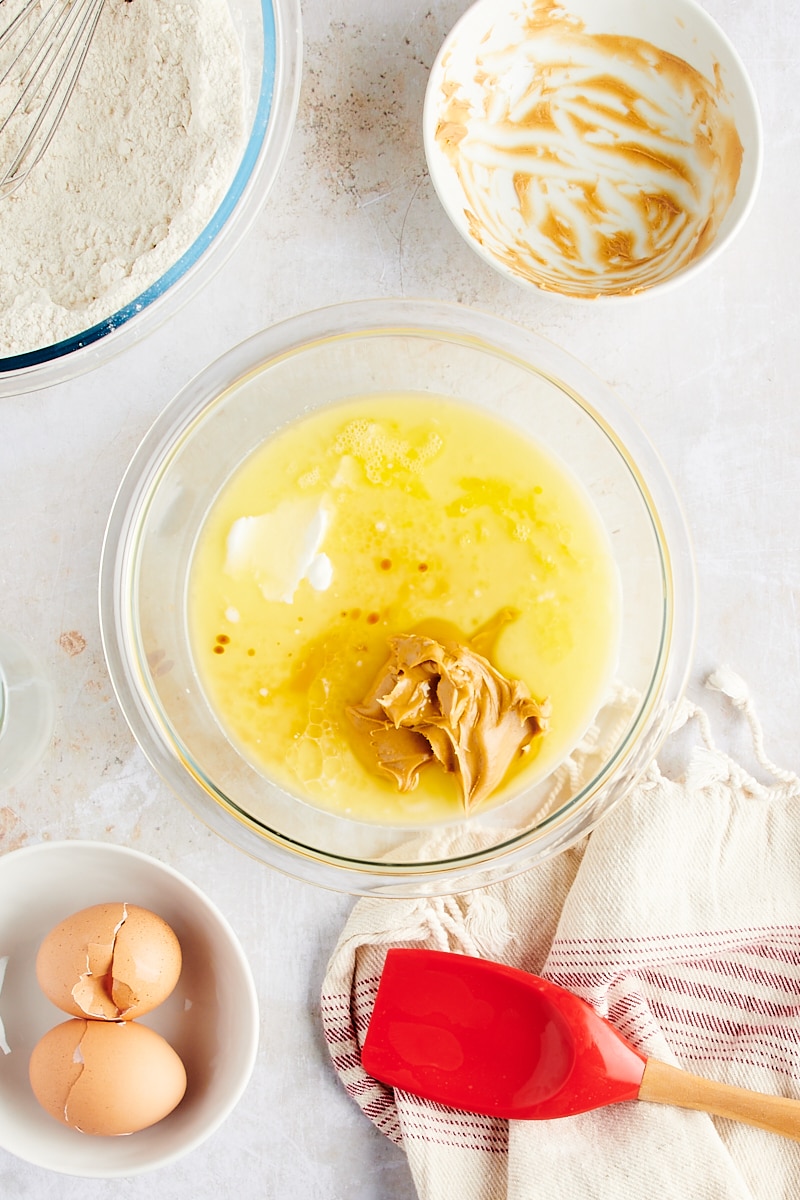 Combine the wet ingredients. In a separate bowl, combine the melted butter, peanut butter, milk, sour cream, eggs, and vanilla.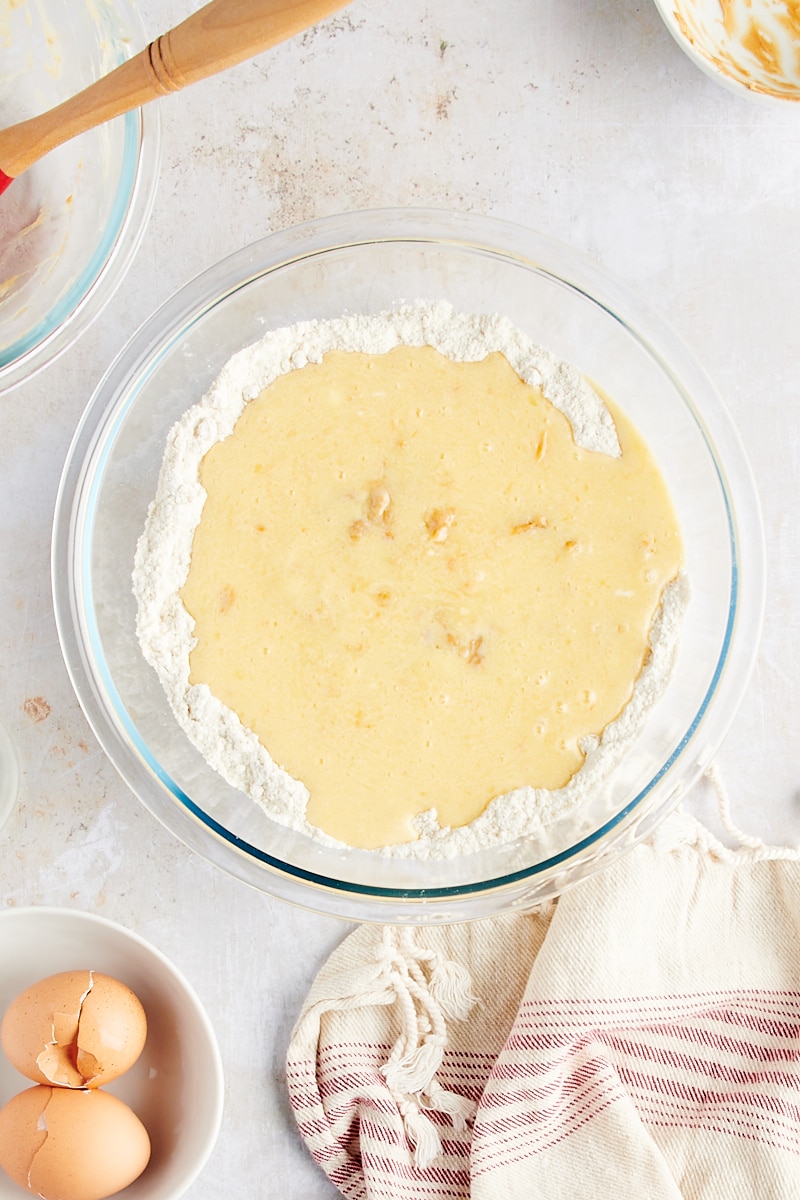 Finish mixing the batter. Pour the butter mixture into the well in the flour mixture, and stir to combine. Take care not to over-mix. Leaving a few small streaks of flour is preferable to mixing too much, as the latter tends to create tough, dry muffins.
Portion the batter. Divide the batter among the prepared muffin cups, filling each about 3/4 full. (I like to use a 3-tablespoon scoop.)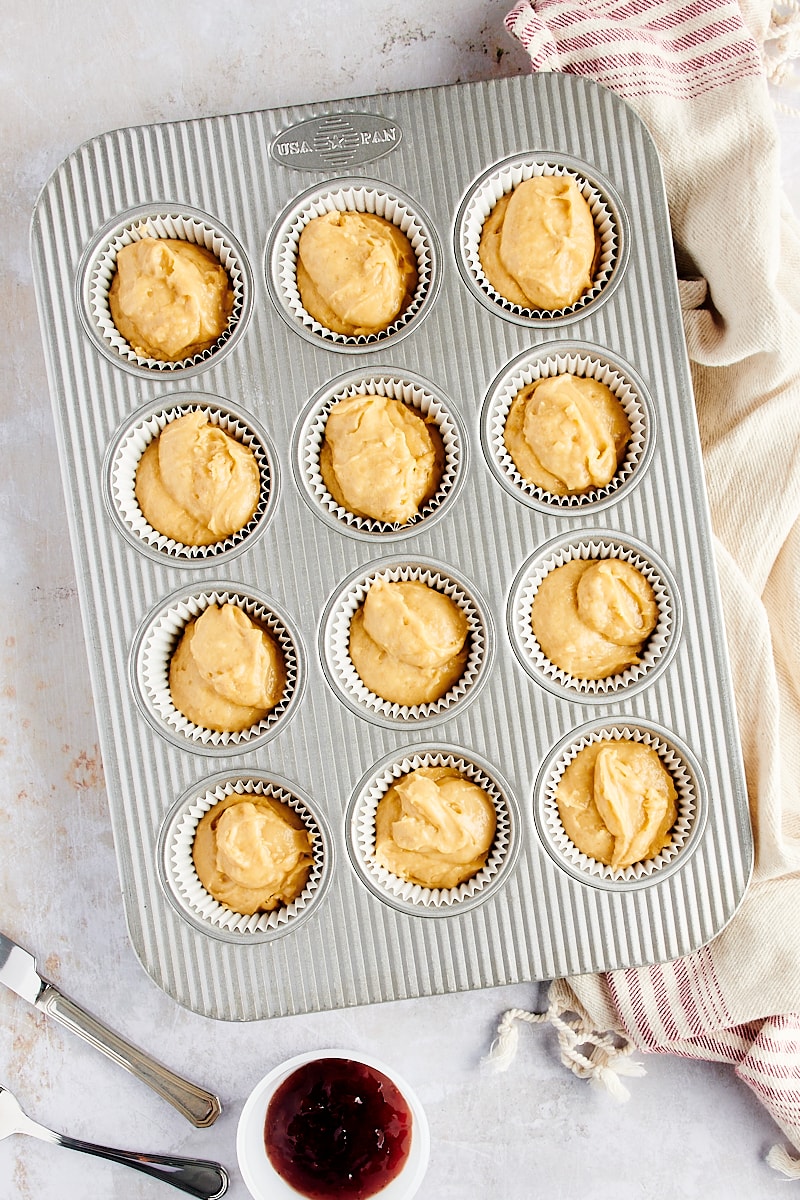 Add the filling. Place 1/4 to 1/2 teaspoon of your favorite fruit preserves or jam on top of each muffin. Use a thin knife to swirl into the muffins.
Bake. Place the muffin tin in the heated oven, and bake for 14 to 18 minutes. When a toothpick inserted into the muffins comes out clean, they're read to come out of the oven.
Cool. Place the pan on a wire rack, and allow the muffins to cool for 10 minutes. Then transfer the muffins from the pan directly onto a wire rack to cool completely.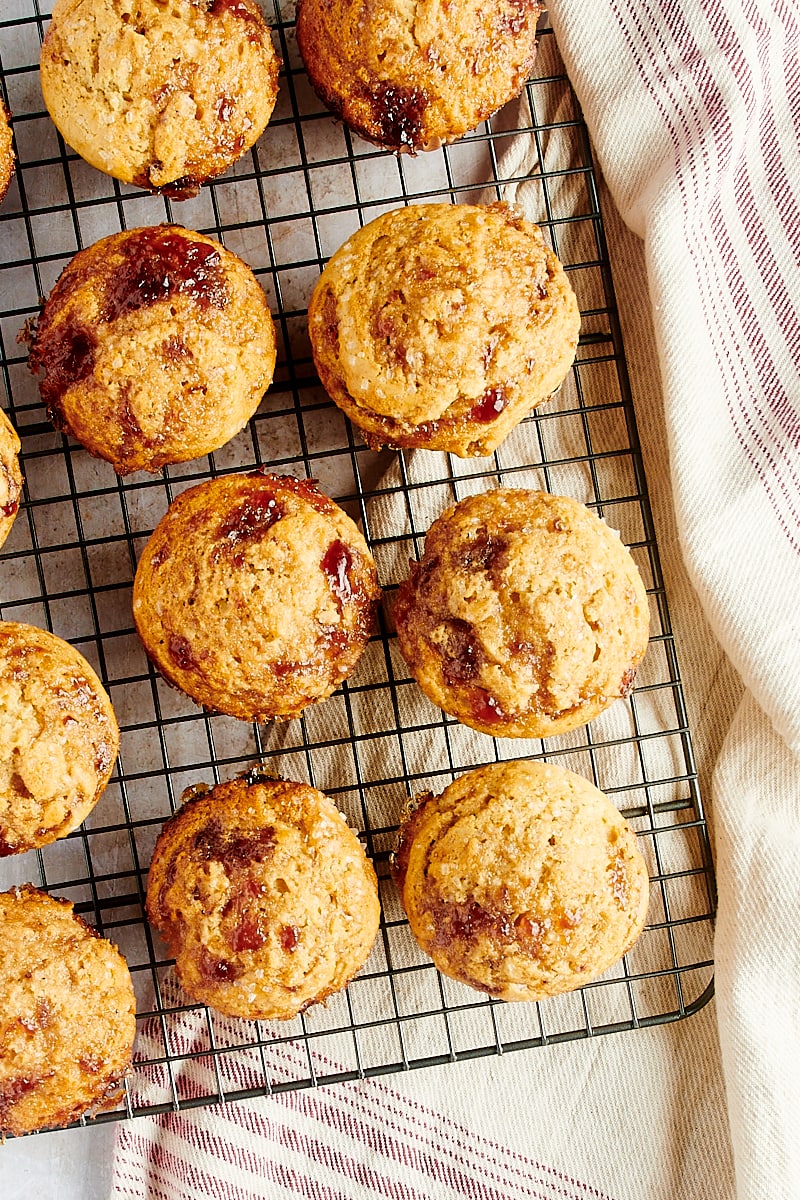 Tips for Success
These Peanut Butter and Jelly Muffins are easy to make, but here are a few tips to help make sure yours are a success. For more info, see my tips for baking muffins.
Don't over-mix. Mix the batter just until it's combined or you can see a few small streaks of flour. Too much mixing will give your muffins a tough texture.
Use a scoop for portioning. It will make dividing the batter easy and accurate. I recommend using a 3-tablespoon scoop. If you have batter left after scooping, then it's easy to divide that small remainder among the muffin cups.
Try to keep the fruit away from the edges. Some of the spread will inevitably move toward the edges, but concentrating the majority away from the outside edge means less will end up baked onto your pan. (Using paper liners is also a big help, too!)
Keep the swirling to a minimum. Just a few turns with a thin knife is sufficient. More than that, and you'll mix the preserves into the batter.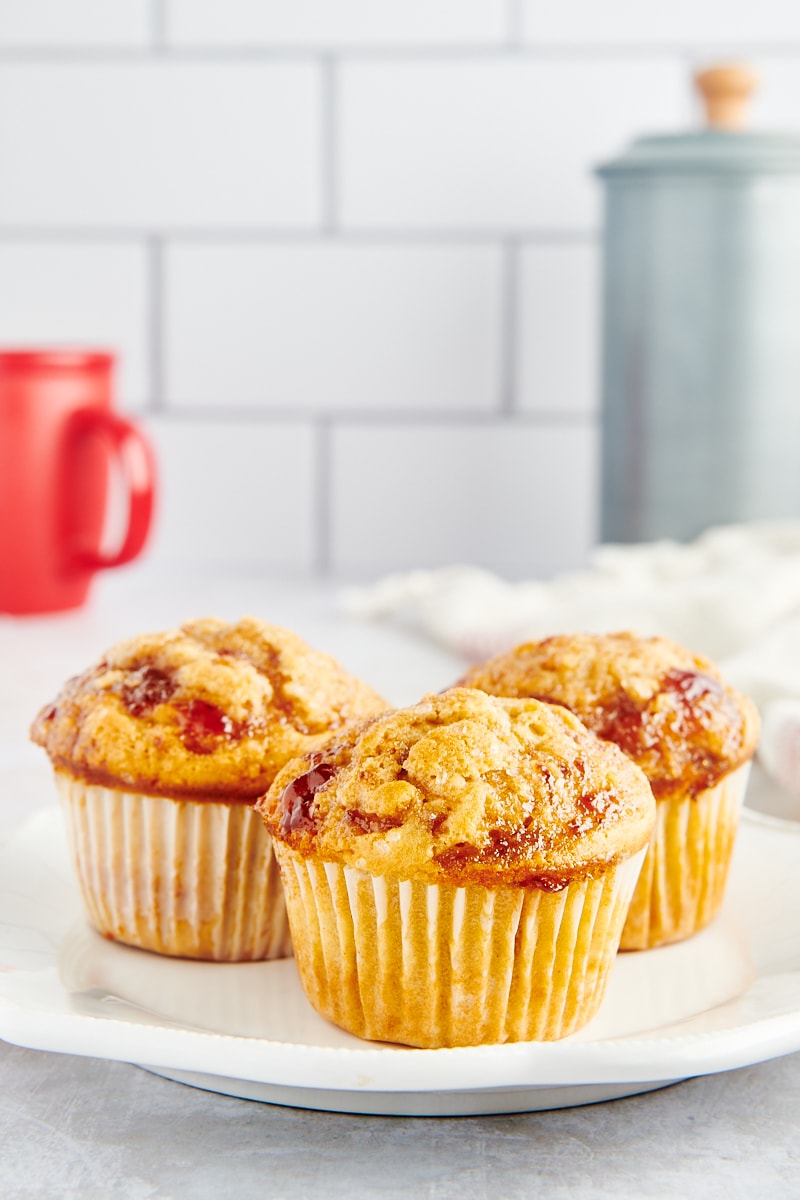 How to Store
After the muffins have cooled completely, place them in an airtight container. To prevent them from becoming soggy, you can line the container with paper towels. They should keep at room temperature up to 3 days. If you like, warm individual muffins briefly in the microwave before serving.
How to Freeze
If you'd like to freeze these peanut butter muffins, place them in a freezer bag or container after they've cooled. Place a paper towel or parchment paper between layers. You can also opt to wrap each muffin in plastic wrap before placing in the freezer container to make it easy to grab one or two at a time to thaw. Properly stored, they should keep in the freezer up to 3 months. Thaw for an hour or so at room temperature before serving.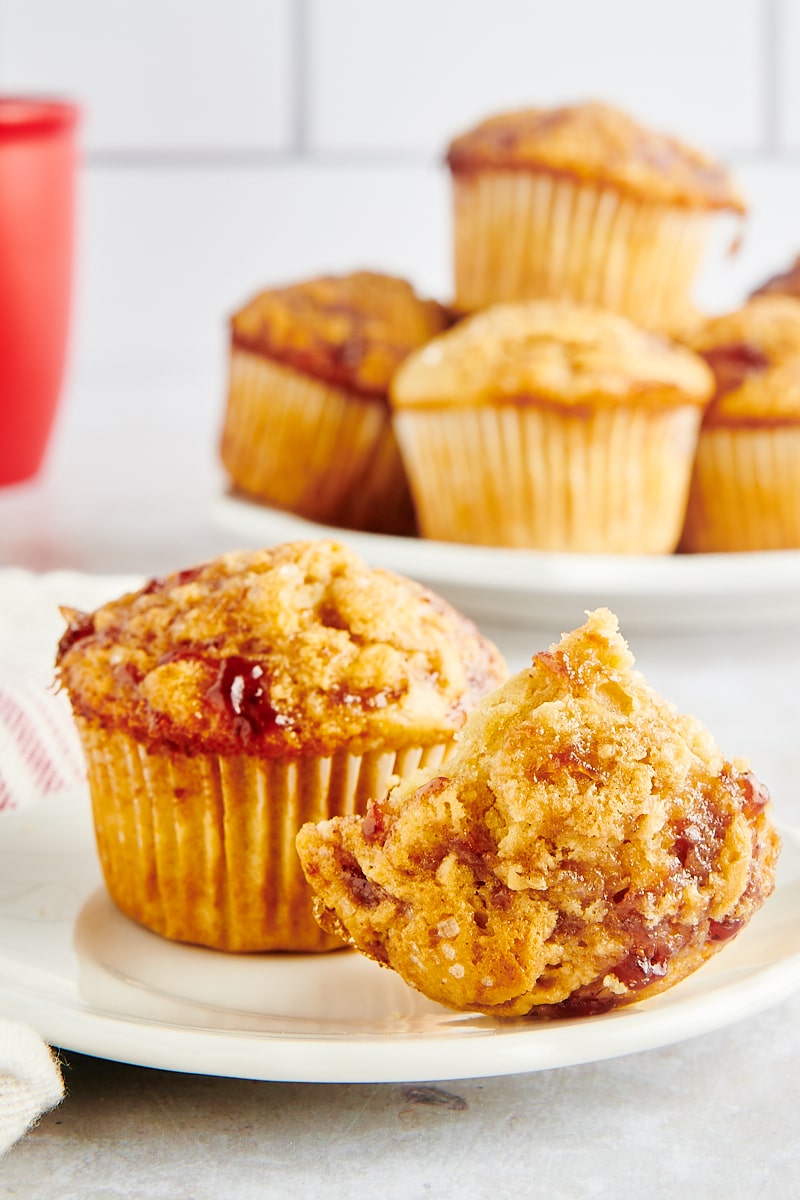 More Easy Muffin Recipes