November 27, 2017
Brown Sugar Toffee Shortbread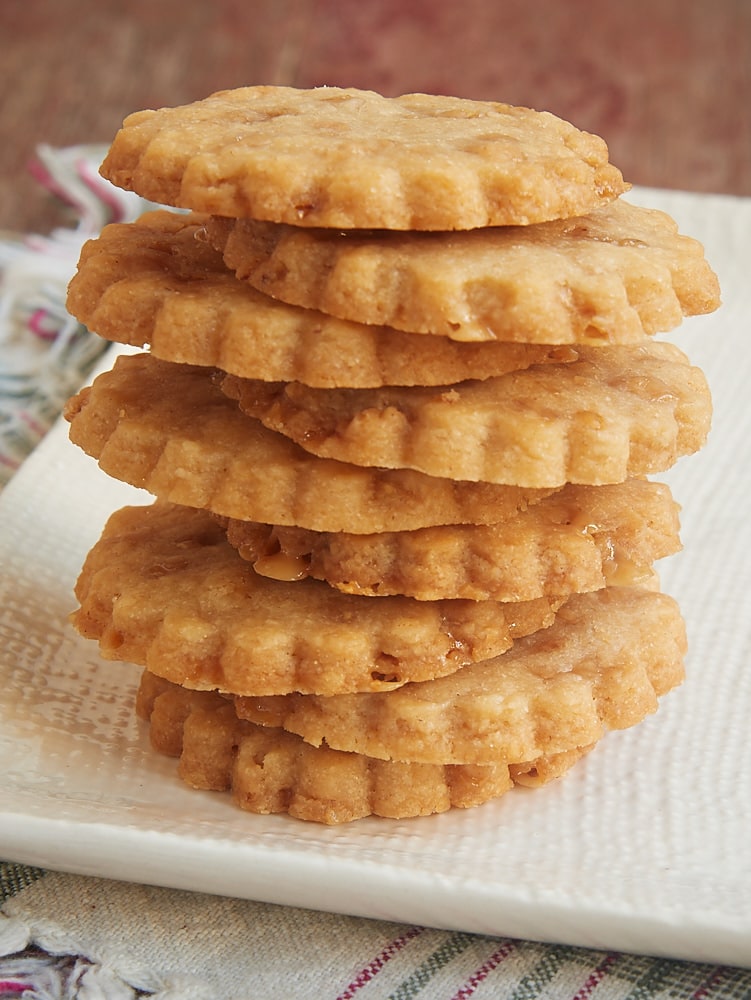 I love to bake all kinds of cookies, but I often turn to shortbread when I want something quick, easy, and crowd-pleasing. These Brown Sugar Toffee Shortbread certainly check all of those boxes. They feature simple flavors in a simple recipe. And they're always such a hit!
The starting point of these cookies is a fairly basic shortbread made with plenty of brown sugar. To that, toffee bits and a hint of cinnamon provide a wonderful flavor. These should really come with a warning because they're so addictive!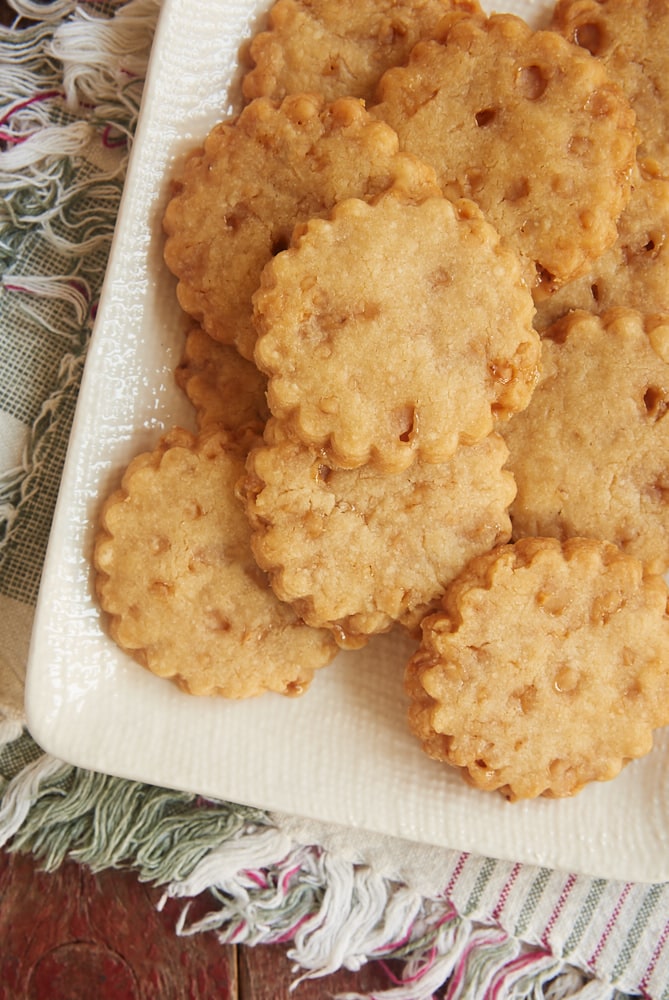 With as much baking as I do, I have the basics on hand almost all of the time. If you bake even somewhat frequently, then you're likely to have everything you need to make these cookies whenever you want to whip up a batch. I love the toffee bits in them to amplify all of that brown sugar, but you can easily substitute something else (like chopped nuts or chocolate) if needed.
As easy as shortbread is to make, it can also be a bit temperamental. Just be careful to measure your ingredients accurately and it will go smoothly. Shortbread dough is characteristically crumbly, but it will hold together when you pinch it. I almost always finish mixing shortbread dough by hand, which helps it to hold together better.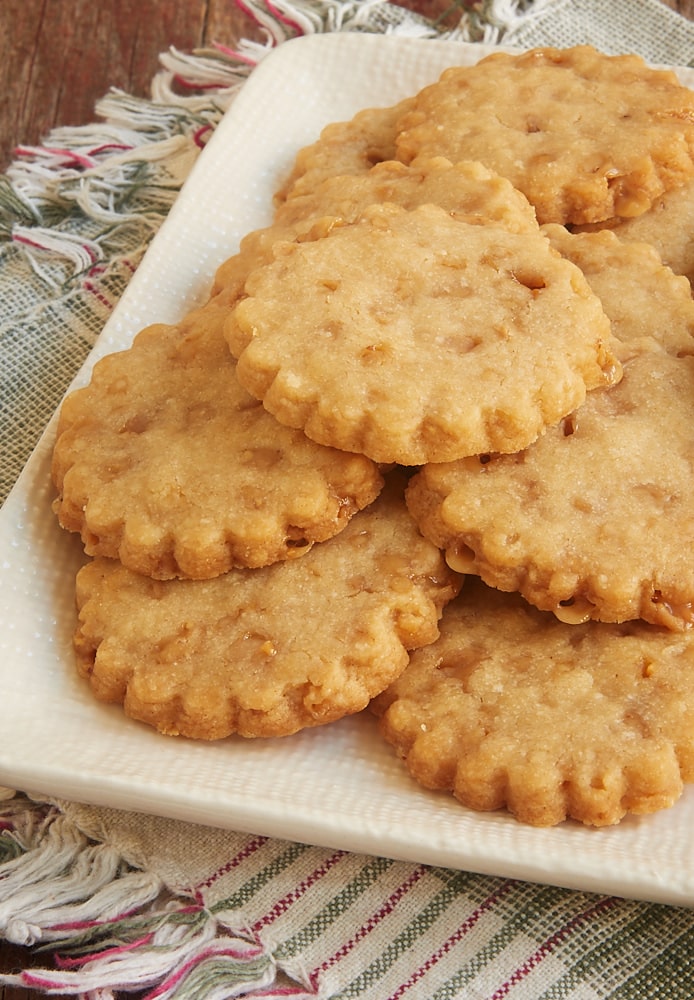 I use a simple round fluted cookie cutter to cut out these cookies. My limited kitchen space means I don't have much variety in the cookie cutter department, but you can certainly use other shapes for these cookies if you like. Just keep in mind that changing the size and shape will alter the number of cookies you get from the recipe.
If you love the flavor of brown sugar, then these Brown Sugar Toffee Shortbread aren't to be missed. The addition of toffee just makes them even better. I love these little guys for everything from a cookie swap to an everyday treat!
Find more cookie recipes in the Recipe Index.
This post contains affiliate links. If you make a purchase through one of the links, I'll receive a
small commission at no additional cost to you.
Brown Sugar Toffee Shortbread
Yield: about 36 cookies
Prep Time: 15 minutes
Cook Time: 15 minutes per pan
Brown Sugar Toffee Shortbread pack a lot of flavor in a small package. A great simple recipe that's sure to please!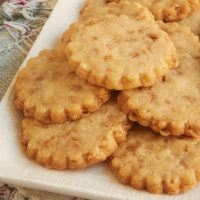 Ingredients:
3/4 cup unsalted butter, softened
1/2 cup firmly packed light brown sugar
1 teaspoon vanilla extract
1 & 3/4 cups all-purpose flour
1/2 teaspoon ground cinnamon
1/2 teaspoon salt
1/2 cup toffee bits
Directions:
Using an electric mixer on medium speed, beat the butter, brown sugar, and vanilla until light and fluffy.
Reduce mixer speed to low. Add the flour, cinnamon, and salt, and mix just until combined. Mix in the toffee bits. The dough will be crumbly but should hold together when pinched.
Gather the dough into a thin disc. Cover in plastic wrap and refrigerate for 30 minutes.
Preheat oven to 350°F. Line baking sheets with parchment paper or silicone liners.
Place the dough on a lightly floured surface. Roll out the dough to 1/4-inch thickness.
Use a 2-inch round cookie cutter (or any cutter of your choice) to cut out the cookies. Gather and re-roll the dough once and continue cutting out the cookies.
Place the cookies on the prepared pan, leaving about 2 inches between cookies. Bake 12 to 15 minutes, or until the cookies are browned.
Cool on the pans for 5 minutes. Then transfer the cookies to a wire rack to cool completely.