July 5, 2016
Peach Shortbread Cookies
Peach Shortbread Cookies incorporate peach preserves in the cookies and the glaze for a sweet twist on traditional shortbread!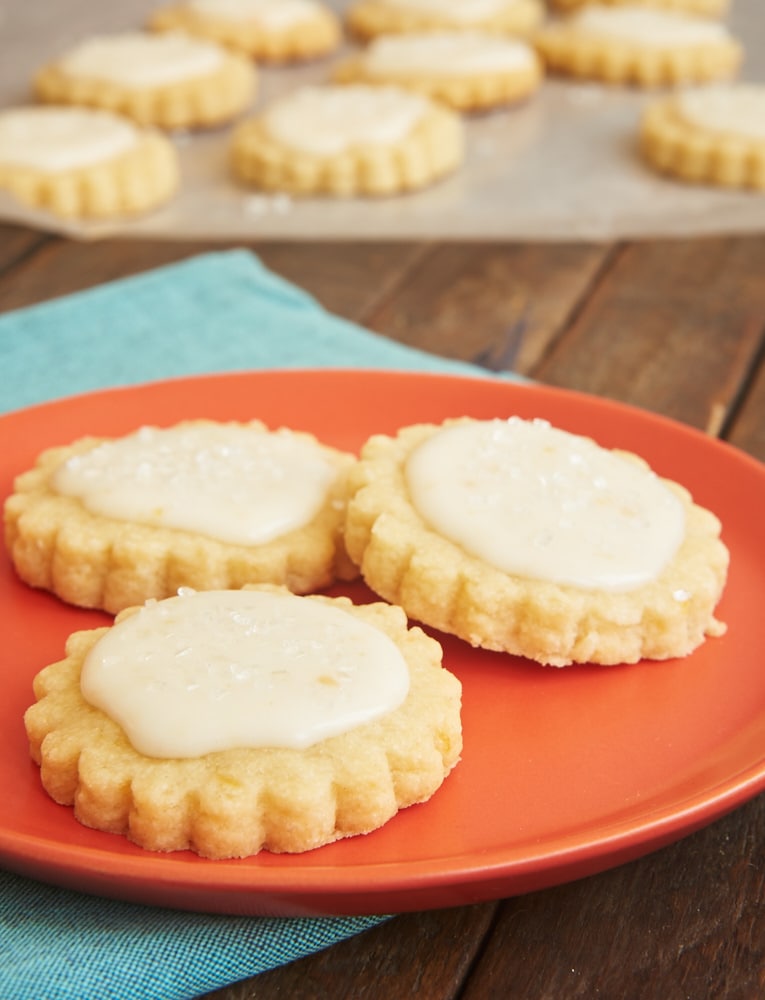 Shortbread is pretty magical, isn't it? I love how just a few ingredients come together quickly to make such a lovely, simple cookie. It's one of my favorite things to make for those very reasons. But also, I love that I always have what I need in my kitchen to make a batch.
With these shortbread, the usual simple ingredient list is augmented by the addition of peach preserves that are not only mixed into the cookie dough but also mixed into the sweet glaze. That little bit of fruit flavor really takes traditional shortbread up a few notches!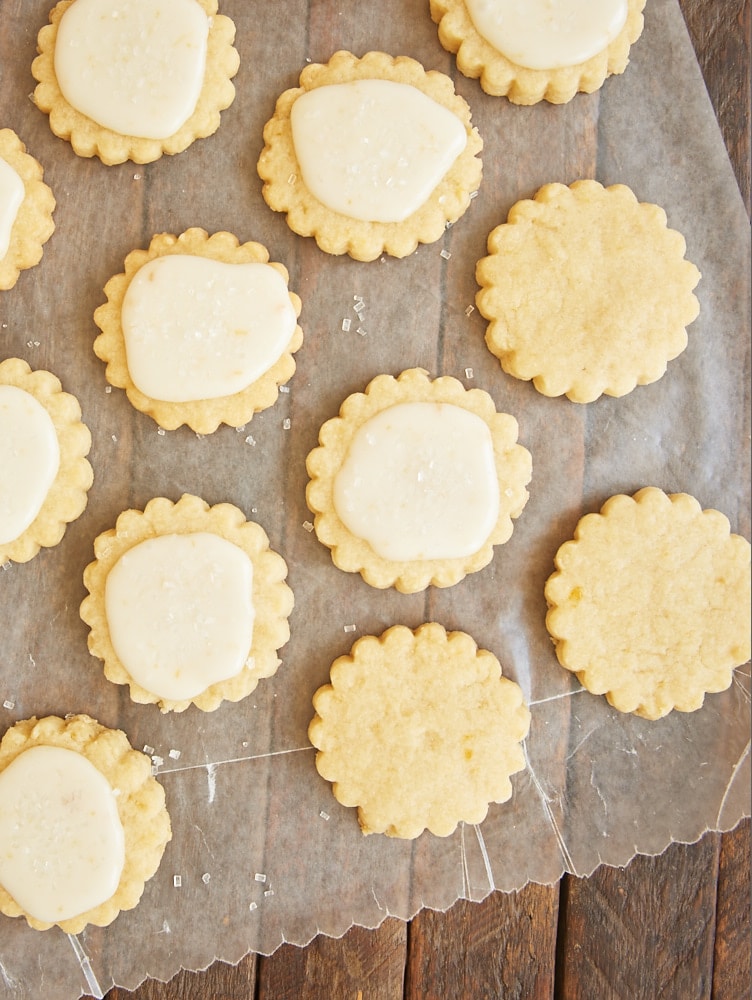 Those preserves are mixed into softened butter which is then frozen before getting mixed into a simple mixture of flour, sugar, and salt. In the spirit of full disclosure, I must tell you that it takes a bit of effort to get the frozen butter mixed into the flour mixture. Just be patient with it. It will get easier to mix as it warms up a bit.
Once you do get the butter mixed, you'll have a fairly loose, crumbly mixture. Get your hands in the dough and keep mixing until it forms a dough. Again, this will take a few minutes, but the warmth of your hands will help it come together beautifully.
I used a 2-inch round cutter from my favorite fluted cutter set to make these cookies, but another size or shape will work just fine. Just keep in mind that smaller cookies will bake a bit faster, and larger ones will need a bit longer to bake.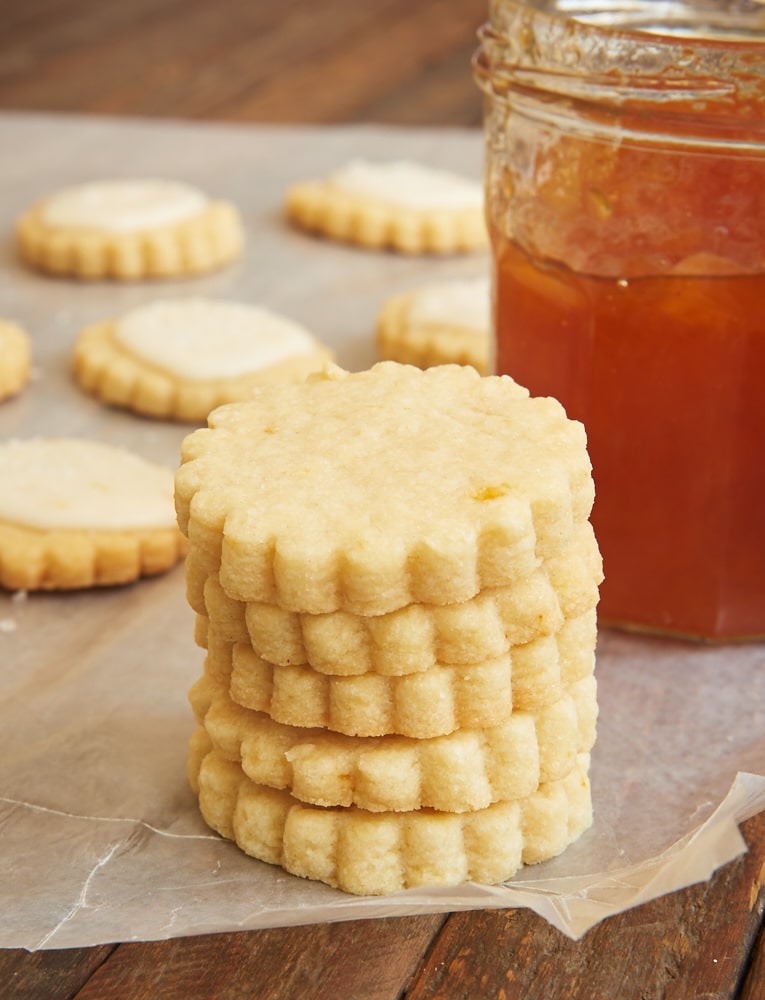 These are really lovely cookies, even without the glaze. The peach flavor isn't strong, but rather it's there in a more subtle capacity. You'll likely get more peach in the finishing flavor of the cookie than while you're eating it.
For some variety, you can easily substitute another flavor of preserves in these cookies. Blueberry, raspberry, strawberry… Whatever strikes your fancy! You can also use a different flavor of extract, like almond or lemon, for another flavor alteration. No matter the flavor, these are delightful little cookies perfect for most any time you need a simple sweet treat.
Find more shortbread recipes in the Recipe Index.
More Desserts Made with Preserves
Bake or Break is a participant in the Amazon Services LLC Associates Program, an affiliate advertising program designed to provide a means for us to earn fees by linking to Amazon.com and affiliated sites.
Peach Shortbread Cookies
Yield: about 30 cookies
Prep Time: 30 minutes
Cook Time: 16 minutes per pan
Peach preserves add a fruity twist to traditional shortbread in these delightful Peach Shortbread Cookies.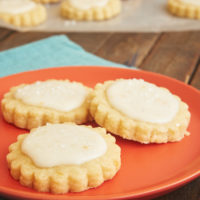 Ingredients:
For the cookies:
2 tablespoons peach preserves
1 cup (237g) unsalted butter, softened
1/2 teaspoon vanilla extract
2 & 2/3 cups (320g) all-purpose flour*
1/2 cup (100g) granulated sugar
1/4 teaspoon salt
For the glaze:
1 tablespoon peach preserves
2 cups (220g) confectioners' sugar, sifted
1 to 2 tablespoons milk
sanding sugar, for garnish
Directions:
To make the cookies:
If there are any large pieces of fruit in the preserves, cut them into smaller pieces.
Using an electric mixer on medium speed, beat the preserves, butter, and vanilla until thoroughly combined.
Transfer the butter mixture to a sheet of plastic wrap. Shape into a thin disc or a log. Wrap and freeze for 1 to 2 hours, or until firm.
Preheat oven to 325°F. Line baking sheets with parchment paper or silicone liners.
Whisk together the flour, sugar, and salt. Add the butter mixture, and mix with a pastry blender or a fork until the mixture resembles fine crumbs.
Use your hands to continue mixing the dough until it forms a cohesive dough.
Divide the dough in half. Place one half on a lightly floured surface. Roll to a 1/4-inch thickness. Use a 2-inch round cookie cutter to cut out cookies**. Repeat with the other half of the dough.
Place the cookies on the prepared pans, leaving about an inch between cookies. Bake 14 to 16 minutes, or until the edges of the cookies begin to brown. Cool the cookies on the pan for 5 minutes. Then transfer the cookies to a wire rack to cool completely.
To make the glaze:
Place the preserves in a microwave-safe bowl. Heat at half power for 30 seconds, or until the preserves are thinner and stirrable. If there are any large pieces of fruit in the preserves, cut them into smaller pieces.
Whisk together the warm preserves, confectioners' sugar, and 1 tablespoon milk. Add more milk, 1 teaspoon at a time, until the glaze is smooth and spreadable.
Spread the glaze on top of the cooled cookies. Sprinkle with sanding sugar. Allow the glaze to set before serving.
Notes:
*Be sure you measure your flour accurately so that the dough will come together well. If you don't use a digital scale, then spoon the flour into the measuring cups instead of scooping down into the flour container. That will help prevent using too much flour. See my tips for How to Measure Flour if you need a refresher.
**Feel free to make these smaller or larger if you like. Smaller cookies will bake more quickly, while larger ones will require a bit more baking time.
Recipe slightly adapted from BHG.