Hazelnut cream cheese brownies have crunchy chopped hazelnuts in the cream cheese filling and the rich chocolate brownie layer, for double the nutty goodness!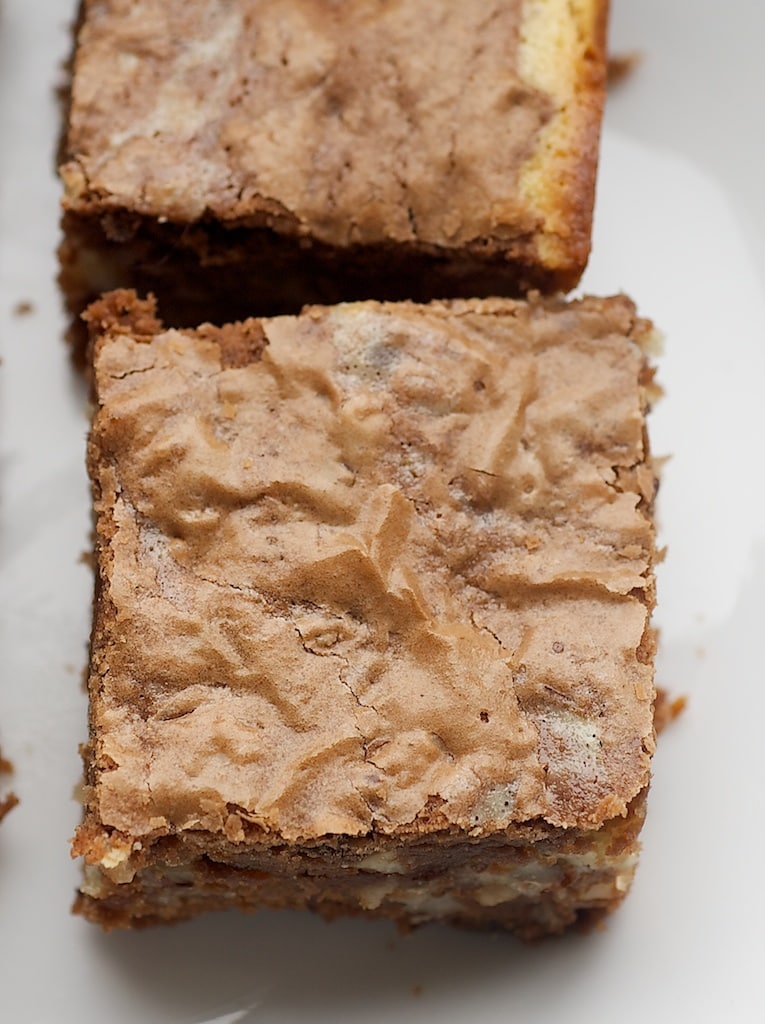 Marbled Cheesecake Brownies With Hazelnuts
I'll just assume that title alone got your attention. Not much could be better than chocolate, hazelnuts, and cream cheese. The only thing wrong with these brownies is that I didn't make them sooner.
You may remember that I made the famous Fat Witch brownies last year after I received a copy of Fat Witch Brownies. I bookmarked this recipe then, and I've been wanting to make these for just over a year. A year! In my defense, I do live dangerously close to Fat Witch in Chelsea Market. I've certainly eaten my share of their brownies in the last year.
My friends, I can assure you that these hazelnut cream cheese brownies were well worth the wait. They are wonderfully dense brownies—a little bit like my chocolate cream cheese brownies, but laden with hazelnuts. While there isn't an abundance of cream cheese filling, there's enough to balance the rich, chocolatey brownie. Just do yourself a favor, and don't wait as long as I did to make these.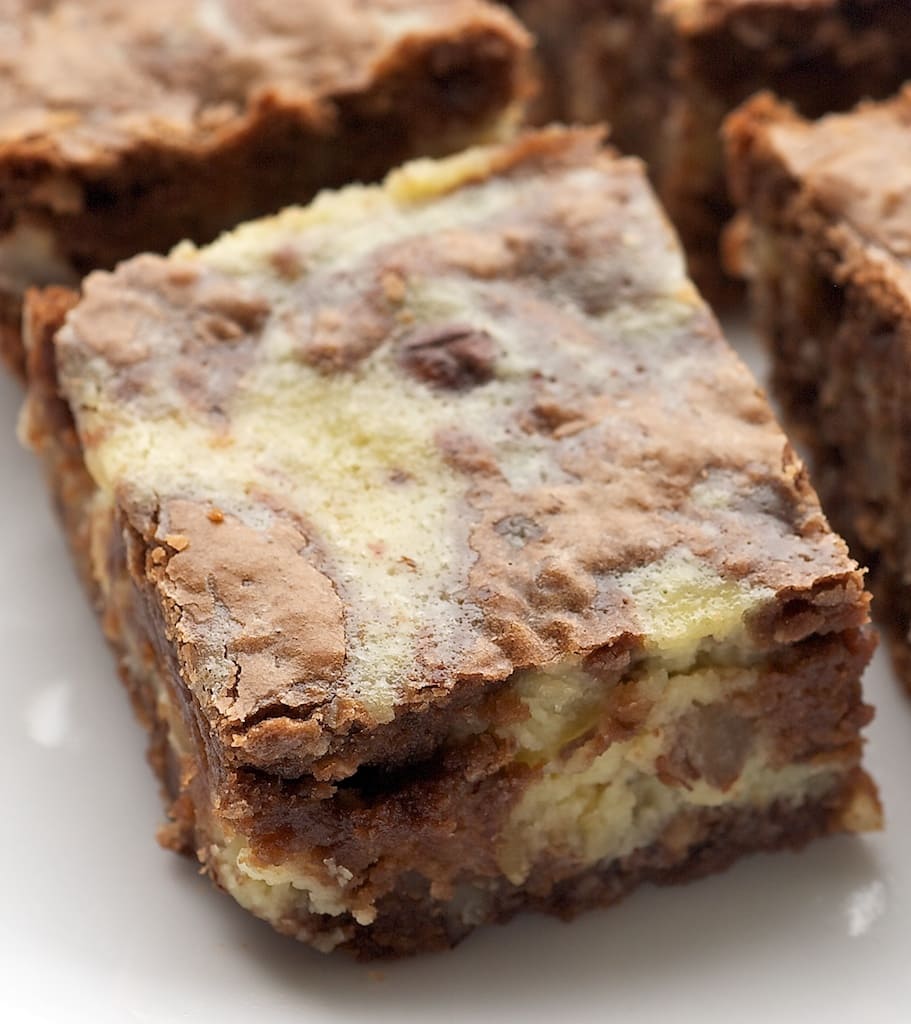 What You'll Need
Scroll down to the recipe card to find the ingredient quantities and recipe instructions.
For the filling:
Cream cheese – Buy a block of full-fat cream cheese; don't use the cream cheese that comes in tubs, as it has air whipped into it, which will throw off your measurements.
Granulated sugar
Egg
Lemon juice – Lemon juice plays up the tangy flavor of the cream cheese; together, these two elements add a nice contrast to the rich, sweet brownie.
Vanilla extract – Use store-bought or homemade vanilla extract.
Hazelnuts
For the brownies:
Do You Have to Peel Hazelnuts?
You don't have to peel the hazelnuts before chopping them, but I do recommend it for baking, as the texture of the hazelnut skin can be distracting and it has a bitter taste to it.
Buying blanched hazelnuts means you won't have to peel them yourself. If your hazelnuts aren't blanched, you can toast them in a pan, then transfer them to a clean kitchen towel, wrap them up for about 10 minutes so they steam, and then rub the skin off.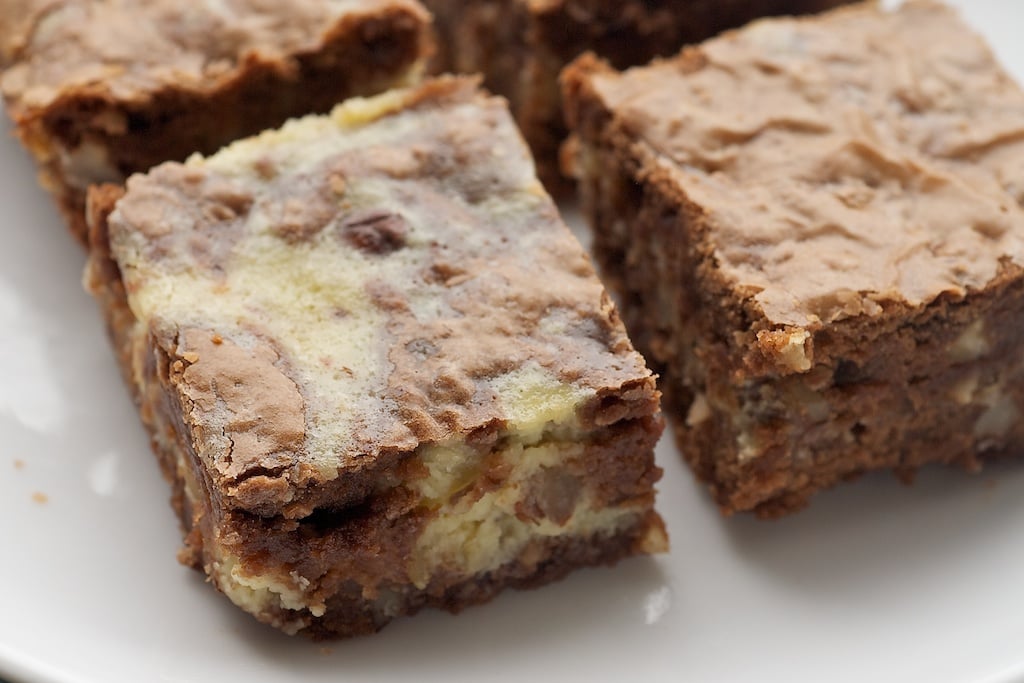 How to Make Hazelnut Cream Cheese Brownies
These hazelnut cream cheese brownies are made using the same method as standard cream cheese brownies—the only difference is adding nuts to the batter and filling!
Make the filling. Beat the cream cheese and sugar in a medium bowl until they're smooth. Add the egg, lemon juice, and vanilla extract, and beat until well-blended. Fold in the hazelnuts.
Chill. Cover the bowl and refrigerate the cream cheese filling while you make the brownie batter.
Prepare. Grease and flour a 9-inch square baking pan.
Melt the chocolate and butter. Place the chocolate and butter in a small saucepan and melt them over low heat, stirring frequently. Remove from heat and let the mixture cool a bit.
Mix the dry ingredients. Whisk together the flour and salt in a small bowl.
Finish the batter. Beat the sugar, eggs, and vanilla until smooth, then beat in the cooled chocolate mixture. Slowly add the dry ingredients, mixing just until combined. Fold in the hazelnuts.
Assemble and chill. Spread half of the brownie batter into the bottom of the prepared pan, then spread the chilled filling on top. Refrigerate for 10 minutes and begin preheating the oven to 350ºF.
Finish assembling. Spread the remaining brownie batter on top of the filling and swirl the layers by inserting a butter knife into the pan and lifting it straight up, repeating in a pattern or randomly over the surface of the brownies.
Bake. Place the pan in the oven and bake for 30 to 33 minutes, or until a wooden toothpick inserted in the center comes out clean or with only dry crumbs.
Cool and serve. Let the brownies cool in the pan on a wire rack for 1 hour. (Learn more: Why Every Baker Needs Wire Cooling Racks.) Cut the brownies just before serving.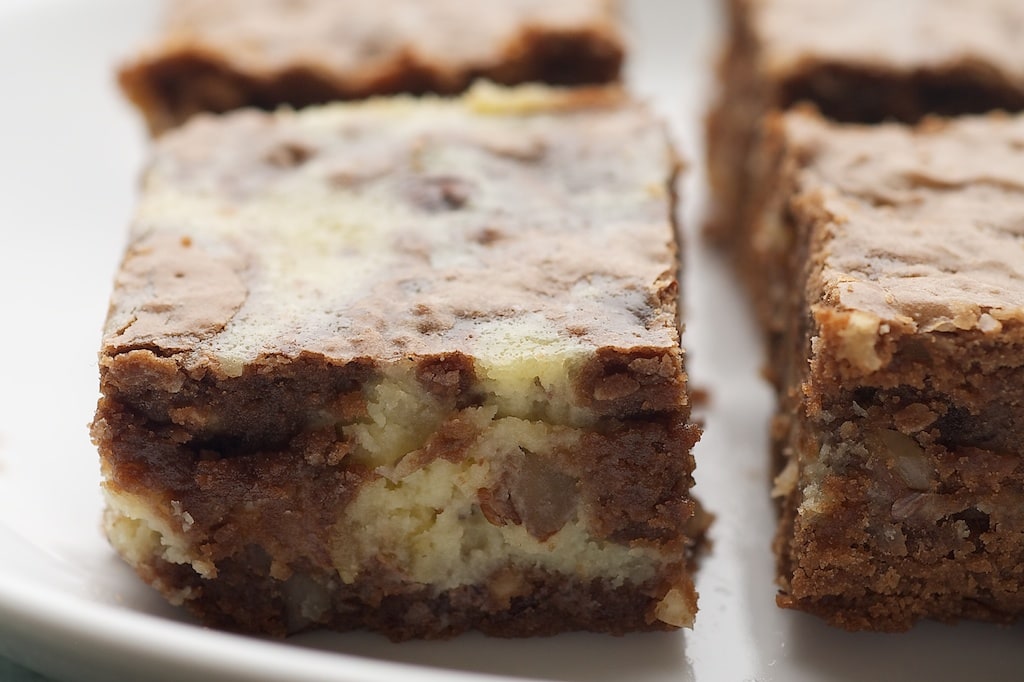 Do You Have to Leave Brownies to Cool Before Cutting?
You don't have to let brownies cool before you cut them, but if you want nice clean edges and brownies that don't fall apart, it's best to let them cool completely and then cut them with a sharp knife.
Tips for Success
Start by reading through my baking tips for beginners and tips for baking brownies. Here are some additional tips for these hazelnut cream cheese brownies:
Let the cream cheese soften. This allows it to blend smoothly into the other filling ingredients.
Be patient when assembling. Spreading the brownie batter over the cream cheese layer can be tricky; adding dollops of batter all over the pan (instead of simply pouring it all into the middle) and then gently spreading them with a rubber spatula can make it easier.
Don't over-swirl. If you overdo it with the swirling, you won't get that pretty marbled effect.
How to Store
Store hazelnut cream cheese brownies in an airtight container in the refrigerator. Let them sit at room temperature a few minutes before serving.
Can This Recipe Be Frozen?
You can freeze hazelnut cream cheese brownies for up to 2 months. Place them in an airtight container or freezer bag and let them thaw in the refrigerator.
More Over-the-Top Brownie Recipes