December 8, 2011
Toffee Nut Squares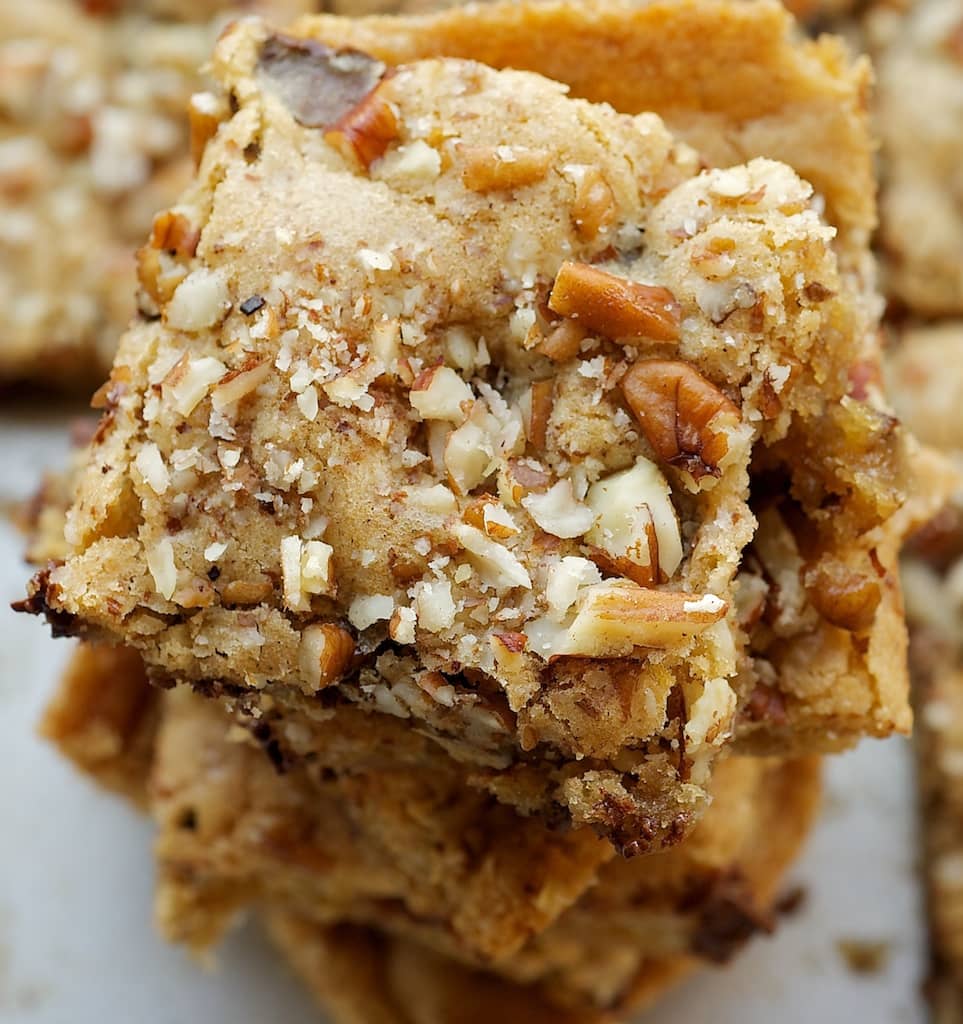 Lately, I've been going through brown sugar like you would not believe. Actually, I guess you would believe it if you've been keeping up with my recent recipes. I must say that I love the impact of brown sugar in baking. It just seems to give baked goods a little extra boost.
These bars are certainly not shy with the brown sugar. Two cups in a batch of bars is surely significant. Keep in mind that with all that brown sugar front and center taste-wise, you'll need to ignore that old rock-hard lump of brown sugar you have stored in your cabinet and open up a fresh box.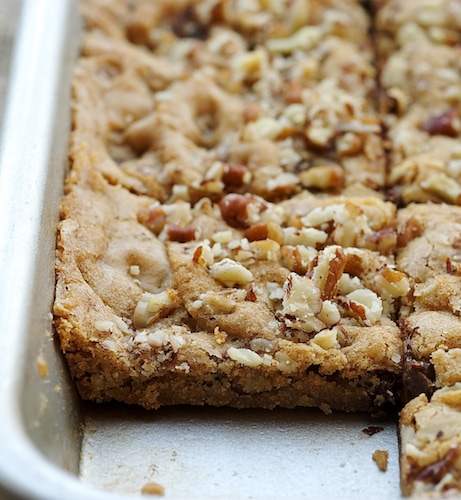 All of that brown sugar creates a caramel-like flavor that is only one of the reasons I like these so much. Two of my favorites – chocolate and pecans – are also on the guest list. Granted, the original recipe from Great Cookies lists walnuts in the ingredient list. For you walnut fans, go right ahead with that. I'll stick with pecans.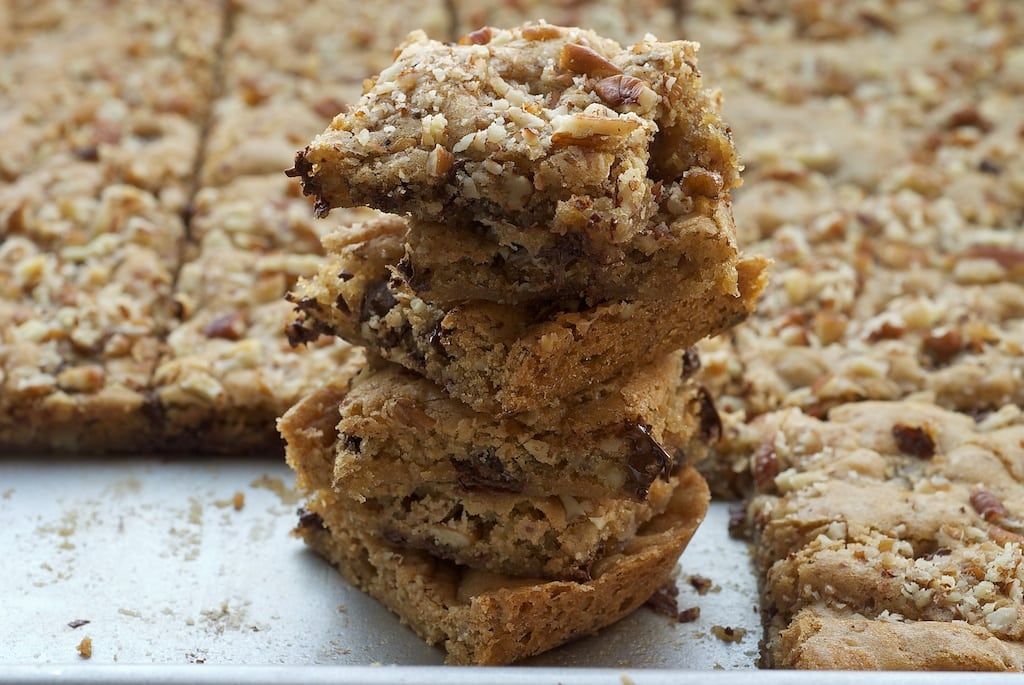 The end result of all of this is a big pan full of thin, chewy bars that are worth every grain of brown sugar heaped into them. If that's not enough motivation, think of the pecans. And the chocolate. Just look up at that warm, gooey chocolate in that picture! Go ahead and get to baking. There will be plenty to share while still keeping a secret stash for yourself.
Toffee Nut Squares
Yield: about 60 bars
Prep Time:20 minutes
Cook Time:18 minutes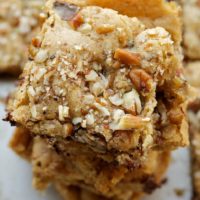 Ingredients:
2 cups all-purpose flour
1/2 teaspoon baking soda
1/2 teaspoon salt
2/3 cup unsalted butter, slightly firm
2 cups lightly packed brown sugar (very fresh!)
2 large eggs
2 teaspoons vanilla extract
1 cup + 2 tablespoons finely chopped nuts, divided
1 cup semisweet chocolate chips
Directions:
Preheat oven to 350°. Butter a 10 1/2″x 15 1/2″x 1″ jelly roll pan.
Mix flour, baking soda, and salt in a medium bowl. Set aside.
Using an electric mixer on medium speed, beat butter until light. Add brown sugar gradually (about 1/4 cup at a time). Beat until light in color. Add eggs, 1 at a time, and beat after each addition. Mix in vanilla.
Reduce mixer speed to low and gradually add flour mixture. Mix just until incorporated. Stir in 1 cup chopped nuts and chocolate chips.
Spread batter in pan. Smooth top with an offset spatula. Sprinkle remaining 2 tablespoons (or more, if you'd like) nuts on top of batter.
Bake 16-18 minutes, or until sides are lightly browned. Do not over-bake. A wooden pick inserted in the center should come out with moist crumbs.
Cool on wire rack for 1 hour before cutting into bars. Store in an airtight container for 5 days. Bars may also be frozen.