This light and fluffy strawberry cake is layered with tangy strawberry cream cheese frosting for an ethereal springtime dessert!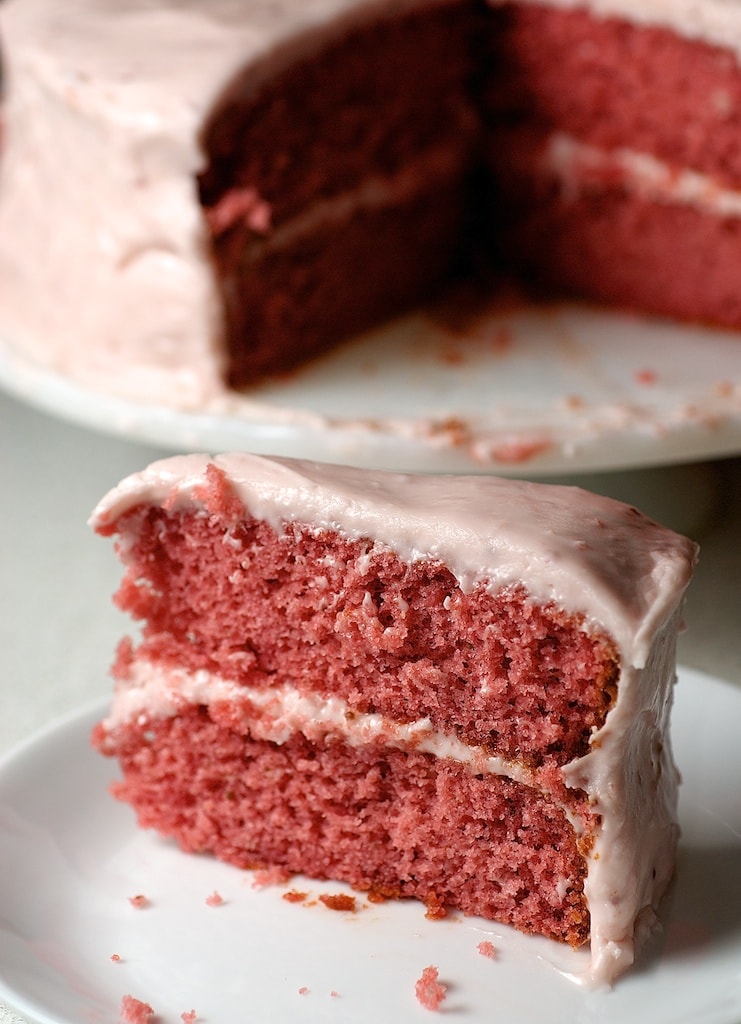 An Easy Boxed Cake Mix Hack
This Easter, as I was basking in the early spring-ness of New York, I decided that our meal should include something befitting of this beautiful season—a strawberry cake. Strawberries are one of the first fruits available in the spring, and not only does this cake feature strawberries, but it also does so quite boldly. This is a cake for berry lovers, to be sure.
It is also perhaps the sweetest cake I've ever made. Small slices are your friend. It's absolutely beautiful in all its pink glory; it's also very sweet. Did I mention that? This isn't necessarily a bad thing, but if you're looking for a strawberry dessert that leans more tart, this strawberry cake isn't it.
While I do like baking from scratch, I'm not one to turn up my nose at a recipe that uses a cake mix. Some of my favorite cakes have started that way, as does this recipe. Baking purists may want to move on to the archives and find something else, like my Strawberry Sheet Cake. The rest of you, hold your head high and add cake mix, Jell-O, and frozen strawberries to your shopping lists.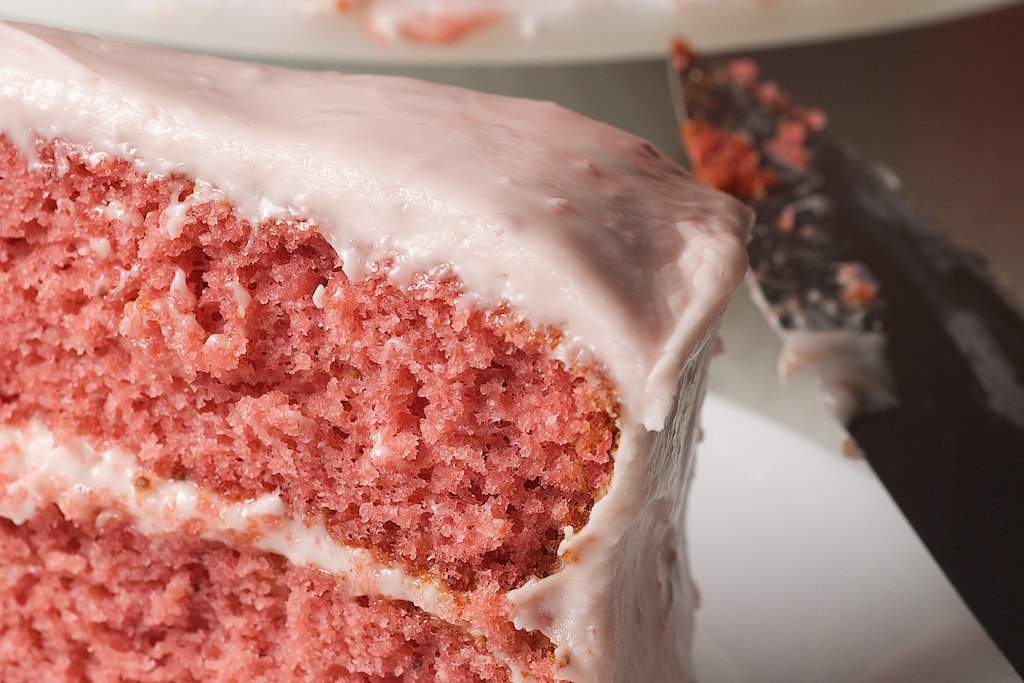 What You'll Need
One of the benefits of using a baked cake mix for this recipe is that there's no need to measure flour, baking powder, sugar, and such.
For the cake:
White cake mix – Use any brand you like.
Strawberry-flavored gelatin
Frozen strawberries in sugar – You'll thaw and puree these before baking.
Eggs – I recommend letting them come to room temperature, which yields a fluffier cake.
Canola oil
Water
For the frosting:
Butter
Cream cheese – Let both the butter and cream cheese soften a bit so you can whip them into a smooth, creamy frosting.
Frozen strawberries in sugar – These will also need to be thawed and pureed.
Confectioners' sugar – This is also known as powdered sugar.
Strawberries – An optional garnish.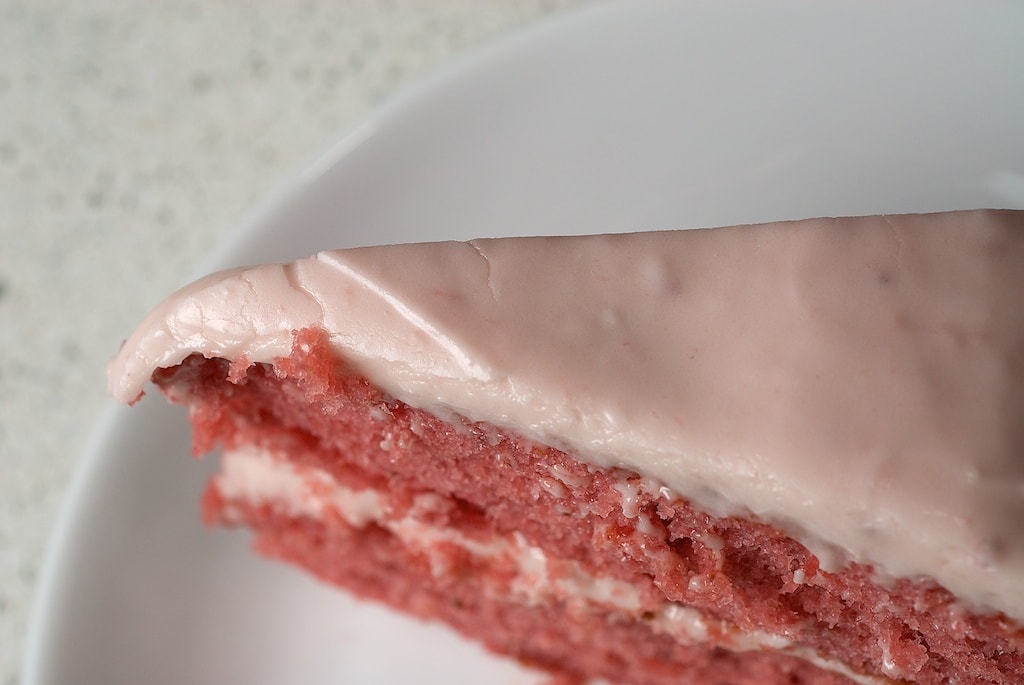 How to Make Strawberry Cake With Strawberry Cream Cheese Frosting
This is a simple, minimalist layer cake, with only two layers to stack and frost. It's definitely the kind of cake you can make with a free afternoon!
To make the cake:
Prepare. Preheat your oven to 350°F. Lightly grease or spray two 9-inch round cake pans.
Make the batter. Combine the cake mix and gelatin in a large mixing bowl. Beat in the pureed strawberries, eggs, oil, and water using a mixer on medium speed. Divide the batter into the prepared pans.
Bake. Place the pans in the oven and bake for 25-30 minutes, or until a wooden toothpick inserted in the center comes out clean.
Cool. Let the cakes cool in the pans for 15 minutes, then carefully remove them and let them finish cooling directly on the wire racks.
To make the frosting and assemble:
Prepare the frosting. Use an electric mixer on medium speed to beat the butter and cream cheese until smooth and creamy. Beat in the strawberries, then slowly add the confectioners' sugar, beating until smooth.
Assemble. Spread the frosting onto the cake, covering between layers, on top, and on the sides. Garnish with fresh strawberries, if desired.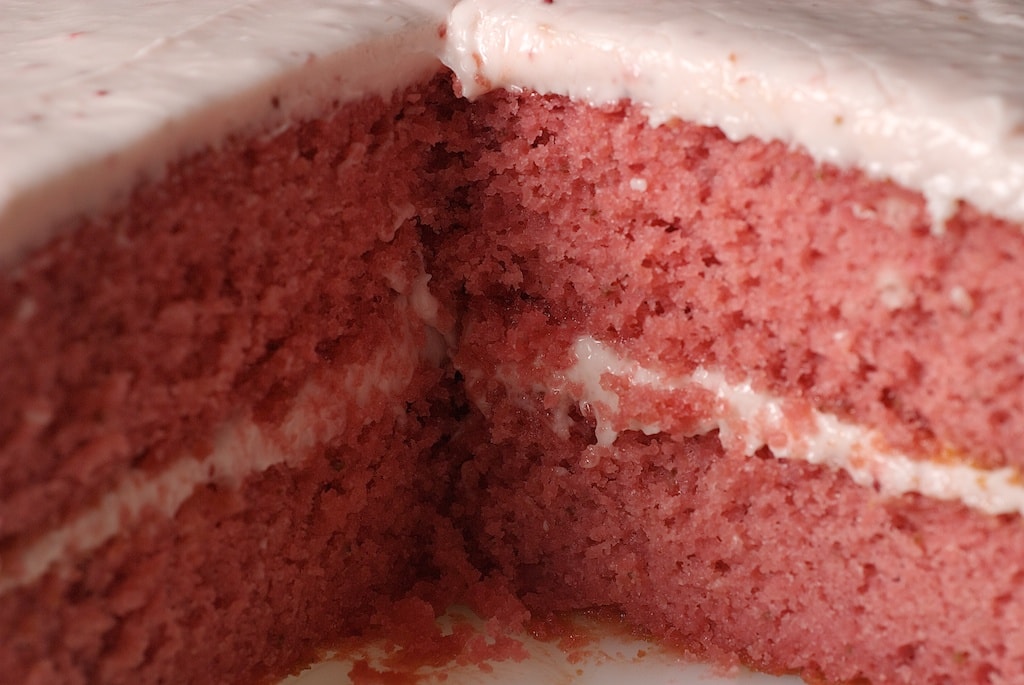 Tips for Success
If you're looking for an easy cake, this strawberry cake recipe is it! Here are some hints and tips to help you along the way, though.
Using three pans. You'll notice in the recipe below that I mention you can use two or three pans. If you use three, you'll have thinner layers; the baking time will need to be adjusted accordingly. I'd check after 15 minutes.
Other frosting ideas. Not a fan of cream cheese frosting? Try using the frosting from my Strawberry Cupcakes with White Chocolate Frosting recipe.
Decorating tips. This pretty pink cake is great for a birthday, Valentine's Day, or just because! While I usually garnish it with strawberries, you could use an array of fresh spring berries, sprinkles, or even edible flowers.
How to Store
Because this strawberry cake has cream cheese frosting, it will need to be stored in the refrigerator. Place leftover slices in an airtight container and refrigerate them for 3 to 4 days. I recommend letting the cake come to room temperature before serving.
Can This Be Frozen?
Yes, this recipe freezes well! To keep the frosting looking its best, I recommend placing the cake (either whole or slices) on a parchment-lined baking sheet and placing it in the freezer uncovered. Once frozen through, wrap the cake with plastic wrap and freeze for up to 3 months. Thaw the cake in the refrigerator before serving, removing the plastic wrap so the frosting doesn't stick.