These Bourbon Cream Cheese Brownies take classic brownies to the next level by adding a bourbon-infused cheesecake swirl. Best brownies ever!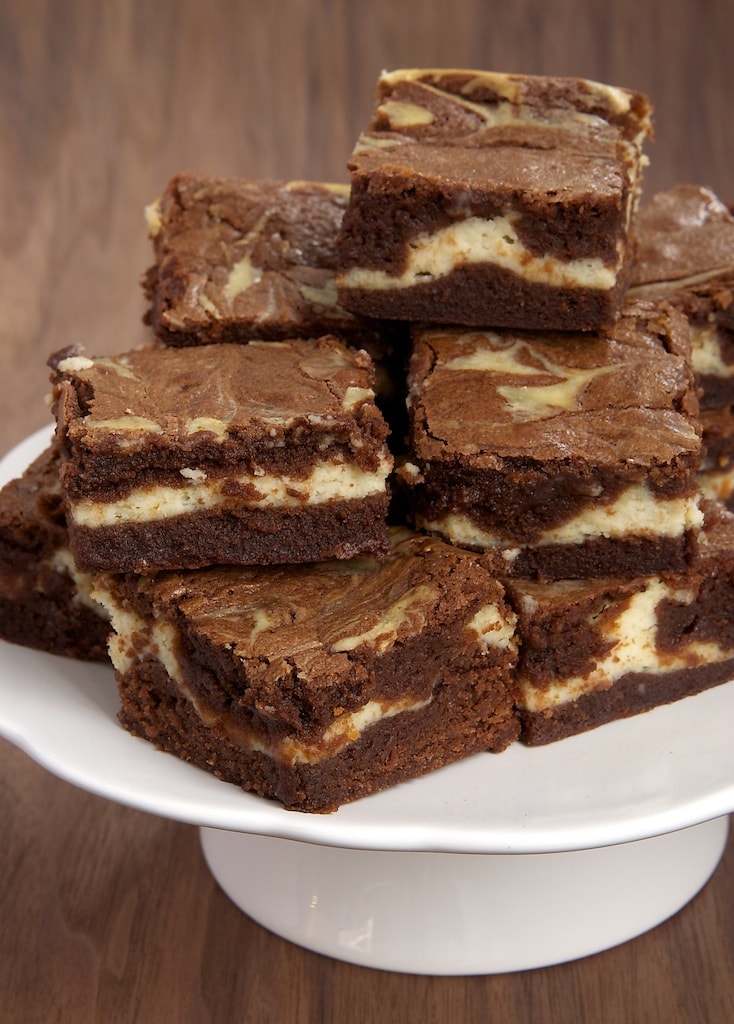 Marbled Cheesecake Brownies with Bourbon
I am not exaggerating even a little when I say that these are some of the best brownies I've ever had. The texture is exactly what I want a brownie to be—light and a bit cakey, but still a little dense. Then, you add a cream cheese swirl flavored with bourbon… I am so there.
As with any cream cheese brownie recipe, these Bourbon Cream Cheese Brownies are much easier than they look. To get that elegant marbling effect, you simply make two separate batters, layer the cream cheese mixture with the brownie batter, then use a butterknife to swirl them together. It's easy and satisfying!
But most satisfying of all is the way these brownies taste! They check all the boxes when it comes to dessert perfection—rich, fudgy, creamy, and juuuust boozy enough to make things interesting.
(PS – If you love cream cheese brownies, be sure to try my Cream Cheese Brownies with Toffee and Pecans, Hazelnut Cream Cheese Brownies, and Chocolate Cream Cheese Brownies!)
What You'll Need
The ingredient list for this recipe is (relatively) short, sweet, and full of pantry staples!
For the brownies:
Dark chocolate – Go with your preferred dark chocolate, but I recommend at least 70% cacao.
Unsalted butter
Granulated sugar
Light brown sugar – You can use dark brown sugar in a pinch, but I much prefer light brown sugar in this recipe because it has a milder flavor.
Eggs – Let these come to room temperature.
Vanilla extract
All-purpose flour – Here's how to measure flour.
Salt
For the cream cheese swirl:
Cream cheese – Let this soften so it's easy to blend with the other ingredients.
Granulated sugar
All-purpose flour
Bourbon
Egg
What Can I Use Instead of Bourbon?
Bourbon has a slightly sweet flavor with notes of caramel, oak, and vanilla, which makes it a worthwhile addition to this recipe. You can substitute whiskey since bourbon is a type of whiskey, but it won't be quite the same! You can also use bourbon extract or simply substitute vanilla extract instead.
Do Brownies Need Baking Powder?
You may notice there's no baking powder or soda in this recipe. While some brownies call for a chemical leavener, this recipe is fudgy and dense, so it doesn't need baking soda or powder.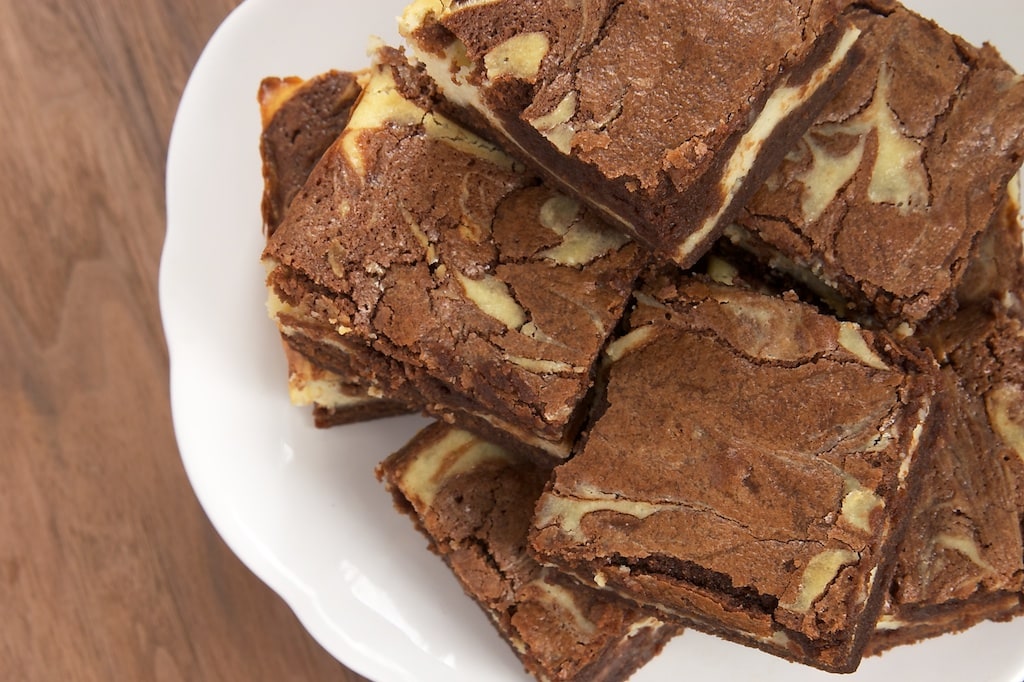 How to Make Bourbon Cream Cheese Brownies
The hardest thing about this recipe is waiting for the brownies to cool so you can dig in!
To make the brownie batter:
Prepare. Preheat your oven to 350°F. Lightly grease a 9-inch square baking pan, then line the pan with parchment paper overhanging a few inches on each side. Lightly grease the paper, too.
Melt the chocolate and butter. Place the chocolate and butter in a microwave-safe bowl. Microwave at half-power in 30-second bursts, until the butter has melted and the chocolate melts into the butter when stirred.
Finish the batter. Stir together the sugars in a large bowl, then stir in the chocolate mixture. Mix in the eggs one at a time, followed by the vanilla, flour, and salt. Spread half of the batter in the prepared pan.
To make the cream cheese swirl:
Make the cheesecake batter. Use an electric mixer on medium speed to beat the cream cheese until it's smooth. Beat in the sugar and flour, followed by the bourbon and egg.
Layer and swirl. Pour the cream cheese mixture over the brownie batter, then top this with the remaining brownie batter. Use a thin knife to swirl the layers together for a marbled effect.
Bake. Place the pan in the oven and bake 40 to 45 minutes, or until a toothpick inserted into the center comes out with moist crumbs.
Cool and serve. Cool the brownies completely in the pan on a wire rack. (Learn more: Why Every Baker Needs Wire Cooling Racks) Then, use the parchment paper to lift the brownies out of the pan. Place them onto a cutting board and cut them into squares.
Should I Cut Brownies Hot or Cold?
Wait for the brownies to cool before you cut them! If you cut them while they're hot, they're likely to crumble and won't have clean, even edges.
Tips for Success
Here are some pointers for perfect Bourbon Cream Cheese Brownies.
Use high-quality chocolate. It's the most important ingredient in brownies! Learn more: Tips for Baking Brownies from Scratch
Don't over-mix the batters. When marbling the brownie and cream cheese batters, use a gentle touch! If you swirl too much, you'll simply end up with muddy looking brownies.
Cutting even squares. If you have a cutting board with measurements, that's helpful for making evenly-sized brownies. If not, you can take out a ruler and make small notches on the brownies where you want to make your cuts, then use a large chef's knife to make clean, firm cuts end-to-end.
How to Store
Store these brownies wrapped or in an airtight container at room temperature for up to 3 days, or in the refrigerator for up to a week.
Can This Recipe Be Frozen?
Bourbon Cream Cheese Brownies can be frozen for up to 3 months. Wrap them well, or place them in an airtight container or freezer bag with parchment paper between the layers to keep them from sticking. Let them thaw at room temperature before serving.