Peppermint Cheesecake Brownies combine rich brownies with a ribbon of cream cheese flavored with peppermint. These are wonderfully fudgy and delicious!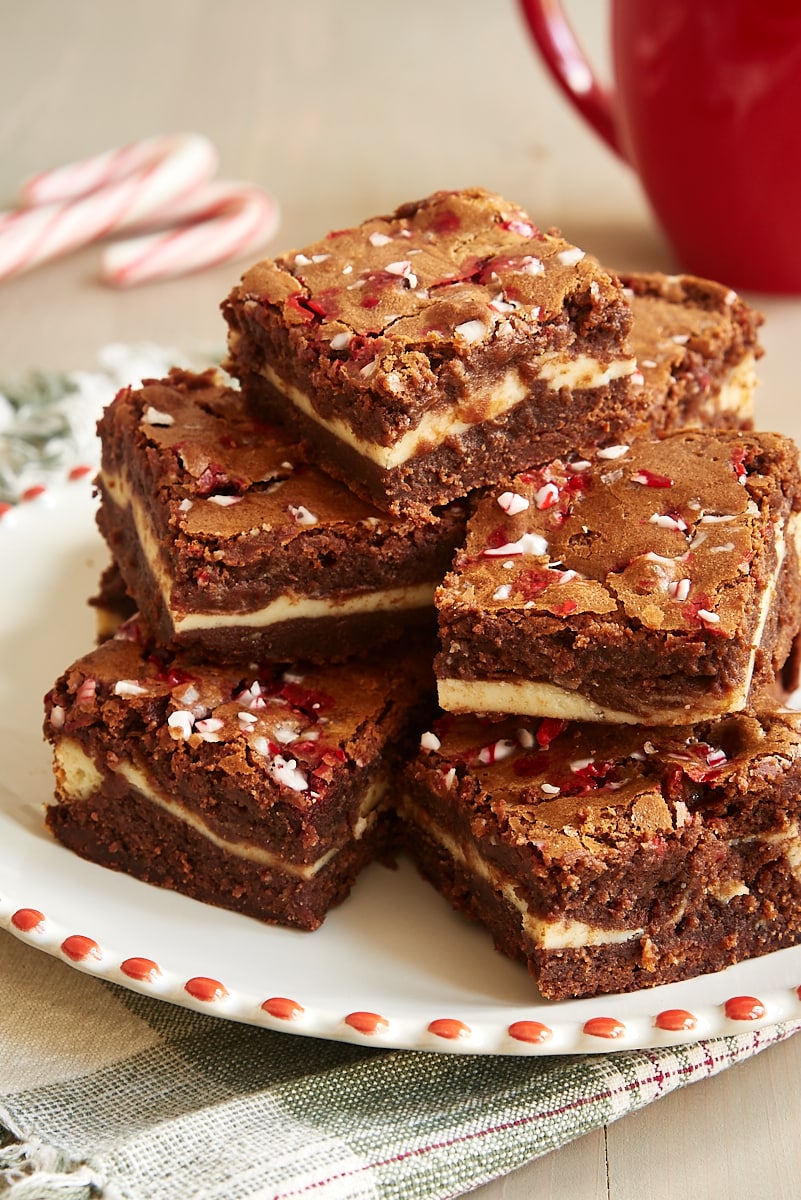 Peppermint Brownies with Cheesecake Filling
Chocolate and peppermint are a classic flavor combination, and one that always makes me think of snowy winter days. There's just something about that combination of rich chocolate with a hint of refreshing peppermint that conjures visions of curling up near a fire while the snow falls outside.
With that flavor pairing in mind, I couldn't resist adding a cream cheese twist to fudgy brownies, swirling a simple cheesecake mixture into them. This recipe is adapted from Bourbon Cream Cheese Brownies, which are one of my most requested brownies. This recipe doesn't stray very far from that one, with the main difference being the addition of peppermint.
The brownies on their own are fairly traditional. The burst of peppermint flavor comes in with the cheesecake filling that's nestled between layers of rich chocolate brownies. You can either go with smooth layers or swirl them together. The ones you see in these photos were swirled ever so slightly, but you can go further if you like.
These rich, fudgy peppermint brownies have just the right amount of peppermint flavor. If you're a fan of chocolate and peppermint, these aren't to be missed!
If you love chocolate and peppermint treats, try Chocolate Peppermint Cake and Chocolate Peppermint Whoopie Pies, too!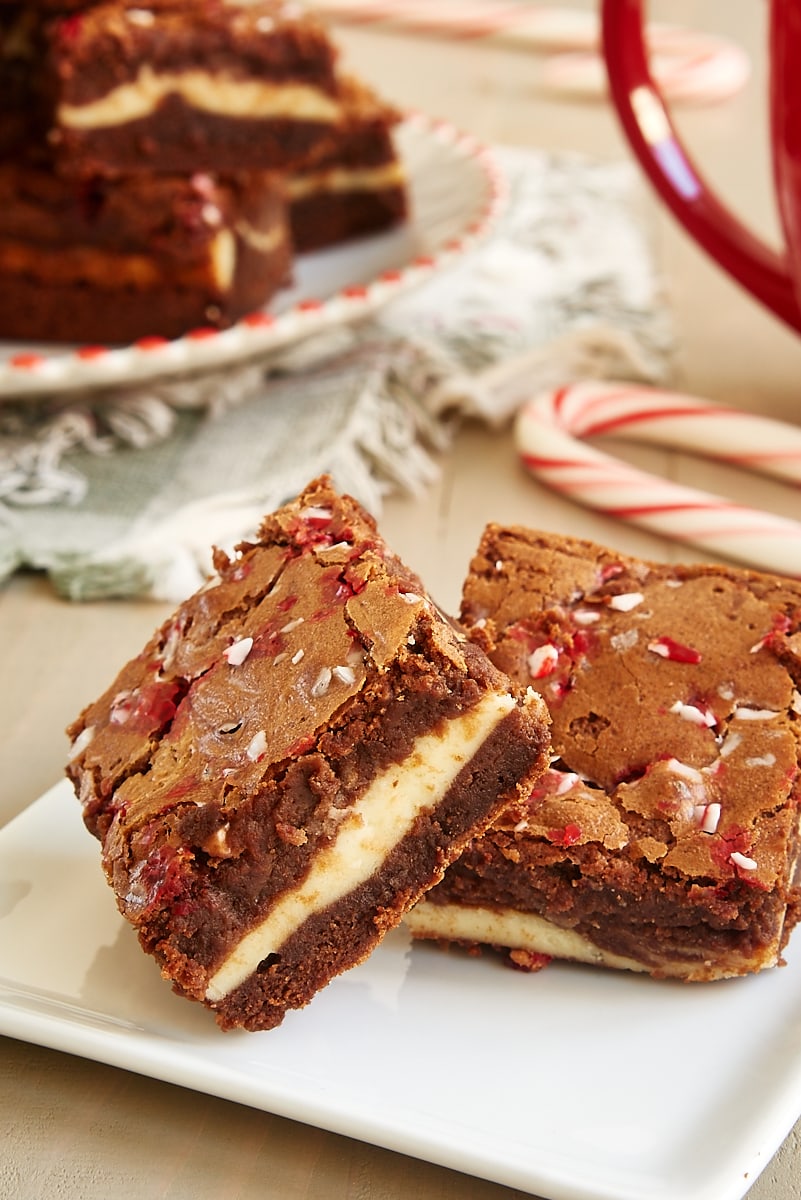 What You'll Need
See the recipe card at the bottom of this post for ingredient quantities and full instructions. Here are some notes about the ingredients you'll need to make these peppermint brownies.
Dark chocolate – I recommend either bittersweet or semisweet chocolate in the neighborhood of 70% cacao.
Unsalted butter
Granulated sugar – You'll need sugar for both the brownies and the filling.
Light brown sugar – Using a little brown sugar makes the brownies nicely soft. I don't recommend using dark brown sugar here, as the flavor may be overpowering.
Eggs – Let the eggs come to room temperature before mixing. You'll need 3 for the brownies and another for the cheesecake filling.
Vanilla extract
All-purpose flour – Measure by weight for best results. Otherwise, use the spoon and sweep method. Learn more: How to Measure Flour
Salt
Cream cheese – Let the cream cheese come to room temperature for easier mixing and a smooth filling. Full-fat cream cheese works best.
Peppermint extract
Candy canes – Crushed candy canes are the perfect way to dress up these brownies!
How to Make Peppermint Cheesecake Brownies
Prepare for baking. Heat the oven to 350°F. Line a 9-inch square baking pan with parchment paper so that it overhangs on two opposite sides. Lightly grease the paper with a cooking spray or butter.
Melt the chocolate and butter. Place them in a large microwave-safe bowl, and heat at half-power in 30-second increments. Stir after each heating, and repeat until melted. Stir until smooth, and let the mixture cool briefly until it's still warm but not hot.
Mix the brownie batter. Stir 1 & 1/4 cups of the sugar and the brown sugar into the melted chocolate mixture. Next, add three eggs and the vanilla, and mix well. Finally, add 1 cup of flour and salt, and mix just until combined.
Make the filling. In a separate bowl, mix the cream cheese, 1/4 cup sugar, 1 tablespoon flour, 1 egg, and the peppermint extract until well-mixed and smooth.
Assemble the layers. Spread half of the brownie batter in the prepared pan. Next, pour the cheesecake filling over that layer of brownie batter. Then, top with the remaining brownie batter. Finally, use a thin knife or icing spatula to swirl the layers together. Alternatively, skip the swirling and leave the layers as they are. Sprinkle the top with crushed peppermint candies if you like.
Bake. Place the pan in the heated oven, and bake for 40 to 45 minutes. A toothpick inserted into the center should come out with a few moist crumbs attached.
Cool. Place the pan on a wire rack. If you want to add more crushed candies, do that now. After the brownies have cooled completely, use the overhanging parchment paper to lift them from the pan onto a cutting board. Use a sharp knife to cut into bars.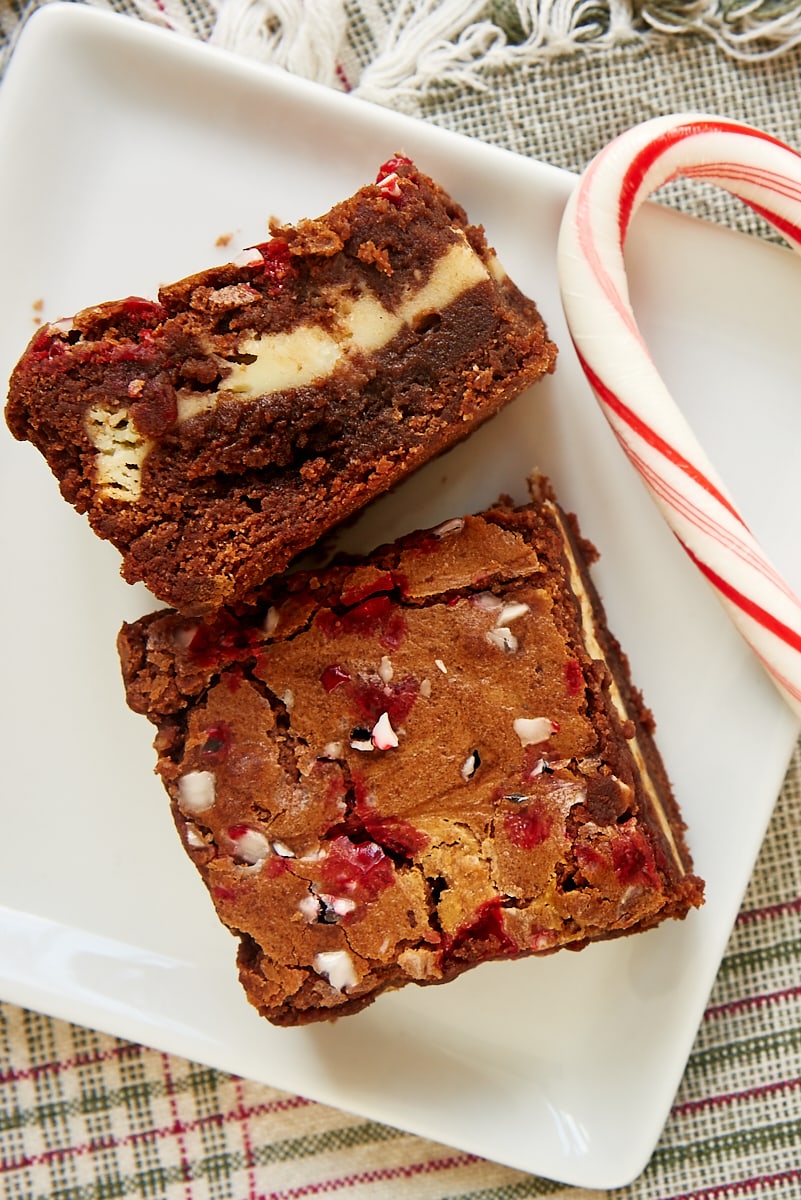 Tips for Success
Use a light-colored metal pan. Your brownies will bake more thoroughly and evenly.
Line the pan. It will make removing the brownies from the pan a cinch.
Garnish with crushed peppermint candies. If you bake the brownies with the crushed peppermints on top, they'll melt into the brownies a little bit as they bake. To keep the candies more intact, you can instead opt to sprinkle the candies on top when the brownies come out of the oven. Or do a little of both, which I think gives them a nice look.
How to Store
After the brownies have cooled completely, place them in an airtight container and store in the refrigerator. They should keep in the refrigerator up to 5 days. Bring servings to room temperature just before serving.
How to Freeze
Wrap the cooled brownies in plastic wrap, and wrap again in aluminum foil or place in an airtight, freezer-safe container. Properly stored, the brownies should keep in the freezer up to 2 months, although you may find they're at their best within a month. Thaw overnight in the refrigerator.
More Layered Brownie Recipes