Not only are these strawberry brownies intensely rich and fudgy, they're also swirled with jam and dotted with fresh strawberries. The perfect brownie recipe for summer!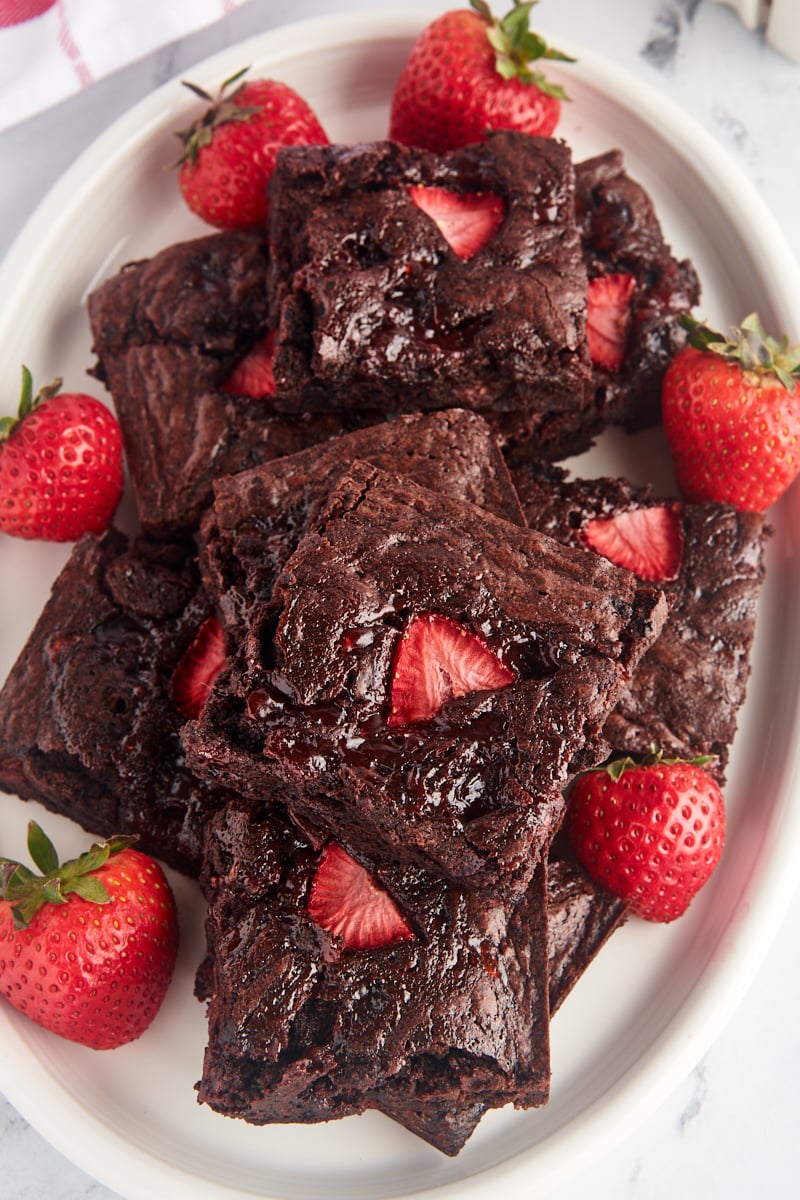 Rich Chocolate Strawberry Brownies
While some desserts have a definite season, brownies are a year-round treat. But if you want to give brownies a summery makeover, these strawberry brownies are the way to go. Imagine your richest, fudgiest brownie recipe with the fresh, sweet taste of strawberries added to the equation.
The strawberries and jam don't just bring flavor, though—they also bring balance. A little bit of fruit has a way of tempering all that richness, which is always welcome in the summer when heat and humidity usually mean smaller appetites.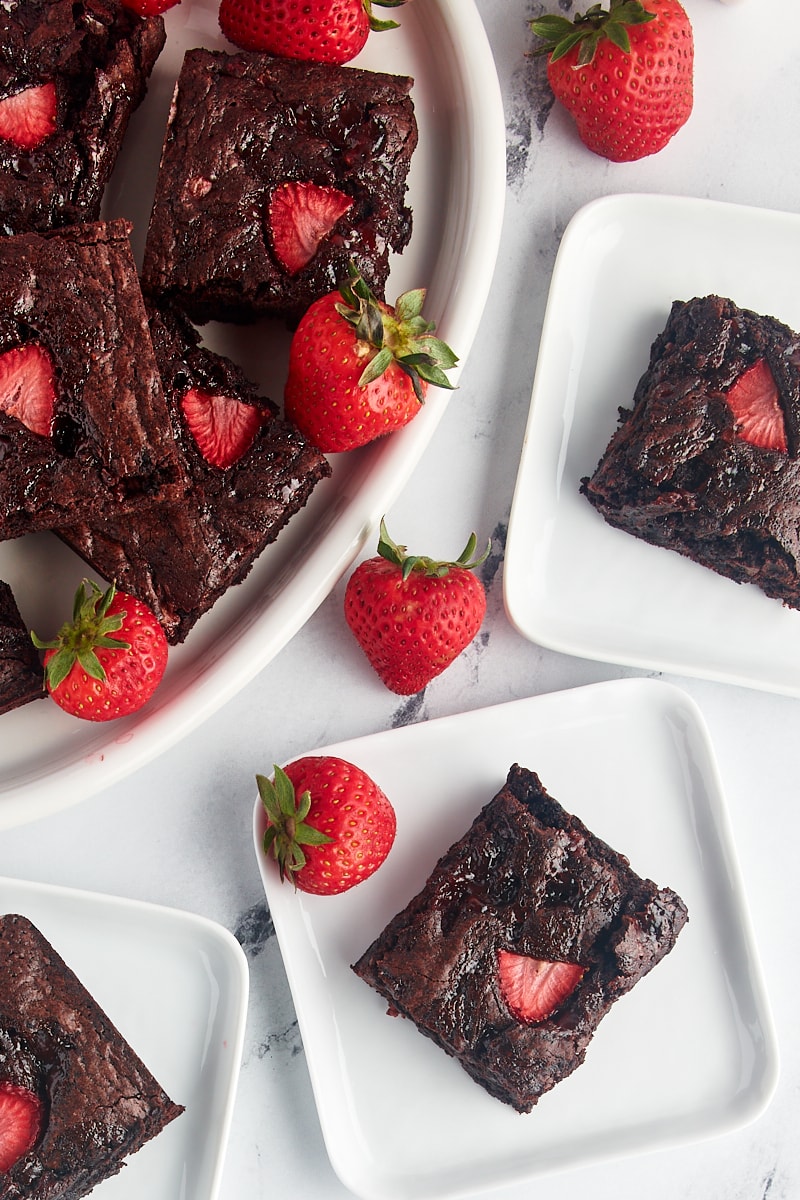 Why You'll Love These Strawberry Brownies
Here's why these strawberry brownies are destined to be a hit:
Fudgy. While I'm sure there are some ardent cake brownie lovers out there, most people go weak in the knees for those dense, fudgy brownies with irresistibly chewy edges—and that's exactly what you get here.
Fruity. Swirls of strawberry jam and fresh berries mean there's double the berry goodness in these strawberry brownies.
Simple. There's nothing fussy about this recipe! It starts with a relatively short list of pantry staple ingredients, and prepping the brownies is done in a matter of minutes.
Crowd-pleasing. Serve up these strawberry brownies at a summer party and watch them disappear. Everyone will ask you for the recipe!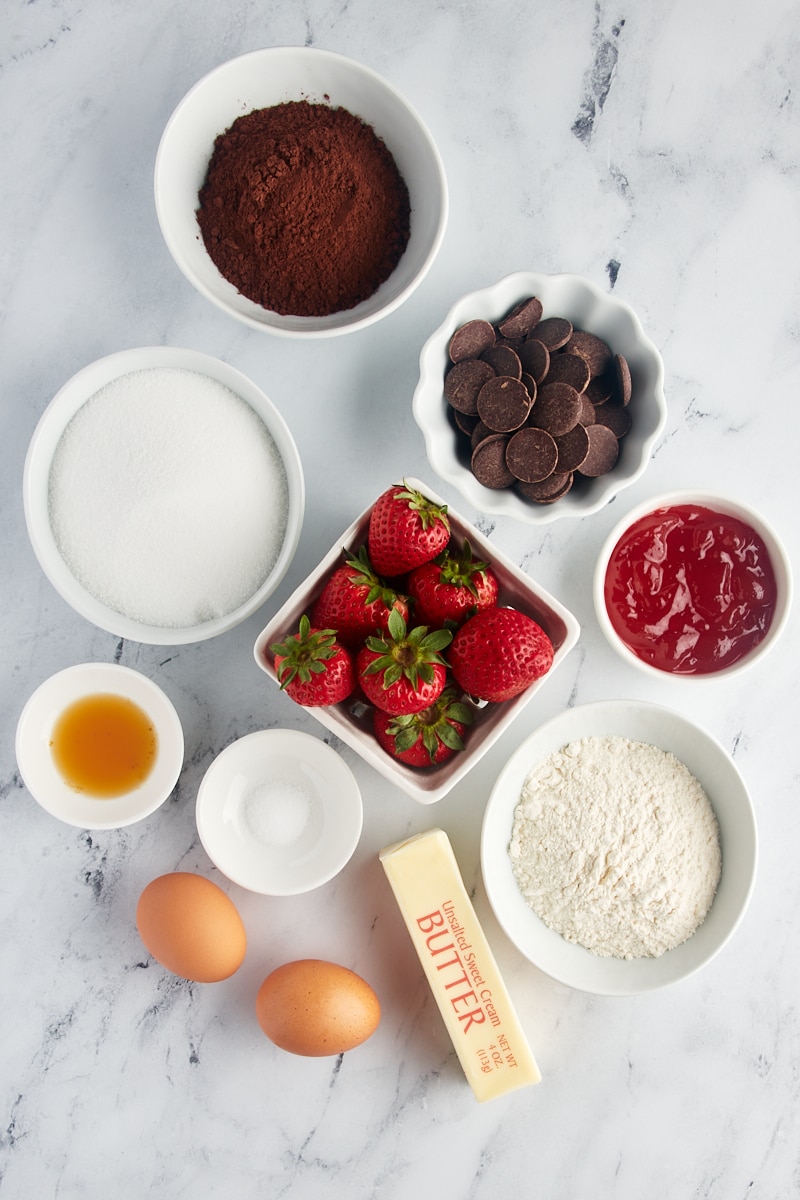 Notes on Ingredients
Scroll down to the recipe card to find the ingredient quantities and recipe instructions.
Unsalted butter – I almost always use unsalted butter in baking. Learn more: Unsalted or Salted Butter: Which is Better for Baking?
Dark chocolate – Use dark chocolate with about 70% cacao. Learn more: Types of Chocolate: A Home Baker's Guide
All-purpose flour – Here's how to measure flour for baking.
Unsweetened cocoa powder – I recommend natural cocoa powder (rather than Dutch process) for classic brownie flavor.
Salt
Granulated sugar
Eggs
Vanilla extract – Use store-bought or homemade vanilla extract.
Strawberries – The berries are the star here, so buy the best you can find. Supermarket berries are grown for transportability but not necessarily flavor, so if you can find locally grown strawberries at your farmers' market, they'll be sweeter and more flavorful.
Strawberry jam
How to Make Strawberry Brownies
It's only a few more steps to make brownies from scratch instead of a boxed mix, and the results are so worth it. Here's what you'll need to do.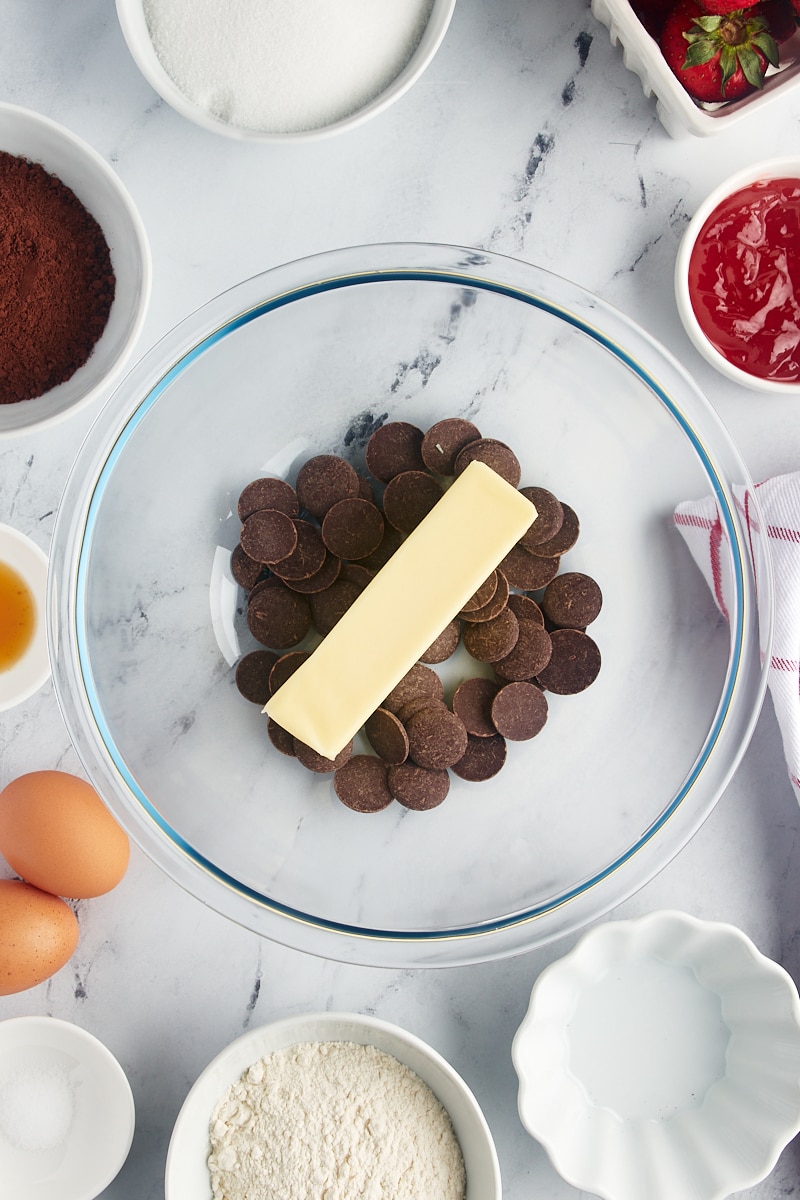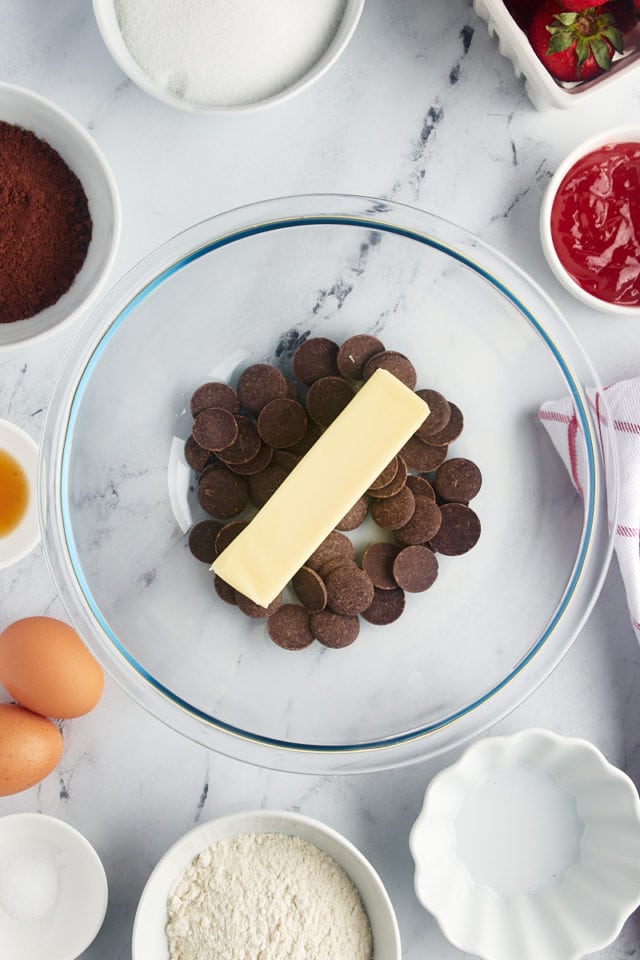 Prepare. Preheat your oven to 350°F and line an 8-inch square baking pan with parchment paper. Grease the paper and any parts of the pan that are showing.
Melt the butter and chocolate. Combine the butter and chocolate in a microwave-safe bowl and microwave at half-power in 30-second increments until the butter melts and the chocolate melts into the butter when stirred. Cool slightly.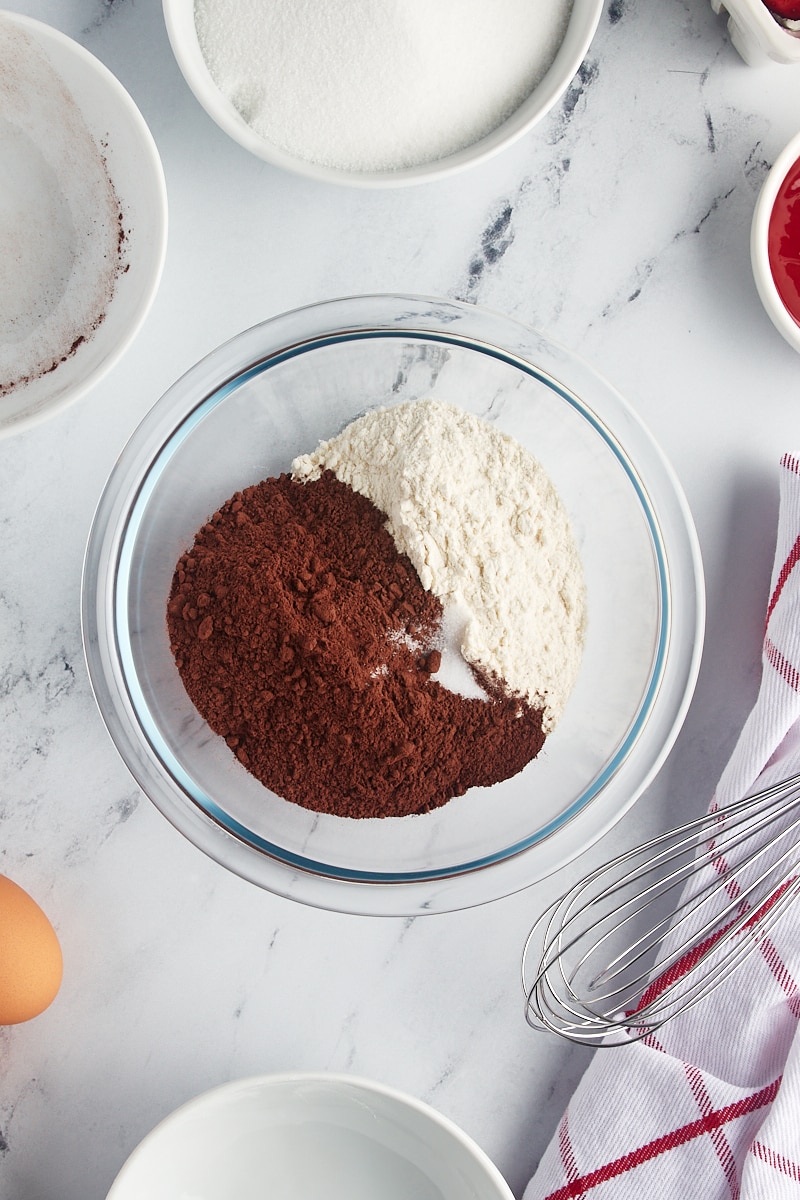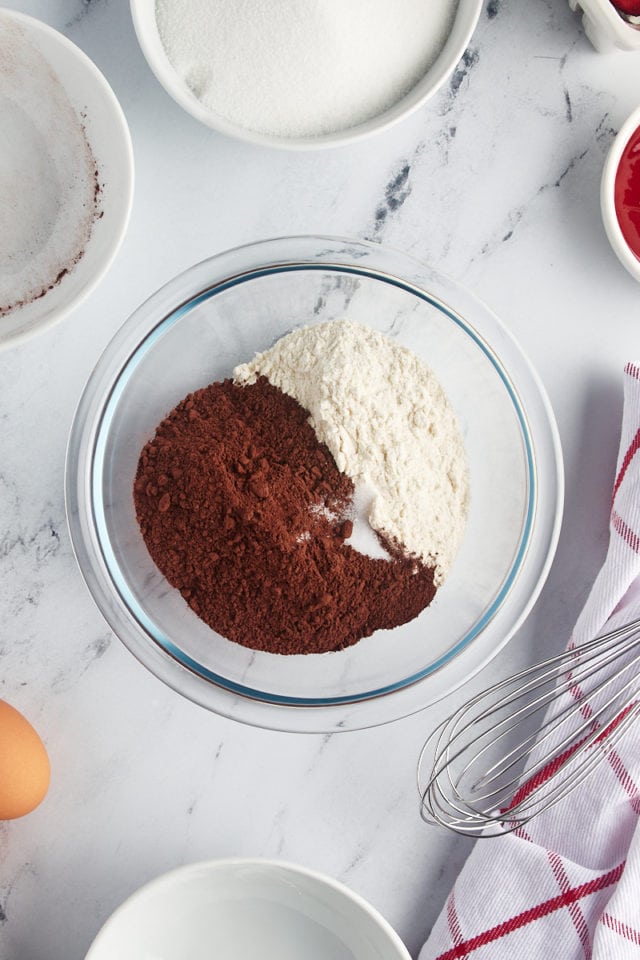 Mix the dry ingredients. In another bowl, whisk the flour, cocoa powder, and salt.
Mix the wet ingredients. In a third bowl, mix the sugar, eggs, and vanilla extract.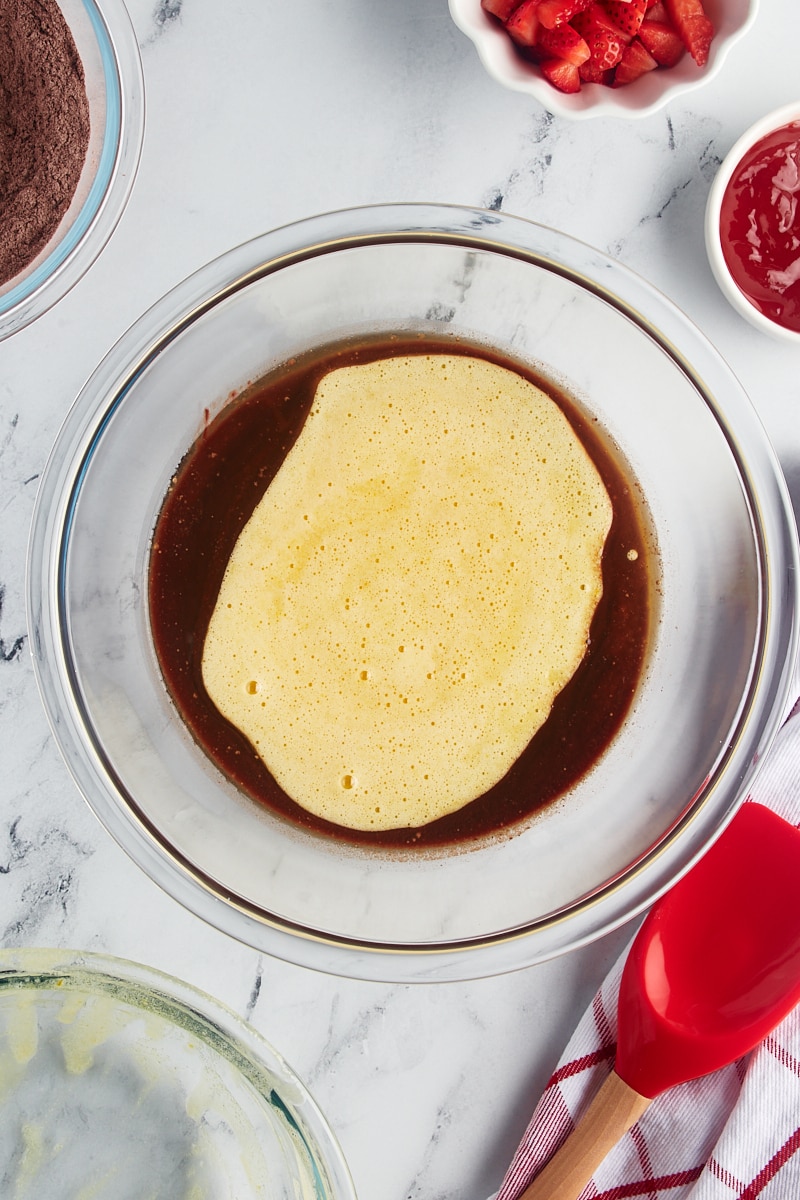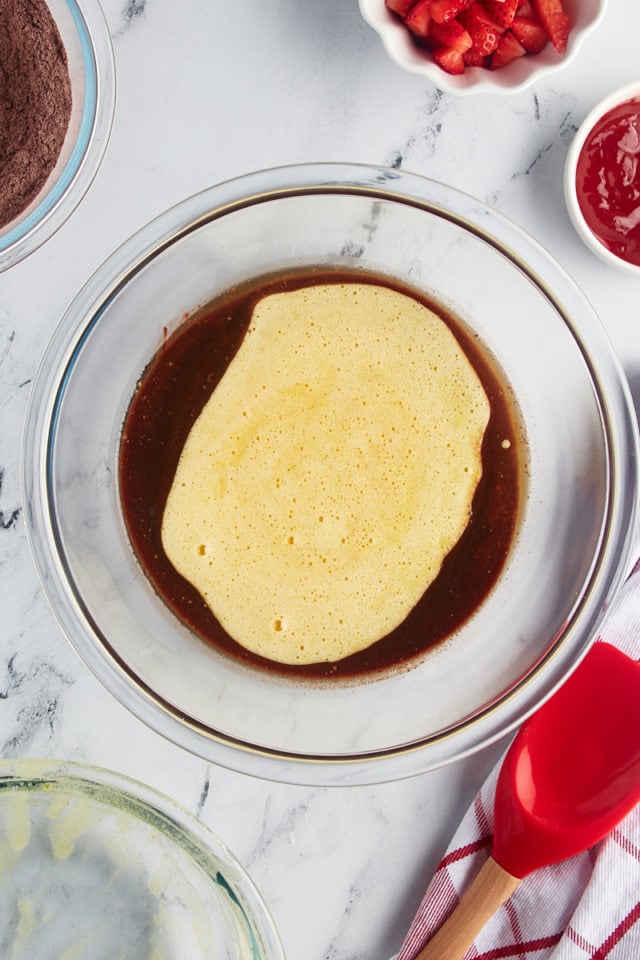 Finish the batter. Mix the sugar mixture into the chocolate mixture, then add the dry ingredients, and stir until combined. Fold in the chopped strawberries.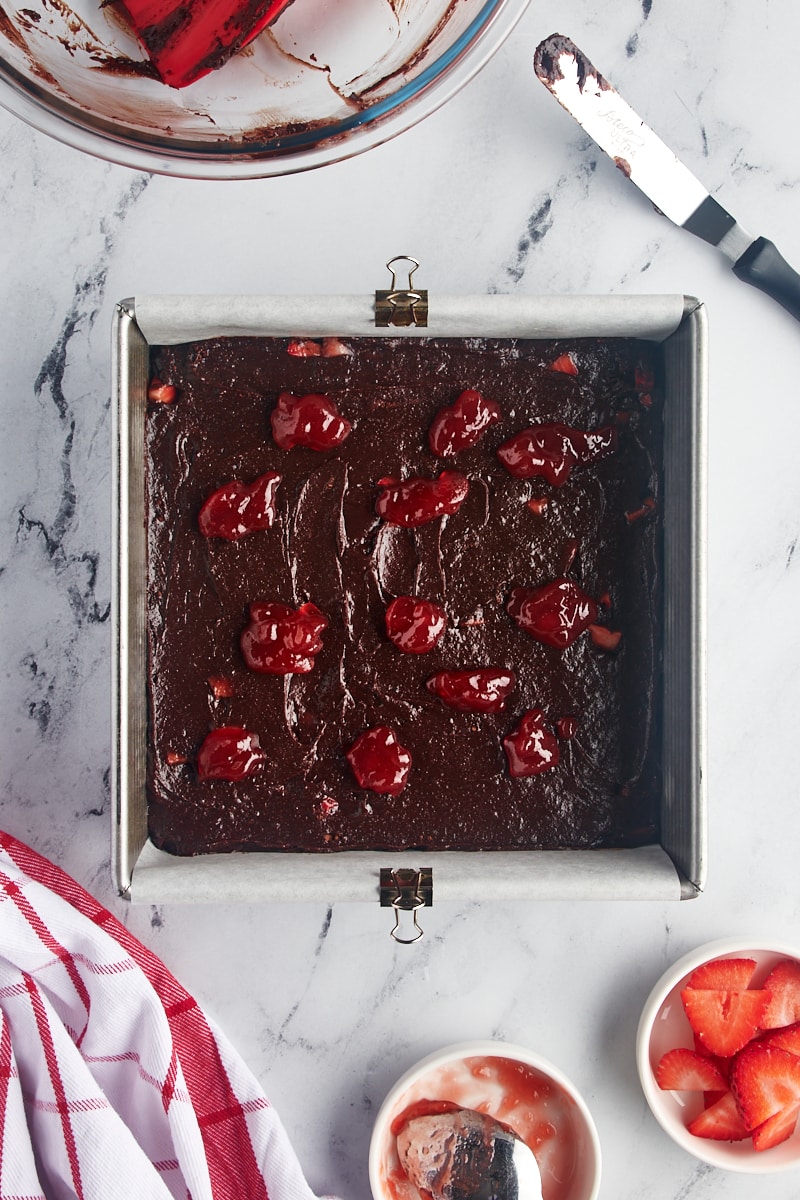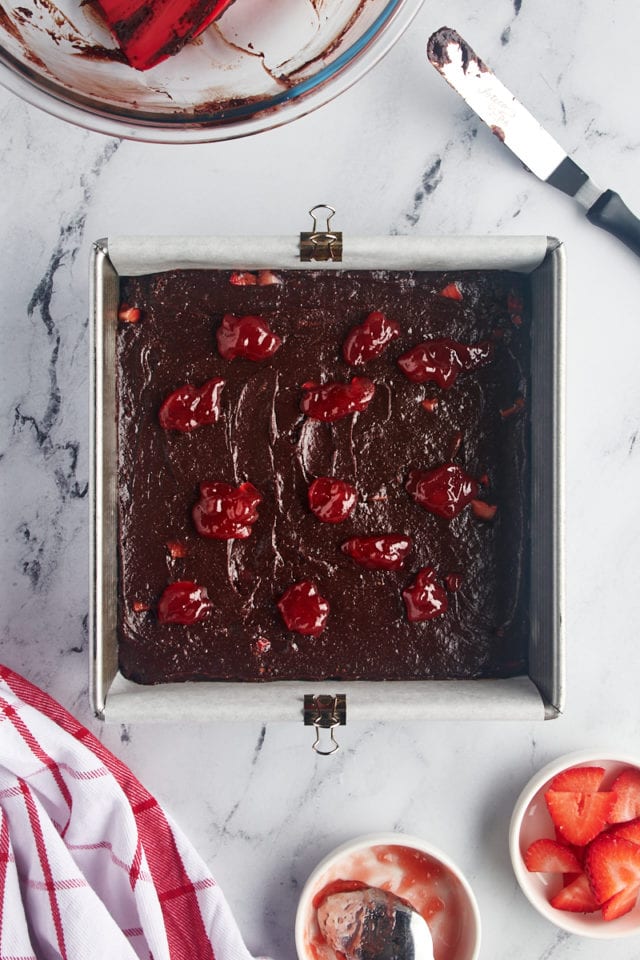 Assemble. Spread the brownie batter into the prepared pan, then add dollops of jam onto the batter. Use a thin knife to swirl the jam into the brownies and place additional strawberries on top, if desired.
Bake. Place the pan in the oven and bake for 35 to 40 minutes, or until a pick inserted into the center comes out with a few crumbs.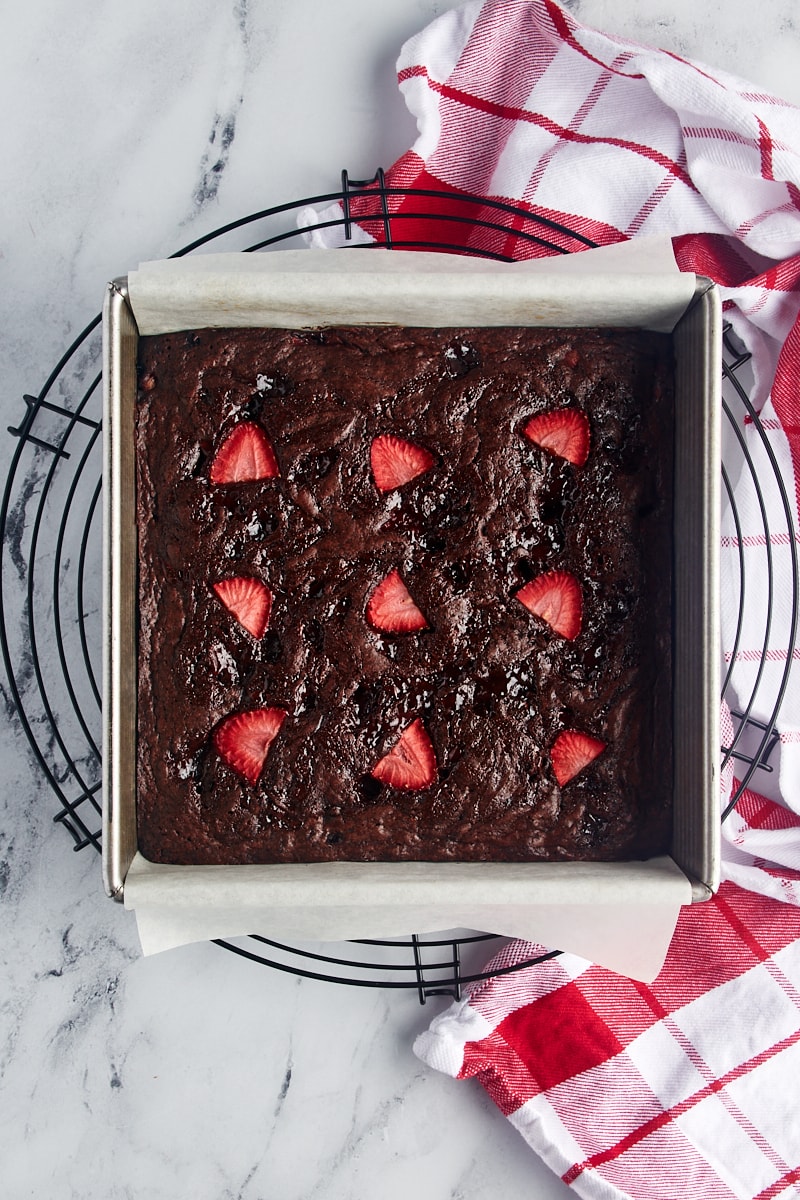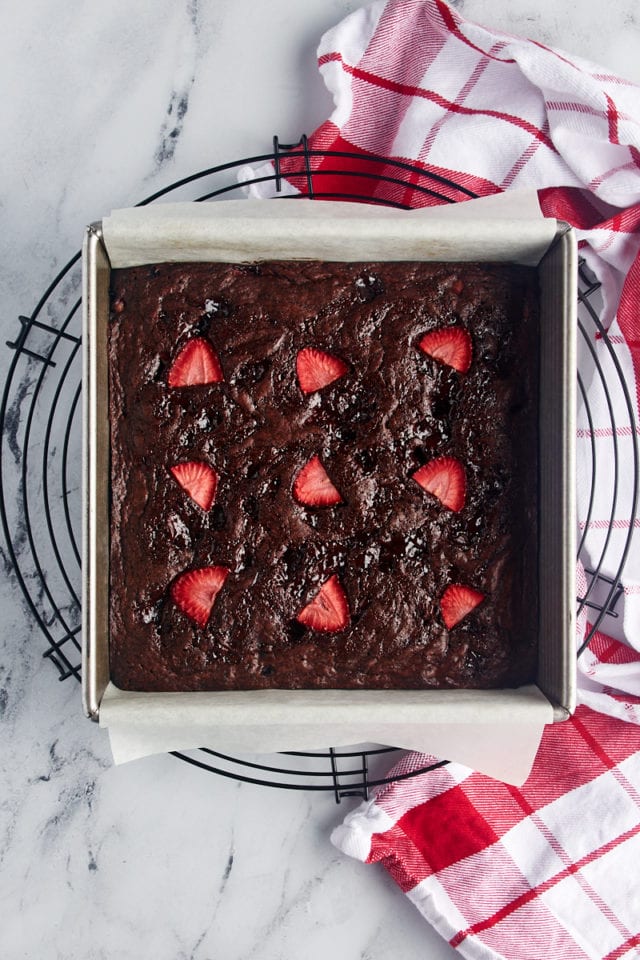 Cool. Set the pan on a wire rack and let the brownies cool completely. Then, use the parchment paper to lift the brownies out of the pan and transfer them to a cutting board. Cut into squares, then serve.
Tips for Success
Read over my Baking Tips for Beginners and Tips for Baking Brownies from Scratch, then follow these additional pointers for perfect strawberry brownies.
Use high-quality ingredients. Simple recipes like brownies really benefit from using quality ingredients. Splurge on the butter, chocolate, and cocoa powder, and you'll be rewarded with the best brownies you've ever tasted.
Let them cool completely. Although it's hard to resist warm brownies fresh from the oven, this is a recipe that's likely to fall apart if you cut into it too soon. Let the brownies cool completely before you cut them into squares. (If you want that warm brownie experience, you can always pop individual squares in the microwave for a few seconds!)
Chill for clean slices. Another tip for clean slices is to refrigerate the brownies before you cut into them, which will help keep them together when you cut into them.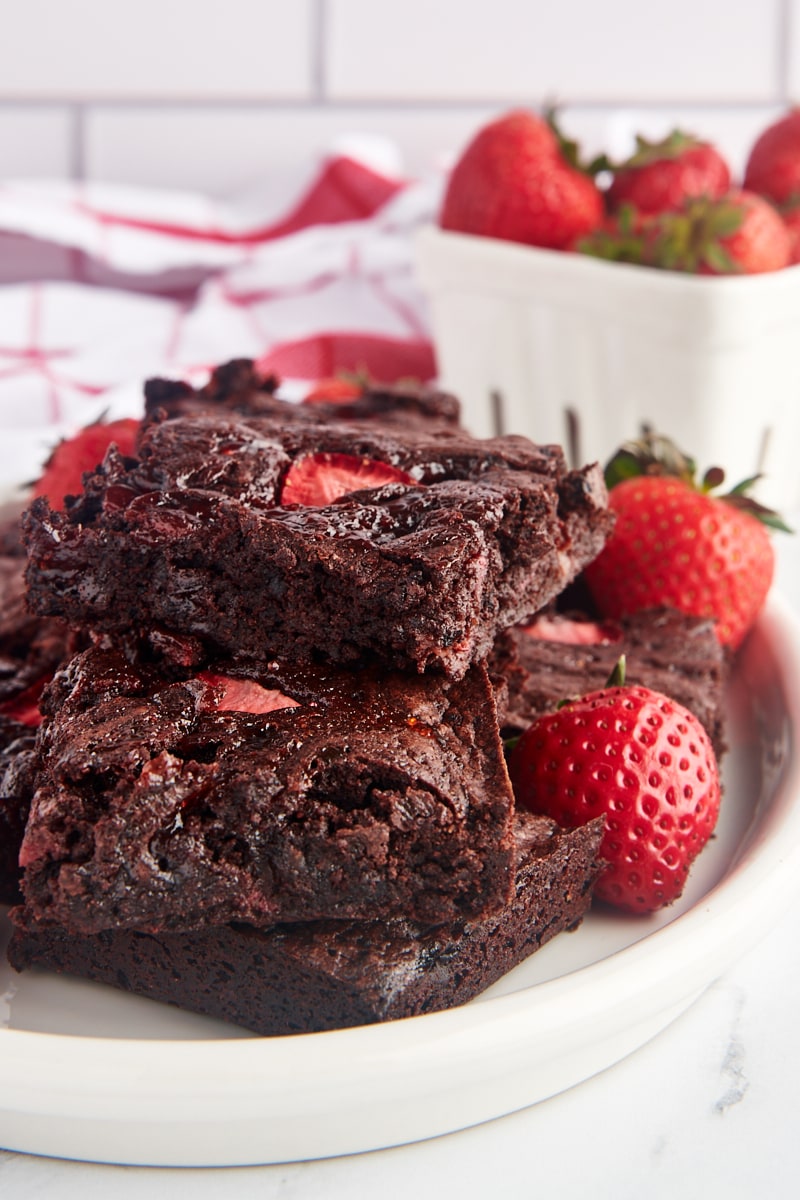 Variations
You can easily make this a recipe for raspberry brownies by swapping the strawberries for raspberries and using raspberry jam for the swirls. If the berries are large, cut them in half lengthwise first.
How to Store
Store these brownies wrapped in the pan or in an airtight container at room temperature for a day or two. Because of their fudgy texture, it's best to keep strawberry brownies in the refrigerator for longer storage; refrigerated, they'll last up to 5 days.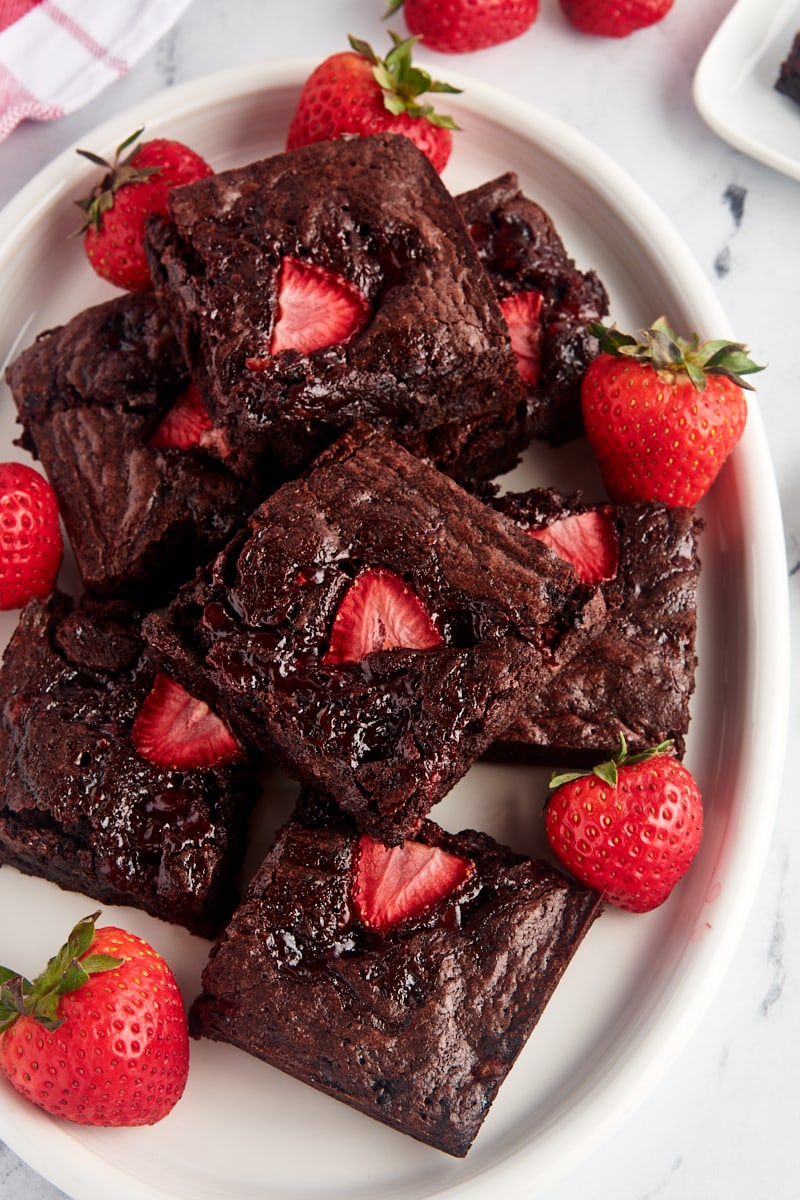 Can This Recipe Be Frozen?
Freeze strawberry brownies in an airtight container or freezer bag for up to 3 months, or wrap each brownie individually in plastic wrap. Let the brownies thaw in the refrigerator or warm them up in the microwave in 15-second increments until they're heated through.
More Rich and Decadent Brownie Recipes