Take a break from your usual banana bread and bake these Banana Bars with Browned Butter Icing. You'll love the moist banana cake paired with the rich, nutty flavor of brown butter!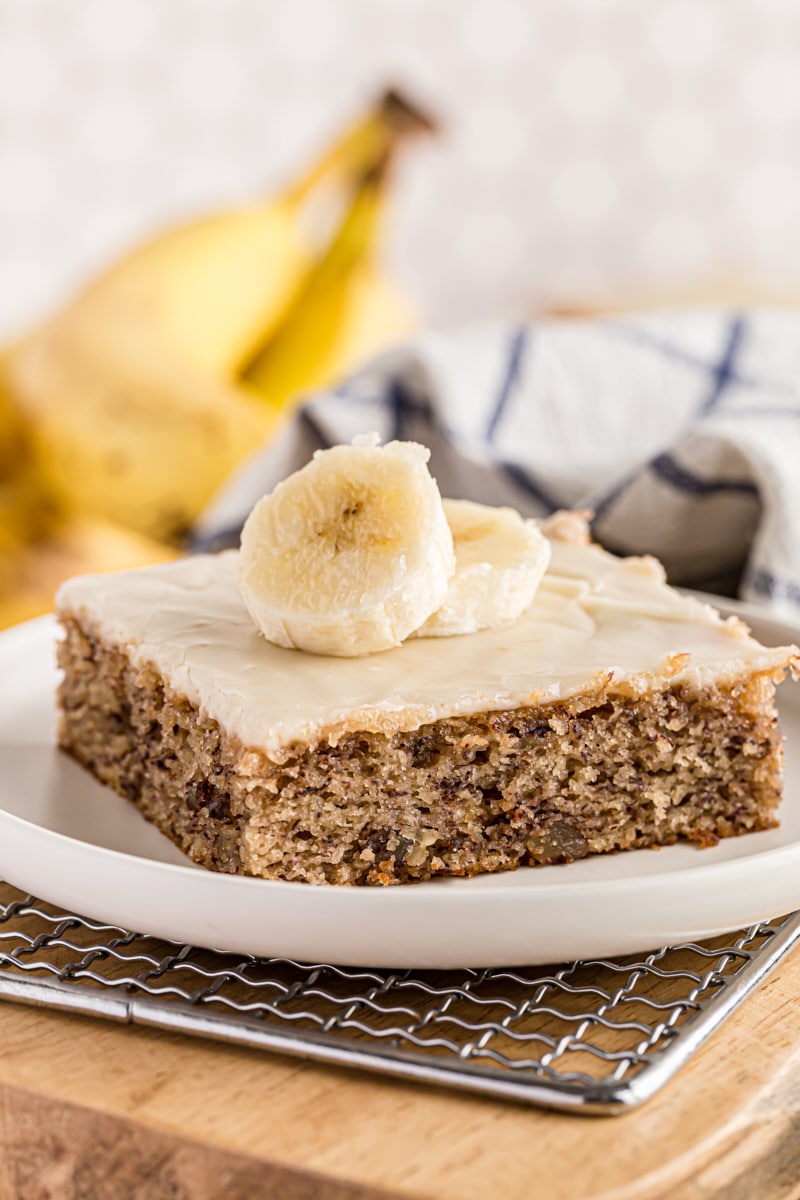 Moist Banana Bread Bars
We are all guilty of throwing out food. Those leftovers you thought you'd eat. That mystery container well past its due date. But, I have a hard time throwing out bananas. Overripe bananas can be the beginning of far too many good things to let them go to waste.
This weekend, I found myself with several super-ripe bananas and took to the internet to find something a little different to do with them. That's when I found these Banana Bars with Browned Butter Icing.
The bars themselves are essentially banana bread in flavor and texture. In this case, though, the batter is poured into a sheet pan and baked into thin bars.
I suppose you could stop there if you want. It's banana bread, after all. We love banana bread, right?
But, with a few more minutes of effort, you can make these something truly special by browning some butter, mixing in some sugar and such, and making a super-extra-good icing to top off your banana bars. The icing is more than a bit on the sweet side, but it is a great complement to the banana bars.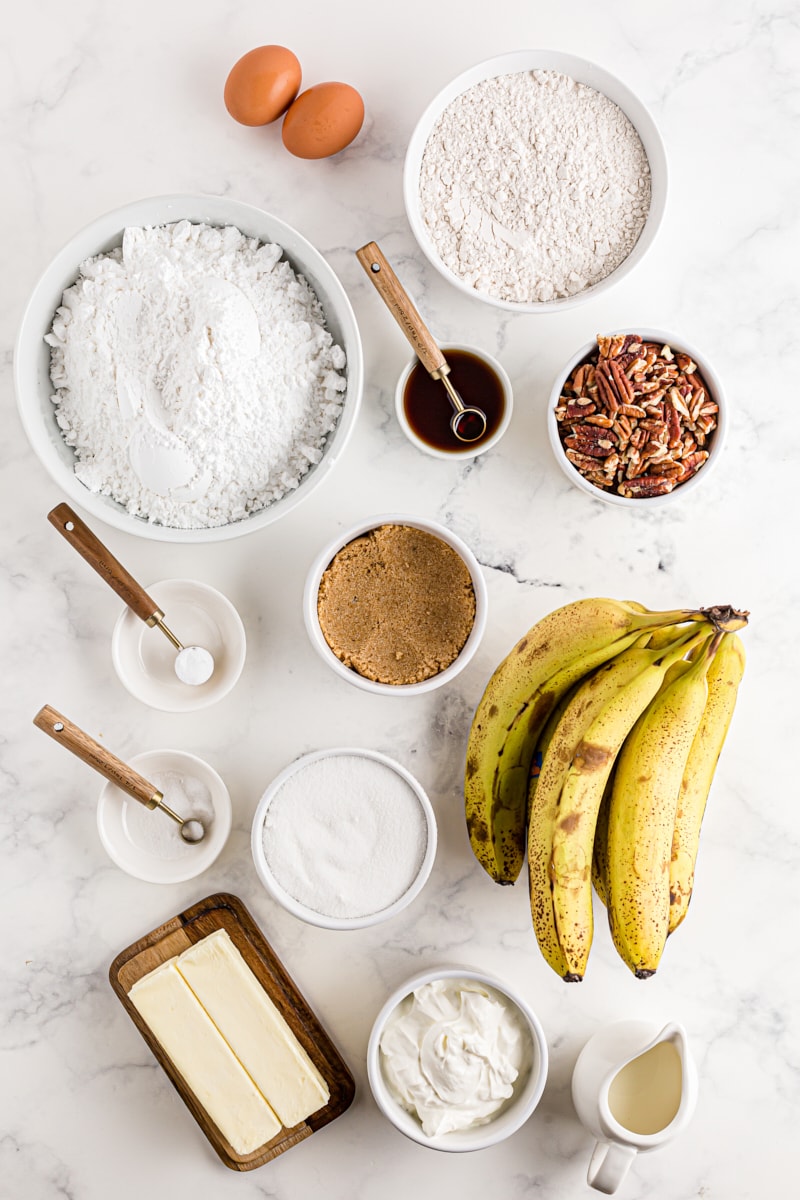 What You'll Need
Scroll down to the recipe card below this post for ingredient quantities and full instructions.
For the bars:
All-purpose flour – Learn more: How to Measure Flour
Baking soda
Salt
Unsalted butter – Learn more: Unsalted or Salted Butter: Which is Better for Baking?
Granulated sugar
Light brown sugar – Stick with light brown sugar for this recipe. The flavor of dark brown sugar is a little too much.
Eggs – Let these come to room temperature.
Vanilla extract
Sour cream – If you'd like, you can use plain Greek yogurt.
Mashed ripe bananas – You'll need about 3 to 4 bananas.
Chopped toasted pecans – If you're not a fan of nuts in baked goods, you can omit these.
For the icing:
Unsalted butter
Confectioners' sugar
Milk – Use as much as you need to make the icing spreadable.
Vanilla extract
How Do You Toast Pecans?
You can either toast the pecans on a sheet pan in a 350ºF oven for 7 to 10 minutes, stirring halfway through the cooking time, or in a skillet on the stovetop over medium heat, stirring constantly. The oven method is more hands-off, but the skillet method lets you keep a closer eye on the pecans so they don't burn.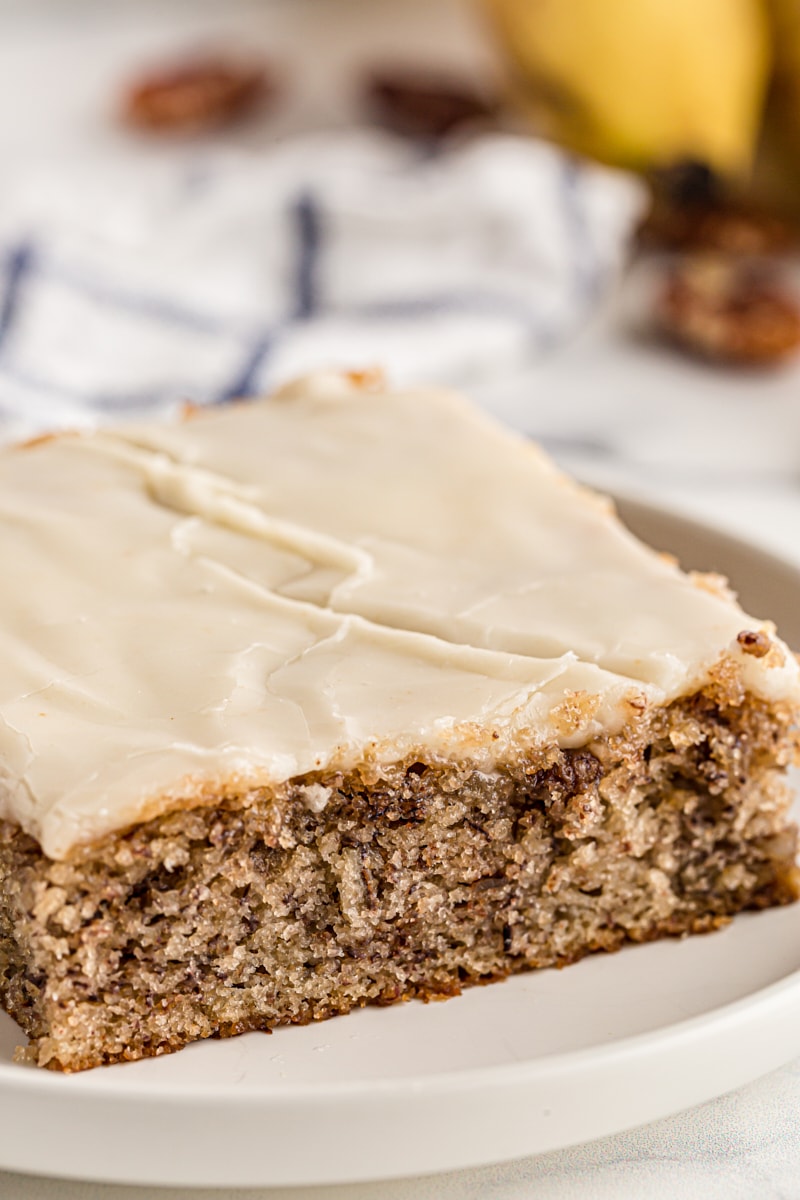 How to Make Banana Bars with Browned Butter Icing
Grab your over-ripe bananas—it's time to start baking! Here's what you'll need to do to make these banana bars.
To make the banana bars:
Prepare. Preheat the oven to 375°F. Grease a 10″x 15″ sheet pan (jelly roll pan), then dust it with flour.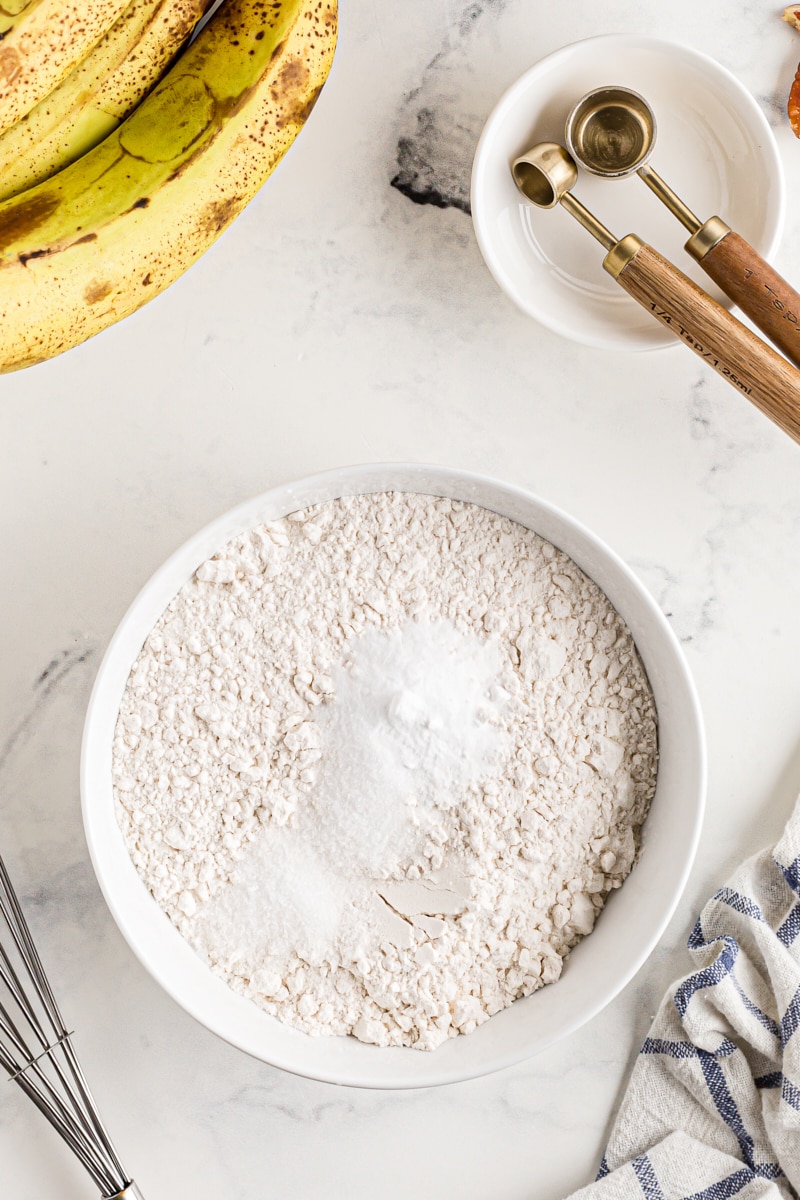 Mix the dry ingredients. Whisk the flour, baking soda, and salt in a medium bowl.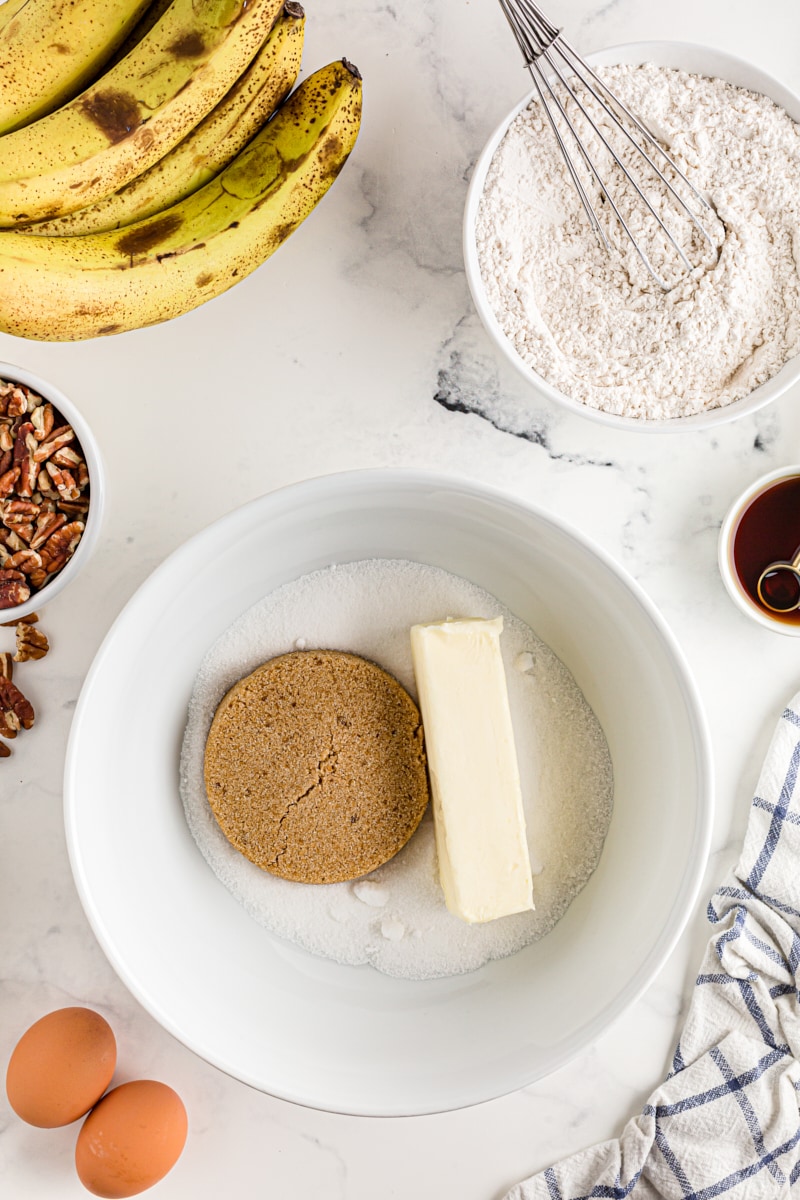 Mix the wet ingredients. Use an electric mixer on medium speed to cream the butter and sugars until they're light and fluffy. Beat in the eggs and vanilla, mixing well, followed by the sour cream and bananas.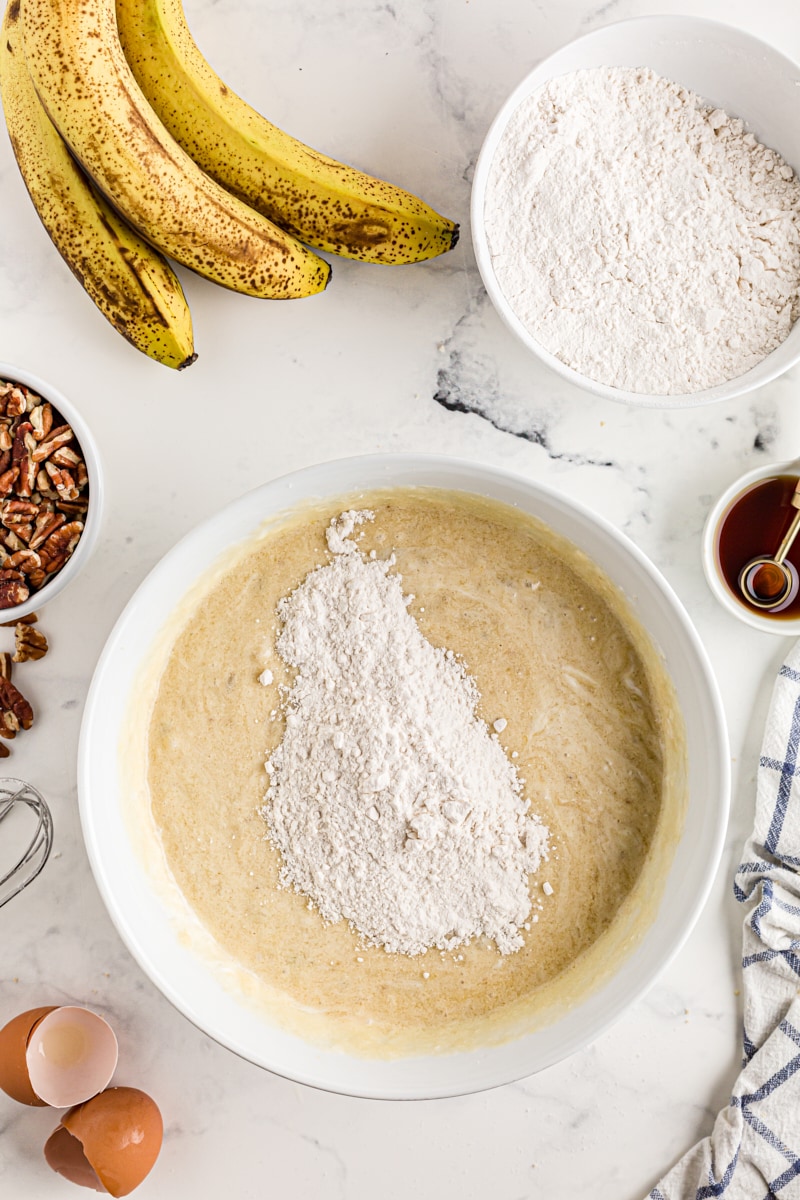 Combine the wet and dry ingredients. Slowly add the flour mixture to the bowl with the wet ingredients, mixing just until combined. Fold in the pecans.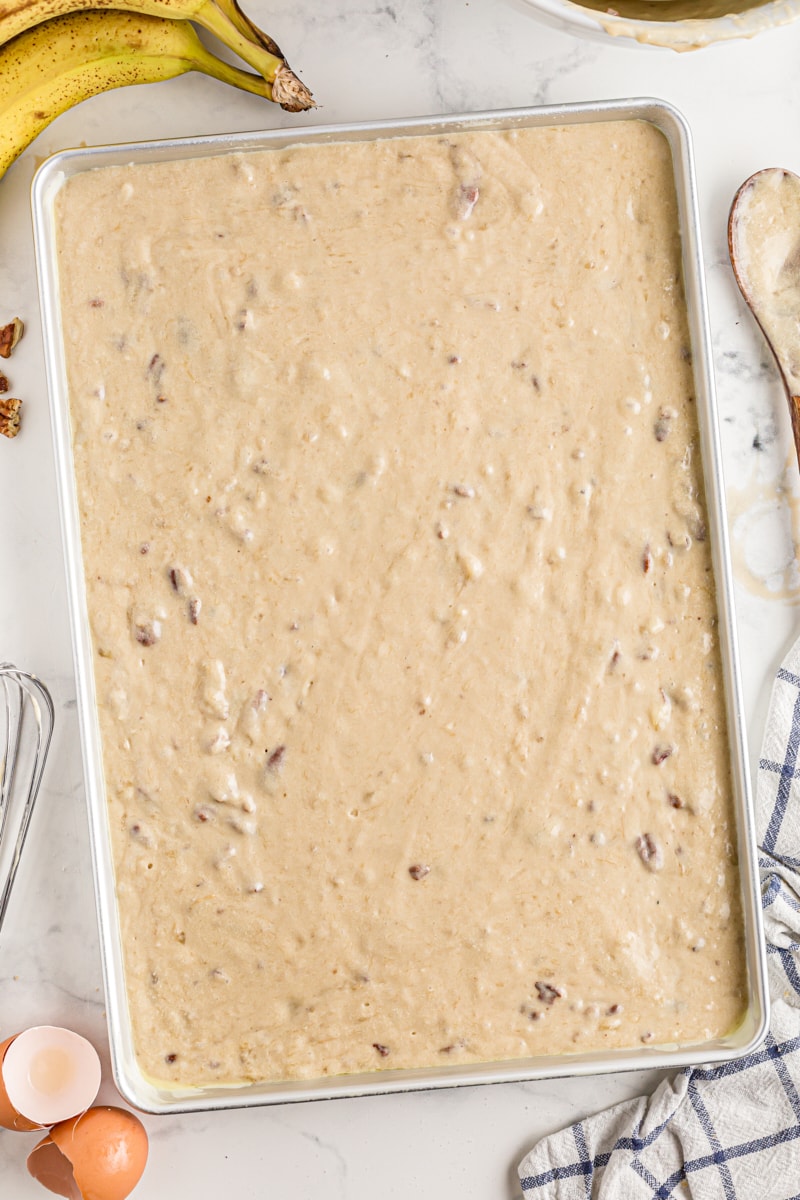 Bake. Pour the batter into the prepared pan and spread it into an even layer. Bake for 20 to 25 minutes, or until the banana bars are golden brown.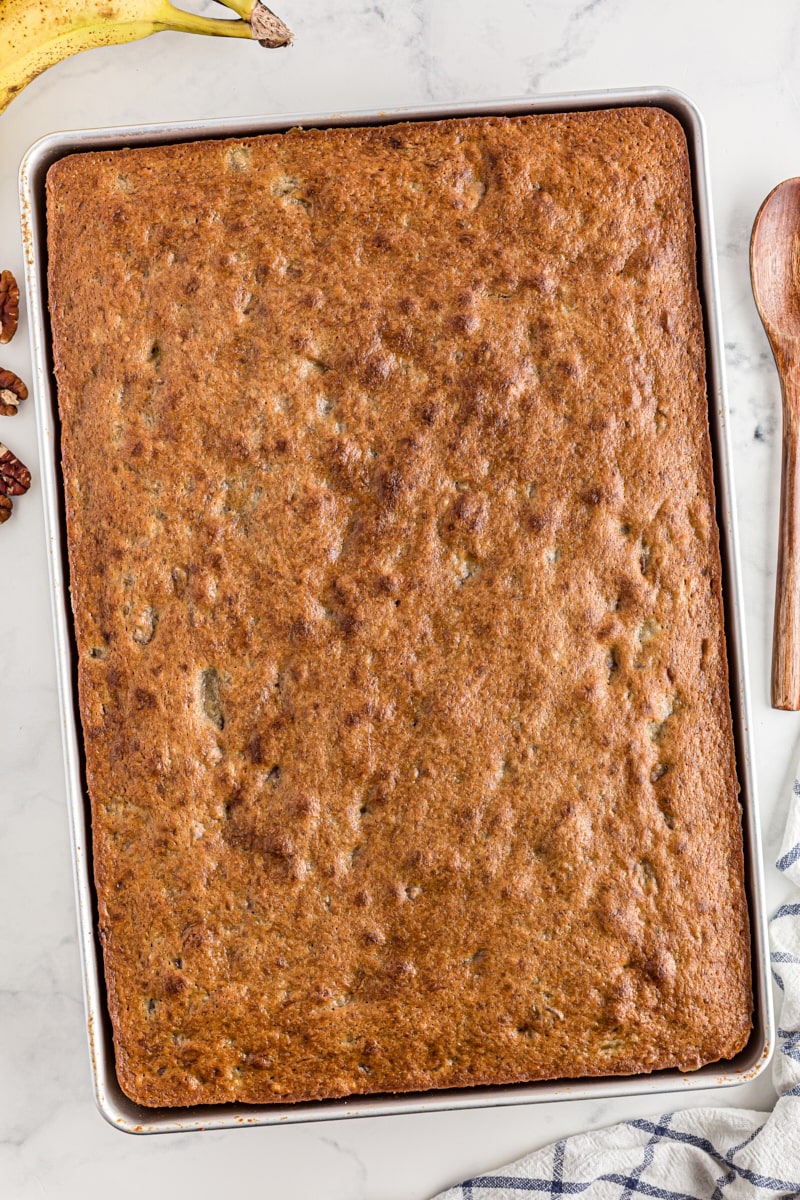 Cool. Set the pan on a wire rack to cool slightly while you prepare the icing. (Learn more: Why Every Baker Needs Wire Cooling Racks)
To make the icing: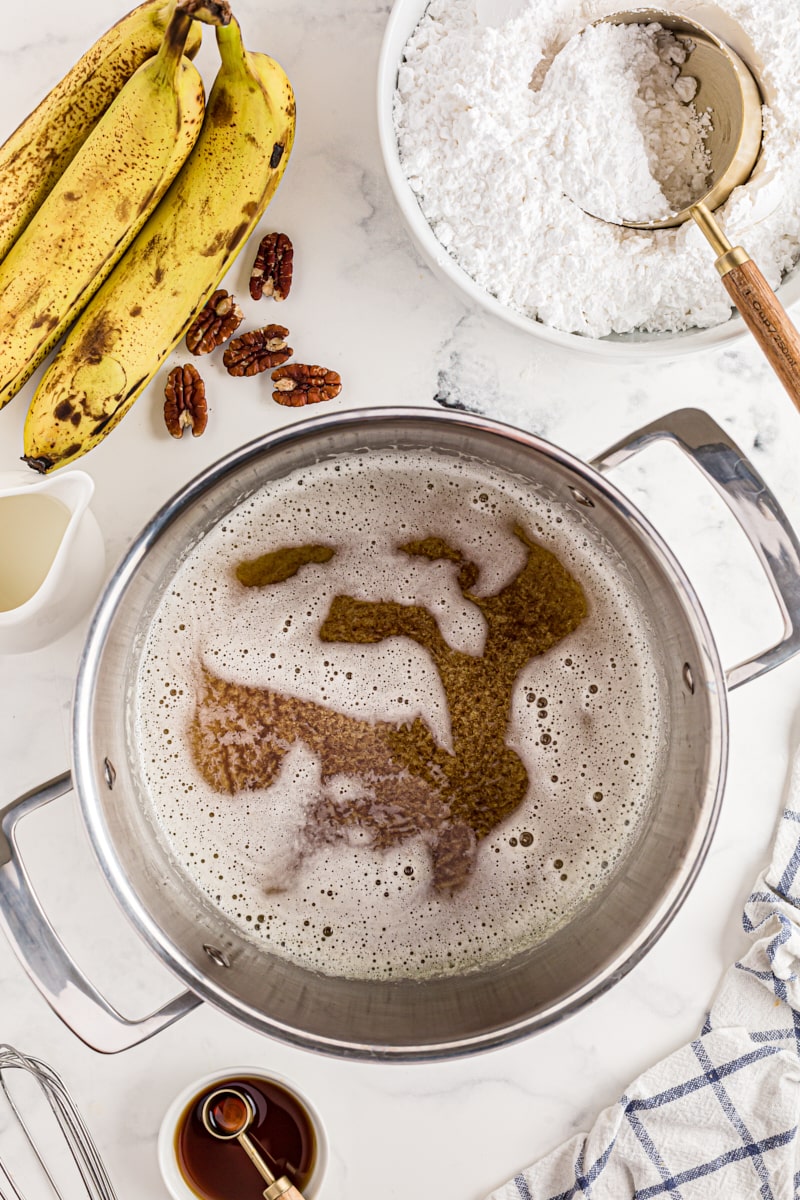 Brown the butter. Melt the butter in a medium saucepan over medium heat. Cook until the butter foams and brown specks begin to form at the bottom of the pan.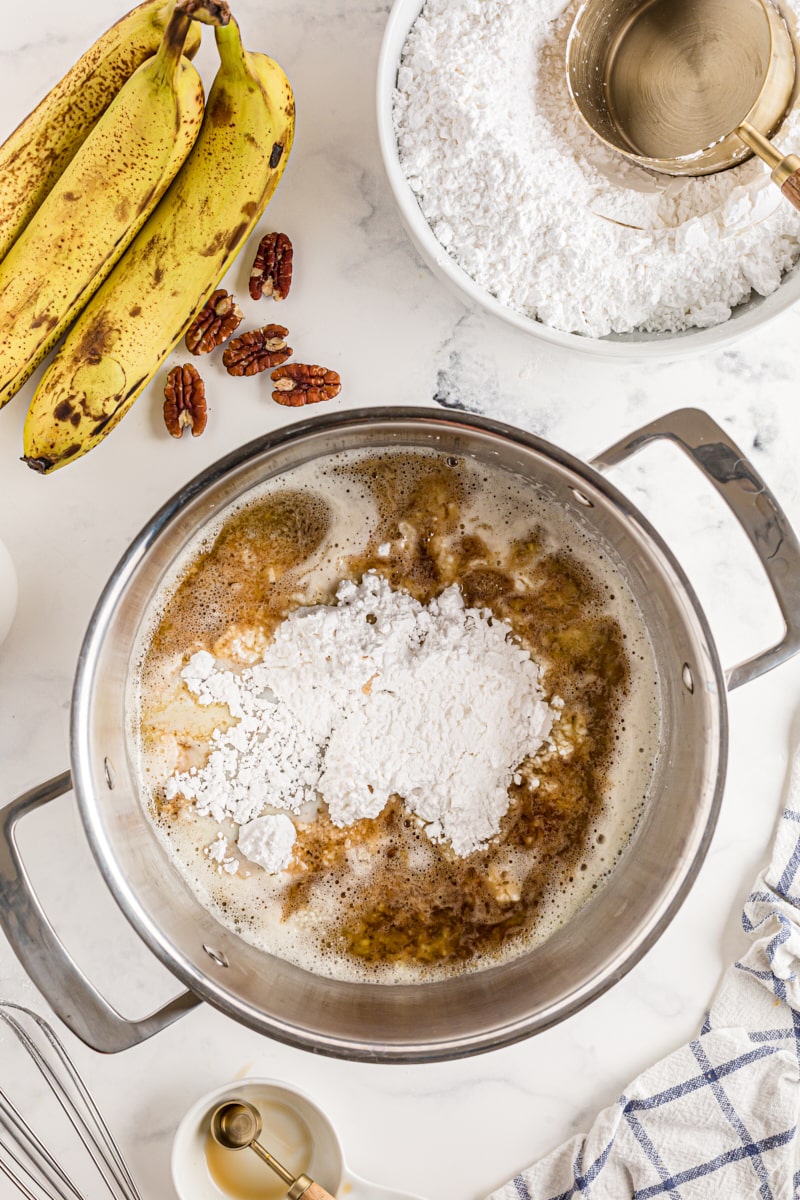 Finish the icing. Remove the saucepan from the heat. Stir in 1 cup of confectioners' sugar, vanilla, and about 1 tablespoon of milk. Add the remaining sugar and milk in 2 to 3 additional portions, working quickly.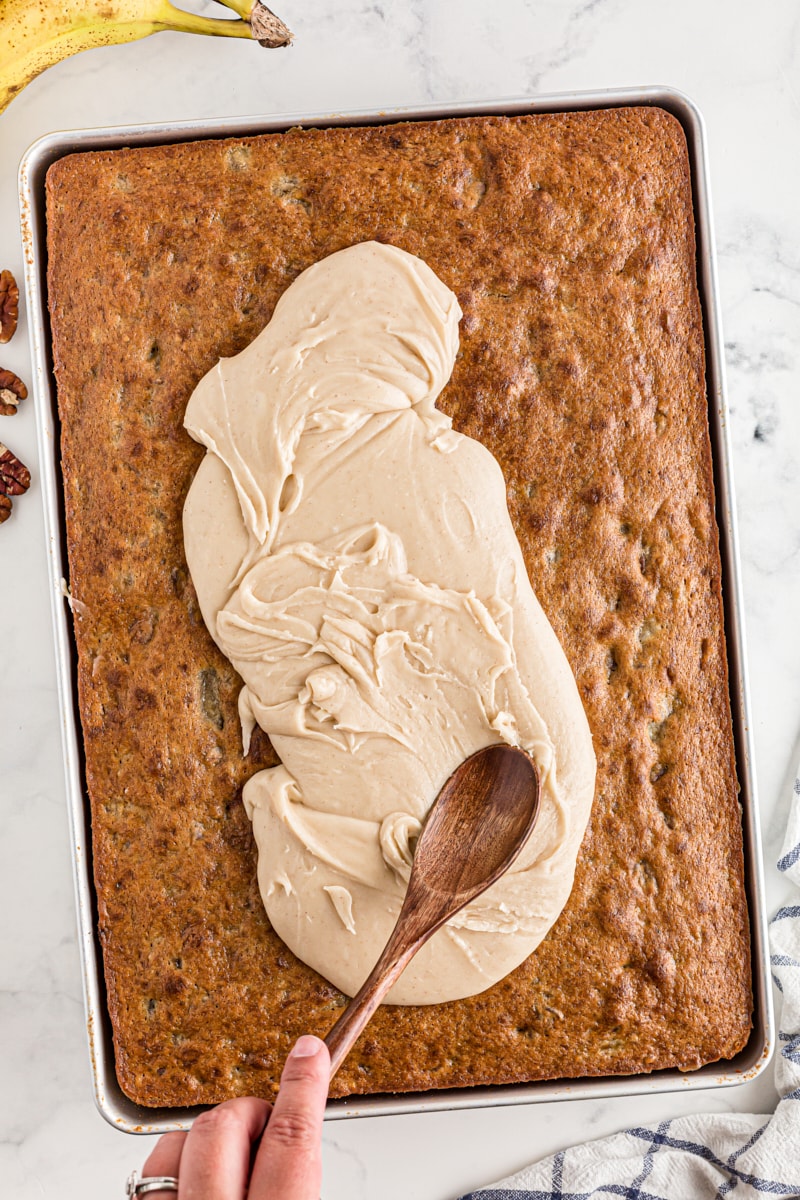 Ice the bars. Spread the warm icing evenly over the warm bars. Let the bars and icing cool, then cut into squares and serve.
Tips for Success
These banana bars are simple, but a few hints and tips will help you make sure they turn out perfect.
Use room temperature ingredients. Letting the butter, eggs, and sour cream sit at room temperature to warm up a bit will help you make sure your banana bars have a nice, light texture.
Measure the bananas. Although you'll need 3 or 4 bananas here, don't just rely on that count—you need to measure the mashed banana to make sure you're using the correct amount. This can make or break a banana bread (or banana bar, in this case) recipe!
Work quickly to ice the bars. Before you start making the icing, have all the ingredients ready to go so you can work quickly to mix the icing. Sifting the confectioners' sugar would be ideal for a smooth texture, but it's not necessarily required.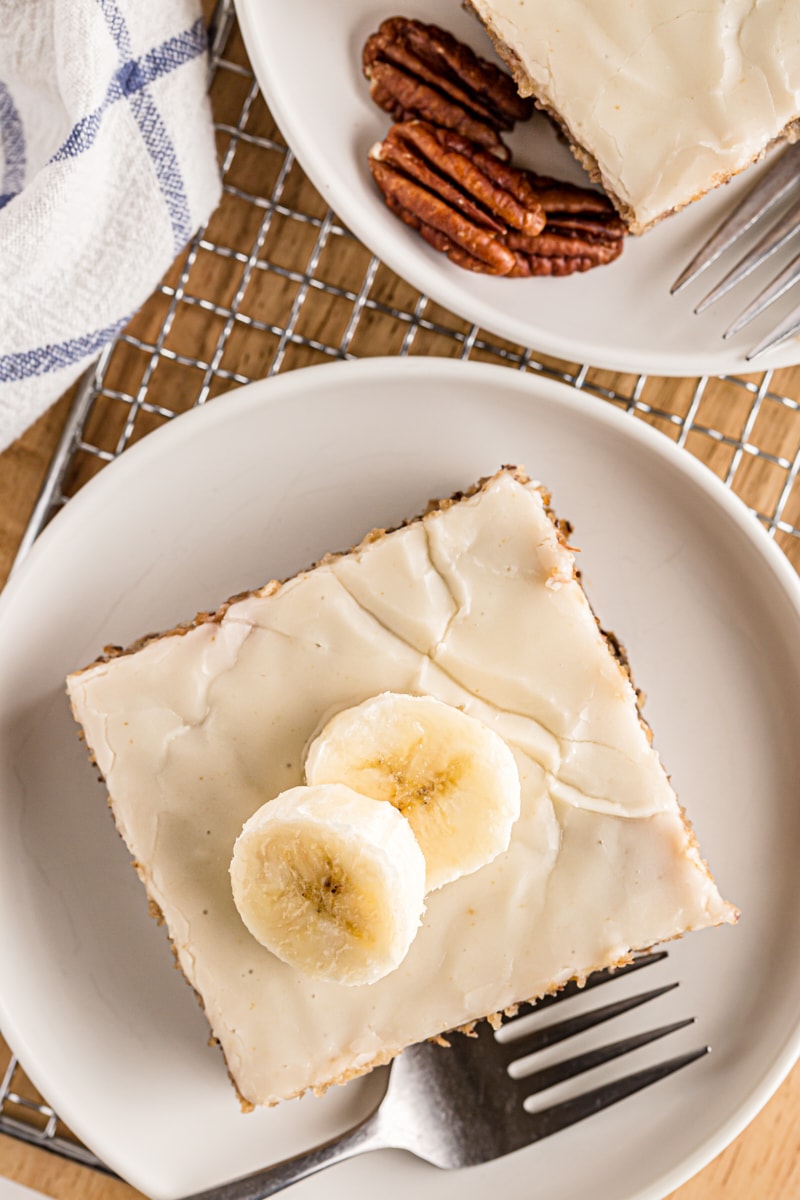 How to Store
Because of the butter in the icing, these banana bars are best stored in the refrigerator, where they'll keep in an airtight container for up to 5 days. Let them sit at room temperature for a few minutes before serving.
Can This Recipe Be Frozen?
You can freeze these banana bars in an airtight container for up to 3 months. To keep the icing intact, you can freeze the bars on a sheet pan until the icing is solid, then wrap them or stack them in an airtight container or freezer bag with parchment paper between the layers.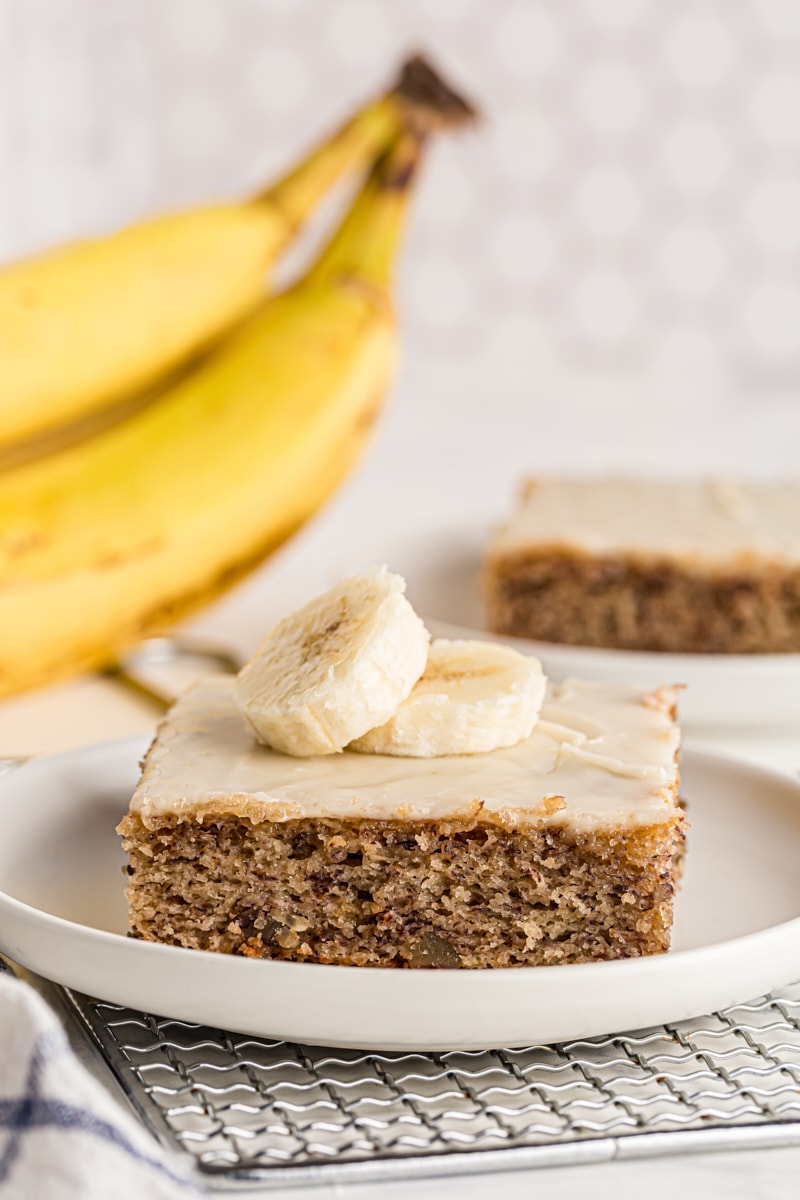 Find more banana recipes in the Recipe Index.
More Banana Bar Recipes