This Chocolate Chunk Pecan Crunch Bundt Cake adds a cinnamon, brown sugar, and pecan topping and orange zest to jazz up the traditional chocolate chip Bundt cake recipe. Sour cream makes it extra moist!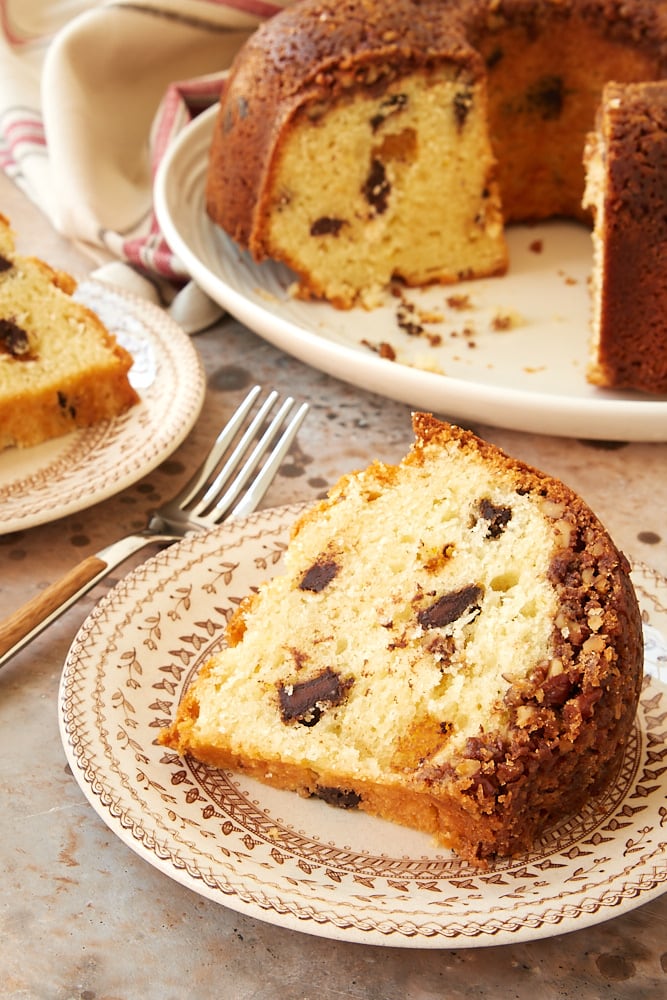 Chocolate Chunk Bundt Cake With Pecan Streusel
If I were to make a list of my favorite things to bake and my favorite baking flavors, it would be a long one. But you can be sure that near the top would be Bundt cakes, chocolate, cinnamon, and pecans. That makes my love of this Chocolate Chunk Pecan Crunch Bundt Cake a given.
The recipe starts with a sweet, nutty, cinnamon-y mixture that's placed in the bottom of the pan to make a fantastic topping. That's followed by a tender, moist cake packed with chunks of chocolate and a bit of orange zest. The total package is one delectable cake!
The addition of orange zest gives this a more interesting taste. It doesn't overwhelm the other flavors, but instead complements them perfectly. I'm generally not a fan of chocolate and orange together, but it works really well for me in this cake. If you're hesitant to introduce orange to these other flavors, then dial it back a bit. Or just omit it completely if you're not a fan.
Like my Lemon Bundt Cake and Mini Cream Cheese Pound Cakes, this is a Bundt cake that's been in my recipe collection for years, and I expect it to stay there for a long, long time. And I think you'll want to add it to your collection, too!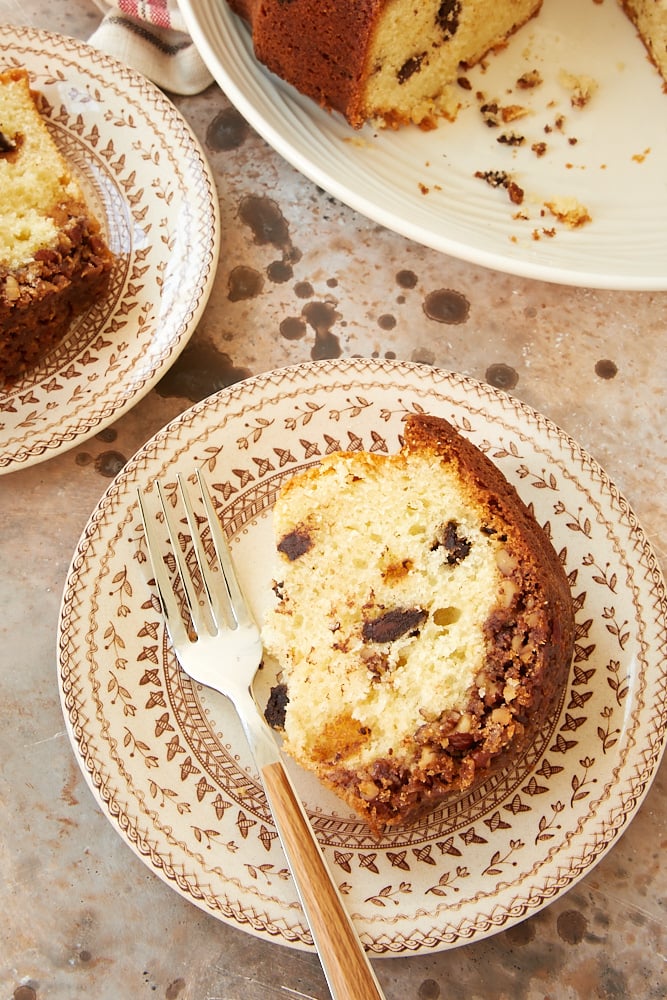 What You'll Need
Scroll down to the recipe card to find the ingredient quantities and recipe instructions.
For the topping:
For the cake:
All-purpose flour – Learn more: How to Measure Flour
Baking powder
Baking soda
Salt
Unsalted butter – This butter will also need to be softened.
Granulated sugar
Eggs – Let these come to room temperature.
Vanilla extract – Use store-bought or homemade vanilla extract.
Orange zest – Finely grated zest is best, as it will distribute more evenly into the batter.
Sour cream – Full-fat sour cream will give you a soft, tender crumb.
Chocolate chunks
What's the Difference Between Chocolate Chips and Chocolate Chunks?
The most obvious difference is the shape and size, but that's not the only reason to choose chocolate chunks over chips. Chunks melt smoother, while chocolate chips are waxier, as they are formulated to soften, but more or less hold their shape when baked into a cake or cookie. Chocolate chips are also sweeter, as they have a higher sugar content.
If you don't have chocolate chunks, you can either roughly chop some chocolate or use chocolate chips. Using chunks of chocolate is not required, but I do somehow like them better than chocolate chips in this Bundt cake.
How to Make Chocolate Chunk Pecan Crunch Bundt Cake
Don't let the phrasing fool you—the "topping" is actually the base layer for this Bundt cake when you're assembling it. It only becomes the topping once you flip the cake over!
Make the topping:
Prepare. Preheat your oven to 350°F. Grease and flour a 12-cup Bundt pan, tapping out the excess, or use a baking spray with flour.
Make the streusel. Stir together the butter and brown sugar until combined, then mix in the flour, cinnamon, and pecans.
Add the topping to the pan. Sprinkle the streusel mixture evenly in the bottom of the Bundt pan.
Make the cake:
Mix the dry ingredients. Whisk together the flour, baking powder, baking soda, and salt in a medium bowl.
Mix the wet ingredients. Use an electric mixer on medium speed to beat the butter and sugar in a large mixing bowl, until they're light and fluffy. Beat in the eggs one at a time, followed by the vanilla and orange zest.
Finish the batter. Reduce the mixer speed to low. Add the flour mixture to the bowl with the wet ingredients in three portions, alternating with two portions of sour cream. Mix just until combined, then fold in the chocolate chunks.
Bake. Transfer the batter to the prepared pan and smooth the top. Bake for 65 to 75 minutes, or until the cake is browned and a toothpick inserted into the center comes out clean.
Cool. Let the cake cool in the pan on a wire rack for 10 minutes. Carefully turn the Bundt cake out onto the wire rack to finish cooling. (Learn more: Why Every Baker Needs Wire Cooling Racks)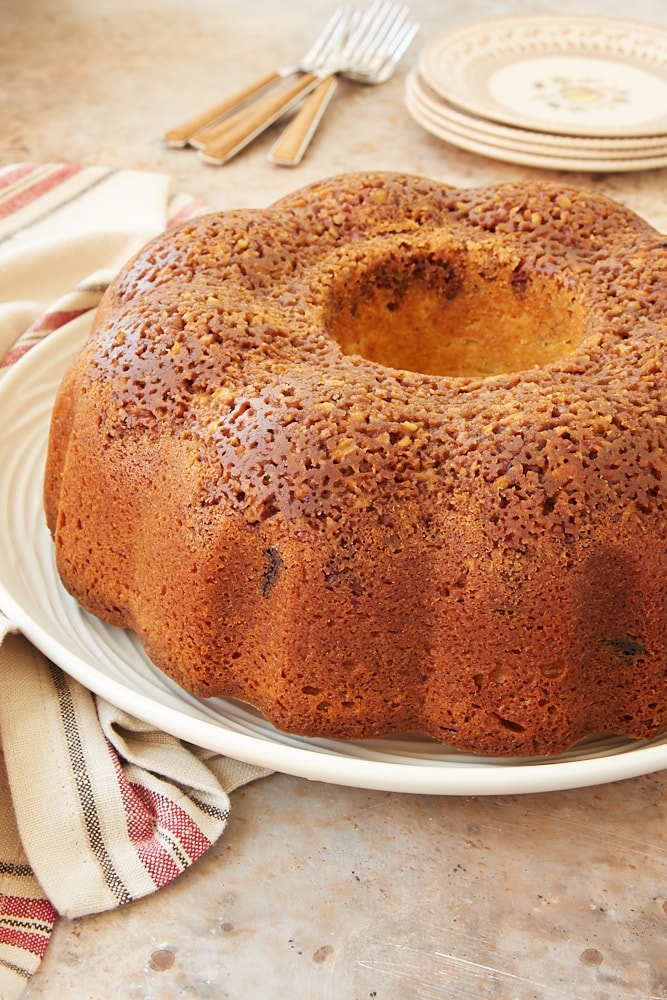 Why Is My Cake Sticking to the Bundt Pan?
If your Bundt cake is sticking, there are a few potential causes. If the cake hasn't cooled for 10 minutes, it could fall out in pieces when you invert the pan; letting the cake cool for too long can result in it sticking, too.
Not greasing a Bundt pan sufficiently is another reason a cake might stick, particularly if your pan has an elaborate design with a lot of nooks and crannies. Abrasive sponges, detergents, and dishwashers can make the nonstick coating break down, which will also lead to sticking.
Tips for Success
Follow my tips for new bakers, along with these pointers, for a perfect Chocolate Chunk Pecan Crunch Bundt Cake:
Use room temperature ingredients. Letting the eggs and sour cream come to room temperature and the butter to come close to room temperature allows them to mix more evenly into the batter. They'll also hold more air when beaten, resulting in a higher rise.
Don't skip flouring. Yes, you really do have to grease and flour the pan when you're making a Bundt cake. If you hate fussing with flouring, I recommend using a spray like Baker's Joy, which has flour in it so you can get your pan prepped in a single step.
Stop when the batter is just mixed. Over-mixing will affect the texture of your Bundt cake; it's better to have a few streaks of flour in the batter than to mix it too much.
Variations
Although I love this Chocolate Chunk Pecan Crunch Bundt Cake as-is, these simple variations will help you change up the recipe if you'd like to try something slightly different.
Make it with yogurt. Full-fat plain yogurt can be substituted for the sour cream if you'd like. Use the same amount.
Infuse it with more orange flavor. You can place the sugar for the cake in a small bowl with the orange zest and rub the two together with your fingertips until the sugar is fragrant. This is a trick from Dorie Greenspan that releases the citrus oils to infuse the sugar with flavor, giving you more orange in every bite.
Swap the nuts. Chopped walnuts or even almonds can be substituted for the pecans if you're not a fan or have an allergy.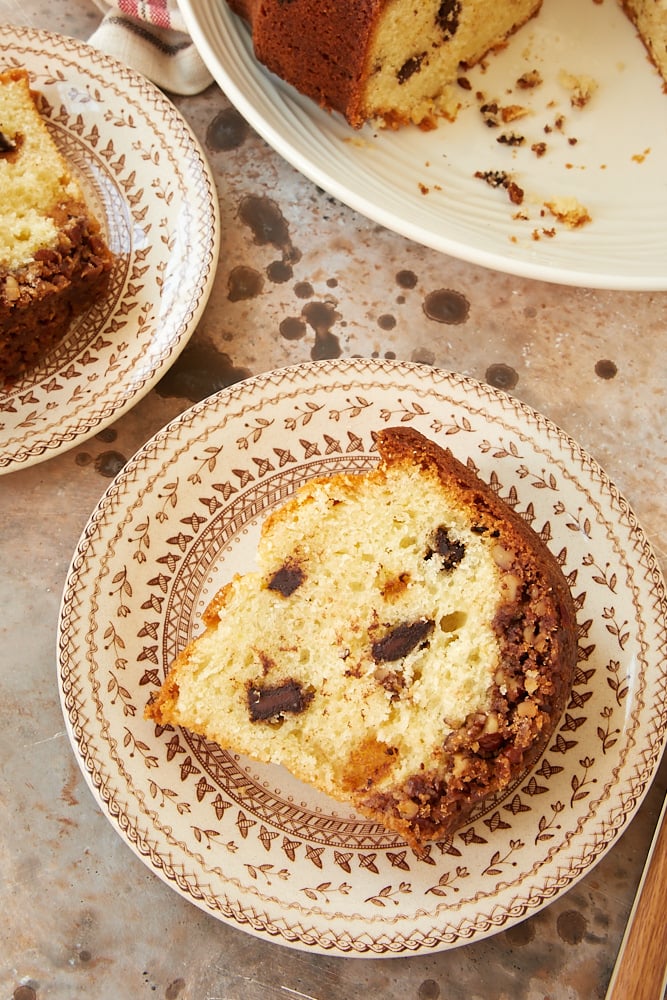 How to Store
Store this Chocolate Chunk Pecan Crunch Bundt Cake in an airtight container at room temperature for 3 to 4 days. You can store it in the refrigerator and it will last up to a week, but be sure to let the cake come to room temperature before serving.
Can This Recipe Be Frozen?
Yes, you can freeze Chocolate Chunk Pecan Crunch Bundt Cake for up to 2 months. Store it in an airtight container or wrap individual slices in plastic wrap and place them in a container or freezer bag. Let it thaw at room temperature before serving.
Find more cake recipes in the Recipe Index.
More Chocolate Chip Bundt Cakes