September 9, 2013
Peach and Nectarine Buckle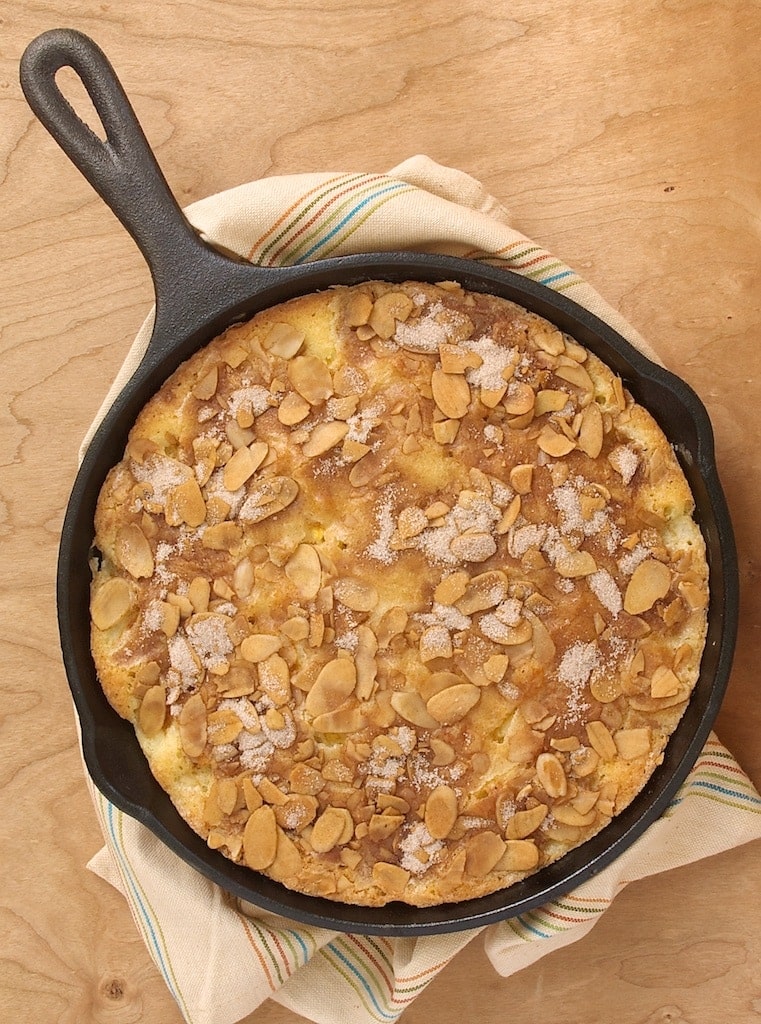 The calendar may have turned to September, but we still have plenty of fresh peaches and nectarines around here. I must say that I've been inundated with peaches this summer. So much so that it's been a bit of a challenge to come up with enough good uses for them. Tough problem to have, huh?
With great recipes for cobbler and cookies and bars already in the books, I opted to go a different route this time with a buckle. My last CSA haul included both peaches and nectarines, so I decided to use a combination of the two. You can, of course, use just one or the other.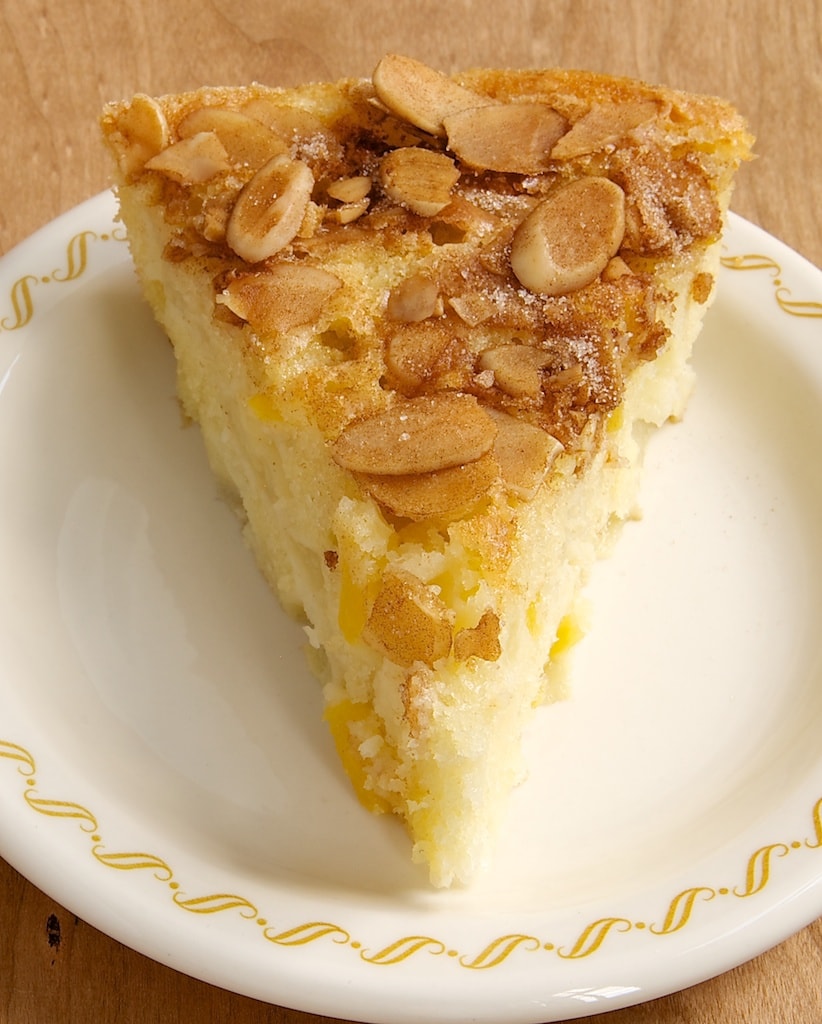 If you're unfamiliar with the term, a buckle is a bit like a cross between a cake and a cobbler. There's usually a cake-like layer along with fruit on top or mixed into the batter. Then, it's covered with a crumb topping. Often, the weight of all the fruit will cause the cake to buckle.
Not only is this recipe a perfect use for all of those peaches and nectarines I had on-hand, it is also a great excuse to bake in my beloved cast-iron skillet. Its rustic feel is just the thing for both baking and serving this beauty.
This buckle has a lovely, delicate cake-like texture with plenty of peaches and nectarines stirred right in. The crumb is a simple one, consisting of cinnamon, sugar, and almonds. I just love the visible specks of cinnamon-sugar on top! This is one of those magical baked goods that can easily be eaten for breakfast, dessert, and anything in between.
Find more peach recipes in the Recipe Index.
Peach and Nectarine Buckle
Yield: 8 to 10 servings
Prep Time: 20 minutes
Cook Time: 50 minutes
Peach and Nectarine Buckle is a lovely, delicate, cake-like dessert with a sweet cinnamon-almond crumb.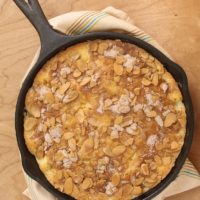 Ingredients:
For the buckle:
1 & 1/4 cups all-purpose flour
1/2 teaspoon salt
1/4 teaspoon baking powder
1/2 cup unsalted butter, softened
3/4 cup granulated sugar
3 large eggs
1 teaspoon vanilla extract
1 & 1/2 pounds peaches and/or nectarines, pitted, peeled, and cut into 1/2-inch pieces
For the topping:
2 tablespoons sanding sugar*
1/2 teaspoon ground cinnamon
1/3 cup sliced almonds
Directions:
To make the buckle:
Preheat oven to 350°F. Butter a 10-inch cast iron skillet.**
Whisk together the flour, salt, and baking powder. Set aside.
Using an electric mixer on medium speed, beat the butter and sugar until light and fluffy.
Add the eggs, one at a time, mixing well after each addition. Mix in the vanilla.
Reduce mixer speed to low. Gradually add the flour mixture, beating just until combined. Fold in the peaches and nectarines.
Transfer the batter to the prepared skillet and spread evenly.
To make the topping:
Mix the sanding sugar, cinnamon, and almonds together in a small bowl. Sprinkle the mixture over the top of batter.
Bake 45-50 minutes, or until the top is golden brown and a pick inserted into the center comes out clean. Cool in the pan for about 20 minutes before serving.
Notes:
*I do love how sanding sugar looks on baked goods, but you can certainly use granulated sugar instead.
**You can substitute a 9-inch square baking ban or a 2-quart shallow baking dish.
This post contains affiliate links.