Chocolate Chip Cream Cheese Pound Cake is a big, tall, delicious cake jam-packed with flavor!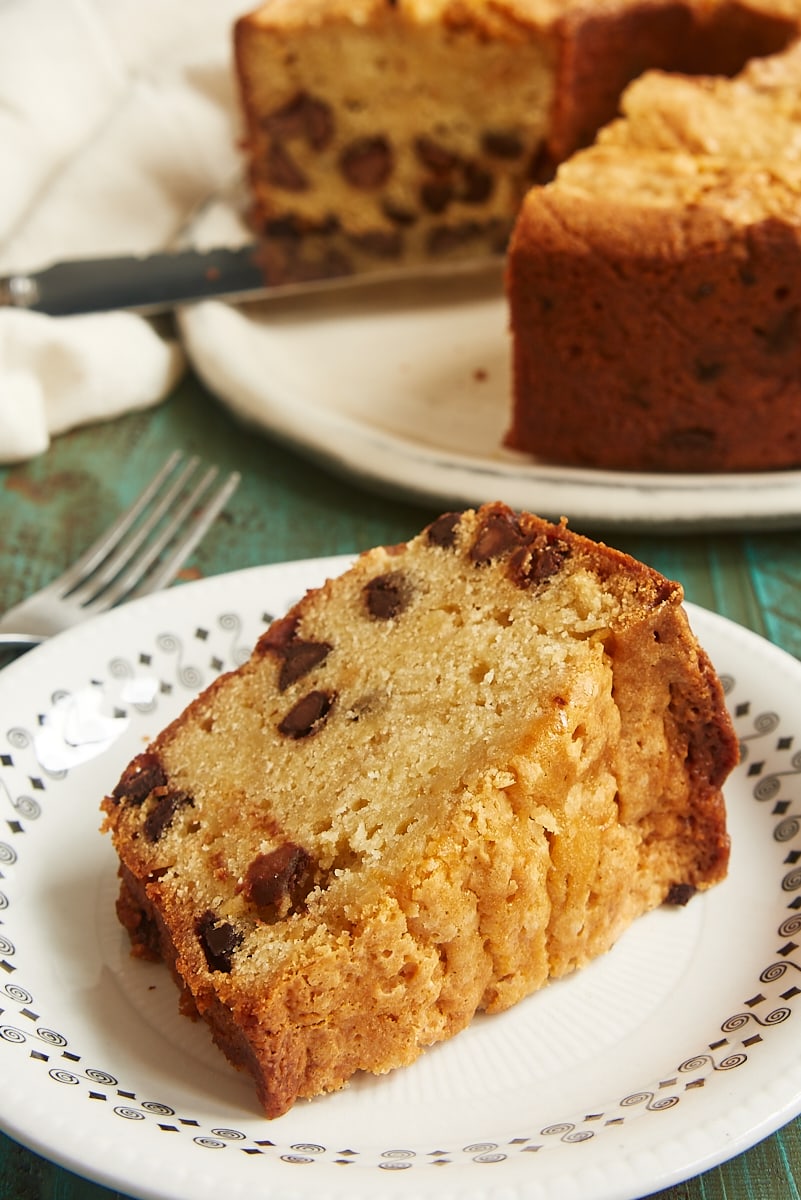 Chocolate Chip Cream Cheese Pound Cake
Pound cake has always been one of those desserts that I like but don't necessarily crave. It's often too dense and dry for my tastes. A while back, though, I discovered the beauty of adding cream cheese to pound cakes, and I became instantly smitten with the soft-yet-dense texture and the amazing taste.
For this Chocolate Chip Cream Cheese Pound Cake, I made a simple tweak to my basic Cream Cheese Pound Cake with the addition of chocolate chips. All that chocolate adds so much flavor!
This is a lot of cake, y'all. It's a big, tall cake packed with flavor. I indicate in the recipe that it can serve up to 16, but you can easily stretch it further if you're feeding a big crowd. There's plenty of big flavor in even a small slice.
The chocolate chips in this cake are a combination of semisweet and milk chocolate. The combination of the two creates a little more flavor interest than using just one. Sometimes you'll get a bite of dark chocolate, and sometimes it will be milk chocolate or a combination. Of course, if you prefer to use just one kind, that's perfectly fine, too.
This is such a great cake for those times when you need a real crowd-pleaser. It's simple to make with amazing flavor. That puts it pretty high up on my go-to cake recipe list!
For even more pound cake deliciousness, try my Sour Cream Pound Cake, Chocolate Pound Cake, and Brown Butter Pound Cake next!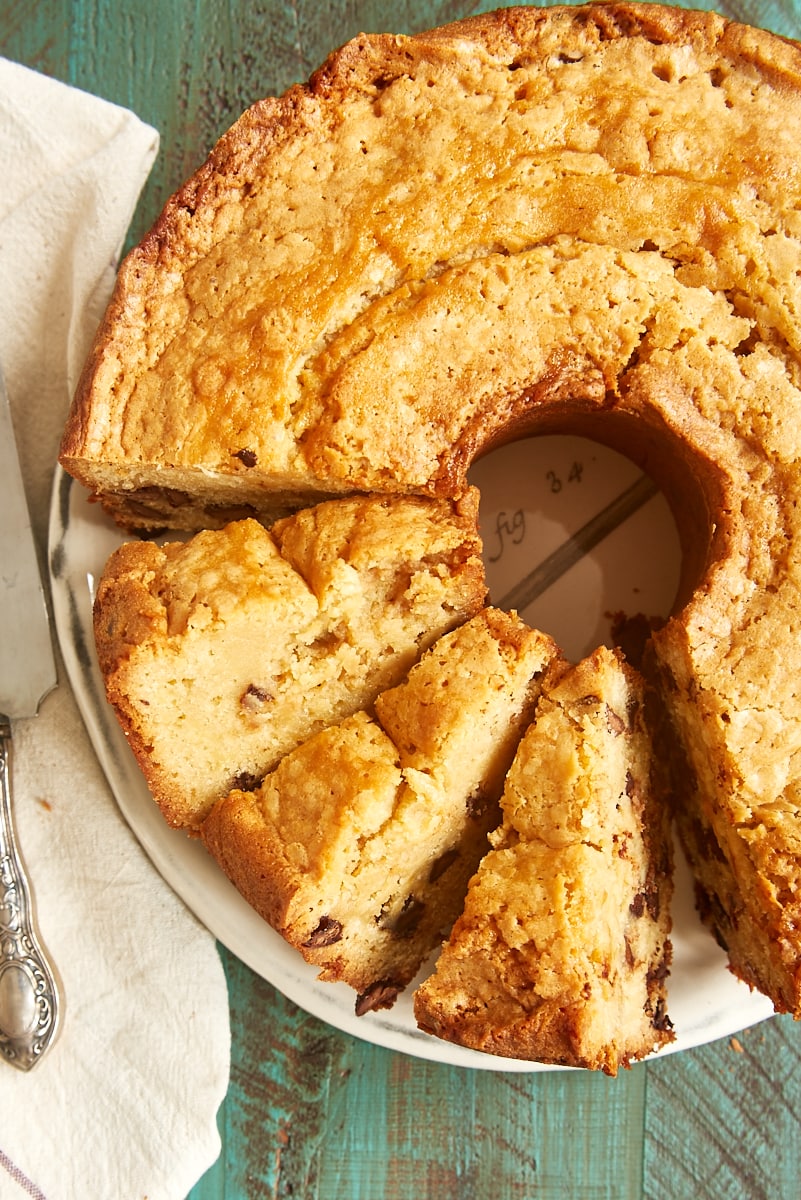 What You'll Need
Just the basics here to make this Chocolate Chip Cream Cheese Pound Cake! Be sure to scroll down to the recipe card at the bottom of this post for ingredient quantities and full instructions.
All-purpose flour – Measure by weight for best results. Otherwise, spoon and sweep. Learn more: How to Measure Flour
Salt
Unsalted butter – Soften the butter before mixing. Learn more: How to Soften Butter
Cream cheese – Full-fat cream cheese (brick-style, not whipped) works best. Bring it to room temperature before mixing.
Granulated sugar
Light brown sugar – Make sure your brown sugar is firmly packed, or (even better) measure it by weight.
Eggs – Bring these to room temperature. I recommend baking with large eggs.
Vanilla extract
Chocolate chips – I like a combination of semisweet and milk chocolate chips, but you can just use one kind if you prefer.
Why is there no baking powder or baking soda?
The physical leavening created by the air incorporated during mixing combined with all of those eggs means that chemical leaveners like baking powder and baking soda aren't necessary to help pound cakes rise.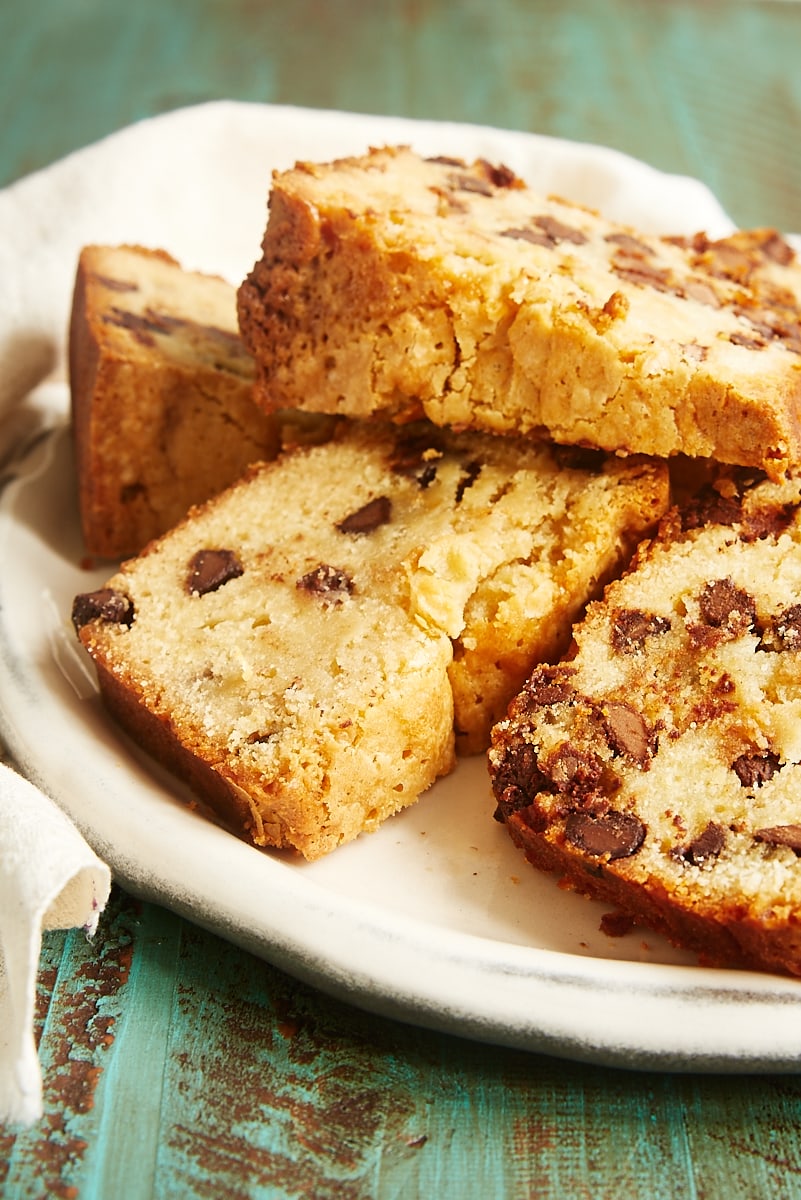 How to Make Chocolate Chip Cream Cheese Pound Cake
Prepare for baking. Heat the oven to 325°F. Generously grease a 12-cup tube pan or Bundt pan. I recommend using a cooking spray with flour, like Baker's Joy or Pam Baking.
Combine the dry ingredients. Whisk together the flour and salt in a medium bowl.
Combine the wet ingredients. With an electric hand mixer or stand mixer, beat the butter, cream cheese, sugar, and brown sugar at medium speed until they're fluffy and lightened in color. Add the eggs two at a time, mixing well after each addition. Mix in the vanilla.
Add the dry ingredients to the wet ingredients. With the mixer on low speed, gradually add the flour mixture to the butter mixture. Don't over-mix; mix just until combined.
Add the chocolate chips. Fold in the chocolate chips.
Bake. Pour the cake batter into the prepared pan and spread it evenly. Place the pan in the oven, and bake 80 to 90 minutes. The cake is done when the top is golden brown and a toothpick inserted into the center comes out clean.
Cool. Place the pan on a wire rack, and allow to cool for 15 minutes. Then flip the cake directly onto a wire rack to continue cooling.
Should I use a tube pan or a Bundt pan?
While a tube pan is any cake pan with a hole in the center, most bakers consider a tube pan to be that kind of pan with straight sides and a flat bottom. I prefer to make this Chocolate Chip Cream Cheese Pound Cake in a tube pan versus a Bundt cake pan, although either will work. I have a one-piece tube pan that works quite well (linked below the recipe).
With a tube pan, you'll get plenty of that trademark pound cake crust on top of the cake. It's one of my favorite parts of the cake, so I like to get as much of it as possible. You just won't get quite the same effect with a Bundt pan. Also, it may take the cake a bit longer to bake thoroughly in a Bundt pan.
Serving Suggestions
This Chocolate Chip Cream Cheese Pound Cake is pretty fantastic just as it is, but you can dress it up a bit if you like. Try adding a simple sprinkling of confectioners' sugar (powdered sugar). Serve slices with fresh berries on the side. Or how about a drizzle of chocolate sauce or caramel sauce? Of course, ice cream and cake is always a winning combination!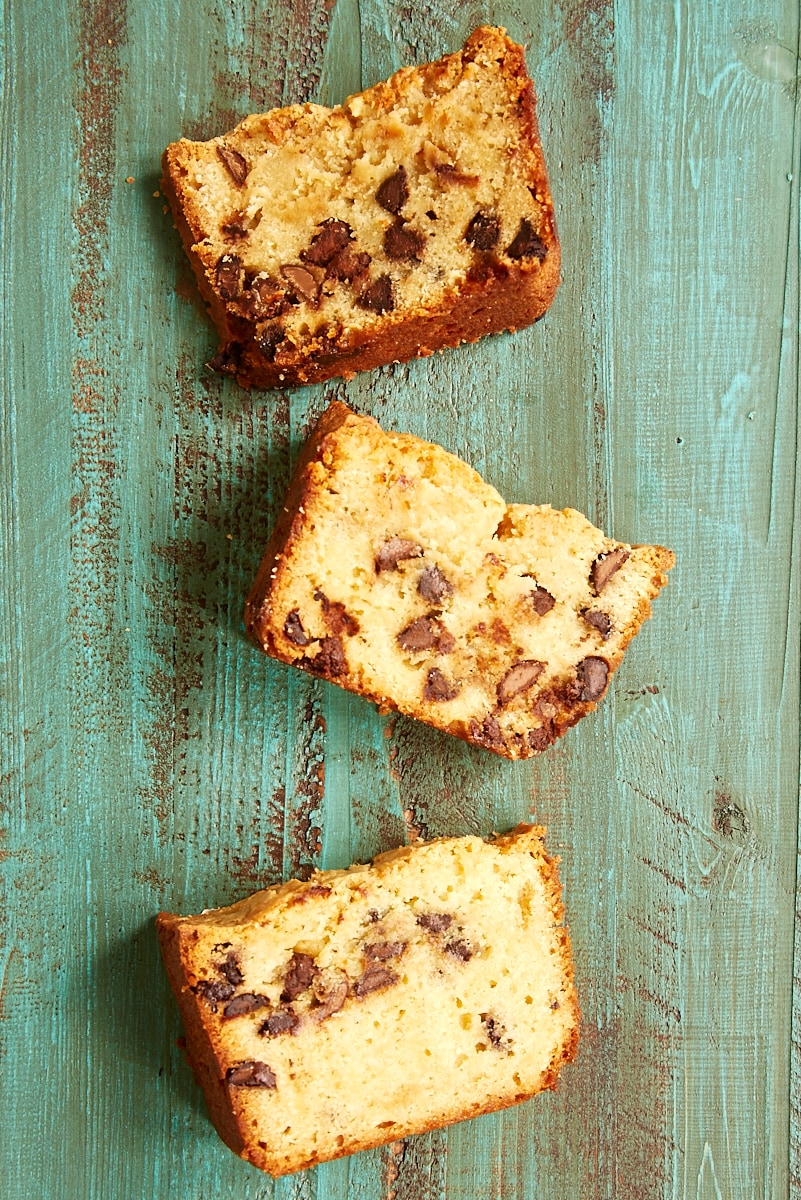 Tips for Success
You'll find that this Chocolate Chip Cream Cheese Pound Cake is quick and easy to make, but here are a few tips to help make sure yours turns out perfectly!
Don't over-mix. Too much mixing will give the cake a tough texture.
Use a light-colored, metal pan. Dark pans usually over-bake the outside edges while leaving the center under-baked. That can lead to a cake that doesn't rise well or falls in on itself. The way metal pans conduct heat make them the best choice for most baking recipes.
Grease the pan well. I like to use a cooking spray with flour, like Baker's Joy or Pam for Baking. To keep the spray from dripping and settling in the bottom of the pan, wait to spray the pan until you're ready to add the batter.
Will the chocolate chips sink? This batter is thick enough that sinking chips shouldn't be an issue. If you're worried, you can try tossing them in a bit of the flour from the recipe. See How to Keep Chocolate Chips from Sinking for more tips.
How to Store
After the cake has cooled completely, you can store it at room temperature. Wrap it well, place it on a covered cake plate, or store the slices in an airtight container. It should keep for 4 or 5 days, although it will be at its best within the first few days.
Can This Pound Cake Be Frozen?
Yes! Wrap any leftovers (completely cooled!) in two layers of plastic wrap, and then wrap again in aluminum foil or place in an airtight, freezer-safe container or bag. Properly stored, the cake should keep up to 3 months in the freezer. Thaw overnight in the refrigerator or for an hour or two at room temperature.
Find more cake recipes in the Recipe Index.