Chocolate Chip Cream Cheese Pound Cake is a big, tall, delicious cake jam-packed with flavor!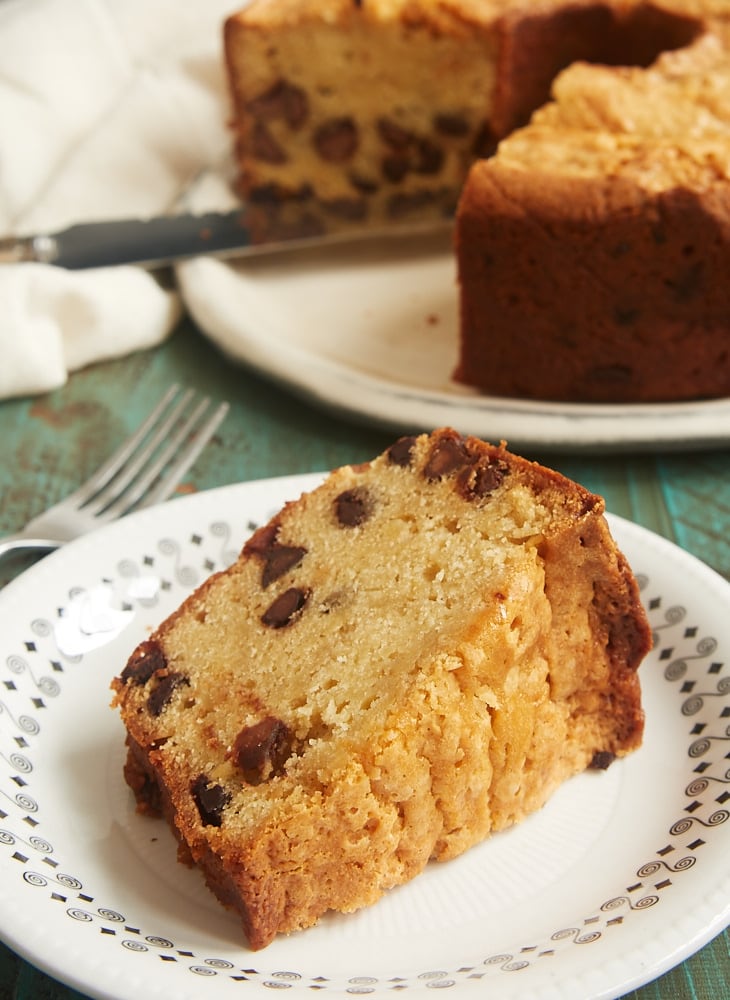 Chocolate Chip Cream Cheese Pound Cake
Pound cake has always been one of those desserts that I like but don't necessarily crave. It's often too dense and dry for my tastes. A while back, though, I discovered the beauty of adding cream cheese to pound cakes, and I became instantly smitten with the soft-yet-dense texture and the amazing flavor.
For this Chocolate Chip Cream Cheese Pound Cake, I made a simple tweak to my basic Cream Cheese Pound Cake with the addition of chocolate chips. All that chocolate adds so much flavor!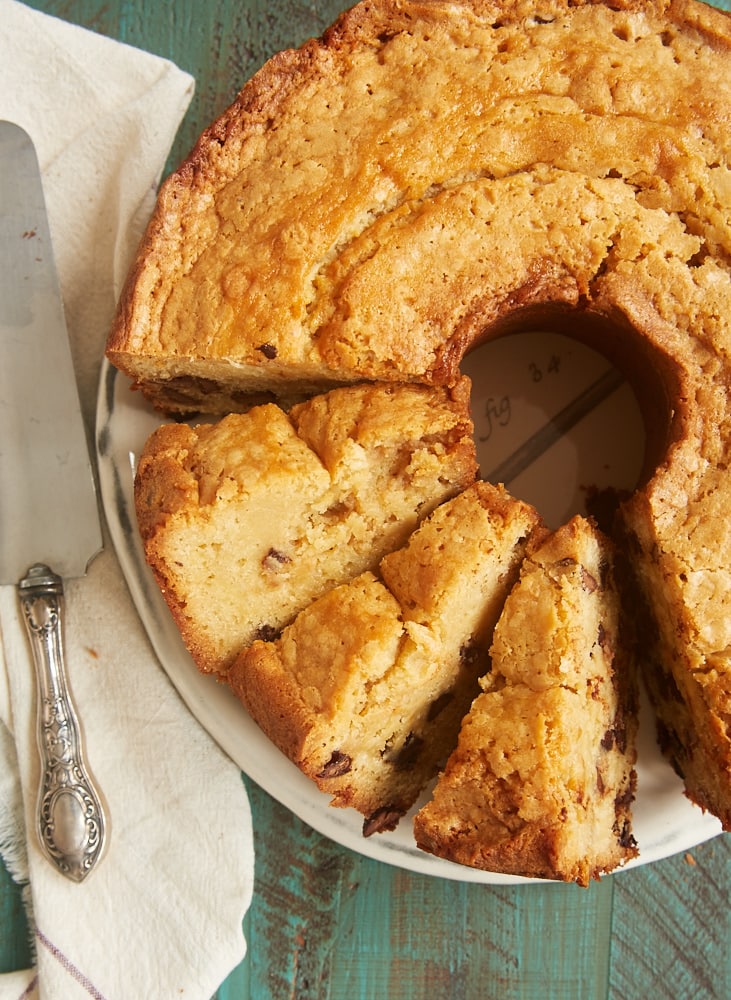 This is a lot of cake, y'all. It's a big, tall cake packed with flavor. I indicate in the recipe that it can serve up to 16, but you can easily stretch it further if you're feeding a big crowd. There's plenty of big flavor in even a small slice.
The chocolate chips in this cake are a combination of semisweet and milk chocolate. The combination of the two creates a little more flavor interest than using just one. Sometimes you'll get a bite of dark chocolate, and sometimes it will be milk chocolate or a combination. Of course, if you prefer to use just one kind, that's perfectly fine, too.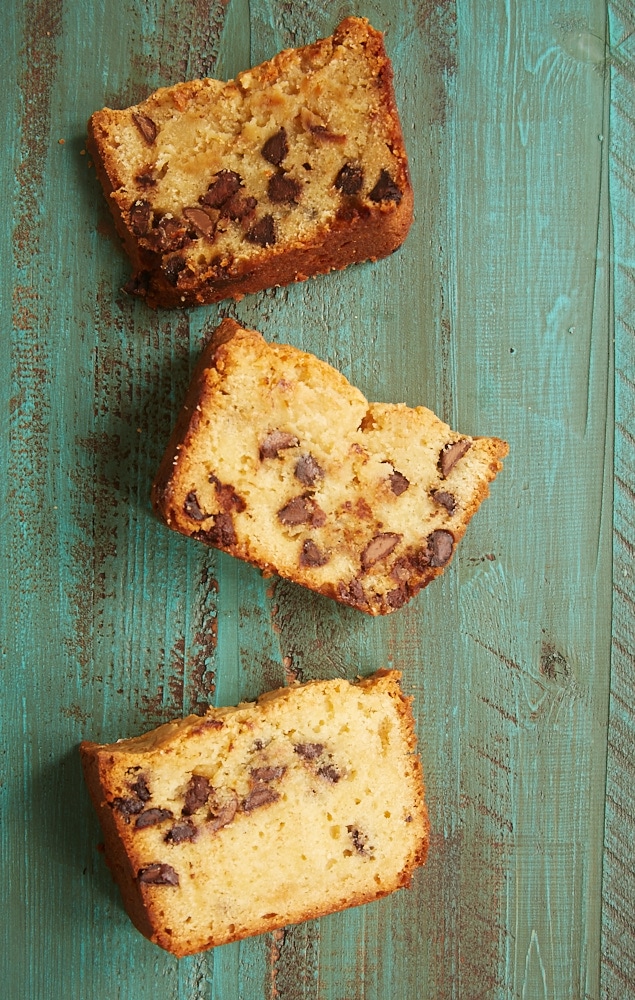 Tips for Success
Measure accurately. As always, use a kitchen scale to measure by weight if possible. Otherwise, use the spoon and sweep method for dry ingredients and sugar, and take care to measure all ingredients carefully.
Use a light-colored, metal pan. Dark pans usually over-bake the outside edges while leaving the center under-baked. That can lead to a cake that doesn't rise well or falls in on itself. The way metal pans conduct heat make them the best choice for most baking recipes.
Grease the pan well. I like to use a cooking spray with flour, like Baker's Joy or Pam for Baking. To keep the spray from dripping and settling in the bottom of the pan, wait to spray the pan until you're ready to add the batter.
Will the chocolate chips sink? This batter is thick enough that sinking chips shouldn't be an issue. If you're worried, you can try tossing them in a bit of the flour from the recipe. See How to Keep Chocolate Chips from Sinking for more tips.
I prefer to make this cake in a tube pan versus a Bundt pan, although either will work. With a tube pan, though, you'll get plenty of that trademark pound cake crust on top of the cake. It's one of my favorite parts of the cake, so I like to get as much of it as possible. You just won't get quite the same effect with a Bundt pan.
This is such a great cake for those times when you need a real crowd-pleaser. It's simple to make with amazing flavor. That puts it pretty high up on my go-to cake recipe list!
Find more cake recipes in the Recipe Index.
More Pound Cake Recipes
Need Bundt cake help? See my Bundt Cake Baking Tips!