Love lemon? You'll fall in love with this lovely Lemon Bundt Cake! It's an easy-to-make dessert that's as delicious as it is beautiful!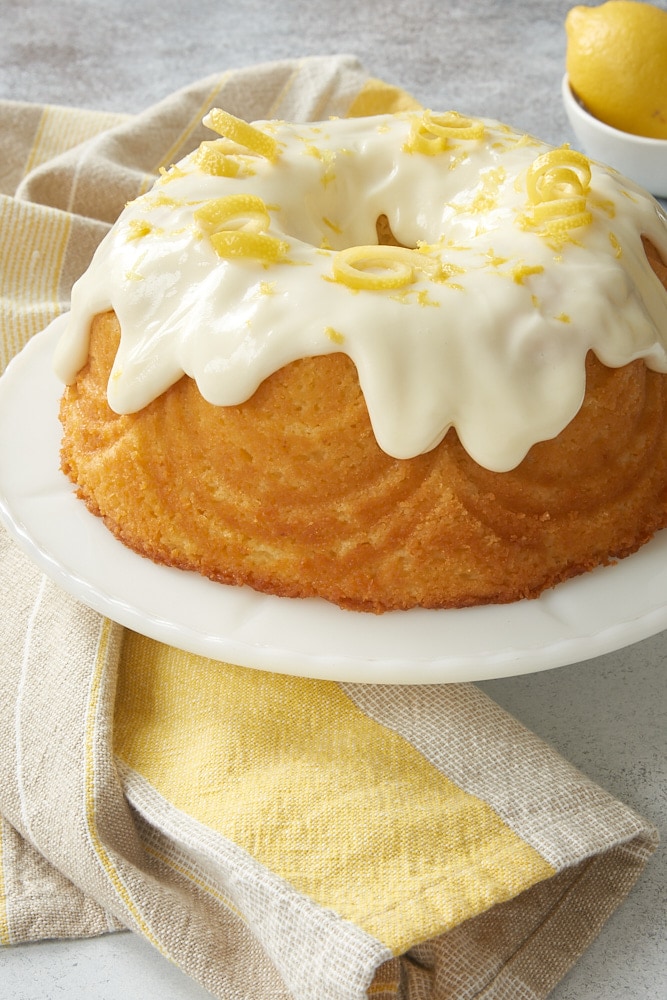 Best Lemon Bundt Cake Recipe
This beautiful Lemon Bundt Cake is ALL about the lemon. There aren't any other flavors here competing for attention. No, it's just lovely lemon deliciousness. Who's ready to dig into this beauty?

It all starts with a simple Bundt cake with a nice dose of lemon zest and juice. I know it may be tempting to skip the zest, but please don't. You'll get so much more lemon flavor by including the zest. The overall flavor of the cake won't knock you over with lemon. It's nicely soft and sweet with a tangy hit of lemon.
But we're not stopping there. Next comes the glaze, which features even more lemon. It's a cream cheese glaze, too, so you know I'm all in with it. I love how easy it is to make with just a few ingredients. You can adjust the thickness to your liking by how much milk you add to it. I like it thick enough to really stand out and hold on to the cake.
The combination of the lemony cake and likewise lemony glaze makes for a wonderful lemon experience that is sure to be irresistible to any lemon lover. There's plenty of flavor here for even your biggest lemon cravings!
This Lemon Bundt Cake is a great choice for serious lemon lovers. Its bright, sweet, fresh, tangy flavor is so welcome and refreshing that I think you'll find that it will be a winner for you most any time of year. And it's such a pretty, happy cake, too! Add this one to your to-bake list to share with your favorite lemon lovers.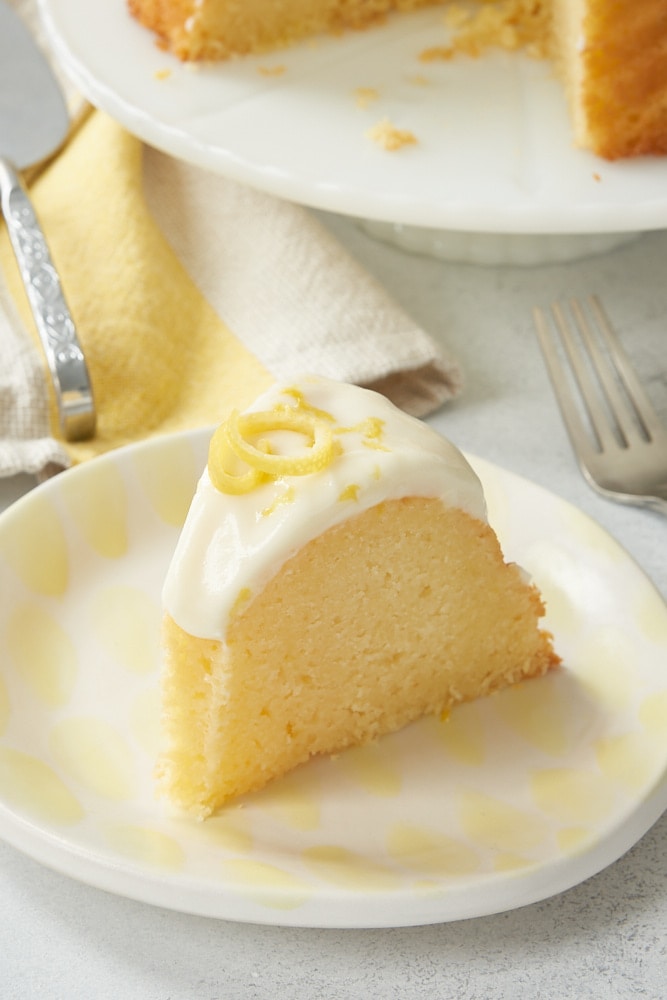 What You'll Need
For the cake:
All-purpose flour – Be sure to measure accurately, either by weight or with the spoon and sweep method.
Lemon zest – I recommend using a fine zester like a Microplane to get really small bits of zest. Learn more: How to Zest and Juice Lemons
Baking powder
Baking soda
Salt
Unsalted butter – Let the butter sit at room temperature for about half an hour to allow it to soften before mixing.
Granulated sugar
Eggs – Bring these to room temperature so they'll mix more easily and give the cake a nicer texture.
Milk – Whole milk or 2% milk works best.
Lemon juice – You'll need 2 or 3 medium lemons to get the amount of juice needed for this recipe.
For the glaze:
Cream cheese – Bring to room temperature so it will mix easily and smoothly. I recommend full-fat brick cream cheese.
Confectioners' sugar – Be sure to sift before mixing to help ensure a smooth glaze. (This type of sugar is also called powdered sugar.)
Lemon juice
Milk
Topping Ideas
If you'd like to garnish the finished cake, you can do so simply with more lemon zest. I like to use a coarser grater for the garnish than I do for the zest in the cake. While that's not necessary, it will make the zest stand out more if it's a little coarser. I also add a few lemon curls that are made simply by cutting the rind off a few slices of lemon and twisting them around a spoon handle or some other small diameter tool you have.
Here are some other ideas for topping this Lemon Bundt Cake:
A simple dusting of confectioners' sugar
Fresh berries
How to Make Lemon Bundt Cake
If you've made a few cakes in your baking life, these instructions won't hold any surprises for you. In fact, this cake and its glaze mix quickly and easily!
To make the cake:
Prepare for baking. Heat the oven to 350°F. Generously grease a 10- or 12- cup Bundt pan. I recommend a cooking spray with flour, like Baker's Joy or Pam Baking.
Combine the dry ingredients. Whisk together the flour, zest, baking powder, baking soda, and salt in a small bowl.
Combine the wet ingredients. With an electric mixer on medium speed, beat the butter and sugar until they're fluffy and lightened in color. Add the eggs one at a time, mixing well after adding each. Mix in the lemon juice.
Add the dry ingredients to the wet ingredients. With the mixer on low speed, add the flour in three portions, alternating with two portions of milk. Don't over-mix; mix just until combined.
Bake. Transfer the batter to the prepared pan, spreading it evenly. Place the pan in the preheated oven, and bake 50 to 60 minutes. The cake is done when a toothpick inserted into the center comes out clean.
Cool. Place the pan on a wire rack and allow to cool for 15 minutes. Then transfer the cake from the pan to a wire rack to let the cake cool completely.
To make the lemon glaze:
Begin mixing. With an electric mixer on medium speed, beat the cream cheese, confectioners' sugar, and lemon juice until thoroughly combined and smooth.
Add the milk. Mix 2 tablespoons of milk into the cream cheese mixture. Continue adding small amounts of milk until the glaze is the consistency you want. It should be thick but pour easily.
Glaze the cake. Pour the glaze over the cooled cake. If you like, garnish with lemon curls and lemon zest.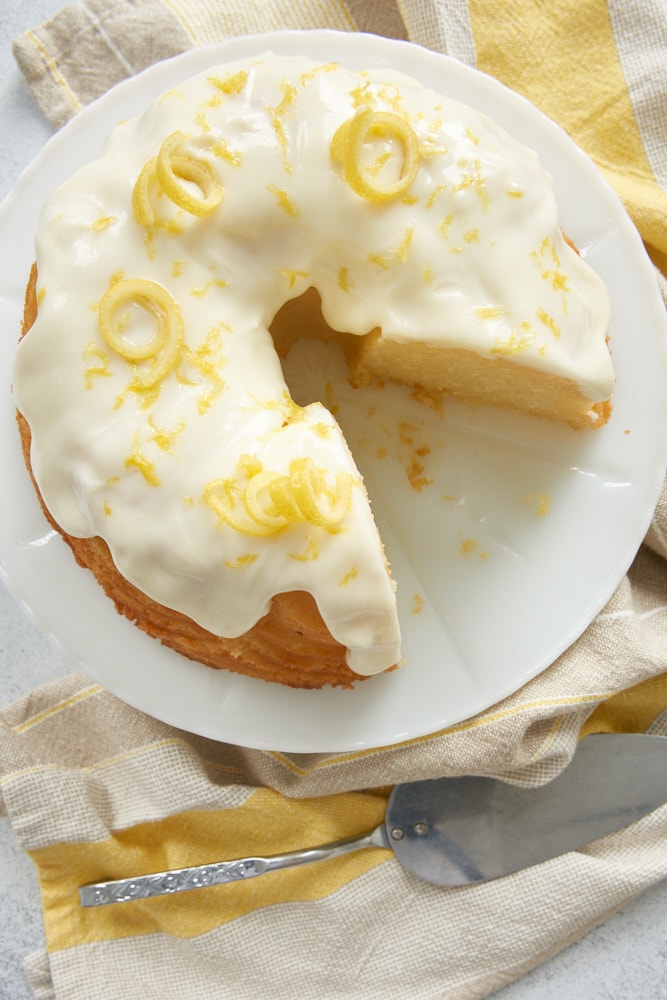 Tips for Success
While this cake is easy to make, I'll offer a few tips to help make yours the best it can be!
Use fresh lemons. You'll get the best flavor with fresh lemon juice and zest.
Don't over-mix. Too much mixing can lead to a tough, unappealing texture.
Use a light-colored metal pan. The cake will bake more thoroughly and evenly.
How to Store
Because of the cream cheese glaze, you'll need to keep this cake refrigerated. Be sure to wrap it well or transfer it to an airtight container so that it won't become dry in the refrigerator. It should keep up to 4 or 5 days. Bring slices to room temperature before serving.
Can This Lemon Cake Be Frozen?
Yes! To freeze the cake without the glaze, wrap the cake or individual slices in two layers of plastic wrap and then wrap again in aluminum foil or place in a freezer-safe container or zip-top bag.
To freeze the cake with the glaze, first place slices of the cake on a rimmed baking sheet. Freeze until the glaze is solid (likely about 2 hours). Then wrap and store as directed above. The glaze may not look its best after being frozen, but the taste should be unaffected.
Properly stored, the cake should keep up to 3 months. Thaw overnight in the refrigerator.
More Lemon Cake Recipes