Cookie Butter Pound Cake Bread Pudding is a fantastic way to turn leftover pound cake into a warm, cozy dessert!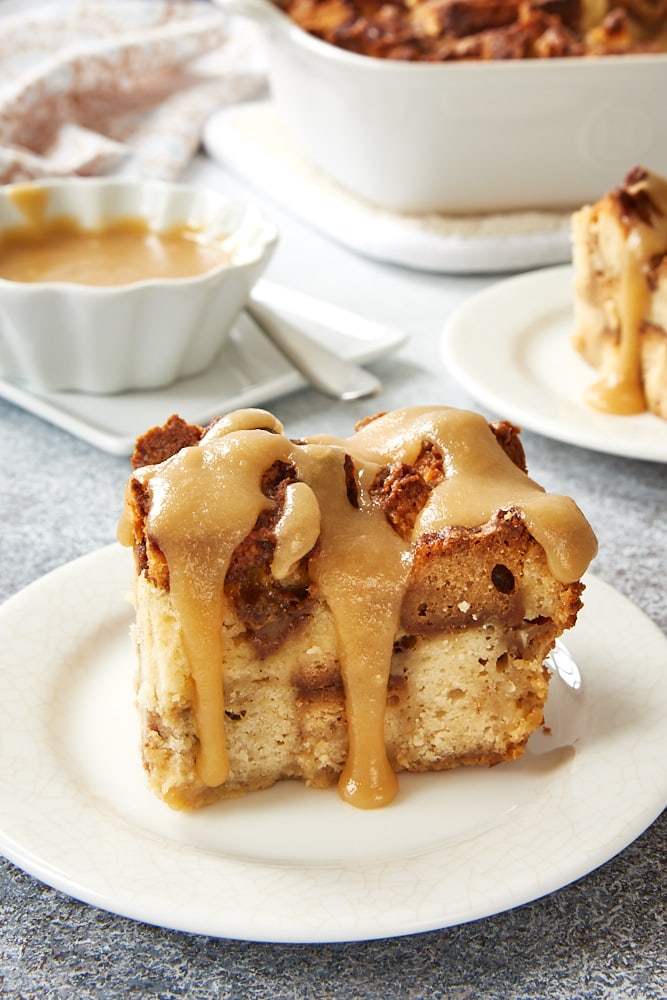 Pound Cake Bread Pudding
Sure, bread puddings are traditionally made with (you guessed it!) bread, but this version asks why we can't make bread pudding out of pound cake. And the answer is this glorious Cookie Butter Pound Cake Bread Pudding.
It all starts with a loaf-size pound cake, either homemade or store-bought. This a great way to bring new life to leftover pound cake, but it's totally worth making or buying one just to make this dessert. You can use most any basic pound cake, so just go with your favorite. I like to use a half recipe of my go-to Cream Cheese Pound Cake, but any kind is fine.
Just as if you were making a more traditional bread pudding, the pound cake needs to be a bit stale to work best. If you're baking a fresh pound cake for this dessert, you can either bake it a few days before you want to make bread pudding or spread the cubes on a sheet pan and toast them in the oven for a few minutes to dry them out a bit.
From there, you'll find that this is a fairly traditional bread pudding with a simple mixture of basic ingredients poured over the cubes of pound cake. The one difference is the addition of cookie butter. And I have to say that I just love the flavor it adds, providing just a subtle hint of spices to make this dessert really special.
One of the beauties of this dessert is how easy it is to make. Just whisk together a few ingredients, pour over the cubed cake, chill it for a bit, and then bake it. That's it! Then you'll end up with this wonderful Cookie Butter Pound Cake Bread Pudding that's sure to become a favorite!
Love bread pudding? Try Chocolate Bread Pudding, Cinnamon Almond Bread Pudding for Two, and Chai Spice Bread Pudding next!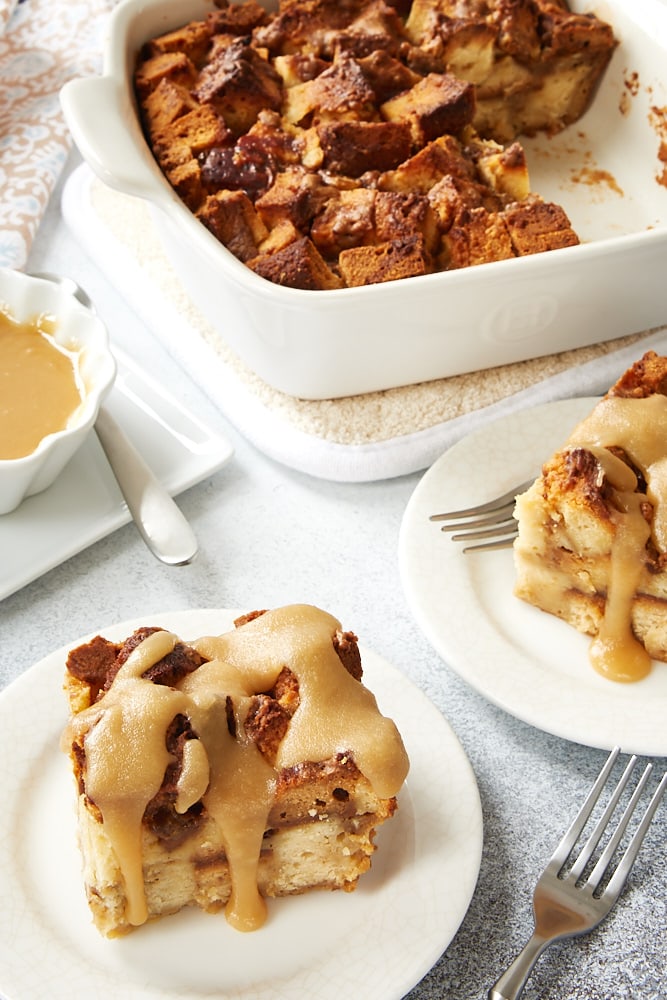 What You'll Need
See the recipe card at the bottom of this post for ingredient quantities and full directions. Here are some notes about the ingredients you'll need.
For the bread pudding:
Pound cake – You'll need a loaf-size pound cake (preferably a bit stale) cut into 1-inch cubes. You can use store-bought pound cake or make your own.
Eggs
Milk
Granulated sugar
Cookie butter – Heat it briefly in the microwave so that it mixes more easily.
Vanilla extract – Almond extract is really good, too.
Cinnamon
For the vanilla sauce:
Unsalted butter
Granulated sugar
Brown sugar – I love the addition of brown sugar to this sauce, but you can just use granulated sugar if you prefer.
Heavy whipping cream – Be sure to use heavy cream or heavy whipping cream for best results.
Salt
Vanilla extract
How to Make Pound Cake Bread Pudding
You'll love how easy it is to put this dessert together! The hands-on time is short, but be sure to account for the chilling time that's needed.
Make the bread pudding
Prepare the pan. Grease a 2-quart baking dish. Place the cubed pound cake in the pan, spreading it evenly.
Combine the remaining ingredients. Whisk together the eggs, milk, sugar, warm cookie butter, vanilla, and salt. Pour over the pound cake, making sure to press the cake down into the liquid mixture if necessary.
Chill. Cover and refrigerate for at least an hour up to overnight.
Prepare for baking. Set the bread pudding on the counter. Heat the oven to 350°F.
Bake. Place the pan in the heated oven, and bake for 60 to 70 minutes or until a knife inserted into the center comes out clean.
Make the vanilla sauce
Cook. Place the butter, sugar, brown sugar, cream, and salt in a heavy saucepan. Be sure to use a large pan, as the sauce will get quite bubbly. Cook over medium heat until thickened and bubbly. This should take about 4 to 6 minutes.
Add the vanilla. Remove the pan from the heat, and stir in the vanilla.
Serve. Spoon the vanilla sauce over servings of the warm bread pudding.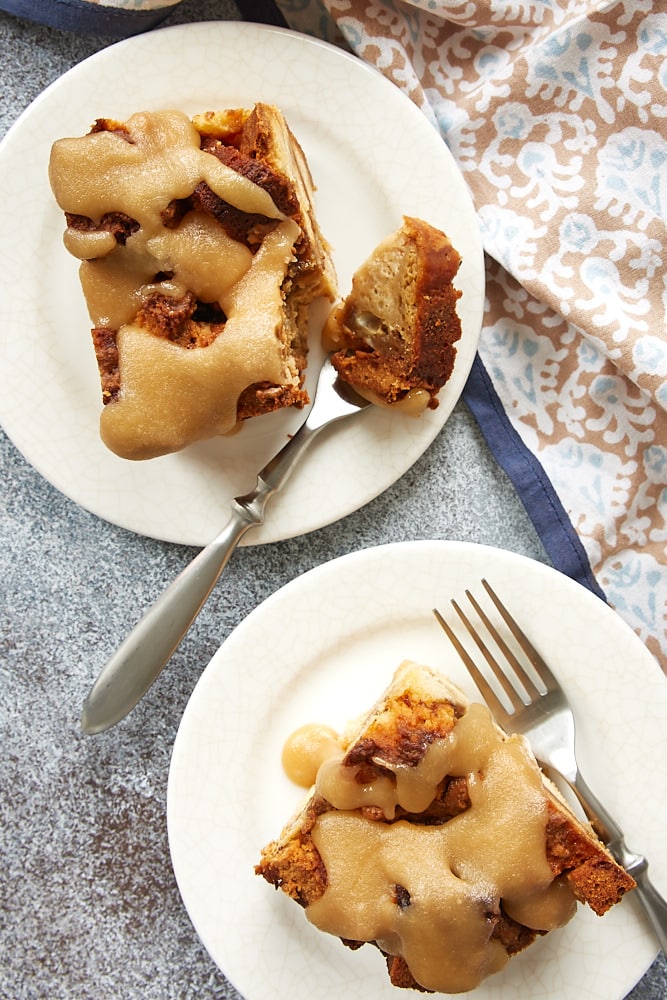 Tips for Success
Pound cake shortcut. While I like to use a half-recipe of cream cheese pound cake for this bread pudding, a store-bought pound cake will work just fine and save you some effort.
Use stale pound cake. I try to plan ahead and bake my pound cake a few days before I'm going to make this bread pudding. If your cake isn't stale, then spread the cubes on a baking sheet and toast them in the oven for a few minutes to dry them.
Don't skip the chilling time. All of those little pieces of cake need time to soak up as much of the filling as possible. While an hour of chill time is fine, overnight is definitely better.
Simplify. If you want to skip making the sauce, serve with a simple dusting of confectioners' sugar or a drizzle of store-bought caramel sauce.
How to Store Leftovers
After the bread pudding has completely cooled, cover it with plastic wrap or place leftovers in an airtight container. Place in the refrigerator, and store up to 5 days. Reheat servings briefly in the microwave or for a few minutes in the oven.
For best results, store the sauce separately in an airtight container in the refrigerator. It can thicken as it cools, so you may want to add a small amount of milk and reheat.
Can Pound Cake Bread Pudding Be Frozen?
Yes, you can freeze the bread pudding without the sauce. Place the cooled bread pudding in an airtight, freezer-safe container. Properly stored, it should keep in the freezer up to 3 months. Thaw overnight in the refrigerator.