This Spiced Pear Cake is full of warm winter spices and fresh pears. Cinnamon cream cheese glaze adds a decadent layer of sweetness to each bite. Perfect for Christmas, this Bundt cake is sure to impress!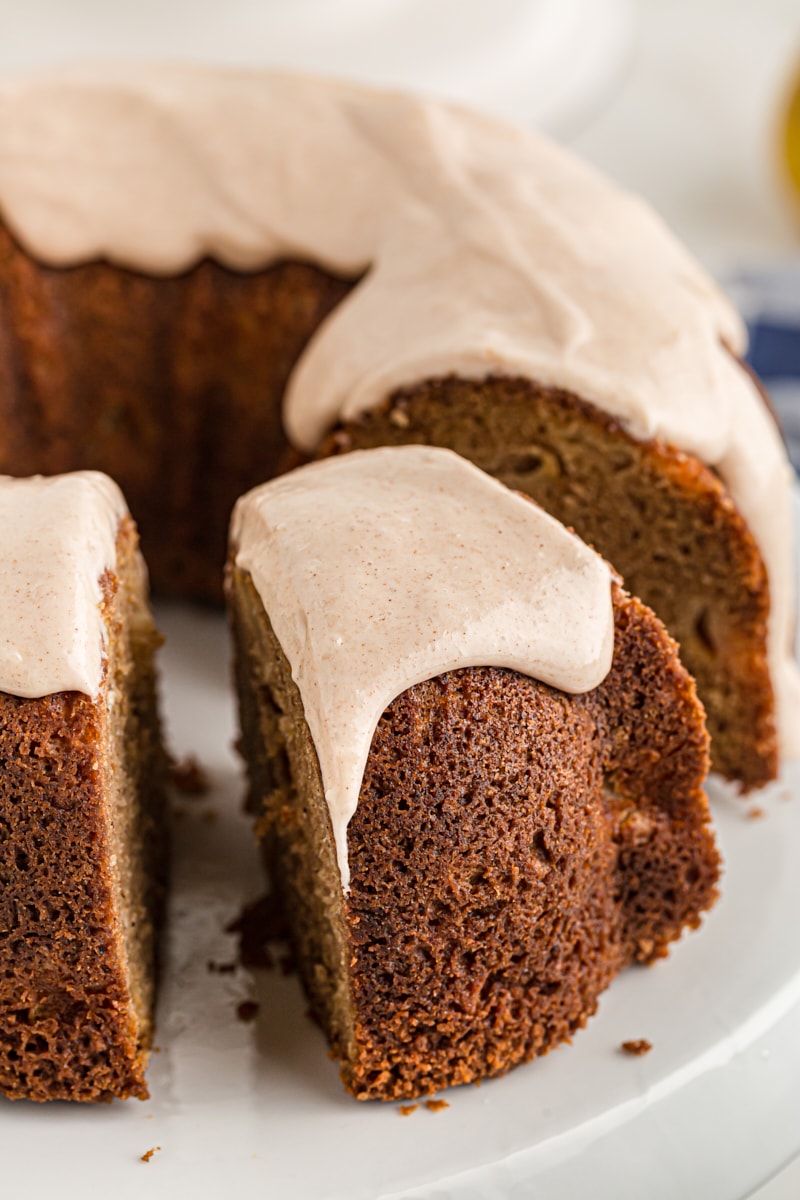 Easy Spiced Pear Cake Recipe
This Spiced Pear Cake resulted from an almost epic Christmas fail. Several years ago, I was happily gathering everything I needed for Christmas dinner when I realized I had forgotten about the dessert. I'm a baker! How could such a thing happen?
I quickly assessed the ingredients in my pantry and gravitated toward the perfectly ripe pears I had just purchased. I knew I could make something super tasty out of them – pears for the win!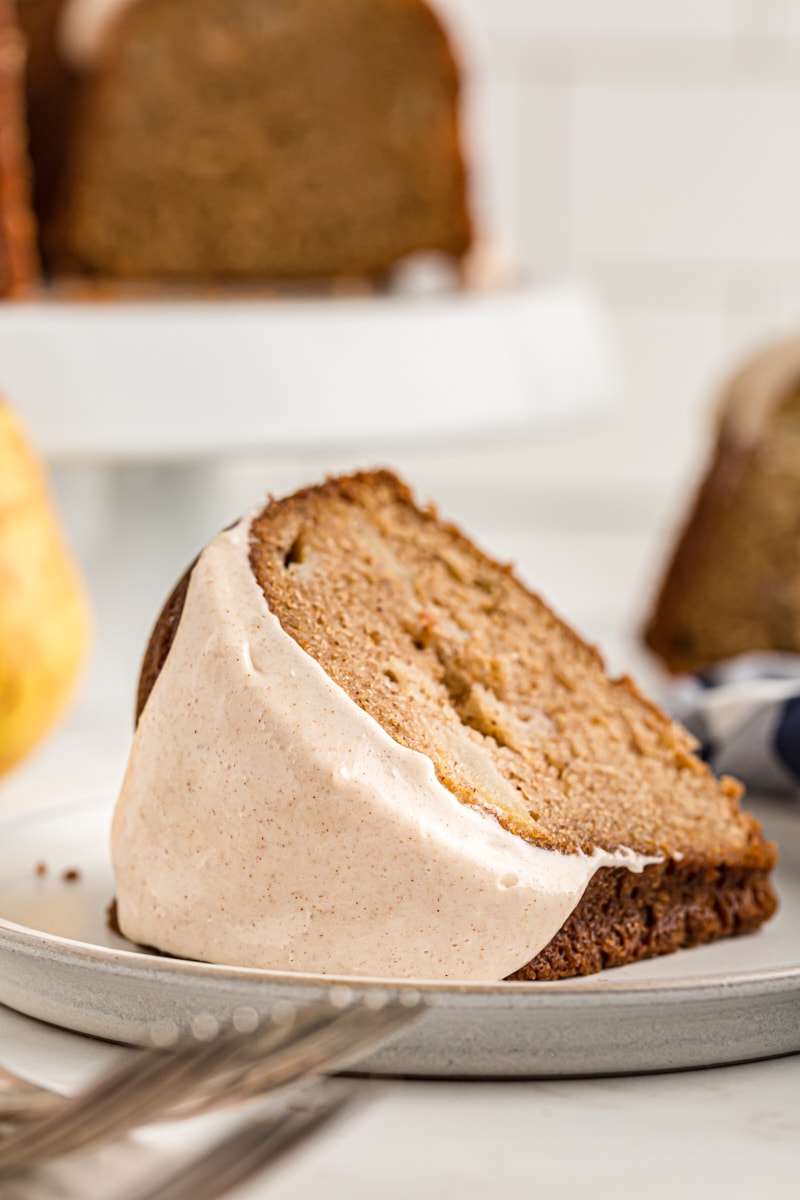 Pears are a great fruit to bake with in the winter. They're firm enough to hold up to cooking, have fantastic flavor, and are just the right amount of sweet. We'll add the pears to a spiced vanilla cake and top the entire thing with a cinnamon cream cheese glaze. The result? A fresh pear cake that is moist, flavorful, and unforgettable.
If you're looking for the perfect Christmas cake recipe, search no further. My last-minute dessert save turned into one of my favorite cakes of all time. Your guests will agree!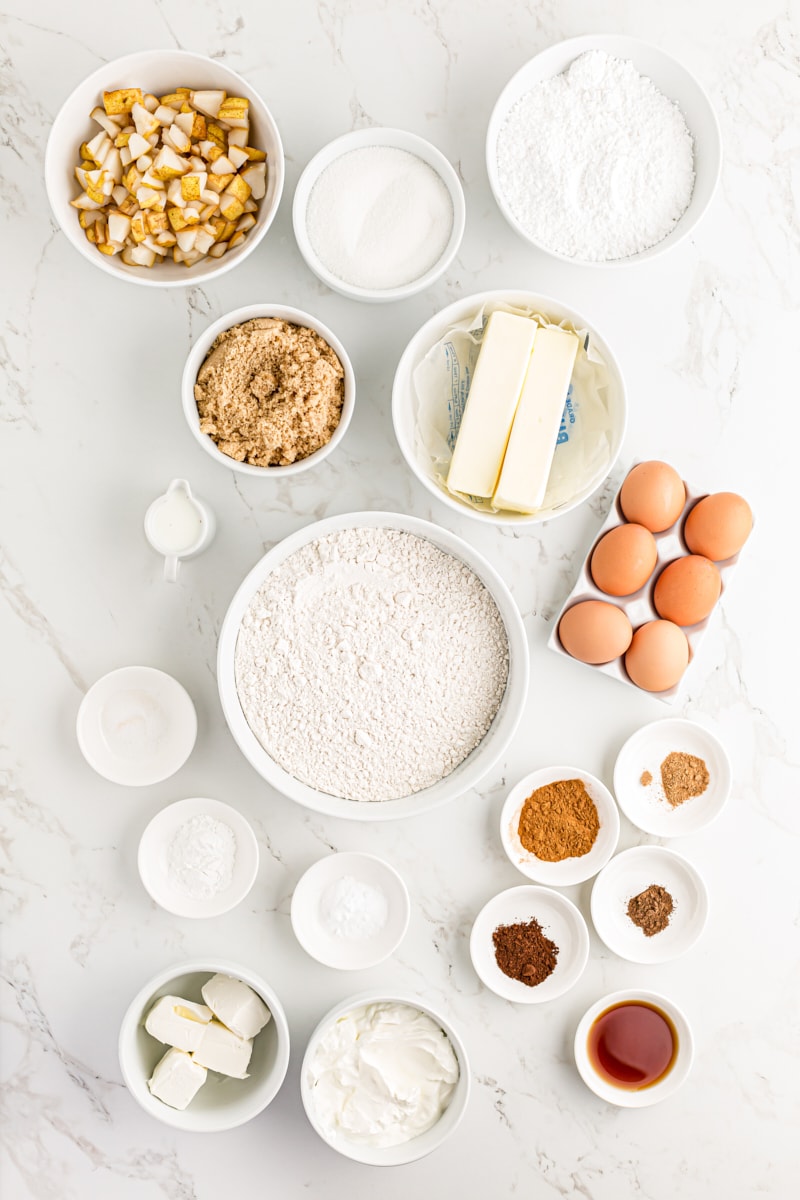 What You'll Need
If you bake frequently, you'll likely have all these ingredients in your pantry. Take a look at the recipe card at the end of this post for ingredient quantities and full instructions.
For the Cake
All-purpose flour – As always, measure the flour by weight or use the spoon and sweep method. Learn more: How to Measure Flour
Baking powder
Baking soda
Spices – We'll be using ground cinnamon, cloves, allspice, nutmeg, and salt in the cake.
Unsalted butter – Let the butter soften before mixing. It should hold a thumbprint when pressed and still be cool. Learn more: How to Soften Butter
Granulated sugar
Light brown sugar – Using brown sugar helps makes this pear cake super soft. I like light brown sugar here instead of the bolder flavor of dark brown sugar.
Eggs – Like the butter, bring the eggs to room temperature before mixing them into the cake batter. I recommend baking with large eggs.
Vanilla extract – Store-bought vanilla extract is great, but you can also make your own. Learn more: How to Make Vanilla Extract
Sour cream – We'll bring the sour cream to room temperature as well. Full-fat sour cream works best.
Pears – You'll want to use ripe, flavorful pears for this cake. You can opt to peel them or not, depending on your preference.
For the Glaze
Cream cheese – Bring the cream cheese to room temperature so it will mix more easily and smoothly. Full-fat cream cheese that comes in blocks will work best.
Confectioners' sugar – You may want to sift it for a smooth glaze.
Vanilla extract
Cinnamon
Milk – I prefer using full-fat milk for this glaze.
What Kind of Pears Are Good for Baking?
My favorite pears for baking are Bosc, Bartlett, and Anjou pears. Bartlett pears tend to become a bit softer through baking, while Bosc and Anjou are more likely to hold up nicely. Any of those will work for this cake, or try using a combination of pears.
Look for pears that are firm-ripe. That means that they're firm all over but with a bit of give near the stem. If your pears aren't quite ready for baking, you can place them in a paper bag to expedite the ripening process.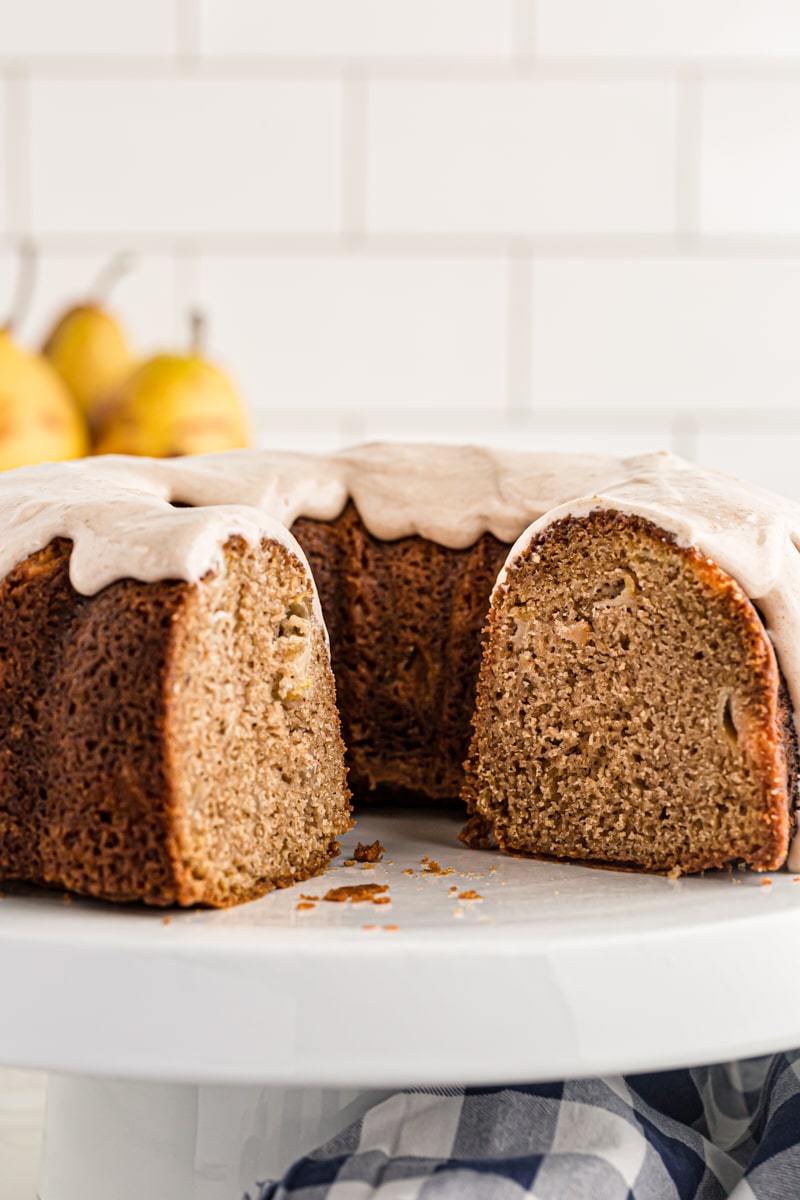 How to Make Spiced Pear Cake
This pear cake comes together quickly and is topped with a simple glaze. No complicated frostings here! Here's how to make one of the best Bundt cake recipes out there.
To Make the Cake:
Prepare for baking. Preheat the oven to 350°F. Generously grease and flour a 10-cup Bundt pan to avoid sticking. If you're using a pan with a lot of nooks and crannies, be sure the grease hits all the surfaces. I most often use a cooking spray with flour, like Baker's Joy or Pam for Baking.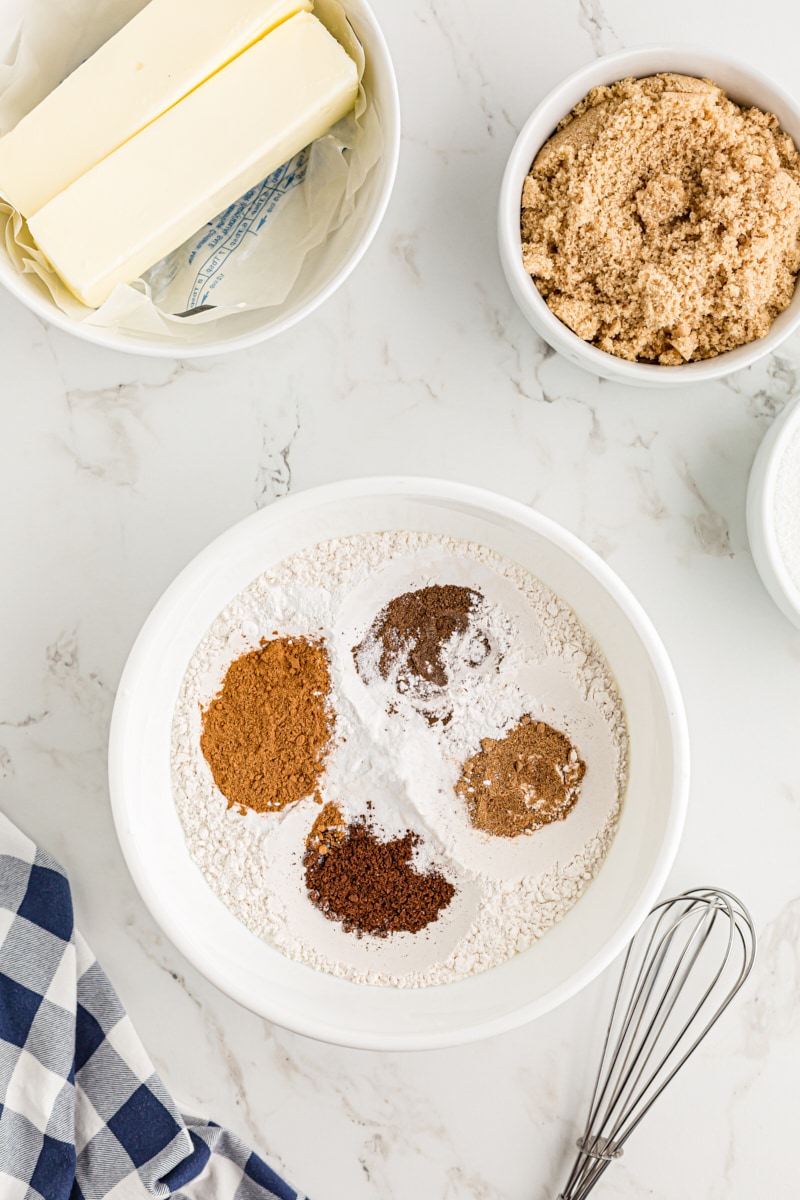 Combine the dry ingredients. Whisk together the flour, baking powder, baking soda, cinnamon, salt, cloves, allspice, and nutmeg in a medium bowl. Set it aside while you mix the other ingredients.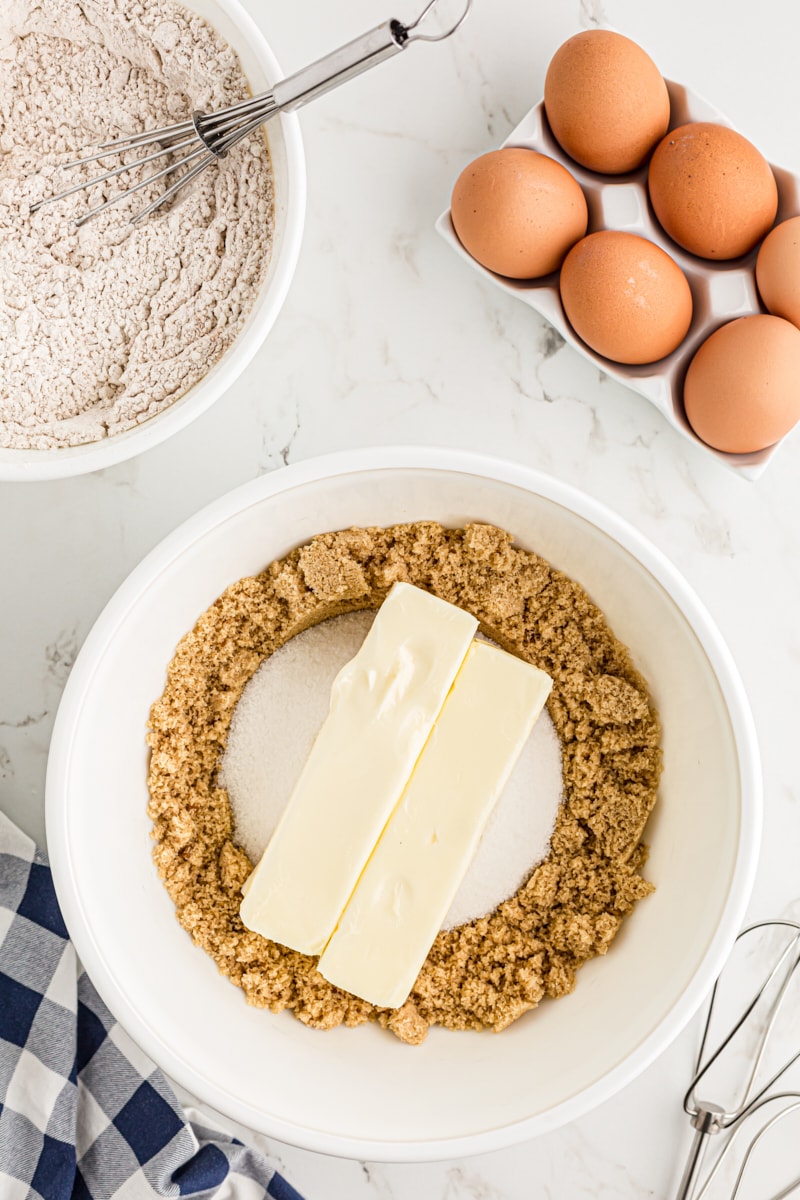 Cream the butter and sugars. Beat together the butter, sugar, and brown sugar with an electric mixer on medium speed until it becomes light and fluffy.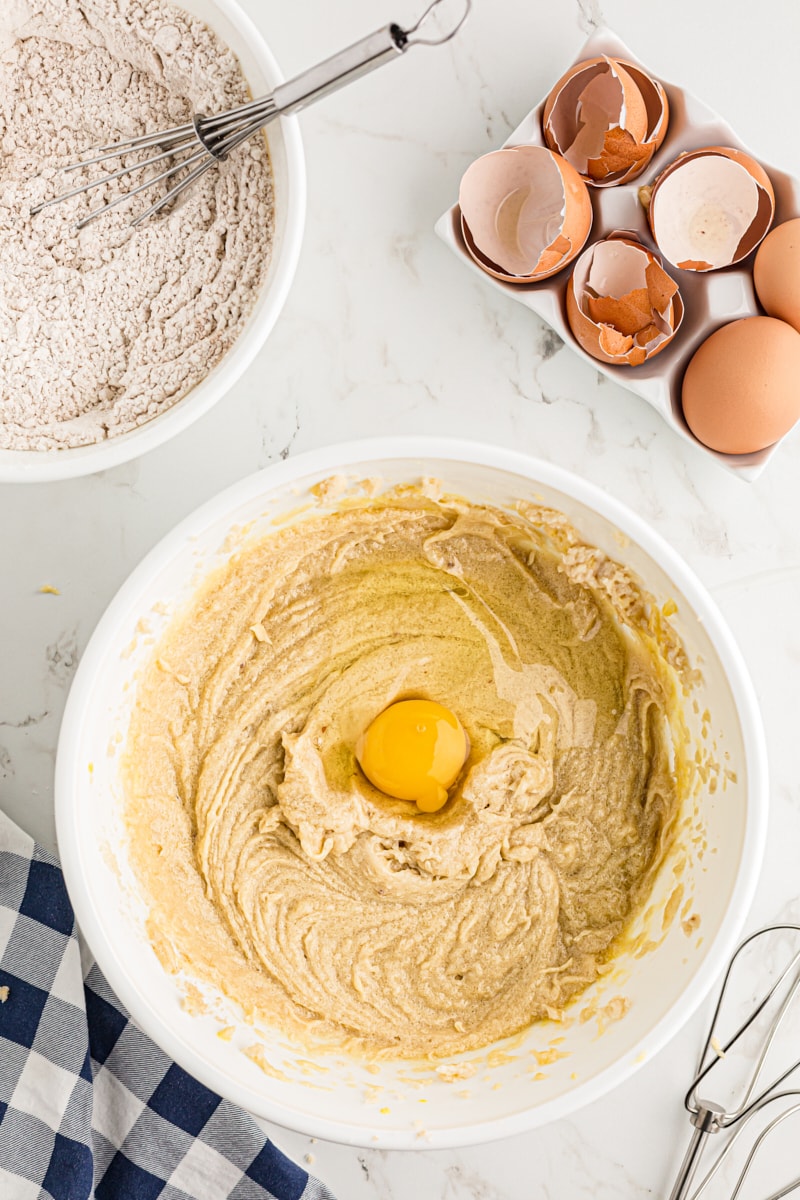 Add the remaining wet ingredients. Add the eggs to the butter mixture, one at a time, beating well after each addition. Mix in the vanilla followed by the sour cream.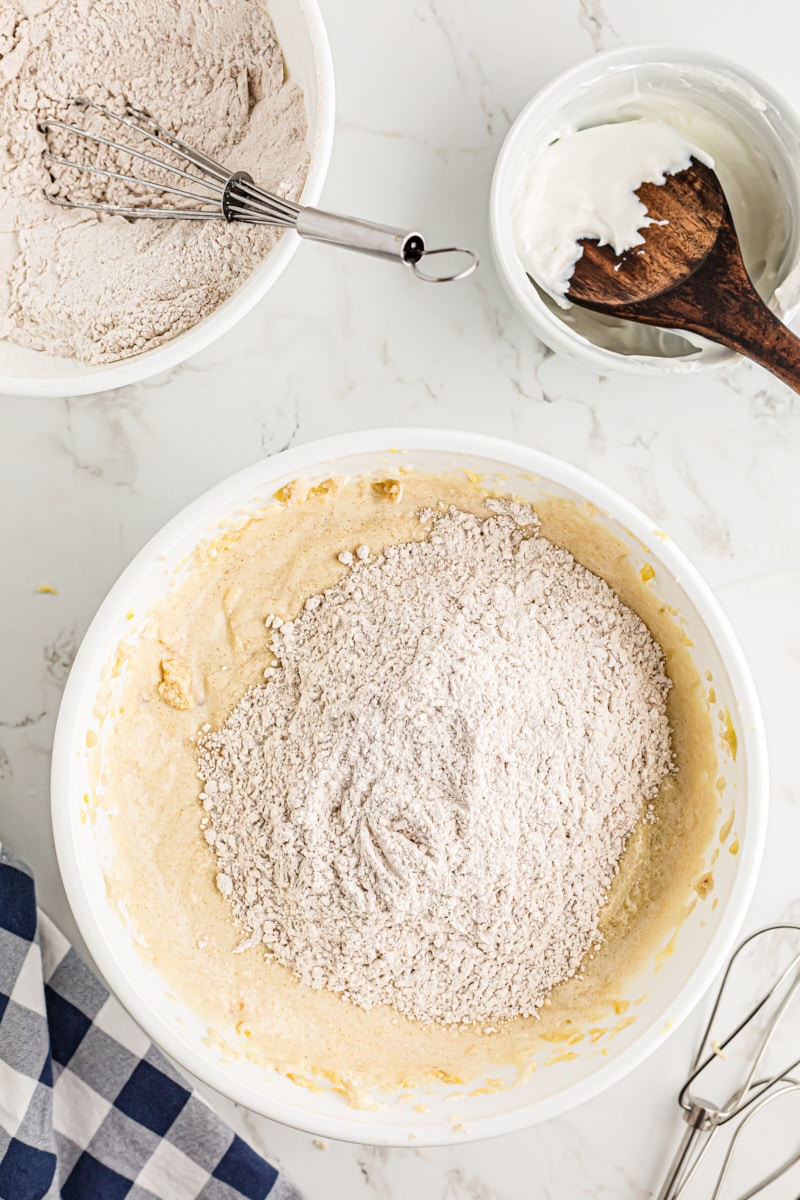 Add the dry ingredients to the wet ingredients. Reduce the mixer speed to low and gradually add the flour mixture. Mix just until combined or a few small streaks of flour remain. Gently fold in the chopped pears with a spatula.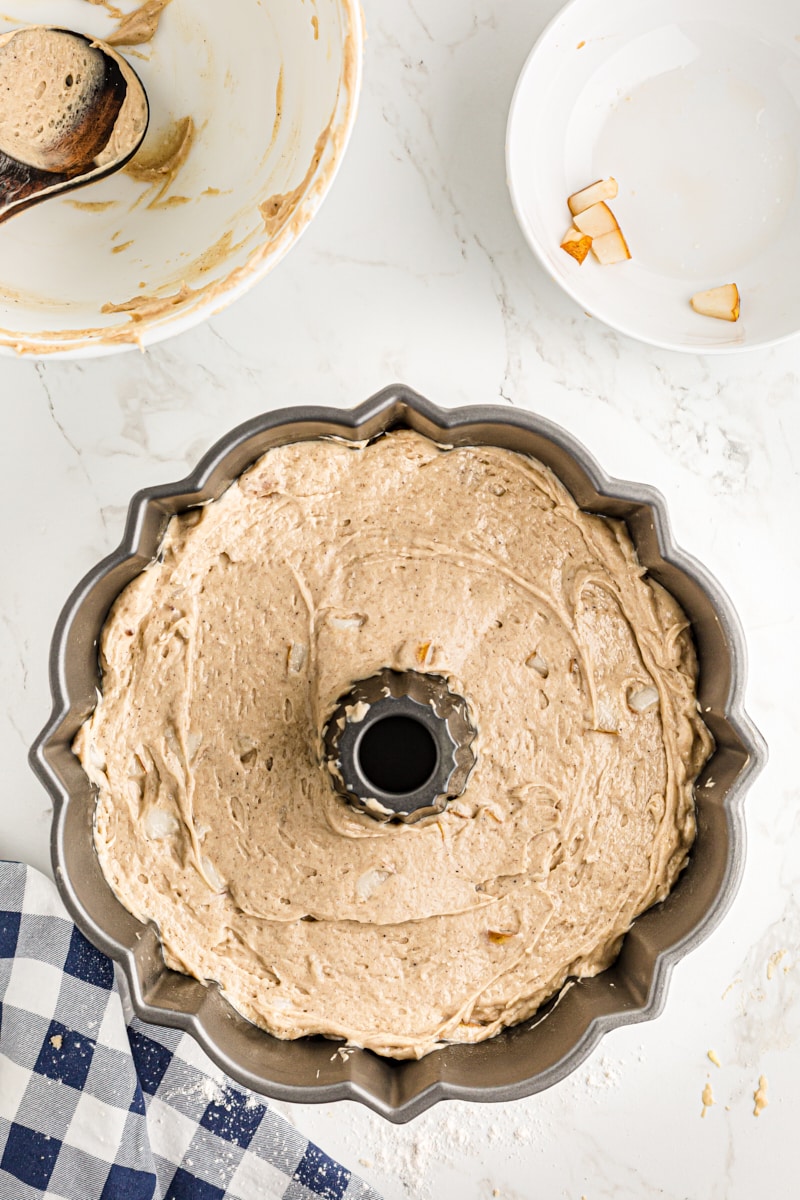 Bake. Transfer the cake batter to the prepared Bundt pan. Bake for 50-55 minutes, or until a toothpick inserted into the center of the cake comes out clean.
Cool. Cool the cake on a wire rack while still in the pan for about 10 minutes. Then remove the cake from the pan and place directly on a wire rack to allow it to cool completely.
To Make the Glaze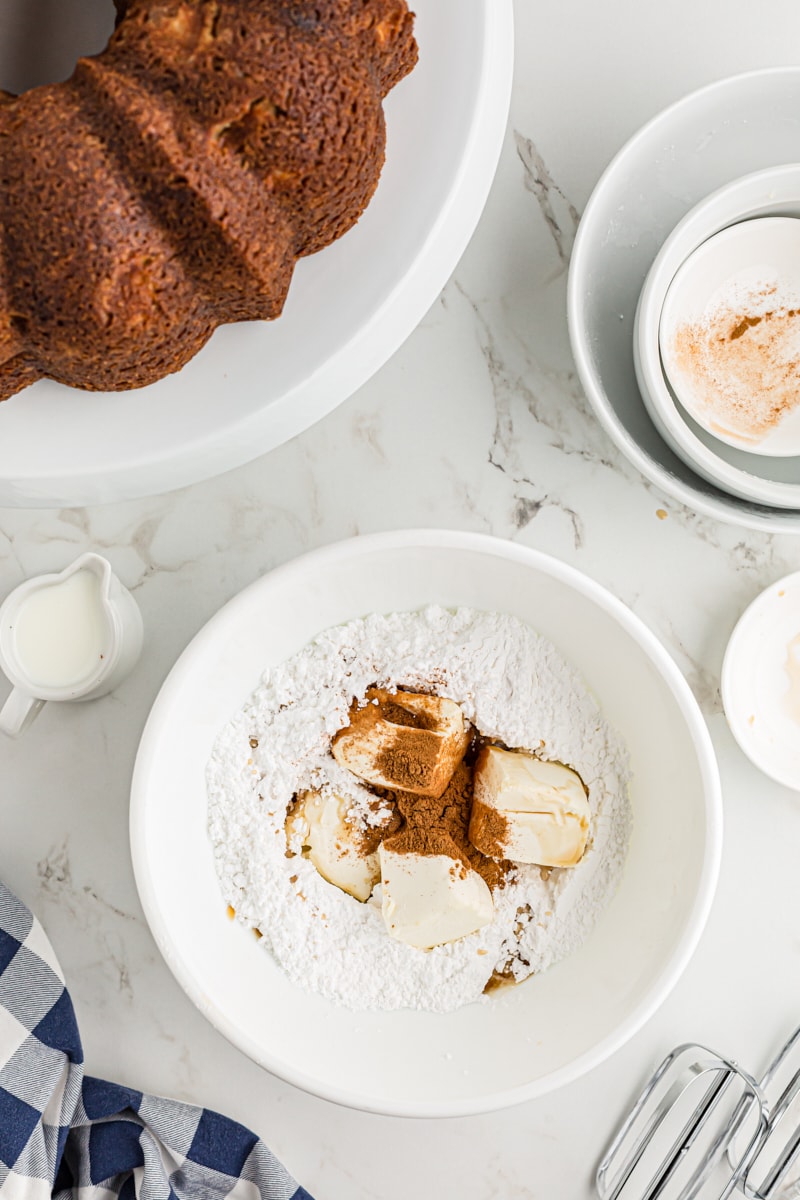 Mix the glaze. Using an electric mixer on medium speed, beat the cream cheese, confectioners' sugar, vanilla, and cinnamon until thoroughly combined and smooth. Add the milk, 1 tablespoon at a time, mixing until the glaze is pourable. This is a thicker glaze, so don't let the consistency get too thin.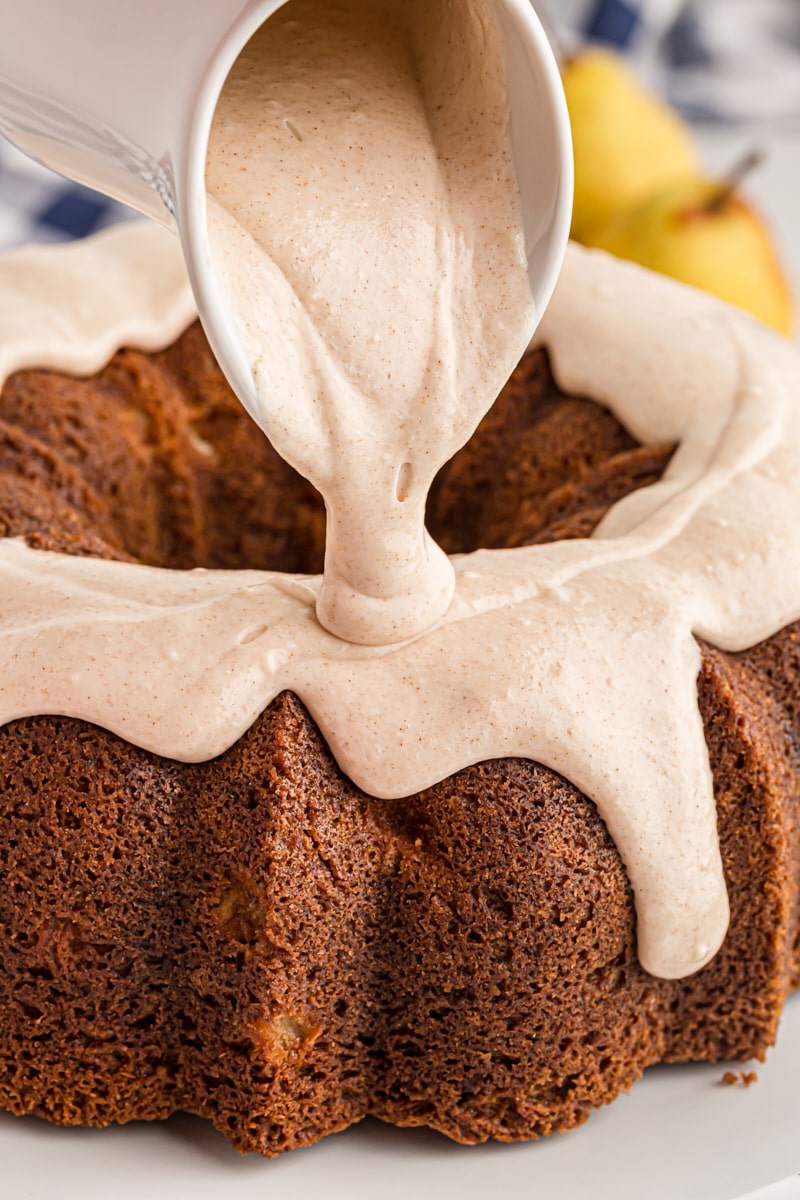 Glaze the cake. Pour the cream cheese glaze over the cooled Bundt cake. Allow it to set for 10-15 minutes before serving.
Variation Ideas
This Spiced Pear Cake is one of my favorite Bundt cake recipes! But, like any great dessert, it's easy to adjust based on your preferences. Here are a few ideas to change things up a bit.
Use a different glaze. If you want a thinner glaze, feel free to try a simpler option like the vanilla glaze on this Cherry Yogurt Cake. For a similar glaze with a slightly different flavor, try the brown butter glaze from my Cinnamon Hazelnut Bundt Cake.
Simplify. You can also skip the glaze entirely in favor of a dusting of confectioners' sugar, a scoop of vanilla ice cream, or a dollop of whipped cream.
Add nuts. You can add a handful of chopped toasted nuts to the cake batter when you add the pears. Pecans, walnuts, and hazelnuts are all good choices. Nuts are a great garnish, too. Go with toasted nuts or try Glazed Pecans for a little something extra. Simply sprinkle them over the top of the glazed cake.
Use a different fruit. If you don't want to use pears, diced apples would also be good in this cake and pair well with the spices. Or try a combination of apples and pears.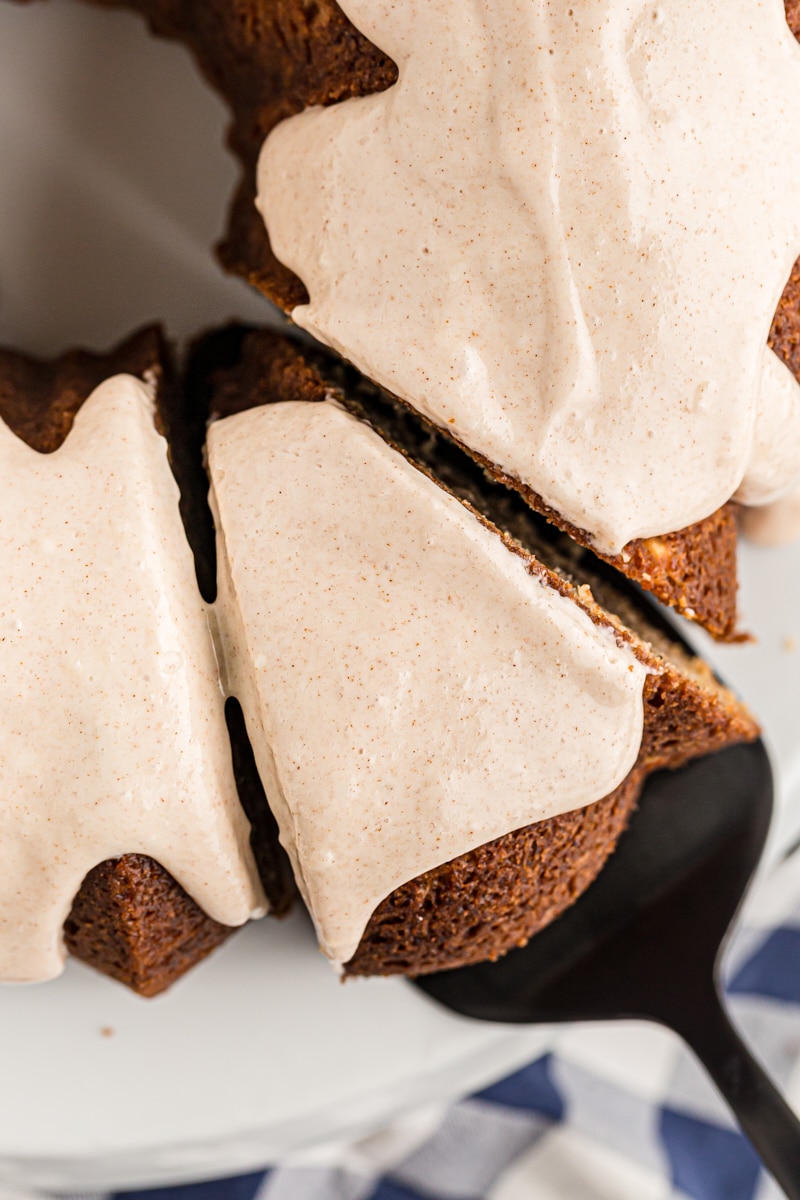 Tips for Success
If you're somewhat new to baking or just haven't pulled out your mixer in a while, I've got a few helpful tips to make this a fun experience with a delicious outcome.
Generously grease your Bundt pan. If you've followed me for any length of time, you know I love a good Bundt cake. They're easy to make, look amazing, and don't require any frosting skills! But they can be tricky to get out of the pan if you don't get the butter or spray into your pan's little nooks and crannies. I almost always use a cooking spray with flour and very, very rarely have any issues with sticking.
Use ripe pears. This cake requires a ripe but firm pear that will hold its shape while baking. You definitely don't want to use overripe or mushy pears for this recipe. You'll know a pear is overripe if it has brown spots or bruises easily.
Don't over-mix. When mixing the cake batter, be sure to not over-mix it. Too much mixing can lead to a dense, unappealing texture in the cake.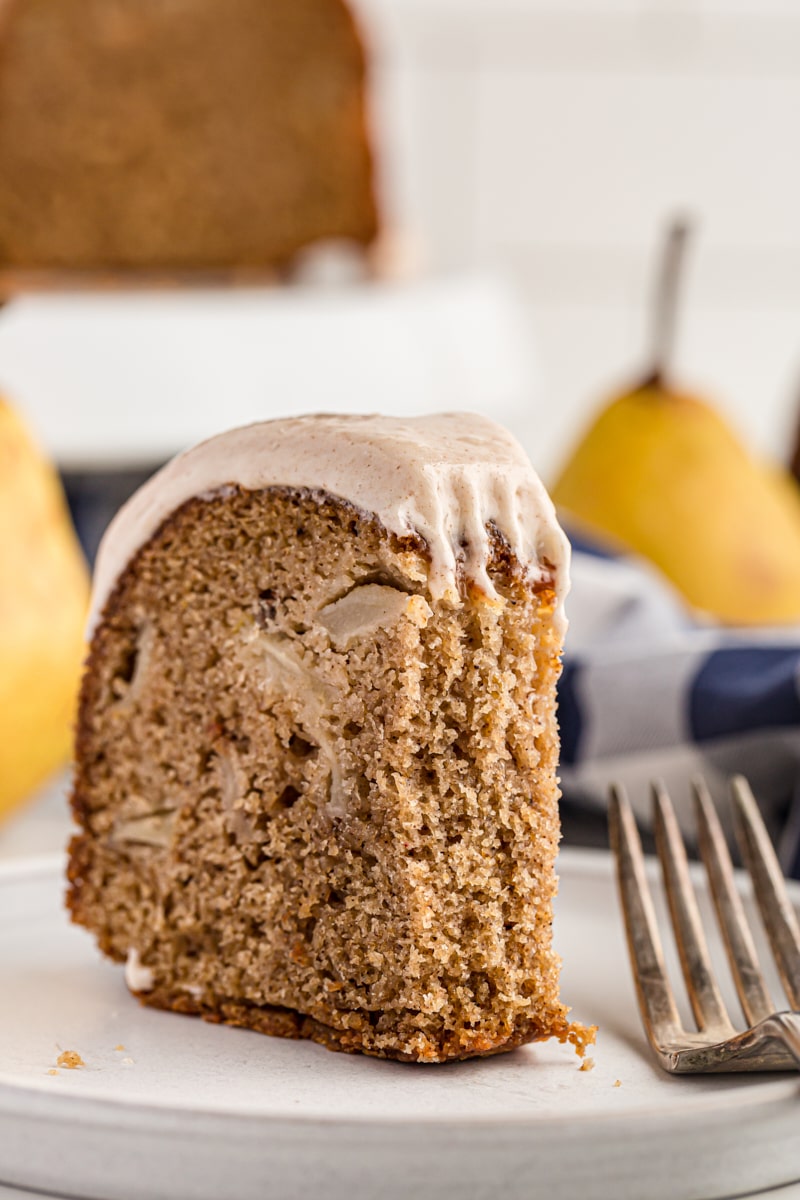 How to Store Spiced Pear Cake
Because of the cream cheese glaze, you'll need to keep this cake refrigerated. Be sure to wrap it well or transfer leftovers to an airtight container so that it won't become dry in the refrigerator. It should keep up to 4 or 5 days. Bring slices to room temperature before serving.
Can I Freeze this Bundt Cake?
Yes! To freeze the pear cake without the glaze, wrap individual slices in two layers of plastic wrap followed by aluminum foil. Alternatively, you can place plastic-wrapped pieces in a freezer bag.
To freeze the glazed cake, place individual slices on a cookie sheet directly in the freezer for about 2 hours. Once the pieces are fully frozen and the glaze has hardened, wrap and store them as directed above.
Properly stored, this bundt cake should keep for up to 3 months. Thaw overnight in the refrigerator. The glaze may not look as pretty after thawing, but it'll still taste great.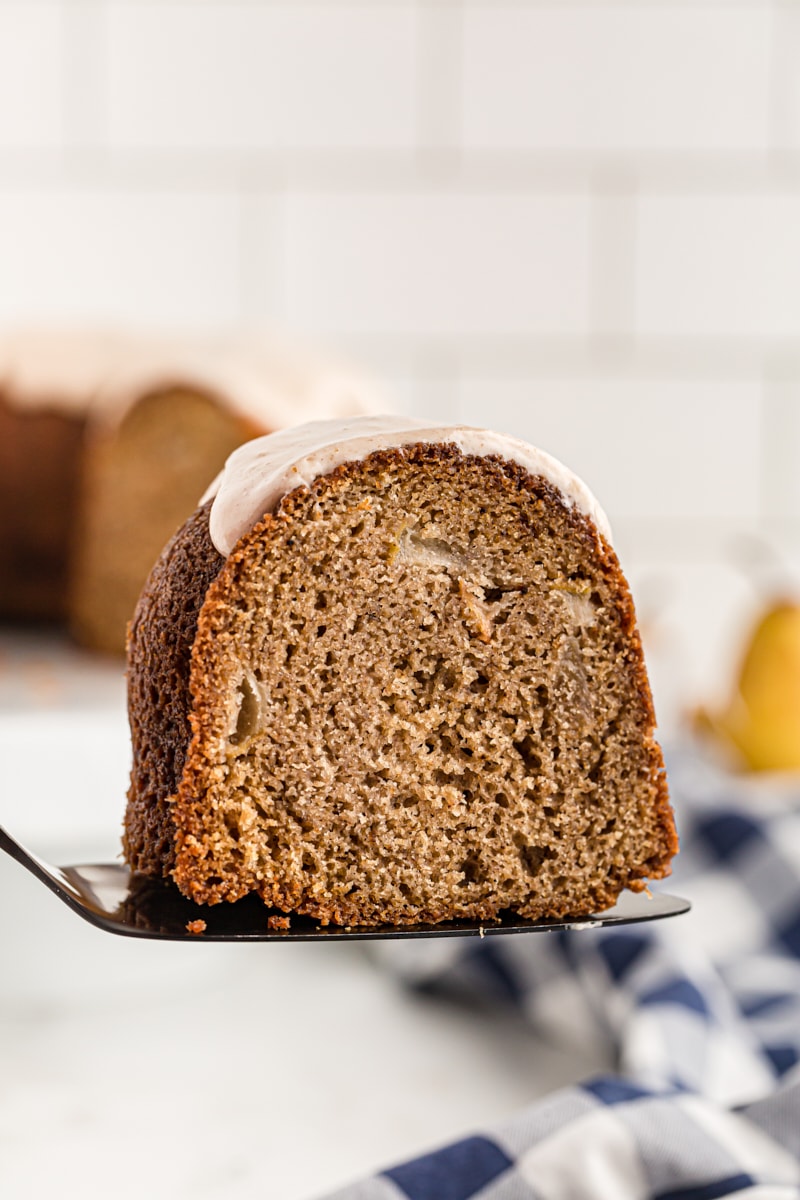 More Tasty Bundt Cake Recipes