Apple Spice Cake with Caramel Glaze is full of fall flavor. With fresh apples, warm spices, and a gooey caramel glaze, this is one irresistible cake!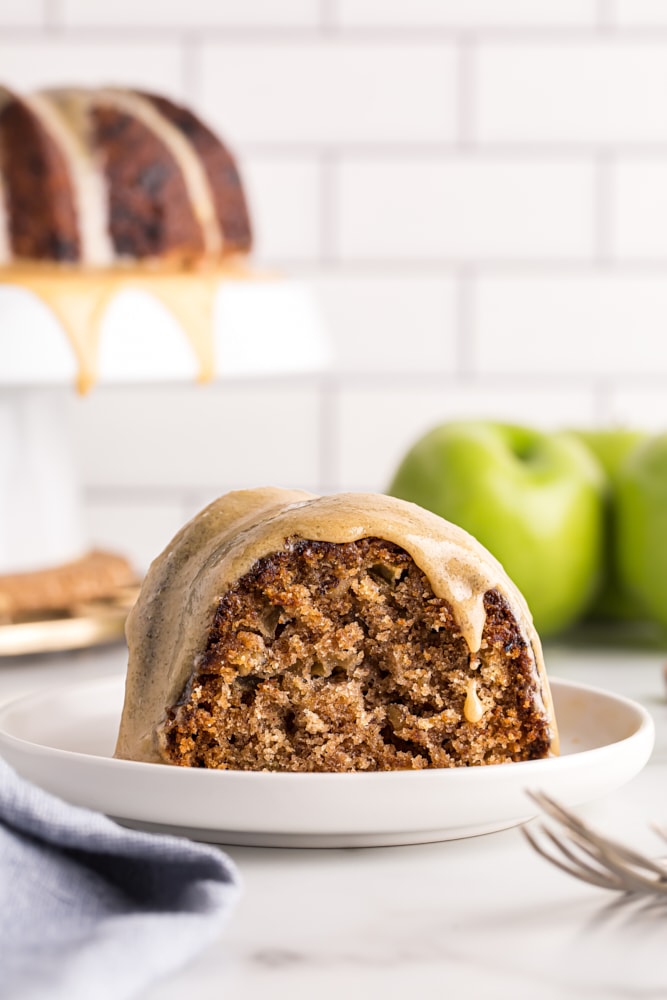 Spiced Apple Cake with Caramel Sauce
To me, few things scream, "Fall!" as much as baking with apples. Of course, what are apples without cinnamon? And just to make it even more fantastic, let's throw in a little caramel, too. Seriously, this Apple Spice Cake is fall perfectly represented in a cake.
This is just the kind of cake that's excitedly welcomed for a special fall dinner, while also being the kind of cake that makes you want to grab a small slice just to enjoy with your favorite coffee or tea.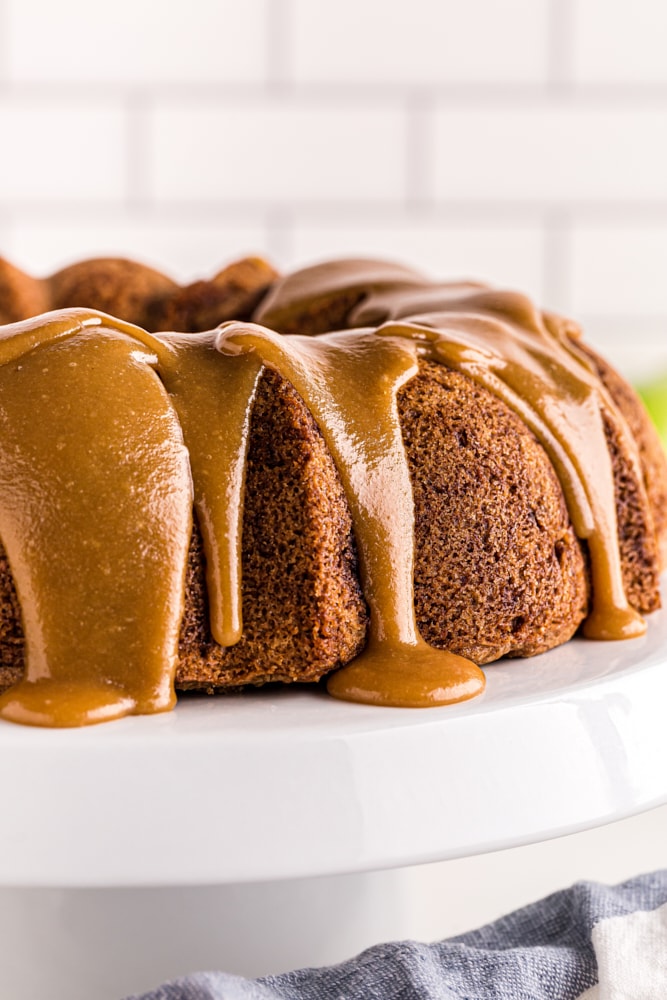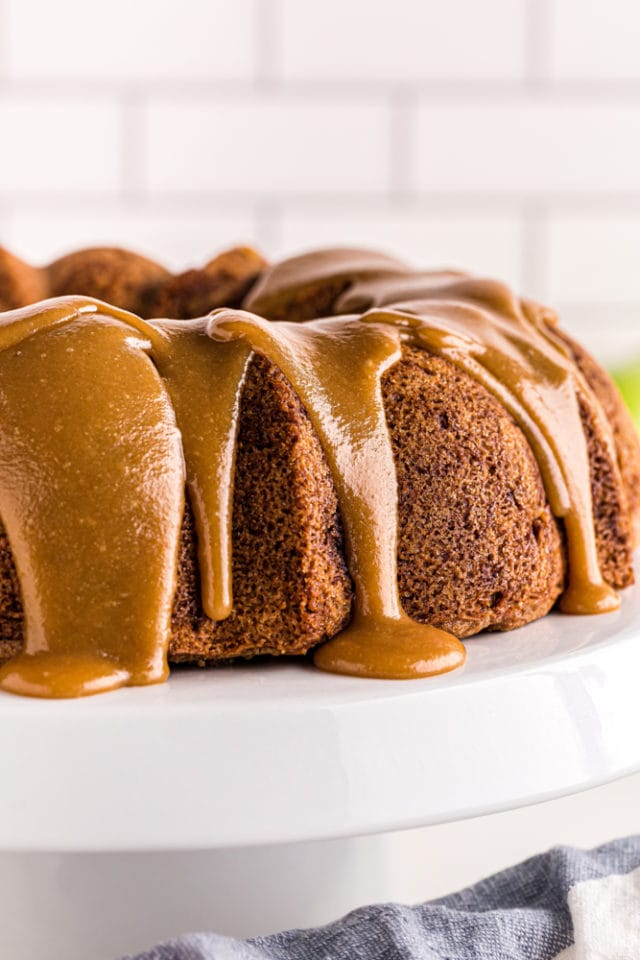 It's also perfectly delicious without the glaze if you'd like a simpler, less rich cake. Serve it warm with a scoop of ice cream and a sprinkling of chopped nuts.
This Apple Spice Bundt Cake is simple to make and a joy to eat. It's really a beautiful, tasty thing. I highly recommend you track down some apples, whip up some caramel sauce, and treat yourself to this lovely dessert that celebrates the season in a big, delicious way!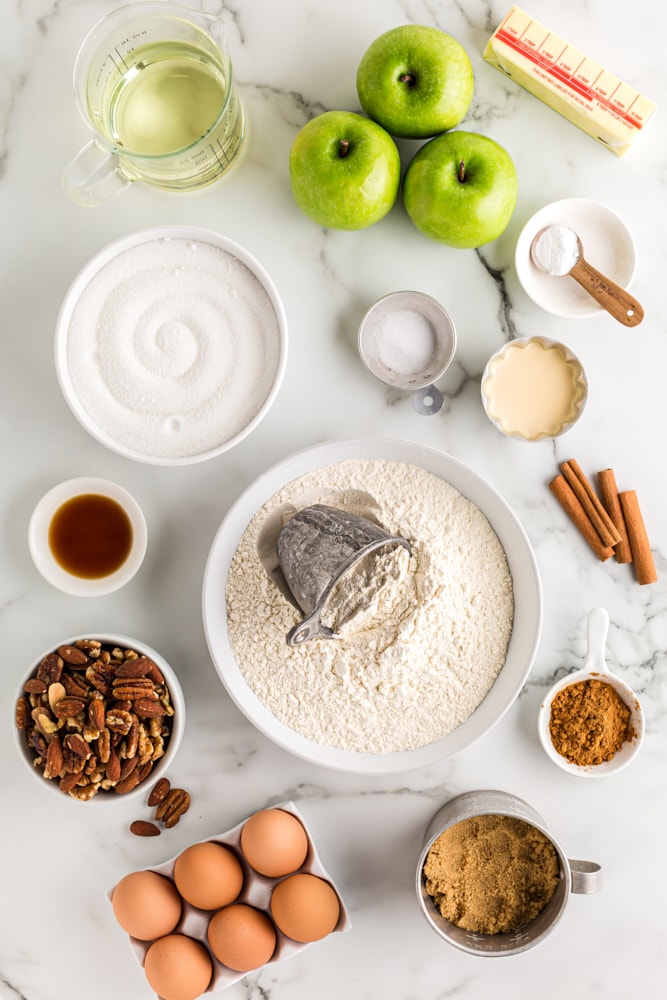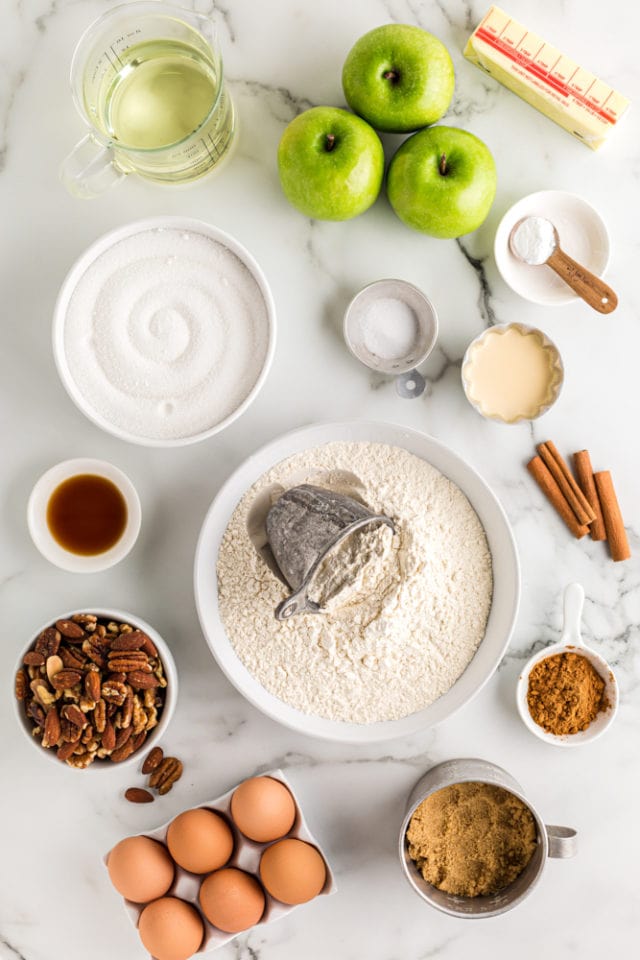 What You'll Need
Despite the long-ish list of ingredients for this Apple Spice Cake and its caramel glaze, most are basic baking ingredients. You'll just need a few extra items to create this beauty!
For the cake:
All-purpose flour: Measure by weight for best results. Otherwise, use the spoon and sweep method. Learn more: How to Measure Flour
Ground cinnamon: Use a good quality cinnamon for the best flavor.
Baking soda
Salt
Oil: I recommend canola oil or vegetable oil.
Granulated sugar
Eggs
Apples: Granny Smith apples are great in this cake, as they hold up well despite the long bake time. You can either peel them or not, whichever is your preference. For other apple options, see The Best Apples for Baking.
Nuts: Any type of nuts will work – pecans, almonds, walnuts, hazelnuts, etc. I like to use a combination of favorites.
Vanilla extract
For the caramel sauce:
Brown sugar: I like light brown sugar for this sauce, but feel free to use dark if you prefer its bolder molasses flavor.
Butter: I prefer unsalted butter in just about all of my baking, but a salted butter would be fine here if you omit the salt in the sauce recipe.
Evaporated milk: Look for evaporated milk alongside the condensed milk.
Vanilla extract
Salt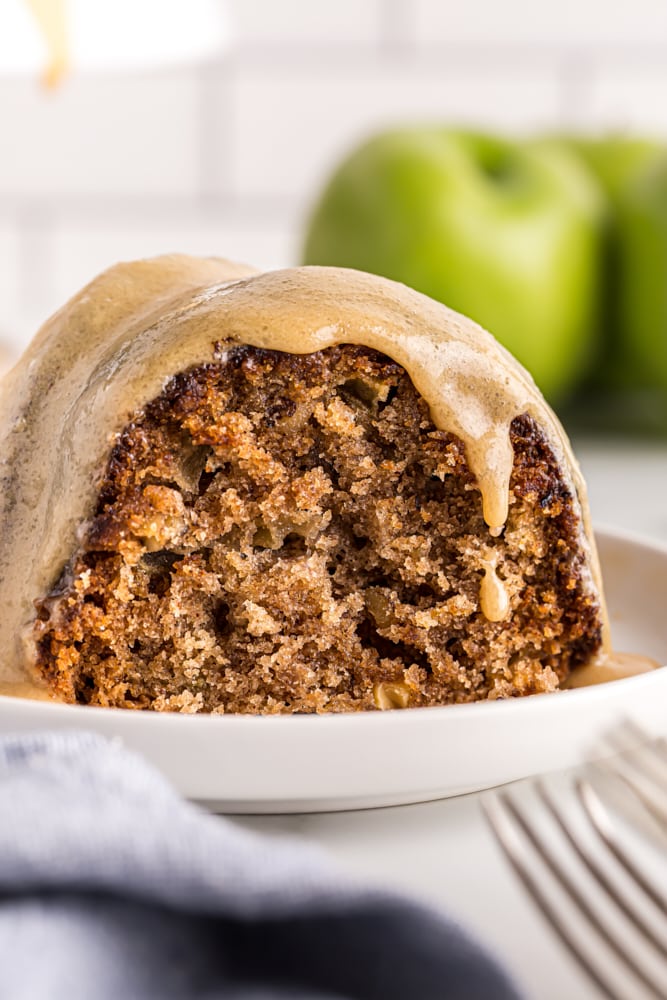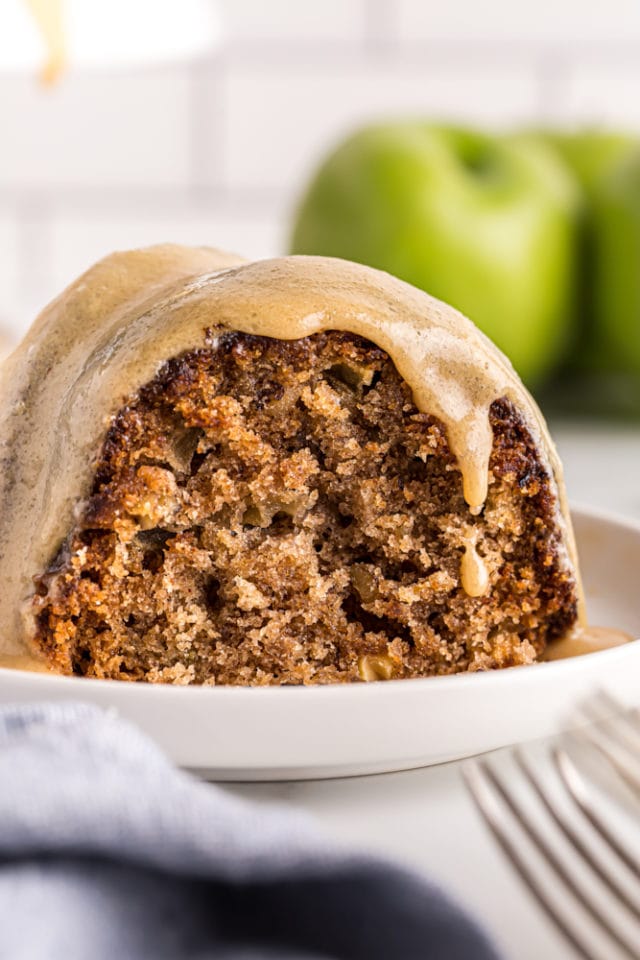 How to Make Apple Spice Bundt Cake
This cake mixes easily, and the glaze is easy but will require your undivided attention. You'll need a couple of mixing bowls, a hand or stand mixer, a heavy saucepan, and a 12-cup Bundt pan.
Prepare for baking. Heat the oven to 350°F. Grease the Bundt pan your preferred way. I highly recommend a thorough coating of a cooking spray with flour, like Baker's Joy or Pam Baking.
Combine the dry ingredients. Sift the flour, cinnamon, baking soda, and salt to ensure those ingredients are well-mixed.
Beat the wet ingredients. Use an electric mixer to mix the oil, sugar, eggs, and vanilla. Mix them until they are thoroughly combined.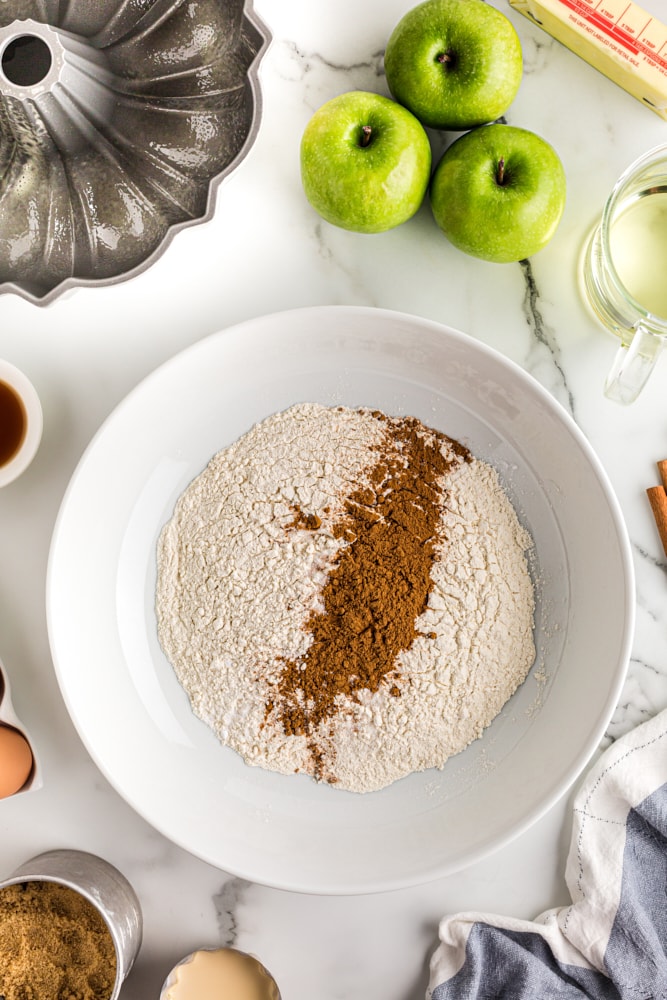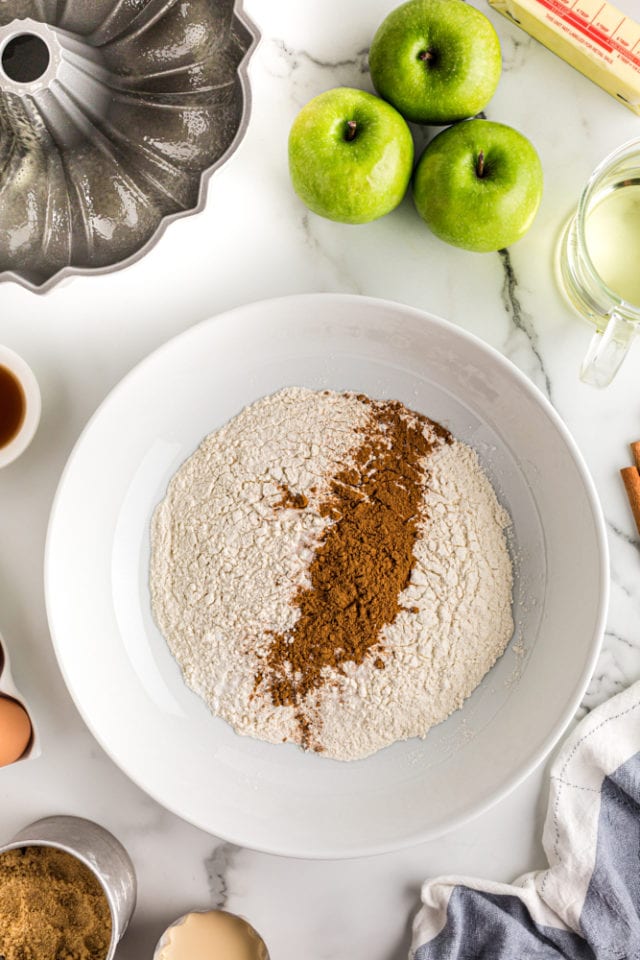 Combine the dry and wet ingredients. With the mixer speed reduced, gradually add the flour mixture. Mix just until the mixture is combined or you can still see a few streaks of flour.
Stir in the apples and nuts. Gently stir in the chopped apples and the nuts.
Bake the cake. After transferring the batter to the pan, bake the cake for 80-90 minutes. When the cake is browned and a pick inserted into the center comes out clean, it's ready to come out of the oven. Cool the cake in the pan on a wire rack for about 15 minutes. Then invert the cake onto a wire rack to finish cooling.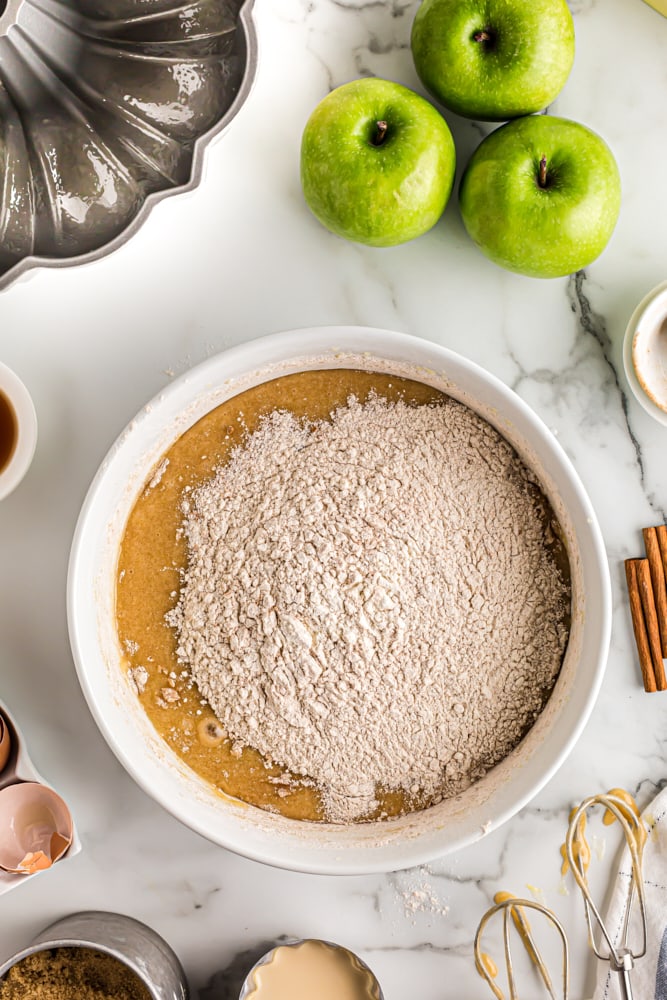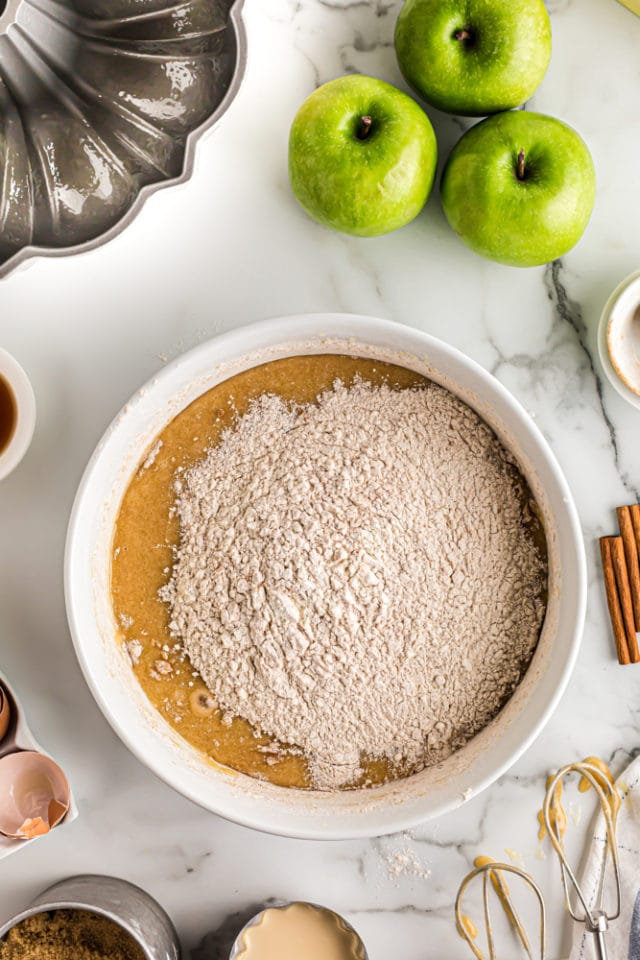 Make the glaze. Place the brown sugar, butter, evaporated milk, vanilla, and salt in a heavy saucepan. Cook over medium heat while stirring constantly. The mixture will thicken as it cooks. Keep an eye on the sauce so that it doesn't burn. When it's the thickness you'd like, remove it from the heat and pour it over the cooled cake.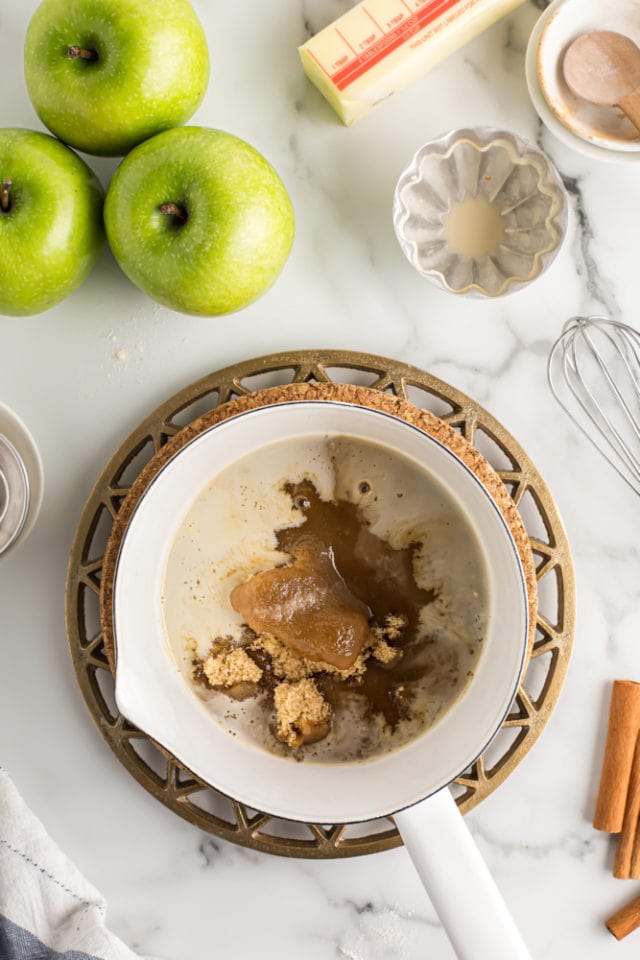 Tips for Success
Here are some of my best tips for making your Apple Spice Cake turn out perfectly!
Use a light-colored metal Bundt pan. Dark pans tend to over-bake the edges while leaving the inside under-baked. Metal pans conduct heat in a reliable way that works best in most baking recipes.
Grease the pan generously. I have the best success with a cooking spray with flour, like Baker's Joy or Pam for Baking.
Don't over-mix the batter. Too much mixing can lead to a tough cake.
Give the sauce your undivided attention. It can quickly go from perfect to over-cooked. Let go of your need to multitask, and concentrate on making that sauce!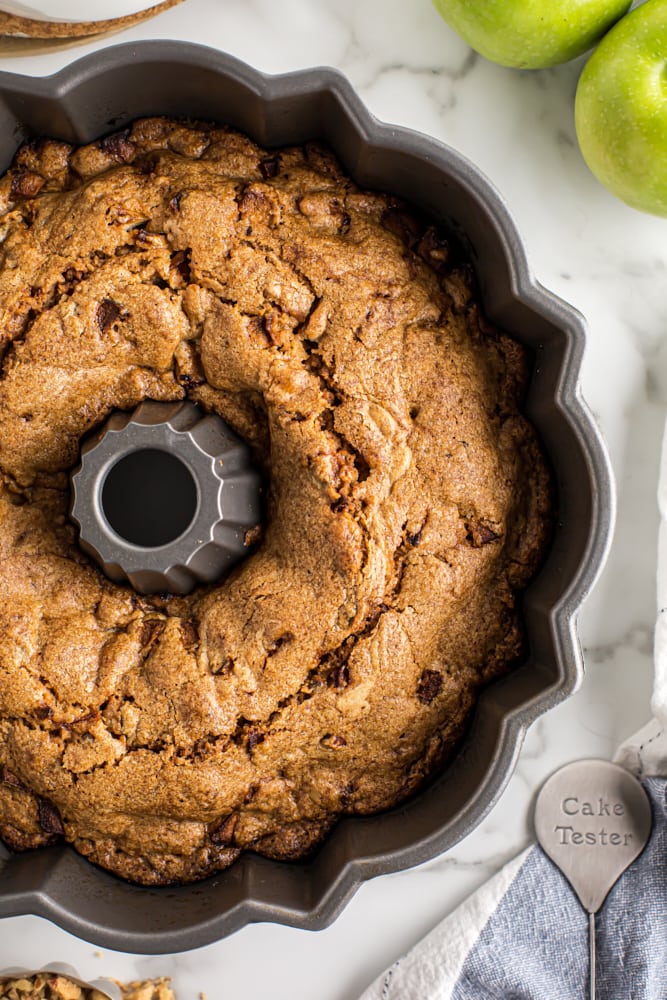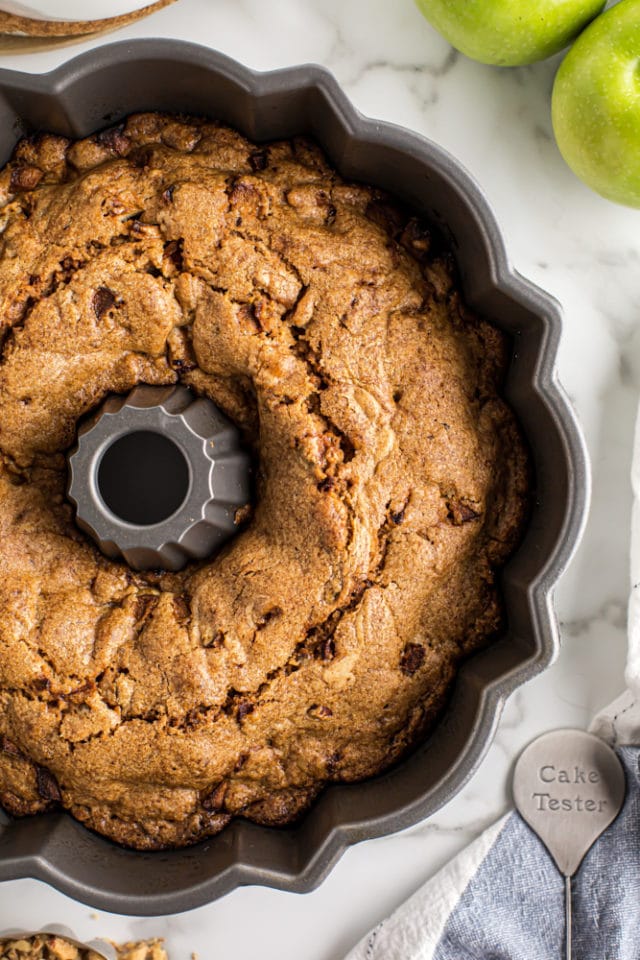 How to Store Leftovers
Tightly covered, the cake (without the glaze) should keep for up to 3 days at room temperature. Once it's glazed, store it tightly covered in the refrigerator. Set it out a couple of hours before serving time to let it come to room temperature.
How to Freeze Apple Spice Cake
I recommend freezing the cake and the glaze separately if possible. Wrap the cake well in plastic wrap and then wrap again in aluminum foil or place in a freezer bag. Place the caramel sauce (completely cooled!) in a freezer-safe container. They should each keep in the freezer for up to 3 months. Thaw overnight in the refrigerator.
If you have leftover slices of the glazed cake, you can freeze them as they are. Just keep in mind that they may not hold up as well aesthetically.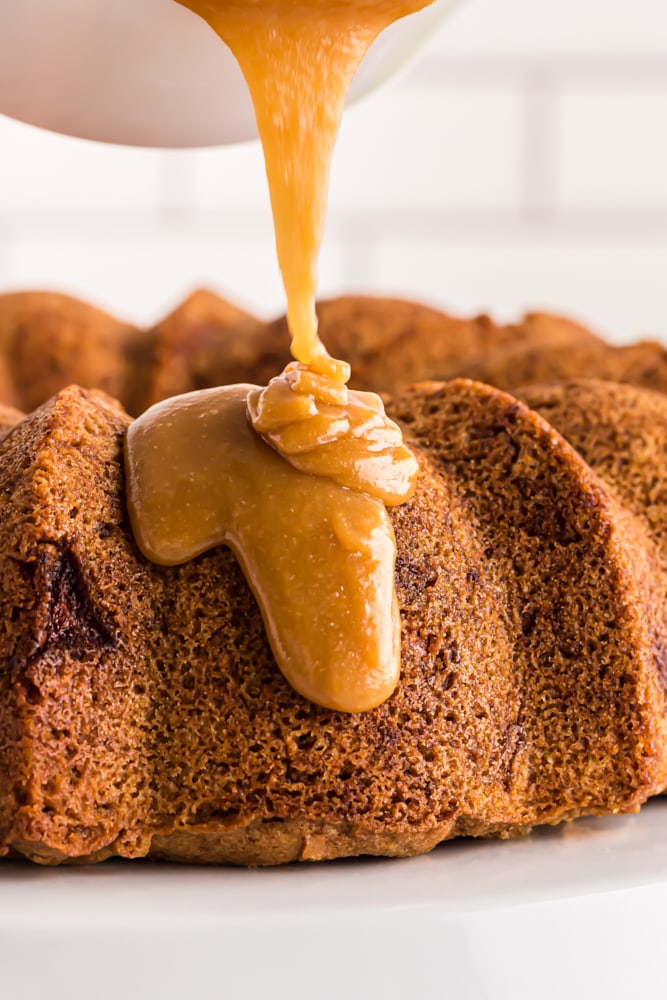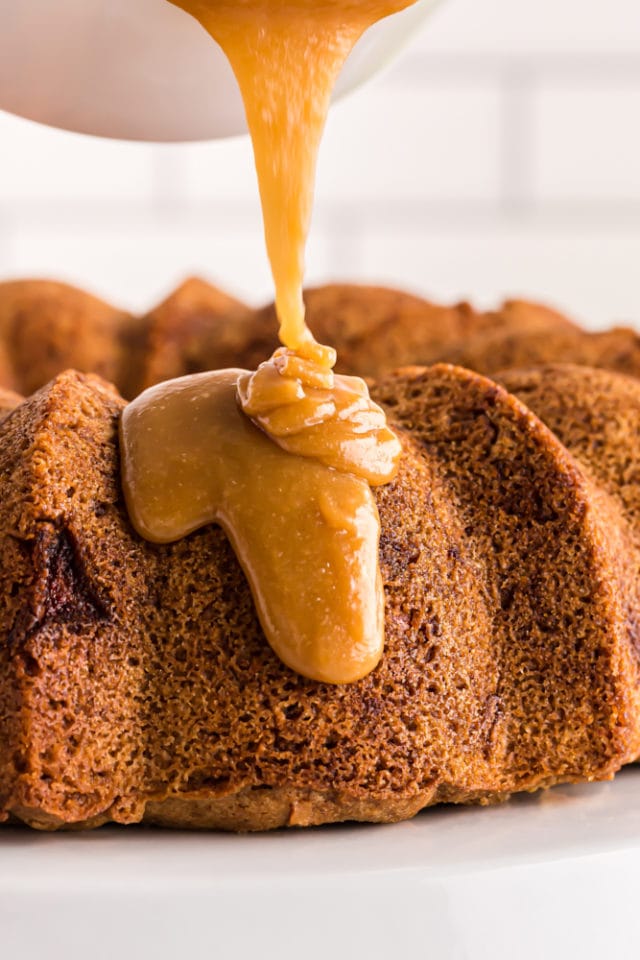 Find more cake recipes in the Recipe Index.
More Spice Cake Recipes