March 20, 2017
Yellow Bundt Cake with Dark Chocolate Ganache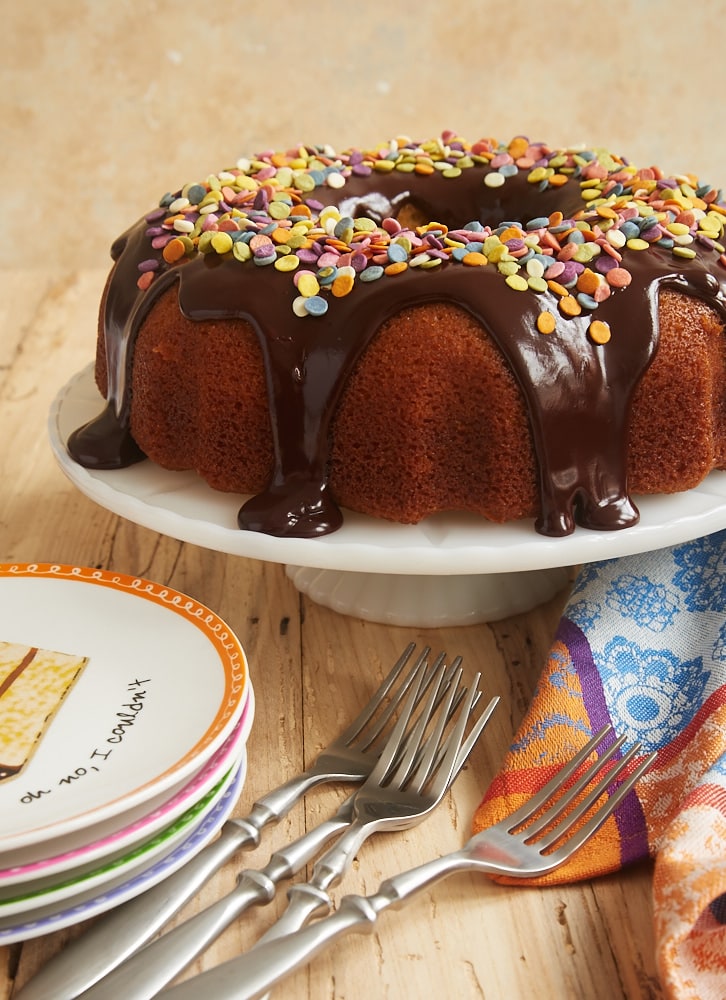 We're celebrating Quinn's birthday this week, so I have special occasion desserts on my mind. A dessert doesn't have to be complicated to be worthy of a celebration. This beautiful, happy Yellow Bundt Cake is certainly proof of that.
The cake itself is a simple yellow Bundt cake that's perfectly sweet with a wonderful texture. It's sturdy yet soft and moist. Topping it off is an embarrassingly easy dark chocolate ganache. The whole package is a combination of straightforward flavors that's sure to be a crowd pleaser.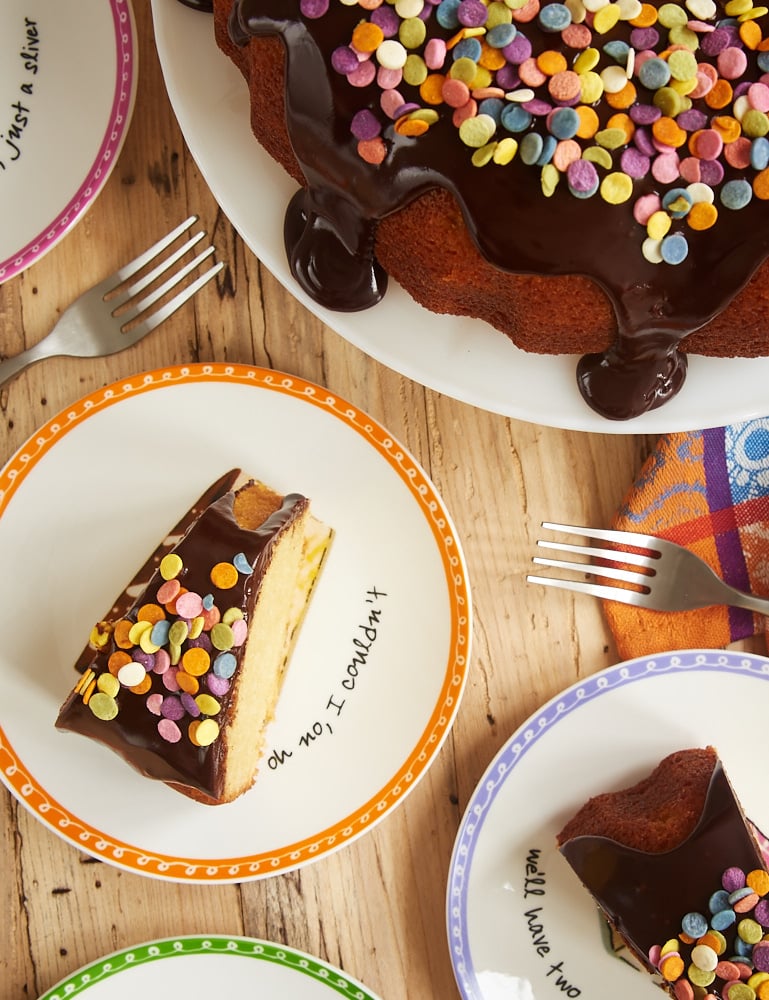 I'm not really the type of baker that makes overly decorated desserts. I think they're beautiful, but they're just not my thing. Luckily, all the accessorizing this cake needs is a generous application of sprinkles! I'm absolutely smitten with the sprinkles on this cake. I just love those colors! The fact that they're not colored with chemicals is pretty great, too.
As an alternative to sprinkles, try topping this cake with toasted nuts, coconut, toffee bits, or whatever else you like. Or leave it unadorned for a simpler presentation.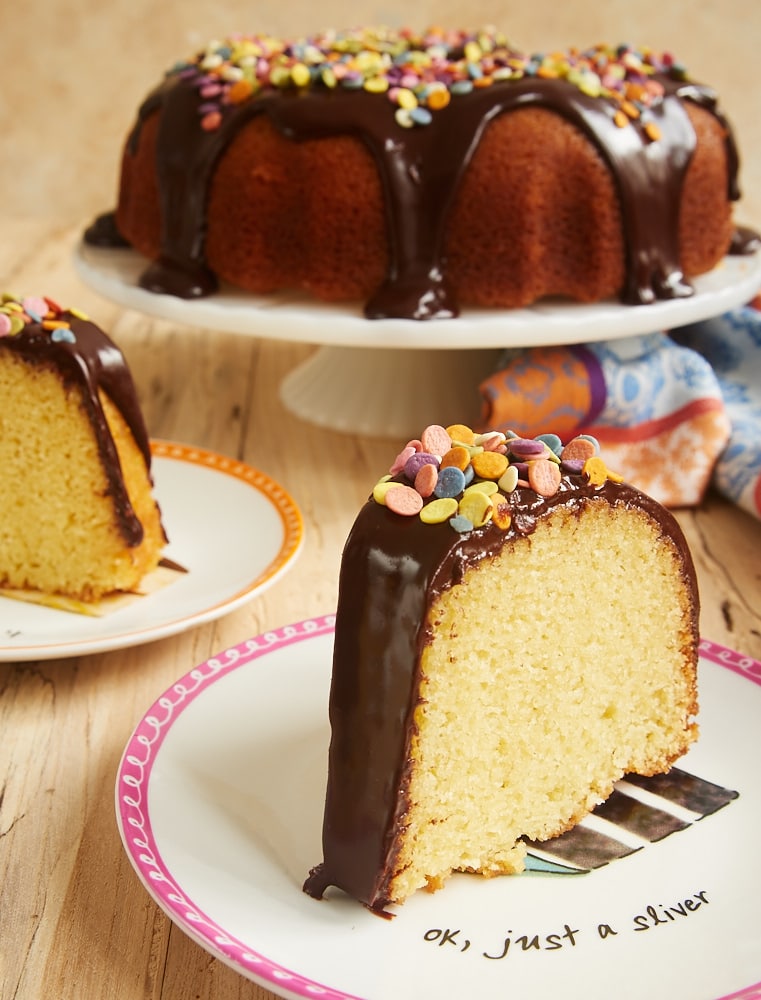 As is the usual case with ganache, this one is beyond simple to make. Just chop some chocolate, heat some cream, and combine. I like to add just a bit of corn syrup to make the ganache shiny and sturdy. If you prefer, you can omit it.
This is just the kind of cake to serve a crowd. The flavors are pretty much guaranteed to be a hit. Plus, it's such a happy cake, isn't it? It's certainly one of my go-to cakes for a simple celebration.
Find more cake recipes in the Recipe Index.
This post contains affiliate links. If you make a purchase through one of the links, I'll receive a
small commission at no additional cost to you.
Yellow Bundt Cake with Dark Chocolate Ganache
Yield: 12 to 16 servings
Prep Time: 25 minutes
Cook Time: 1 hour 5 minutes
Yellow Bundt Cake with Dark Chocolate Ganache is one of my favorite celebration cakes, thanks to its crowd-pleasing flavors and ease of preparation. Just add sprinkles!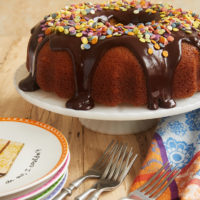 Ingredients:
For the cake:
3 cups all-purpose flour
1 teaspoon salt
1 teaspoon baking powder
1/2 teaspoon baking soda
1 cup unsalted butter, softened
2 cups granulated sugar
4 large eggs
2 teaspoons vanilla extract
1 cup milk
For the ganache:
4 ounces (about 2/3 cup) dark chocolate (about 70% cacao), roughly chopped
1 tablespoon corn syrup*
1/2 cup heavy cream
sprinkles, for garnish
Directions:
To make the cake:
Preheat oven to 350°F. Generously grease a 10- or 12-cup Bundt pan.
Whisk together the flour, salt, baking powder, and baking soda. Set aside.
Using an electric mixer on medium speed, beat the butter and sugar until light and fluffy. Add the eggs, one at a time, mixing well after each addition. Mix in the vanilla.
Reduce mixer speed to low. Add the flour in three portions, alternating with two portions of milk, mixing just until combined.
Transfer the batter to the prepared pan, and spread evenly. Bake 50 to 60 minutes, or until a pick inserted into the center comes out clean.
Cool the cake in the pan for 20 minutes. Then, flip the cake onto a serving plate to continue cooling.
To make the ganache:
Place the chopped chocolate and corn syrup in a medium bowl.
Heat the cream in a small saucepan over medium heat, stirring occasionally, just until the cream begins to bubble around the edges.
Pour the cream over the chocolate. Let stand for 5 minutes. Then whisk until smooth.
Pour the ganache over the cooled cake. Garnish with sprinkles.
Notes:
*The corn syrup will give the ganache a beautiful shine and make it a bit sturdier. You can omit it if you prefer not to use it.