This easy Apple Brown Betty pairs tender baked cinnamon apples with a sweet, spiced breadcrumb topping for a classic cozy dessert ideal for using up fresh-from-the-orchard apples. It's the perfect dessert to kick off fall baking season!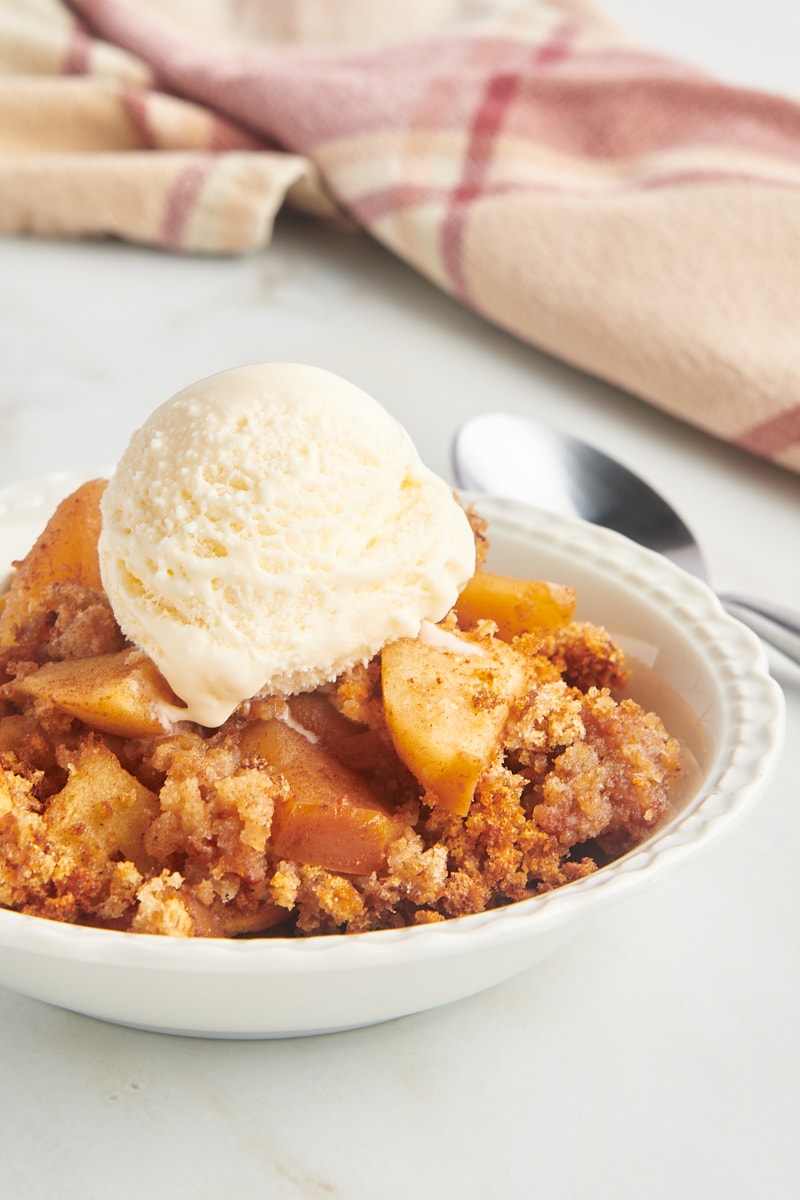 Easy Apple Dessert Recipe
If your last visit to the apple orchard left you with more apples than you bargained for—maybe opting for a bushel instead of a peck was a little overly ambitious!—you probably need some ideas for easy apple desserts. Well, it doesn't get much easier than an Apple Brown Betty!
What Is an Apple Brown Betty?
You've probably heard of an Apple Brown Betty before, but you might not know what it is exactly—and how it differs from an apple cobbler, apple crisp, or apple crumble.
An Apple Brown Betty is a classic, old-fashioned American dessert made by layering sliced apples with a sweet, spiced breadcrumb mixture. It's baked until the apples are completely tender and the topping is golden brown and crispy.
This is different from a cobbler in that the topping for an Apple Brown Betty is made of breadcrumbs rather than a batter. An apple crisp or crumble, on the other hand, has a topping made from oats or flour mixed with butter and sugar.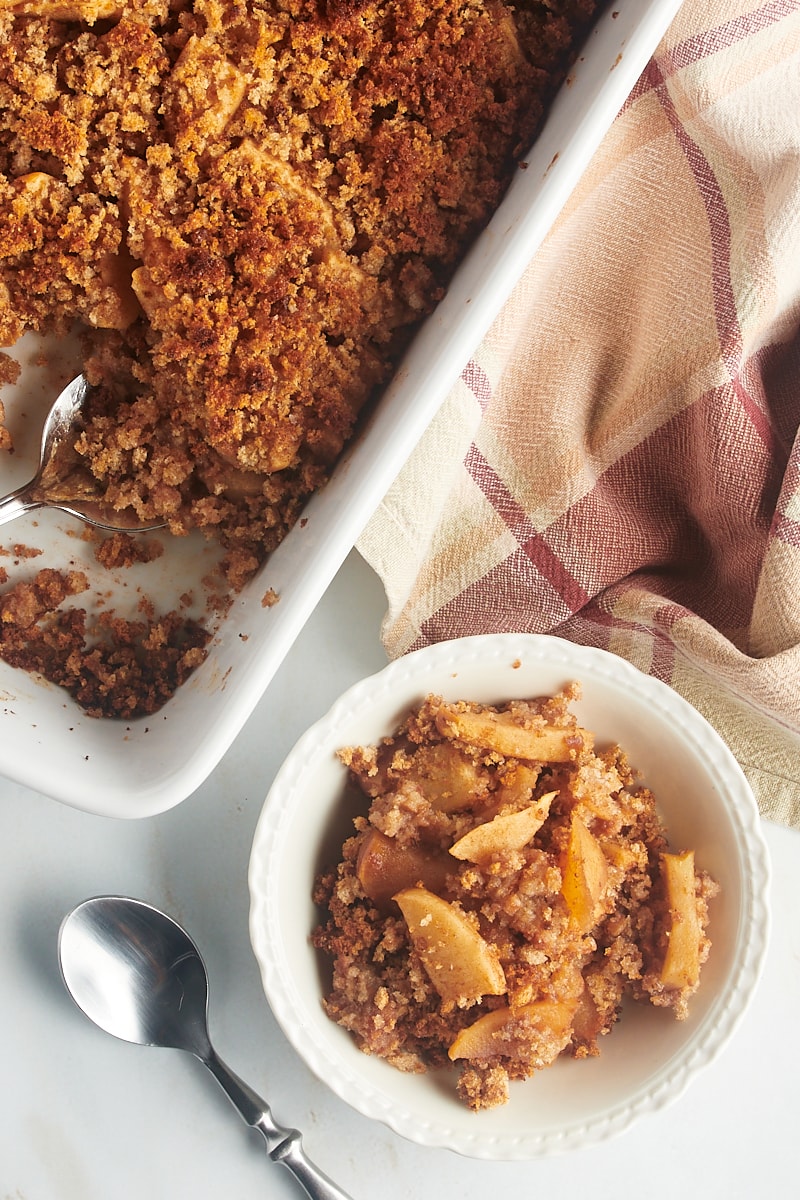 Why You'll Love This Apple Brown Betty Recipe
Here's what makes this a must-bake recipe for fall:
Simple and rustic. Not every dessert needs to involve cake layers and elaborate piping! An Apple Brown Betty is a classic dessert that's easy to put together for those days when you're in the mood for a sweet treat, but don't want to put in a lot of effort.
Showcase your apples. The best part of an Apple Brown Betty is the tender baked apples. This is a recipe where apples are truly the star!
Customizable. There's a lot of room to make this recipe your own, both in the ingredients you use and how you serve it.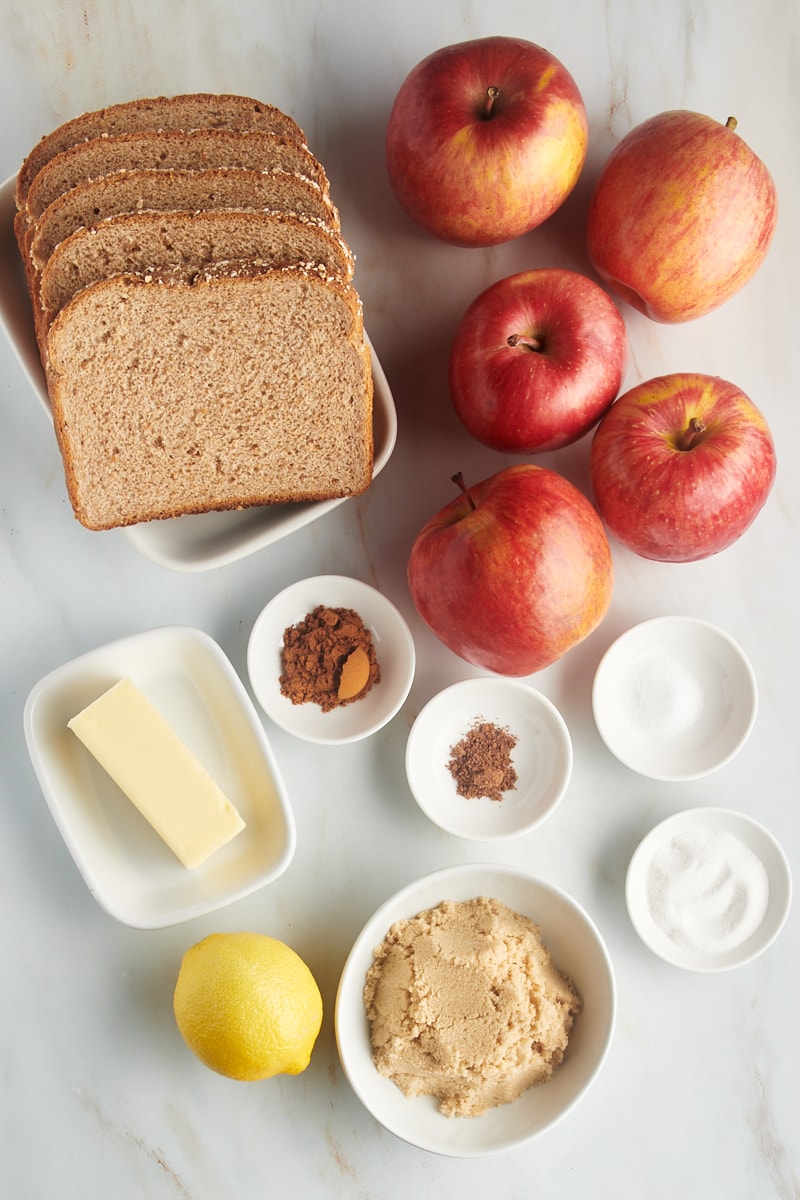 What You'll Need
Scroll down to the recipe card to find the ingredient quantities and recipe instructions.
For the topping:
Wheat bread or country bread – You'll be making your own coarse breadcrumbs, so a rustic bakery-style loaf is best.
Unsalted butter – Learn more: Unsalted or Salted Butter: Which is Better for Baking?
Granulated sugar
Ground cinnamon
Ground nutmeg – I always recommend grating your own nutmeg if possible; it really adds a special touch to your baking! That said, a jar of ground nutmeg is just fine, too.
For the filling:
What Are the Best Apples for Making a Brown Betty?
Your go-to baking apples are also excellent choices for an Apple Brown Betty. I like to use a combination of tart Granny Smith apples and then some sweet-tart varieties like Honeycrisp, Pink Lady, or Braeburn. All of these varieties stand up well to baking—they won't go mushy on you!—and using a combination will give you a nicely balanced flavor.
How to Make an Apple Brown Betty
This might just be the easiest apple dessert you'll ever make! Here's what you need to do.
Make the topping: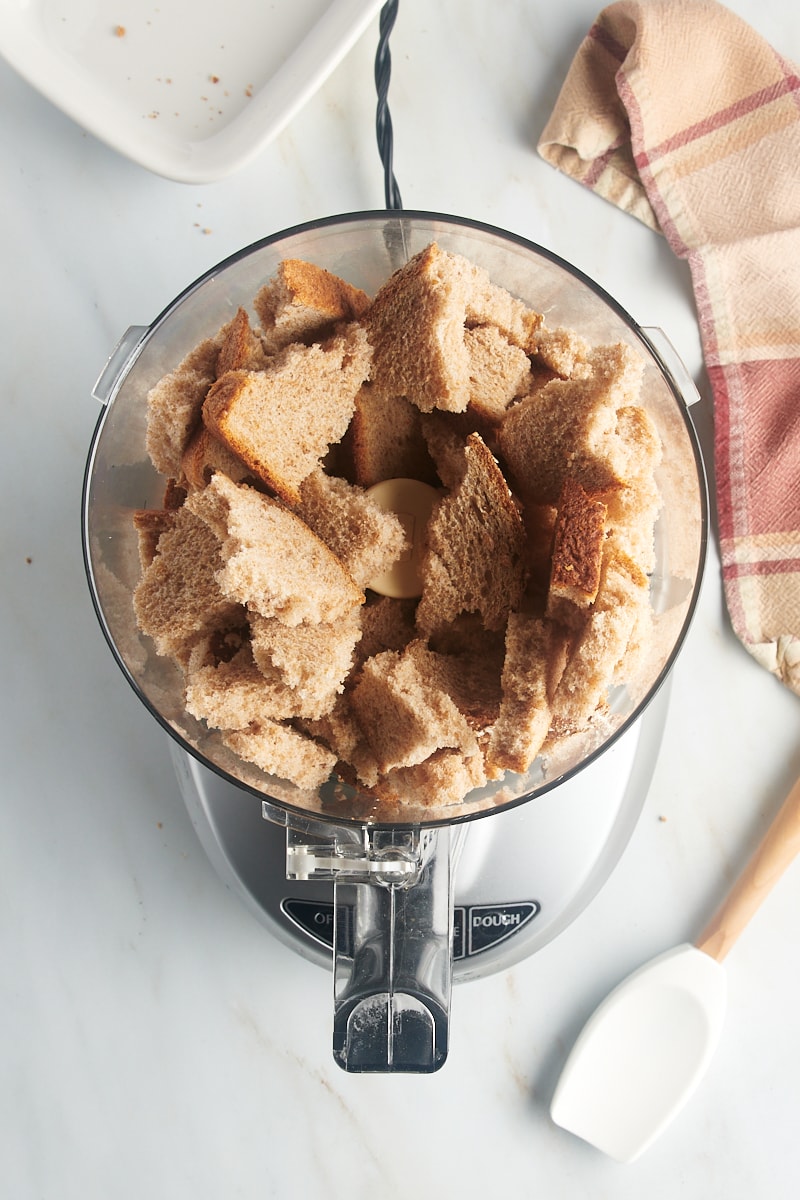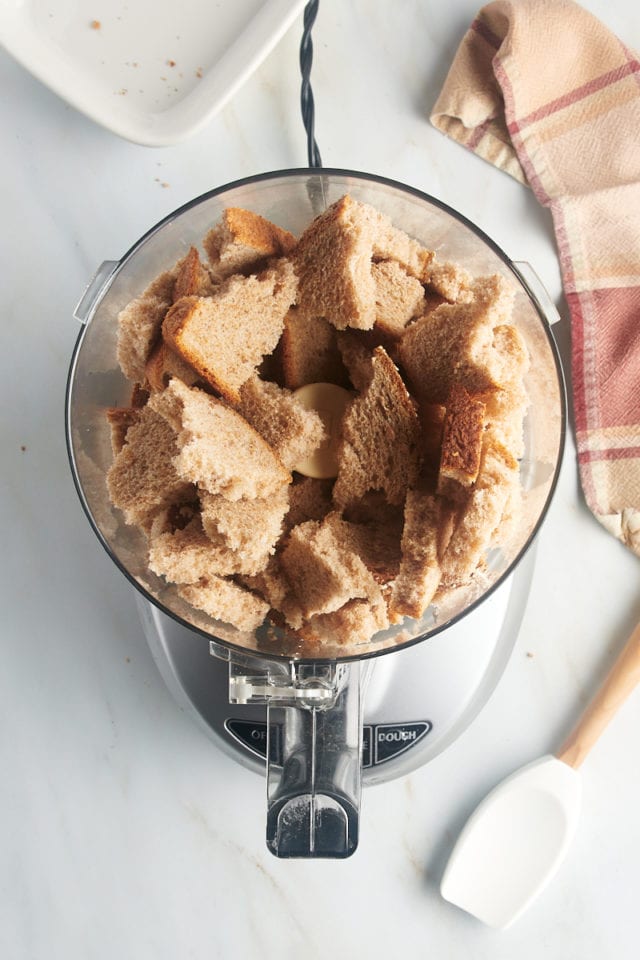 Prepare. Preheat your oven to 375°F and line a sheet pan with parchment paper or aluminum foil.
Make the breadcrumbs. Tear the bread into pieces and place them in your food processor. Pulse until coarse crumbs form.
Toast the crumbs. Spread the breadcrumbs onto the prepared pan and bake for 5 minutes, or until toasted.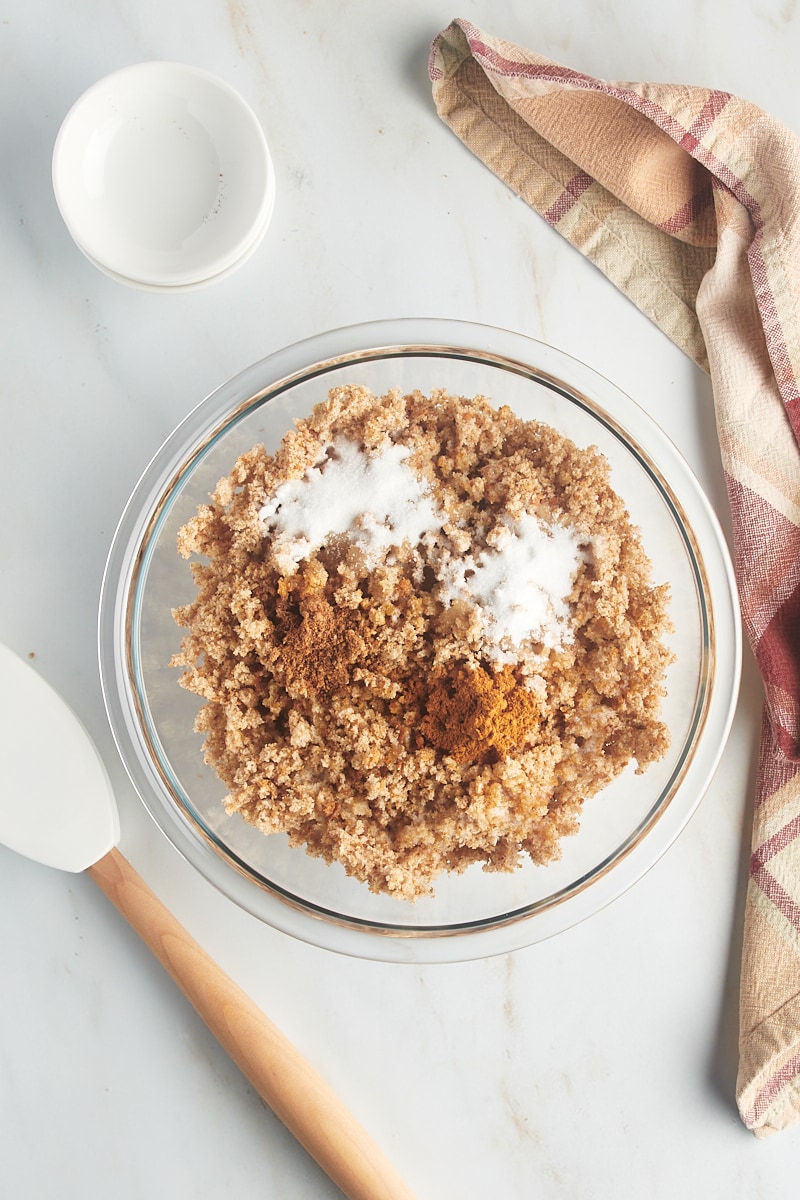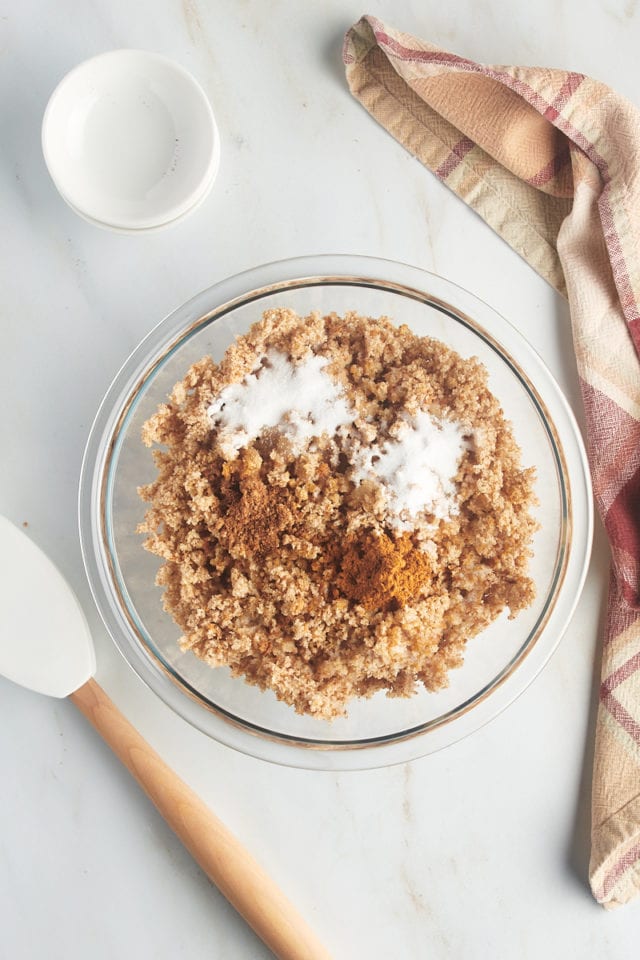 Finish the topping mixture. Place the toasted breadcrumbs in a bowl and stir in the melted butter, sugar, cinnamon, and nutmeg.
Make the filling and assemble: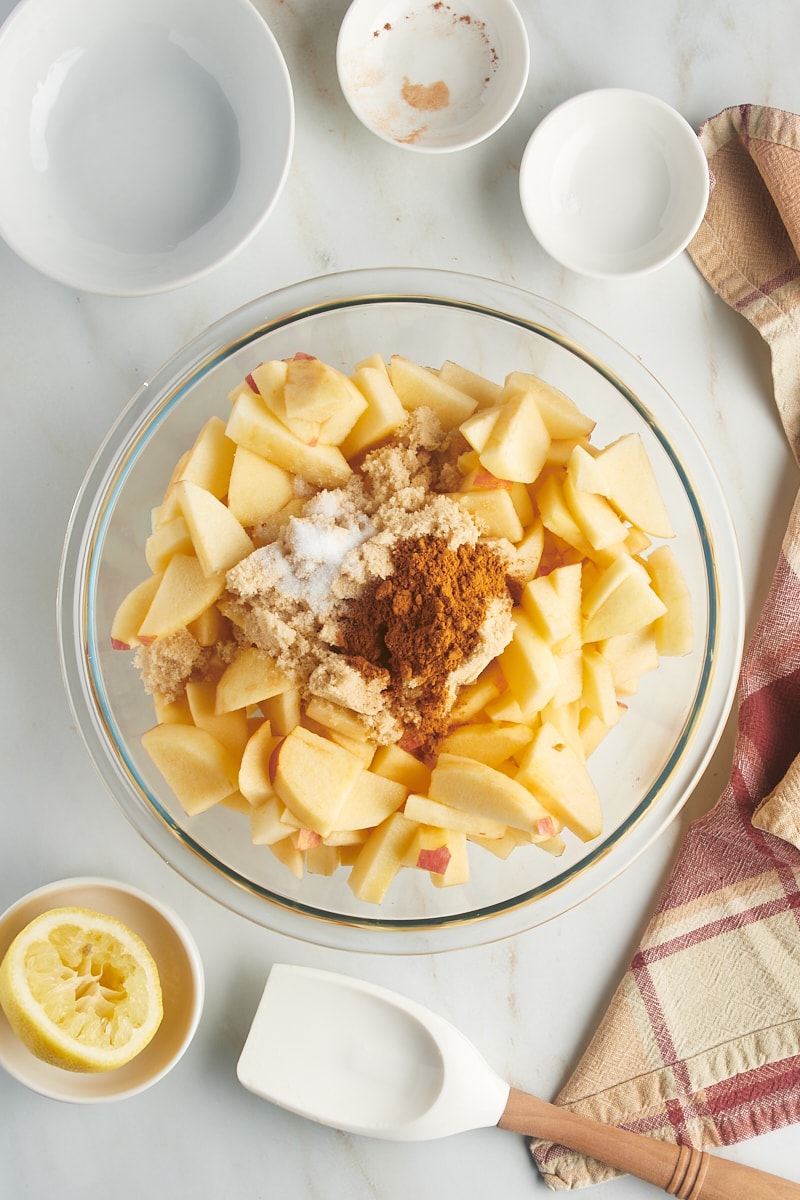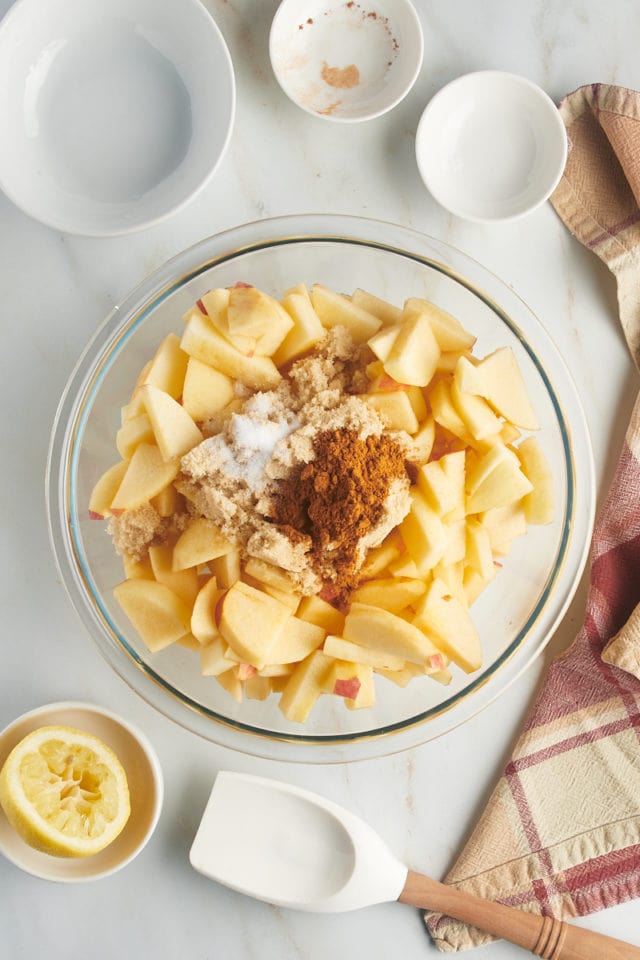 Coat the apples. Toss the apples with the lemon juice, then stir in the brown sugar, cinnamon, and salt.
Assemble. Spread half of the apple mixture into the bottom of a baking pan. Top with half of the breadcrumb mixture and repeat the layers.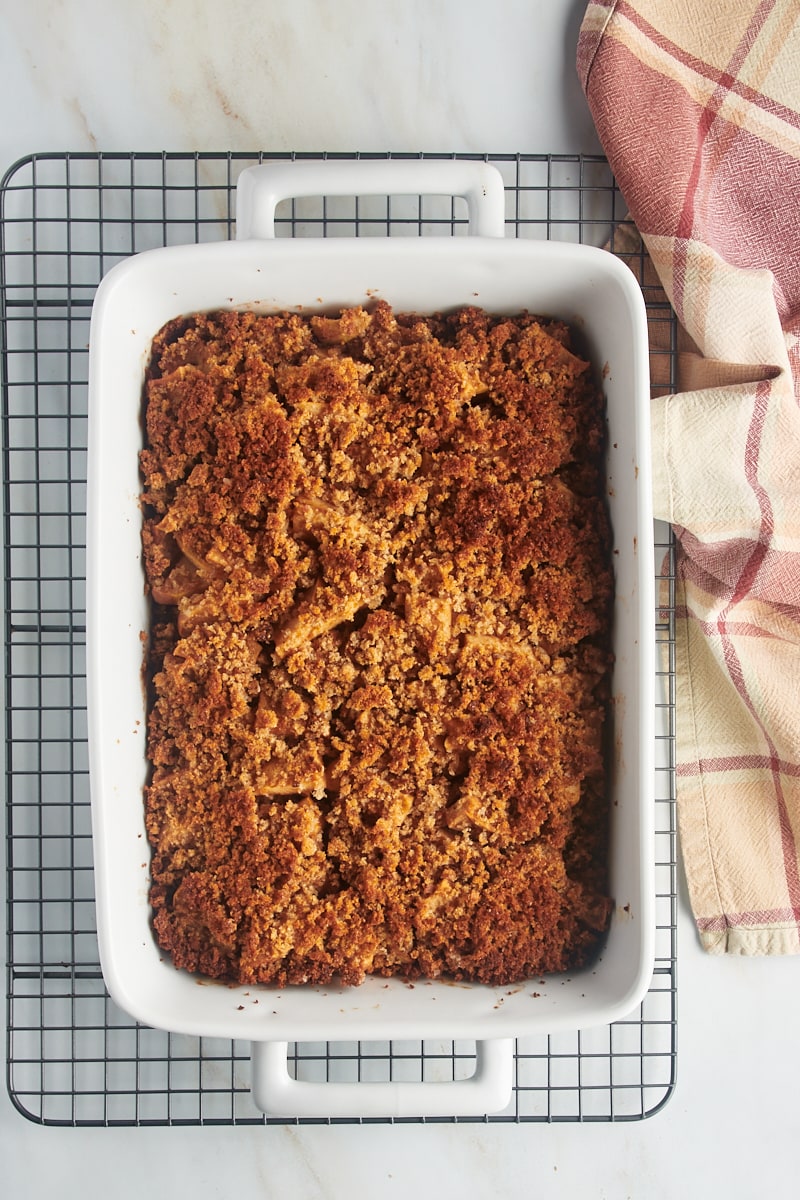 Bake. Cover the pan with foil and bake for 40 minutes. Remove the foil, and bake for 10 to 15 minutes more, or until the topping is browned and the apples are tender.
Tips for Success
Read over my baking tips for beginners, then follow these additional pointers for a perfect Apple Brown Betty.
Don't use store-bought breadcrumbs. They pale in comparison to homemade breadcrumbs in both flavor and texture.
Keep a close eye on the Brown Betty as it bakes. You don't want the breadcrumb topping to burn; if it starts to look like it's getting too dark, cover with foil and continue baking.
Use the best apples you can find. Unfortunately, baking with subpar apples doesn't make them taste any better—it just gives you a subpar dessert! Always choose apples that are firm, unbruised, and delicious.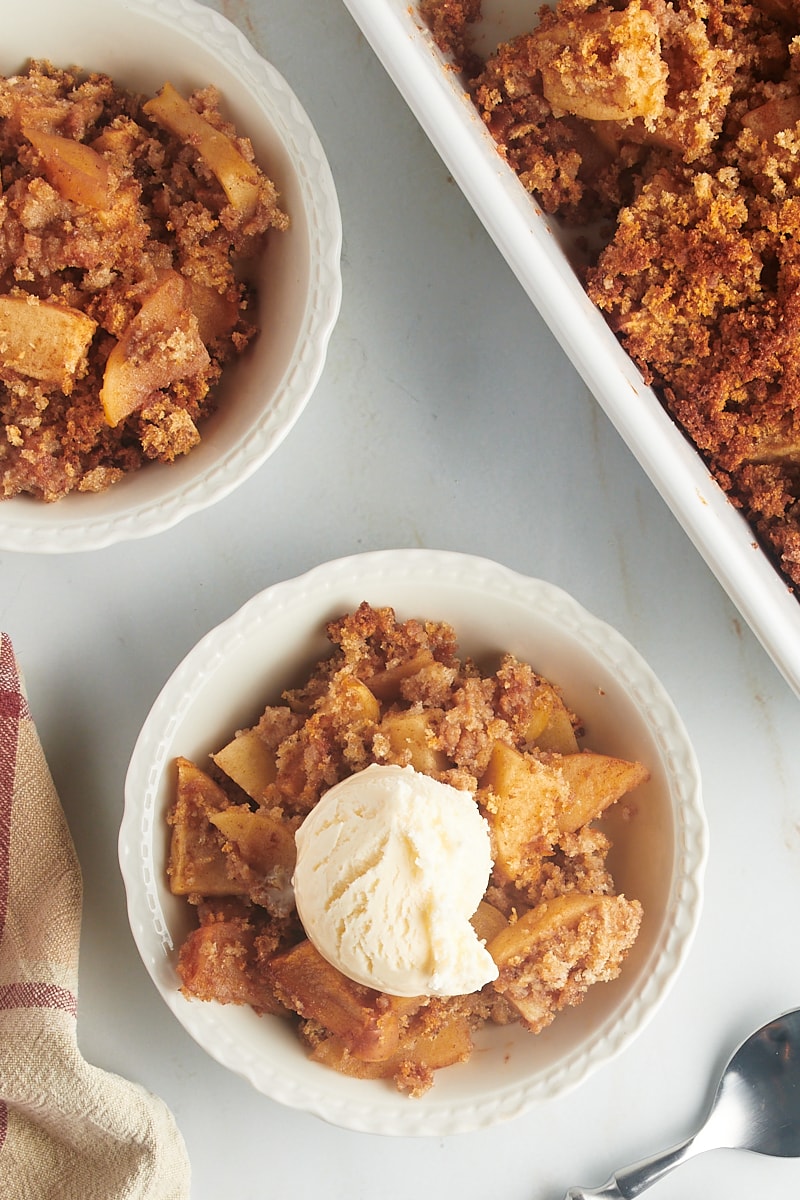 Variations
There are many ways to put your own spin on this recipe. Try using a combination of firm pears and apples for something different, or switch up the spices in the topping—cardamom is lovely with apples, or try apple pie spice. You can also add some chopped walnuts or pecans to the topping for extra crunch.
Serving Suggestions
You certainly can't go wrong with a dollop of homemade whipped cream or a scoop of vanilla ice cream melting over a warm serving of Apple Brown Betty. For some extra decadence, scatter candied pecans over the top before serving, or add a generous drizzle of caramel sauce.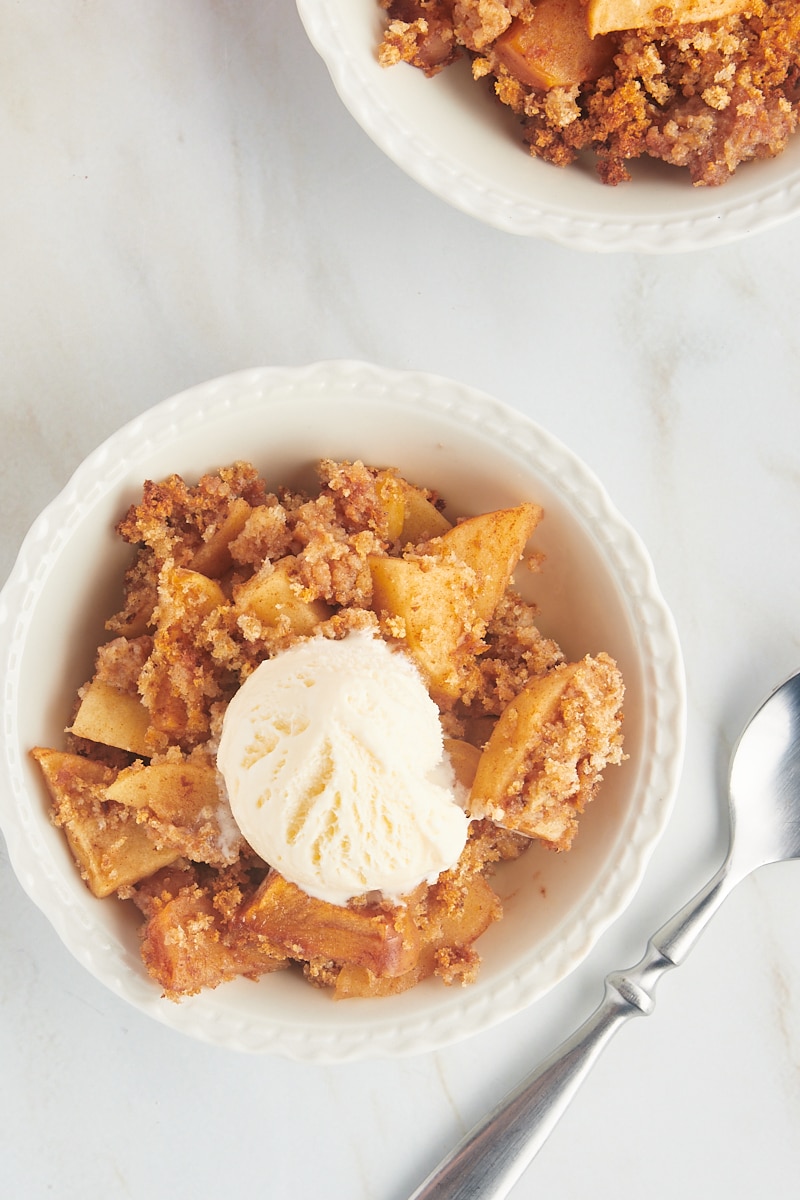 How to Store Leftovers
Apple Brown Betty can be stored in the refrigerator for up to 3 days. Reheat it in a 350ºF oven or the microwave before serving. The topping won't have that same crispness as freshly made, but it will still taste good.
Can I Freeze This Recipe?
Yes, you can freeze this recipe for up to 3 months. Wrap the pan tightly with plastic wrap or foil (or store individual portions in an airtight container), then freeze until needed. Thaw the Apple Brown Betty overnight in the refrigerator before reheating it according to the instructions above.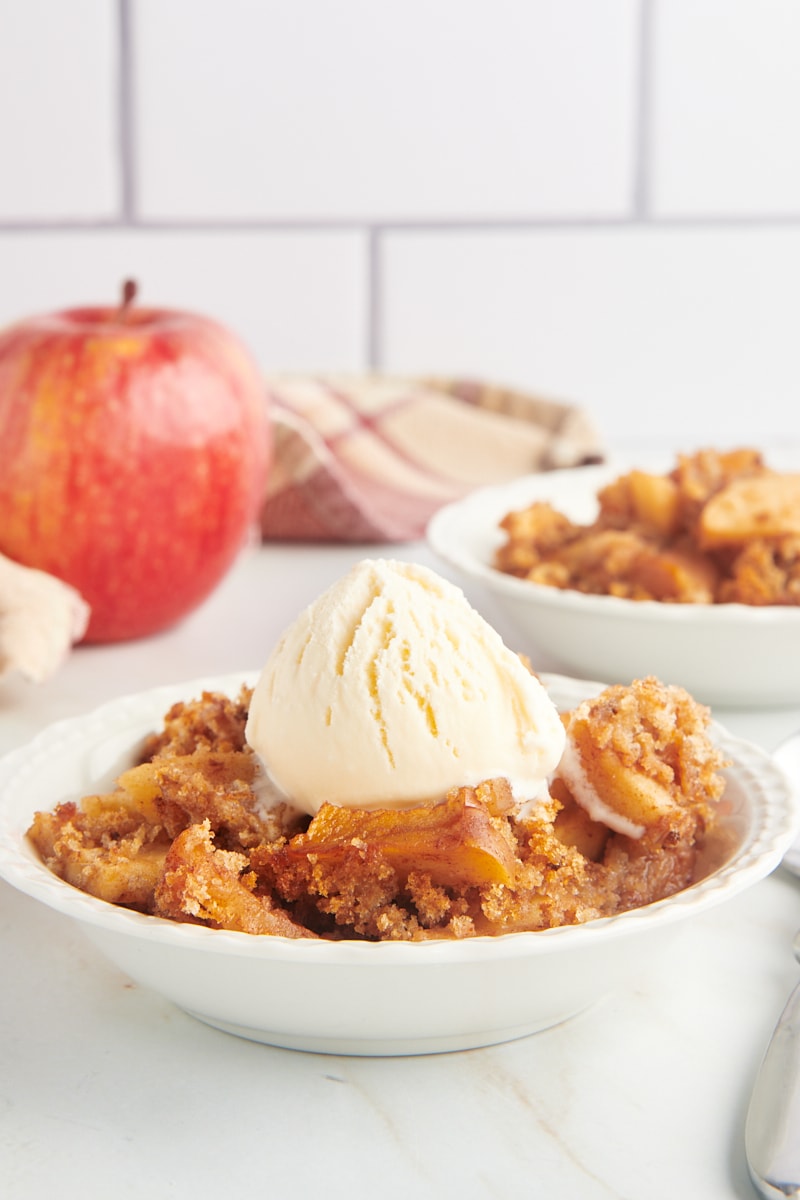 More Apple Dessert Ideas