There's big brown sugar flavor in this Brown Sugar Apple Cobbler, with the apples cooked in brown sugar and topped with brown sugar biscuits.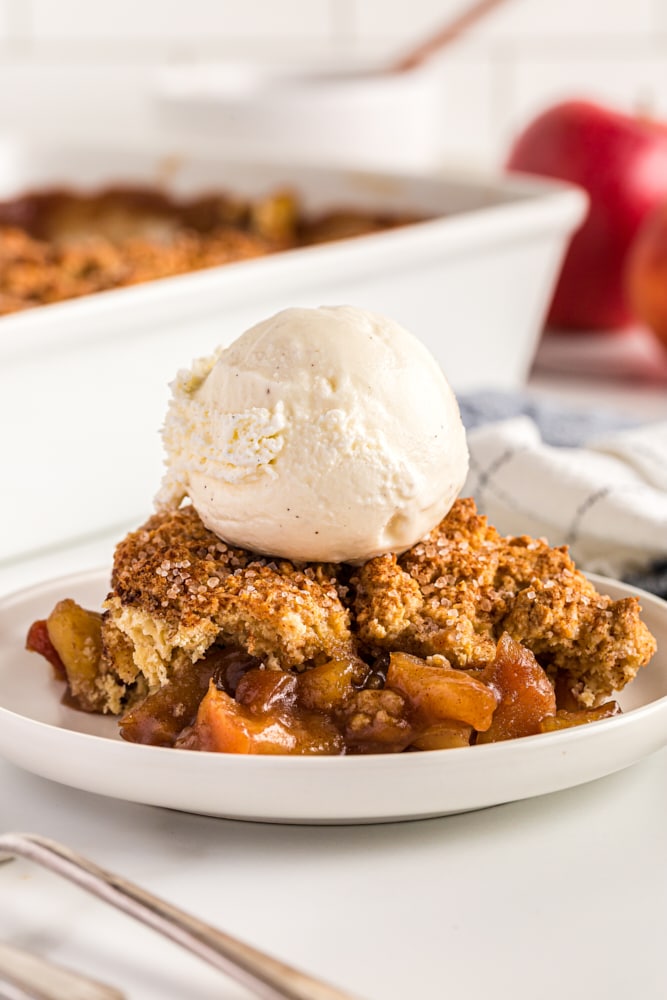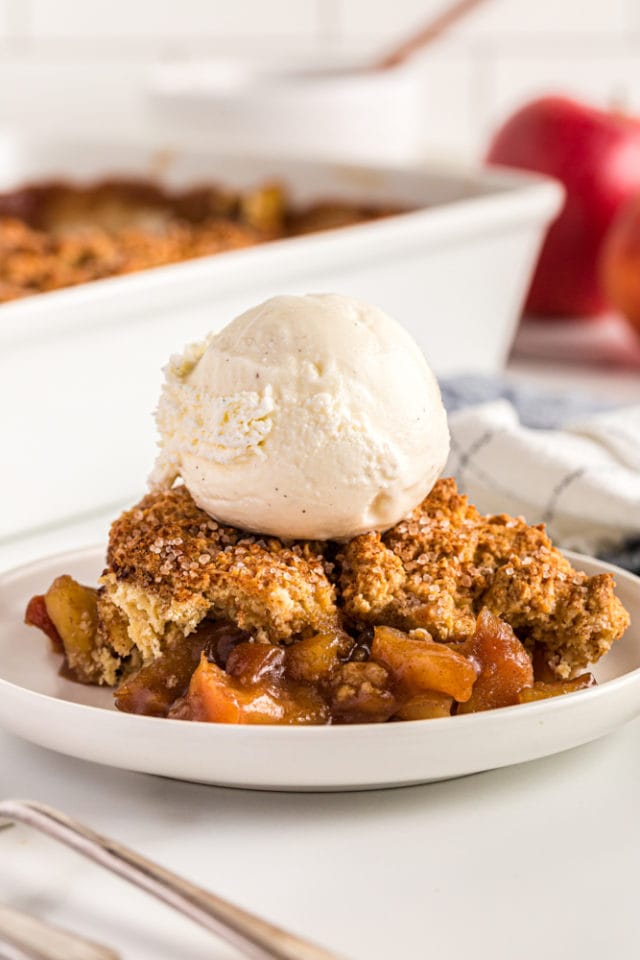 Brown Sugar Apple Cobbler
My mother used to tease me about "rushing the season" when I so desperately wanted to wear fall clothes when a new school year started. Never mind that late August in Mississippi felt nothing remotely close to fall. I just wanted to wear sweaters!
When it comes to fall baking, I tend to do the same thing. I just can't wait to dive into fall flavors! And I must say that this Brown Sugar Apple Cobbler is a good reason to do a little fall baking any time you get a hankering.
This Brown Sugar Apple Cobbler has such big brown sugar flavor in both the apple filling and the biscuit topping. The apples are first cooked briefly in brown sugar for a caramel-like flavor. Then it's topped with brown sugar biscuits and baked to bubbly perfection. It's so gooey and sweet and cinnamon-y and absolutely irresistible!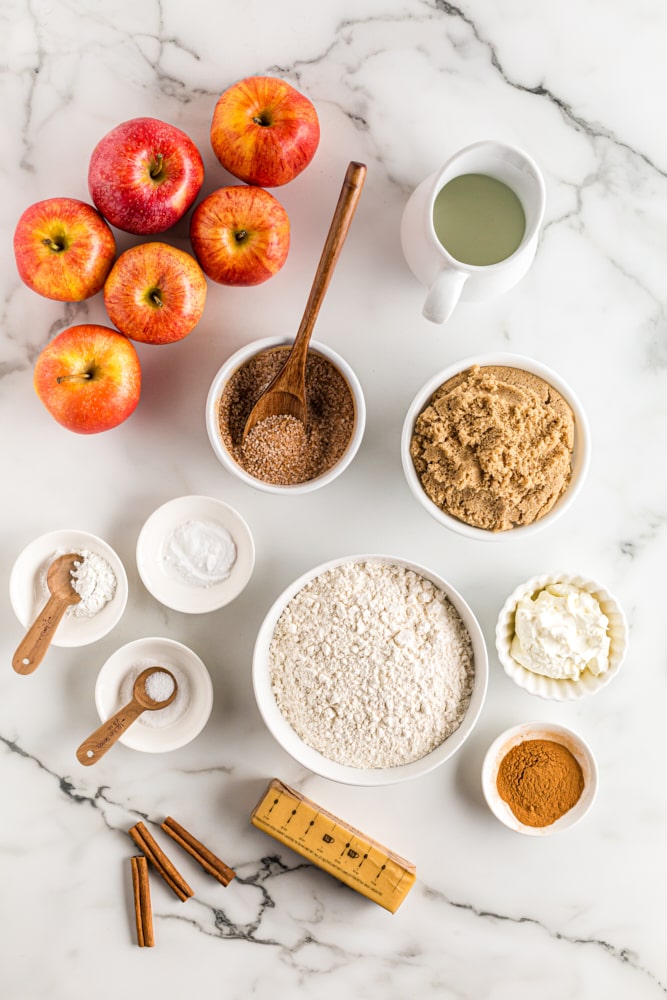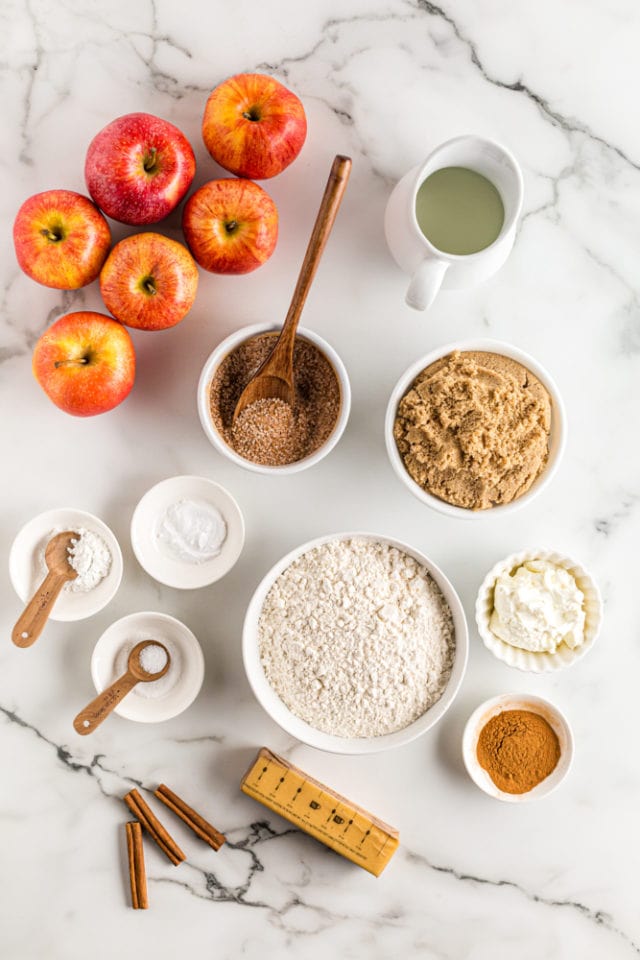 What You'll Need
The ingredients for this Brown Sugar Apple Cobbler are simple and straightforward. You're likely to have most of them already on-hand!
For the filling:
Butter – I always bake with unsalted butter.
Apples – You'll need about 6 apples for this big-batch cobbler. I most often use Gala or Pink Lady, but you can find more options in my Best Apples for Baking.
Brown sugar – I prefer light brown sugar in this recipe. Dark brown sugar will work, but it may be a bit overpowering.
All-purpose flour – This will help to thicken the filling.
Ground cinnamon – If that jar in your pantry has been there a while, it's time for a new one, as cinnamon will lose its flavor over time.
For the topping:
All-purpose flour – Measure by weight or spoon and sweep.
Brown sugar – I prefer light brown sugar in this recipe.
Baking powder
Baking soda
Salt
Butter – The butter needs to be cold for making the biscuit topping.
Milk – I recommend whole or 2% milk.
Sour cream – Full-fat sour cream works best.
Cinnamon-sugar – Use a store-bought cinnamon-sugar, or make your own with a 4:1 ratio of sugar to cinnamon. (You can use granulated or coarse sugar.) Use as much as you'd like. I aim for a light covering of the topping. Learn more: How to Make Cinnamon Sugar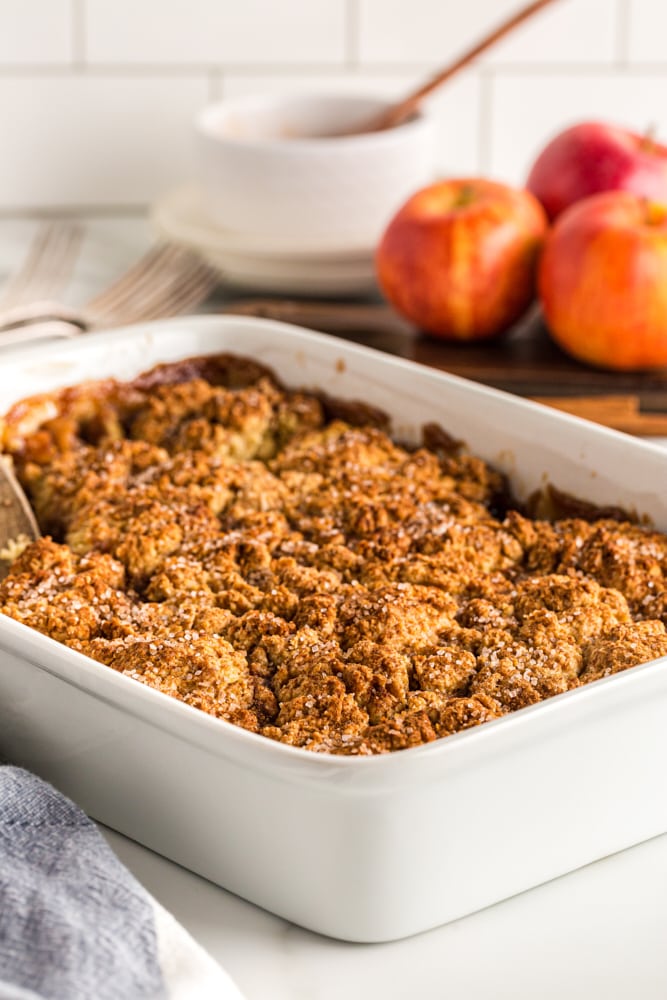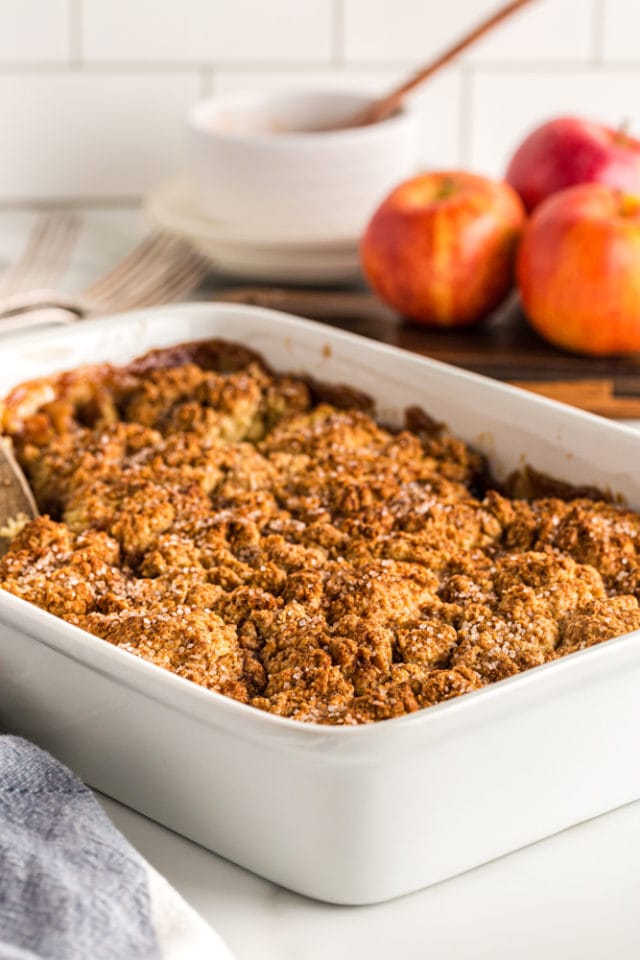 How to Make Brown Sugar Apple Cobbler
You'll be making a simple filling as well as a biscuit topping for this cobbler. You'll need a large skillet, a couple of mixing bowls, and a 3-quart baking dish.
Prepare for baking. Gather all the ingredients and a 3-quart baking dish. Heat the oven to 400°F now or wait until after you've made the filling.
Make the filling
Melt the butter. Place the butter in a large skillet and let it melt over medium heat while you mix the apple mixture.
Combine the apple mixture. Stir together the apples, brown sugar, flour, and cinnamon until everything is combined and the apples are coated.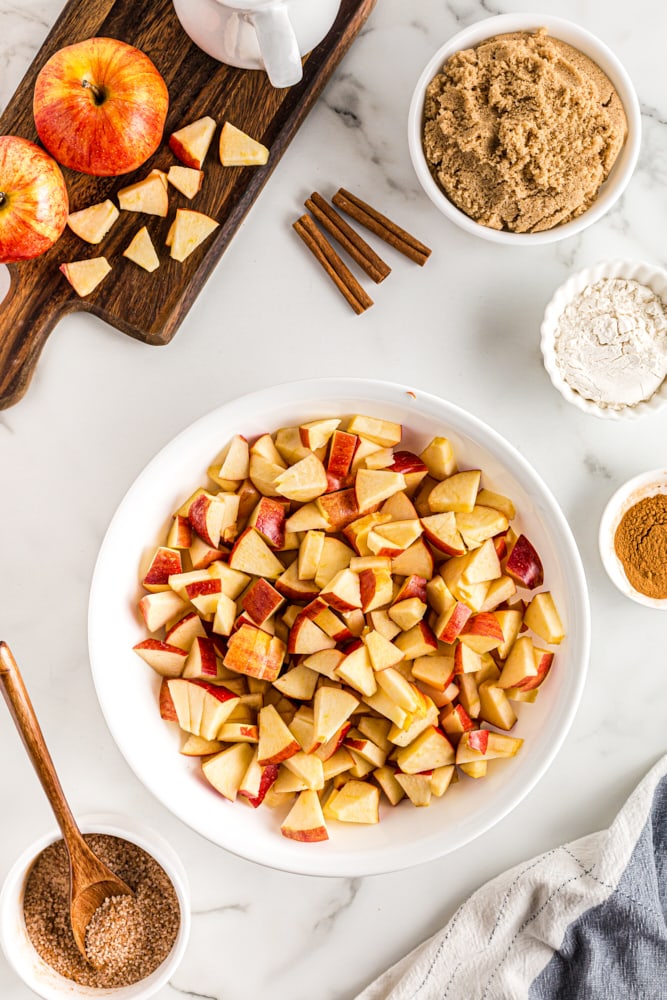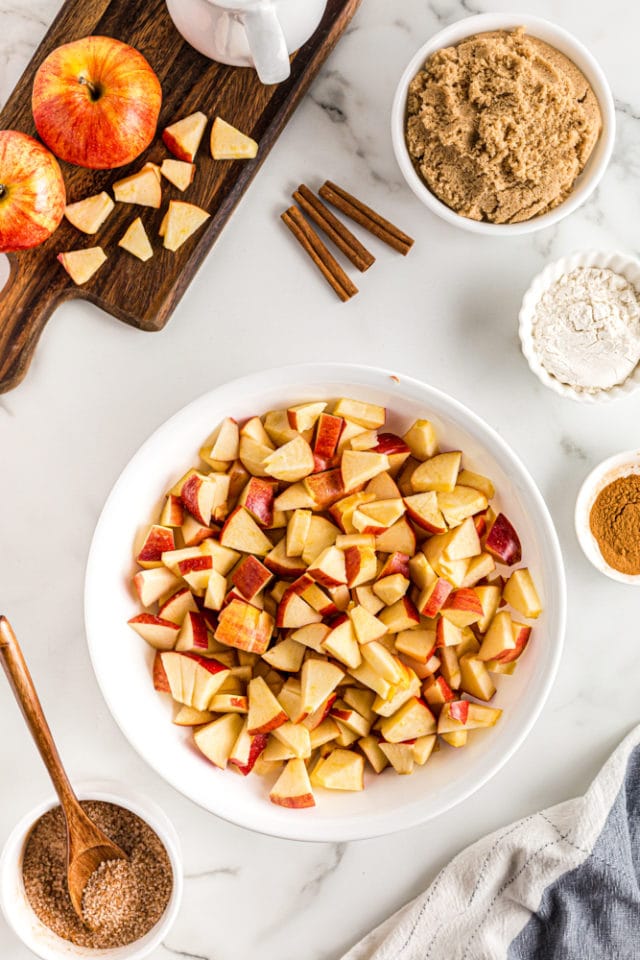 Cook the apple mixture. Add the apples to the melted butter. Cook and stir over medium heat until the mixture thickens. This should take about 10 minutes. Transfer the mixture to the baking dish.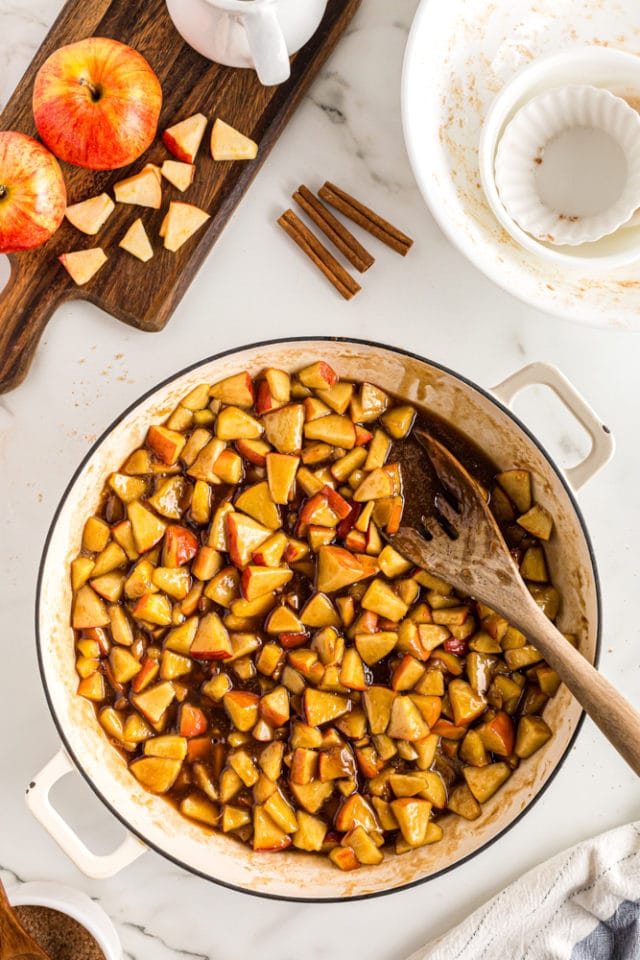 Make the topping
Combine the dry ingredients. Mix together the flour, brown sugar, baking powder, baking soda, and salt.
Mix in the butter. Add the cold butter and mix with either a pastry blender or a fork. Once mixed, the largest pieces of butter should be about the size of small peas.
Add the wet ingredients. Stir in the milk and sour cream. Use your hands if necessary to get the dough thoroughly mixed without over-mixing. The dough will be sticky.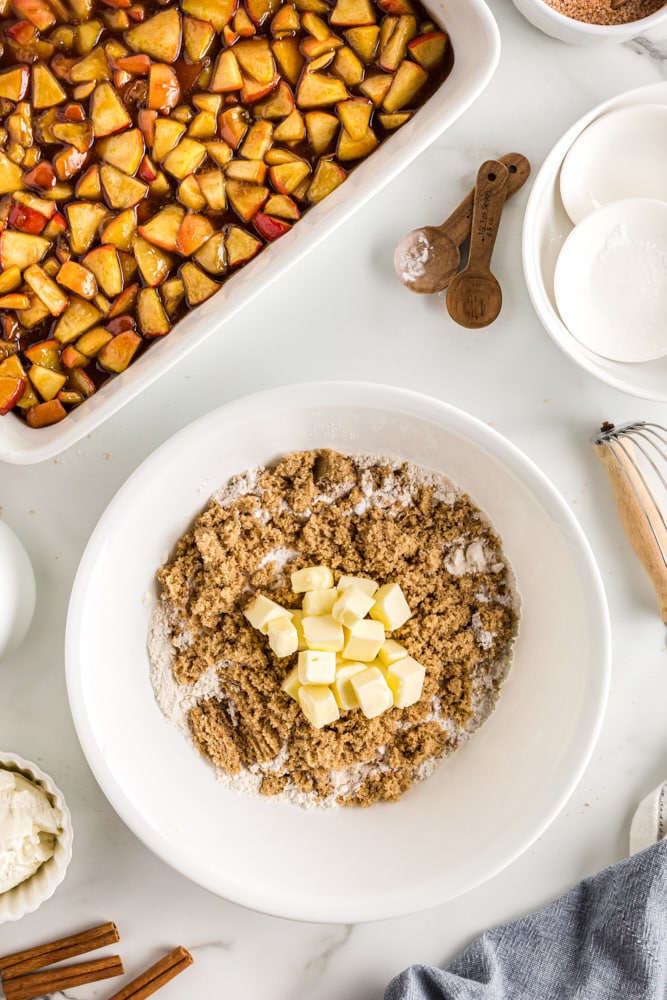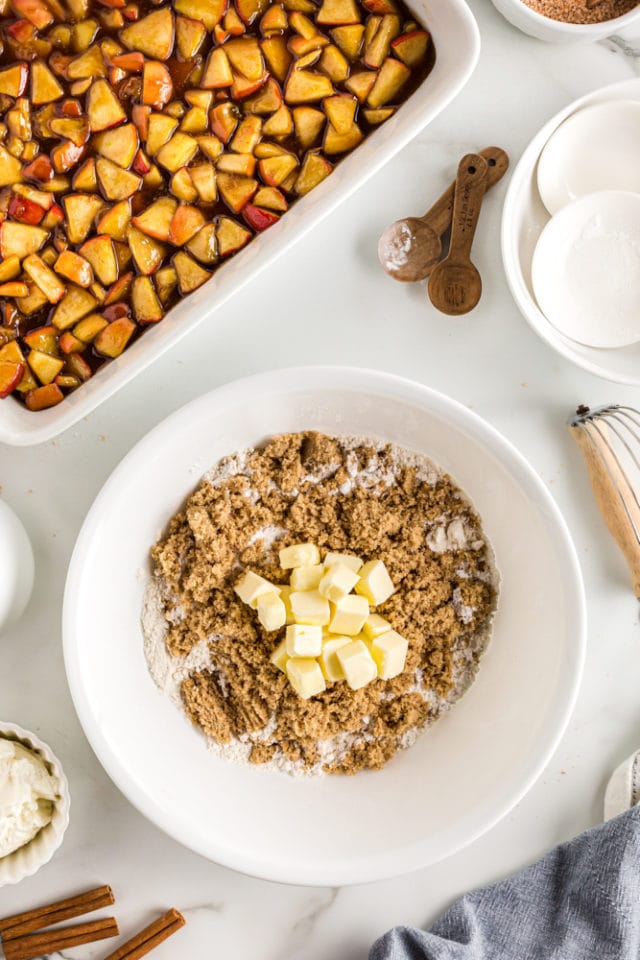 Add the topping on top of the filling. Drop the dough over the top of the filling, using about 2 tablespoons of dough at a time. Sprinkle the top with cinnamon-sugar.
Bake. Bake at 400°F for 25 to 30 minutes. The topping should be lightly browned and the filling should be bubbly.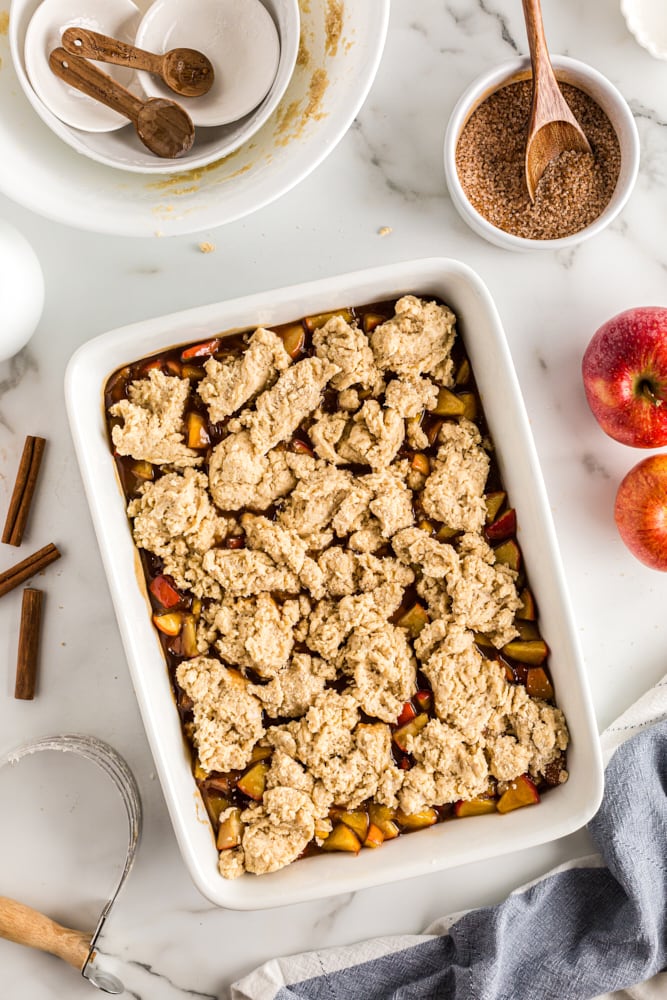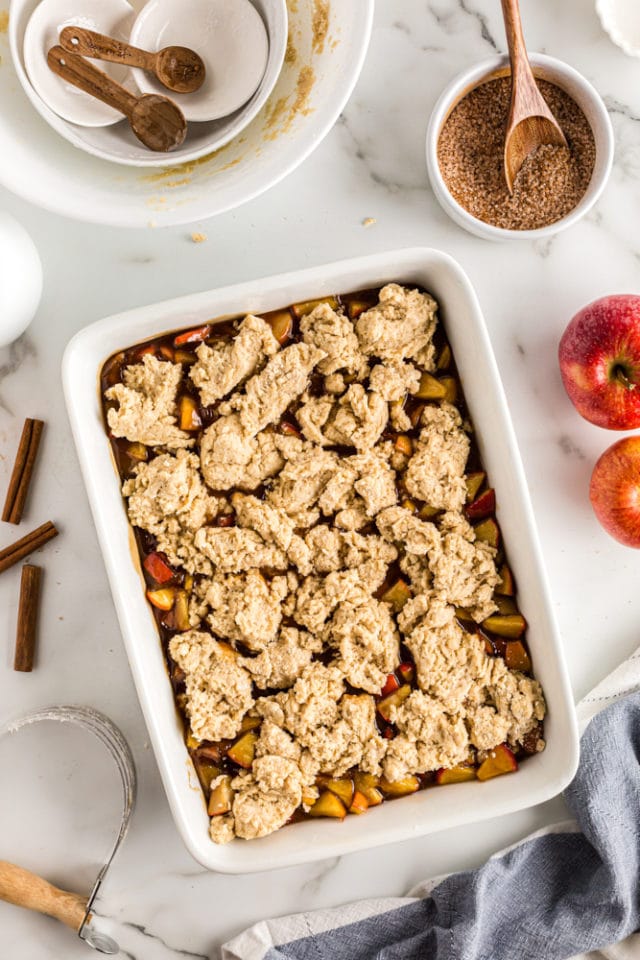 Tips for Success
To peel or not to peel? This is a matter of preference, so you can either take the time to peel the apples or leave the peel on them.
Don't crowd the topping. Leave small gaps instead of making a solid layer of topping. Those little gaps will allow steam to escape so the topping isn't soggy, and they'll also help to create cobbler's signature cobbled appearance. (That's why it's called that, after all!)
Don't forget the ice cream! Okay, so that's not absolutely necessary, but it's tough to beat a serving of warm apple cobbler with a big scoop of vanilla ice cream.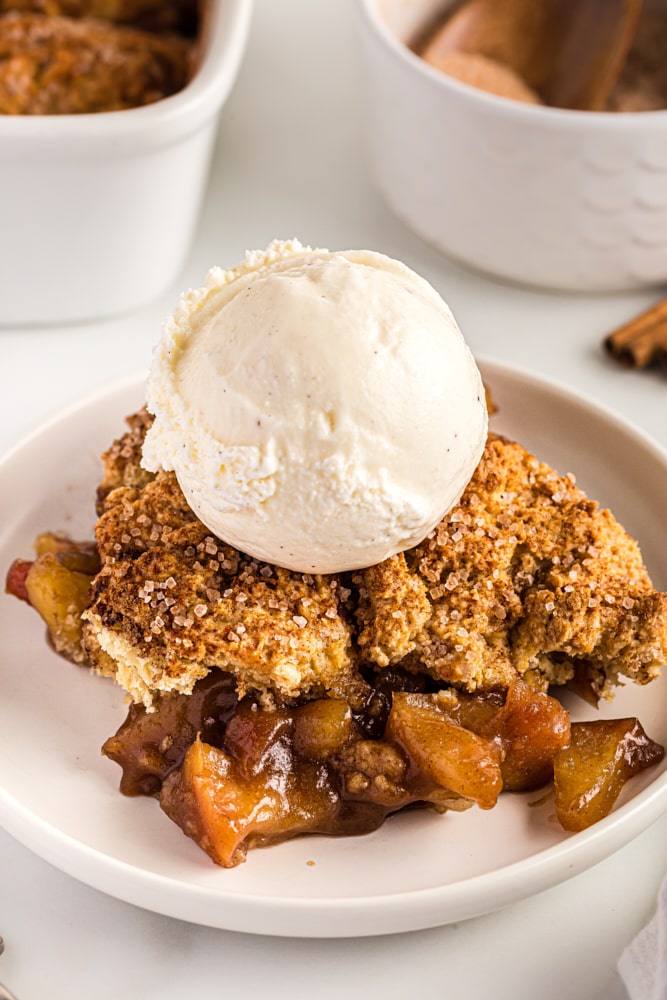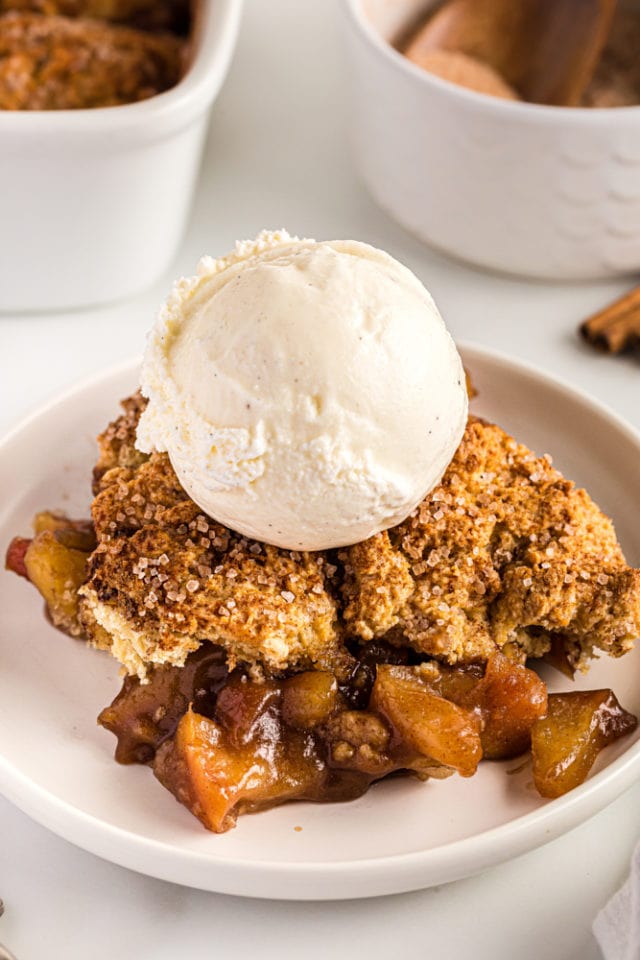 How to Store Leftovers
After cooling the cobbler, cover and refrigerate for up to 3 days. Cobblers like this one are always best the day they're made, as storing will alter the texture of the topping.
How to Reheat Brown Sugar Apple Cobbler
I've definitely eaten leftover cobbler straight from the refrigerator, but it's much better warm. Reheating in the oven will yield the best texture for the topping.
This cobbler can be reheated in a low heat oven (try 250-300°F) until warm. For a serving or two, that should take 10 to 15 minutes. To reheat all or the majority of the cobbler, it will take longer. Check after 20 minutes and add more time if needed. Of course, be sure you're reheating in an oven-safe dish.
To reheat in the microwave, place servings on a microwave-safe dish and heat in 30-second increments until heated. Microwaves vary greatly, so assess after each round of heating.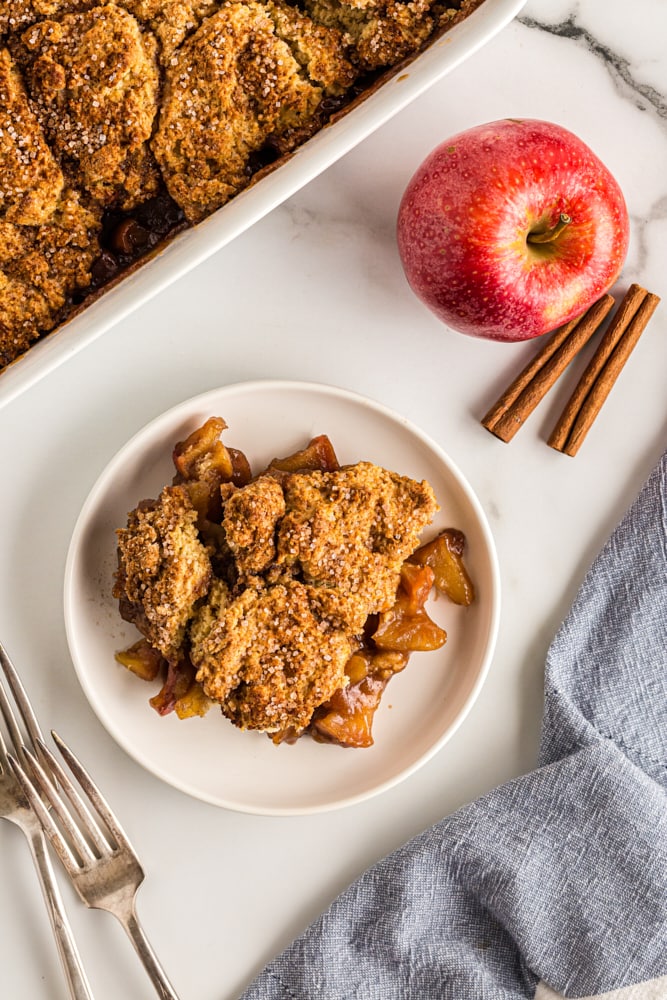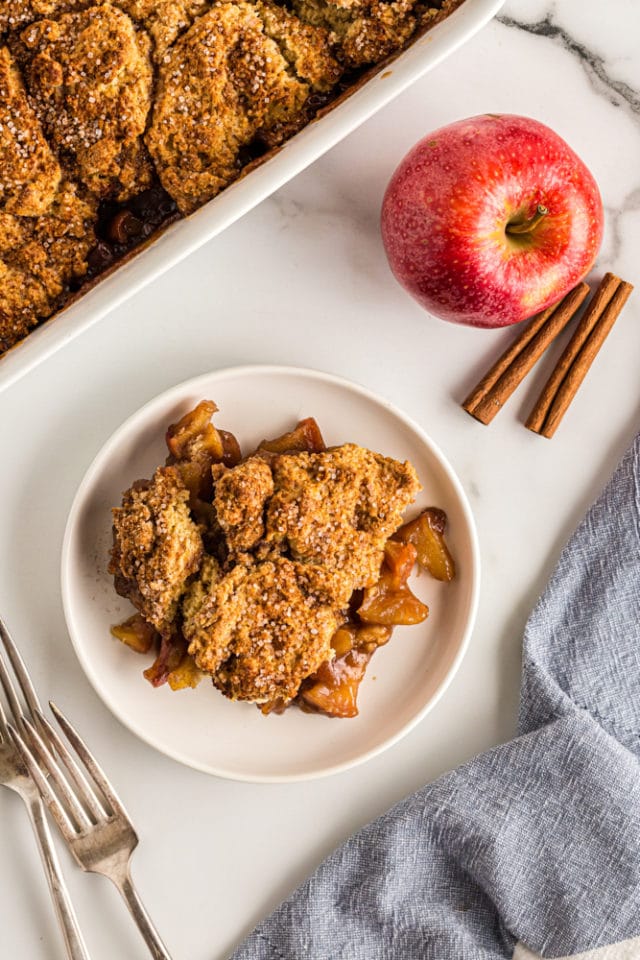 More Apple Desserts