October 30, 2018
Ginger Pear Bread
This Ginger Pear Bread recipe combines sweet, delicate pears with a nice dose of bold ginger flavor. A wonderful fall treat!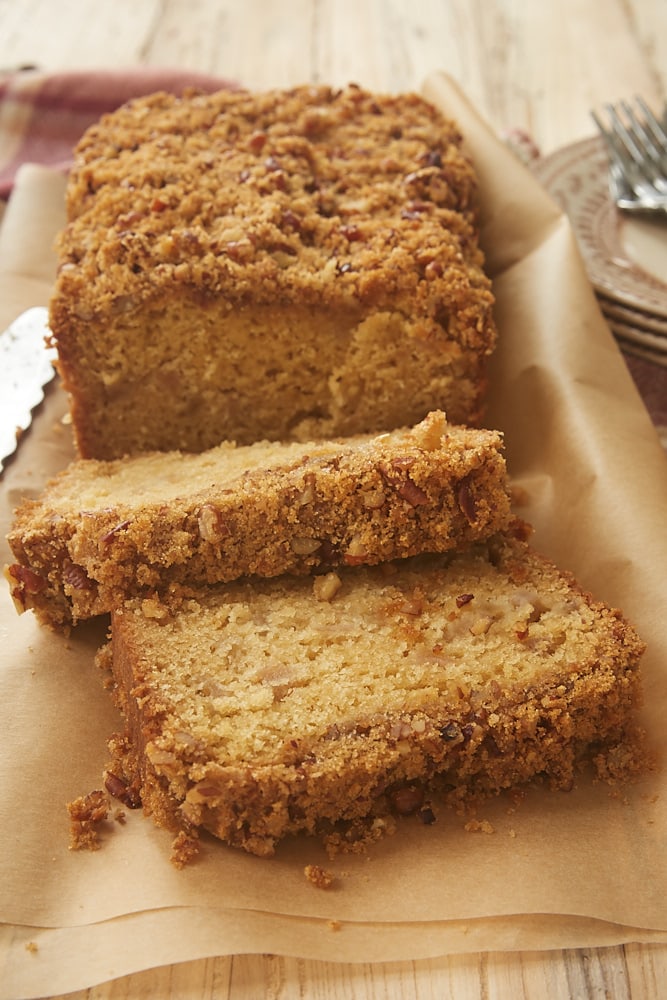 I frequently bake with ginger, but it's rarely the lone spice. Usually, it's a small part of a larger blend of spices. There are times, however, when a good dose of ginger is just the thing in a recipe. That's the case with this Ginger Pear Bread, which has just the right amount of ginger to add a little zing.
Pears have such a sweet, delicate flavor that a bolder contrast like ginger is a wonderful complement. Fresh ginger is sweet and a little spicy, and it gives this simple quick bread a little kick that makes it pretty irresistible in my book.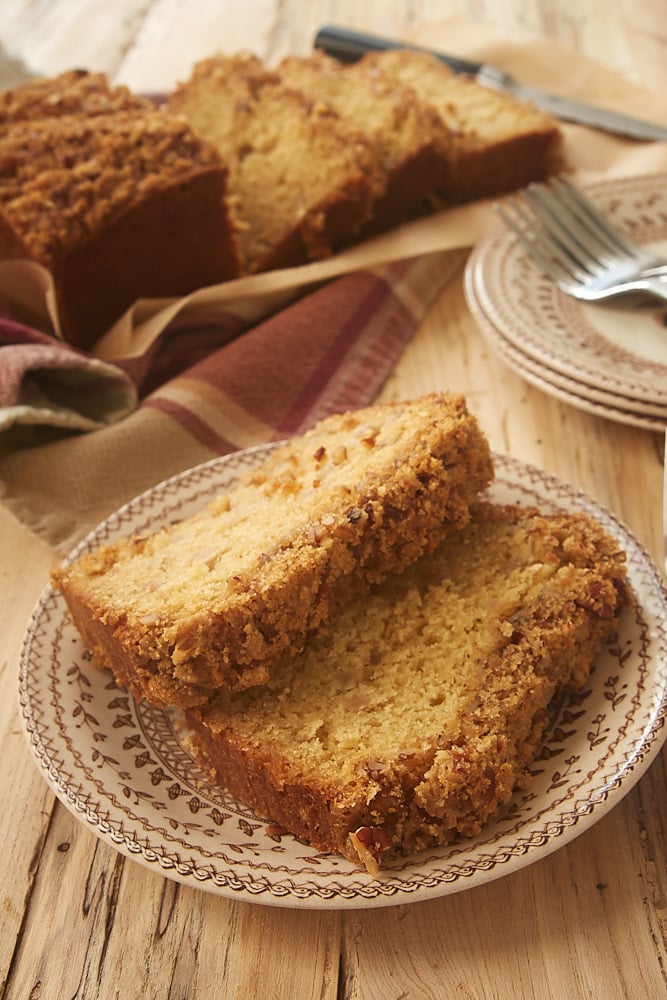 While I'm fine with using ground ginger in most of my baking, I highly recommend fresh ginger for this bread. It's such an important part of the flavor that I think it makes a difference. Fresh ginger has a little more bite than ground ginger, too. If you prefer to use ground ginger, just remember that you'll need to use considerably less. For the amount in this recipe, I'd use 1/8 to 1/4 teaspoon.
On top of this quick bread is a sweet, buttery nut topping for a little extra sweetness and some crunch. It's a simple mixture of brown sugar, pecans, flour, and butter. I love that it gets toasted a bit as the bread bakes, adding another layer of flavor to this fantastic bread.
Mixing this quick bread is a little different than the usual method of adding the liquid ingredients to the dry ingredients. Instead, it's mixed more like a cake, with softened butter and sugar mixed with an egg before adding the dry ingredients plus milk. It still makes for a fairly thick batter like you'd expect from a quick bread. And the end result is a soft, moist bread that I think you'll love.
I have to admit that this is one of those things that I bake and don't always share. We just love it so much ourselves that we get a little greedy with it. It will keep for a few days in an airtight container at room temperature. For storing a few days more, keep the container in the refrigerator and reheat a slice whenever you get the craving.
Find more quick bread recipes in the Recipe Index.
More Fall Quick Bread Recipes
Ginger Pear Bread
Yield: 10 to 12 servings
Prep Time: 15 minutes
Cook Time: 1 hour
This Ginger Pear Bread is deliciously different with sweet pears and a kick of ginger flavor.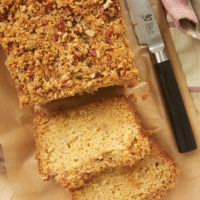 Ingredients:
For the topping:
1/4 cup (50g) firmly packed light brown sugar
1/4 cup (30g) chopped pecans
1/2 tablespoon all-purpose flour
1/2 tablespoon unsalted butter, melted
For the bread:
1 & 3/4 cups (210g) all-purpose flour
1/2 teaspoon baking soda
1 teaspoon baking powder
1 & 1/2 teaspoons freshly grated ginger
1/2 teaspoon salt
6 tablespoons (85g) butter, softened
1 cup (200g) firmly packed brown sugar
1 large egg
1 teaspoon vanilla extract
1/2 cup milk
1 cup peeled and finely chopped ripe, firm pear
Directions:
To make the topping:
Combine the brown sugar, pecans, and flour in a small bowl.
Add the butter and mix well. Set aside.
To make the bread:
Preheat oven to 350°F. Grease a 9″x 5″ loaf pan.
Whisk together the flour, baking soda, baking powder, ginger, and salt. Set aside.
Using an electric mixer on medium speed, beat the butter and brown sugar until light and fluffy. Add the egg and vanilla, and mix well.
Reduce mixer speed to low. Add the flour mixture in three portions, alternating with two portions of milk. Mix just until combined.
Stir in the pears.
Transfer the batter to the prepared pan, and spread evenly.
Sprinkle the topping over the batter, pressing it down gently into the batter.
Bake 50 to 60 minutes, or until the bread has browned and a pick inserted into the center comes out clean.
Cool the bread in the pan for about 10 minutes. Then remove the bread from the pan to a wire rack to cool completely.