Strawberry crunch cake has a little bit of nostalgia to it and a whole lot of strawberry flavor! My version is made with real strawberries and rich cream cheese frosting, and it's sure to be a show-stopper.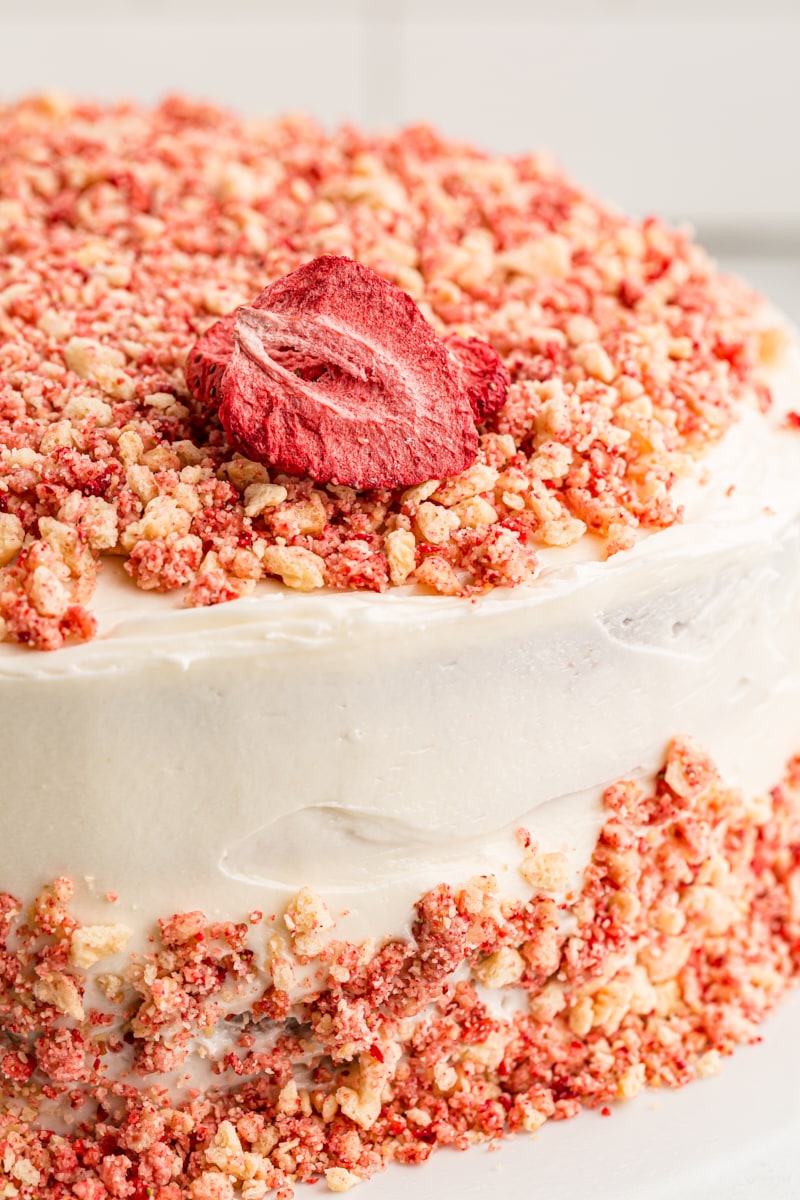 Homemade Strawberry Crunch Cake
Strawberry crunch cake is a cake inspired by the classic ice cream bar—you know, the one with the strawberry ice cream middle and crunchy strawberry-flavored bits on the outside?
Many strawberry crunch cake recipes are loaded with sugar, artificial colors, and flavors thanks to the addition of ingredients like Jello and cake mix. While I'm not opposed to those ingredients on occasion, I wanted to create a strawberry crunch cake with a more adult flavor profile. Still fun and nostalgic, of course, but just a little less cloying.
My version of strawberry crunch cake uses freeze-dried strawberries and jam for that signature berry flavor. Two lofty layers of moist strawberry cake are paired with cream cheese frosting and a delightful strawberry crunch on top—you'll use Golden Oreos for those crunchy bits because a shortcut here and there never hurts!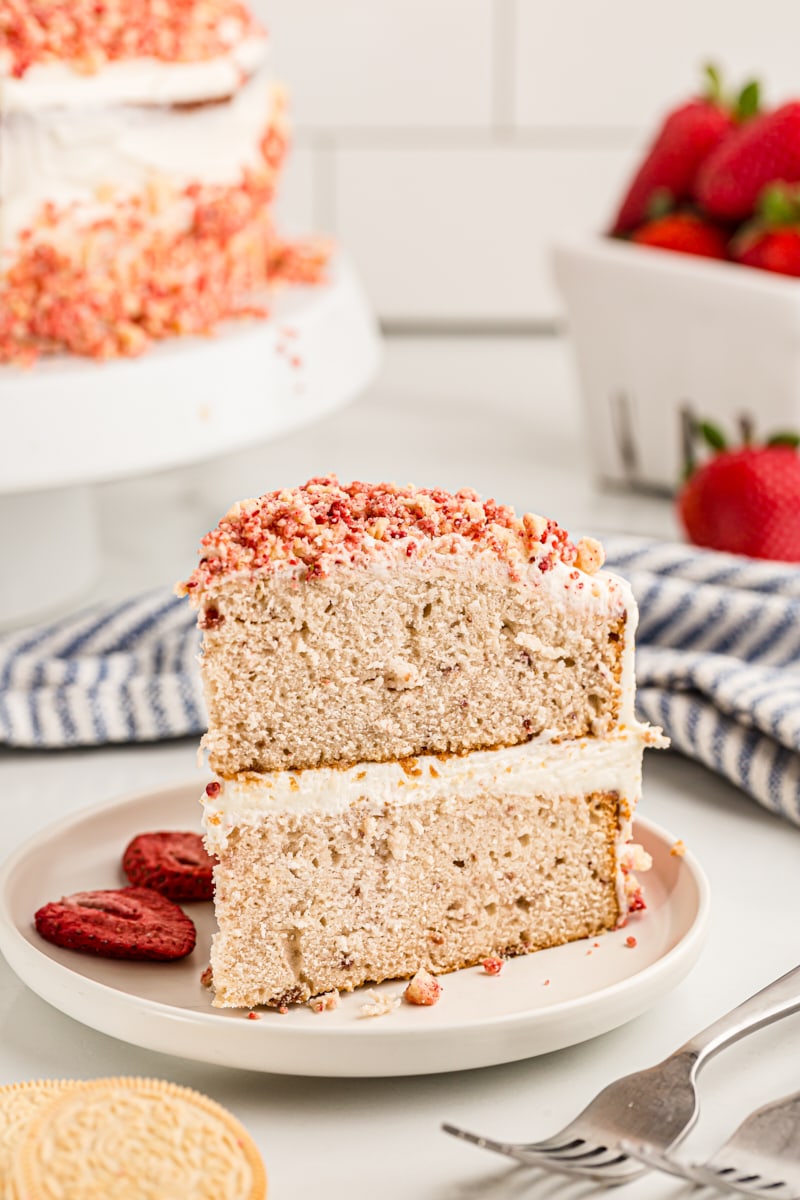 Why You'll Love This Strawberry Crunch Cake
Here's why this strawberry crunch cake is always a crowd-pleaser.
Real berry flavor. If you love strawberries, this cake is for you. Using powdered dehydrated strawberries and jam makes this cake taste like real berries.
Crunchy topping. The Golden Oreos give this cake a delightful crunchy finish that you won't be able to resist! It's a wonderful contrast to the soft layers of frosting and cake.
Impressive presentation. This is a dessert that's easy to put together, but looks impressive on a plate. If you've never made a layer cake before, this strawberry crunch cake is a good one to start with.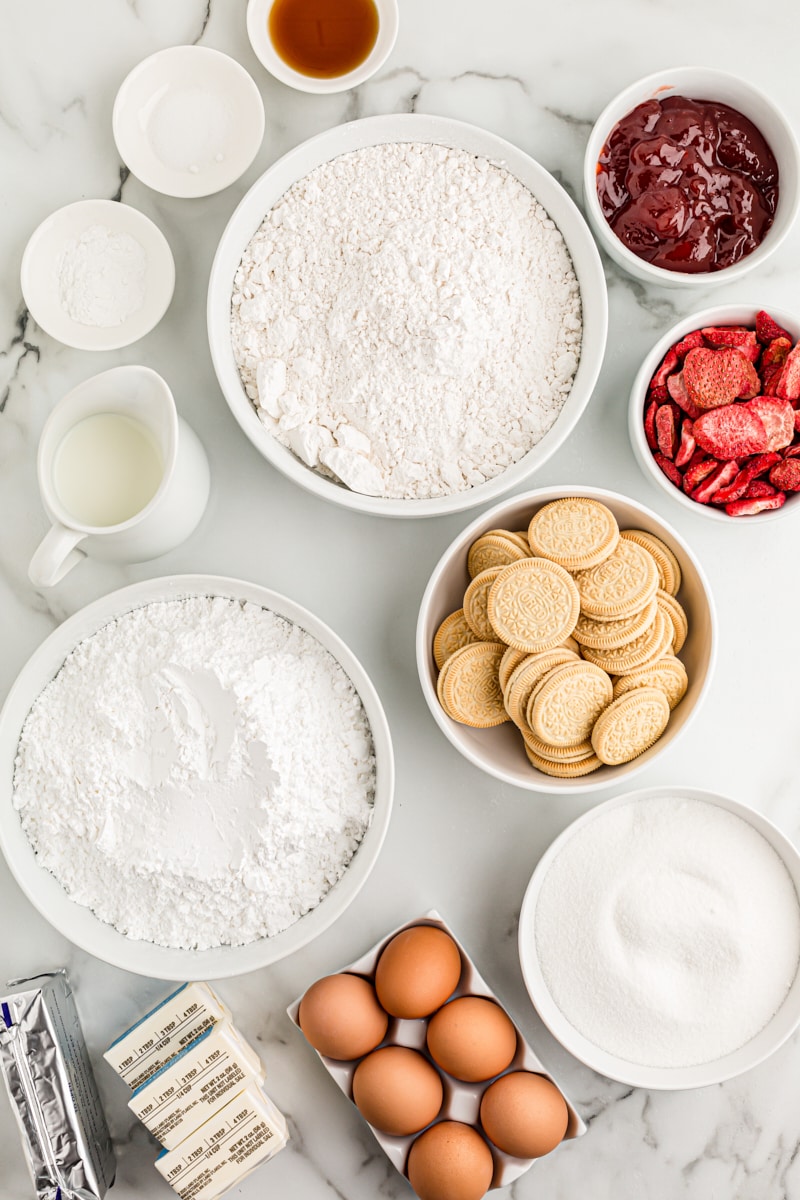 What You'll Need
Scroll down to the recipe card to find the ingredient quantities and recipe instructions.
Cake:
Cake flour – Learn more: A Baker's Guide to Wheat Flours
Granulated sugar
Ground freeze-dried strawberries – Pulse these in your food processor to create a fine powder.
Baking powder
Salt
Unsalted butter – Let this soften before mixing. It should be soft but hold a thumbprint when pressed. Learn more: How to Soften Butter
Milk – I always prefer whole milk for baking.
Vanilla extract – Use store-bought or homemade vanilla extract.
Eggs
Strawberry jam – Choose a high-quality jam with bright berry flavor.
Topping:
Golden Oreos – Don't substitute chocolate Oreos; their flavor would compete with the strawberries.
Freeze-dried strawberries
Unsalted butter – Melt this in the microwave or a small saucepan.
Frosting:
Cream cheese – Use full-fat cream cheese; the kind that comes in blocks. Let it soften to room temperature.
Unsalted butter – The butter should also be softened.
Vanilla extract
Confectioners' sugar – Sift this before using it. (This is also called powdered sugar.)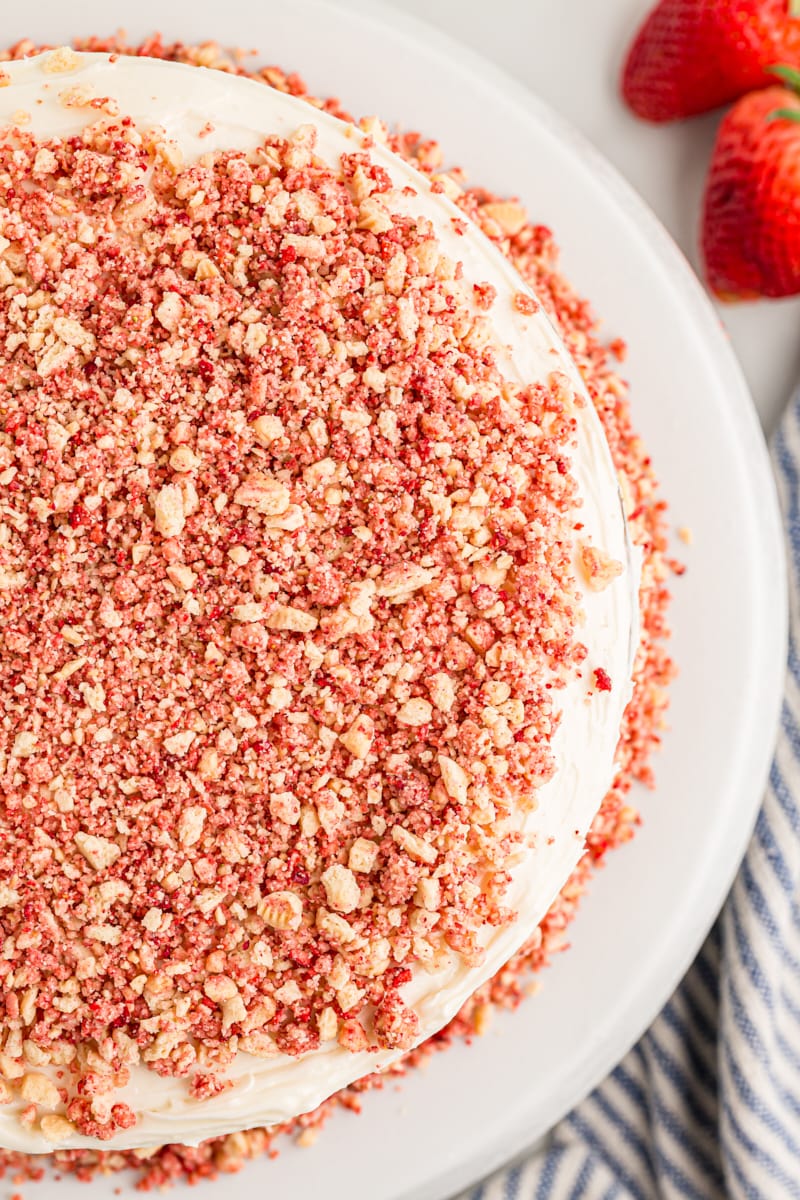 How to Make Strawberry Crunch Cake from Scratch
You can make this recipe in stages if you don't have time to make it in one go. The cakes can be made a day in advance, and the frosting can be refrigerated for two or three days.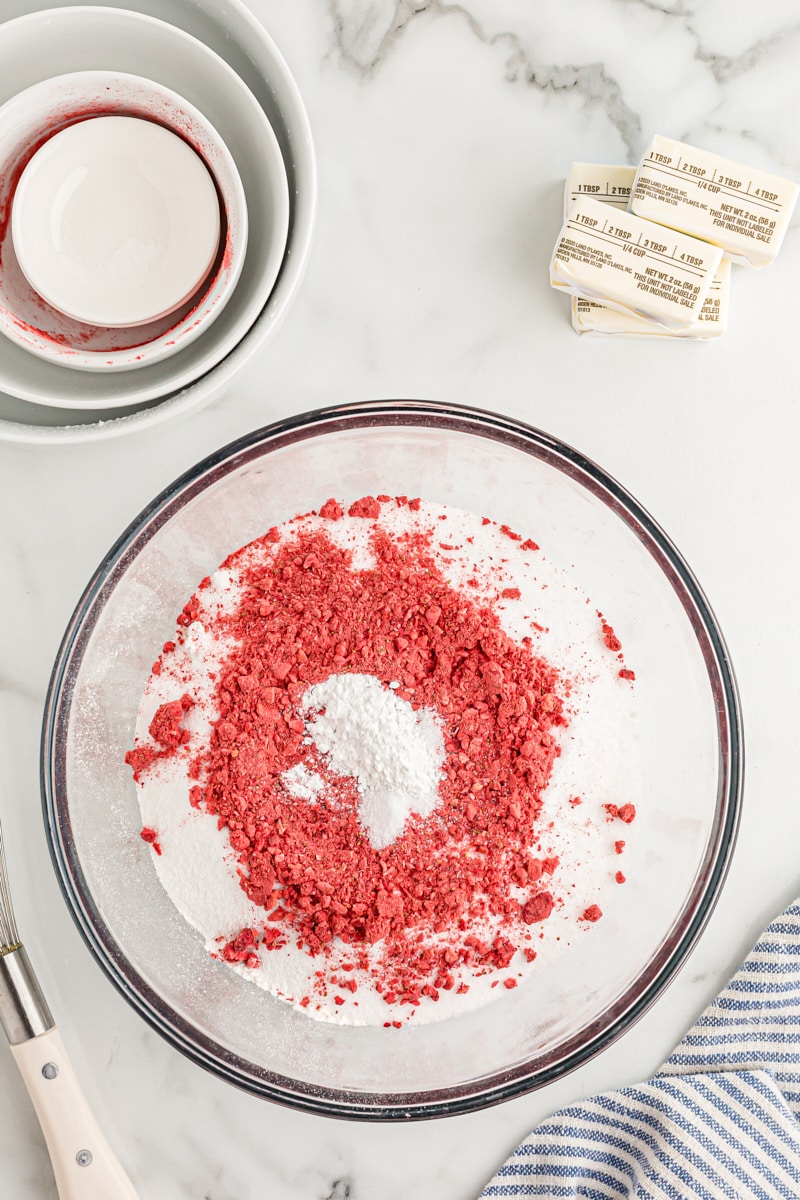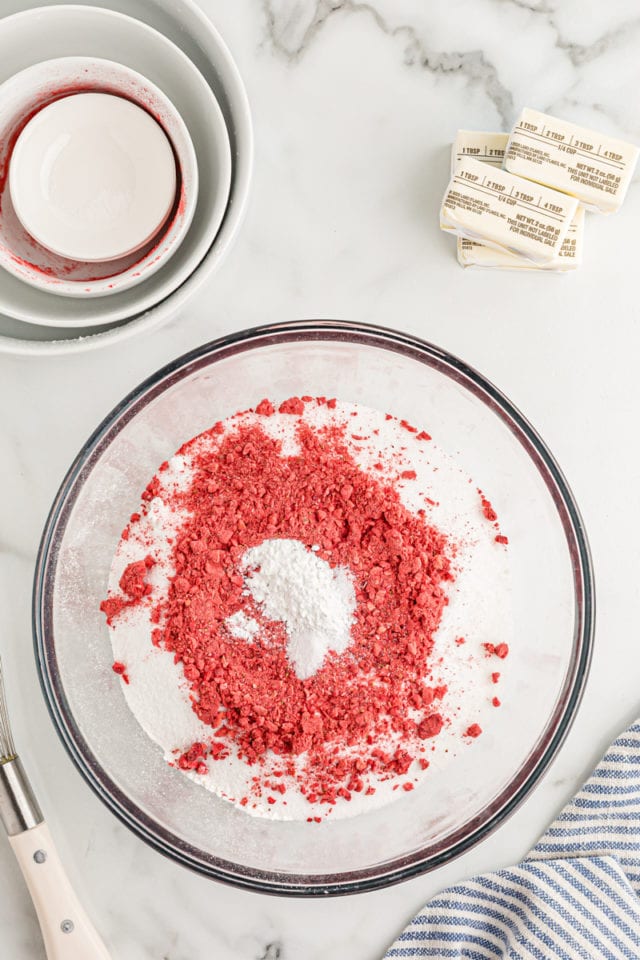 Make the Cake
Prepare. Preheat your oven to 350°F. Line two 9-inch round cake pans with parchment paper, then grease or butter and flour the paper.
Mix the dry ingredients. Whisk the flour, sugar, ground strawberries, baking powder, and salt in a large mixing bowl.
Mix in the butter. Add the butter to the dry ingredients and mix with an electric mixer on medium-low speed until the mixture appears sandy.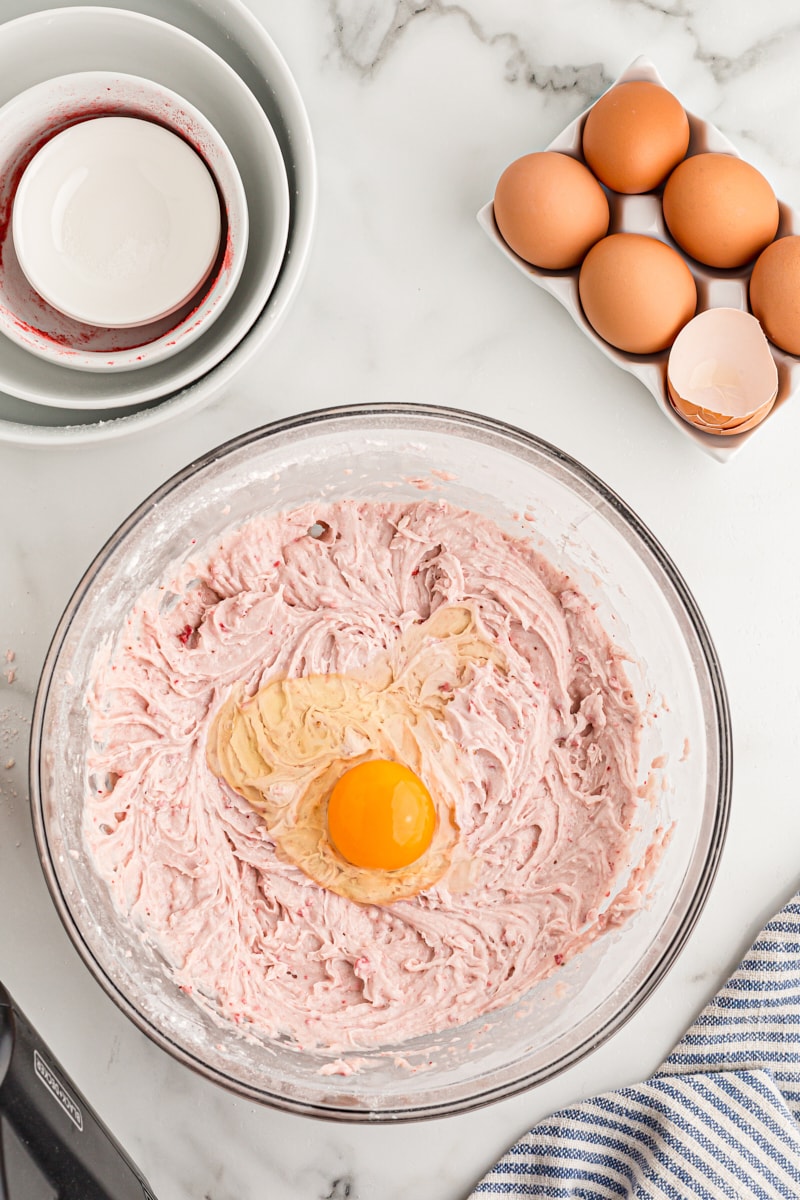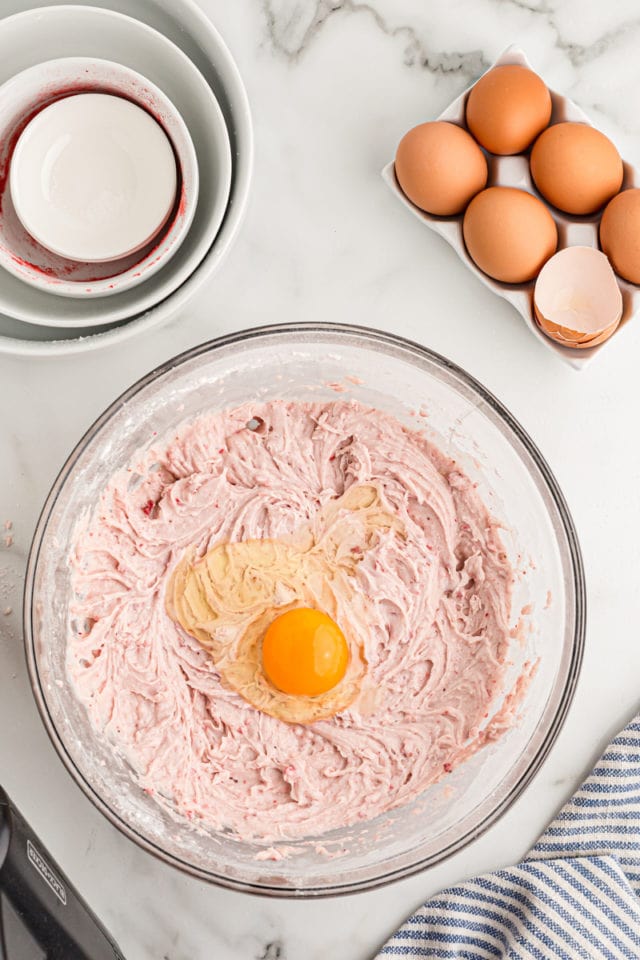 Add the liquid ingredients. Combine the milk and vanilla, then pour this mixture into the batter. Mix on low speed for about a minute, then beat in the eggs one at a time, starting on low speed and increasing to medium after a few seconds. Stir in the jam.
Bake. Divide the cake batter into the prepared pans and spread evenly. Lightly tap the pans on the counter a few times to get rid of any air pockets and bake for 40 to 45 minutes, or until the cake is golden brown and a toothpick inserted into the center comes out clean.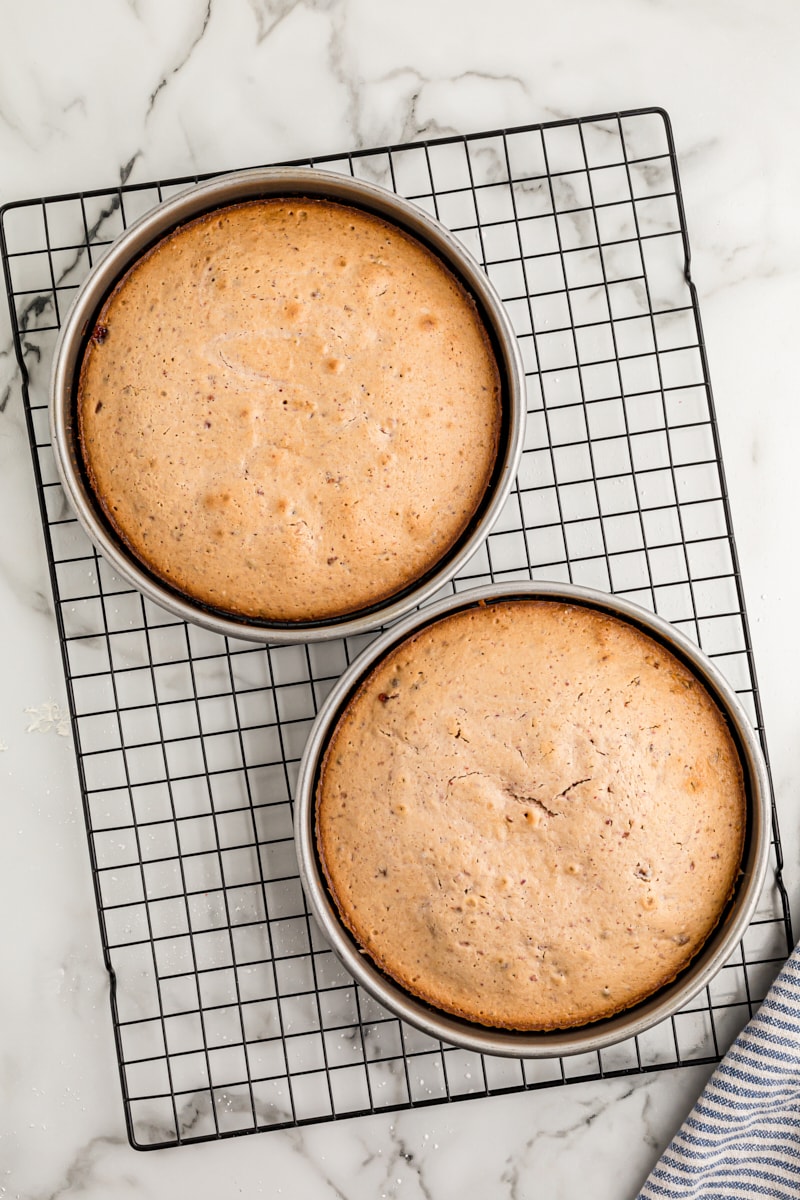 Cool. Set the cake pans on a wire rack and allow them to cool completely.
Make the Topping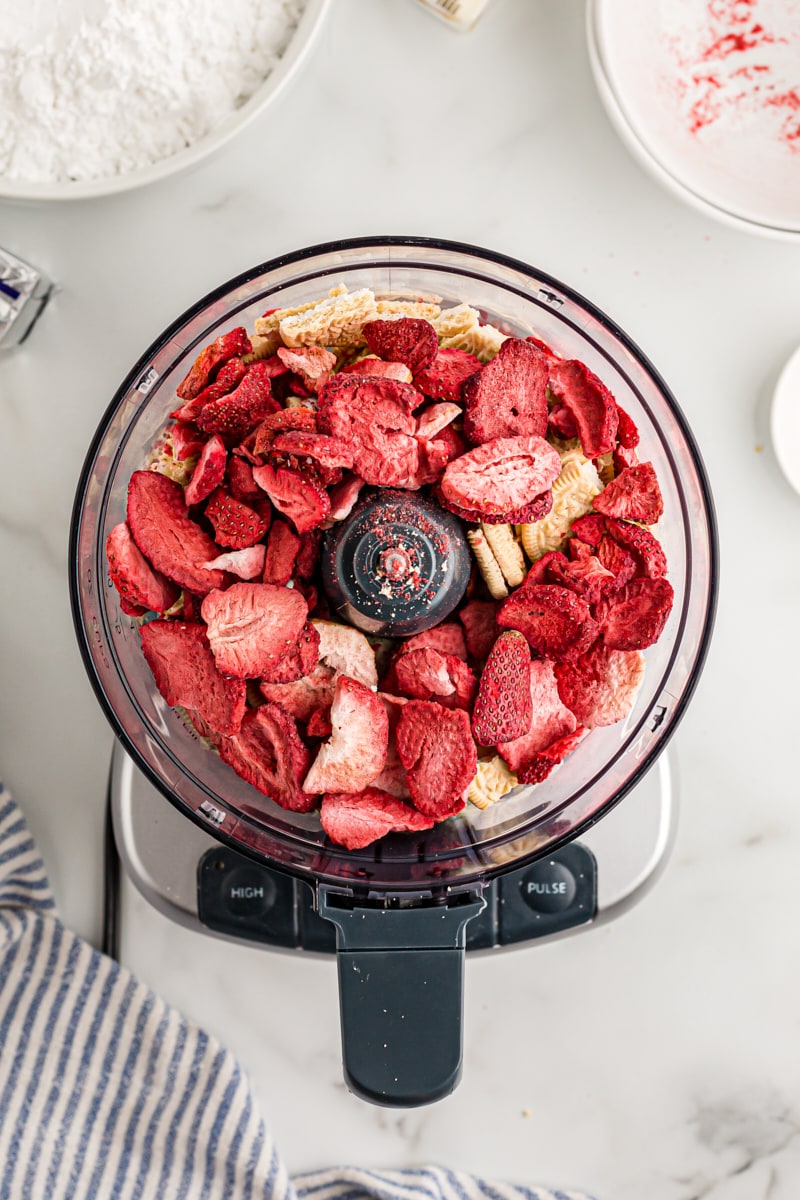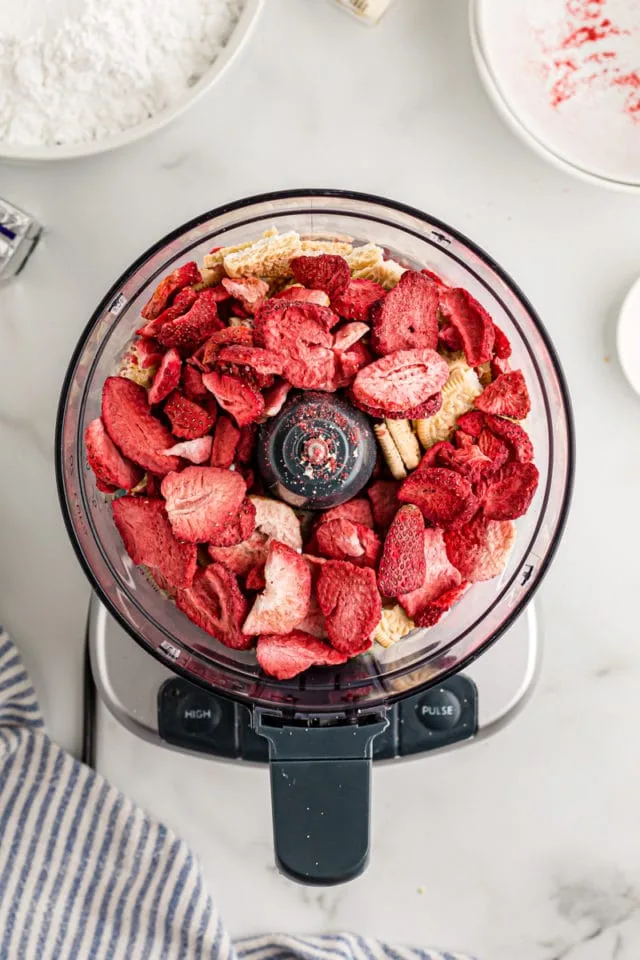 Pulse the cookies and berries. Place the cookies and strawberries in a food processor, and pulse until they form large crumbs.
Add the butter. Transfer the crumb mixture to a mixing bowl, then pour in the melted butter and stir to combine. Alternatively, you can drizzle the butter over the mixture in the bowl of the food processor and pulse to mix.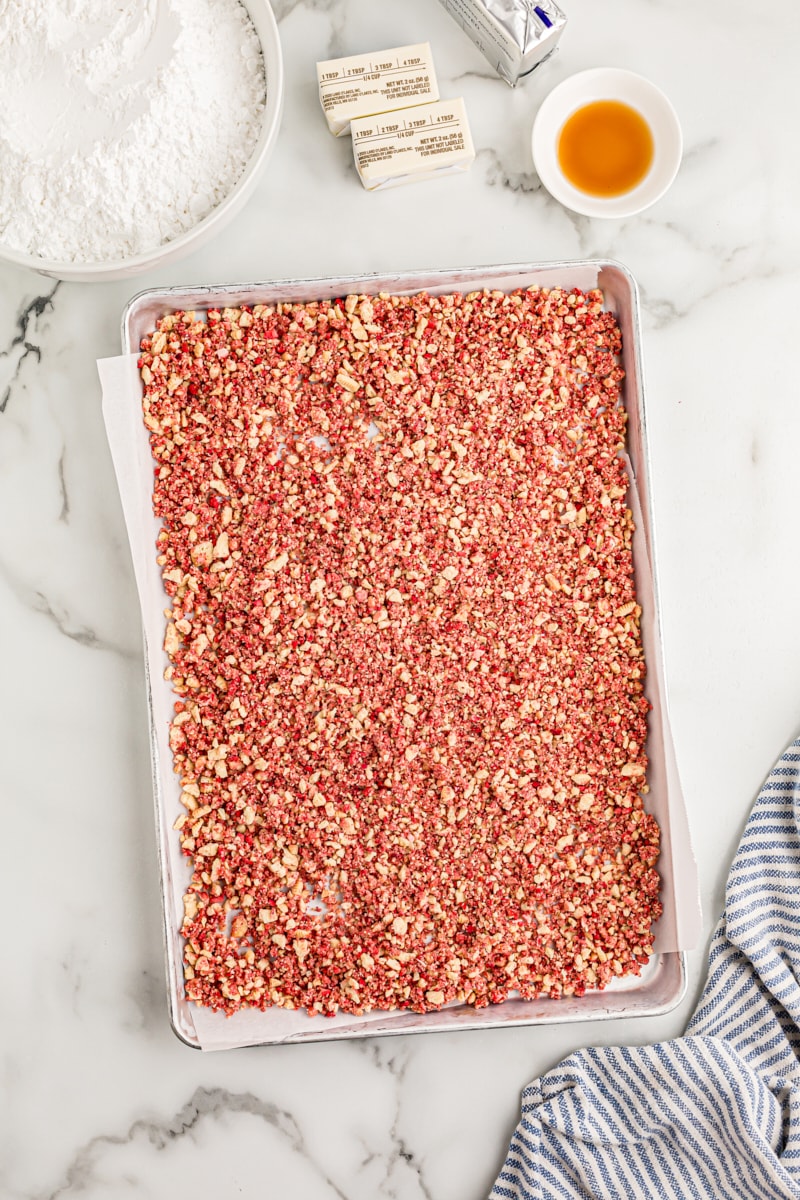 Dry. Spread the topping in a single layer on a lined sheet pan and let it dry for 15 minutes.
Make the Frosting and Assemble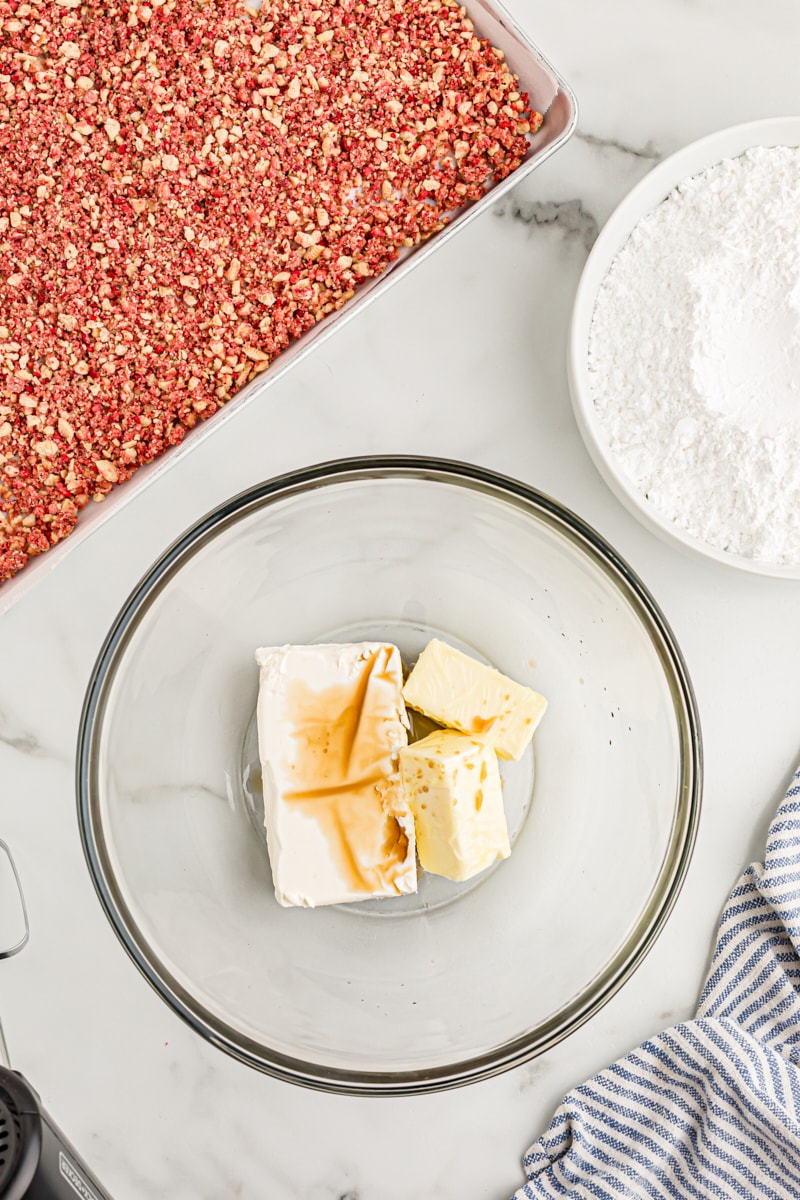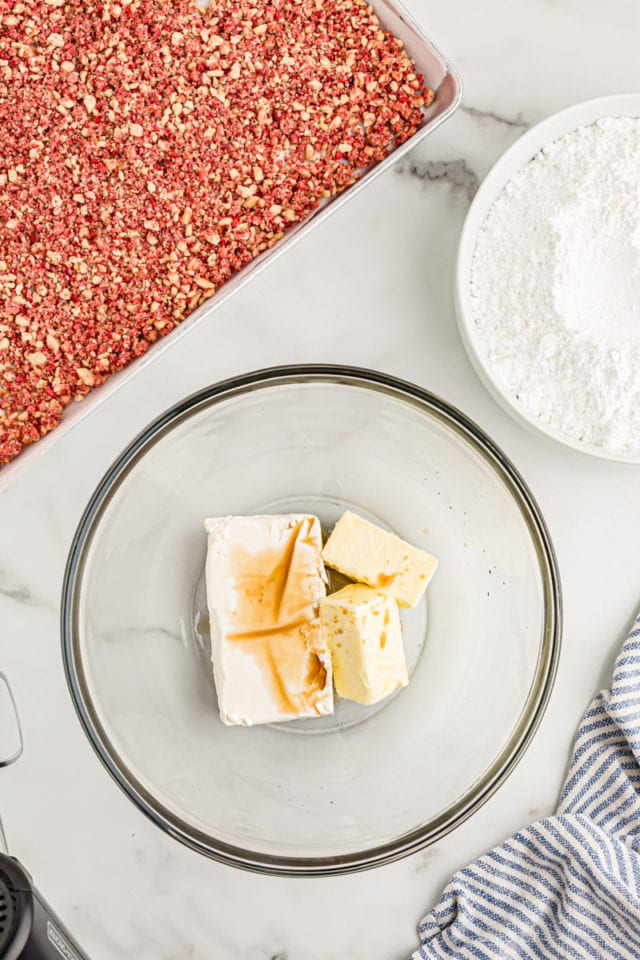 Beat the first three ingredients. Use an electric mixer on medium speed to beat the cream cheese, butter, and vanilla until they're light and fluffy.
Add the sugar. Beat in the confectioners' sugar about a cup at a time, mixing until the frosting reaches your desired consistency and sweetness.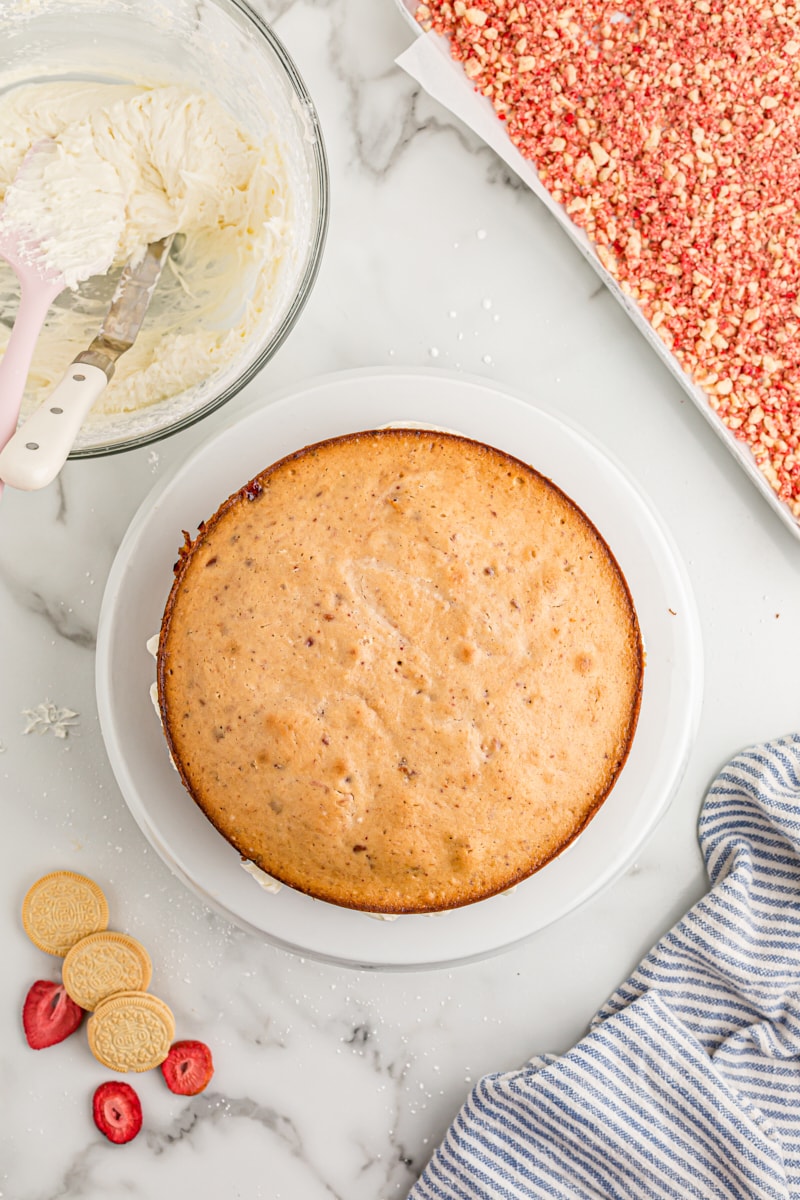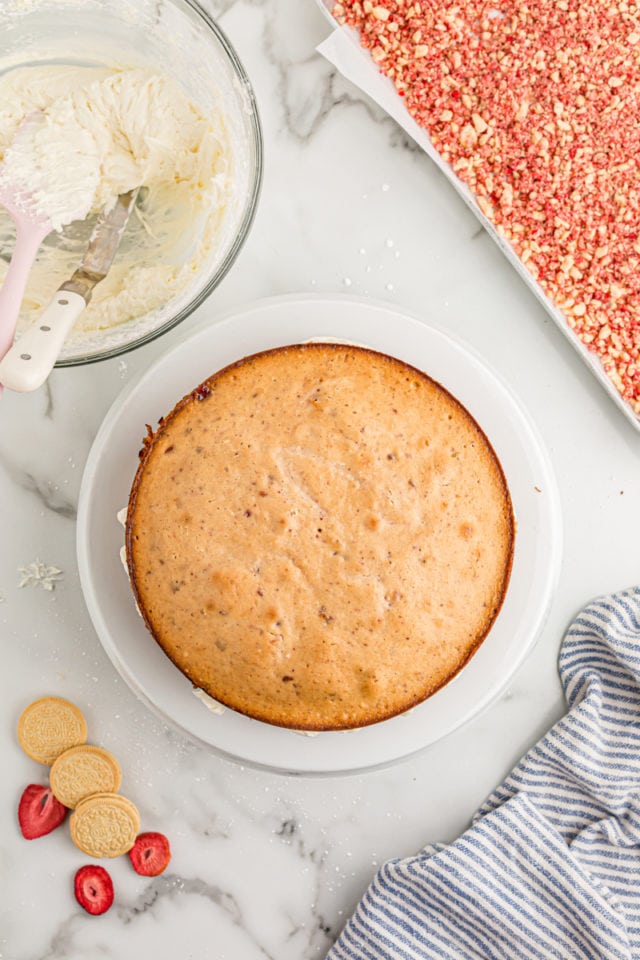 Assemble. Set one cake layer on a serving plate. Frost the top, then set the other cake layer over it. Frost the top and sides of the cake, then cover the top and about a third to halfway up the sides of the cake with the crunchy topping.
Tips for Success
Read over my baking tips for beginners, then follow these additional tips and pointers.
Be sure to use the right type of flour. Regular all-purpose flour will not work in this recipe; cake flour is much lighter and produces a more delicate crumb.
Make sure your butter and cream cheese are at room temperature for the frosting. This ensures that everything mixes together smoothly without any lumps.
Level the cake, if desired. To ensure that your cake is level, use a long serrated knife to even out the top. You can set the cake on a lazy Susan and slowly turn it while cutting to make it easier.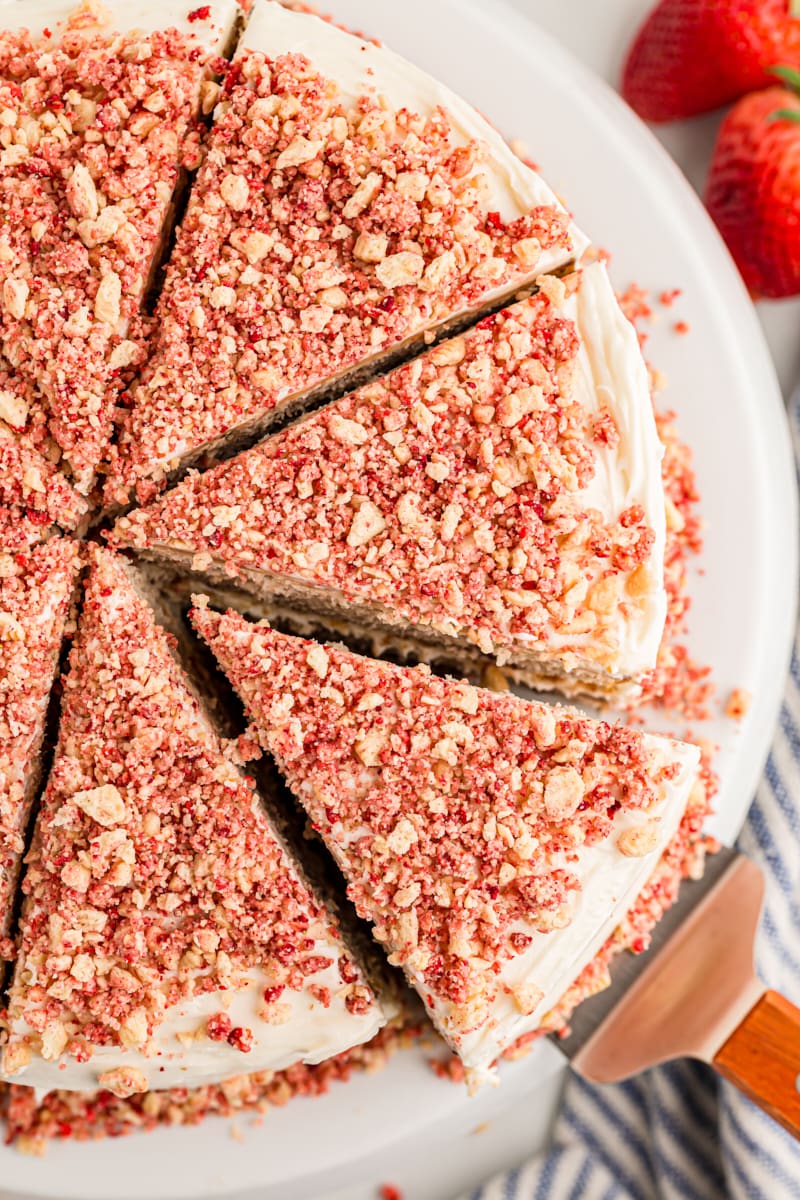 Serving Suggestions
Garnish your strawberry crunch cake with extra crumb topping, fresh strawberries, and a scoop of vanilla ice cream. Macerated strawberries are also a delicious addition to plates of this cake!
How to Store
This strawberry crunch cake will keep in the refrigerator for up to 4 days, although it's best served the day it's made. Cover it or transfer leftovers to an airtight container. Take it out of the refrigerator and let it sit on the countertop for about 10 minutes before serving.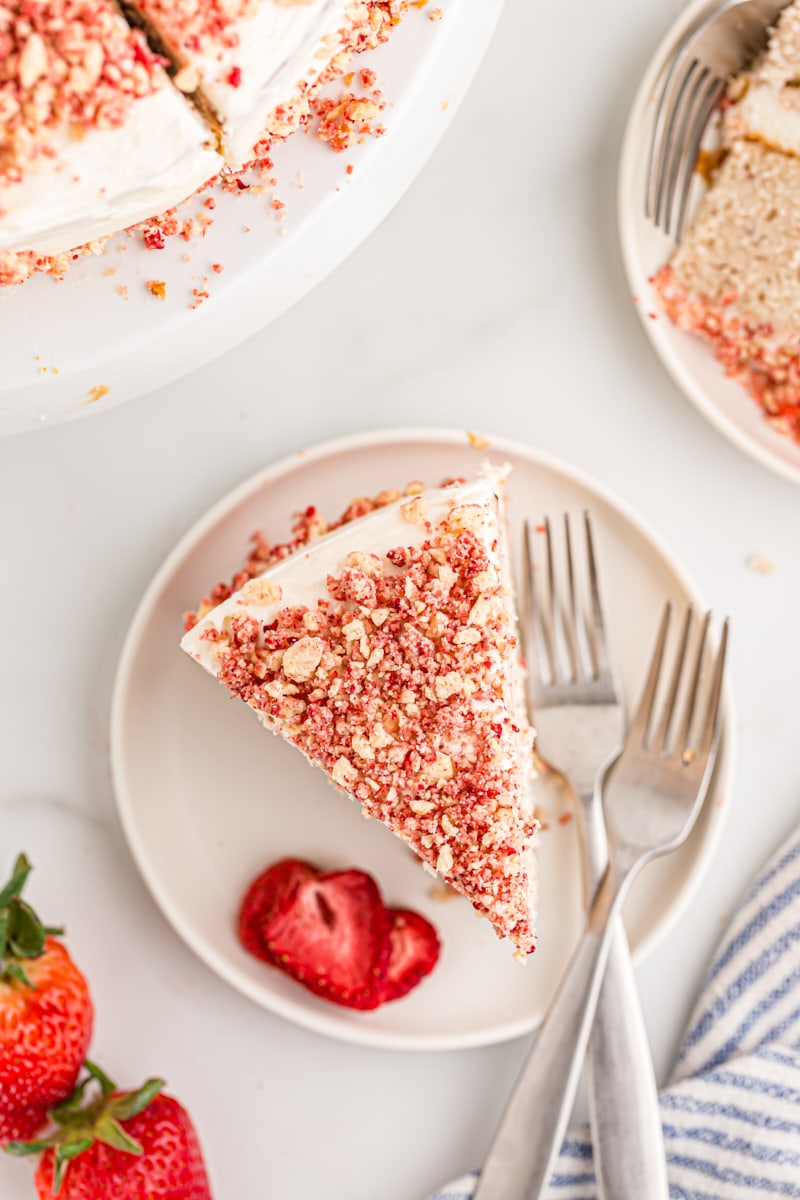 Can This Recipe Be Frozen?
Yes, you can freeze strawberry crunch cake, either whole or in slices. Place the cake on a baking sheet lined with parchment paper and set it in the freezer. Once the frosting is frozen through, you can wrap the cake in plastic wrap, then pop it in a freezer bag or airtight container (if you have leftovers) or wrap it in foil (if you're freezing the whole cake).
Video Tutorial: Strawberry Crunch Cake