Strawberry Cream Cheese Bread is a quick bread-cake hybrid that features sweet strawberries and a cream cheese swirl!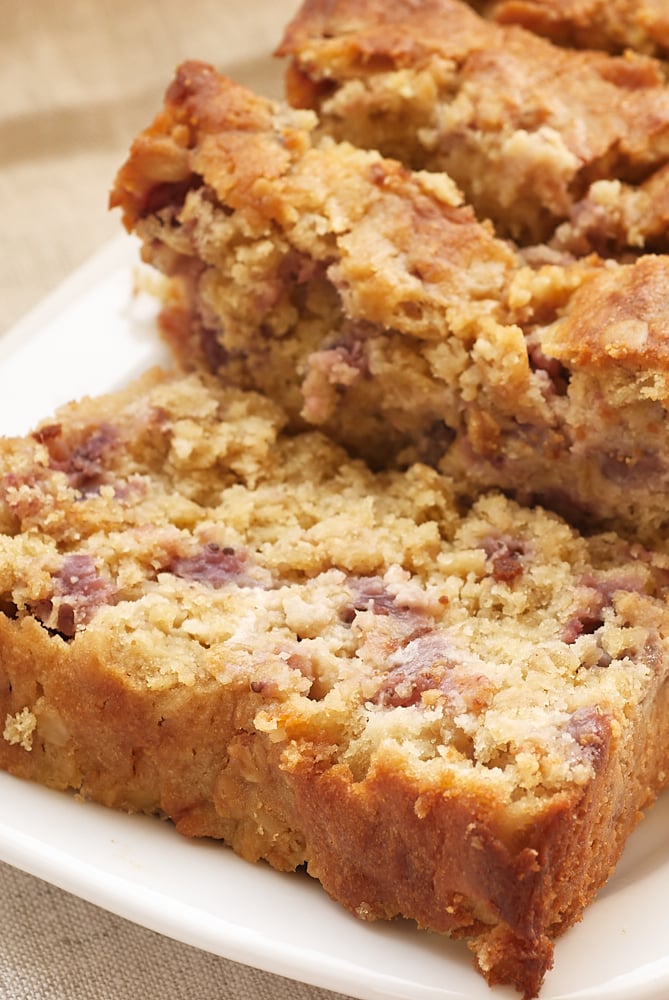 Strawberry Cream Cheese Bread
Quick breads are one of my favorite things to bake. I love their versatility. There are so many flavors to explore! And I love that they're a great treat most any time of the day.
This strawberry bread takes sweet strawberries, adds a little cream cheese, some oats and brown sugar, and puts it all into a simple quick bread with a cake-like texture.
To me, the best part of this bread is that the sweetened cream cheese mixture isn't completely mixed into the bread. Instead, it's just slightly mixed into the batter with a few turns of a spoon. The result is that you get little bursts of big cream cheese flavor every few bites.
I just adore this Strawberry Cream Cheese Bread! It's such a special treat for breakfast or brunch, or even just for a sweet snack. And it's just as good for a simple dessert! A must-bake for strawberry season!
Want more strawberry recipes? Try my Brown Butter Strawberry Muffins, Strawberry Cobbler, and Strawberry Cupcakes next!
What You'll Need
Be sure to scroll down to the recipe card at the bottom of this post for ingredient amounts and full instructions. Here are some helpful notes about the ingredients.
All-purpose flour – As always, measure by weight for best results. Otherwise, use the spoon and sweep method of measuring.
Old-fashioned rolled oats – These oats add a hearty, chewy texture.
Baking powder
Salt
Unsalted butter – Allow the butter to soften before mixing. Learn more: How to Soften Butter
Light brown sugar – If you aren't measuring by weight, be sure your brown sugar is firmly packed.
Eggs – Bring the eggs to room temperature before mixing.
Vanilla extract
Strawberries – You'll need 6 ounces of strawberries, which is about 3/4 to 1 cup by volume. Chop these into bite-size pieces.
Cream cheese – Full-fat, block cream cheese works best. Bring it to room temperature so it will mix smoothly and easily.
Granulated sugar
Can I use frozen strawberries?
While fresh strawberries will work best, you can use frozen in a pinch or if that's your preference. There's no need to thaw them, but you may want to rinse them first in very cold water so the color doesn't bleed into the bread. Keep in mind that frozen fruit will add more water to your baked goods. Learn more: Fresh vs Frozen Fruits in Baking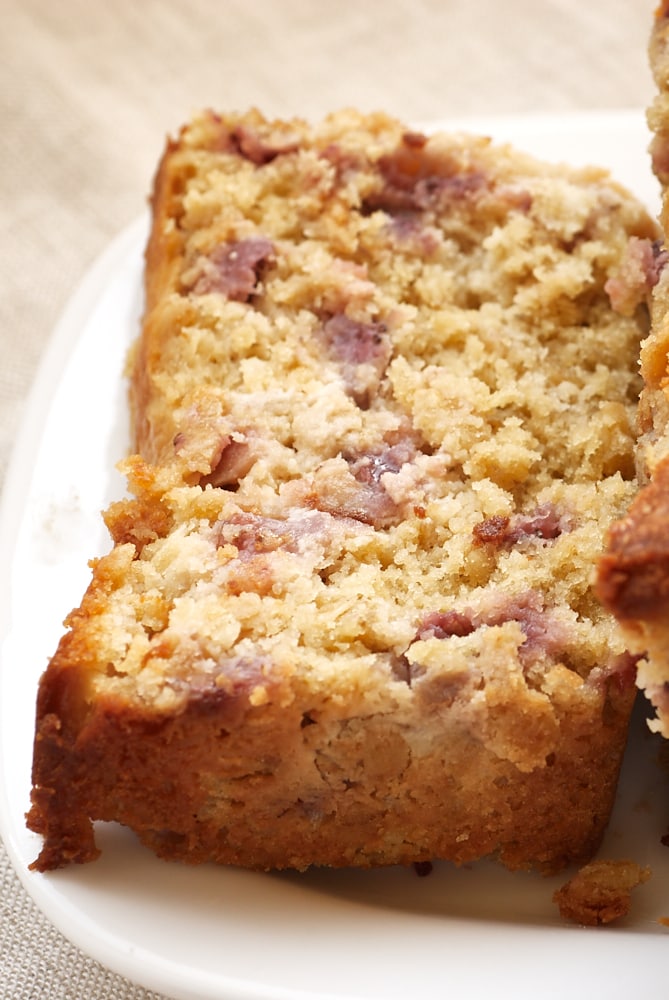 How to Make Strawberry Cream Cheese Bread
Despite the two separate components, this bread mixes quickly and easily. While most quick breads use the muffin method, this one uses the creaming method to make a bread that exists somewhere between a quick bread and a cake.
Prepare for baking. Heat the oven to 350°F. Grease a 9- x 5-inch loaf pan. If you like, line the pan with parchment paper and grease the paper.
Combine the dry ingredients. Whisk together the flour, oats, baking powder, and salt.
Combine the wet ingredients. Place the butter and brown sugar in a large bowl. With an electric mixer on medium speed, beat until fluffy and lightened in color. Add the eggs and 1 teaspoon vanilla extract, and mix until combined.
Add the dry ingredients to the wet ingredients. With the mixer on low speed, gradually add the flour mixture, mixing just until combined or a few streaks of flour remain.
Add the strawberries. Gently fold the strawberries into the batter with a mixing spoon or spatula.
Make the cream cheese filling. In a medium bowl, beat the cream cheese, granulated sugar, and the remaining teaspoon of vanilla extract. Mix until smooth.
Add the filling to the batter. Stir the cream cheese mixture partially into the batter, using 4 or 5 turns with a mixing spoon. You should see streaks of the cream cheese filling in the batter.
Bake. Transfer the batter to the prepared pan, and bake 35 to 40 minutes. The bread is done when a pick inserted into the center comes out clean.
Cool. Place the pan on a wire rack and allow to cool completely before slicing.
Tips for Success
Here are a few tips to help make sure your Strawberry Cream Cheese Bread bakes up perfectly!
Check your pan size. A standard loaf pan can be one of two sizes. Make sure yours is 9″ x 5″. I also recommend using a light-colored metal pan for even, thorough baking.
Don't over-mix. Too much mixing can affect the texture. If there are a few streaks of flour remaining, that's fine. It will mix a bit more as you swirl the cream cheese mixture into the batter.
Checking for doneness. With that swirl of cream cheese, it can be difficult to tell when the bread is thoroughly baked. You may want to try testing in a few different spots to make sure it's ready to come out of the oven.
Use different berries. For something a little different, try making this bread with another berry, like blueberries or raspberries.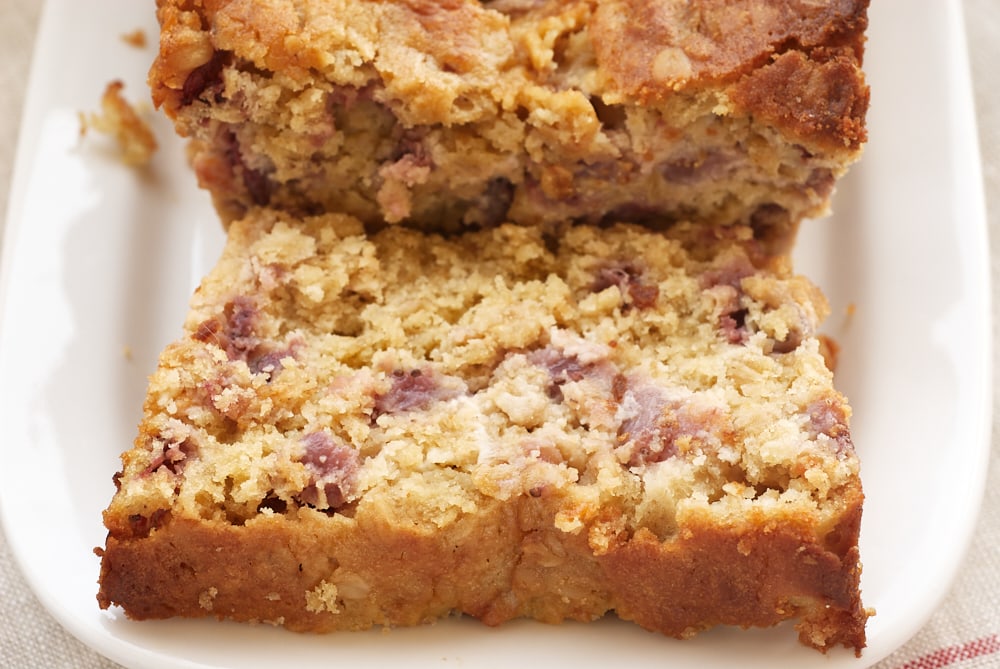 How to Store Strawberry Cream Cheese Bread
Once cooled, the bread can be stored in an airtight container in the refrigerator up to 4-5 days. Bring individual servings to room temperature before serving.
Can This Bread Be Frozen?
Yes, this bread should freeze well. Wrap the cooled bread or individual slices in two layers of plastic wrap, and then wrap again in aluminum foil or place in an airtight, freezer-safe container or bag. Properly stored, it should keep in the freezer up to 3 months. Thaw overnight in the refrigerator.
More Berry-Packed Breads