Celebrate berry season with these delicious berry-studded cupcakes! With three kinds of sweet berries and a tangy cream cheese frosting, these cupcakes are perfect for all your summertime celebrations!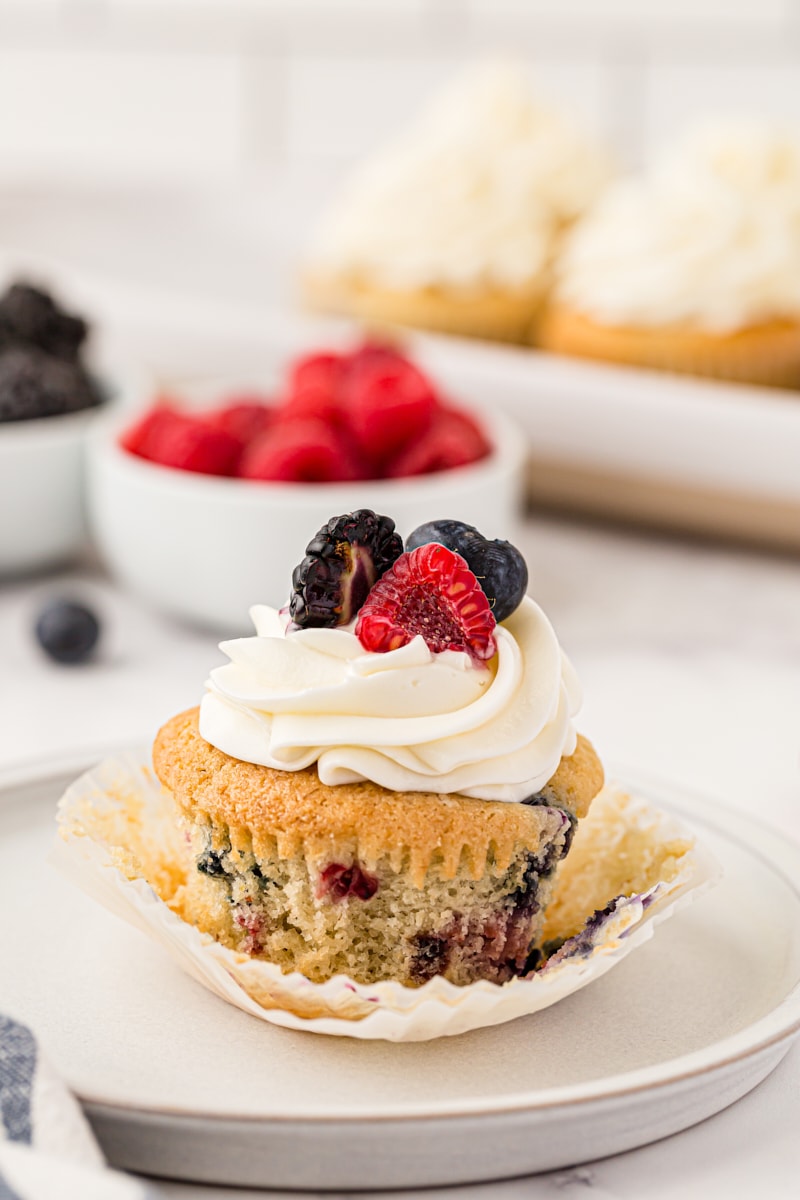 Triple Berry Cupcakes
For not the first time, I'm freely admitting that I go a little berry crazy every spring and summer. Their wonderful flavors are among my favorites to add to baked goods.
And these berry cupcakes are a fantastic way to enjoy some of those irresistible seasonal flavors! They're positively bursting with blueberries, raspberries, and blackberries. Add to that a rich, creamy frosting, and you've got a beautiful dessert you'll want to enjoy all season long!
Why You'll Love These Berry Cupcakes
These are just a few of the things that make these berry cupcakes absolutely delightful:
Flavorful – Each bite is infused with sweet berry flavor and tangy cream cheese frosting.
No-fuss – This recipe is designed to be accessible for both experienced bakers and beginners alike.
Crowd-pleasing – Whether you're hosting a family gathering, a birthday party, or just enjoying a meal at home, these berry cupcakes are sure to be a hit with everyone.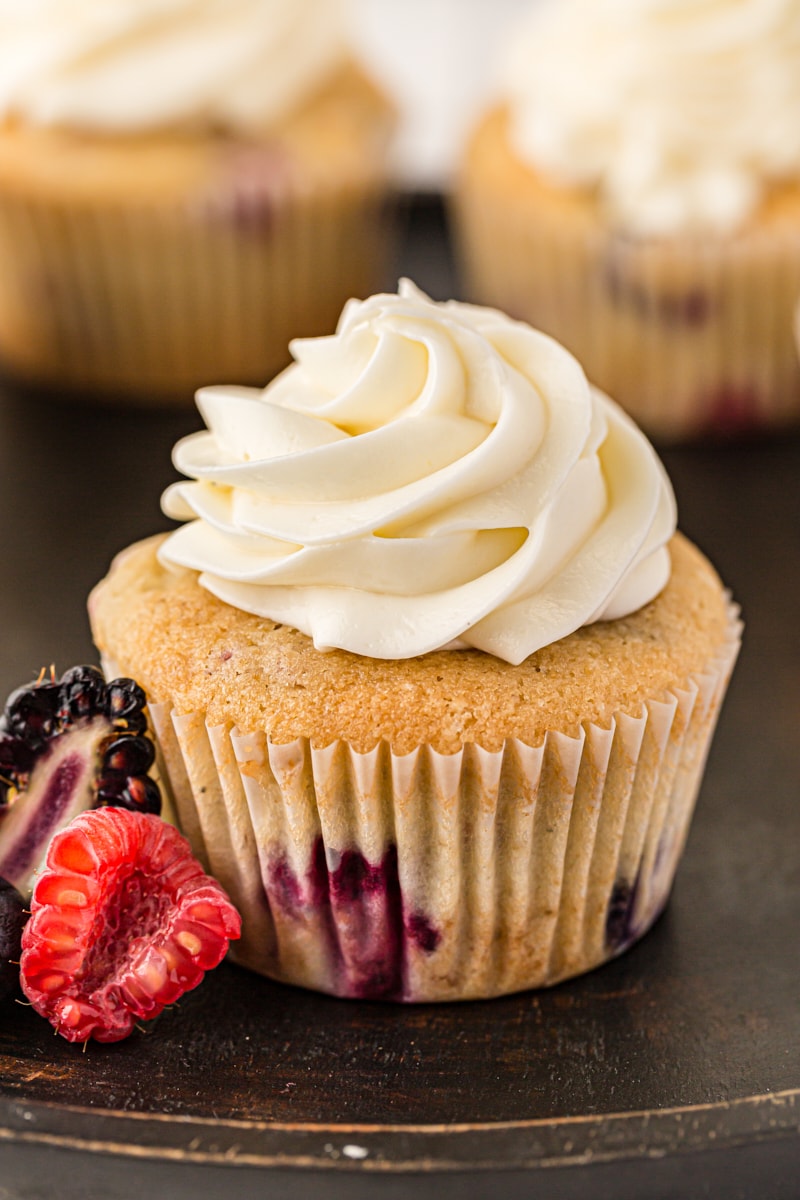 What You'll Need
See the recipe card at the bottom of the post for ingredient quantities and full instructions. Here are some notes about the ingredients you'll need to make these berry cupcakes.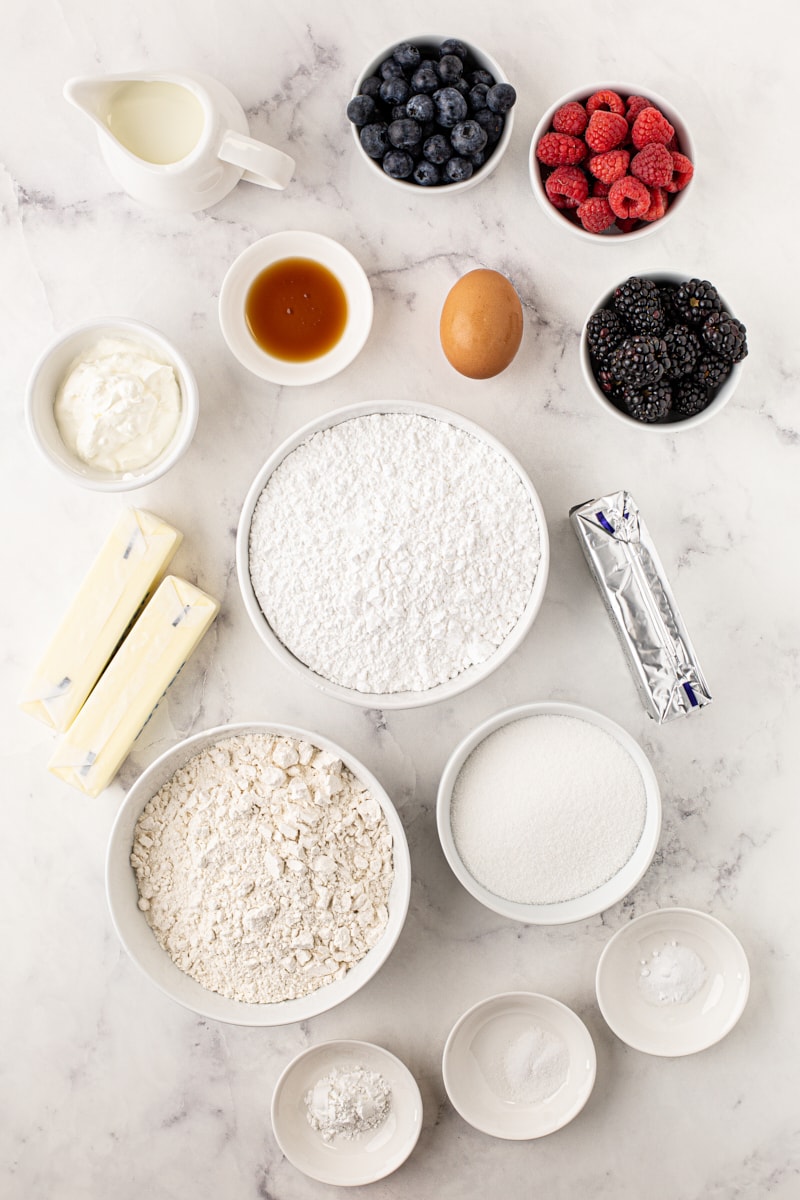 For the cupcakes:
All-purpose flour – As always, measure by weight or use the spoon and sweep method. Learn more: How to Measure Flour
Baking powder
Baking soda
Salt
Unsalted butter – Let the butter soften at room temperature until it holds a thumbprint when pressed but is still cool. Learn more: How to Soften Butter
Granulated sugar
Egg – Set out the egg along with the butter so it can come to room temperature.
Vanilla extract
Sour cream – Full-fat sour cream works best. Let this come to room temperature, too.
Milk – I prefer baking with whole milk.
Berries – These cupcakes feature a combination of raspberries, blueberries, and blackberries.
For the frosting:
Cream cheese – Use full-fat cream cheese for best results. Bring it to room temperature to avoid lumps in your frosting.
Unsalted butter – Let the butter soften before mixing.
Confectioners sugar – For a smooth frosting, sift the sugar before mixing.
Vanilla extract
Can I Use Frozen Berries?
Frozen berries contain more moisture than fresh berries. That can lead to soggy, discolored cupcakes. For best results, I recommend fresh berries. But in a pinch, frozen berries can be used. Just expect some differences in the cupcakes' texture and color. Learn more: Fresh vs Frozen Fruits in Baking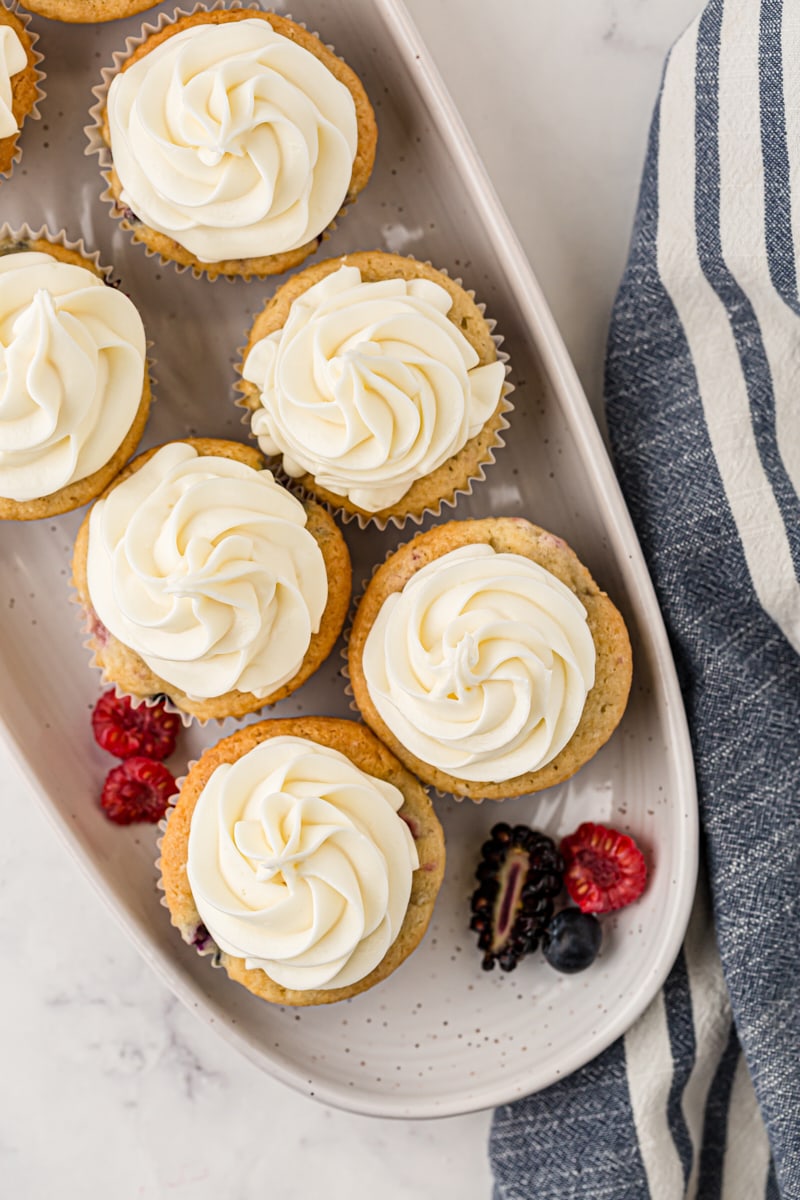 How to Make Berry Cupcakes
These no-fuss berry cupcakes are a cinch to make. Here's what you'll need to do:
Make the cupcakes
Prepare for baking. Heat the oven to 350°F. Line 18 standard muffin cups with paper liners.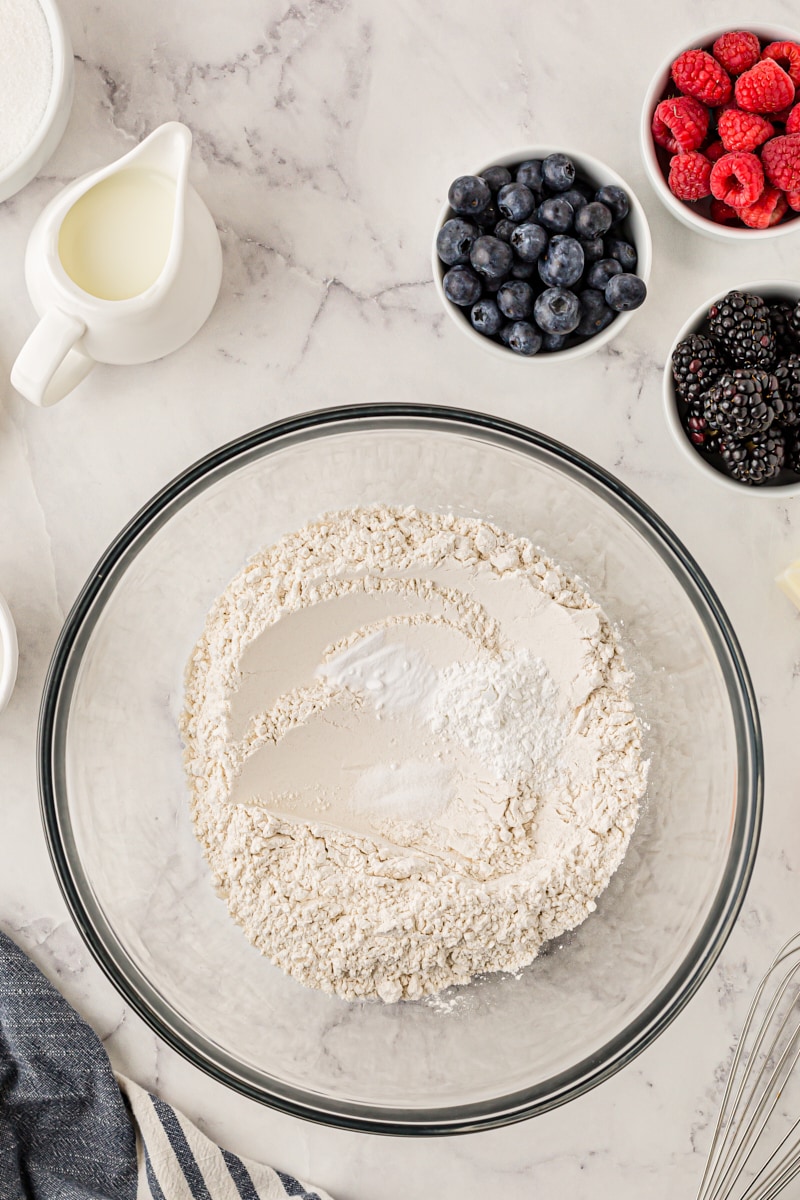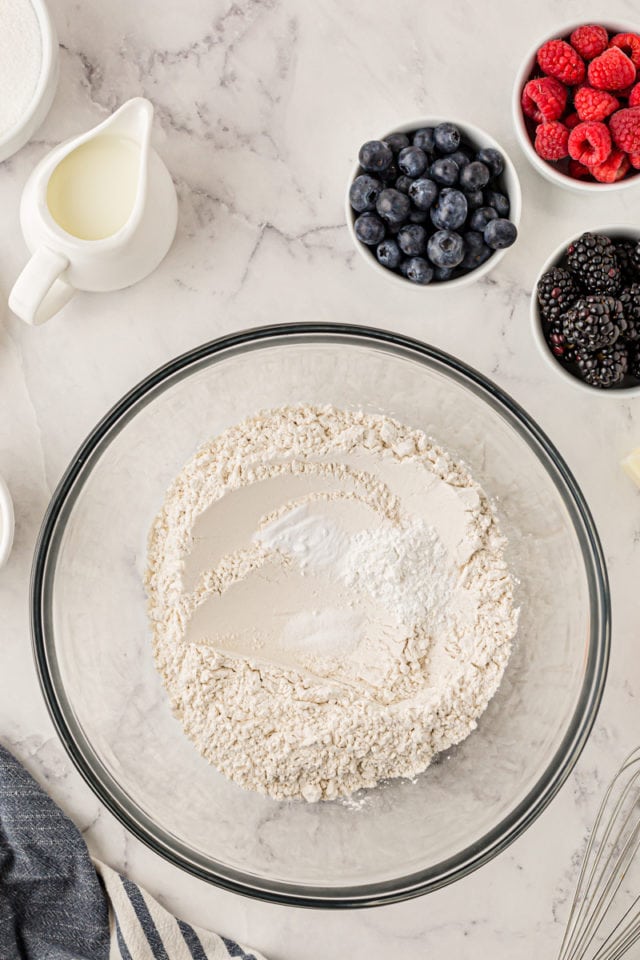 Combine the dry ingredients. Whisk together the flour, baking powder, baking soda, and salt.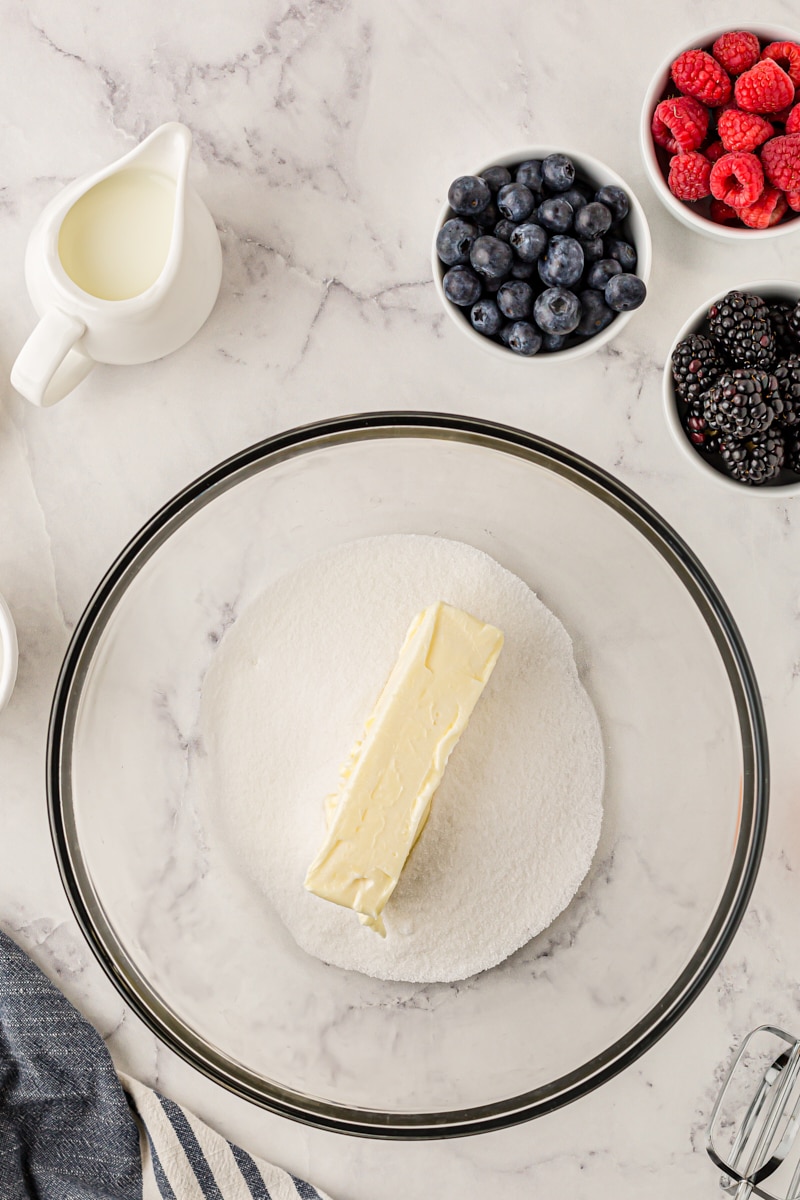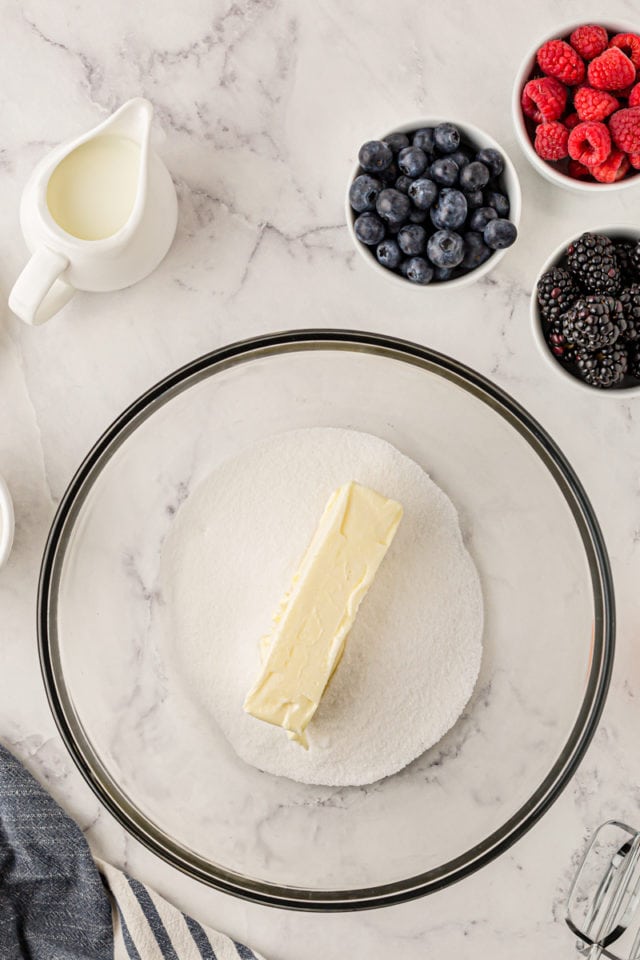 Combine the wet ingredients. Beat the butter and sugar using an electric mixer on medium speed, mixing until light and fluffy. Mix in the egg, vanilla, and sour cream.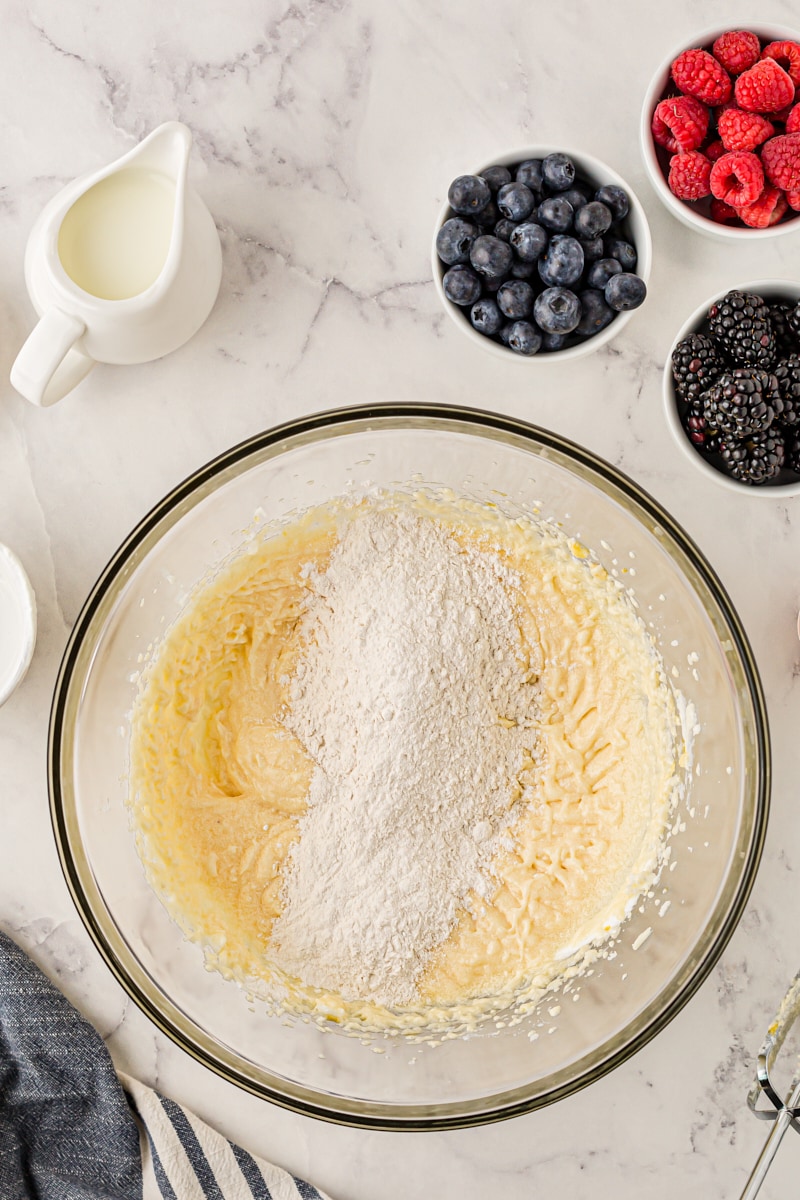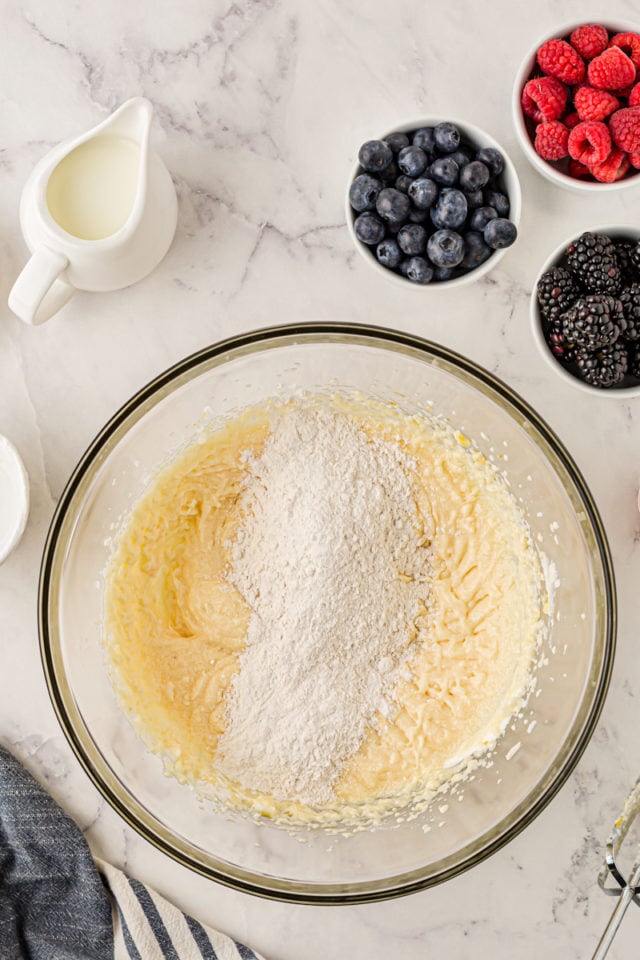 Finish mixing the batter. With the mixer on low speed, add the flour mixture in three portions, alternating with two portions of the milk. Mix just until combined.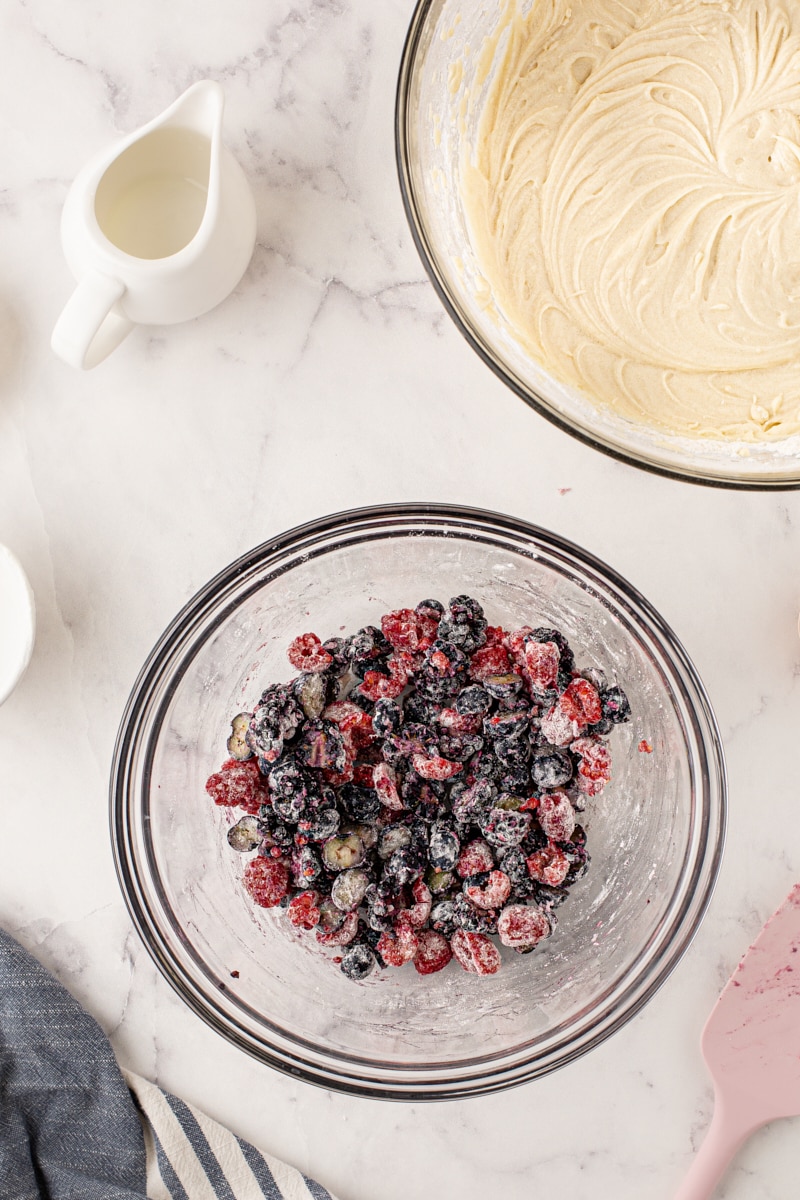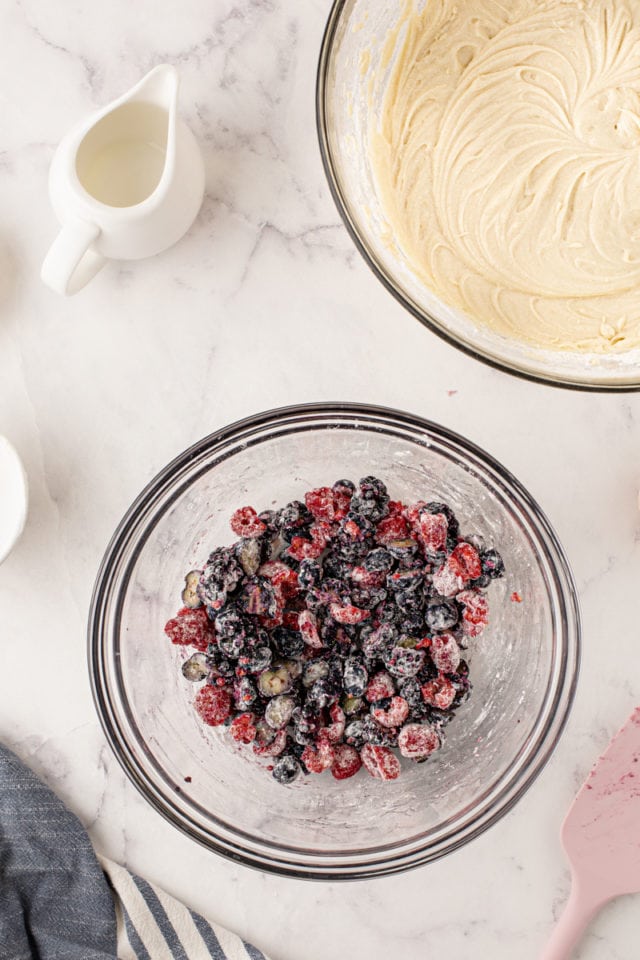 Add the berries. Cut the berries in half or quarters, and gently toss with 2 teaspoons of flour. Gently fold the berries into the batter.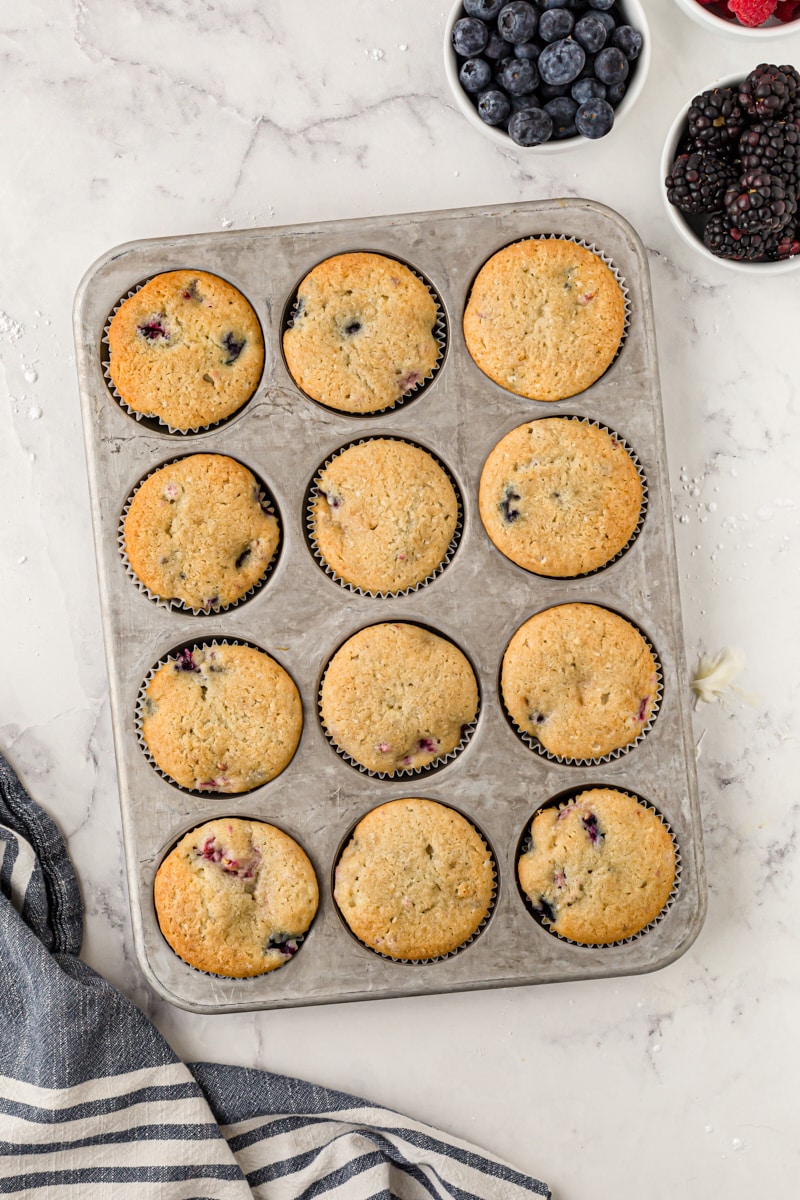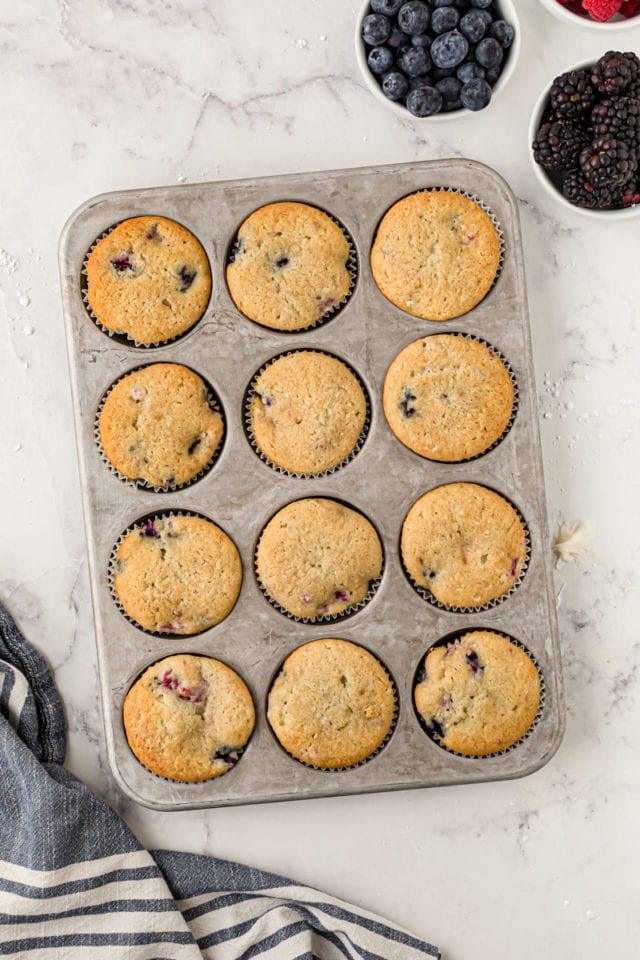 Portion and bake. Divide the batter among the muffin cups, using about 3 tablespoons of batter to fill each 2/3 full. Bake for 25 to 28 minutes, or until the tops of the cupcakes are golden brown and a toothpick inserted into the center comes out clean.
Cool. Place the pans on wire racks, and allow the cupcakes to cool for 5 minutes. Then remove them from the pans and place directly on a wire rack to cool completely.
Make the frosting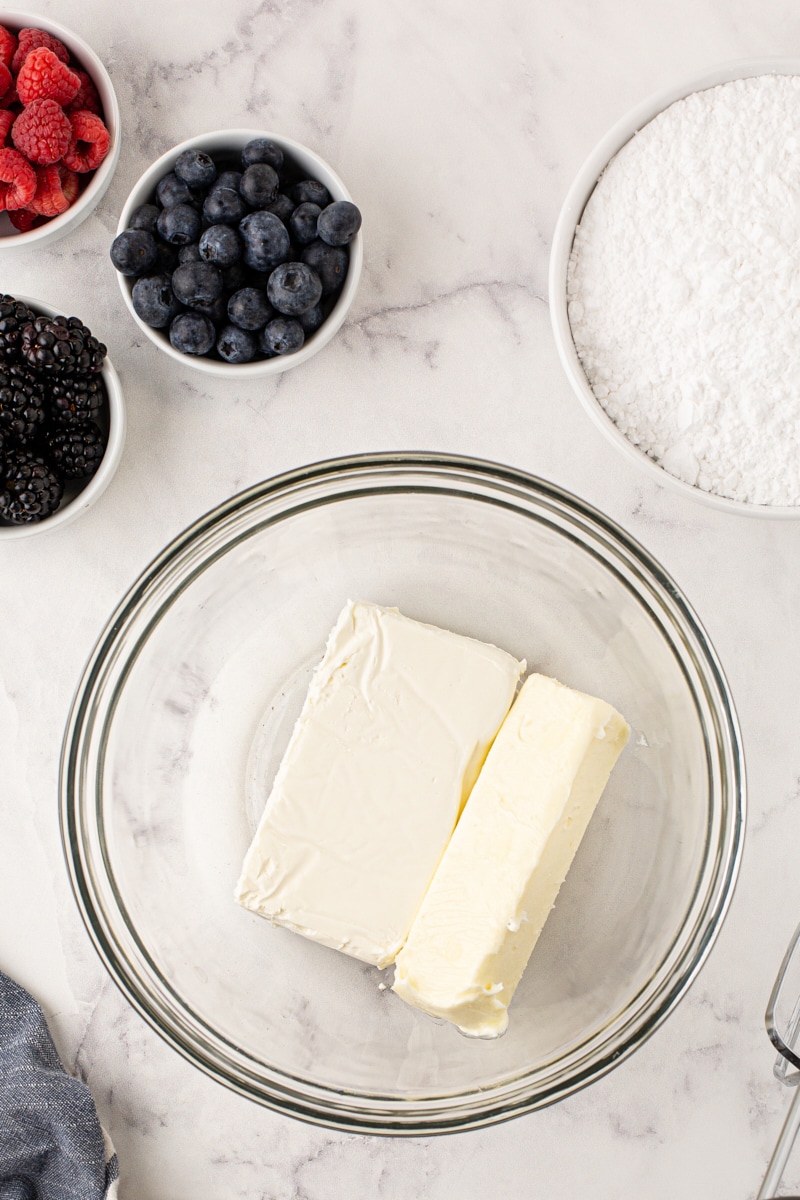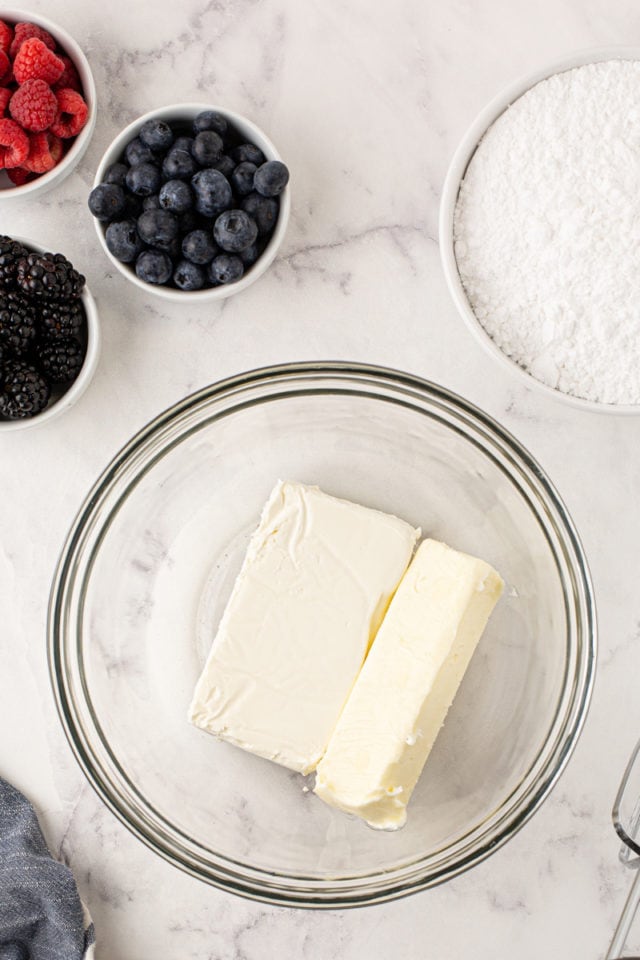 Begin mixing. With an electric mixer on medium speed, beat the butter and cream cheese until smooth.
Add the sugar. With the mixer on low speed, gradually add the confectioners sugar and mix until thoroughly combined.
Finish mixing. Mix in the vanilla. Then increase the mixer speed to medium, and continue mixing until the frosting is light and fluffy. This should take 2 or 3 minutes.
Frost the cupcakes. Pipe or spread the frosting on top of the cooled cupcakes. Serve immediately or keep refrigerated until about 10 minutes before serving.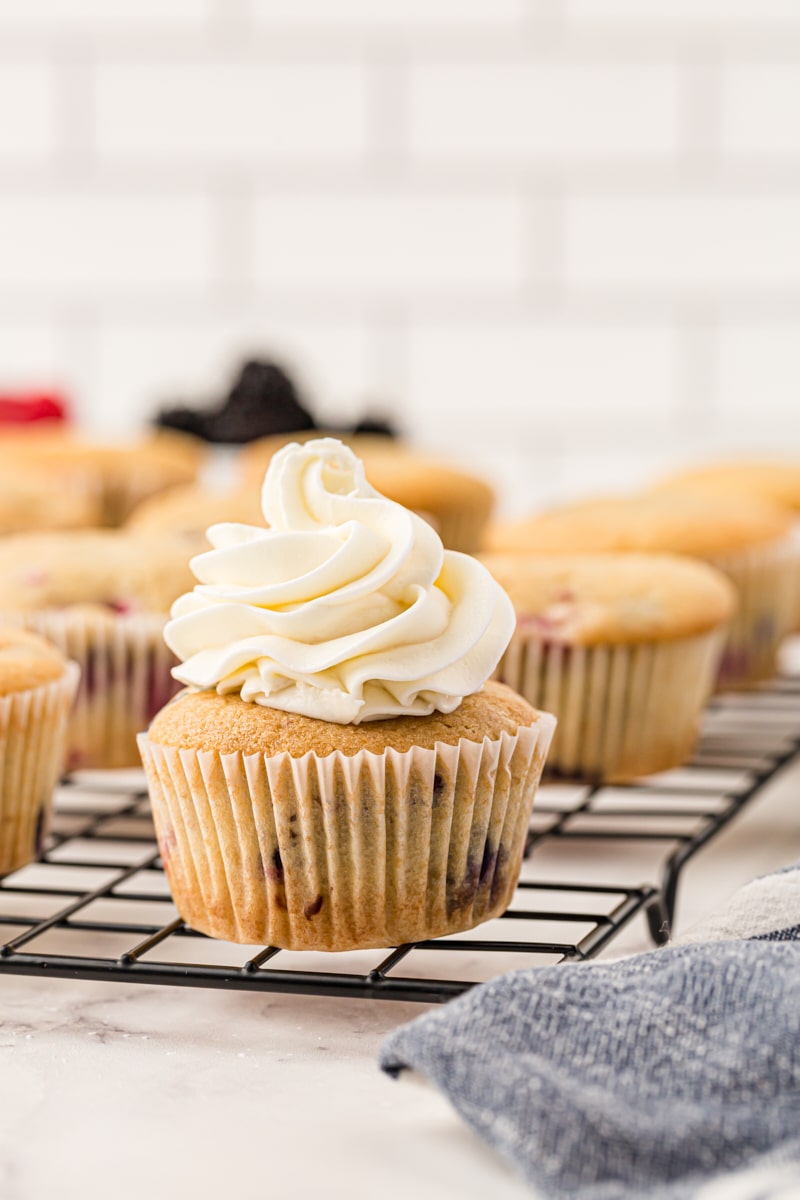 Tips for Success
These tips will help your berry cupcakes turn out perfectly every time!
Use fresh, ripe berries. The quality of the berries will definitely impact the end result. Choose fresh, plump, ripe berries.
Don't over-mix. Too much mixing leads to tough, dense cupcakes. Mix only as much as needed to combine the ingredients.
Need to make ahead? For best results, store the cupcakes and frosting separately, and then frost them before serving. The unfrosted cupcakes can be kept at room temperature. Store the frosting in the refrigerator, and then bring to room temperature and give it a stir before frosting the cupcakes.
Ideas for Variations
While I love these berry cupcakes with blueberries, blackberries, and raspberries, you can easily substitute different berries if you like. Use a combination or just pick one favorite! For a bite of citrus, try adding a squeeze of lemon juice in place of the vanilla extract in the cupcakes and frosting.
A simple vanilla frosting is another option for topping these cupcakes. Or if you're wanting something a bit simpler, skip the frosting in favor of a sprinkle of confectioners sugar or simply keep the cupcakes unadorned to keep the flavor focus on all those sweet berries.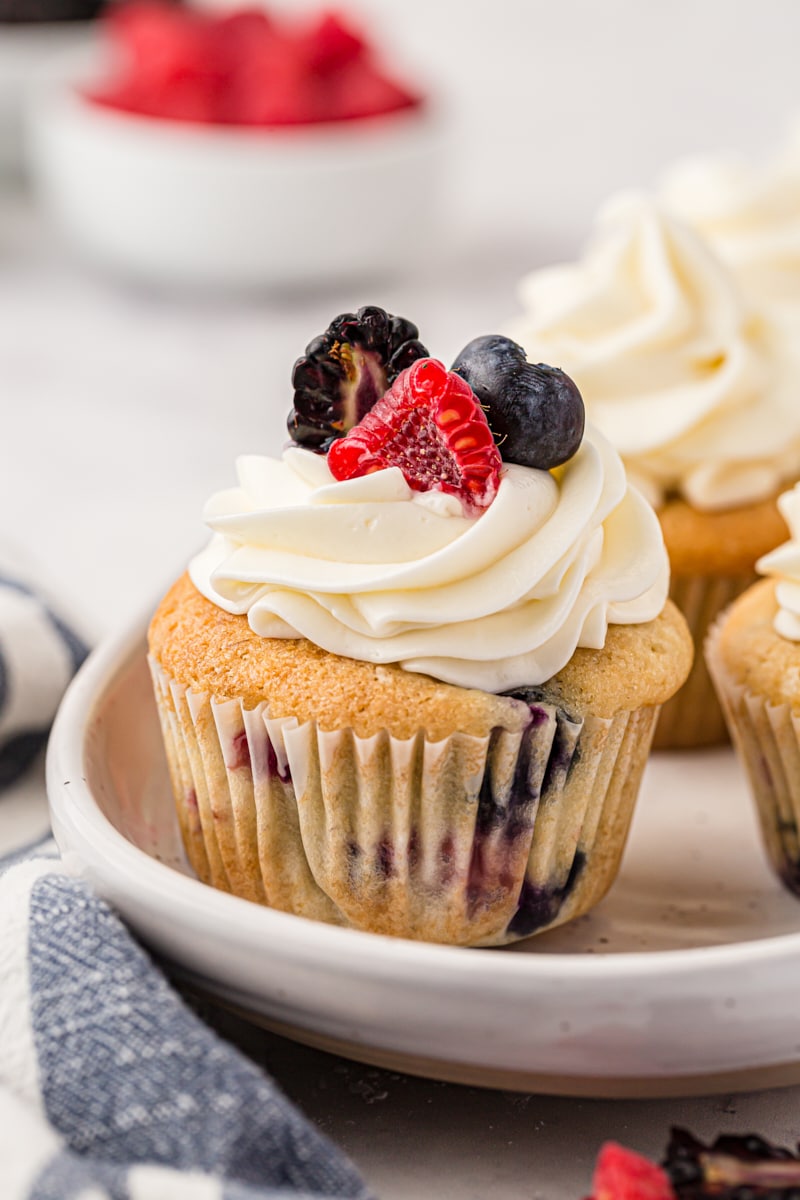 How to Store Berry Cupcakes
Place the frosted cupcakes in an airtight container, and store in the refrigerator up to 3 days. Bring them to room temperature before serving. Unfrosted cupcakes can instead be stored in an airtight container at room temperature. If you'd like to make the frosting in advance, store it in an airtight container in the refrigerator up to 3 days.
Can These Cupcakes Be Frozen?
Unfrosted cupcakes can be stored in the freezer in an airtight container for up to 3 months. Ensure they are fully cooled before packaging to freeze to avoid condensation that can lead to sogginess when thawed. To store frosted cupcakes, first place them on a pan in the freezer to solidify the frosting (about 2 to 3 hours) and then place them in a freezer-safe container. Thaw overnight in the refrigerator. The frosting may not look its best, but the flavor should be unaffected.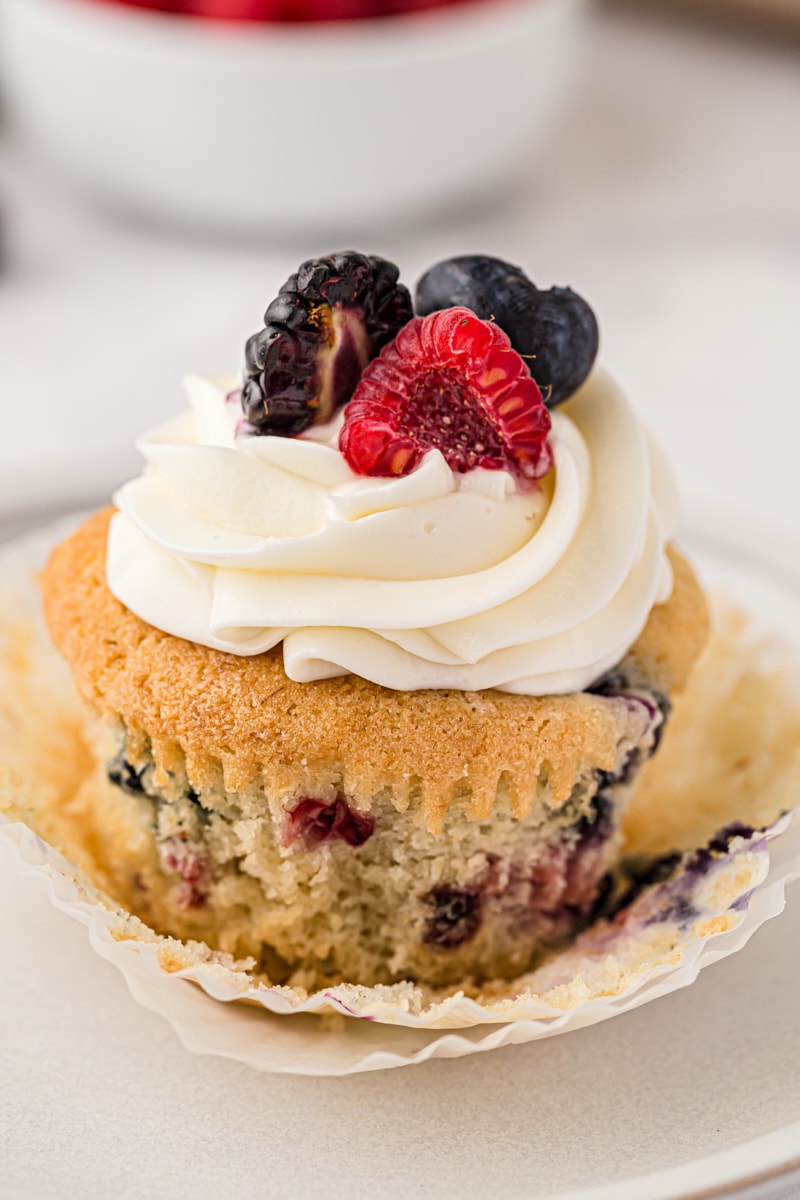 More Summer Cupcake Recipes