This Fresh Berry Tart will be one of your favorite summer desserts. Light, refreshing, and beautiful, it's always a show-stopper!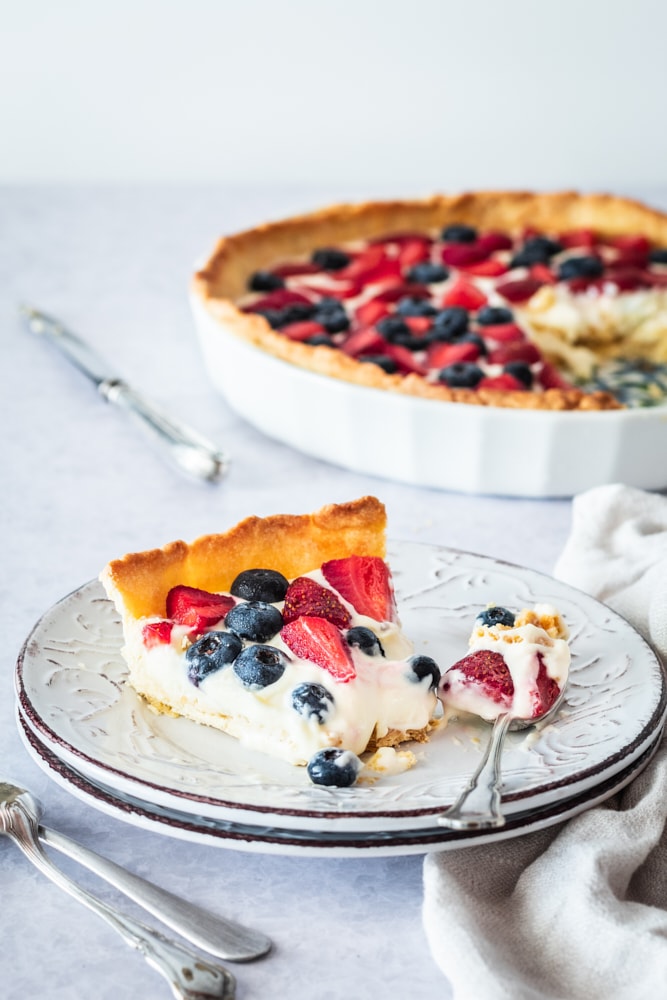 Bakery-Style Fruit Tart With Pastry Cream
The list of things I like about summer is pretty short compared to fall and winter, but there are a couple of standouts on that list. Among the top are summer berries, which are sweeter, fresher, and more delectable than the out-of-season berries you buy at the grocery store in January.
Desserts like this Fresh Berry Tart just aren't the same any other time of year. All those berries piled on top of a lovely, cool pastry cream, and all that on top of sweet homemade crust… yes, this is definitely one of summer's best desserts.
This Berry Tart is a bit unlike my usual recipe offerings. It's more involved, although I wouldn't classify it as difficult. Each step is simple, but it can be time consuming. Just plan ahead and make this beauty in stages, and you'll be set.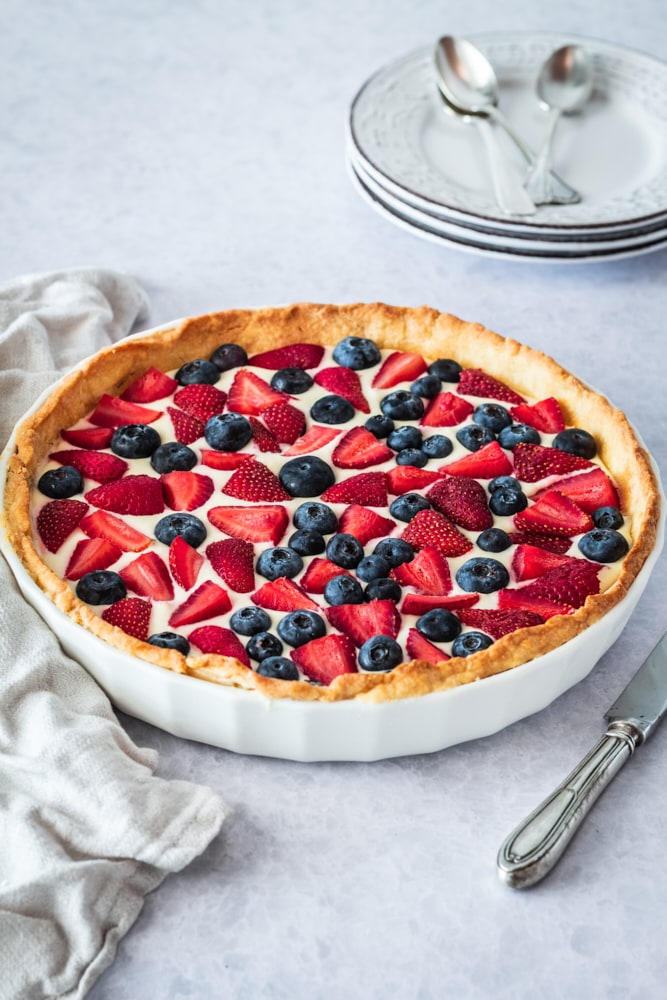 What Is Fruit Tart Filling Made Of?
You've undoubtedly seen French fruit tarts at bakeries, with golden brown crusts and glistening, artfully arranged fruit on top. The filling underneath that fruit is pastry cream, or crème pâtissière as it's known in French. It's used in everything from eclairs to Boston cream pie, and it's essentially a spreadable, pipe-able custard.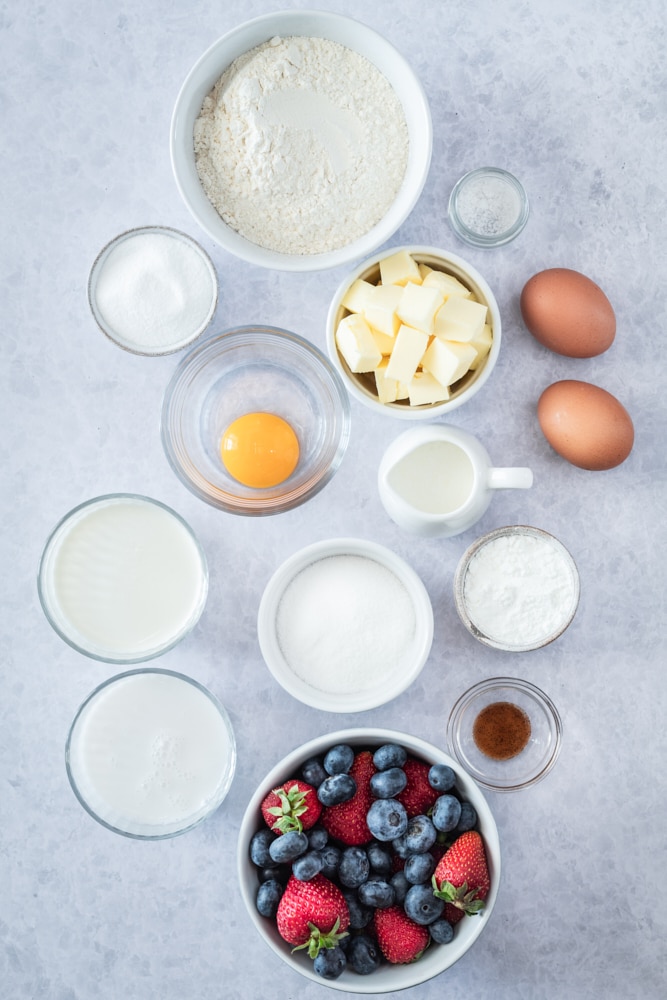 What You'll Need
Here's everything you'll need to make this fresh, summery berry tart.
For the crust:
Cold unsalted butter – Cut the butter into 1-inch cubes; the colder it is, the better!
Superfine sugar – Here's how to make superfine sugar.
All-purpose flour
Salt
Egg yolk – Eggs that are fresh out of the refrigerator separate more easily.
Heavy cream
For the whipped pastry cream:
Eggs
Cornstarch
Half-and-half – See my list of half-and-half substitutes.
Granulated sugar
Vanilla extract or vanilla bean paste – If you want to change things up, you can use almond extract here.
Salt
Unsalted butter
Heavy cream
For assembly:
Fruit preserves – This gives your tart a French bakery-style glaze. Use apricot, raspberry, or currant.
Fresh berries – Rinse them, hull them, and dry them well to keep the berries from making your tart soggy.
What berries are best for topping a fresh fruit tart?
Any berries can be used on this tart. The one you see here was made with strawberries and blueberries. I've also made it with raspberries and blackberries. Use any variety you want based on your preferences or what looks freshest.
You can change the berries as the season progresses, and you can also use slices of kiwi, peaches, nectarines, and plums.
How to Make a Fresh Berry Tart
Give yourself plenty of time to make this recipe. Again, it's not hard, but there are a lot of steps involved!
To make the crust:
Start the dough. Combine the butter and sugar in your food processor. Pulse about 15 times, or until the sugar disappears. Add the flour and salt; pulse again about 15 times, until the butter is no bigger than small peas.
Finish the dough. Stir the egg yolk and cream in a small bowl and pour this into the food processor. Pulse about 8 times, just until incorporated. The dough will be crumbly, and that's okay. Scoop the dough into a plastic bag and press from the outside just until it holds together.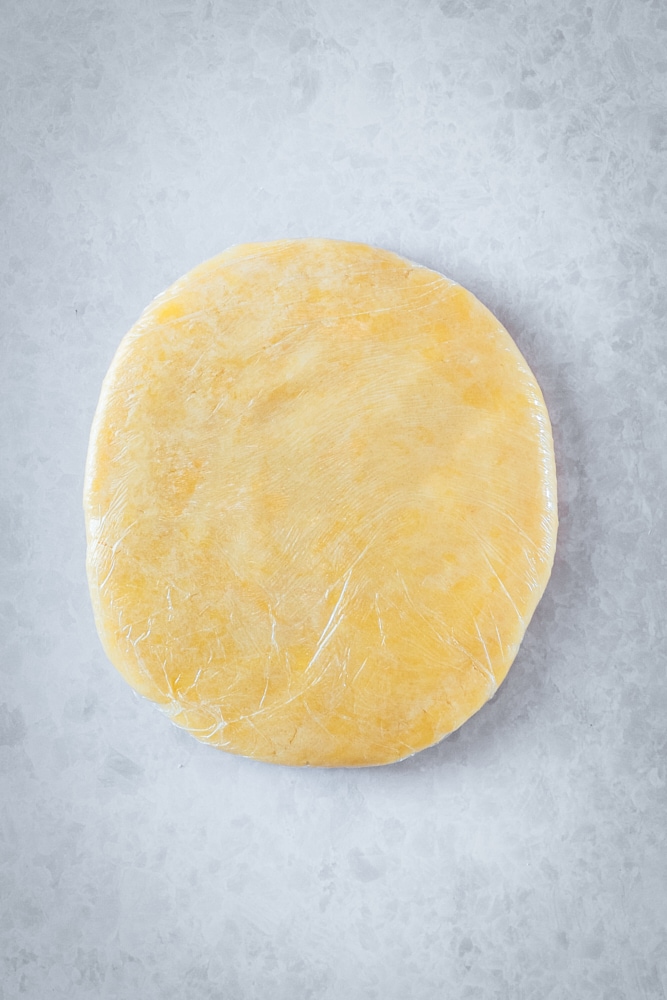 Form the dough into a disc. Transfer the dough to a large piece of plastic wrap. Use the plastic wrap to knead the dough a few times, until it's smooth. Press into a 6-inch disc, wrap it with the plastic, and refrigerate for 30 minutes or freeze for 10 minutes, or until it's firm.
Roll out the dough. Roll the dough between two lightly floured sheets of plastic wrap until it forms an 1/8-inch-thick circle. Work quickly so the dough does not soften.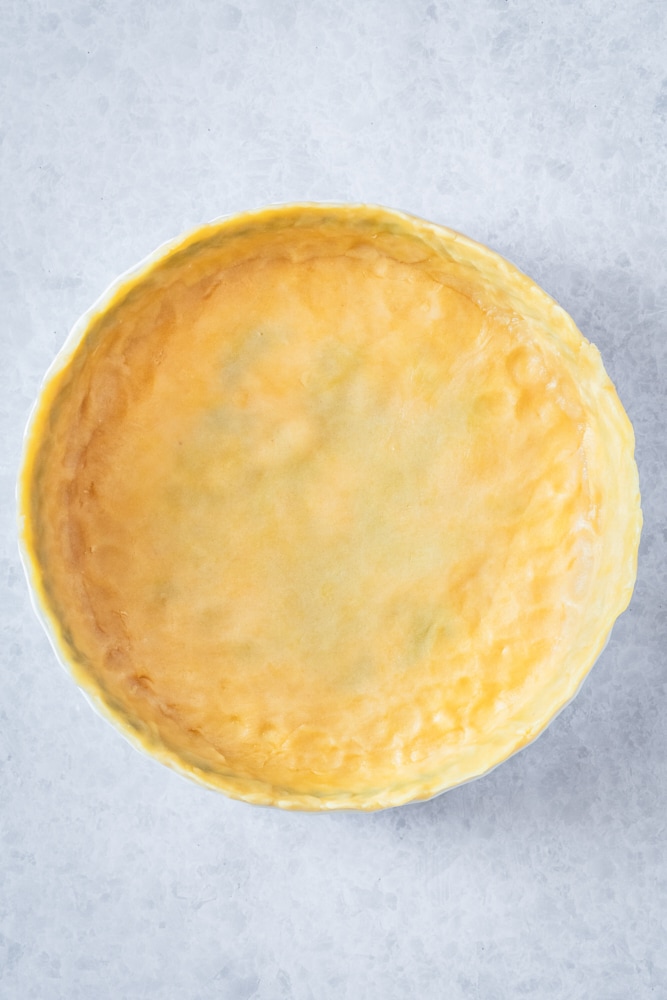 Make the crust. Remove the top sheet of plastic wrap. For a 9 1/2- by 1-inch tart pan, cut the dough to an 11-inch circle. Lift the dough using the plastic wrap; invert it and drape it evenly into the tart pan. Remove the plastic wrap and press the dough into the sides of the pan until it's about 1/8 inch above the rim (it will fall during baking).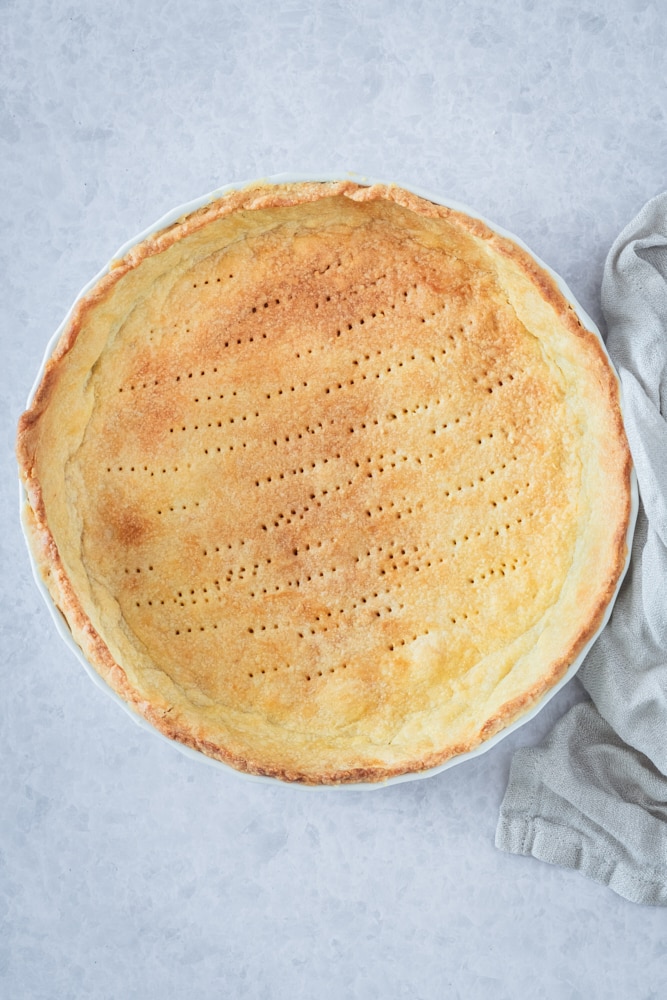 Bake. Bake the crust at 425°F for 5 minutes. When the dough starts to puff, prick it lightly with a fork, then bake at 375°F for 10-15 minutes more.
To make the pastry cream: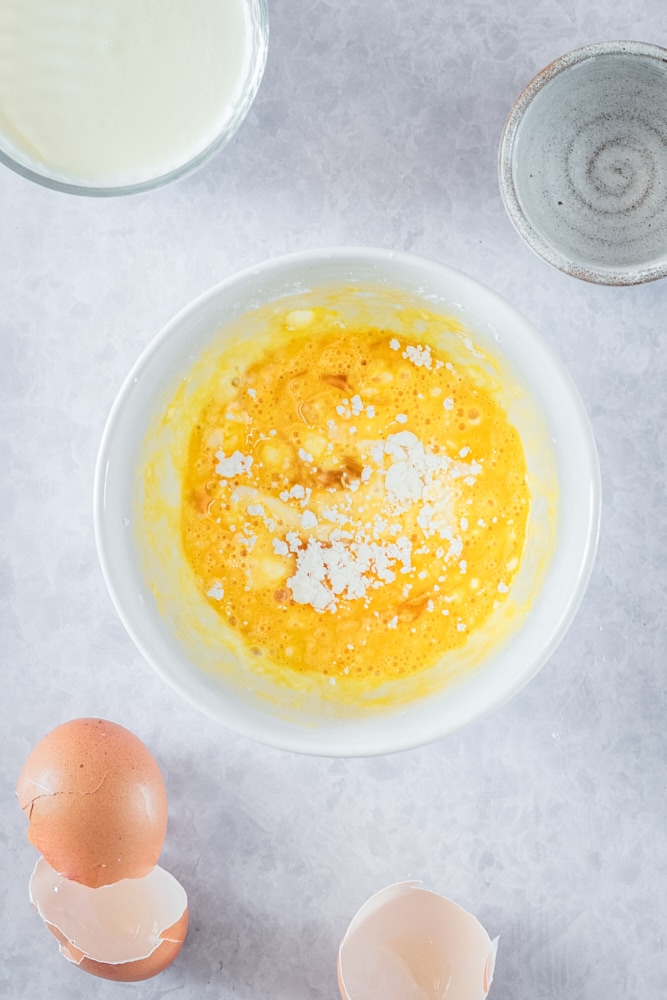 Make the egg mixture. Whisk the eggs and cornstarch in a small bowl. Slowly add 1/4 cup of the half-and-half. Continue to whisk until the mixture is smooth and the cornstarch has dissolved.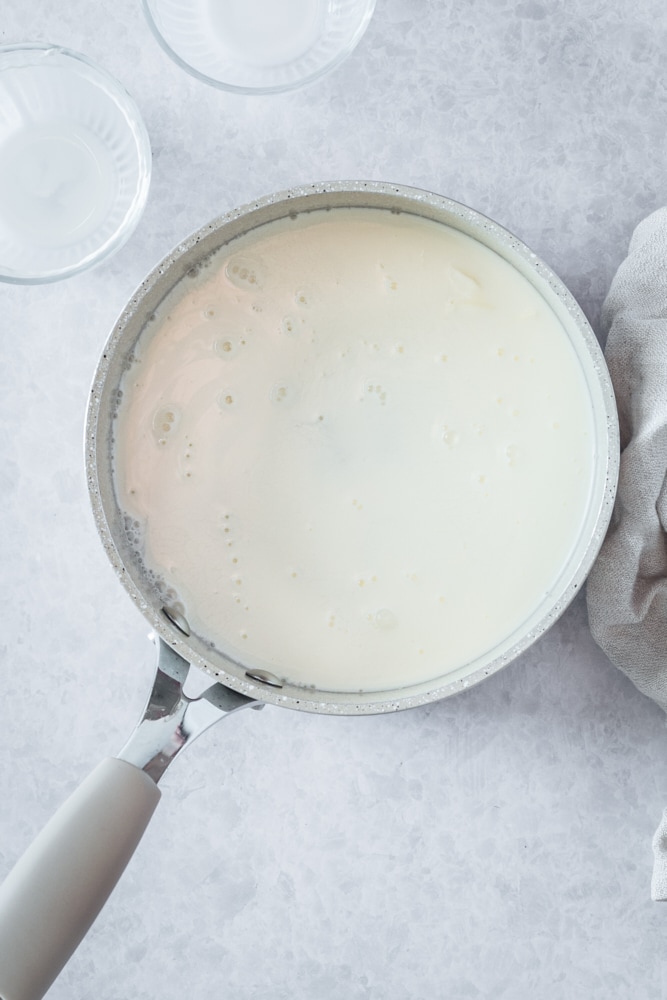 Heat the sugar and half-and-half. Place the sugar in a medium, heavy, nonreactive saucepan. Stir in the remaining half-and-half and salt. Bring the mixture to a boil over medium heat, stirring occasionally. Whisk 2 tablespoons of the sugar mixture into bowl with the egg mixture. Pass the egg mixture through a strainer into another small bowl.
Finish cooking. Return the half-and-half mixture to a boil. Add the egg mixture and whisk quickly for 20-30 seconds. The mixture should be very thick.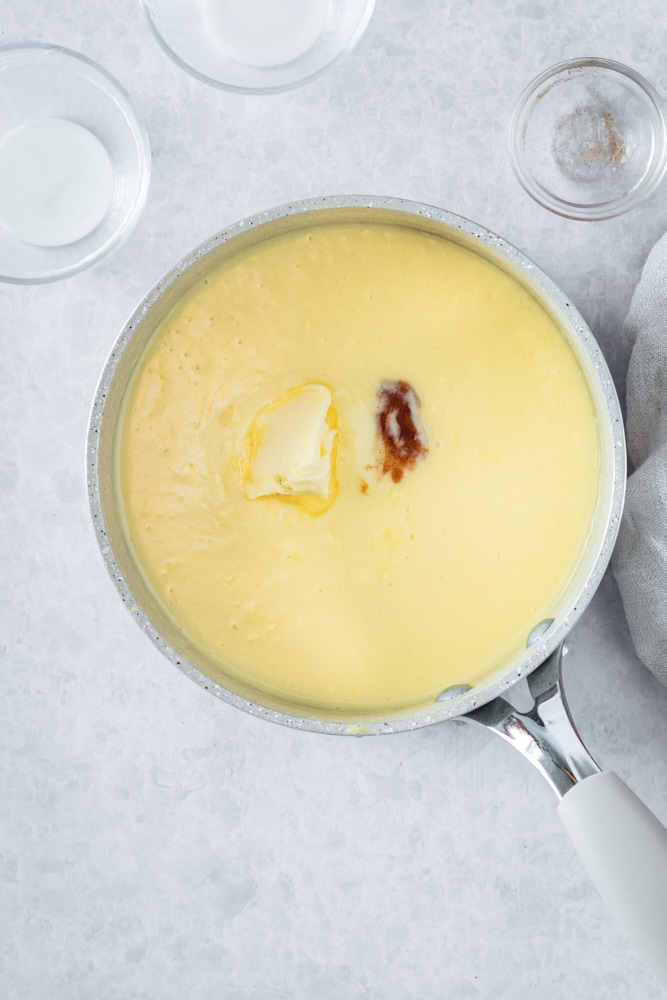 Add the butter. Remove the pan from heat and whisk in the butter and vanilla extract. Immediately pour this mixture into a bowl and place a piece of greased plastic wrap onto the top of the cream to prevent a skin from forming.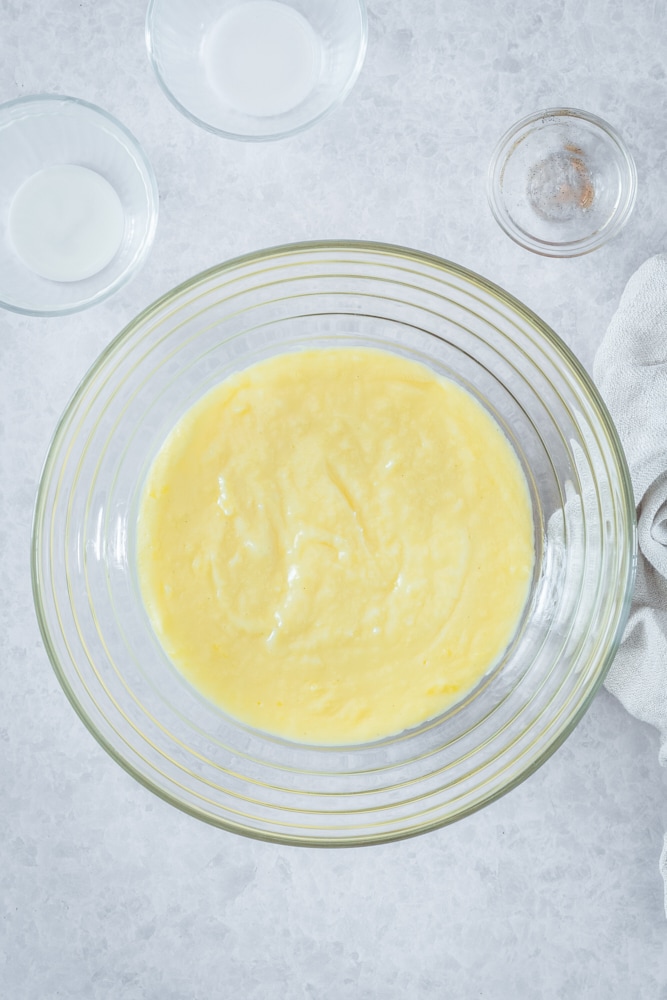 Chill. Cool the cream to room temperature, then refrigerate it until it's cold.
Finish. Whip in the desired amount of heavy cream and fold it into the pastry cream. (For this recipe, I used equal amounts of pastry cream and whipped cream.)
To assemble:
Warm the preserves. If you're using preserves with whole fruit or seeds, microwave it in a small bowl until it's melted and bubbling, stirring once or twice. Strain it through a fine mesh sieve to remove the seeds and fruit pieces. This should yield about 3 tablespoons. Brush the preserves onto the bottom and sides of the cooled crust.
Assemble. Spread the pastry cream into the crust in an even layer. Arrange the fresh berries on top and refrigerate 1-3 hours before serving.
Tips for Success
Here are some of my best tips for a perfect berry tart:
Measure accurately. Use a kitchen scale to measure by weight when possible. Otherwise, use the spoon and sweep method. Learn more: How to Measure Flour.
A food processor is your friend. But you can make this crust by hand if you don't have one. It can be a bit of a challenge to get it mixed, but it's certainly doable.
Add as much whipped cream as you like. You can vary the consistency of the filling by changing the amount of whipped cream. Keep in mind that you'll get about double the volume of heavy cream when you whip it.
Spread out the work. Both the crust and the filling can be made in advance, so it can be helpful to spread out making this tart over a couple of days to make it less labor-intensive. The crust will keep at room temperature for up to 2 days, while the cream will last 3 days in the refrigerator.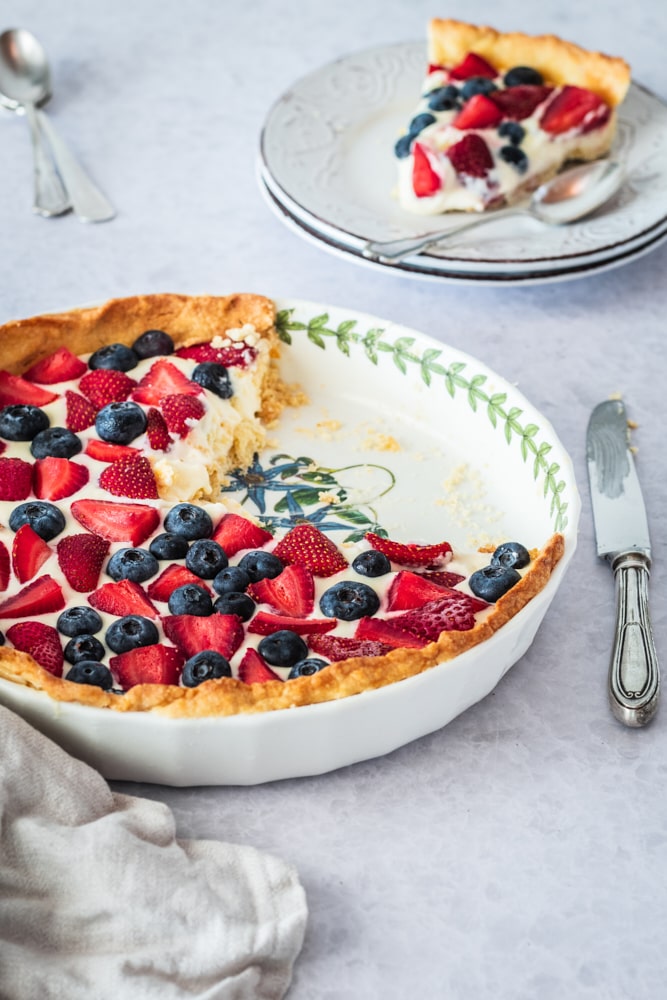 How to Store
Store this Fresh Berry Tart covered in the refrigerator for up to 2 days. How long it lasts will depend on the freshness of your berries, though—if your berries were a little past their prime when you assembled the tart, it might only keep for a day.
Can This Recipe Be Frozen?
No, this recipe can't be frozen; when frozen and thawed, the berries will release liquid into the cream and make the tart soggy. If you do want to make this in advance, you can assemble the crust, fill it with the cream, and freeze it for up to 3 months without the berries on top. Thaw the tart in the refrigerator, then top it with berries.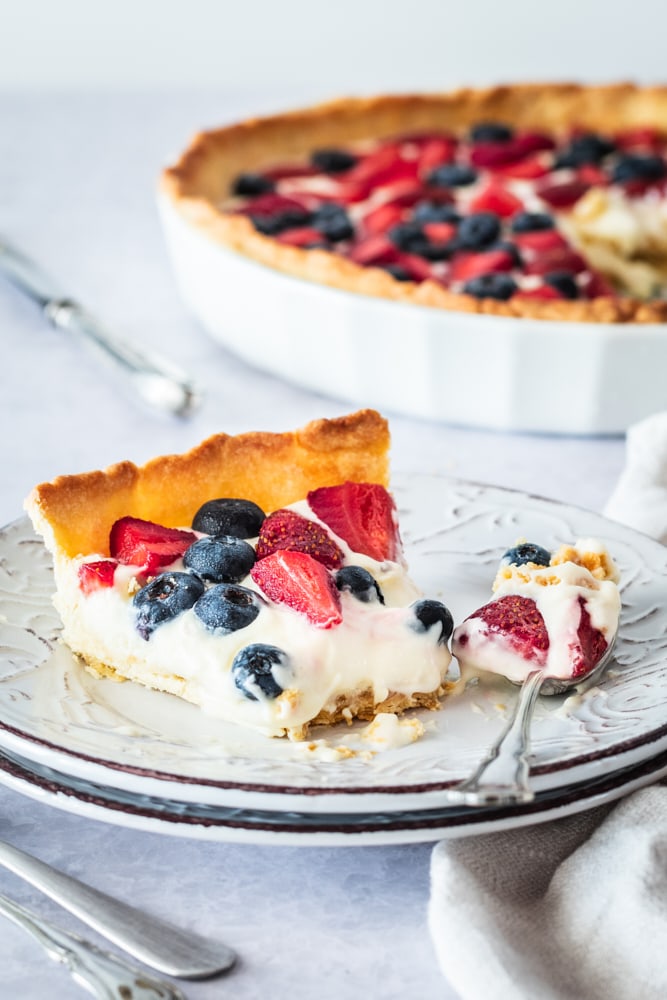 More Fruit Pies and Tart