June 3, 2008
Fresh Berry Tart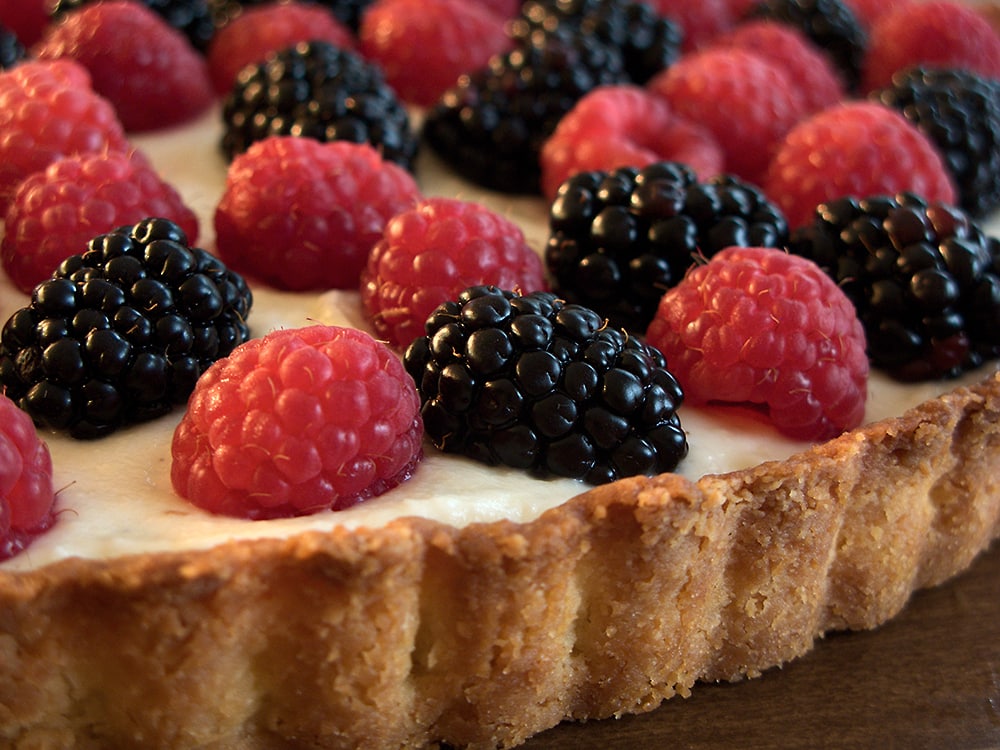 I do not like summer. Really, what's all the fuss? It's just hot, and I don't like being hot. Of course, if I lived somewhere other than the South, I might feel differently. Here, our summer seems to last half of the year.
I don't mean to be start out being so negative, but all of my summer-related whining does have a point. There are a couple of things that I like about summer. Well, now that I think about it, there may just be one: fresh berries.

Tarts like this just aren't the same in any other season. All those berries piled on top of a lovely, cool pastry cream. And all that on top of sweet cookie crust.
This is a bit unlike my usual recipe offerings. It is a bit more involved, although I wouldn't classify it as difficult. Quinn and I teamed up on this one, and that made the process much easier.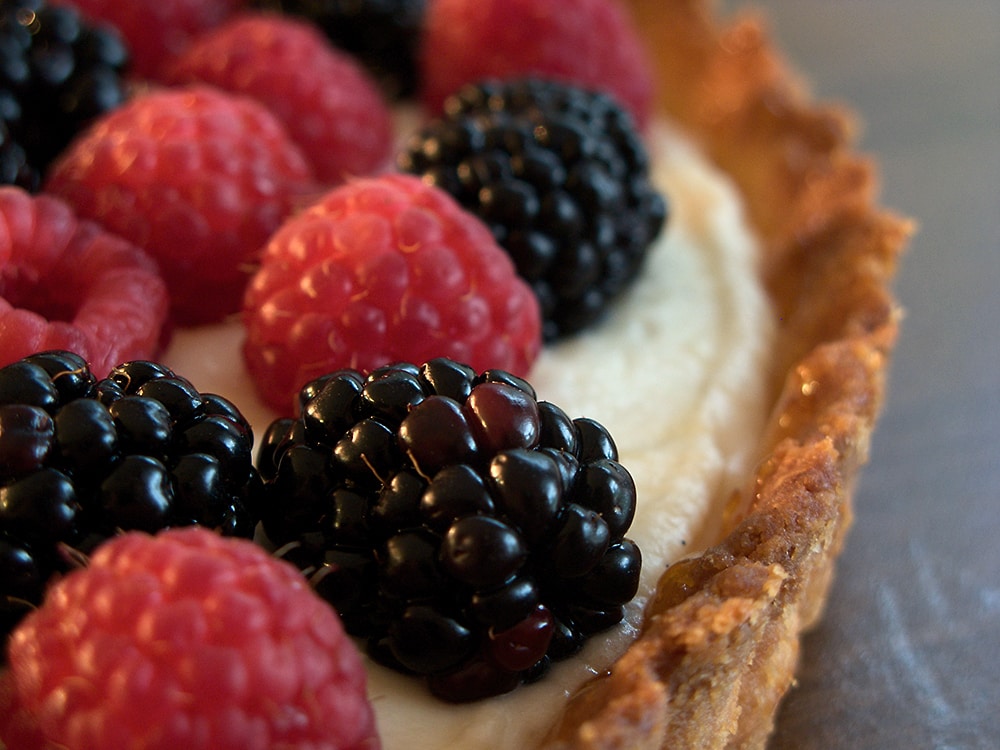 Any berries can be used on the tart. We chose raspberries and blackberries because they were the freshest, prettiest ones we could find. This is the cover recipe for The Pie and Pastry Bible. That tart is covered with a much bigger variety of berries. I like the adaptability of recipes like this. You can change the berries as the season progresses or as your tastes demand.
By the way, normally I would proudly display a photo of a slice of this tart. But, as it was consumed fairly quickly, all we have are photos of an intact tart taken right before it was served. Hopefully, you will enjoy them anyway.
Fresh Berry Tart
Yield: 8 to 10 servings
Prep Time:45 minutes
Cook Time:20 minutes
Turn fresh berries and a lovely pastry cream into a sweet, beautiful dessert with this Fresh Berry Tart.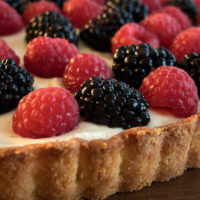 Ingredients:
For the crust (pâte sucrée):
8 tablespoons cold unsalted butter, cut into 1-inch cubes
1/4 cup superfine sugar
1 & 1/2 scant cups all-purpose flour
1/8 teaspoon salt
1 large egg yolk
2 tablespoons heavy cream
For the whipped pastry cream:
2 large eggs
3 tablespoons cornstarch
2 cups half-and-half, divided
1/2 cup sugar
1 teaspoon vanilla extract or vanilla bean paste
pinch of salt
1 tablespoon unsalted butter
1/2 to 1 & 1/4 cups heavy cream
For the topping:
about 1/4 cup fruit preserves, such as apricot, raspberry, or currant for glazing (optional)
3-4 cups fresh berries, rinsed, hulled (if necessary), and dried
Directions:
To make the crust:
Place the butter and sugar in a food processor. Pulse about 15 times until sugar disappears. Add the flour and salt and pulse again about 15 times until the butter is no larger than small peas.
Stir together the egg yolk and cream. Add to the food processor and pulse about 8 times, just until incorporated. The dough should be in crumbly pieces. Transfer the dough to a platic bag and press from the outside just until it holds together.
Transfer the dough to a large piece of plastic wrap. Using the plastic wrap, knead the dough a few times until it becomes one smooth piece. Flatten into a 6-inch disc. Wrap well and refrigerate for 30 minutes or freeze for 10 minutes until firm enough to put into the tart pan.
Roll the dough between lightly floured sheets of plastic wrap into an 1/8-inch-thick circle. Work quickly so that dough does not soften. If it becomes too soft, place it (in the plastic wrap) on a baking sheet and refrigerate or freeze until firm.
Remove the top sheet of plastic wrap. For a 9 & 1/2- by 1-inch tart pan, cut the dough to an 11-inch circle. Lift the dough using the plastic wrap. Invert the dough and drape it evenly into the tart pan. Remove the plastic wrap and press dough into the sides of the pan. The dough should come about 1/8 inch above the rim of the pan because it will fall during baking.
Bake at 425°F for 5 minutes. When the dough starts to puff, prick it lightly with a fork. Then bake at 375°F for 10-15 minutes. (The baked crust will keep at room temperature in an airtight container for up to 2 days.)
To make the pastry cream:
Whisk together the eggs and cornstarch. Gradually add 1/4 cup half-and-half. Whisk until smooth and the cornstarch is dissolved.
Place the sugar in a medium heavy nonreactive saucepan. Stir in the remaining 1 & 3/4 cups of half-and-half and salt. Bring the mixture to a boil over medium heat, stirring occasionally. Whisk 2 tablespoons of hot mixture into egg mixture. Pass the egg mixture through a strainer into a small bowl.
Bring the half-and-half mixture to a boil again. Quickly add the egg mixture and whisk rapidly for 20-30 seconds. The mixture should become very thick.
Remove from heat and whisk in the butter and vanilla extract. Immediately pour into a bowl and place a piece of greased plastic wrap down into the bowl directly over cream to prevent a skin from forming.
Cool to room temperature (about an hour). Then refrigerate until cold. May be refrigerated up to 3 days or frozen up to 1 month.
Whip the desired amount of heavy cream. Fold into the pastry cream. (For this recipe, I used roughly equal amounts of pastry cream and whipped cream.)
To assemble:
If using preserves with whole fruit or seeds, microwave until liquid and bubbling, stirring once or twice. Strain. This should yield about 3 tablespoons. Brush onto the bottom and sides of cooled crust.
Spread the pastry cream evenly into the crust. Place fresh berries on top. Refrigerate 1-3 hours before serving.
This post contains affiliate links.