You'll love the irresistible combination of sweet raspberries and buttery crumb topping in this Raspberry Coffee Cake. Serve this anytime cake from breakfast to dessert!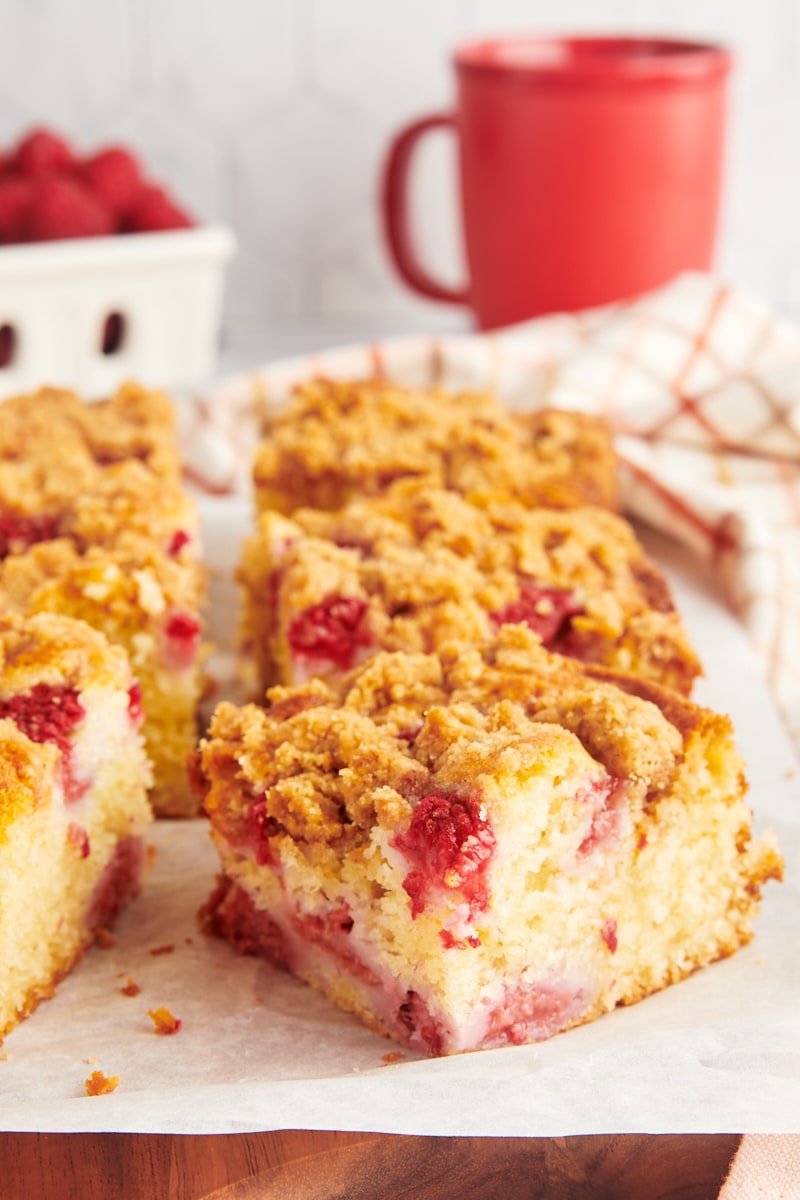 Raspberry Coffee Cake
This Raspberry Coffee Cake combines the fruity goodness of raspberries and the comforting charm of a classic coffee cake. And that delightful combination is one you'll want to revisit again and again.
Whether you're serving this cake for brunch, sharing slices over coffee, or savoring it as a treat at the end of the day, this Raspberry Coffee Cake is a must-try recipe for berry season.
Below, you'll find notes and tips to help make you make this summertime coffee cake. Enjoy!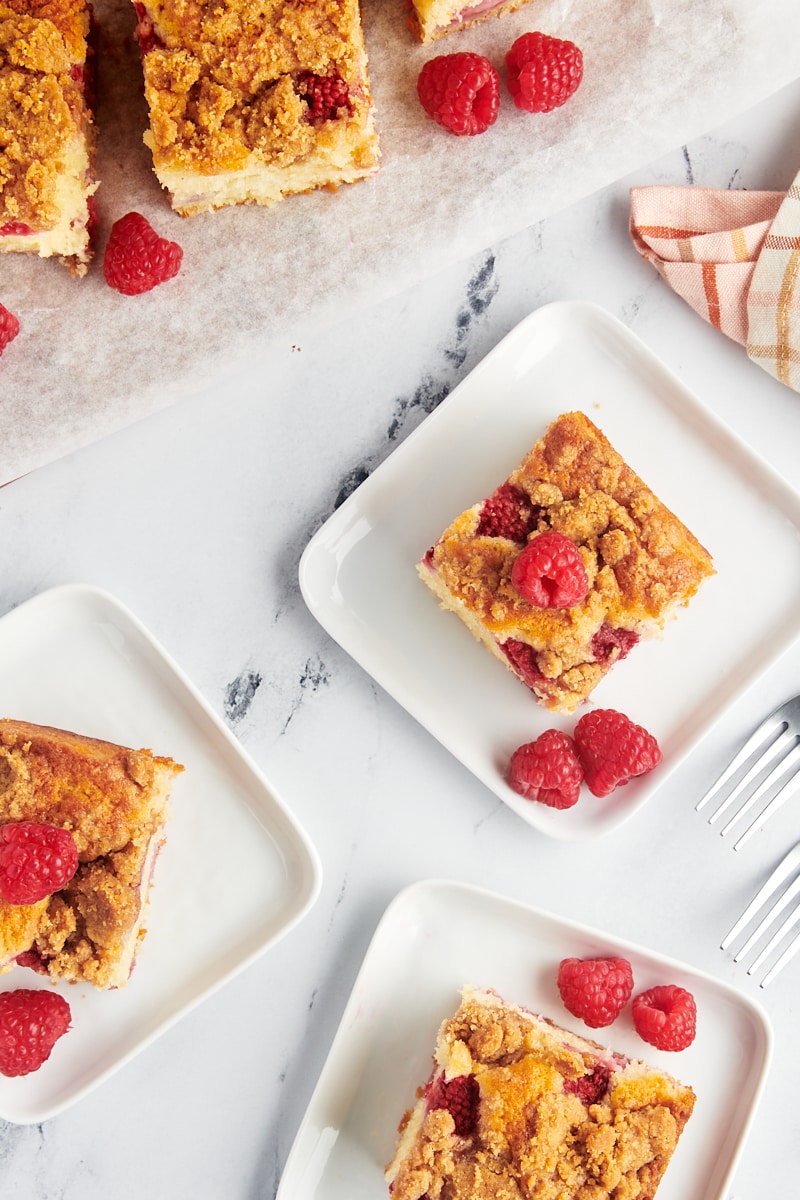 Why You'll Love this Raspberry Coffee Cake Recipe
Flavorful. With plenty of sweet raspberries and a cinnamon crumb topping, there's a wonderful balance of sweet and tart going on here.
Easy to make. This no-fuss recipe is great for bakers of all skill levels.
Colorful. That beautiful burst of color from the raspberries is so eye-catching!
Versatile. Like most coffee cakes, this one is great for a sweet breakfast treat, a coffee break companion, or a simple dessert.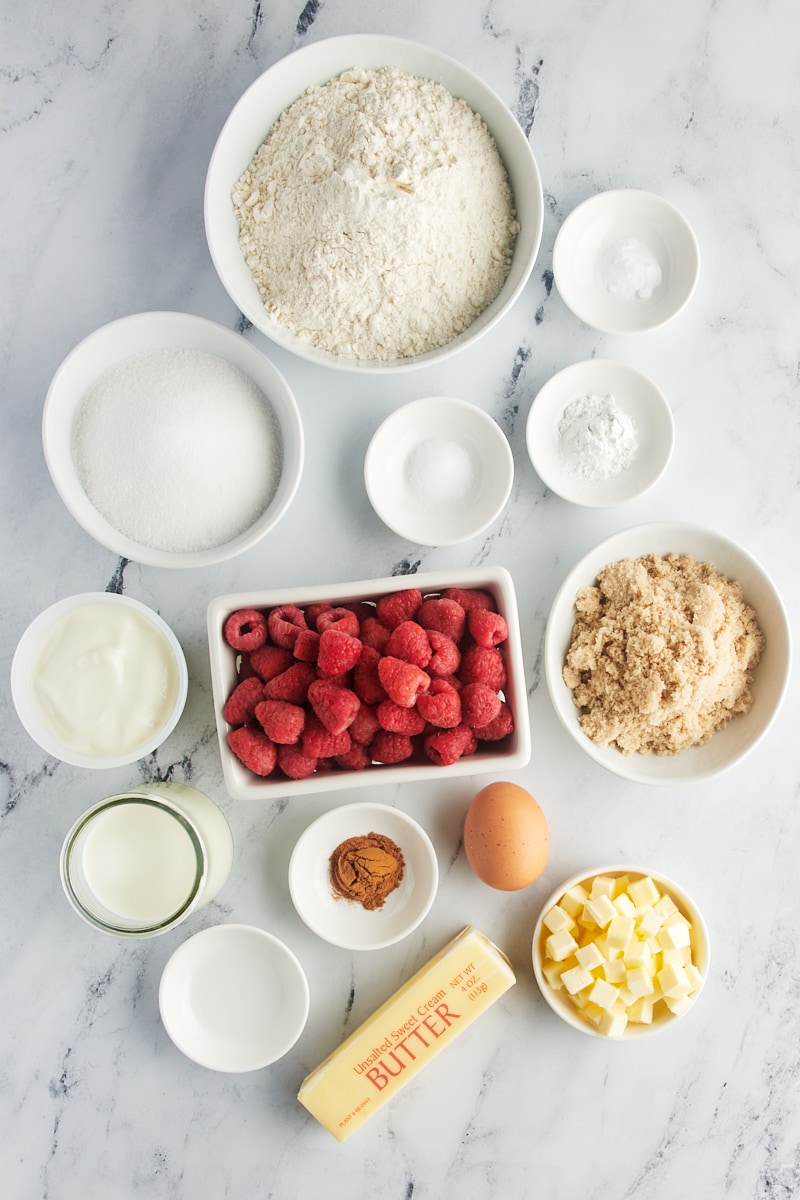 Notes on Ingredients
Let's take a look at the ingredients you'll need to make this raspberry coffee cake. For ingredient quantities and full instructions, see the recipe card at the bottom of this post.
All-purpose flour – For accuracy, measure by weight or use the spoon and sweep method. Learn more: How to Measure Flour
Brown sugar – I recommend light brown sugar here, as the bolder molasses flavor of dark brown sugar can be a bit overpowering.
Cinnamon – Make sure your ground cinnamon smells fresh and fragrant.
Salt
Unsalted butter – You'll need cold butter for the topping and softened butter for the cake. After cubing the butter for the topping, return it to the refrigerator while you gather the other ingredients. Softening butter should take about 30 minutes, depending on your kitchen's temperature. Learn more: How to Soften Butter
Baking powder
Baking soda
Granulated sugar
Egg – Set out the egg along with the butter for the cake to allow it to come to room temperature. I recommend baking with large eggs.
Almond extract – The almond is a wonderful complement to the raspberries, but vanilla extract is a good choice, too.
Milk – I recommend baking with whole milk, but 2% milk should work well enough.
Yogurt – Use full-fat yogurt for best results. Either plain or vanilla yogurt is a good choice. If you don't have yogurt, sour cream is a good substitute.
Raspberries – Look for bright, firm raspberries that don't appear to have been squashed.
Can I Use Frozen Raspberries?
You'll get the best results in flavor and texture with fresh raspberries. If you don't have access to fresh, then frozen will work well enough. Keep in mind that frozen fruits have more moisture, so the texture may be affected and their color will likely bleed into the cake. Learn more: Fresh vs Frozen Fruits in Baking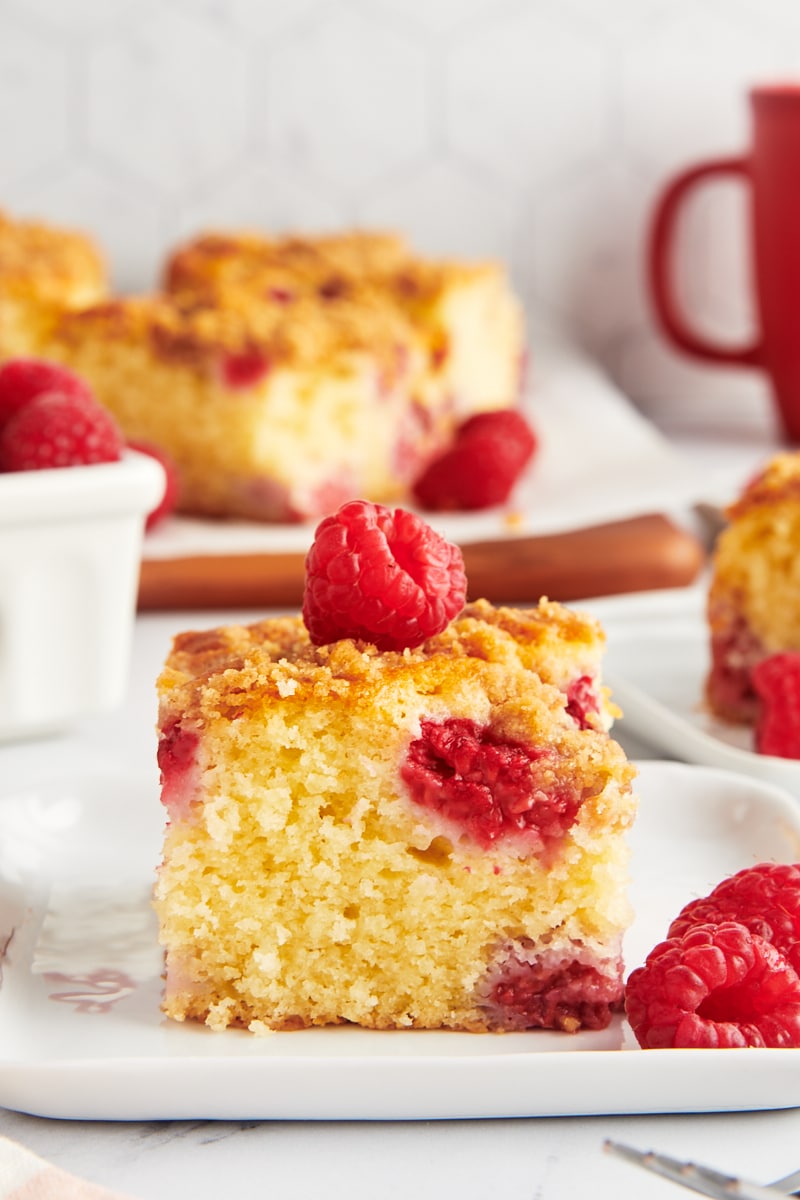 How to Make Raspberry Coffee Cake
While you'll be making two separate components for this cake, both are easy to make and come together quickly. Here's what you'll need to do:
Prepare for baking. Heat the oven to 350°F. Grease an 8-inch square baking pan. If you like, line the pan with parchment paper so that the paper overhangs for lifting the cake out of the pan after it has cooled.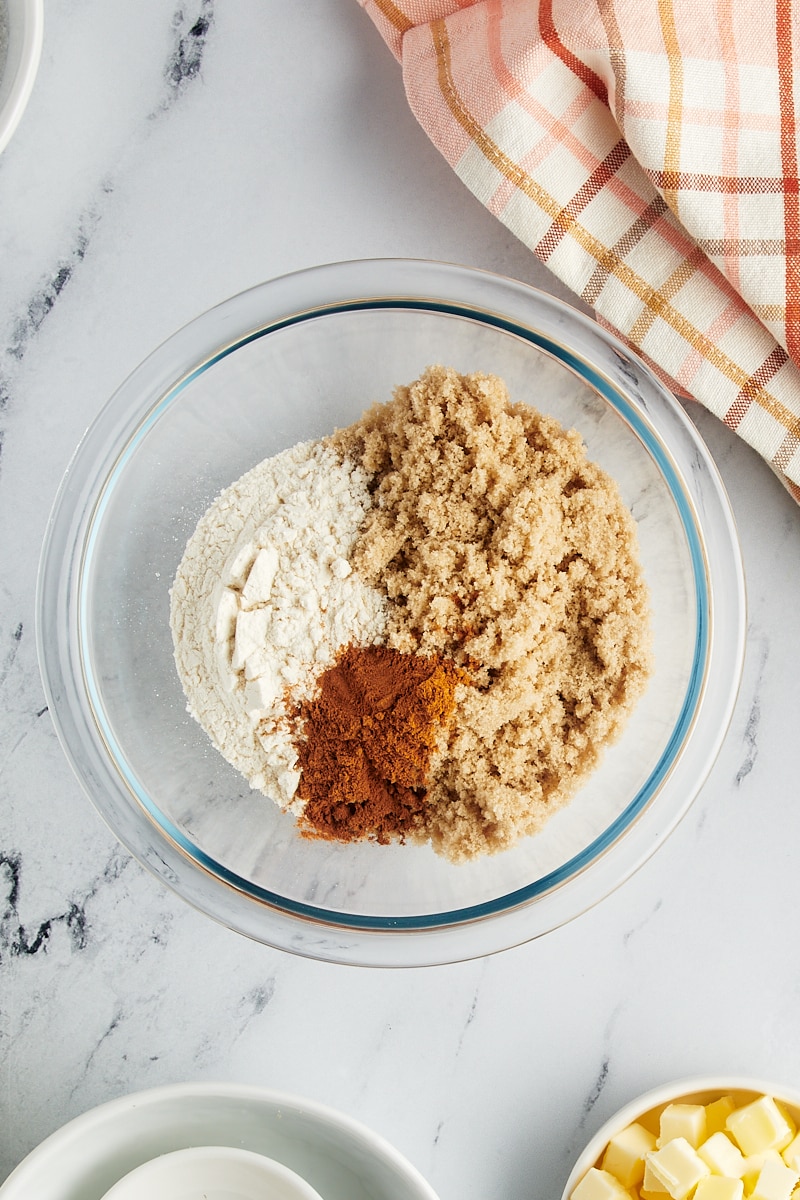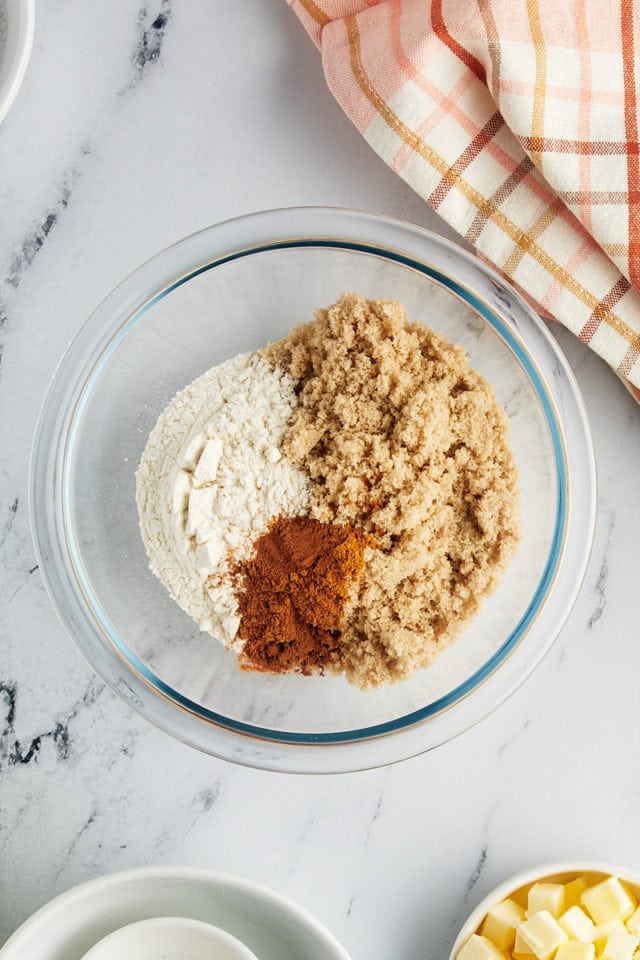 Make the crumb topping. Combine the flour, brown sugar, cinnamon, and salt in a small bowl. Add the cold butter, and use a pastry blender or a fork to mix until crumbs form. Refrigerate while you make the cake.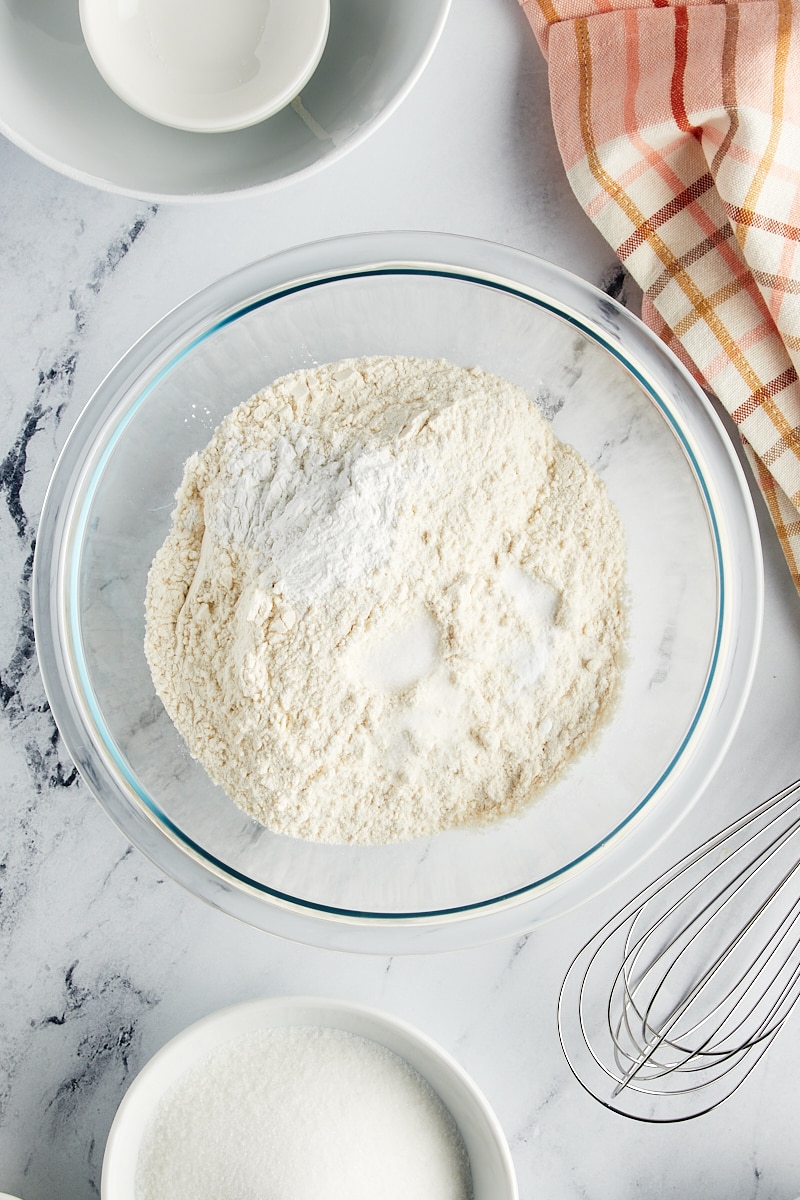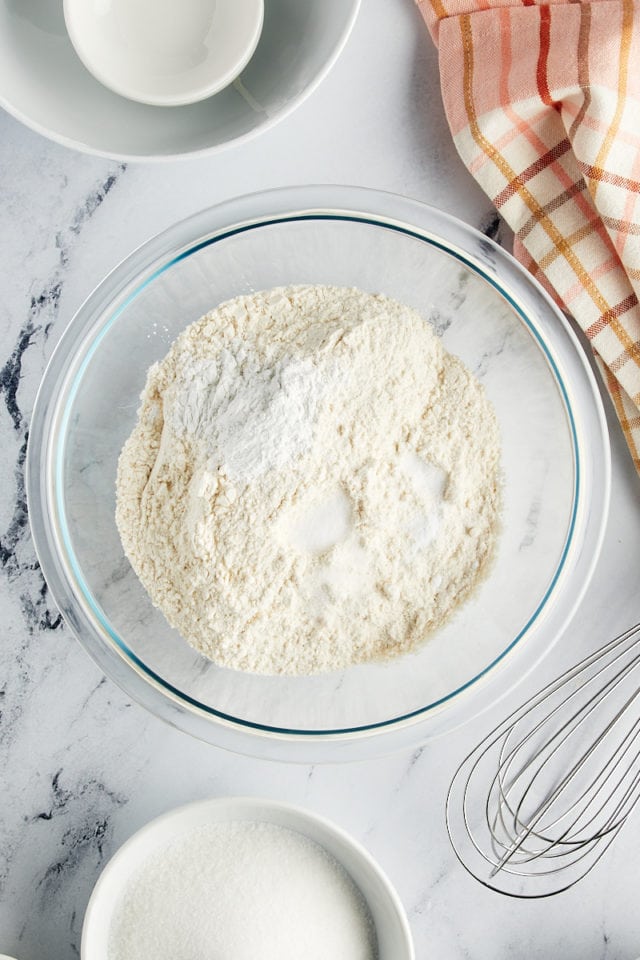 Mix the dry ingredients. Whisk together the flour, baking powder, baking soda, and salt.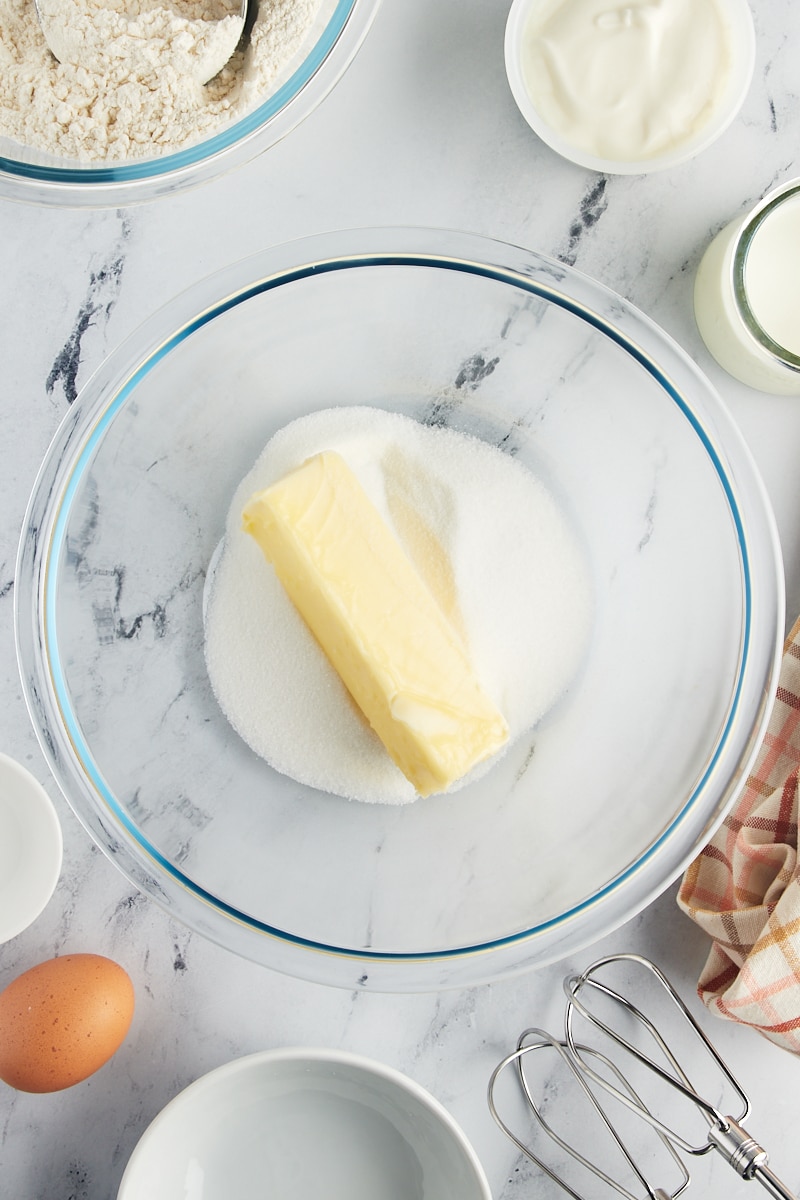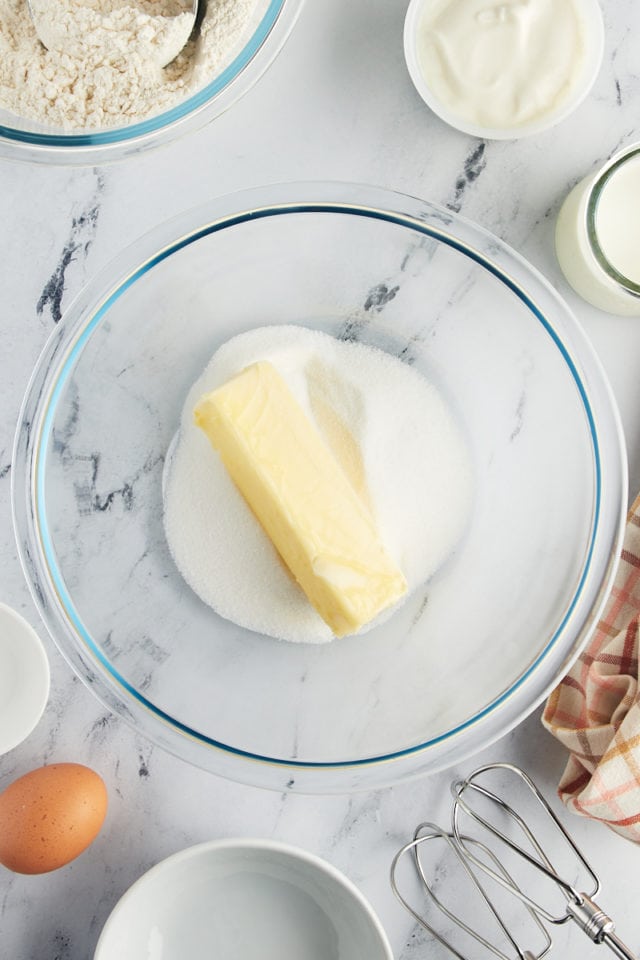 Mix the wet ingredients. With an electric hand mixer or stand mixer on medium speed, beat the butter and sugar in a large bowl until fluffy and lightened in color. Add the egg and almond extract, and mix well.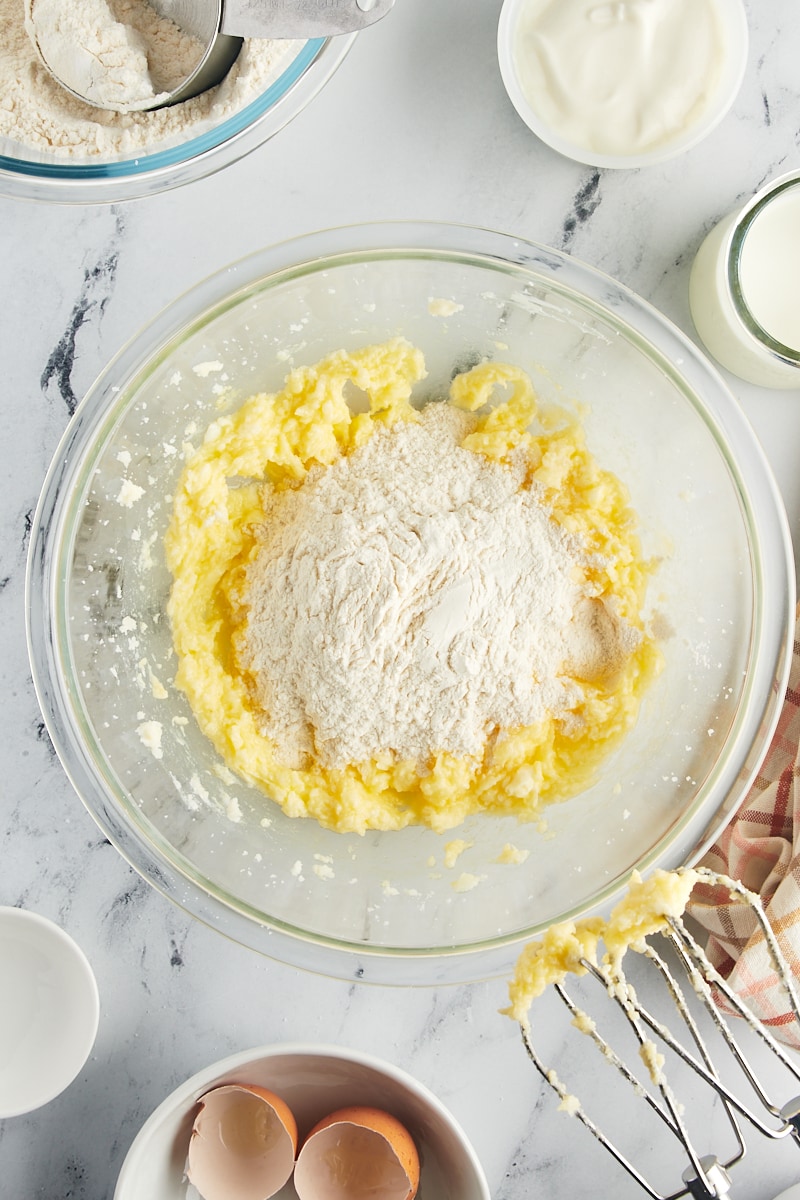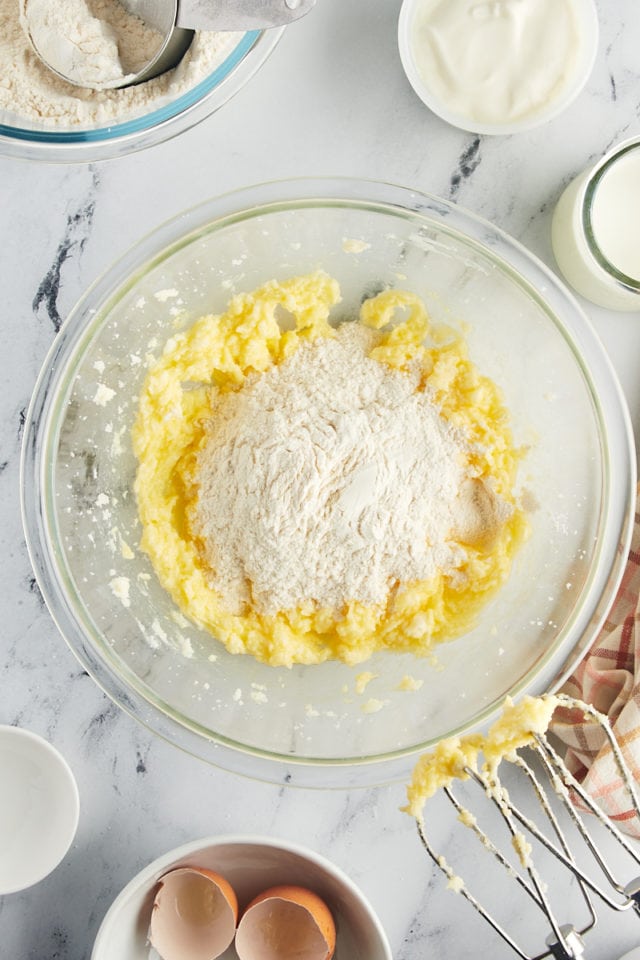 Finish mixing the cake. With the mixer on low speed, add the flour mixture in three portions, alternating with the yogurt and the milk. Mix just until combined or a few small streaks of flour remain.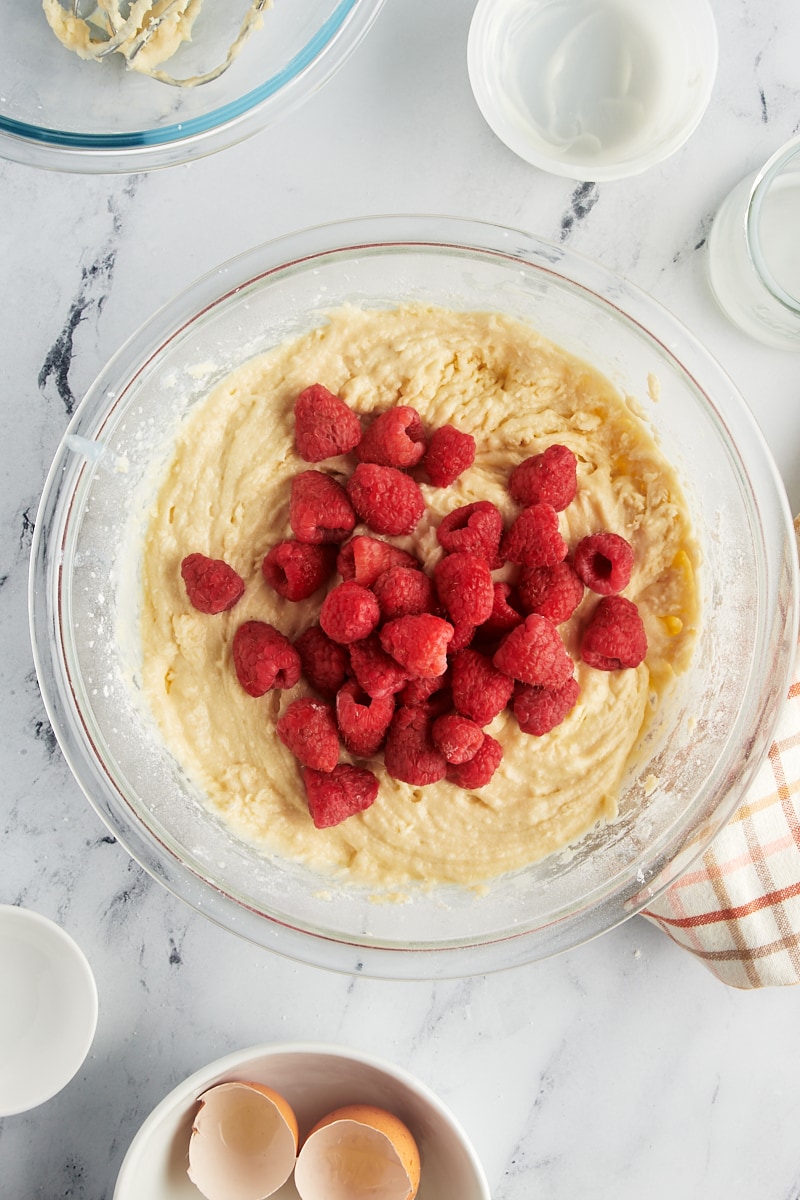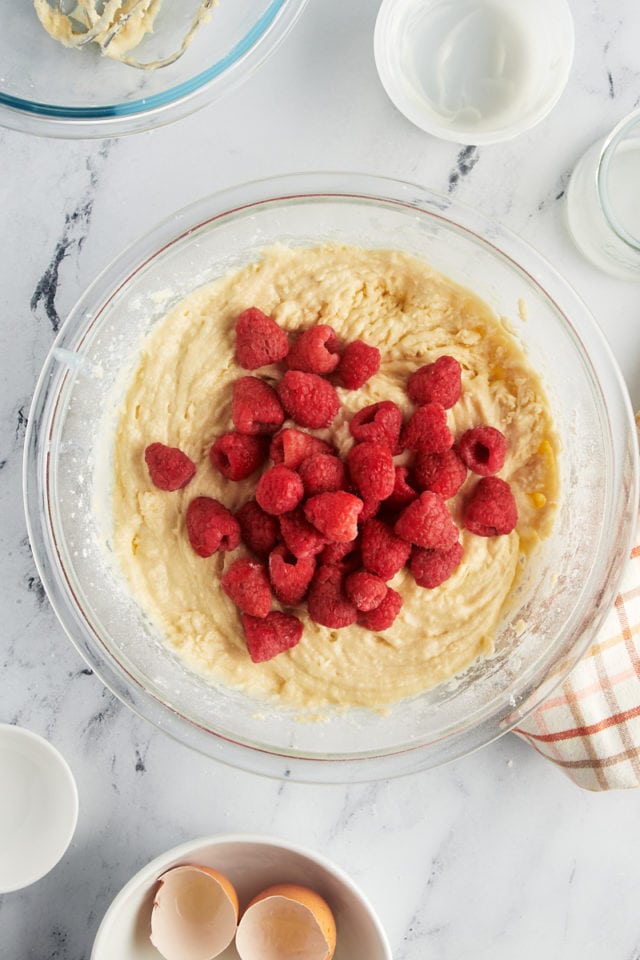 Add the raspberries. Gently fold in about a cup of the raspberries.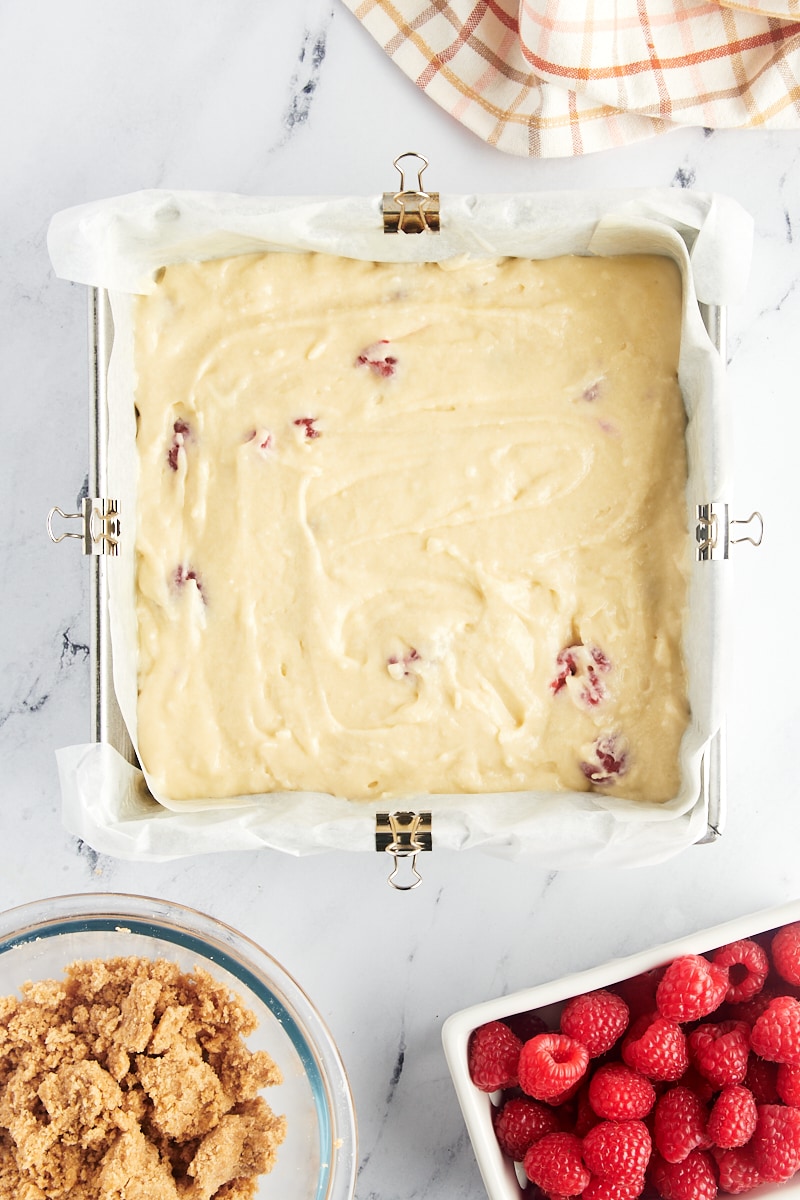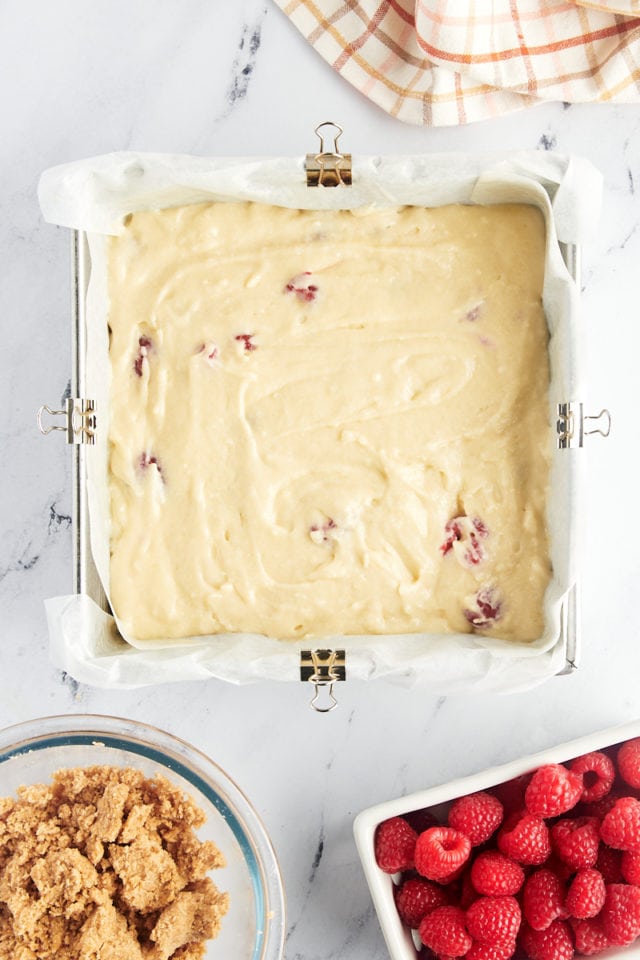 Assemble the cake. Spread the cake batter evenly in the prepared pan. Place the remaining raspberries on top of the cake. Sprinkle the crumb topping over the berries.
Bake. Place the pan in the heated oven, and bake for 45 to 50 minutes. The cake should be golden brown, and a toothpick inserted into the center should come out clean.
Cool. Place the pan on a wire rack, and allow the cake to cool completely in the pan before serving.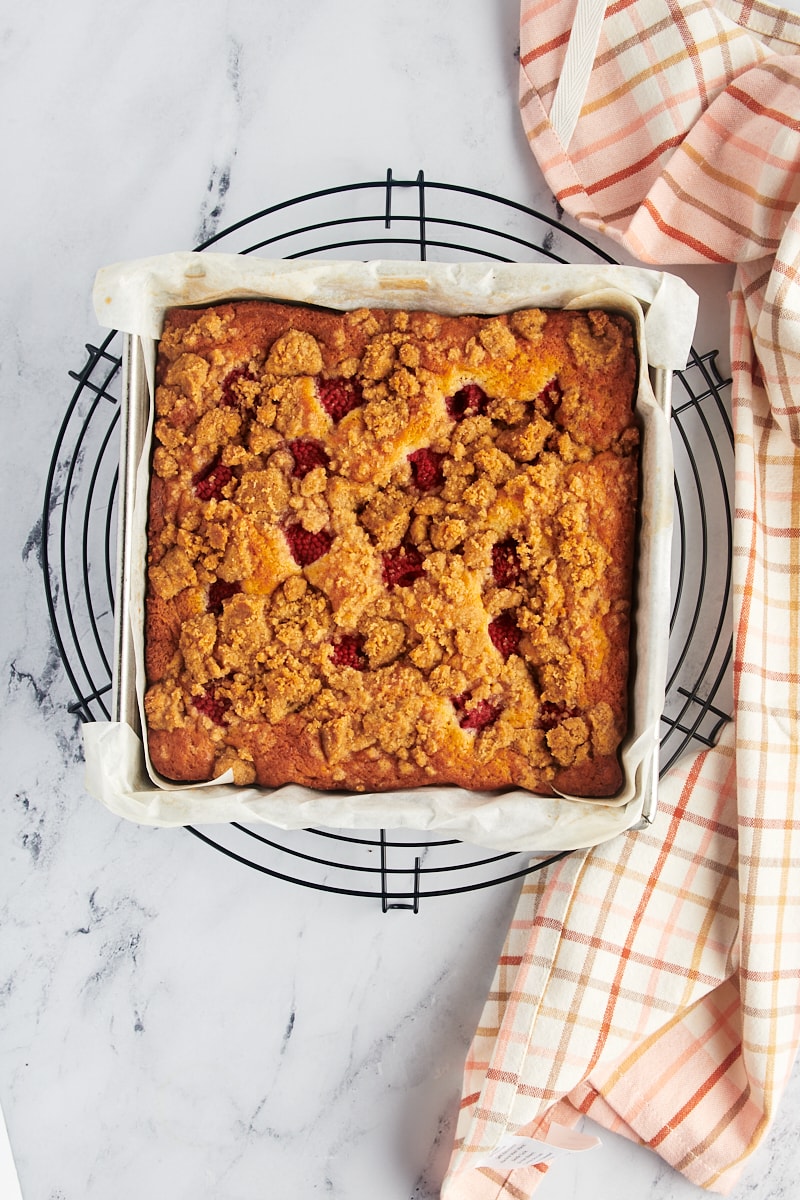 Tips for Success
Follow these tips to help ensure your raspberry coffee cake turns out perfectly.
Use cold butter for the topping. That will ensure that you make nice crumbs. You can use a pastry blender, a fork, or even your fingers to mix the topping until it forms crumbs.
Don't over-mix the cake batter. Too much mixing will give the cake a tough texture.
Use a light-colored metal pan. This type of pan will give you the best results for even baking.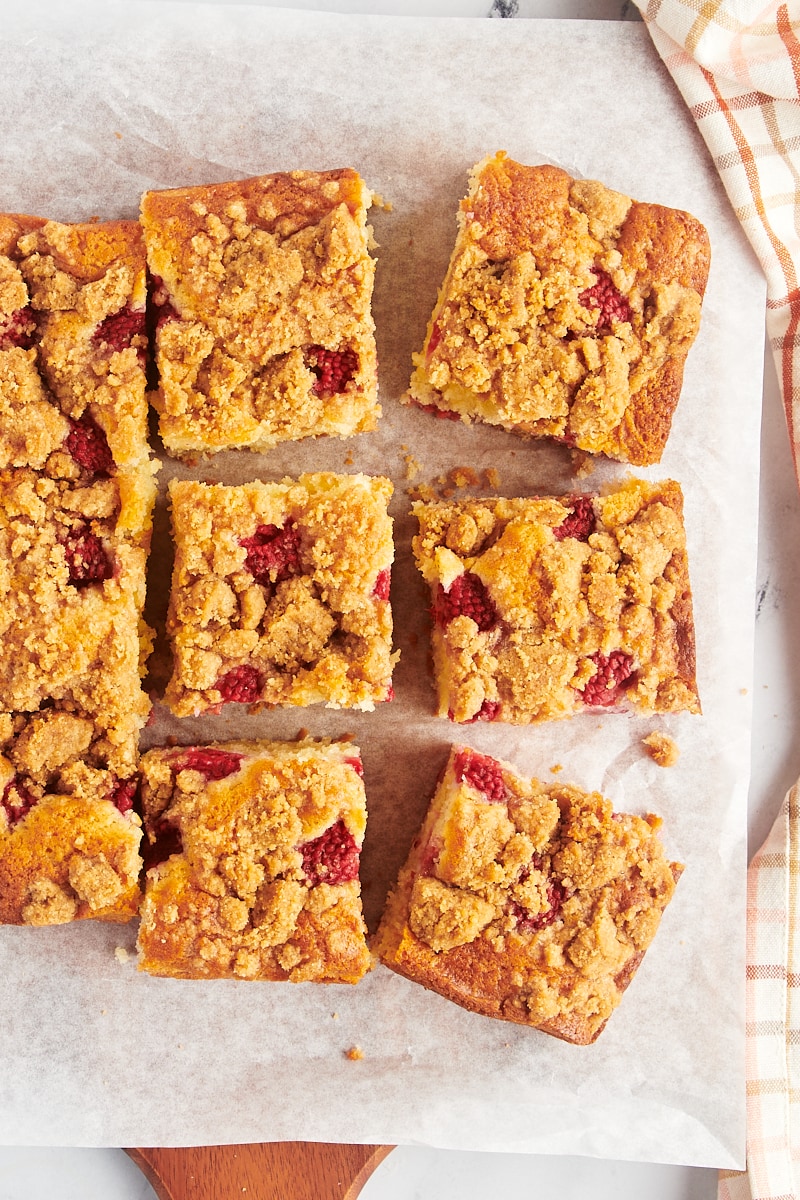 How to Store
After the cake has cooled, cover it tightly or place in an airtight container. It can be stored at room temperature for a day or two, but it should be refrigerated for longer storage. Let it come to room temperature before serving.
Can This Cake Be Frozen?
Yes, you can freeze this cake. After it has cooled completely, wrap in two layers of plastic wrap and wrap again in aluminum foil or place in an airtight, freezer-safe container. Properly stored, the cake should last in the freezer up to 3 months, although it will be at its best within a month. Thaw overnight in the refrigerator, and then bring to room temperature before serving.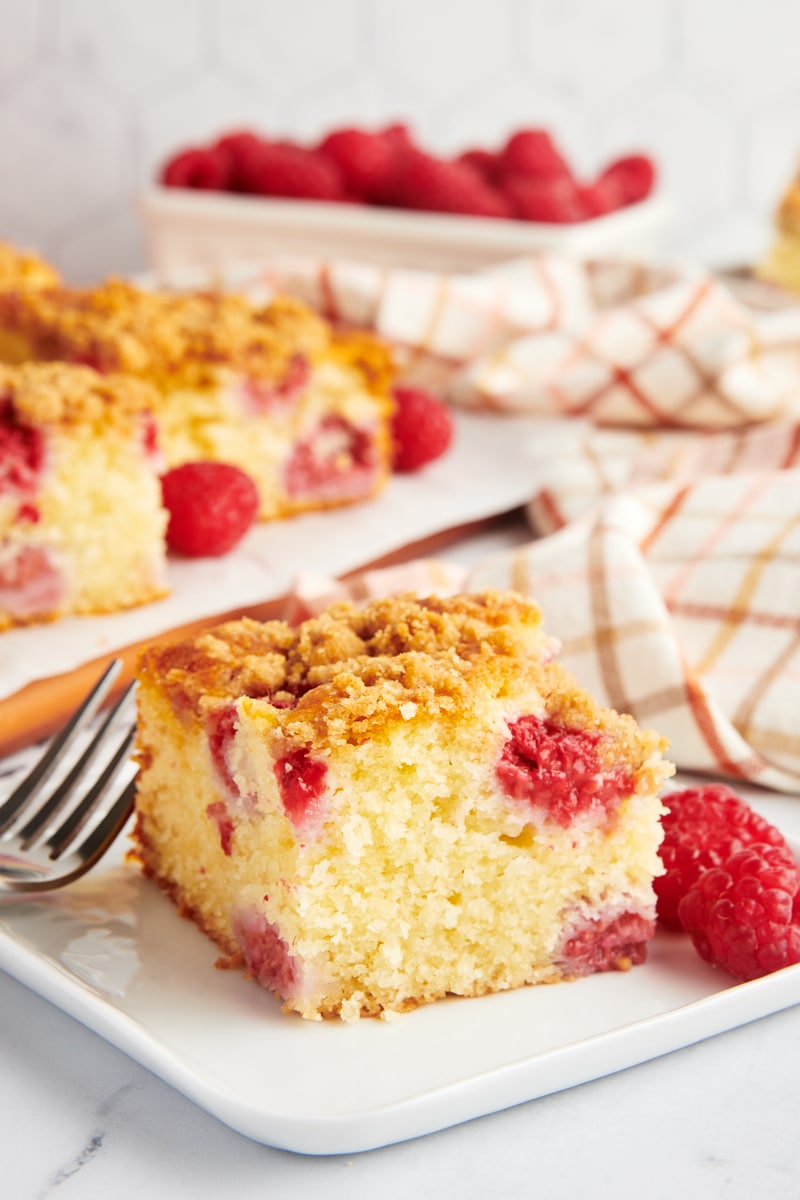 More Fruity Coffee Cakes