Filled with colorful sprinkles, these Mini Funfetti Cheesecakes are fun, festive, and full of flavor. A perfect choice for a celebration!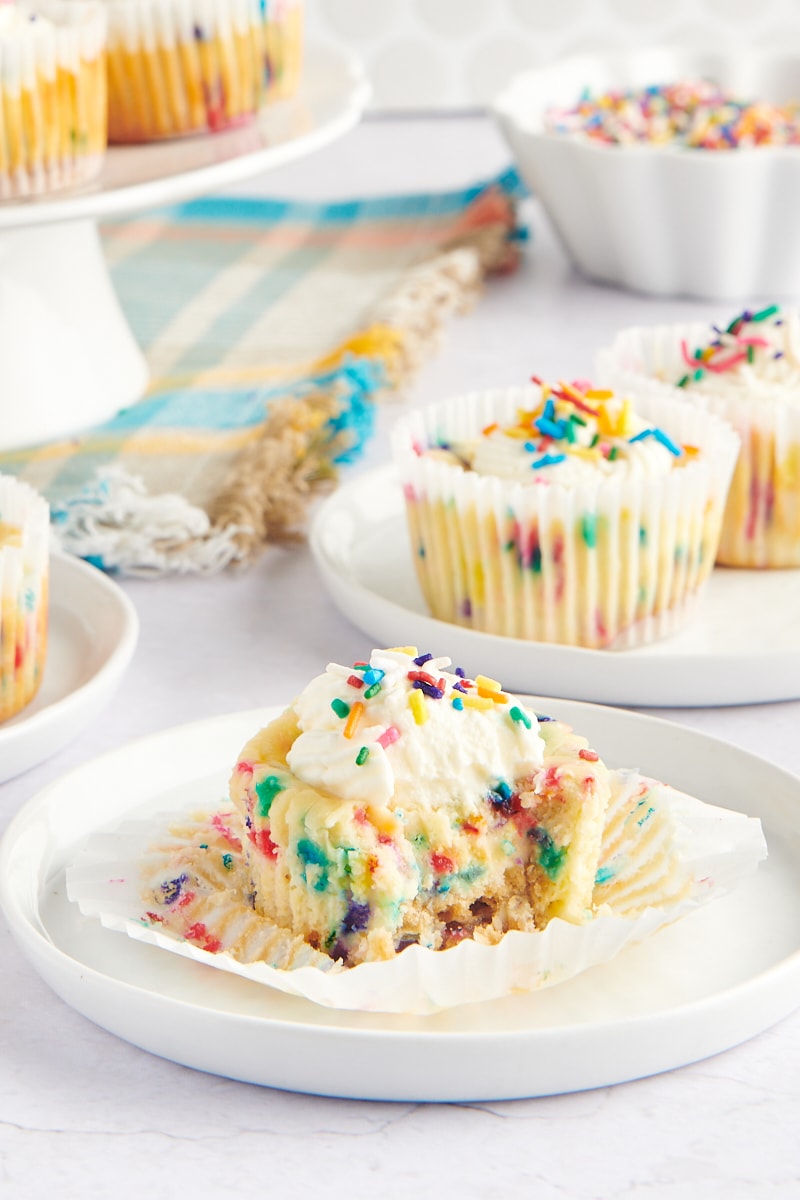 Mini Funfetti Cheesecakes
What says celebration more than sprinkles? In the baking world, they're the perfect way to dress up your baking for a special occasion. And a Funfetti Cheesecake is absolutely perfect for a celebration. Make them mini, and they're even more fun and adorable!
These little sweet bites are simply a vanilla cheesecake all dressed up with colorful sprinkles. Add a dollop of whipped cream and even more sprinkles for a fun batch of mini desserts.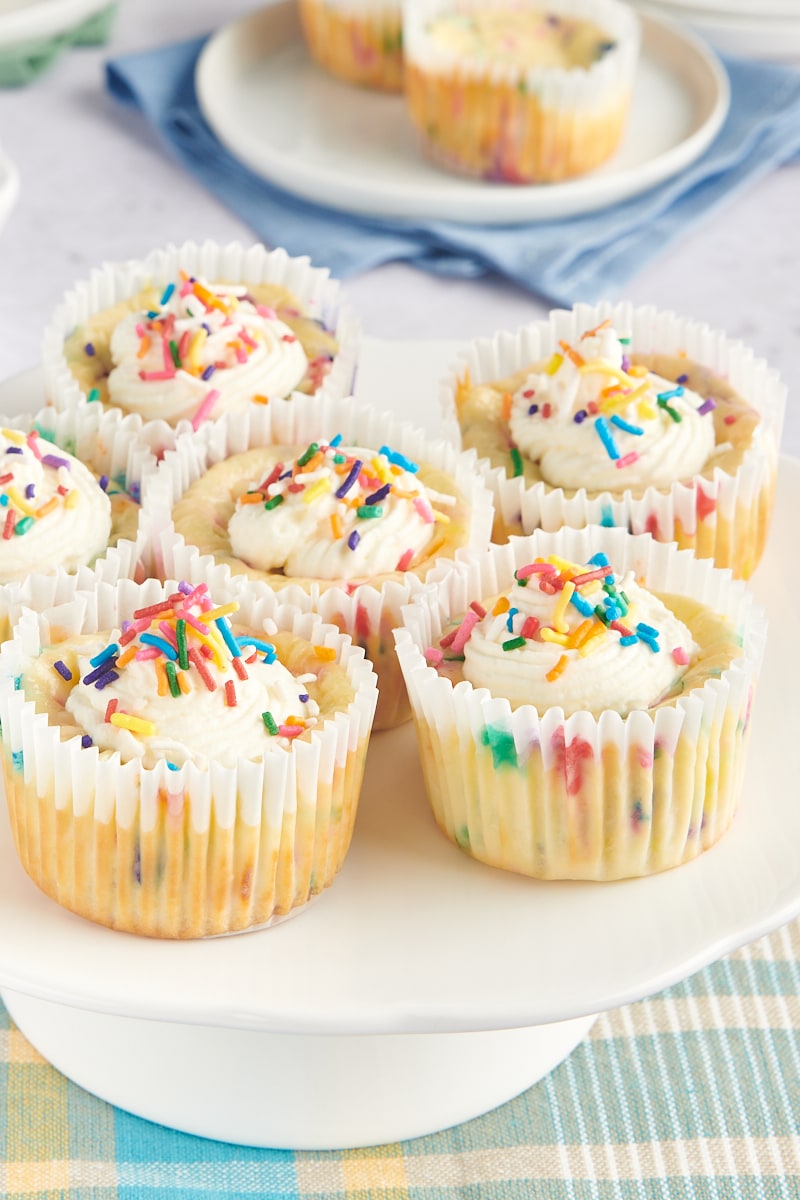 Maybe the best part about this confetti cheesecake recipe? How easy it is to make! You'll skip the traditional graham cracker crust in favor of using a whole Golden Oreo for the crust. (Much like Cookies and Cream Cheesecakes!) Then just mix some simple ingredients for the filling. No springform pan, long bake times, or water bath, either. They bake in about half an hour in a muffin pan. And the mini size means no slicing when it's time to serve!
And, of course, sprinkles! Standard rainbow sprinkles are all you need here. But you can pick a specific mix of colors to match your celebration, too. (If you can't get enough sprinkles, you must try Sprinkle Crinkle Cookies, too!)
These Mini Funfetti Cheesecakes are a fun alternative to birthday cakes. Honestly, they're a great choice for all kinds of happy events. They're just so happy and fun! If you have fond memories of whipping up a funfetti cake mix, then these are perfect little bites of nostalgia.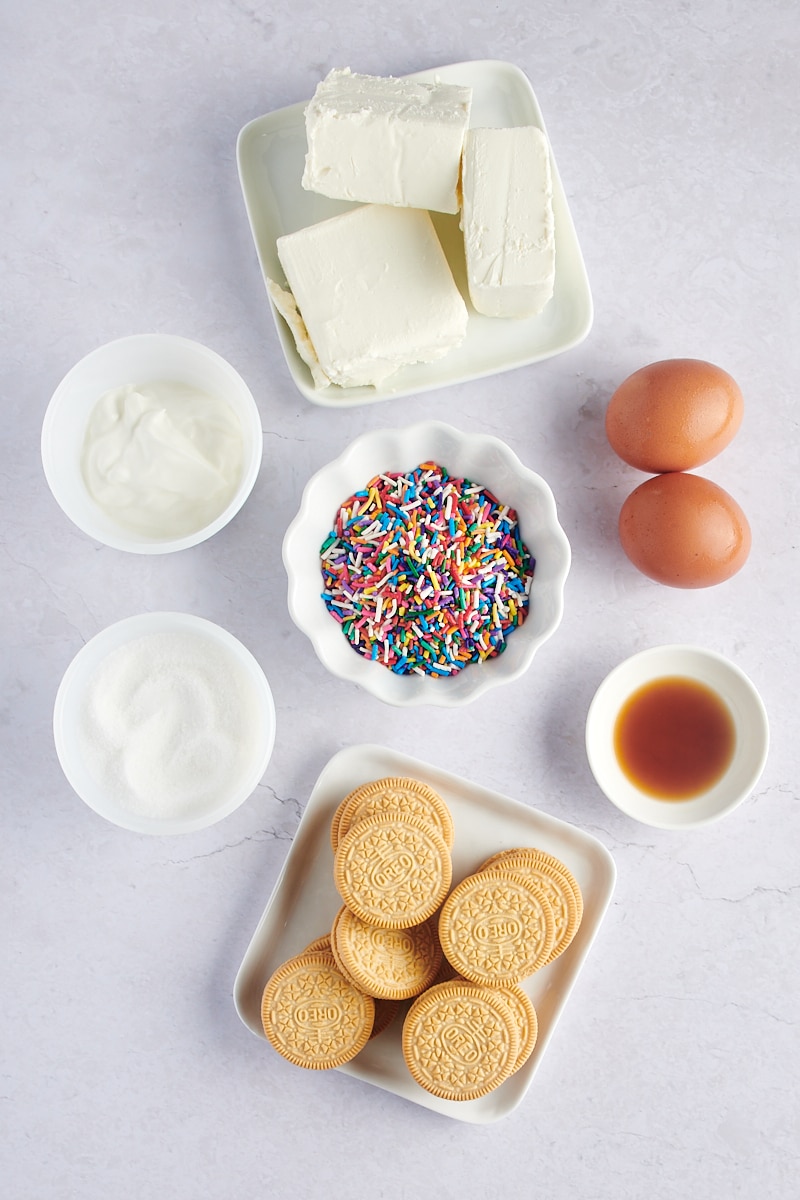 What You'll Need
Scroll to the recipe card at the bottom of this post for ingredient quantities and full instructions. Here are some helpful notes about the ingredients.
Golden Oreos – You'll use whole cookies for the crust of these cheesecakes. I like the vanilla flavor of Golden Oreos, but you can use classic chocolate Oreos or another variety if you like. If you prefer a more traditional cookie crust, try the graham cracker crust in Mini Lemon Cheesecakes.
Cream cheese – Full-fat cream cheese works best. Let it come to room temperature so it will mix smoothly.
Granulated sugar
Eggs – You'll need one egg plus one egg yolk. Let these come to room temperature, too.
Vanilla extract – For a little different flavor, try almond extract.
Sour cream – Full-fat sour cream will give you the best results. Like the cream cheese and eggs, bring this to room temperature.
Rainbow sprinkles
What Kind of Sprinkles Should I Use?
Standard jimmies sprinkles will work best here. Other types of sprinkles will likely have their colors bleed excessively during baking. All sprinkles (even jimmies) will bleed their colors to some degree, and not all brands behave the same way.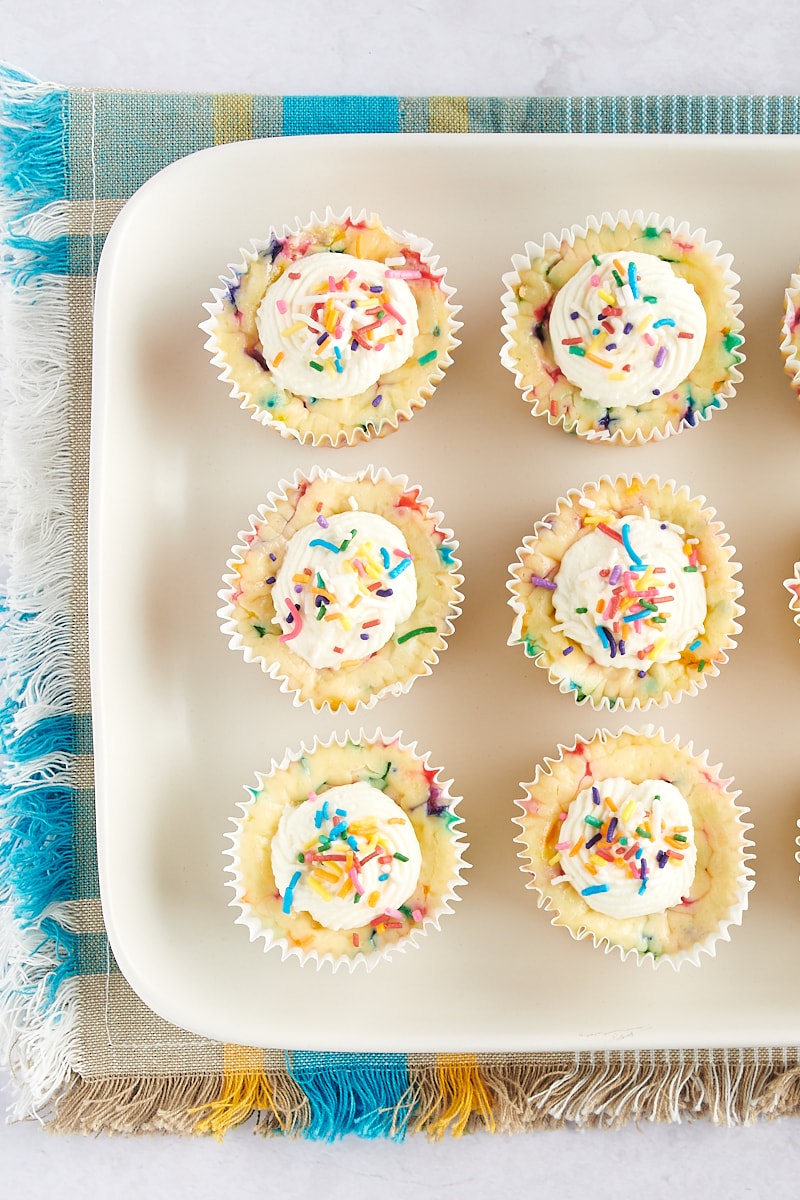 How to Make Mini Funfetti Cheesecakes
These little cheesecakes only take a short time to prepare and bake, but be sure to factor the chilling time into your baking and serving plans.
Prepare for baking. Heat the oven to 350°F. Line 12 standard muffin cups with paper liners.
Add the cookies to the pan. Place one whole Golden Oreo in the bottom of each lined muffin cup.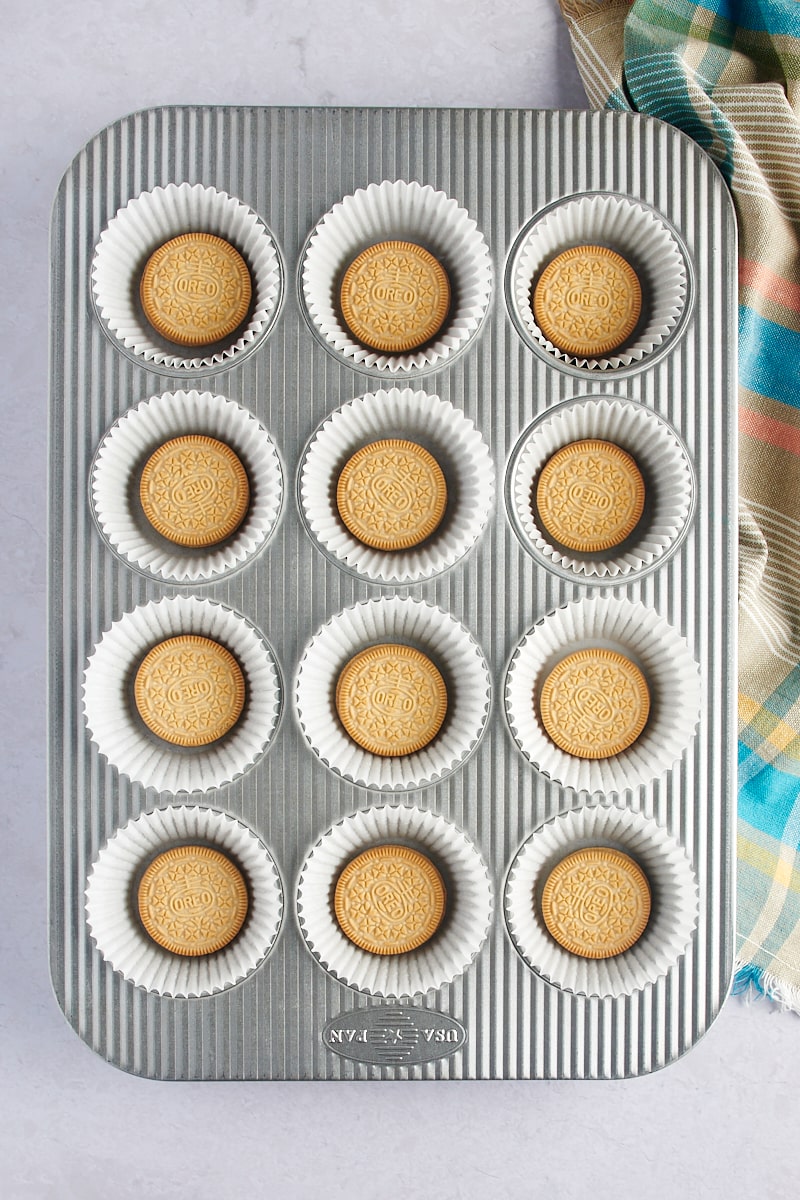 Mix the cream cheese and sugar. Place the cream cheese and sugar in a large bowl. With an electric mixer on medium speed, beat until thoroughly combined and smooth.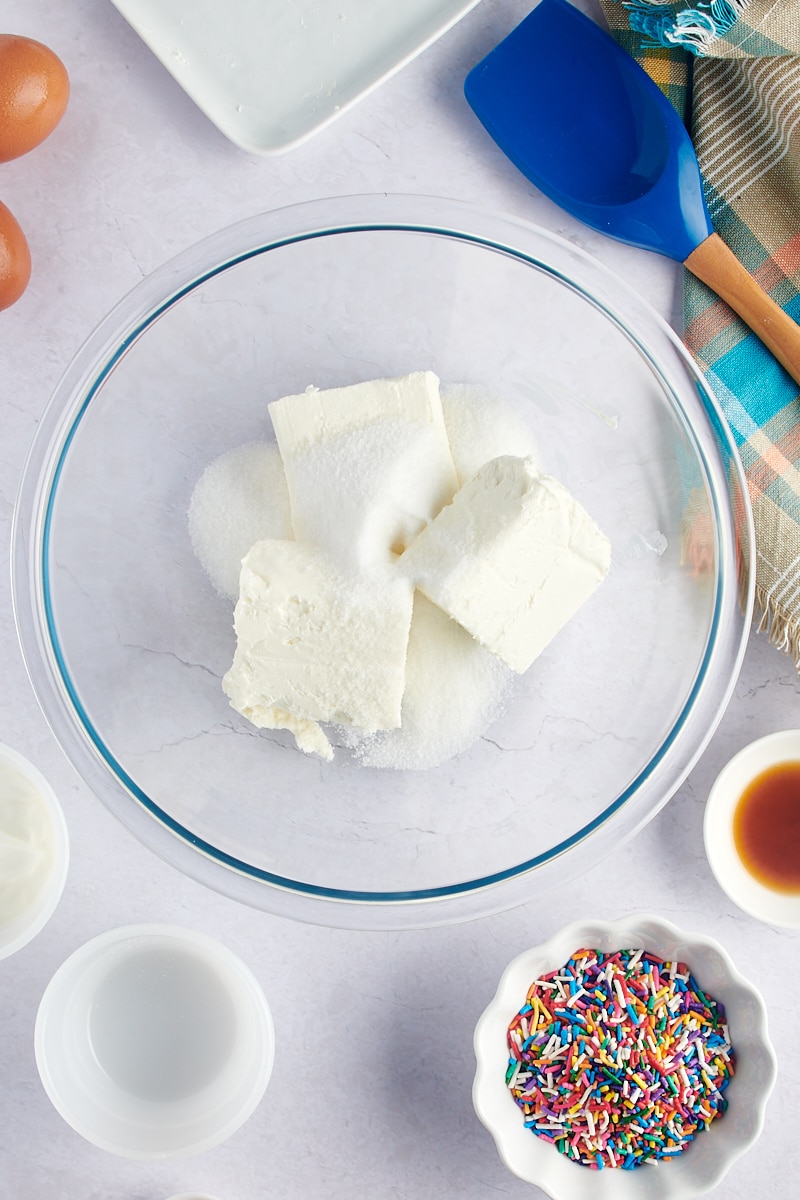 Finish mixing the filling. Add the egg and the egg yolk to the cream cheese mixture, and mix well. Mix in the vanilla extract. Finally, mix in the sour cream. Be sure to scrap down the sides of the bowl as needed.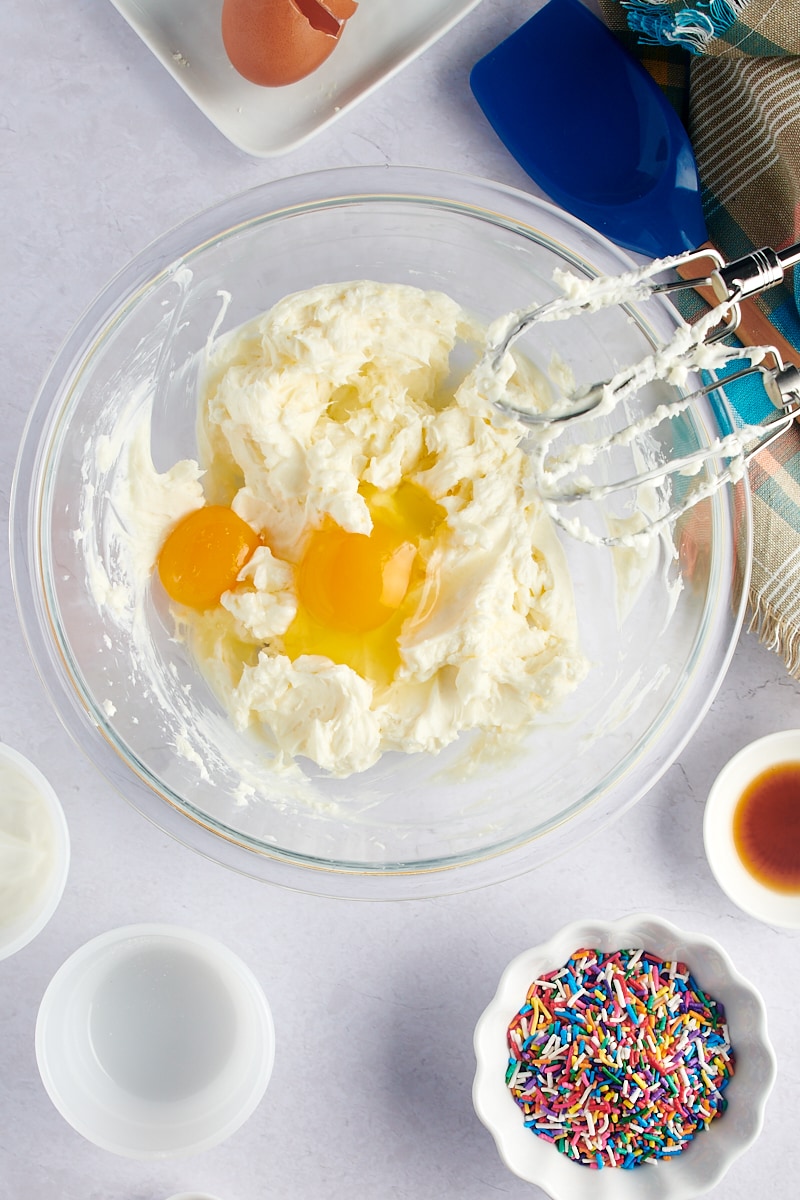 Add the sprinkles. Fold the sprinkles into the batter.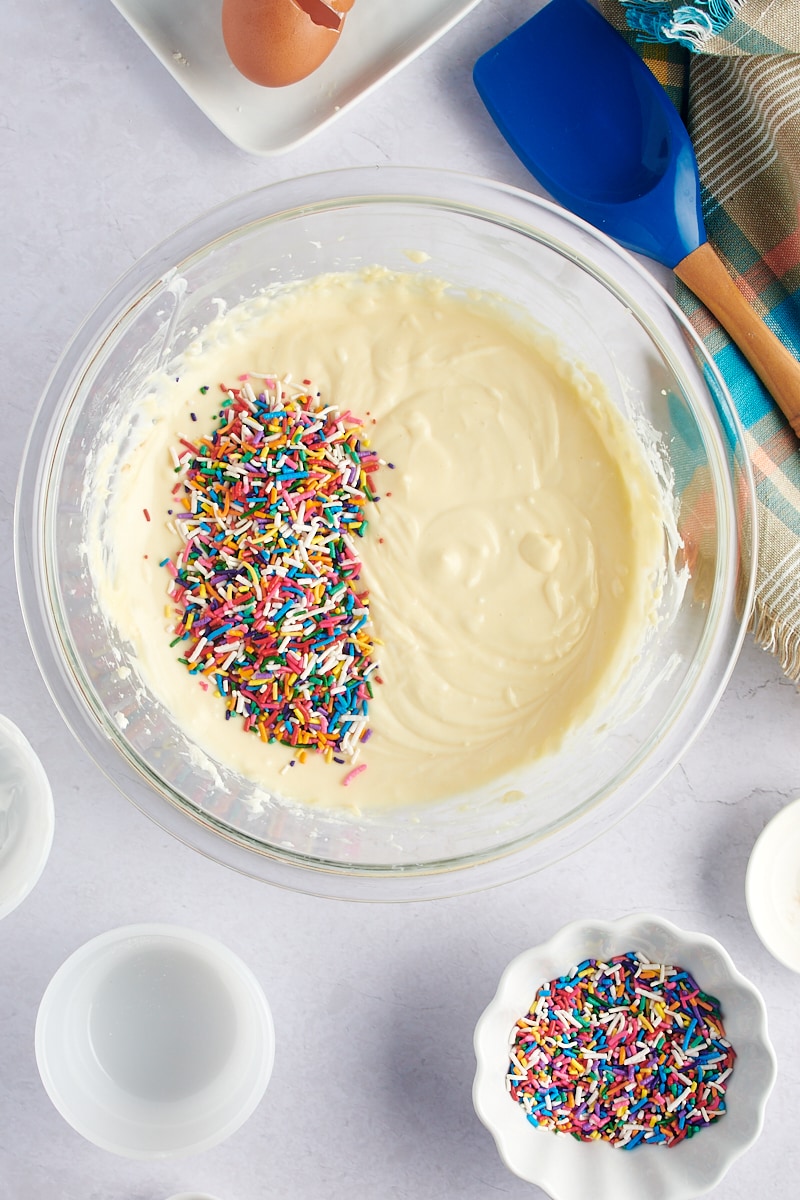 Bake. Divide the batter evenly among the muffin cups, using about 3 tablespoons of batter per cup. Place the pan in the heated oven, and bake 25 to 30 minutes. When the centers of the cheesecakes are almost set with a slight jiggle, they're ready to come out of the oven.
Cool. Place the pan on a wire rack, and allow the cheesecakes to cool completely.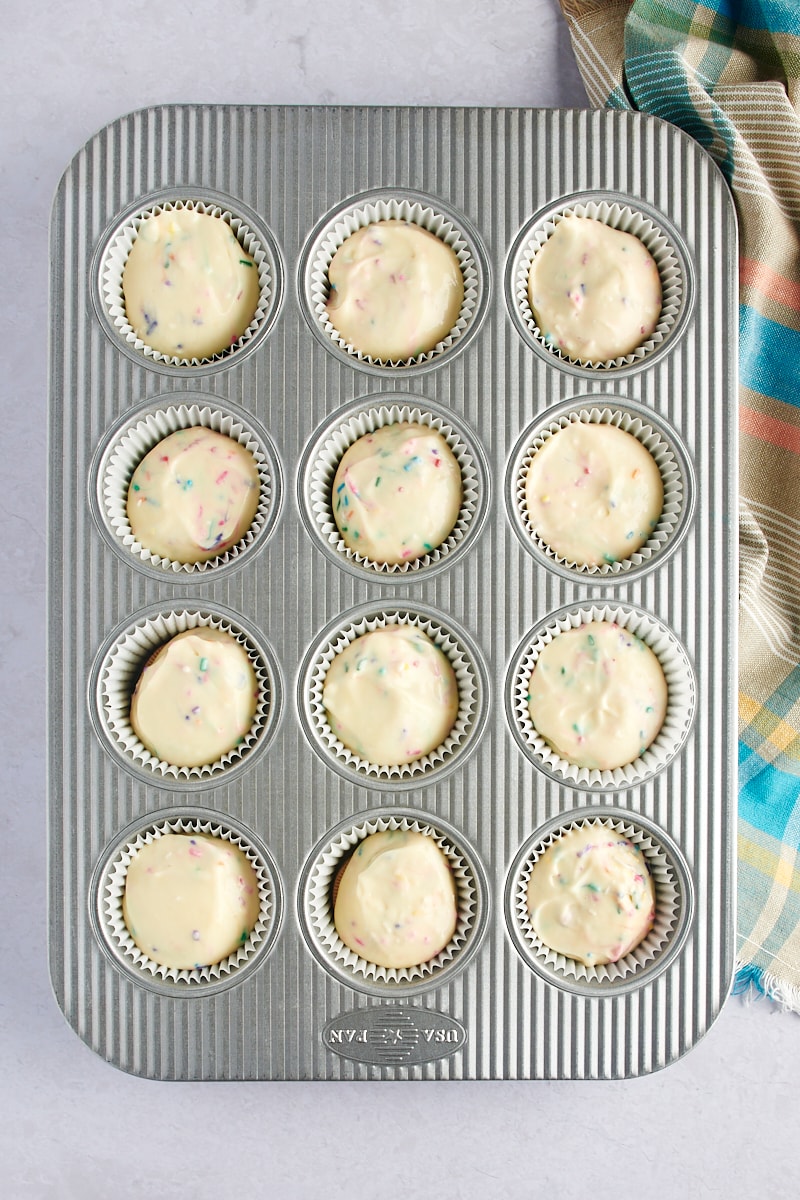 Refrigerate. Place the cheesecakes in the refrigerator overnight before serving. You can simply cover the pan and place it directly in the refrigerator, or remove the cheesecakes from the pan and place in a container before chilling.
Garnish for serving. When you're ready to serve the cheesecakes, top with sweetened whipped cream and more sprinkles. Learn more: How to Make Whipped Cream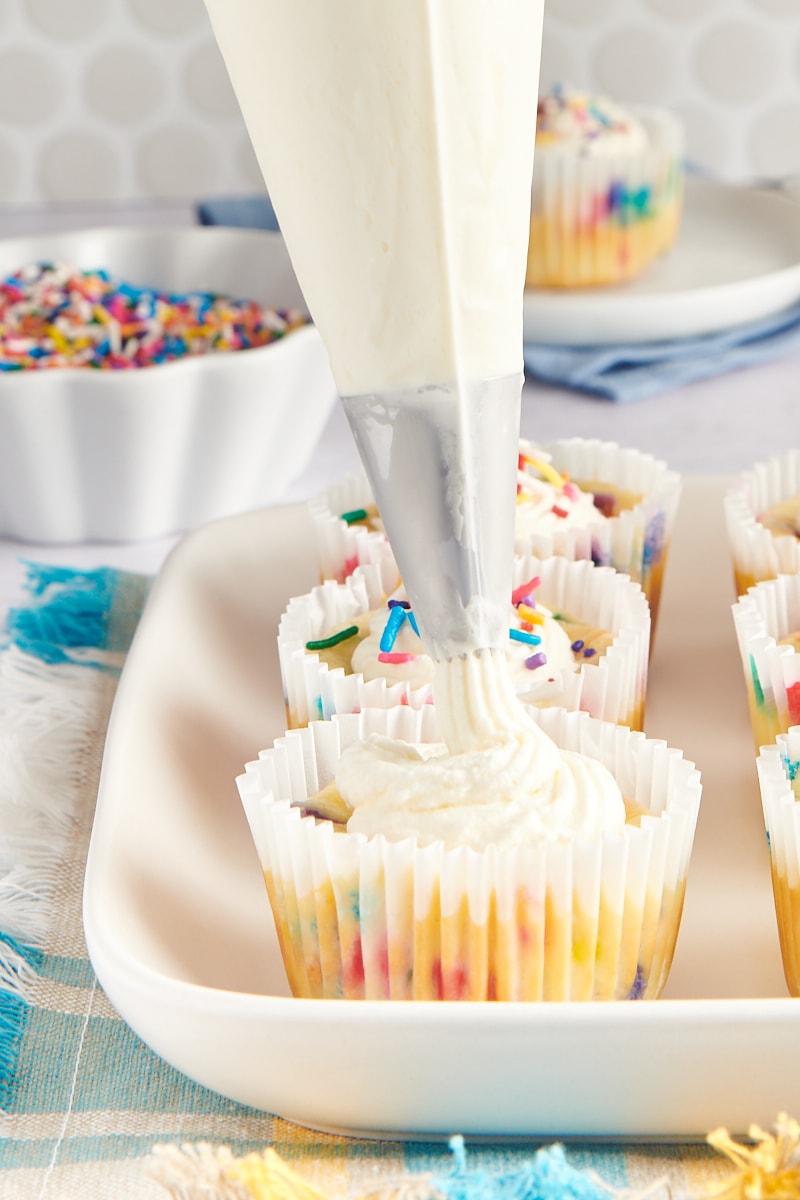 Tips for Success
Here are a few tips and tricks to help make your Mini Funfetti Cheesecakes come out perfectly!
Use room temperature ingredients. Letting the cream cheese, eggs, and sour cream come to room temperature will help your cheesecake mix more easily and have a smooth texture.
Don't over-mix. Too much mixing can cause cheesecakes to crack.
Use a cookie scoop for portioning. A 3-tablespoon scoop will make quick, accurate work of portioning the batter.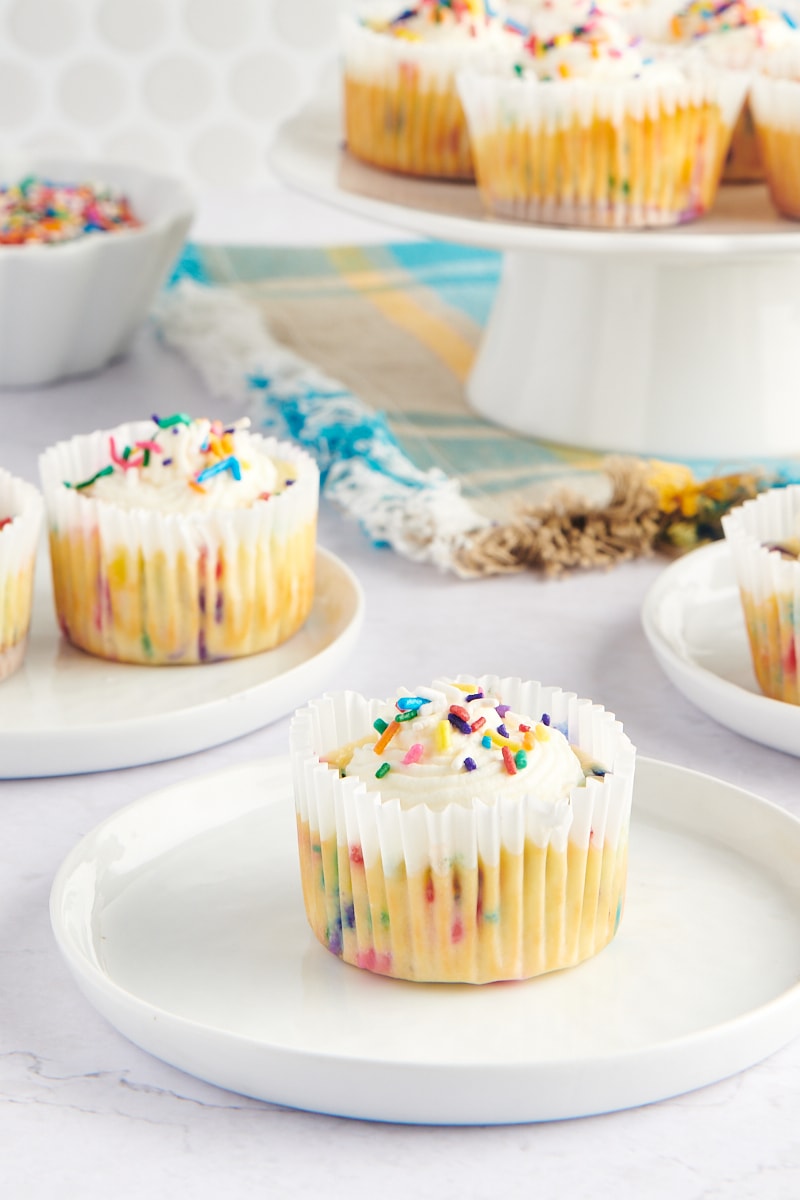 How to Store
Keep these Mini Funfetti Cheesecakes refrigerated in an airtight container. They should keep in the refrigerator up to 4 days. If you're topping them with whipped cream, you'll have the best results if you wait to add that until it's time to serve. If you need to store the cheesecakes in layers, place a piece of waxed paper or parchment paper between the layers.
Can These Mini Cheesecakes Be Frozen?
Yes, you can freeze these cheesecakes. For best results, freeze them without the whipped cream. Place them in a freezer-safe, airtight container. Properly stored, they should keep in the freezer up to 3 months. Thaw overnight in the refrigerator.