Homemade no-churn cheesecake ice cream has the sweet, tangy flavor of classic cheesecake—and it's even got graham cracker crumbs for good measure! You won't believe how easy it is to make this fuss-free recipe.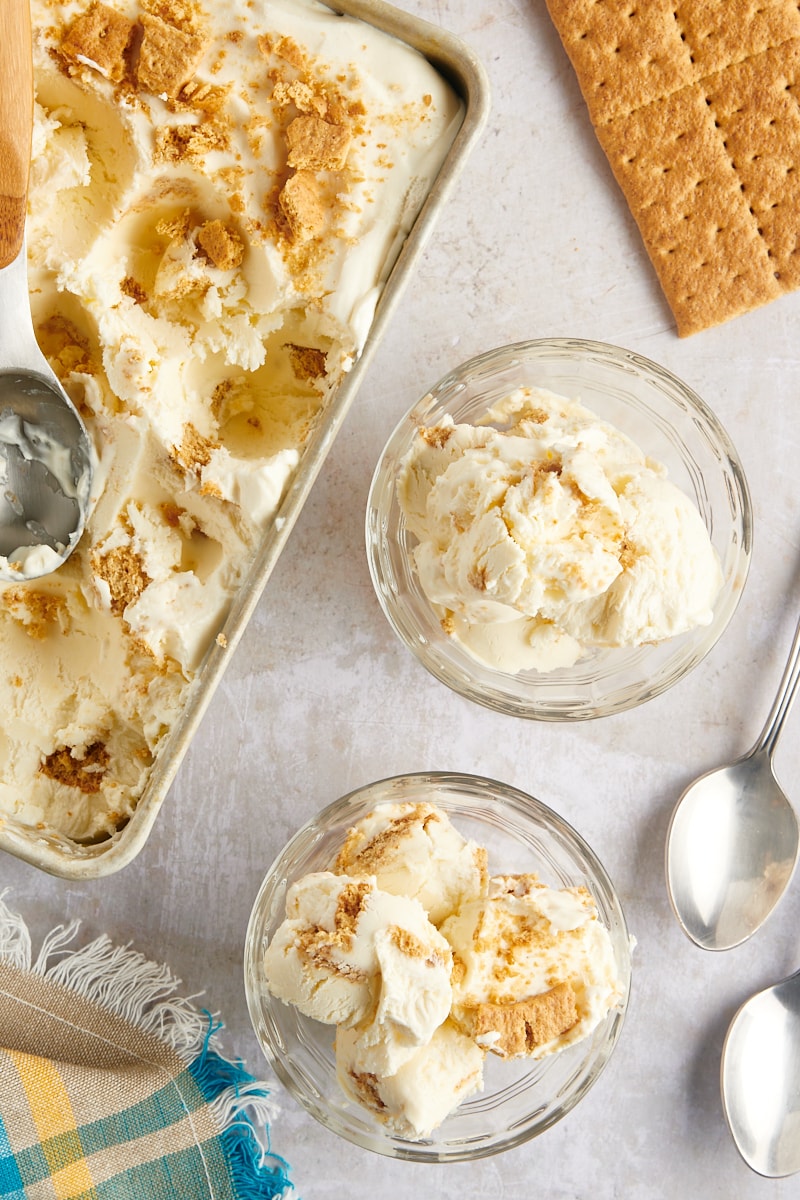 No-Churn Cream Cheese Ice Cream
Once I learned the no-churn method of making ice cream, I went all in. Whether it's old-fashioned no-churn vanilla ice cream, Italian-inspired no-churn stracciatella, or decadent no-churn chocolate brownie ice cream, I simply can't resist the opportunity to come up with more homemade ice cream creations. This cheesecake ice cream is my latest.
Think of this flavor as a slice of vanilla bean cheesecake in the form of a frosty frozen treat. It has plenty of vanilla, tangy cream cheese in the base, and sweet graham cracker bits folded into every bite (or lick).
As with a slice of cheesecake, you can top it with fruit or perhaps something a little more decadent, but it's also a standout dessert on its own.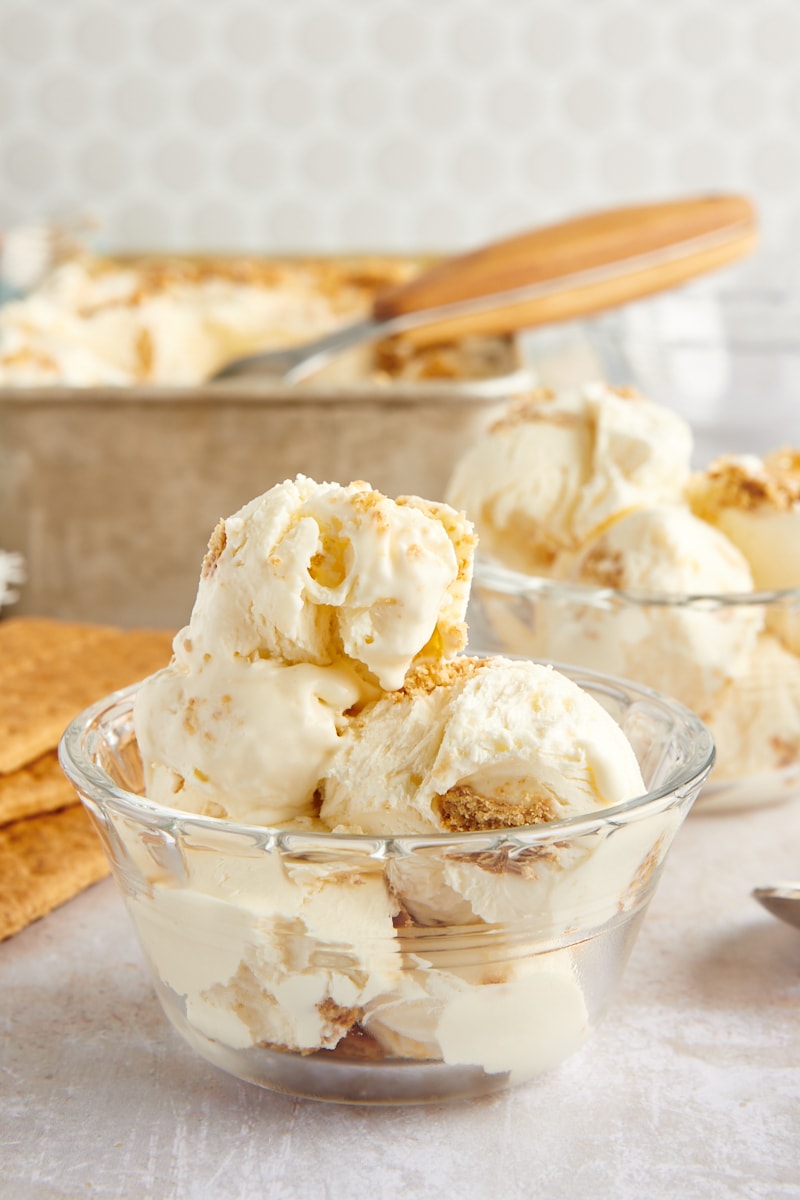 Why You'll Love This Cheesecake Ice Cream Recipe
Here's what makes this cheesecake ice cream a winner:
No ice cream maker needed. That means you don't need to remember to freeze the drum in advance, and you don't need to fuss with making a custard mixture on the stovetop. No churn-ice cream made with sweetened condensed milk is the easiest ice cream you'll ever make.
Real cheesecake flavor. This cheesecake ice cream is supremely rich and creamy, with lots of vanilla flavor just like a good slice of cheesecake.
Just 5 ingredients. It couldn't be simpler!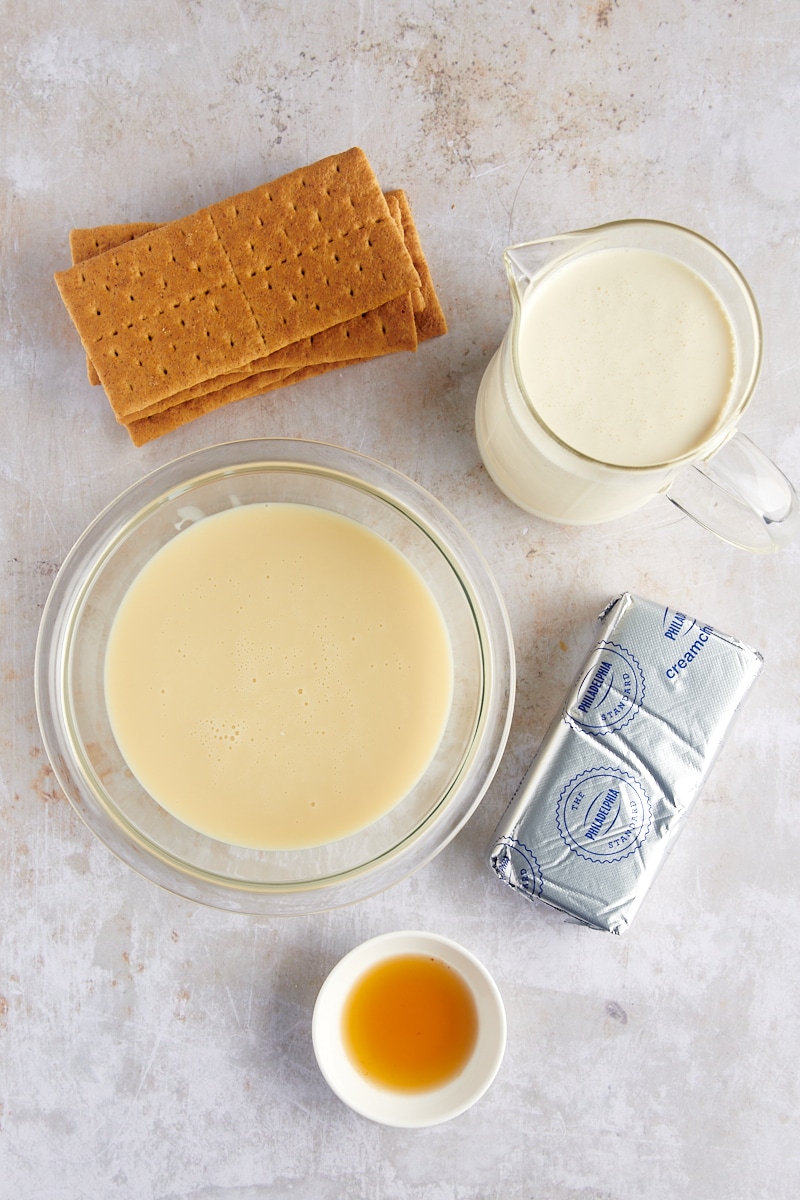 What You'll Need
Scroll down to the recipe card to find the ingredient quantities and recipe instructions.
Sweetened condensed milk – Be sure to buy condensed milk, not evaporated. They're usually sold next to each other, but evaporated milk is unsweetened.
Cream cheese – Buy the kind that comes in a block, not a tub.
Vanilla extract or vanilla bean paste – Either works, but vanilla bean paste will give your cheesecake ice cream flecks of vanilla bean. (Learn more: Types of Vanilla: A Home Baker's Guide)
Heavy cream – Don't substitute half-and-half! You need heavy cream (also labeled as heavy whipping cream) to achieve the perfect texture for no-churn ice cream.
Graham crackers – I like using a combination of crumbs and larger pieces; the crumbs infuse every bite with flavor, while the bigger pieces give you a little extra.
How to Make Cheesecake Ice Cream
Ready to get started? Here's how to make your own no-churn cheesecake ice cream: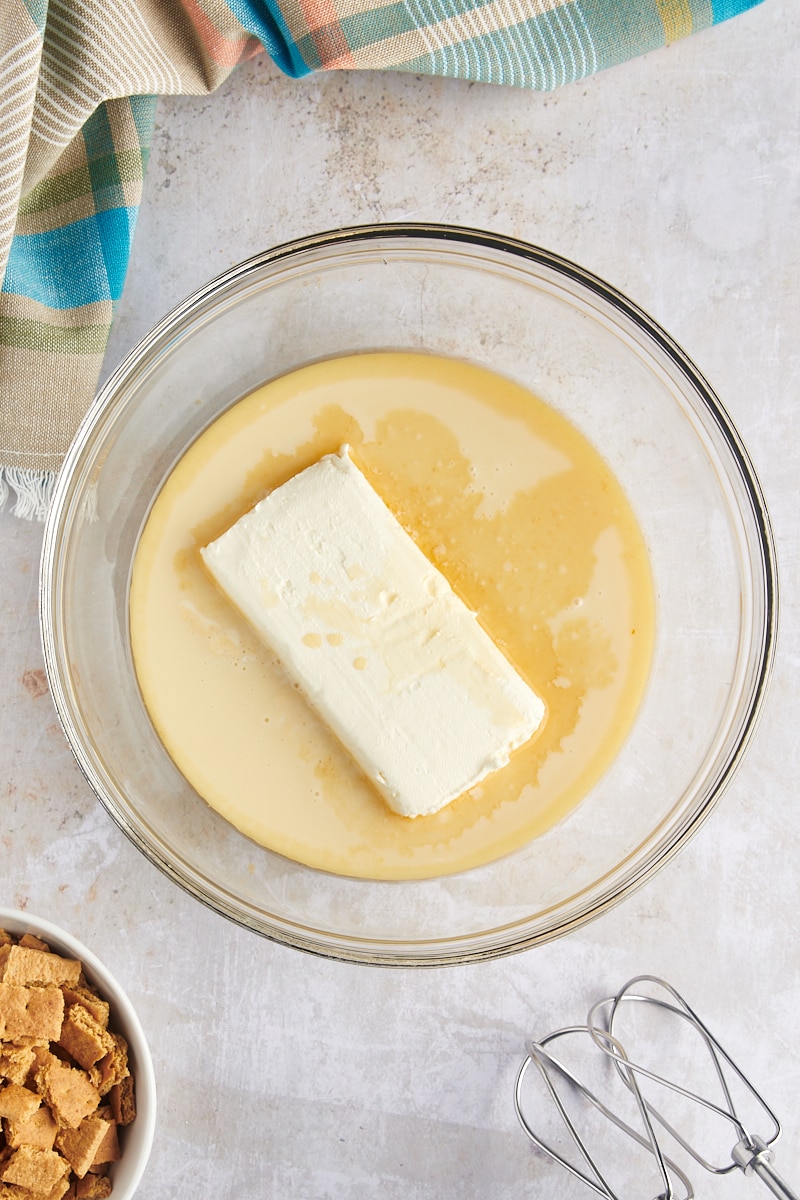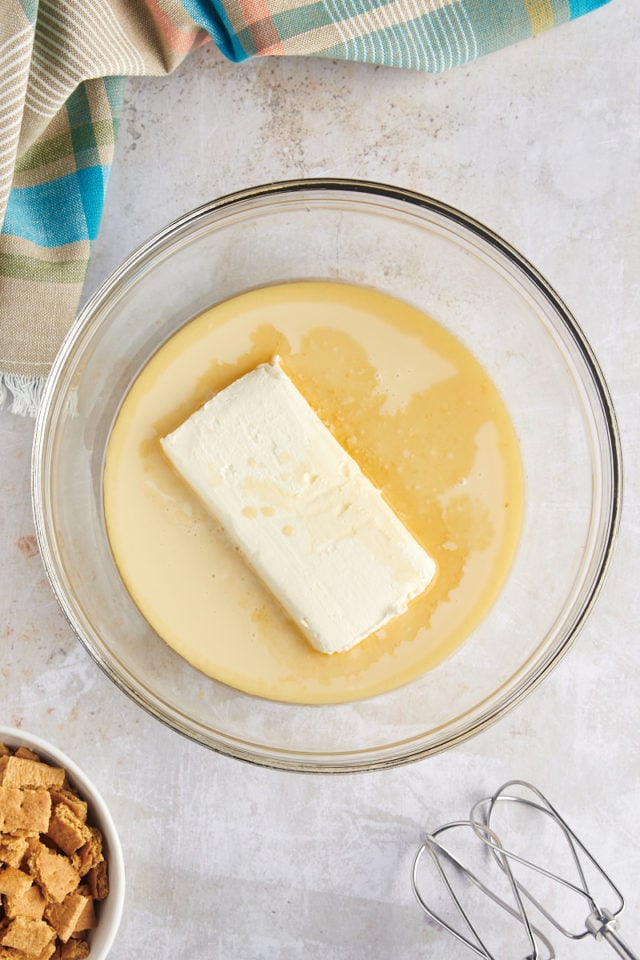 Prepare. Chill a 9" x 5" loaf pan (or another freezer-safe container similar in size) in the freezer.
Start the ice cream base. Use an electric mixer on medium speed to beat the condensed milk, cream cheese, and vanilla in a large bowl until the mixture is smooth.
Whip the cream. In a separate bowl, use a mixer fitted with a whisk attachment to whip the cream at medium-high speed until it forms stiff peaks.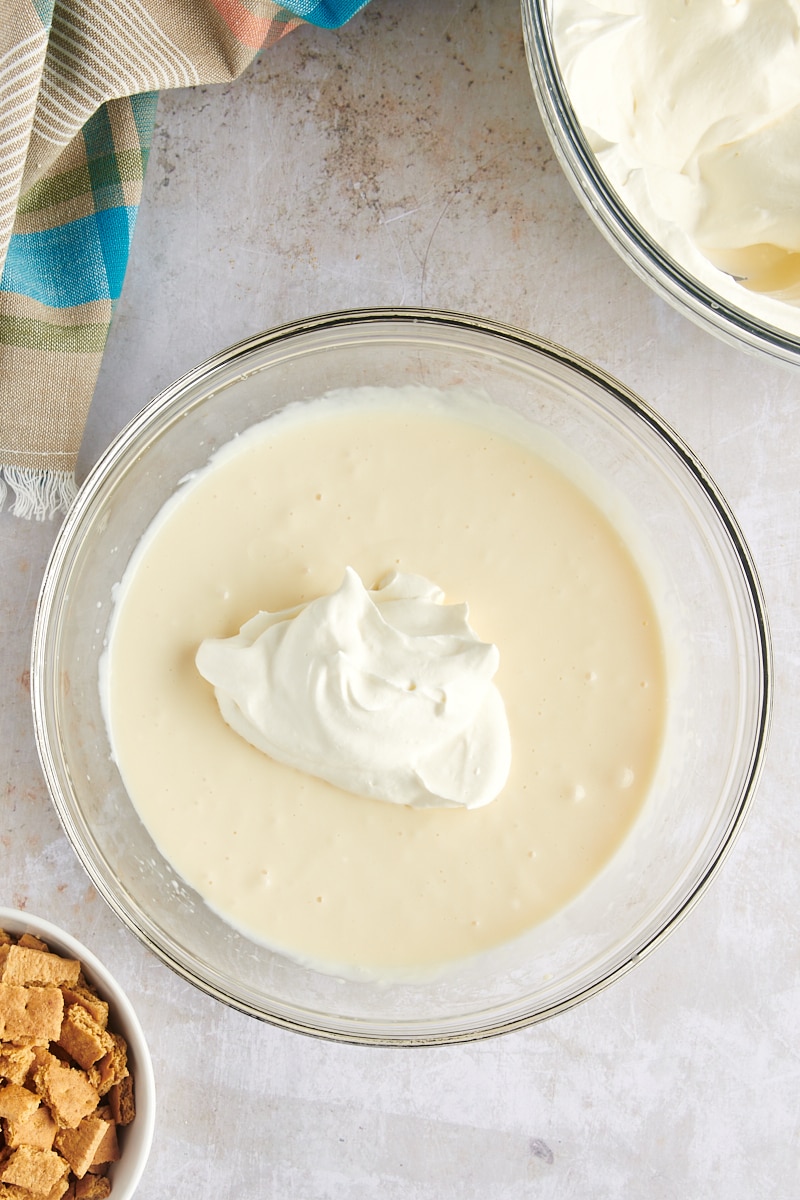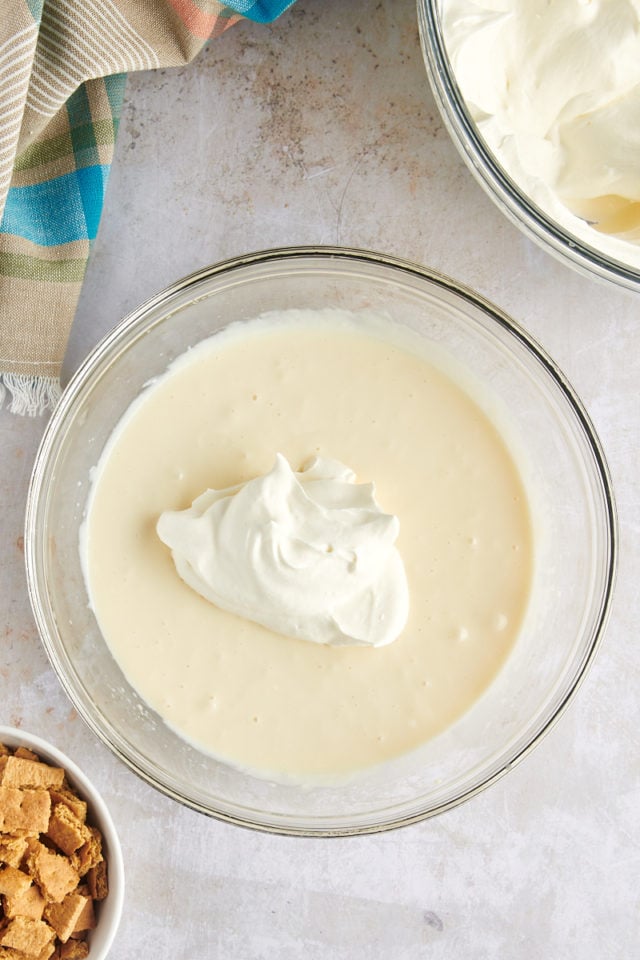 Combine. Fold about a quarter of the whipped cream into the cream cheese mixture, and then fold in the remaining whipped cream. Finally, fold in the graham cracker pieces. I like to reserve some for the top of the ice cream as well.
Freeze. Transfer the ice cream to the loaf pan and sprinkle any reserved graham cracker bits on top. Cover and freeze for a minimum of 5 hours before scooping and serving.
Tips for Success
Want to make sure your homemade cheesecake ice cream turns out perfect? These tips will help:
Use room temperature cream cheese. This helps ensure that it blends evenly and smoothly into the other ingredients. If the cream cheese is cold, you're likely to get small bits of unblended cream cheese throughout your ice cream.
Stop at stiff peaks. You'll know the peaks in the whipped cream are stiff when you can lift the whisk from the mixing bowl and the whipped cream stands up on its own, without drooping.
Let the ice cream soften if needed. Depending on the temperature of your freezer, you may need to let the ice cream sit on the counter for a few minutes before you can easily scoop it.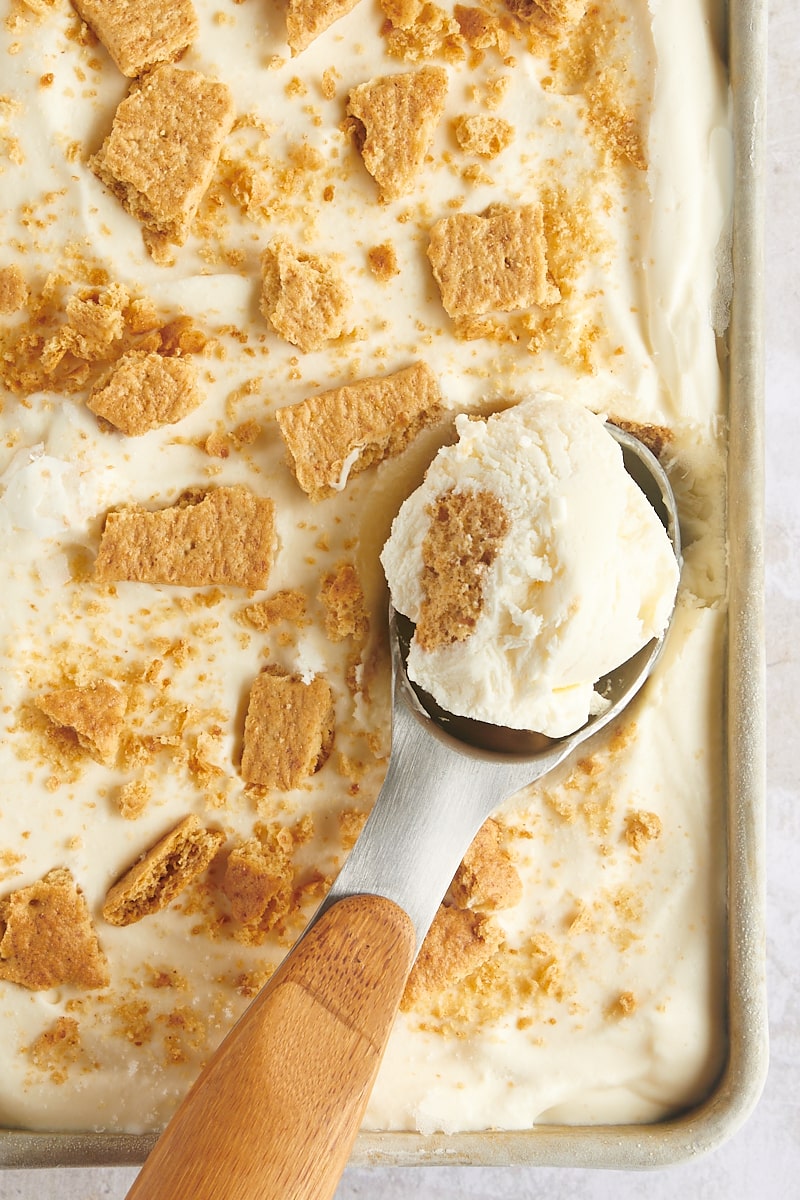 Variations
Add chocolate shavings for chocolate chip cheesecake ice cream, fold in crushed Oreos instead of graham crackers, or add a ribbon of caramel, chocolate, or strawberry sauce. There are so many ways to make this no-churn cheesecake ice cream recipe your own!
Serving Suggestions
Top your cheesecake ice cream with your favorite pie filling, or even just fresh fruit—berries or slices of ripe peaches would be lovely. Or, go more decadent and add salted caramel sauce, brownie crumbles, or chopped pieces of your favorite candy bar. Browse through my cheesecake recipes for some flavor inspiration!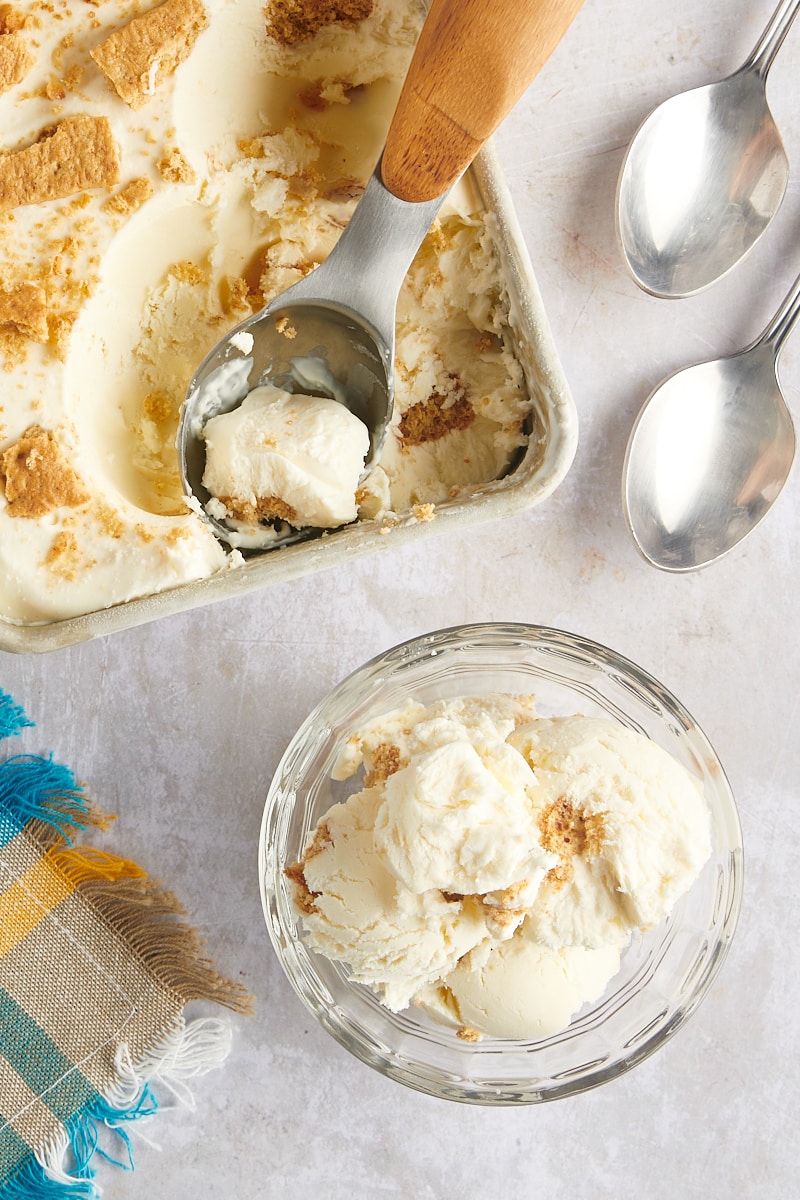 How to Store
Store your cheesecake ice cream in an airtight container in the freezer for up to 2 weeks.
More Homemade Ice Cream Recipes