February 9, 2017
Brownie Bottom Chocolate Cheesecake
If you're a chocoholic like me, you're going to fall in love with this Brownie Bottom Chocolate Cheesecake!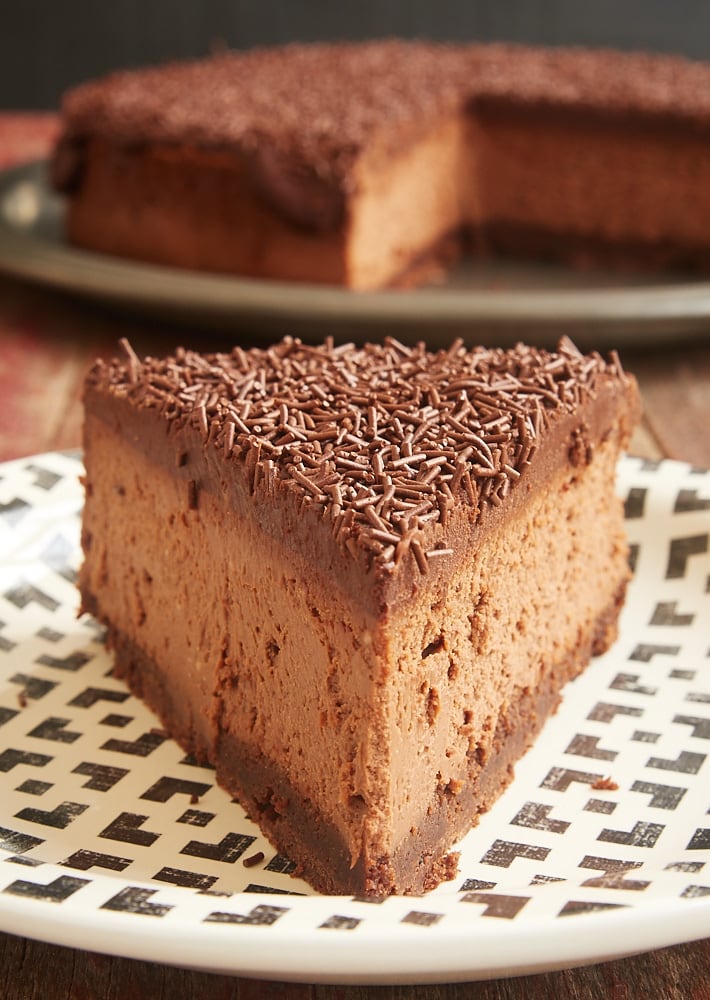 Ah, chocolate. I love all kinds of flavors, but there's just something extra special about chocolate that makes it irresistible. Whether it's something as simple as a chocolate chip cookie or something more elaborate, you aren't likely to find me turning down a chocolate dessert.
This Brownie Bottom Chocolate Cheesecake is something of an ode to all things chocolate. Seriously, there is SO much chocolate in this beauty. It starts with a thin brownie layer, followed by a double chocolate cheesecake, and then finished with a dark chocolate ganache. And chocolate sprinkles to boot!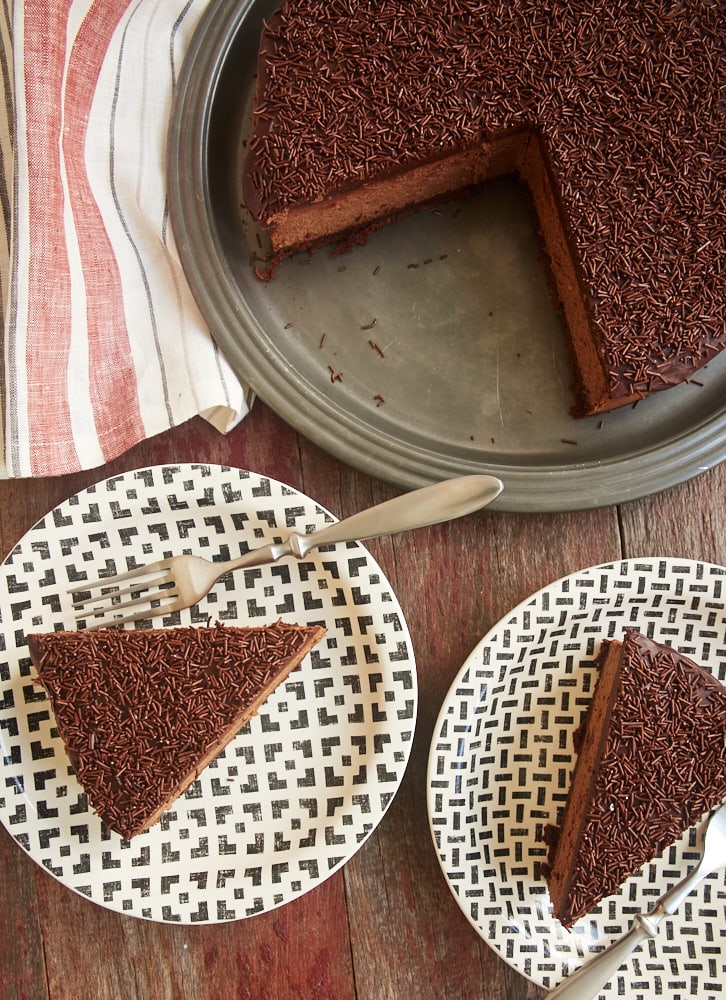 I don't often make such rich, decadent desserts, but it's quite a treat to go all in with dessert sometimes. This is just the kind of over-the-top dessert that's perfect for a special occasion like Valentine's Day, a birthday, or a holiday. Or, you know, make up a reason if necessary, because you're going to want to find a reason to make this glorious chocolate indulgence.
With all the chocolate going on in this cheesecake, keep in mind that it will only be as good as the chocolate you use. Choose a chocolate that you enjoy eating on its own. Guittard is my favorite chocolate that's widely available. Their chocolate sprinkles are really good, too.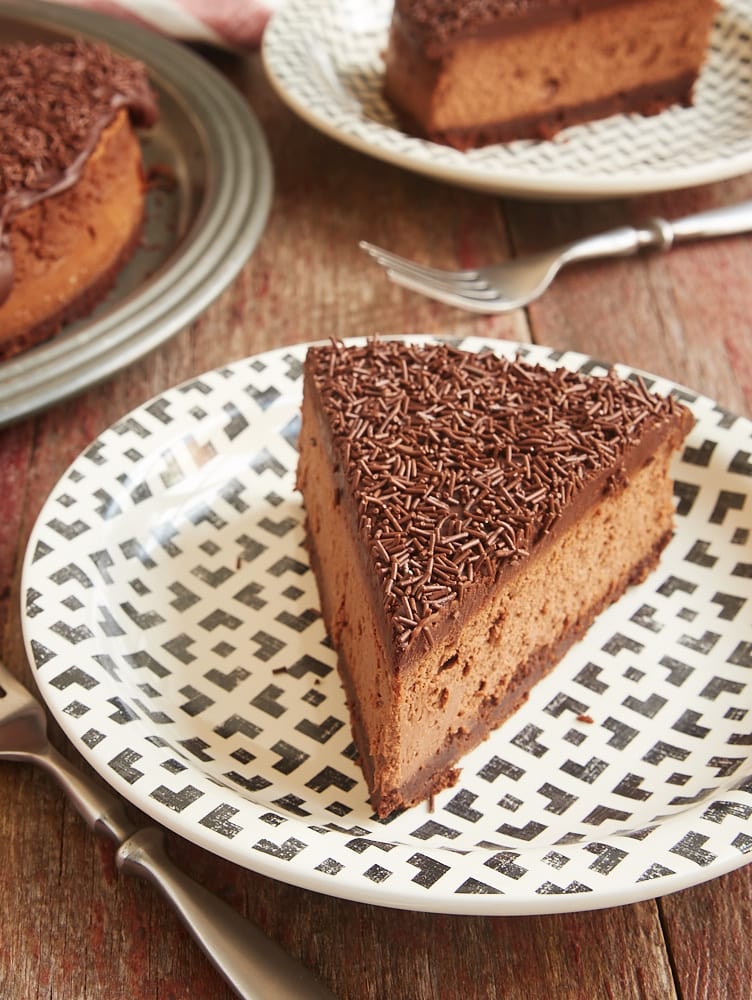 I use bittersweet chocolate in this recipe so as not to be overwhelmed by sweetness. I recommend a cacao percentage somewhere in the 70-75% range. By using a dark chocolate, your taste buds will be focused on all that rich, dark chocolate. It's truly a chocolate lover's dream!
I simply adore this cheesecake. It's absolutely the perfect way to satisfy a big chocolate craving. Share this one with your chocolate-loving friends, but be sure to save a slice or two for yourself before it all disappears.
Find more cheesecake recipes in the Recipe Index.
More Chocolate Cheesecake Recipes
Bake or Break is a participant in the Amazon Services LLC Associates Program, an affiliate advertising program designed to provide a means for us to earn fees by linking to Amazon.com and affiliated sites.
Brownie Bottom Chocolate Cheesecake
Yield: 16 servings
Prep Time: 40 minutes
Cook Time: 2 hours 35 minutes
If you love chocolate in a big way, then this Brownie Bottom Chocolate Cheesecake is for you! Layers of brownie, double chocolate cheesecake, and dark chocolate ganache combine for an unforgettable chocolate experience!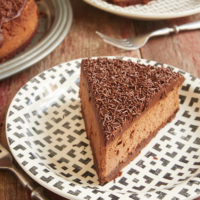 Ingredients:
For the brownie crust:
3 ounces (85g) bittersweet chocolate, roughly chopped
1/4 cup (57g) unsalted butter
1/4 cup (50g) granulated sugar
1/4 cup (50g) firmly packed brown sugar
1 large egg
1/2 teaspoon vanilla extract
1/4 teaspoon salt
1/2 cup (60g) all-purpose flour
For the filling:
24 ounces (680g) cream cheese, at room temperature
1 cup (200g) granulated sugar
1/4 cup (21g) unsweetened natural cocoa powder
6 ounces (170g) bittersweet chocolate, melted and cooled
3 large eggs
2 teaspoons vanilla extract
1/2 cup (114g) sour cream
For the ganache:
6 ounces (170g) bittersweet chocolate, roughly chopped
1/2 cup heavy cream
chocolate sprinkles, for garnish
Directions:
To make the brownie crust:
Preheat oven to 350°F. Grease a 9-inch round springform pan.
Place the chocolate and butter in a microwave-safe bowl. Heat at half power in microwave in 30-second increments until butter has melted and chocolate melts when stirred. Stir until smooth. Set aside to cool slightly.
Combine the sugar, brown sugar, egg, vanilla, and salt. Add the chocolate mixture, mixing until combined. Add the flour, mixing just until combined.
Transfer the batter to the prepared pan and spread evenly. Bake 15 to 20 minutes, or until a pick inserted into the center comes out with moist crumbs. Set the pan on a wire rack and allow to cool completely.
To make the filling:
Using an electric mixer on medium speed, beat the cream cheese, sugar, and cocoa powder until thoroughly combined and fluffy. Add the eggs, one at a time, mixing well after each addition. Mix in the vanilla.
Add the cooled chocolate, and mix until thoroughly combined. Mix in the sour cream.
Pour the batter onto the cooled crust in pan. Spread evenly.
Bake for 15 minutes.
Reduce oven temperature to 200°F. Continue baking for 2 hours.
Turn off the oven. Remove the cheesecake from the oven and gently run a knife around the edges of the pan. Return the cheesecake to the oven. Leave the cheesecake in the oven for 2 hours.
Then, cover loosely and refrigerate overnight.
To make the ganache:
Place the chocolate in a heat-proof bowl.
Place the cream in a small saucepan. Heat over medium heat just until the cream begins to bubble around the edges.
Pour the cream over the chocolate. Whisk until smooth.
Spread the ganache over the chilled cheesecake. Cover with chocolate sprinkles. Return the cheesecake to the refrigerator for about 10 minutes to let the ganache set.