Cinnamon Pear Cake combines soft, moist cake with subtly sweet pears and cinnamon for a delightful cake that's great any time of day!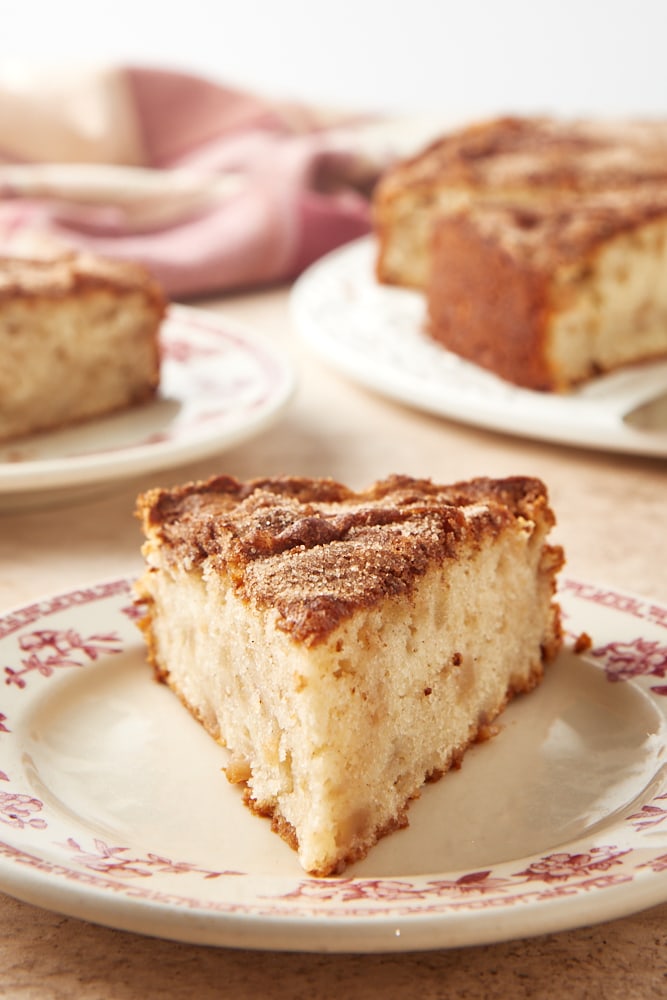 Fresh Pear Cake Recipe with Cinnamon Sugar
This beautiful Cinnamon Pear Cake is one of the softest, tastiest cakes I've ever had the pleasure to eat. It's wonderfully soft and moist, filled with pears, and topped with cinnamon-sugar.
Just as remarkable is how easy it is to make. It mixes quickly, so you'll have it ready for the oven in short order. My favorite baking recipes are the simple ones with big results, and this beauty certainly qualifies.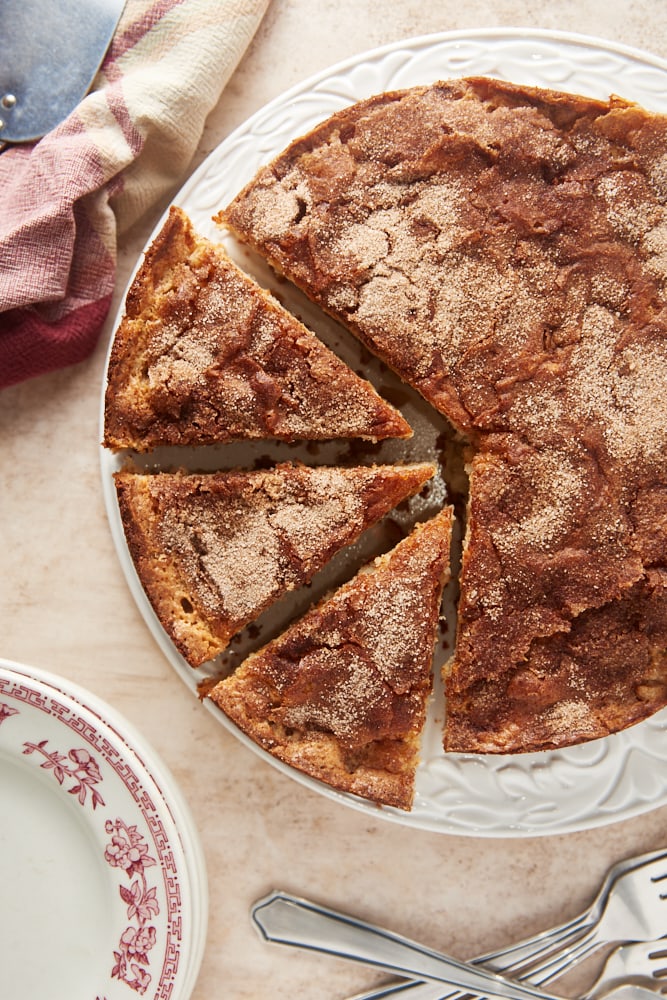 A mixture of cinnamon and sugar serves as a simple topping in lieu of a more traditional crumb topping you might find on a coffee cake. It creates a crumbly topping that goes perfectly with the soft cake below. Bonus points for simplifying the baking process and looking beautiful, too!
As it's not overly sweet, this Cinnamon Pear Cake is a great cake to serve for breakfast, brunch, snack time, or dessert. I certainly will welcome a slice at any time!
Love pear desserts? Try Hazelnut Pear Bundt Cake, Pear Crisp Cheesecake, and Autumn Spice Pear Cobbler next!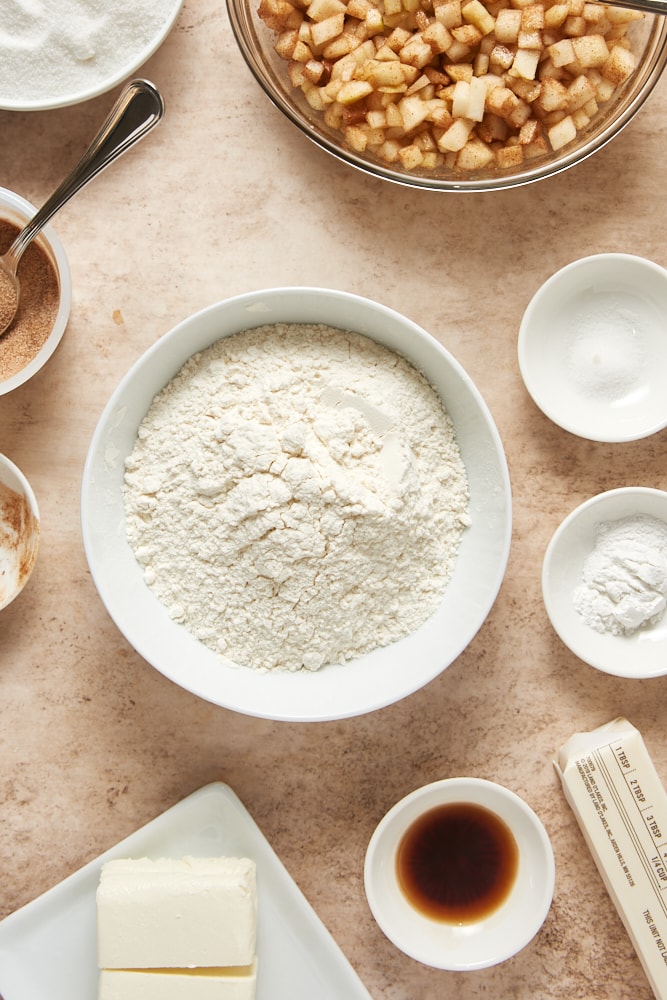 What You'll Need
To make this Cinnamon Pear Cake, you'll need to make a simple cinnamon-sugar topping along with the cake. You won't need any special ingredients to make this wonderful cake! Be sure to scroll down to the recipe for specific ingredient quantities.
For the topping:
Granulated sugar
Ground cinnamon: Make sure your cinnamon is fresh, as its flavor will dissipate over time.
For the cake:
All-purpose flour: Measure by weight for best results, or spoon it lightly into the measuring cup. Learn more: How to Measure Flour
Baking powder
Salt
Granulated sugar
Butter: I always bake with unsalted butter. There's no standard for how much salt is in salted butter, so altering the other salt in the recipe is guesswork. Set out the butter about half an hour before baking to allow it to soften.
Cream cheese: I prefer full-fat cream cheese for this recipe, but a low- or non-fat version should work well enough. Be sure to let it come to room temperature so it will mix smoothly.
Vanilla extract: I like the simple flavor addition of vanilla in this cake, but another extract would work, too.
Eggs
Pears: I recommend Bosc, Bartlett, or Anjou pears. Use pears that are firm or just slightly soft near the stem.
Ideas for Variations
This Cinnamon Pear Cake is pretty darn perfect just as is, but here are some ideas if you'd like to vary things a bit.
Substitute apples for the pears, or use a combination of pears and apples. I've got some tips for choosing apples for baking that you may find useful.
Use a spice blend instead of cinnamon in the topping. Either a store-bought or homemade version would work.
Add nuts to the topping. For a little crunch, add 2 to 3 tablespoons of chopped pecans, walnuts, hazelnuts, or other nut to the top of the cake along with the cinnamon-sugar.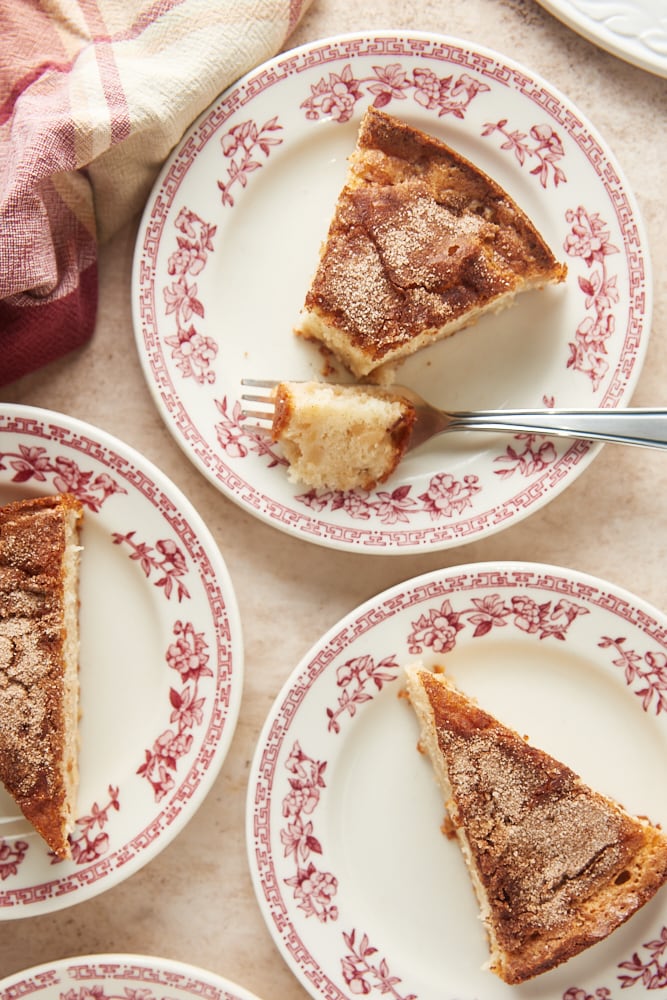 How to Make Cinnamon Pear Cake
You'll use the familiar creaming method to make this easy cake. Grab a couple of mixing bowls, your mixer, and a springform pan, and get baking!
Prepare for baking. Heat the oven to 350°F. Grease a 9-inch round springform pan. I like to use a cooking spray with flour, like Baker's Joy or Pam Baking.
Make the topping. Simply combine 1/4 cup of sugar and the cinnamon. You can also use a store-bought cinnamon-sugar if you like.
Combine the dry ingredients. Whisk together the flour, baking powder, and salt.
Beat the wet ingredients. Cream together the sugar, butter, cream cheese, and vanilla using a hand or stand mixer on medium speed. Then mix the eggs (one at a time) into the batter, and mix well.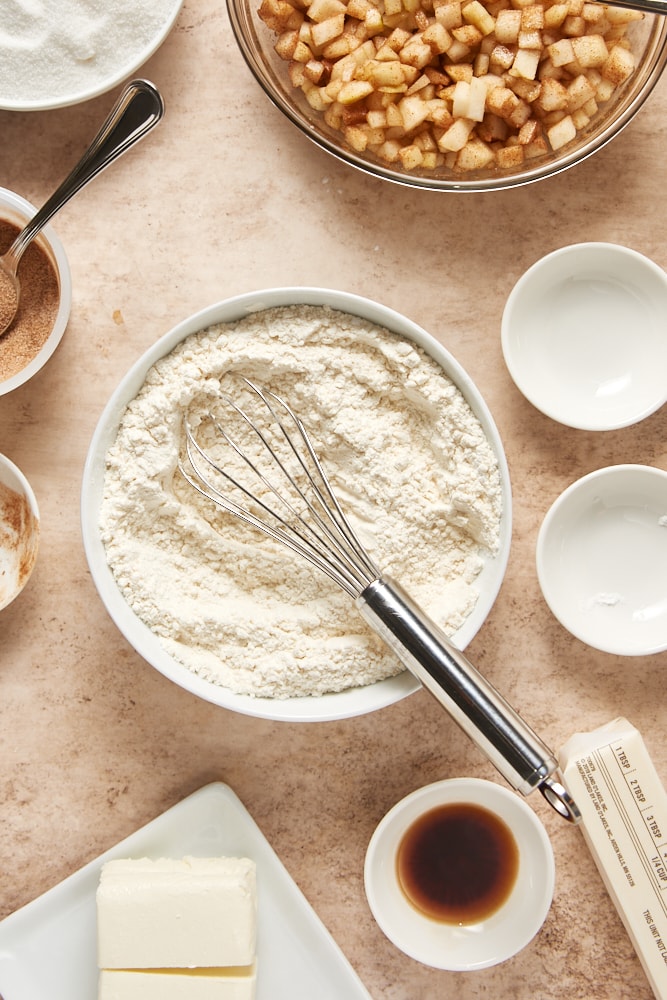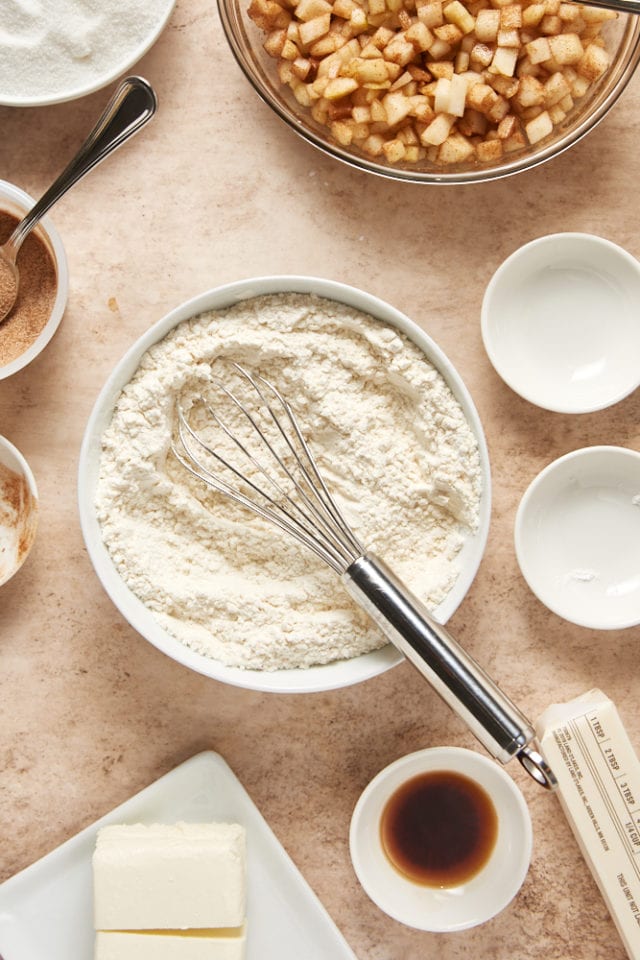 Add the dry ingredients to the wet ingredients. With the mixer speed on low, gradually add the flour mixture. Don't over-mix the batter. Mix it just until it's combined or a few streaks of flour remain.
Add the pears. Toss the pears with 2 tablespoons of the cinnamon-sugar. Then gently stir the pears into the batter.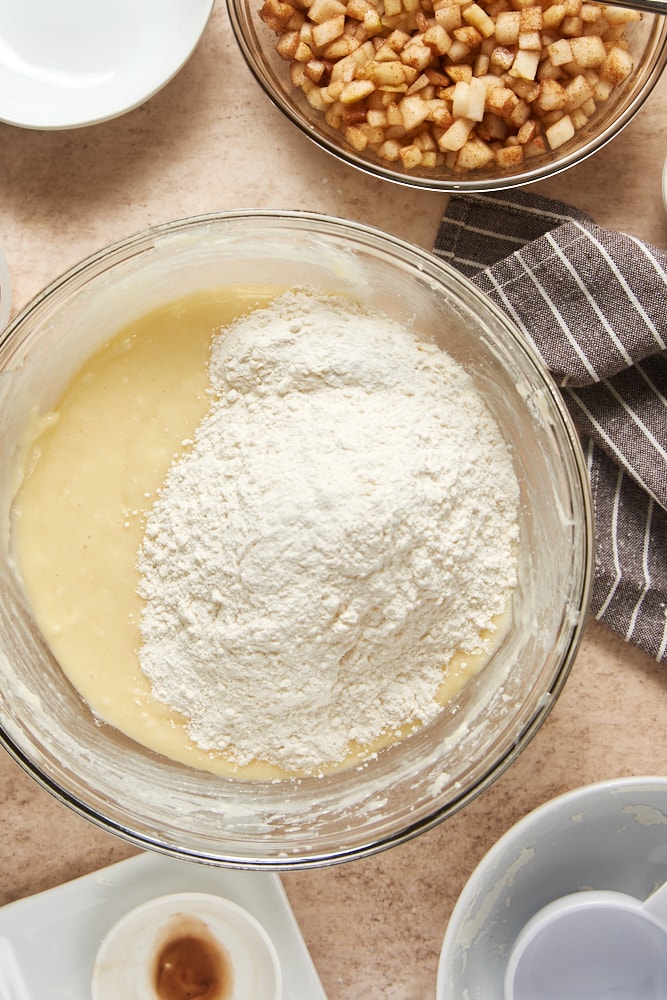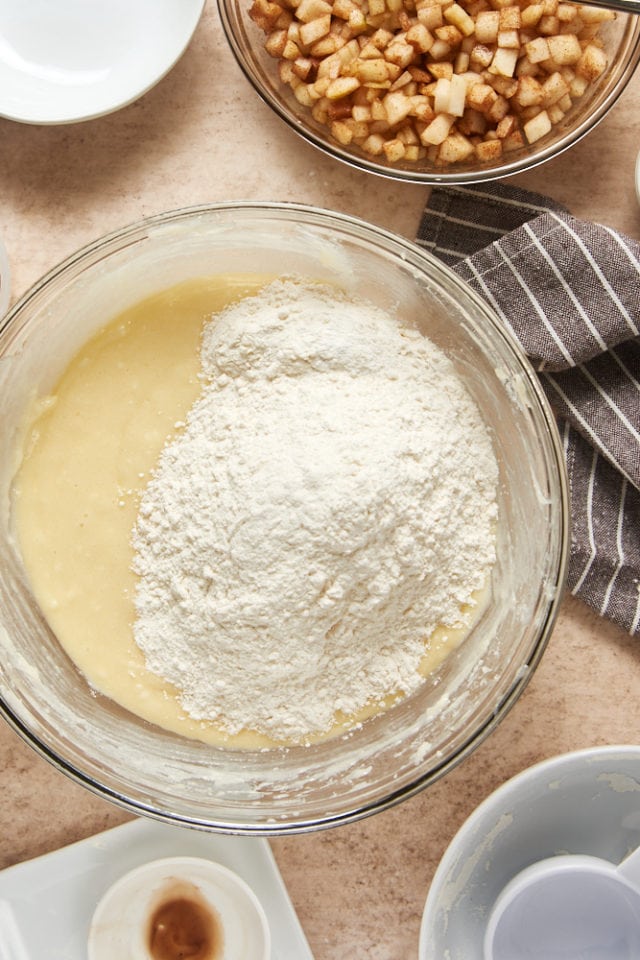 Transfer the batter to the pan. Spread it evenly in the pan. Sprinkle the remaining cinnamon-sugar on top.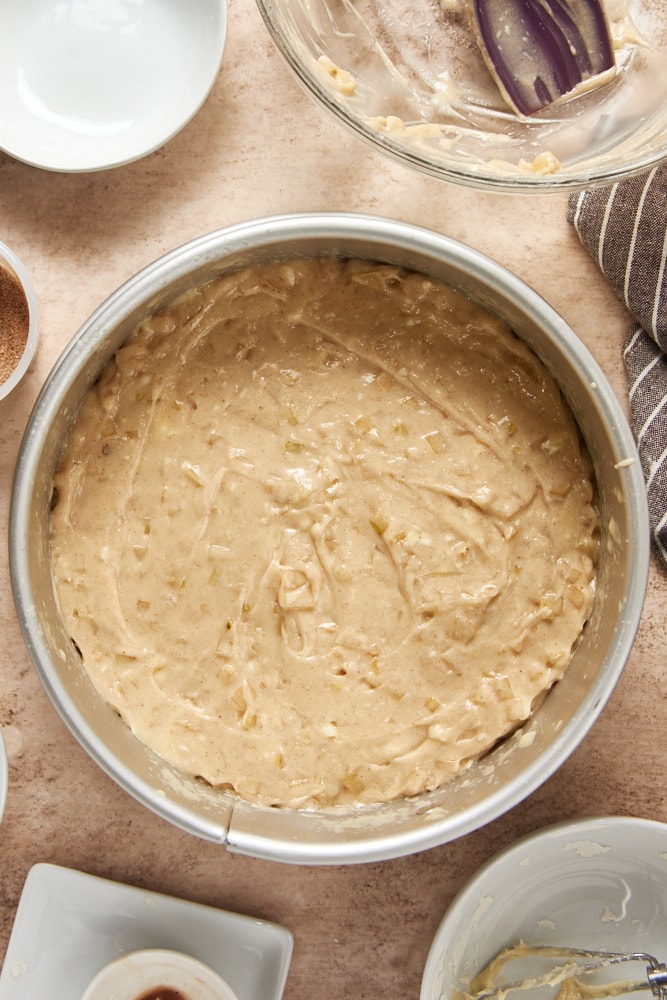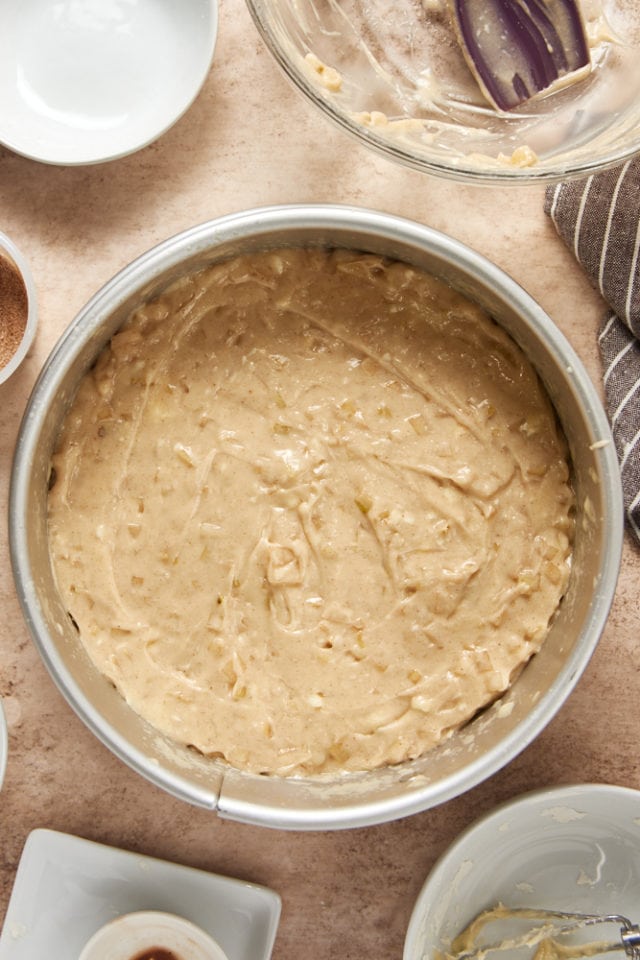 Bake. I like to place the pan on a lined, rimmed baking sheet just in case there are any spills or leaks. The cake will need to bake for 60-70 minutes. You can test for doneness with a pick inserted into the center. It should come out clean when the cake is done. The cake will also have pulled slightly away from the sides of the pan. After it has baked, let the cake cool completely in the pan on a wire rack before serving.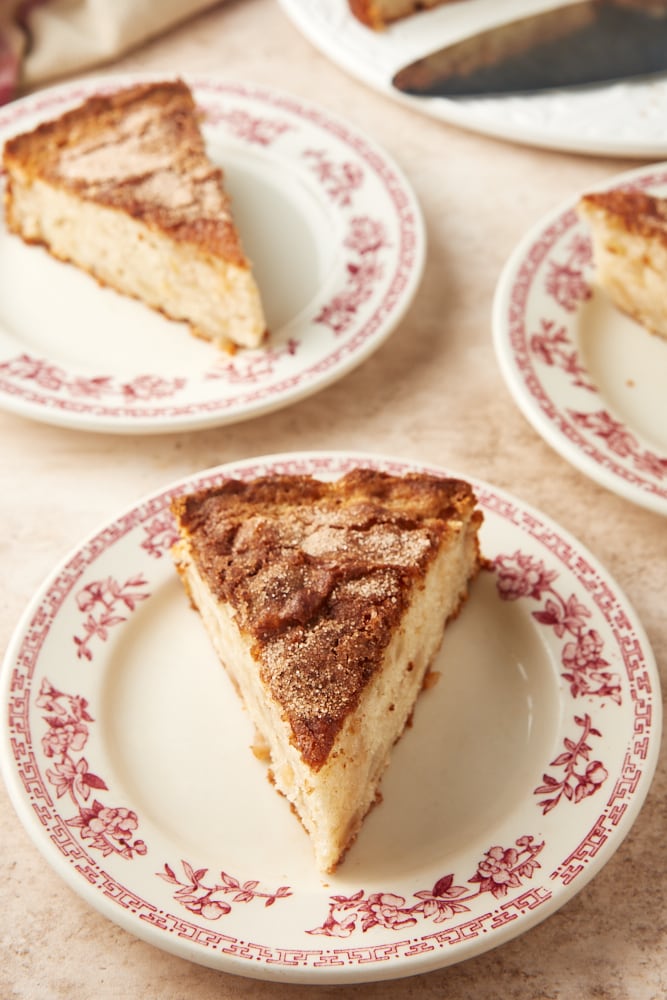 Tips for Success
Don't over-mix. This is a soft, delicate cake. Too much mixing will make it tough.
Use a light-colored metal pan. That will help your cake bake thoroughly and evenly. A springform pan will work best, but a cake pan will do in a pinch. Springform pans can develop small gaps over time, so I always place the pan on a lined, rimmed baking sheet as a precaution to prevent a mess.
Use fresh pears. Fresh, firm pears will hold up best during baking. Look for pears that are good for baking, like Bartlett, Bosc, or Anjou. For optimal ripeness, they should give just a bit when pressed near the stem.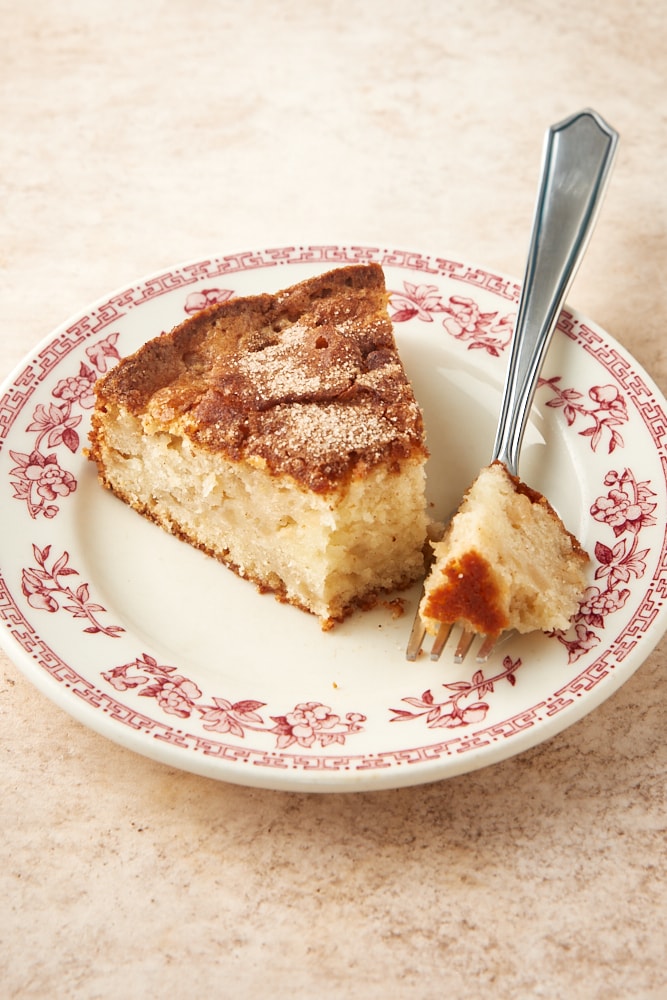 How to Store Leftovers
Tightly covered, this Cinnamon Pear Cake should keep for up to 5 days. It's best when it's fresh, but it does stay fresh-tasting after storage.
For longer storage, you can freeze the cake. Wrap remaining slices in plastic wrap, and then wrap again in aluminum foil or place in a freezer-safe bag or container. Store for up to 3 months. Thaw overnight in the refrigerator or on the kitchen counter for a couple of hours.