January 25, 2016
Individual Chocolate Icebox Pies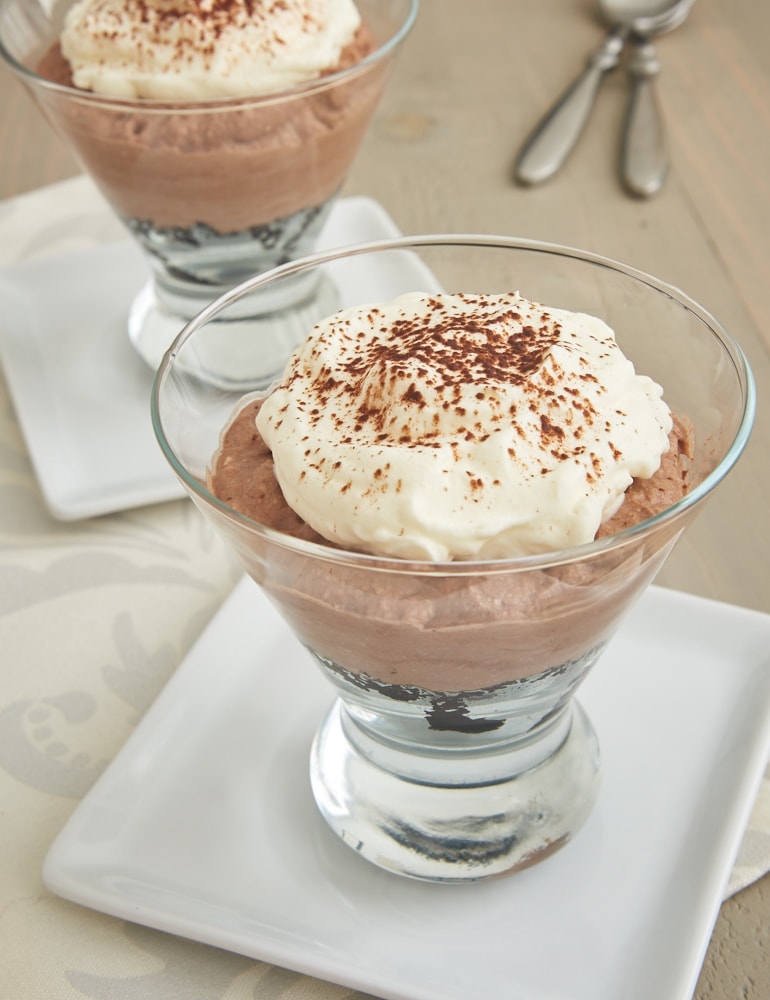 One of my all-time favorite chilled desserts is a chocolate pie that I've been making for years. And before that, my mother used to make it for us. It's super simple to make and amazingly good.
I thought it would be fun to make a version of that same pie as individual desserts. It takes just a little more time to portion the components in the individual serving glasses, but it gives them a lovely air of elegance.

Use your favorite set of 8 ounce glasses or bowls for serving these beauties. Or use a mixed set if you like. The glasses you see here are cocktail glasses that I use quite often. I like their tapered sides, but a straight-sided glass is just fine.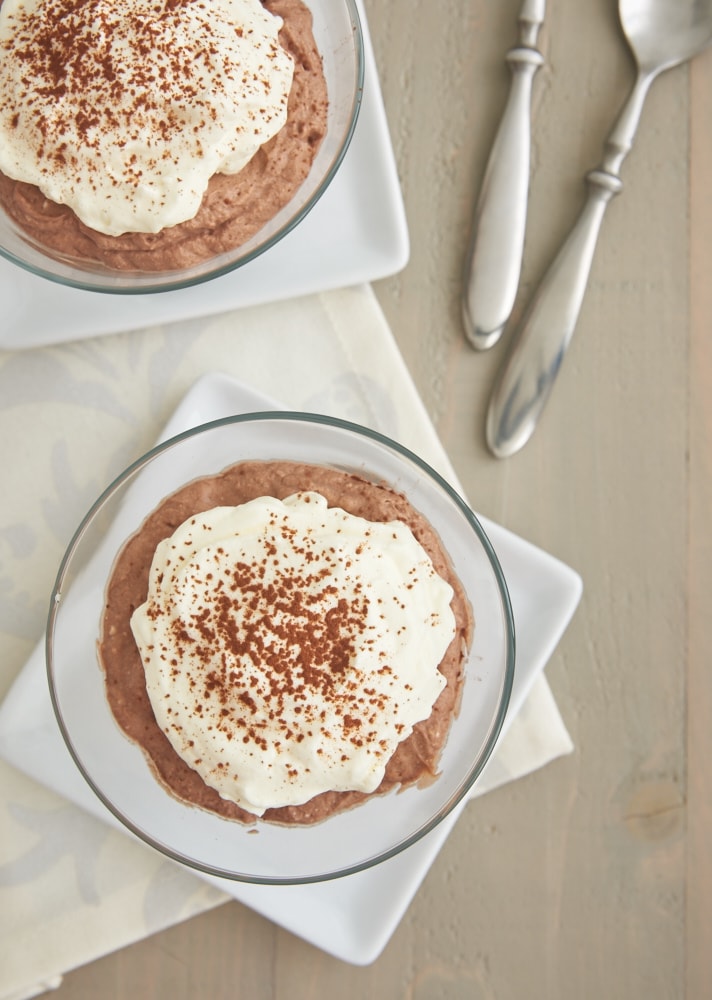 With the chill time required, these are a great make-ahead dessert. Just assemble them, cover with plastic wrap, and chill until dessert time. Make them a day or even two in advance if you like. You can add the whipped cream when you assemble them or wait and add it when you're serving.
You can use all sorts of things for topping off these pies. Stick to the chocolate theme with cocoa powder, chocolate curls, or chocolate sprinkles. Toasted nuts are also a great topping. Reserve some cookie crumbs or use a larger piece of cookie, like a cookie half. For a little fun, how about some chopped candy bars or even just roughly chopped chocolate?
Keep this recipe in mind for serving at a small gathering. You can also easily scale up the recipe for a larger party, or half it for two big servings for a special dinner for two.
Individual Chocolate Icebox Pies
Yield: 6 servings
Prep Time:20 minutes
These cool, creamy Individual Chocolate Icebox Pies are the perfect dessert for a small gathering. A great make-ahead dessert!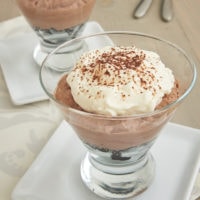 Ingredients:
For the crust:
6 ounces chocolate wafer crumbs*
1/4 cup unsalted butter, melted
For the filling:
8 ounces cream cheese, softened
1/2 cup granulated sugar
1/4 cup unsweetened cocoa powder
1/4 cup milk
1 teaspoon vanilla extract
1 cup heavy cream
For the topping:
1/2 cup heavy cream
1 to 2 tablespoons granulated sugar
cocoa powder, chocolate curls, cookie crumbs, nuts, etc. for garnish
Directions:
To make the crust:
Combine the cookie crumbs and butter until thoroughly combined.
Place 2 to 3 tablespoons of the crust mixture in the bottom of 6 8-ounce glasses or bowls. Make an even layer, but be careful not to pack the mixture.
To make the filling:
Using an electric mixer on medium speed, beat the cream cheese and sugar until thoroughly combined. Add the cocoa powder, milk, and vanilla. Continue mixing until combined and smooth.
In a separate bowl, use an electric mixer with the whisk attachment to whip the cream until soft peaks form. Gently fold the whipped cream into the cream cheese mixture.
Divide the filling mixture evenly among the 6 glasses, using about 1/2 cup of filling in each. You can spoon the mixture into the glasses or pipe it.
To make the topping:
Using an electric mixer with a whisk attachment, beat the cream at medium-high speed until the cream begins to thicken.
Sprinkle the desired amount of sugar over the cream. Whisk until combined.
Continue beating until soft peaks form. This should take 4 to 5 minutes.
Top each dessert with the whipped cream. Garnish as desired.**
Cover each dessert with plastic wrap and chill at least 6 hours.
Notes:
*Feel free to substitute another cookie for the crust. Regular or chocolate graham crackers, Oreos, etc. are all tasty choices.
**I often wait to top with whipped cream until serving time, so I cover and chill the desserts after I've added the filling. If you want to assemble everything at once, you can opt to whip all the cream at once and just divide it for the filling and topping.
This post contains affiliate links.