Brown Butter Cinnamon Cookies are crispy, crunchy cookies with fantastic flavor!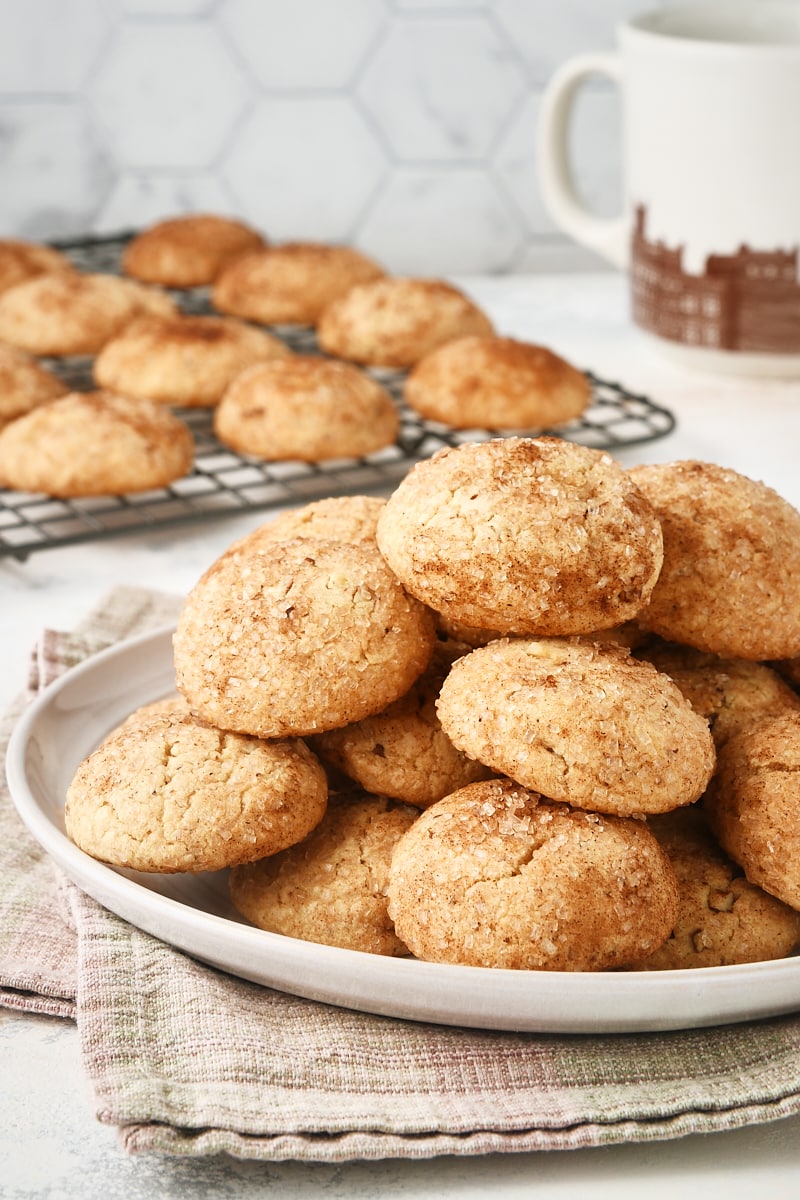 Crispy Brown Butter Cinnamon Cookies
I most often bake soft cookies, but sometimes I get a hankering for a batch of crispy, crunchy cookies. And these Brown Butter Cinnamon Cookies are just that plus wonderful flavor, thanks to browned butter and a good dose of cinnamon. Think of them as a grown-up Snickerdoodle!
Moisture makes cookies soft, so less moisture leads to crunchy cookies. Browning butter removes the water from butter, so you're already on your way to crispier, crunchier cookies by doing that. The higher ratio of brown sugar to granulated sugar in these cookies helps ensure that these cookies have that crunch but aren't dry or tough.
The combination of brown butter and cinnamon is a favorite of mine. The rich, nutty flavor of brown butter plus the spice of cinnamon just seem to go together so well! If you also like that pairing, try my Cinnamon Hazelnut Bundt Cake or Brown Butter Sour Cream Spice Muffins.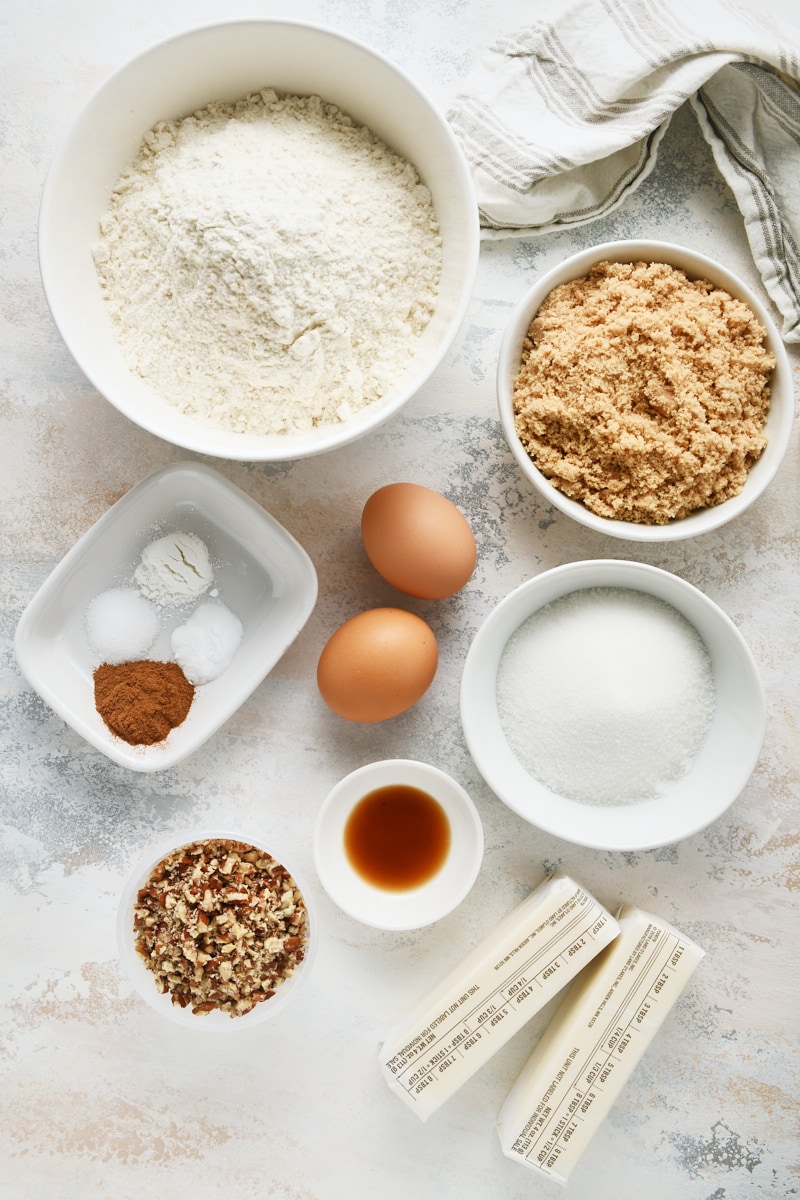 What You'll Need
These brown butter cookies are made with basic baking ingredients you're likely to have in your kitchen at any time!
Unsalted butter – The butter doesn't need to soften like in most cookies, but it will brown more quickly and with less mess if it isn't cold.
All-purpose flour – As always, measure by weight for best results. Otherwise, spoon and sweep. With a crunchy cookie like this, accurate flour measurement is key to prevent dry cookies.
Baking powder
Baking soda
Salt
Ground cinnamon
Brown sugar – Make sure it's firmly packed, or better yet measure by weight.
Granulated sugar
Eggs – Set out the eggs before you begin baking to allow them to come to room temperature.
Vanilla extract
Chopped nuts – Any kind will do – pecans, hazelnuts, walnuts, etc. Or omit them if you like.
Cinnamon-sugar – You can use store-bought or simply make your own with a 4:1 ratio of sugar to cinnamon. Use regular granulated sugar or go with sanding sugar for a little extra sparkle. Learn more: How to Make Cinnamon Sugar
How to Make Brown Butter Cinnamon Cookies
When you're ready to bake, be sure to factor in the time for browning and cooling the butter and for chilling the dough.
Brown the butter. Place the butter in a heavy saucepan or skillet. Cook over medium heat, stirring frequently, until the butter melts and begins to foam. Continue cooking until brown bits begin to form beneath the foam and the butter has a strong buttery, nutty aroma. (Keep an eye on the butter as it browns. It can go from browned to burned pretty quickly.) Remove the pan from the heat. Transfer the butter to a large mixing bowl and allow it to cool until it's still warm to the touch but not hot (about 10 minutes).
Combine the dry ingredients. Whisk together the flour, baking powder, baking soda, salt, and cinnamon.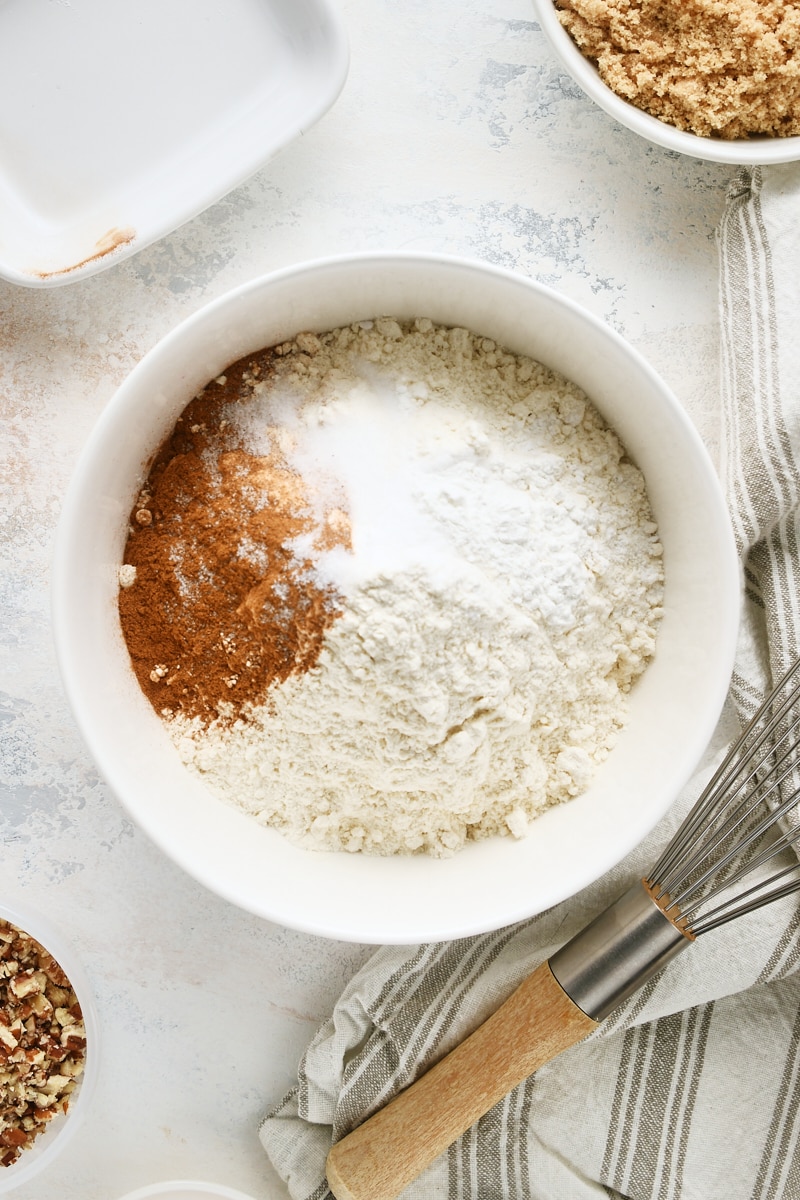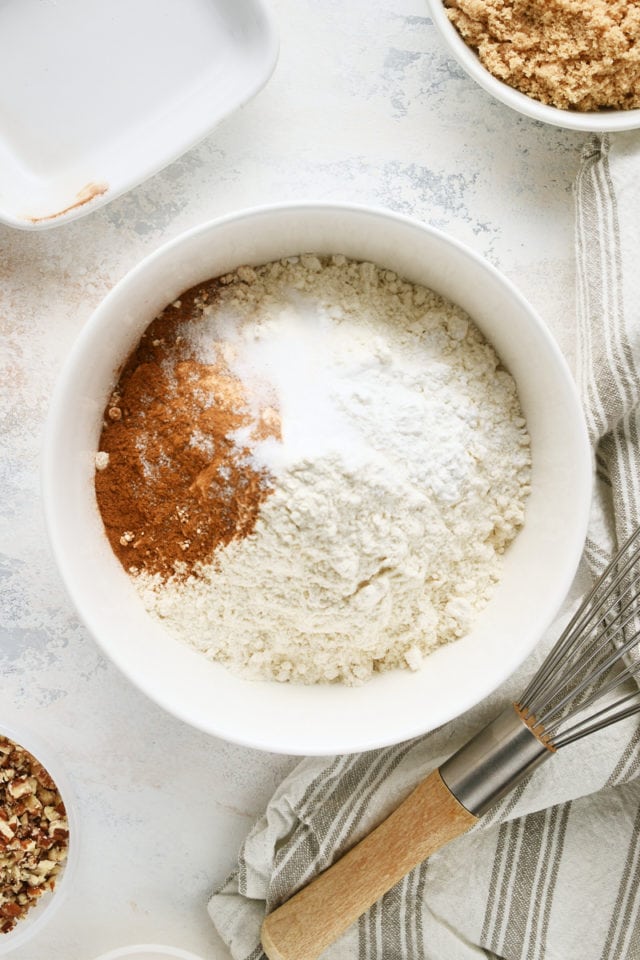 Combine the wet ingredients. Using an electric hand mixer or stand mixer on medium speed, mix the cooled butter, brown sugar, and sugar until thoroughly combined. Add the eggs, mixing well after adding each one. Mix in the vanilla.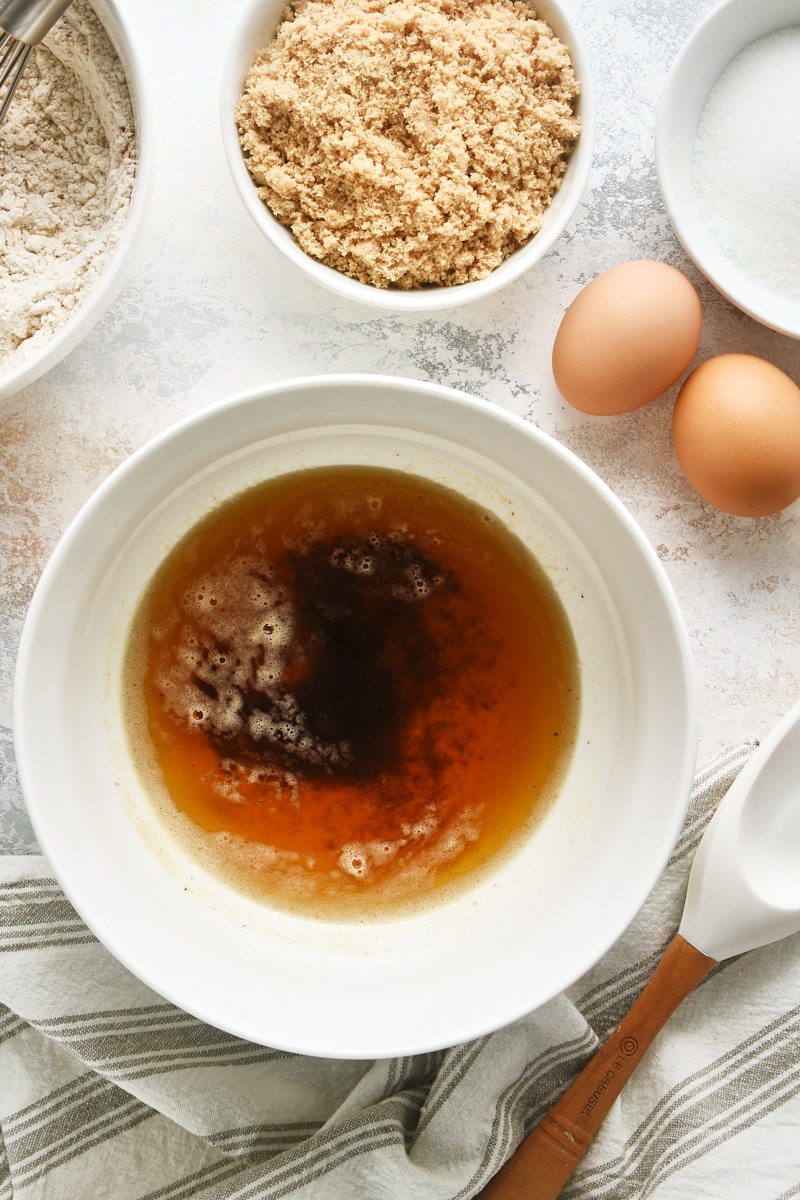 Add the dry ingredients to the wet ingredients. With the mixer speed on low, gradually add the flour mixture to the dough. Mix just until combined or a few streaks of flour remain in the dough. Stir in the nuts, if using. The dough will be thick.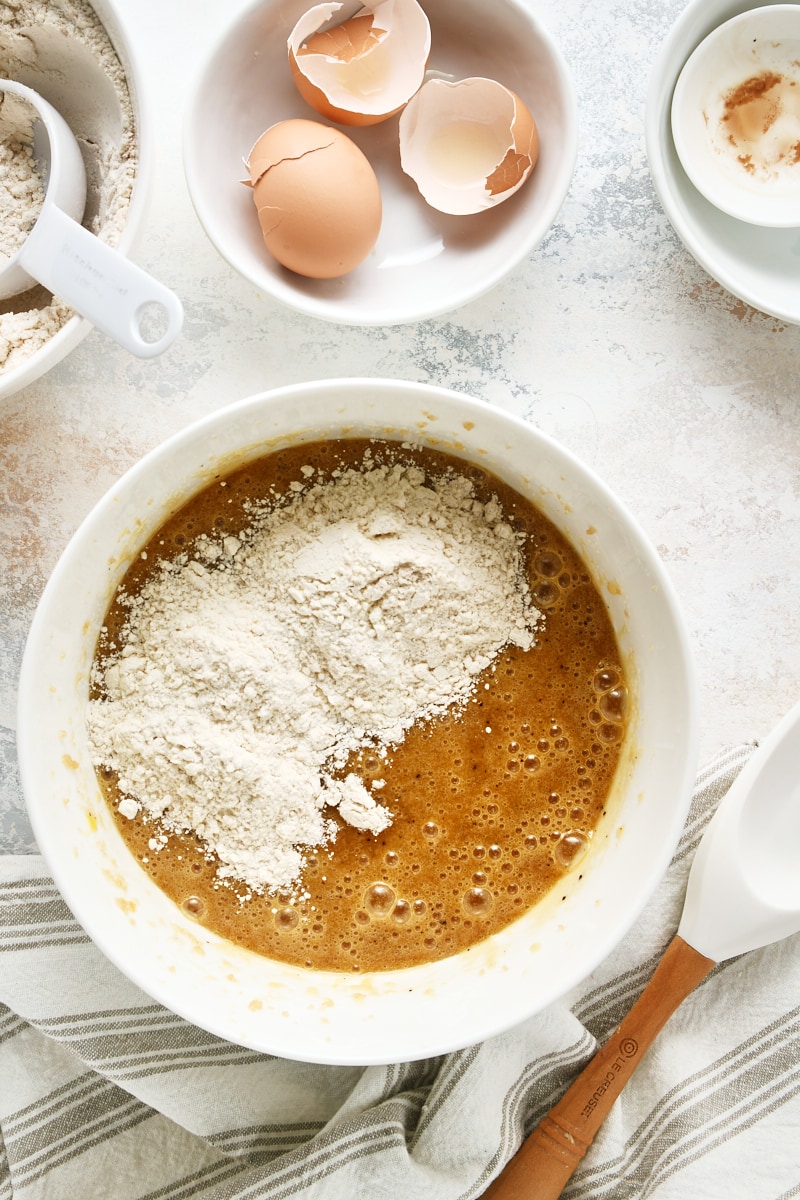 Chill the dough. Cover and refrigerate the dough for about half an hour. You can refrigerate up to overnight if you like, but you may need to let it sit at room temperature for a few minutes before scooping for easier handling.
Prepare for baking. Heat the oven to 350°F. Line baking sheets with parchment paper or silicone liners.
Portion and roll in cinnamon-sugar. Using a tablespoonful of dough at a time, roll the dough into balls. Roll each in cinnamon-sugar and place on the prepared pans, leaving about 2 inches between cookies.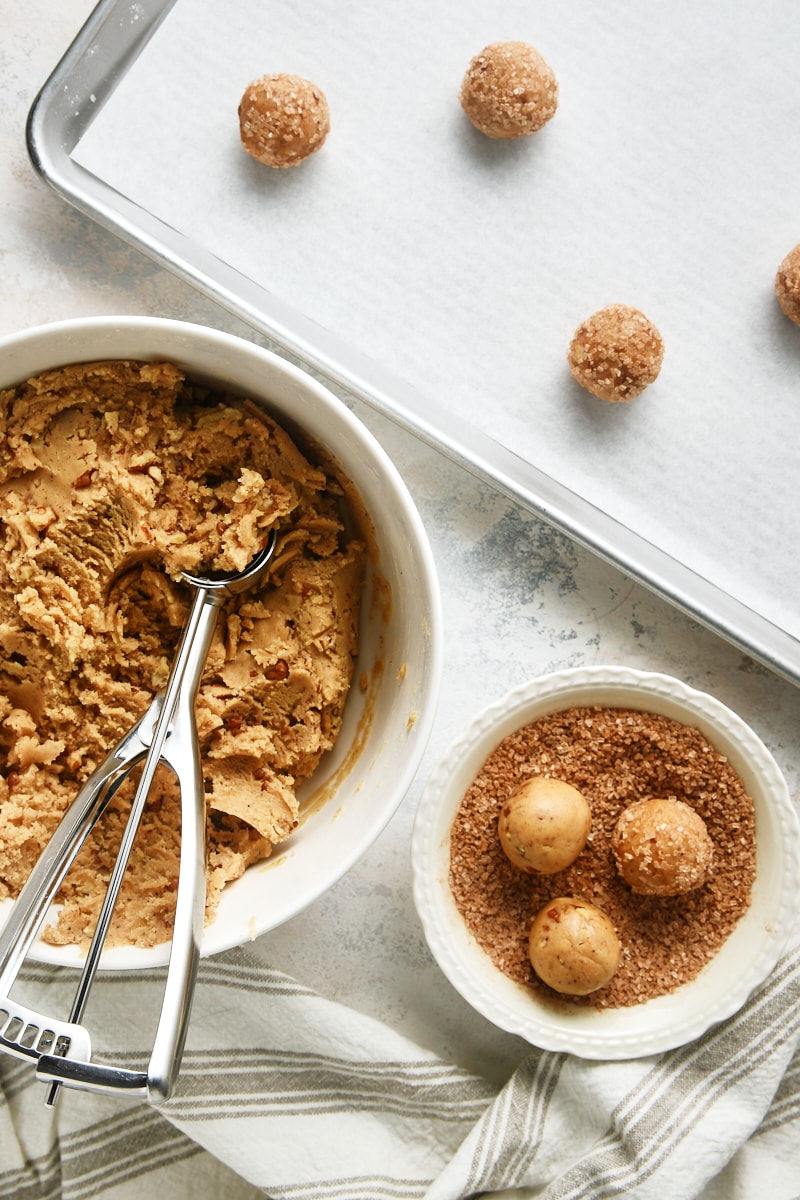 Bake. Place the pan in the oven, and bake 14 to 16 minutes, or until the edges are browned. Repeat with remaining pans of cookies. Cool each pan on a wire rack for 5 minutes; then transfer the cookies from the pan to a wire rack to cool completely.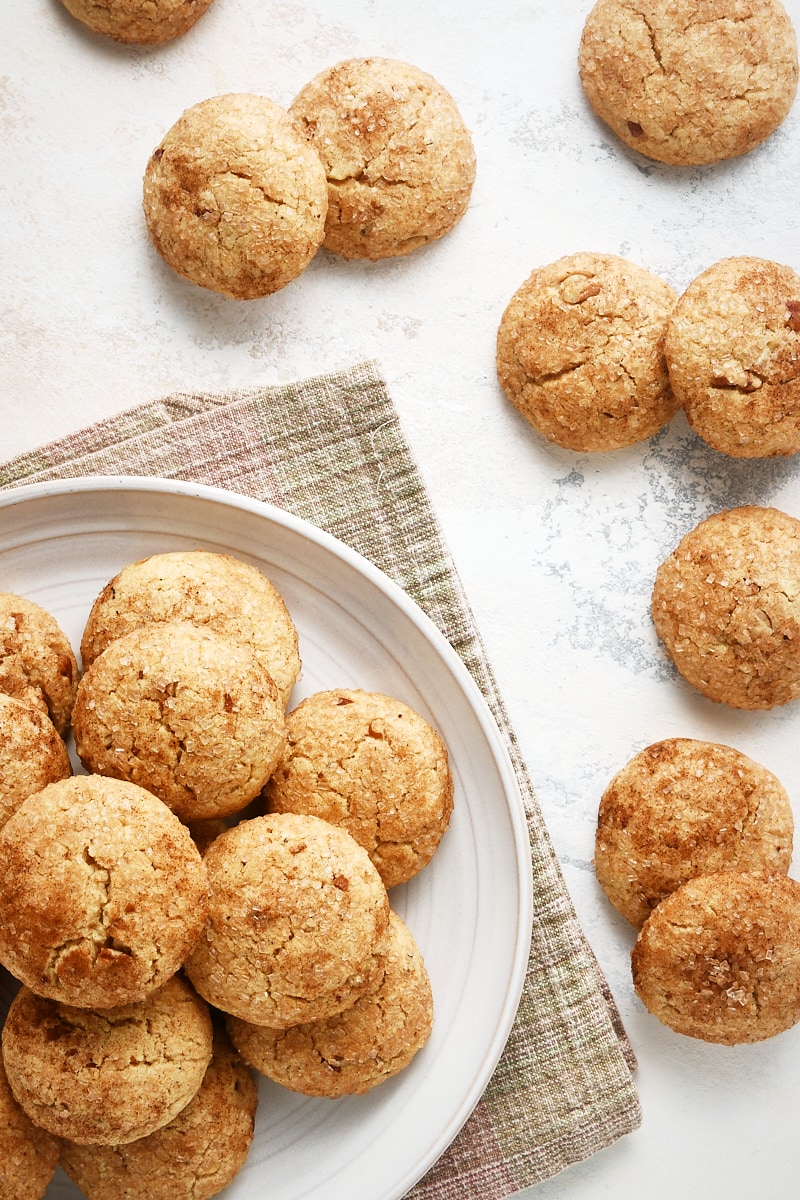 Tips for Success
Keep an eye (and an ear and your nose!) on the browning butter. Browning butter is a simple thing to do, but you'll do well to stay focused on the task. It can go from browned to burned fairly quickly. Watch and listen for the foaming and bubbling to dissipate and for the butter to have a strong buttery, nutty aroma. Remove the pan from the heat once it's ready, and transfer the butter into a large mixing bowl to cool.
Don't skip the chilling time. The dough will be a bit warm from the brown butter, so it's important to let the dough chill so that it's easier to handle and the cookies won't spread too much.
Scoop and roll! For the best-shaped cookies and for thorough, even baking, first use a scoop to portion the dough (I use a #60 scoop.) and then roll the dough between your palms to form a ball.
Don't over-bake. The cookies should be done when the edges are just browned. Too much oven time will lead to dry, crumbly cookies.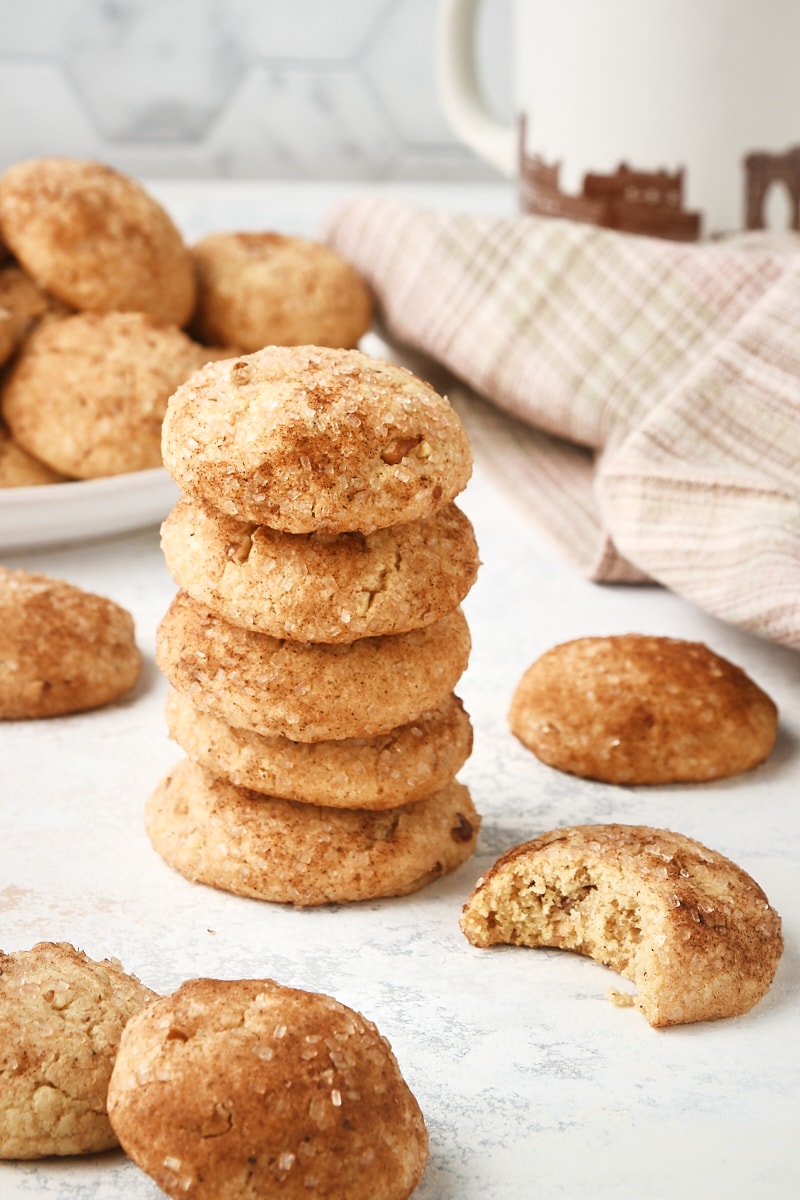 How to Store
Store the cooled cookies in an airtight container up to 3 days. For slightly longer storage, place the container in the refrigerator.
How to Freeze
To freeze the baked cookies, place them in an airtight, freezer-safe container after they've cooled completely. Thaw for an hour or two at room temperature. Properly stored, the cookies should last up to 3 months.
To freeze the unbaked cookies, portion them and roll them in cinnamon-sugar as directed. Place them on a lined, rimmed baking sheet, and freeze until solid (about 2 hours). Then transfer the cookies to a freezer-safe container to store up to 3 months. When you're ready to bake, there's no need to thaw. Just add an extra minute or two to the baking time.