April 4, 2017
Ginger Lemon Hand Pies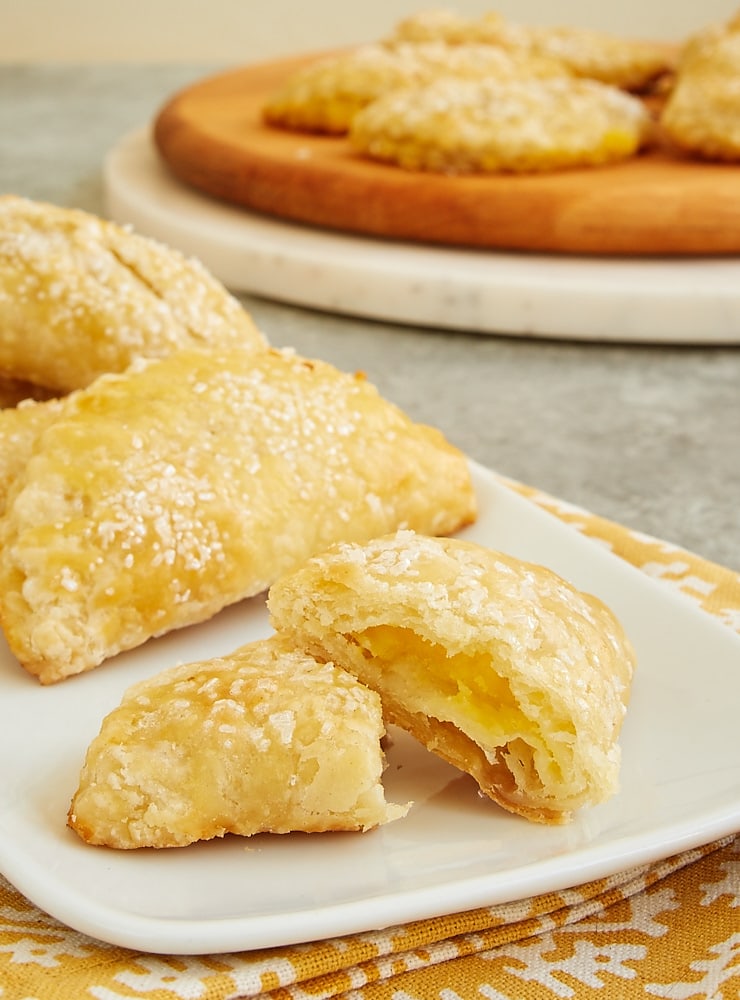 As much as I love simple flavors, there are times when the addition of just one little ingredient can take the ordinary into spectacular territory. One of my favorite examples of that is lemon and ginger. I'm quite the fan of lemon treats, but sometimes adding a hint of ginger makes them even better.
In my list of recipe ideas, I had at some point written down lemon hand pies. As I started working through the details, I decided this was a perfect opportunity to add a little ginger twist to these lemony pies.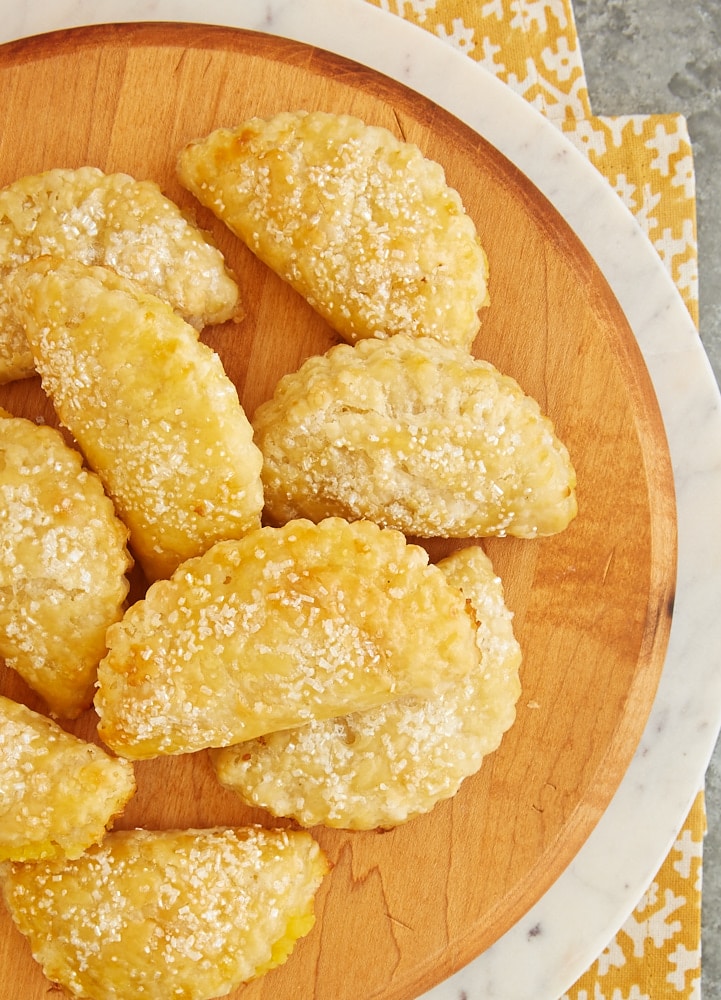 To fill these pies, you just need lemon curd. That's it! You can certainly use store-bought, but I like to make my own. I use my go-to lemon curd recipe but with a slight variation. The addition of just a bit of crystallized ginger adds a little extra flavor that I find irresistible. It's just a subtle addition that you'll likely taste more in the finish than as you're taking a bite.
You won't need all of the lemon curd for these pies. In fact, you'll have a good bit left over. You can store it covered and refrigerated for a couple of weeks. Use it as a topping on your favorite muffins, bagels, toast, and more.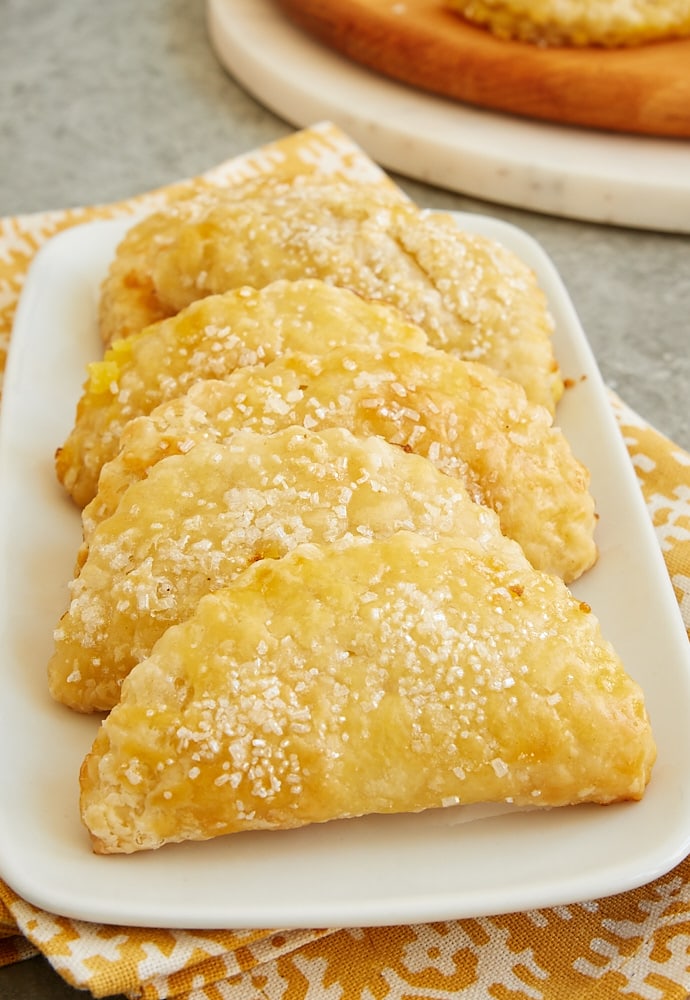 Be sure not to overfill these little pies as you're assembling them. If a little bit of the curd seeps out, that's fine. More than that, and you'll have a mess. I still recommend lining your pans as a precaution for spills.
I made these hand pies simply by cutting rounds of pie crust, filling, and folding over to form half circles. You can, of course, change up the shape and size of them as you like. Just keep in mind that you may need to adjust the amount of filling per pie and you may get a different yield.
These lovely little Ginger Lemon Hand Pies are such bright, happy, sweet treats. They're perfect for a spring or summer celebration, or for when you want to add a little fresh flavor to cooler days.
Find more pie recipes in the Recipe Index.
This post contains affiliate links. If you make a purchase through one of the links, I'll receive a
small commission at no additional cost to you.
Ginger Lemon Hand Pies
Yield: about 20 hand pies
Prep Time: 40 minutes
Cook Time: 18 minutes
You'll love the bright, sweet, tart flavor of these Ginger Lemon Hand Pies!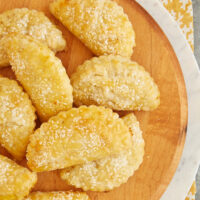 Ingredients:
For the lemon curd:
2 tablespoons lemon zest
1 cup fresh lemon juice (about 6 medium lemons)
1/2 cup unsalted butter, softened
2 cups granulated sugar
4 large eggs
1 tablespoon crystallized ginger, finely chopped
For the pie crust:
2 & 1/2 cups all-purpose flour
1 tablespoon granulated sugar
1 teaspoon salt
1 cup cold unsalted butter, cut into 1/2-inch cubes
6 to 8 tablespoons cold water
For assembling the pies:
1 large egg
1 tablespoon water
sanding sugar, for garnish
Directions:
To make the lemon curd:
Using an electric mixer on medium speed, beat the butter and sugar until light and fluffy. Add the eggs, one at a time, beating until blended after each addition.
Reduce mixer speed to low. Gradually add the lemon juice, mixing just until blended. Stir in the lemon zest and ginger. The mixture will look curdled.
Place the mixture in a heavy saucepan. Cook over medium-low to medium heat, whisking constantly. Cook until the mixture thickens and coats the back of a spoon. This should take 15 to 20 minutes.
Transfer the mixture to a bowl. Cover with plastic wrap, placing the wrap directly onto the surface of the lemon curd. Chill at least 4 hours.
To make the pie crust:
Whisk together the flour, sugar, and salt in a large bowl. Add the butter and mix with a pastry blender or fork until the mixture resembles coarse meal and the butter is the size of small peas.
Add 2 tablespoons of water and continue mixing. Add more water as needed, 1 tablespoon at a time, until a dough forms.
Divide the dough into two equal portions and shape each into a disc. Wrap each disc tightly in plastic wrap. Refrigerate for at least 2 hours.
To assemble the pies:
Preheat oven to 400°F. Line baking sheets with parchment paper or silicone liners.
Lightly flour a work surface. Roll out one of the discs of dough to about 1/8-inch thick.
Cut the dough into 3 & 1/2-inch rounds.* Gather and re-roll the dough once, and cut more rounds.
Combine the egg and water to make an egg wash. Lightly brush the edges of each dough round with the egg wash.
Spread about 1 & 1/2 to 2 teaspoons of the lemon curd onto one half of each dough round, leaving about a 1/4 inch margin around the edges.
Fold over each dough round to form a half circle. Press the edges together. Then use a fork to seal the edges.
Brush the tops of each pie with egg wash. (You won't use all of the egg wash.) Sprinkle the top of each pie with a pinch or two of sanding sugar. Place the pies on the prepared pans, leaving an inch or two between each pie.
Bake 15 to 18 minutes, or until the pies are golden brown. Cool on the pan for 10 minutes. Then transfer to a wire rack to cool completely.
Repeat with the remaining dough and filling.
Notes:
Leftover lemon curd can be stored refrigerated up to 2 weeks in an airtight container.
*I use a 3 & 1/2-inch fluted cutter from this cutter set.