This festive Cranberry Bundt Cake is full of great flavor perfect for the season. The cranberries add a bit of tartness to this sweet cake that's flavored with a little fresh orange juice and zest.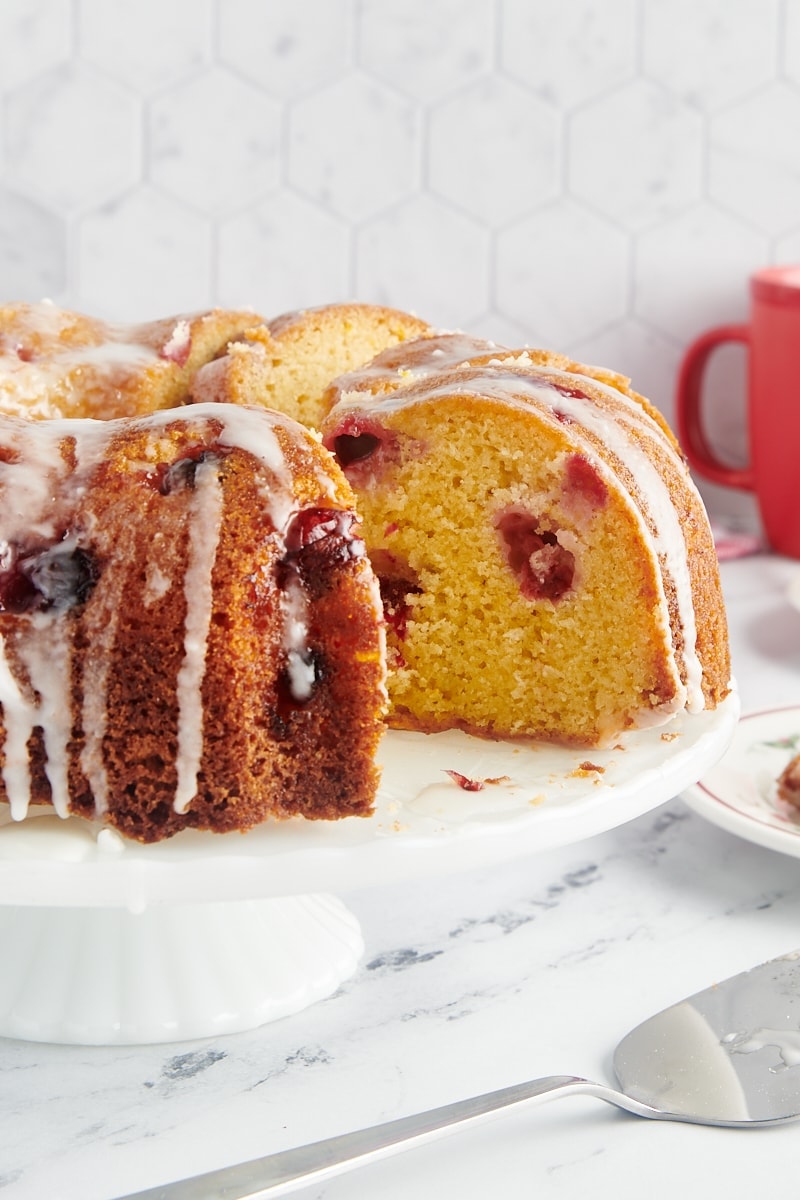 Festive Cranberry Bundt Cake
Holiday time means fresh cranberries, and that means plenty of cranberry treats are getting baked in my kitchen. And one of my favorites for Thanksgiving and Christmas is this simple Cranberry Bundt Cake.
Of course, you are all likely familiar with my love of Bundt cakes. They allow me to have pretty cakes without stressing over my frosting skills.
The cake is a simple one that gets a flavor boost from tart cranberries as well as orange juice and zest. Such perfect holiday flavors!
You'll only need a simple, sweet glaze to top this cranberry bundt cake. If you're a big fan of oranges, you can swap a teaspoon or so of orange juice for the same amount of milk to make an orange glaze. It will add some extra brightness to the cake.
This is an impressive cake for a holiday dessert but is easy enough to make on a weekend, too. Wow your guests with this delicious Christmas cake, and enjoy tasty leftovers with tea or coffee.
What You'll Need
Let's discuss what you'll need to make this tasty bundt cake. The amounts are included in the recipe card beneath this post.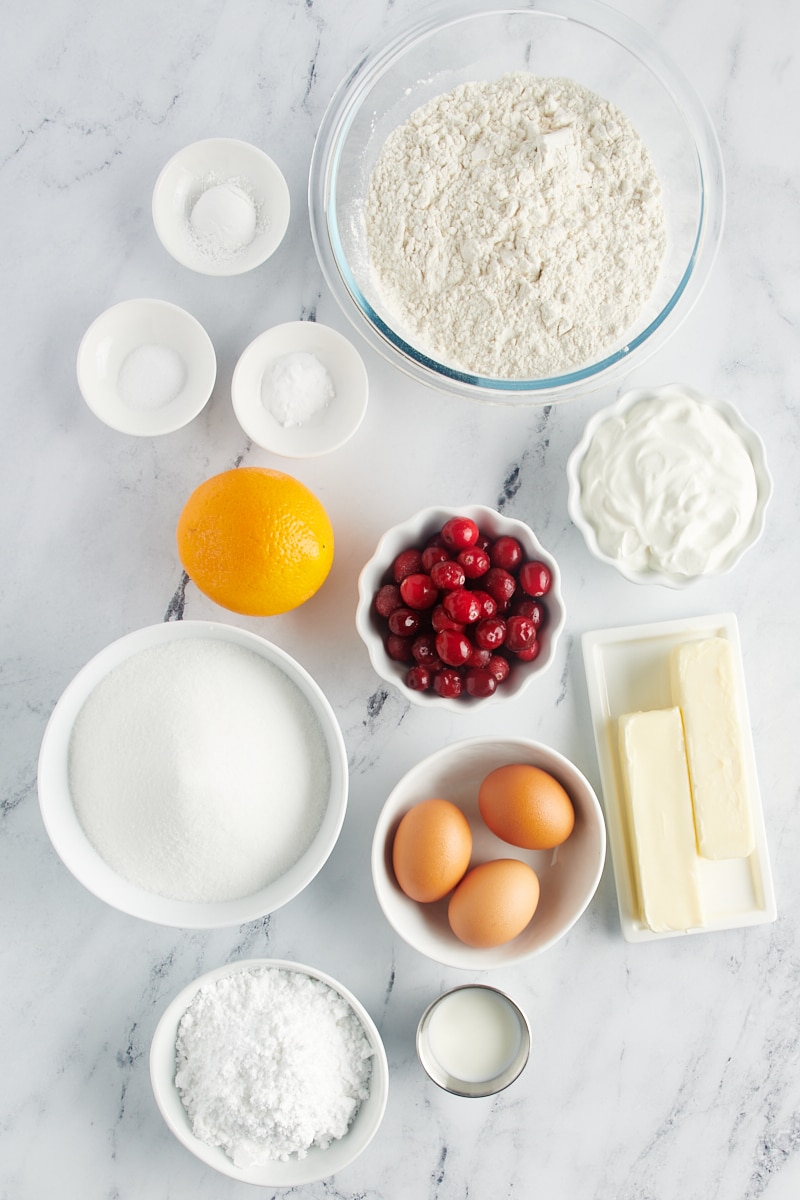 For the Cake
All-purpose flour – Measure by weight or use the spoon and sweep method. Learn more: How to Measure Flour
Baking powder
Baking soda
Salt
Orange – You'll need both orange zest and juice for this cake. One medium-sized orange should provide what's needed.
Unsalted butter: Softened at room temperature until it's soft but still cold. It should hold a thumbprint if pressed. Learn more: How to Soften Butter
Sugar
Eggs – Bring these to room temperature for easier mixing and a fluffier cake texture.
Sour cream – Also allow the sour cream to come to room temperature before mixing.
Cranberries
For the Glaze
Confectioners' sugar – Powdered sugar is another name for this. If yours is lumpy, sift it before mixing for a smooth glaze.
Milk
How to Make Cranberry Bundt Cake
Make the Cake
Preheat the oven. Preheat the oven to 350°F.
Prepare the Bundt pan. Generously grease and flour a 12-cup Bundt pan. You can use butter, oil, or a cooking spray with flour like Baker's Joy or Pam Baking.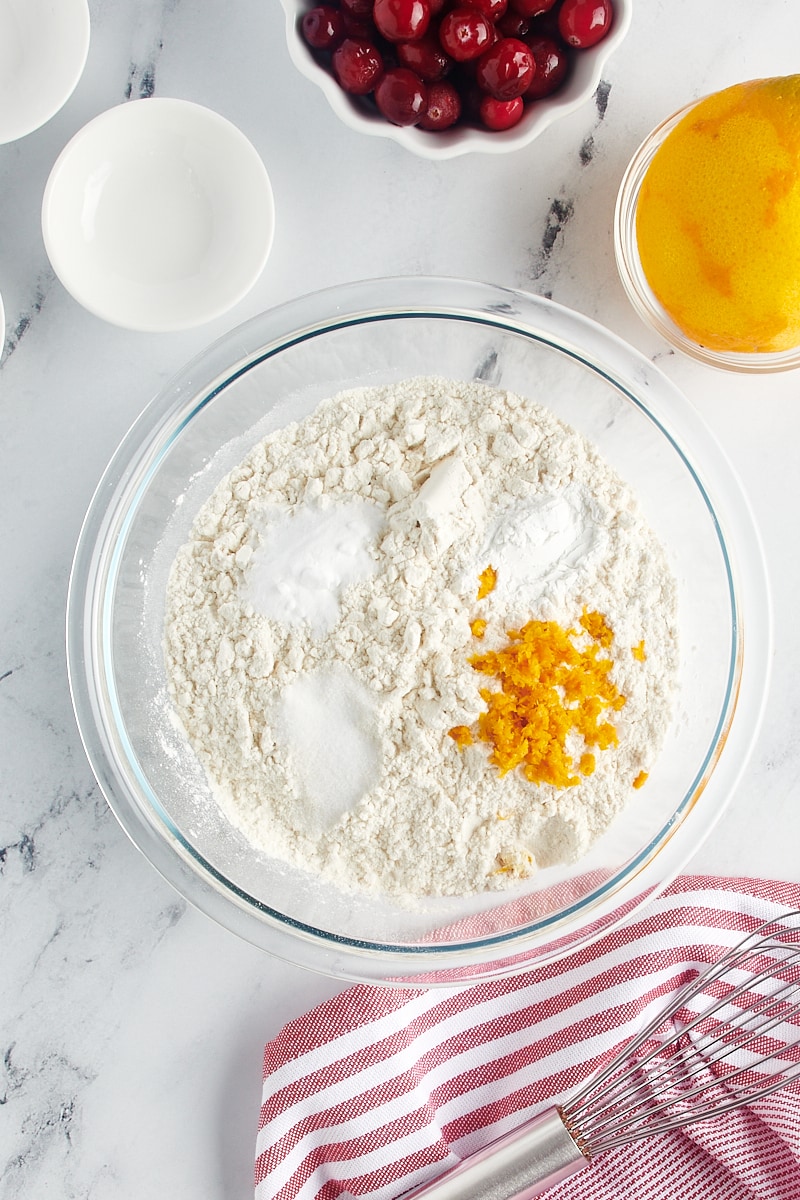 Combine the dry ingredients. Whisk together the flour, baking powder, baking soda, salt, and orange zest in a medium-sized bowl. Set it aside.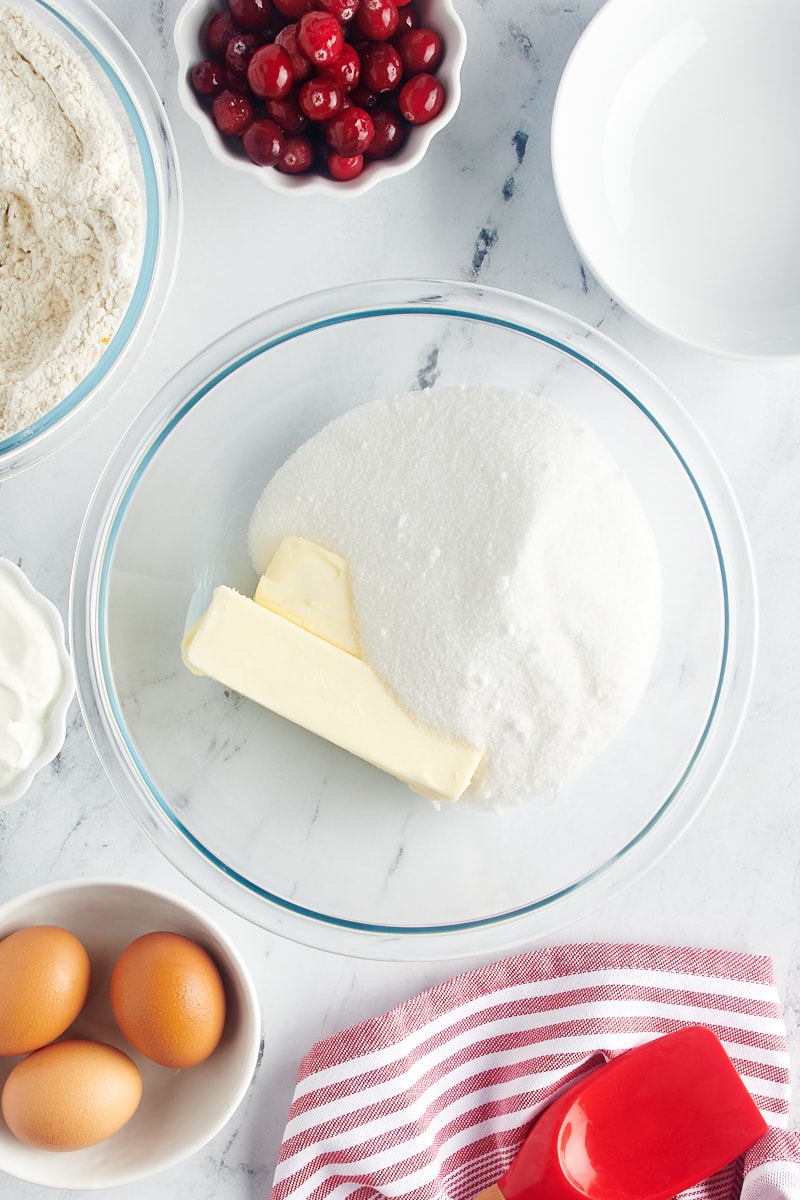 Beat the butter and sugar. Using an electric mixer on medium speed, beat the butter and sugar together until light and fluffy. You should be able to note when the color changes in this process.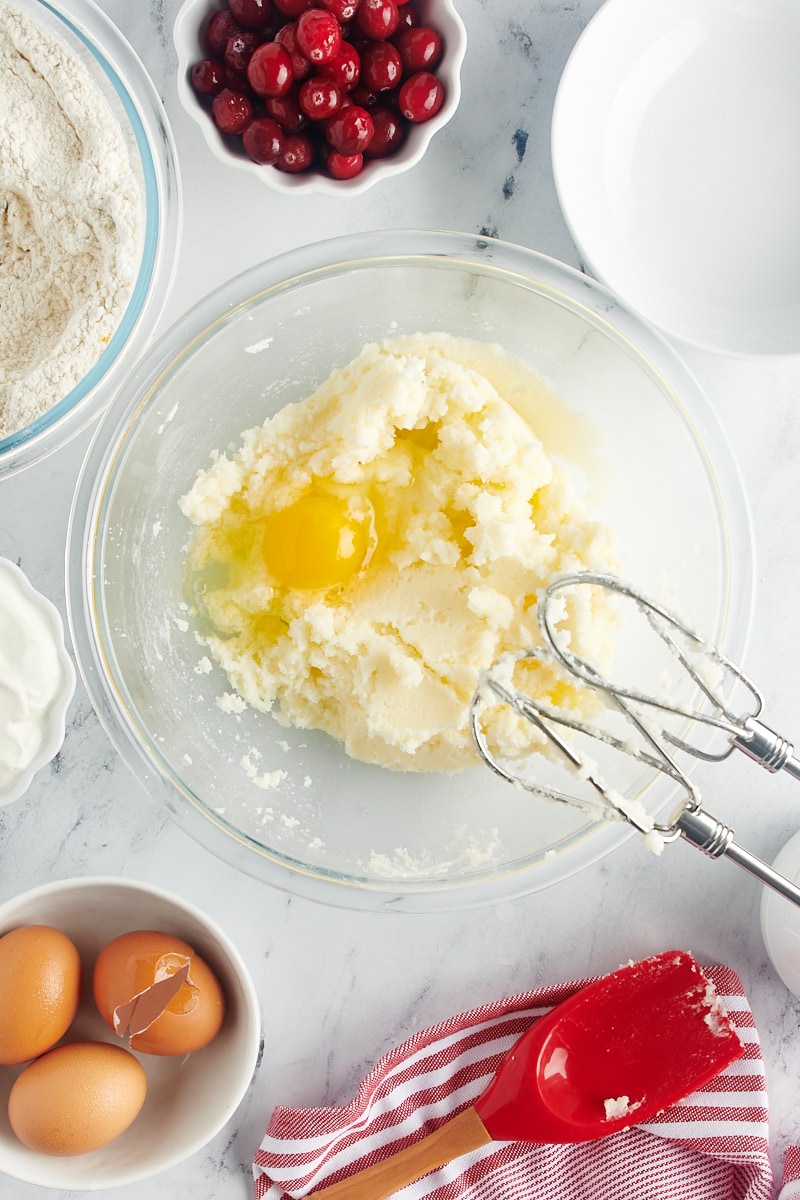 Add the eggs and orange juice. Add the eggs, one at a time, mixing well after each addition. Mix in the orange juice and mix until fully combined.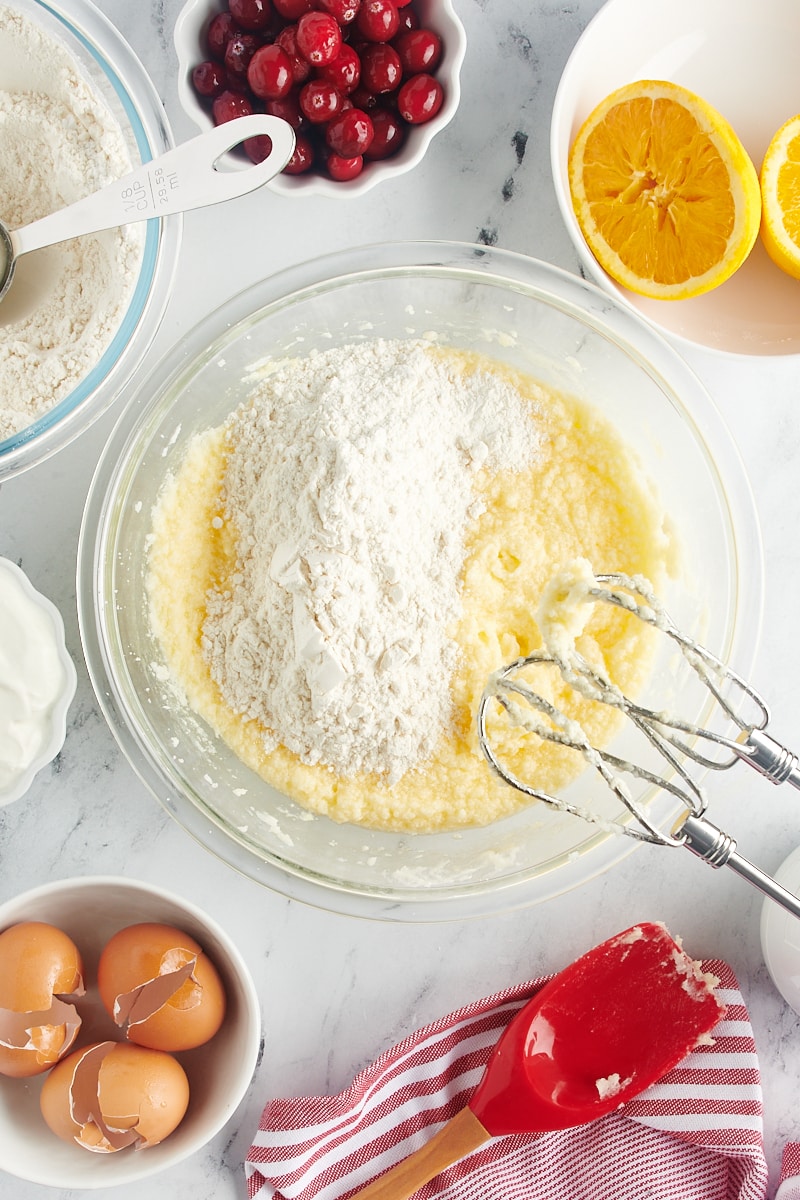 Add the dry ingredients and sour cream. Add the flour in 3 portions, alternating with 2 portions of the sour cream. Mix until just combined each time.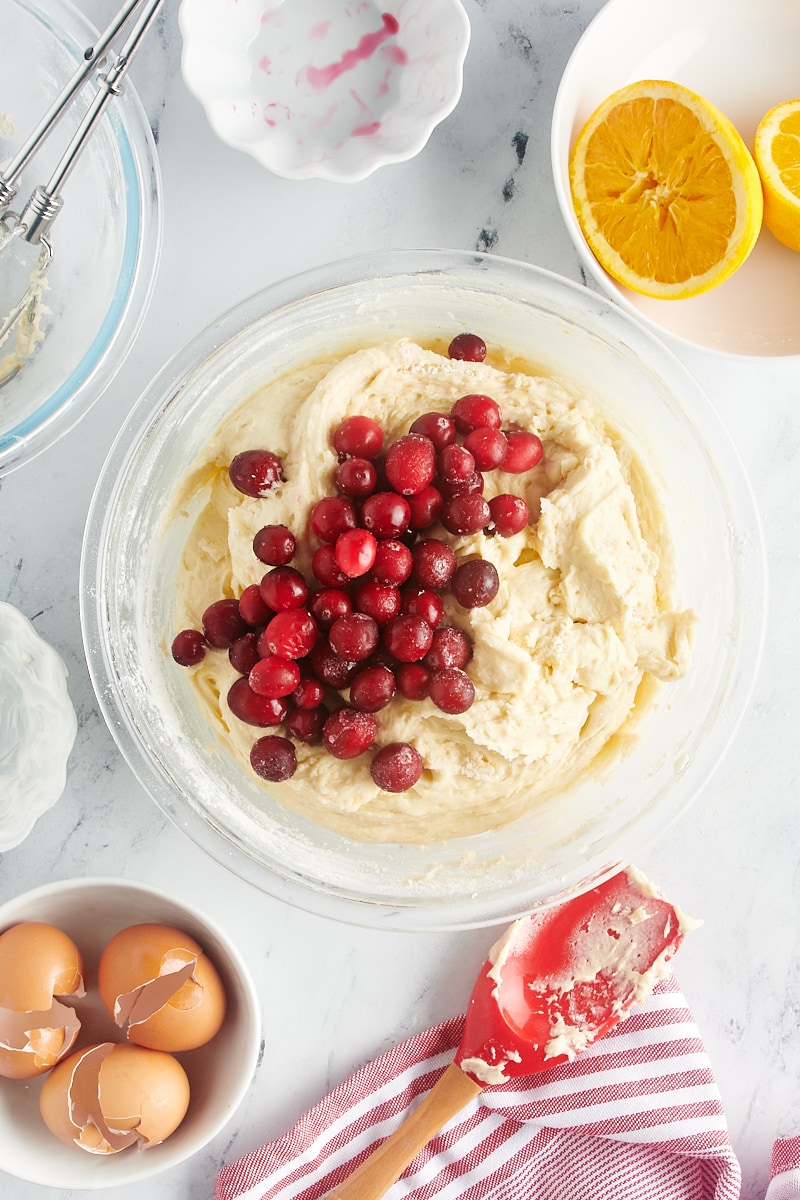 Add the cranberries. Gently fold in the cranberries, taking care not to crush them.
Transfer the batter. Transfer the batter into the prepared pan and spread it out evenly. You can gently tap it on the counter to remove any air bubbles.
Bake. Bake the cranberry bundt cake for 50 to 55 minutes, or until the edges are golden brown. If you insert a toothpick into the center, it should come out clean. If you note any unbaked batter, put the cake back in the oven and check again in 5 minutes.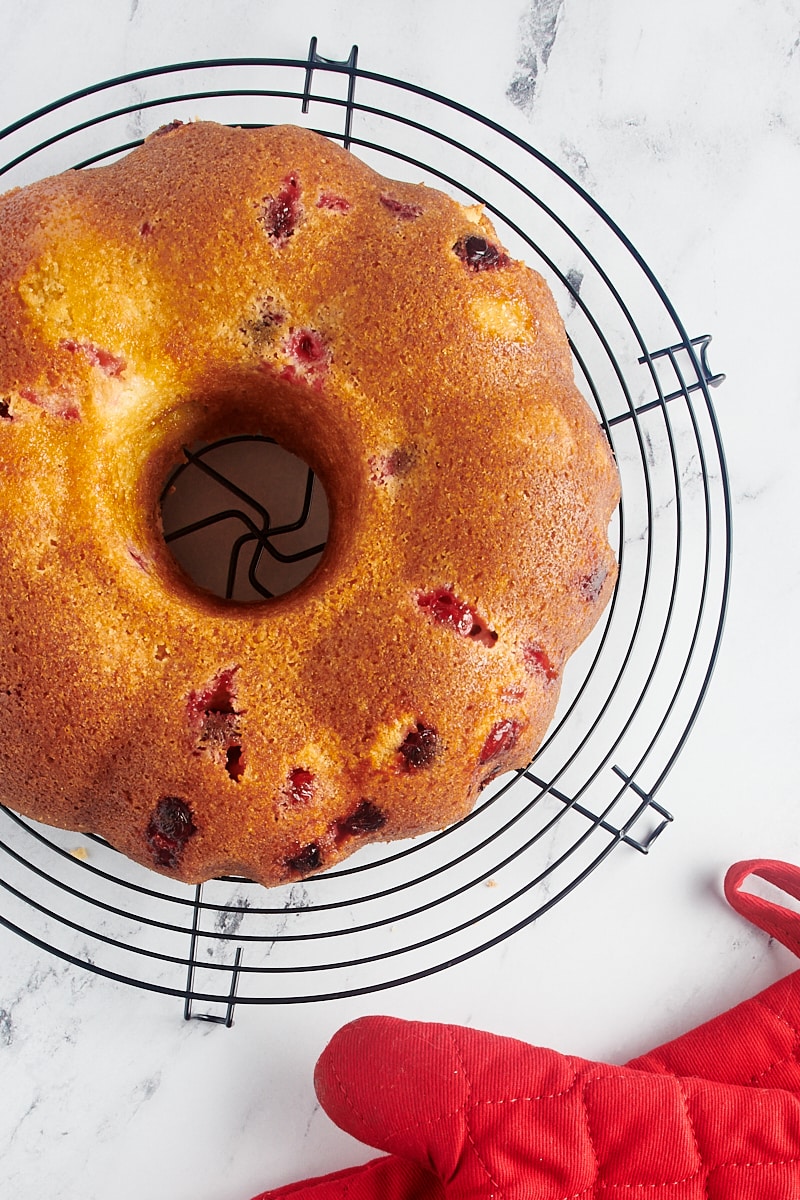 Cool. Cool the cake in the pan on a wire rack for 20 minutes. Then, carefully invert the cake onto a wire rack to cool completely. The cake should come out without any difficulty. If you find it sticking at all, gently run a clean knife around the edges to loosen it.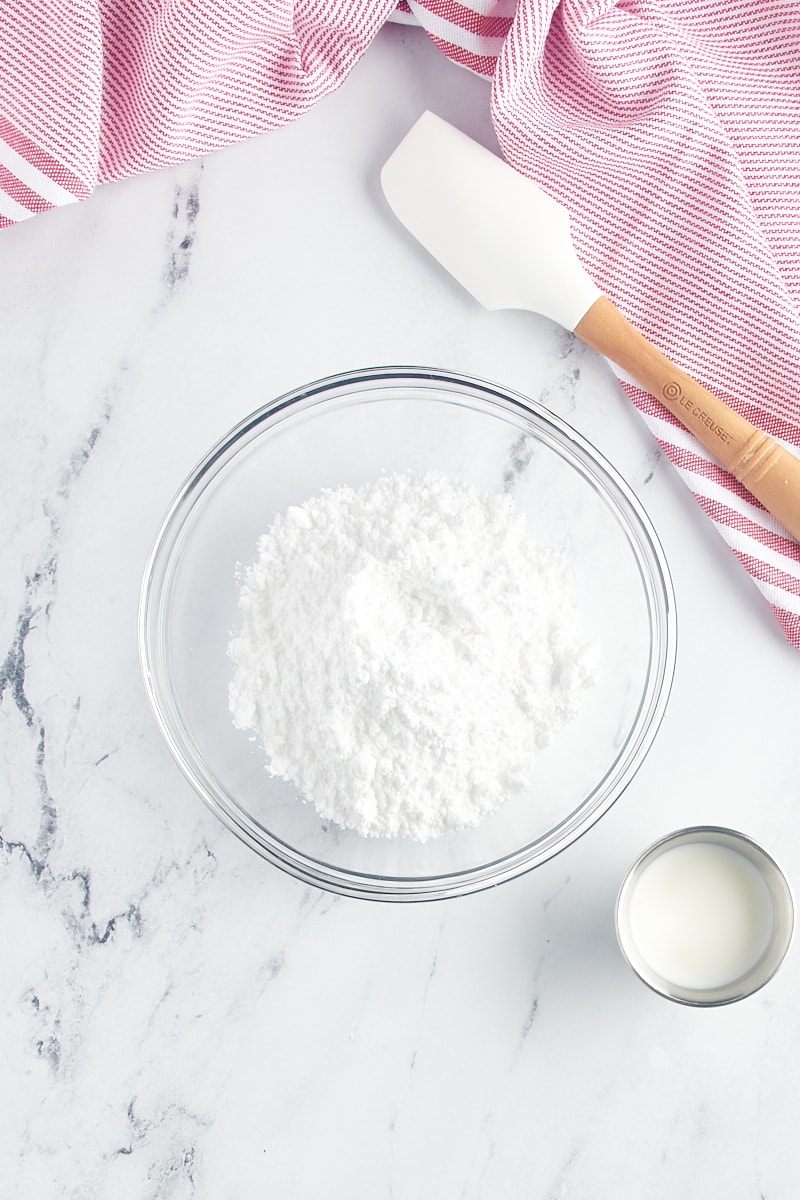 Make the Glaze
Combine the confectioners' sugar and milk. Stir together the confectioners' sugar and about a tablespoon of milk in a small bowl. Add more milk a little at a time until the glaze is the desired pouring consistency. You can substitute orange juice for some of the milk in this step if you'd like more orange flavor. An orange liqueur would also be nice if the cake is only for adults.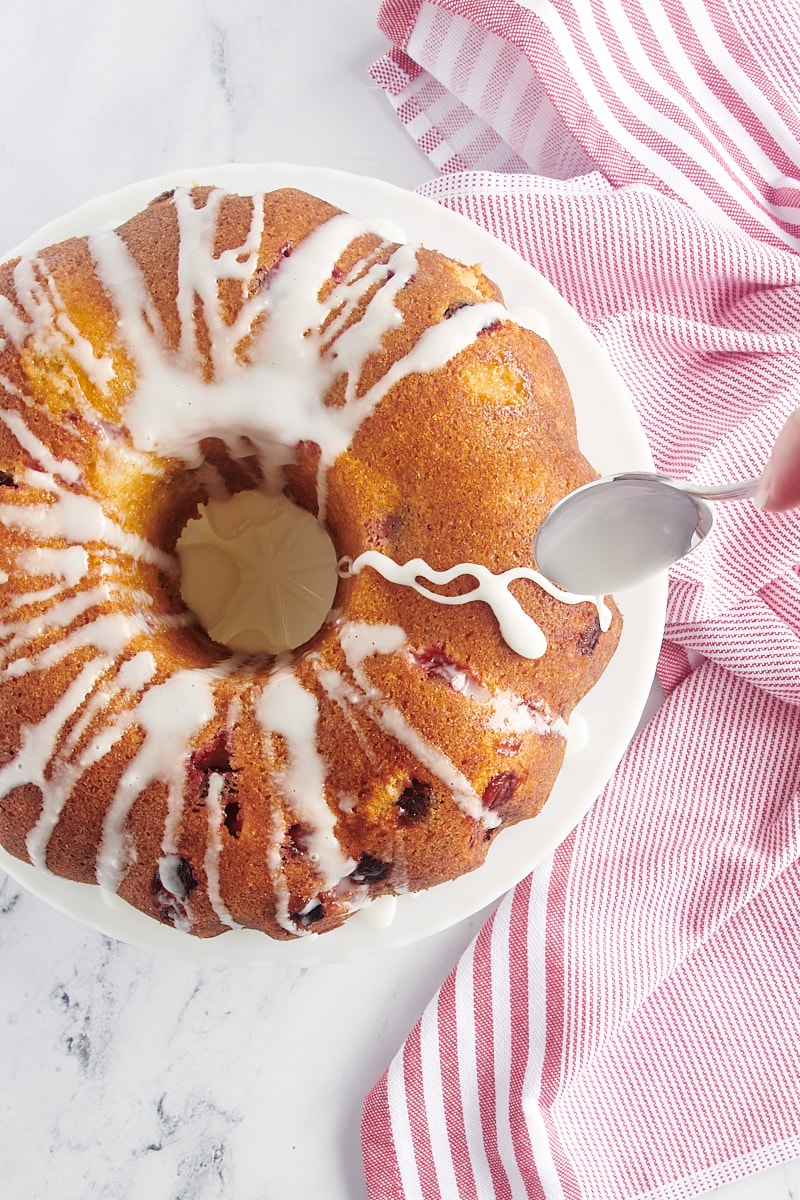 Add the glaze. Spoon the glaze over the completely cooled cranberry Bundt cake, allowing some of it to drip down the sides.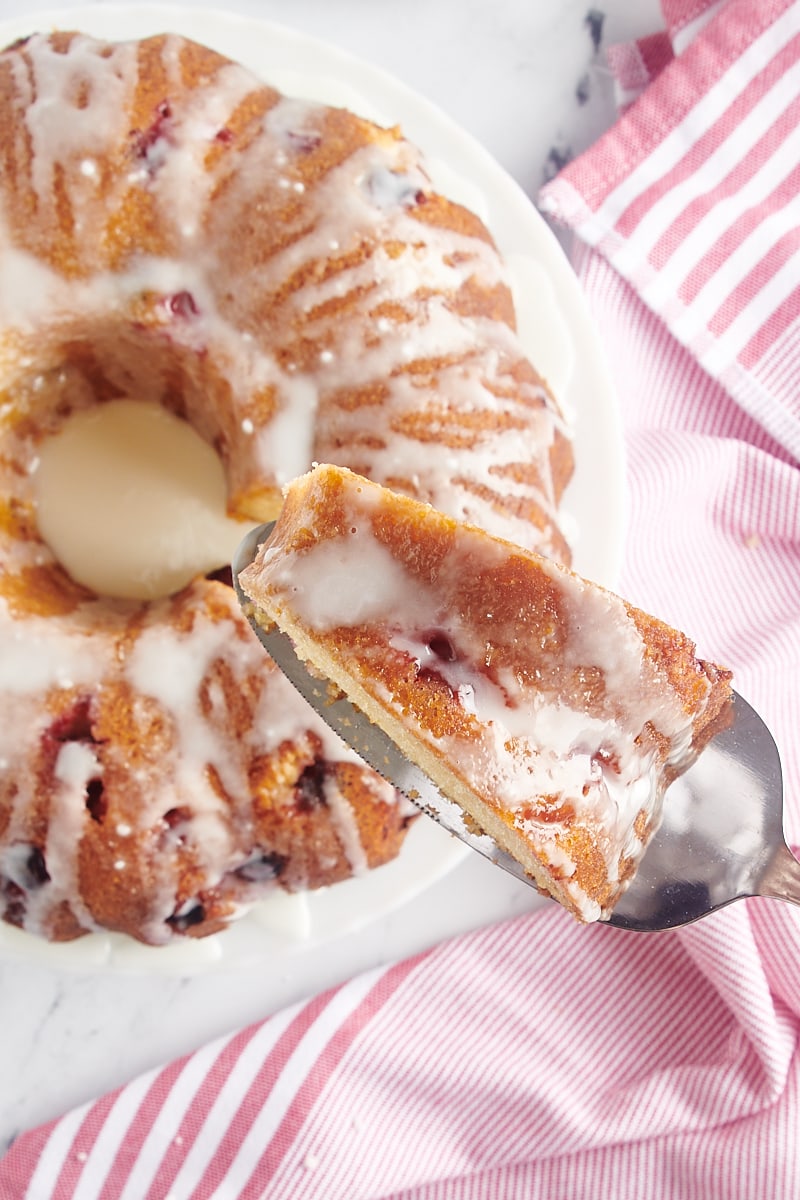 Tips for Success
Dust the fresh cranberries with flour. Fresh fruits like cranberries are dense and they tend to settle to the bottom of the cake when left to their own devices. You can't really reverse gravity, but you can help mitigate this somewhat by tossing the cranberries with a small amount of flour before adding them to the batter. Learn more: How to Keep Add-Ins from Sinking
Use frozen cranberries if you can't find fresh. This recipe is designed for fresh cranberries, but you can always substitute frozen if that's all you can find. If using frozen cranberries, use them unthawed. Toss them in a bit of flour before folding them into the batter to help combat their color bleeding into the cake. You'll probably get a little color bleed, but the cake will still taste great. Learn more: Fresh vs Frozen Fruits in Baking
Simplify. Skip the glaze in favor of a dusting of confectioners' sugar or a dollop of whipped cream. Then you've got a great anytime cake!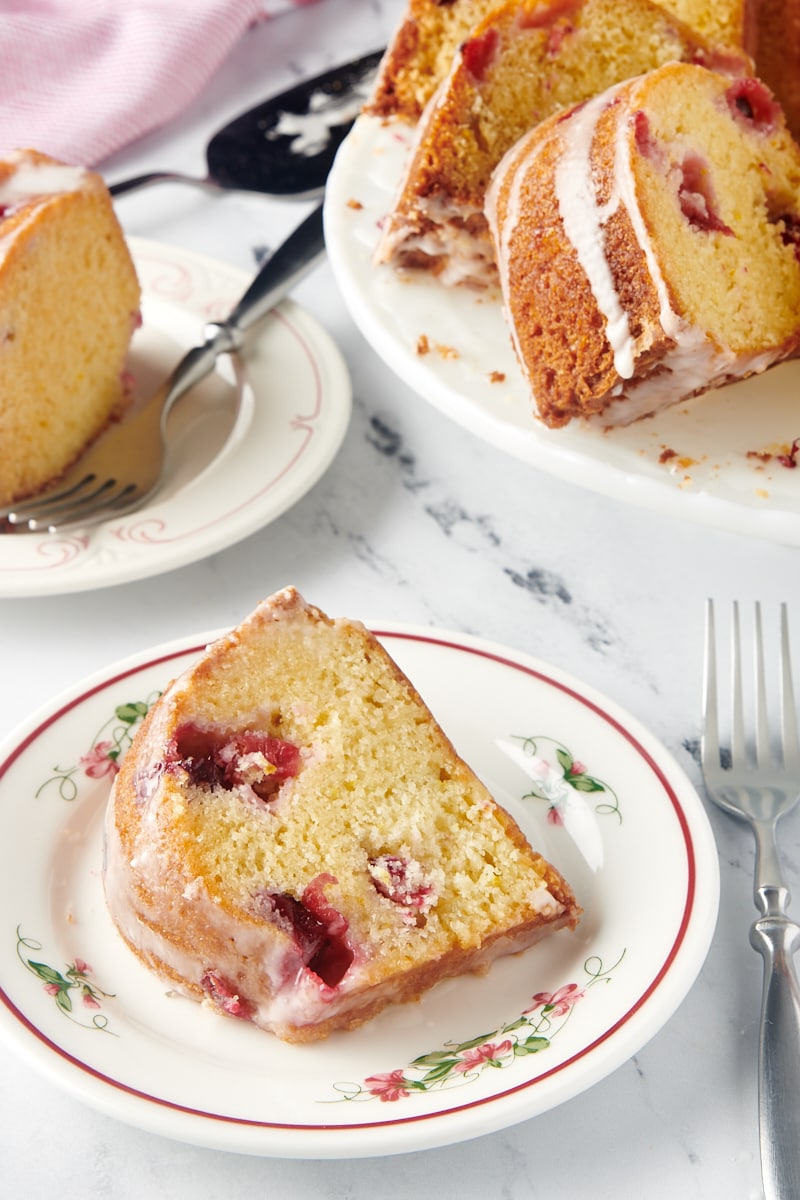 Variation Ideas
This Cranberry Bundt Cake is pretty incredible as it is. But feel free to experiment to make it your own. Here are some ideas.
Try another citrus. If you're not a huge orange fan, lemon would be nice in this Christmas cake as well.
Substitute another fruit. If you don't like cranberries or they're just not in season, you can use another fruit like blueberries, cherries, or strawberries.
Add white chocolate. Add white chocolate chips to the cake for some added chocolate-y delight. Or go with a white chocolate glaze like the one on my White Chocolate Raspberry Bundt Cake.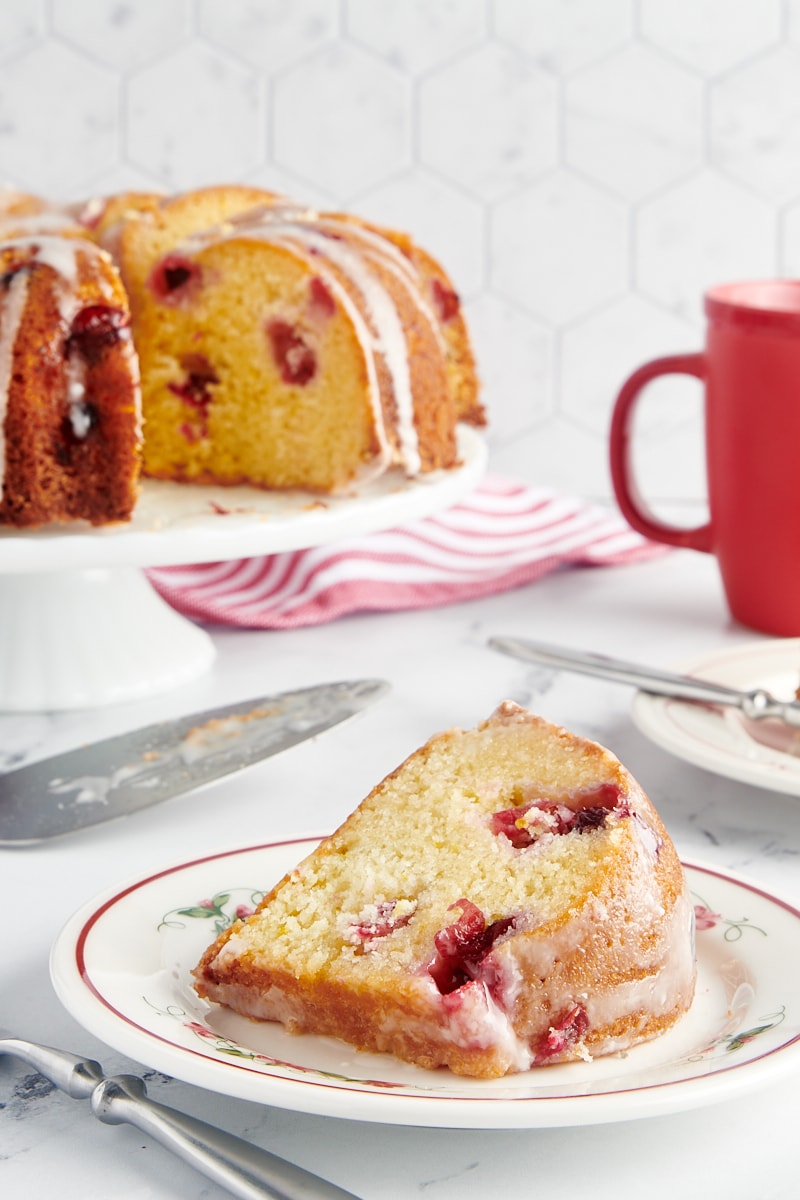 Storage Instructions
This Cranberry Bundt Cake will store in an airtight container at room temperature up to 3 days. The sugar in the glaze helps keep it from spoiling. If you have any reservations about storing at room temperature or just want to extend the cake's shelf life, you can store in the refrigerator for up to 5 days. Just make sure the cake is well-wrapped or sealed so it doesn't become dry. Bring the refrigerated cake to room temperature before eating for the best experience.
Can You Freeze This Cranberry Bundt Cake?
Most cakes freeze well, and this Christmas cake is no exception. For best results, freeze the cake without the glaze. If you're making the Bundt cake ahead of time, you can freeze the entire thing and store it for up to 3 months. Be sure to wrap it tightly in plastic wrap and then aluminum foil before putting it in the freezer. You can also freeze individual slices wrapped tightly in plastic and aluminum foil. If you use a freezer-safe container instead of foil, I still recommend using plastic wrap to prevent freezer burn.
You can also freeze the glazed cake if you have leftovers. In this case, place the cake uncovered in the freezer for several hours until the glaze has hardened. Then wrap and freeze the same way as above.
When ready to serve, unwrap the cake and let it sit out at room temperature for 2-3 hours.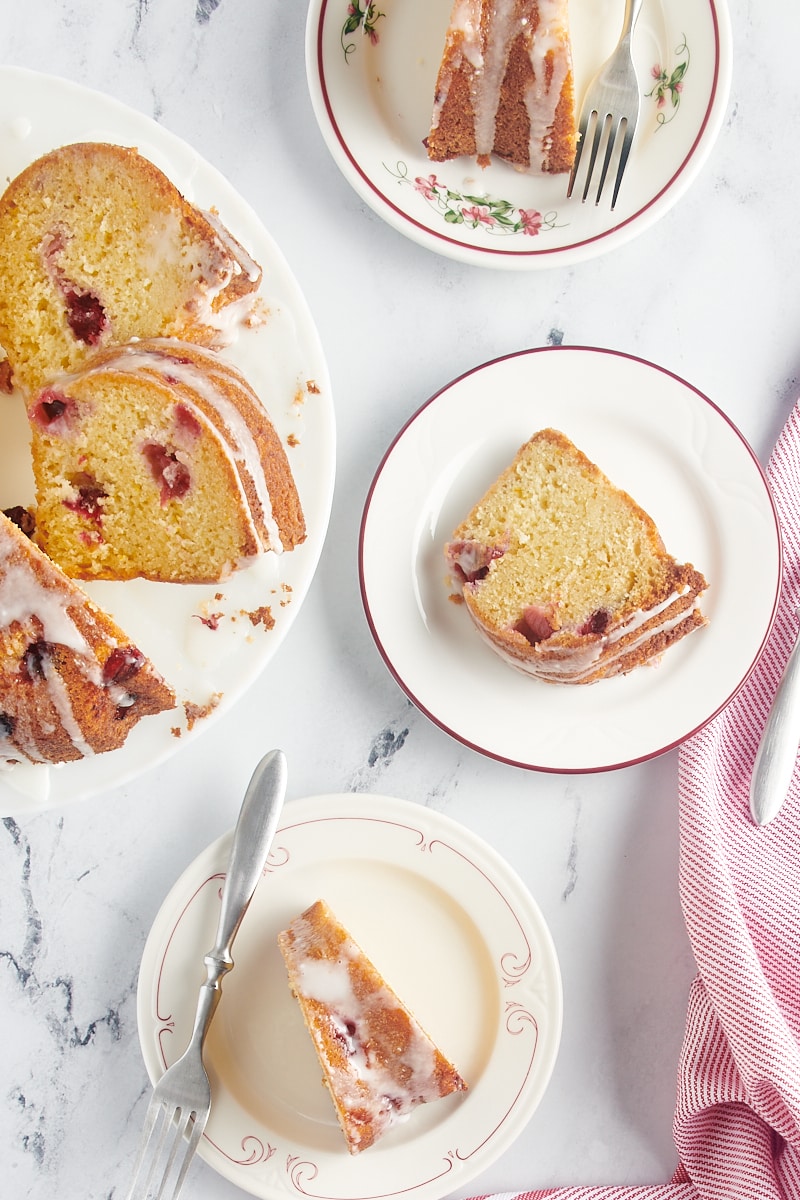 More Tasty Bundt Cake Recipes
Try these other delicious Bundt cake recipes!