If you love the delicate flavor of almond, you'll love these classic almond cookies made with almond flour, almond extract, and sliced almonds!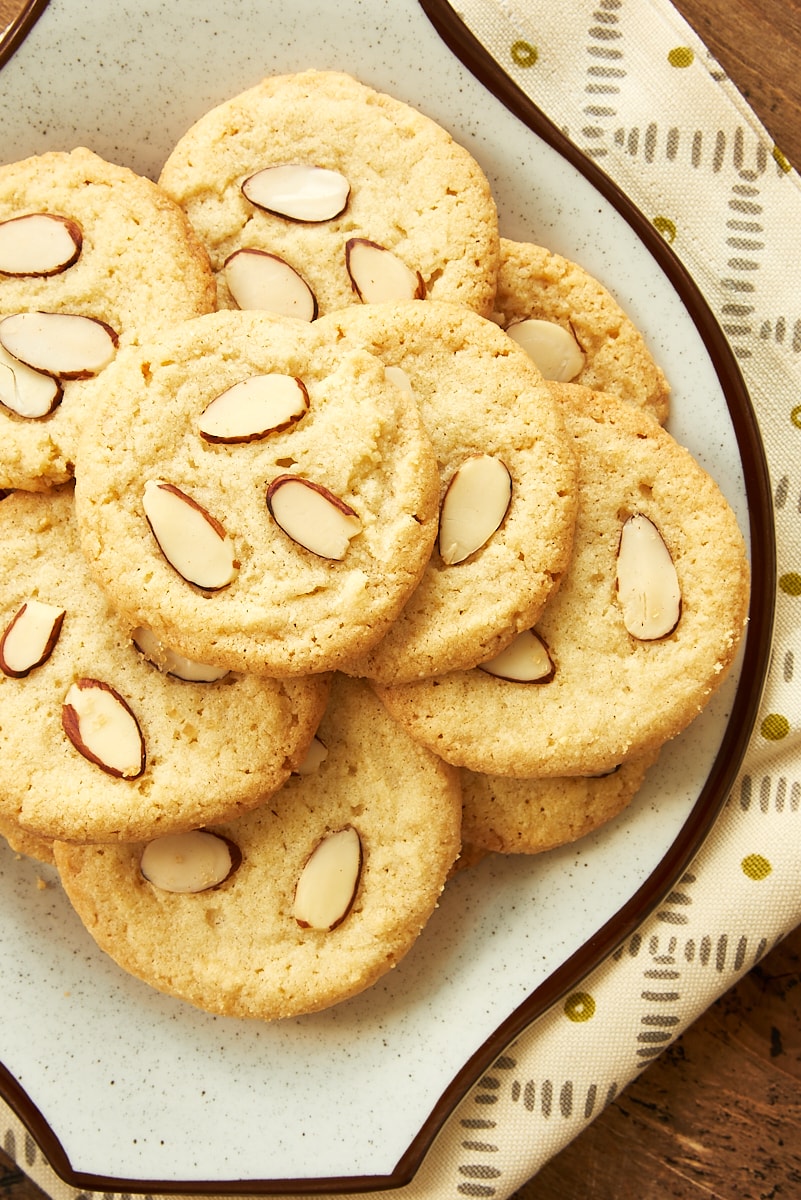 Crispy, Chewy Almond Cookies
In these almond cookies, you get lots of almond flavor in three different forms.
First, almond flour stands in for some of the usual wheat flour. If you're not familiar with almond flour, it's essentially ground blanched almonds. You can buy it, or you can get out your food processor and make it yourself.
Next comes almond extract. Instead of tasting (and smelling) nutty like you might expect, almond extract has a delicate cherry-like flavor and aroma. This is because almond extract comes not from the almonds we eat, but bitter almonds. It has the same compounds as the pits of stone fruits, which is why its flavor is so similar.
To top everything off, I like to add a few sliced almonds to the top of each cookie before baking. That, of course, adds more almond flavor, but it also adds a nice little crunch as well as offering some aesthetic appeal. Don't be afraid to crowd the almonds on top of the unbaked cookies. The cookies will spread nicely as they bake, and the almonds will spread with them.
Now let's get down to the real business here, and talk about the end result. These almond cookies are crunchy but also a little bit chewy and, not surprisingly, full of almond flavor. Without any other flavors competing for attention, that simple almond flavor really shines.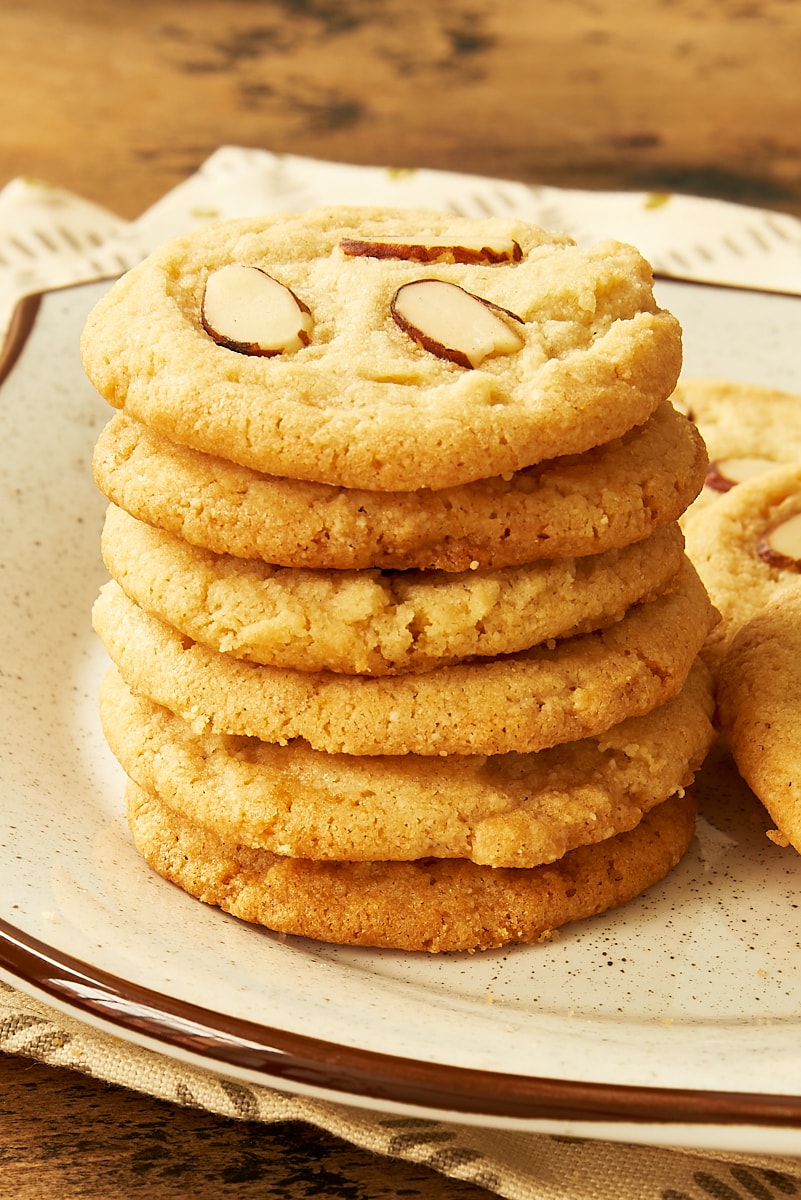 Are These Chinese Almond Cookies?
These cookies are quite similar to Chinese almond cookies, but they're not exactly the same; Chinese almond cookies have more (whole) eggs and they're made with granulated sugar, while this version is made with brown sugar. But, when compared with Italian almond cookies (ricciarelli), this recipe is definitely closer to the Chinese kind.
What You'll Need
Scroll down to the recipe card below this post for ingredient quantities and full instructions.
All-purpose flour – Learn more: How to Measure Flour
Almond flour – Be sure to buy the more finely ground almond flour, not almond meal, which is coarser.
Baking soda
Salt
Unsalted butter – Learn more: Unsalted or Salted Butter: Which is Better for Baking?
Granulated sugar
Light or dark brown sugar
Egg yolk – If you can't stand throwing away perfectly good egg white, you can freeze it for a recipe that calls for the white and no yolk!
Almond extract
Sliced almonds
What Can I Use Instead of Almond Extract?
Almond extract is really a key player in this recipe; almond cookies just aren't the same without it. That said, if you're in a pinch, you can use vanilla extract instead. Just know that the end result won't have that classic almond cookie flavor.
How to Make Almond Cookies
Here's what you'll need to do to make these perfect, buttery almond cookies at home.
Prepare. Preheat your oven to 350°F and line your baking sheets with parchment paper or silicone liners.
Mix the dry ingredients. Whisk the flour, almond flour, baking soda, and salt in a medium bowl.
Mix the wet ingredients. Use an electric mixer on medium speed to beat the butter, sugar, and brown sugar until the mixture is light and fluffy. Beat in the egg yolk and almond extract.
Combine the wet and dry ingredients. Reduce the mixer speed to low and slowly beat in the dry ingredients until just combined.
Form the cookies. Drop tablespoonfuls of dough onto the prepared pans, leaving about 3 inches between cookies. (I recommend using a cookie scoop for even portioning.) Flatten each cookie to about 1/2-inch thick and press the almonds onto the tops.
Bake. Bake one pan of cookies at a time for 12 to 14 minutes, or until the edges are lightly browned and the tops appear set.
Cool. Let the cookies cool on the pans for 5 minutes, then transfer them to a wire rack to finish cooling.
Tips for Success
Here are some simple hints and tips for perfect almond cookies.
Let the butter soften almost to room temperature. Set it on the counter at least an hour before you plan on baking; when it's soft, it will incorporate into the rest of the ingredients more easily. Keep in mind that butter begins to melt at 68°F, so don't let it come all the way to room temperature.
Lightly spoon the almond flour. By now, you probably already know not to scoop the all-purpose flour out of the bag with your measuring cup, but the same goes for almond flour. Use a spoon to fill your measuring cup, then sweep the excess off of the top with a butter knife. Better yet, measure by weight for accuracy.
Save some for the next day. If you can bear to wait, these cookies are even better the day after they're baked.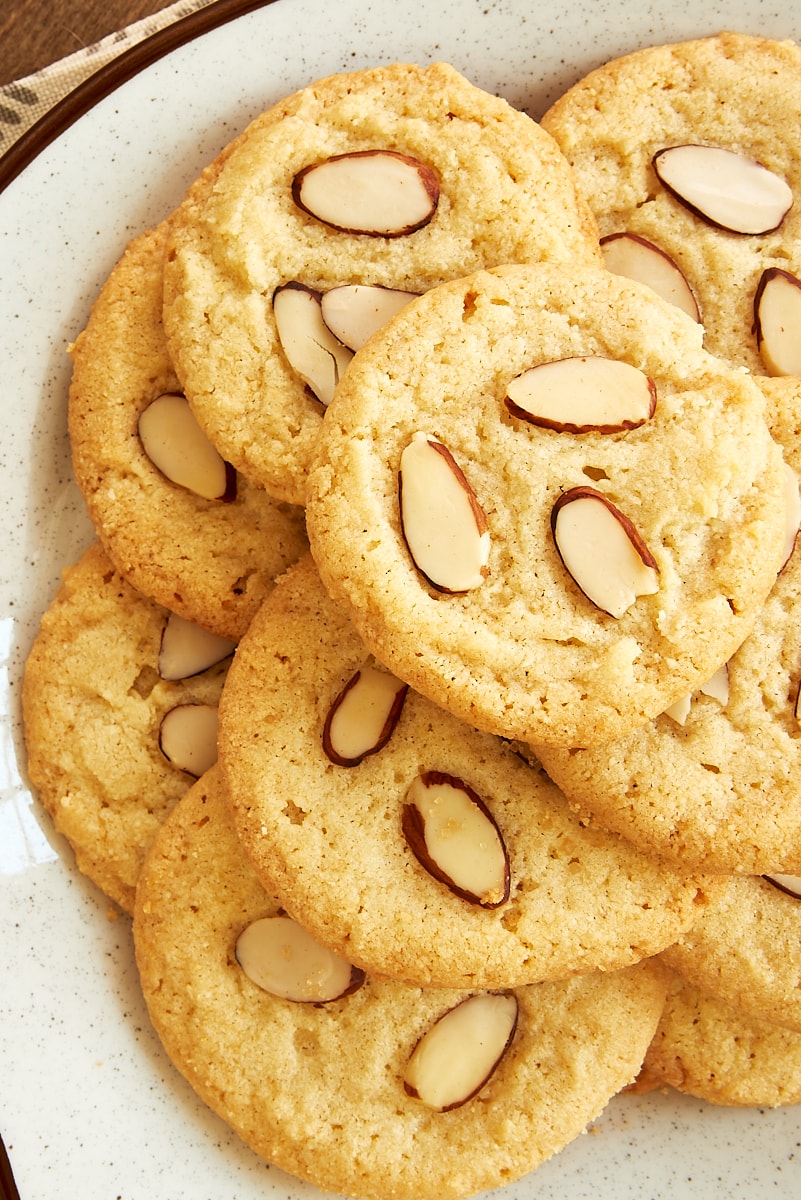 How to Store
Store almond cookies in an airtight container for up to 5 days.
Can This Recipe Be Frozen?
You can freeze these almond cookies in a freezer bag or airtight container for up to 2 months. Let them thaw at room temperature before serving.
Video Tutorial: Almond Cookies
More Almond Desserts