These Brownie Peanut Butter Cups nestle a creamy peanut butter filling inside a chewy brownie shell, with chocolate and peanut butter chips sprinkled over the top for good measure. Talk about a crowd-pleasing dessert!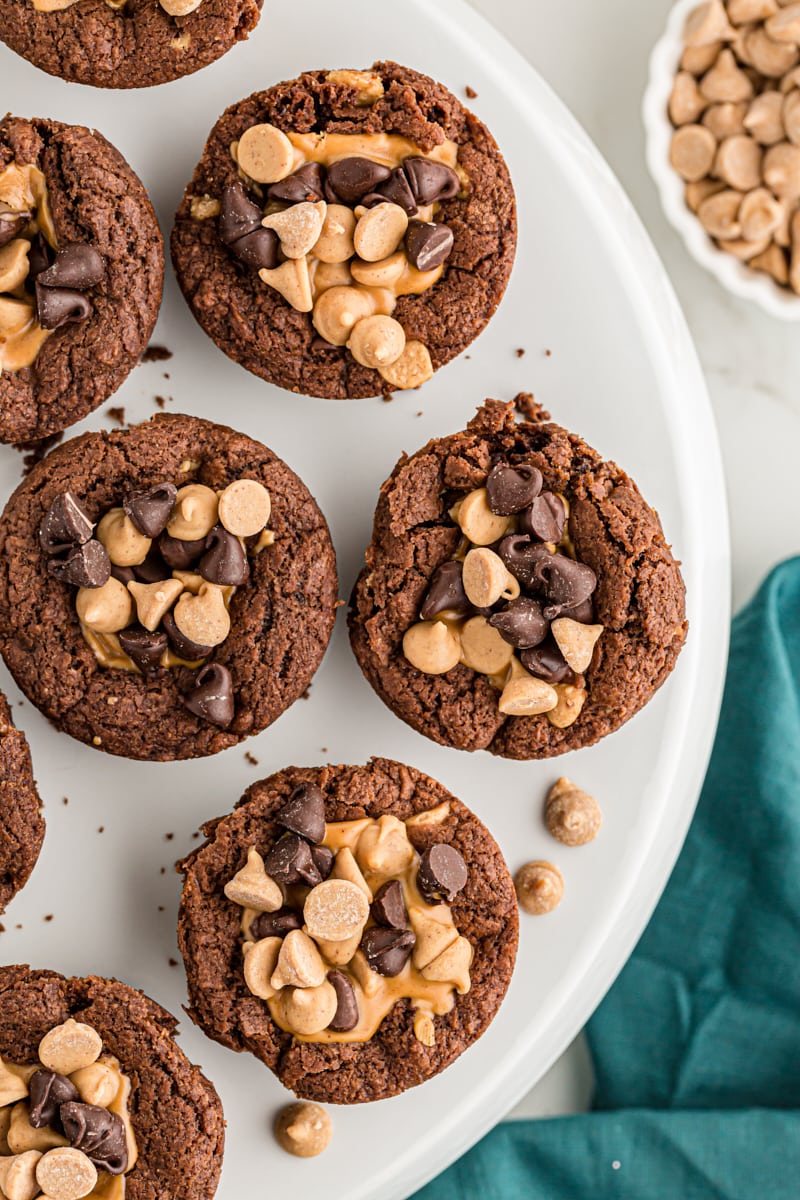 Muffin Tin Peanut Butter Cup Brownies
Imagine a peanut butter cup with the milk chocolate exterior replaced by a rich, chewy brownie. That's pretty much what you'll get when you make this recipe for Brownie Peanut Butter Cups. If you love that classic combination of peanut butter and chocolate, these are bound to be your new favorite brownies.
The brownies are prepared in usual brownie fashion, but they're baked in muffin tins instead of a traditional pan. (As a bonus, if you love the chewy edges of brownies, you get a much higher edge-to-middle ratio in a muffin cup!) Add a dollop of peanut butter into the center of each brownie, then scatter chocolate and peanut butter chips on top.
Although these Brownie Peanut Butter Cups are a treat any way you serve them, they're especially delicious served warm, which delivers a soft, gooey filling overflowing with melted chocolate and peanut butter. Just make sure you have a napkin close by!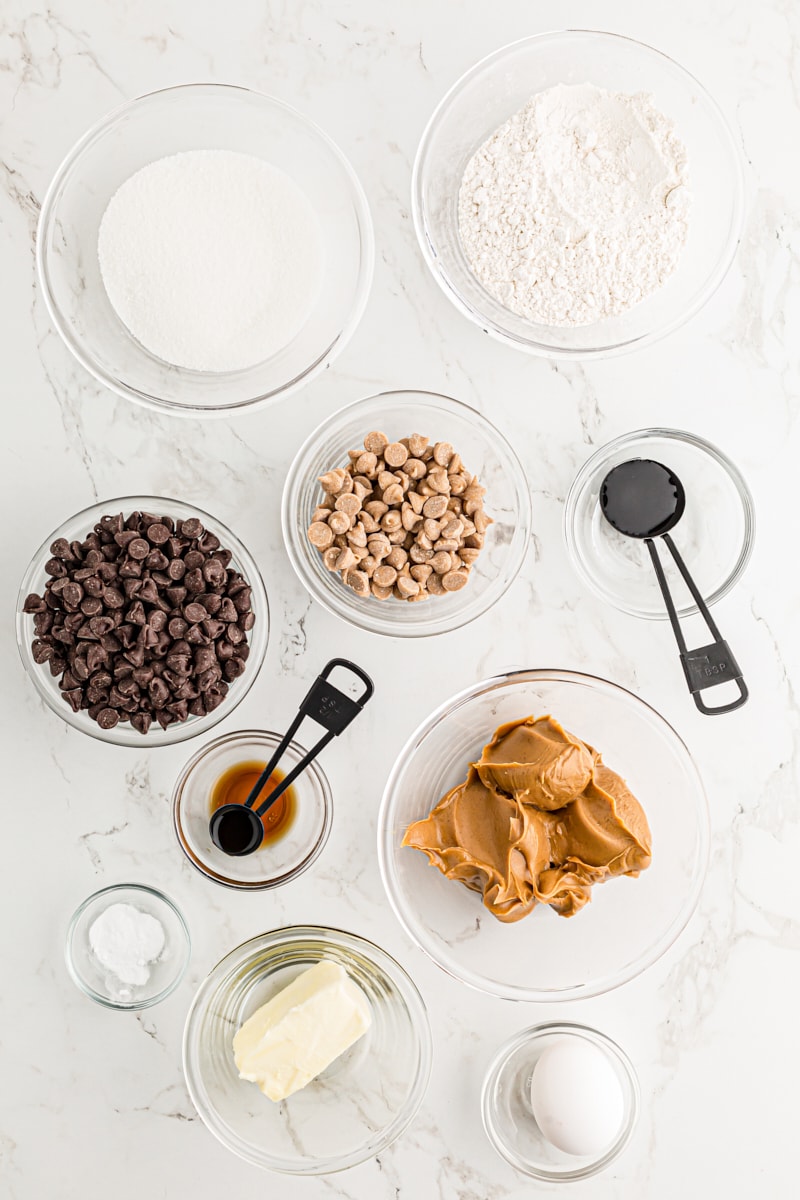 What You'll Need
Scroll down to the recipe card to find the ingredient quantities and recipe instructions.
For the Brownies:
Granulated sugar
Unsalted butter – Learn more: Unsalted or Salted Butter: Which is Better for Baking?
Water
Semisweet chocolate chips – You can use milk chocolate chips for a milder flavor, or darker chocolate for a stronger flavor with a hint of bitterness.
Egg
Vanilla extract – Either store-bought or homemade vanilla extract.
All-purpose flour – Learn more: How to Measure Flour
Baking soda
Peanut butter chips – These are sometimes labeled as peanut butter morsels, depending on the brand you buy.
For the Filling:
Creamy peanut butter – If you'd like a peanutty crunch in the filling, crunchy peanut butter will work too, but I recommend spooning it into the brownies rather than piping it.
Semisweet chocolate chips
Peanut butter chips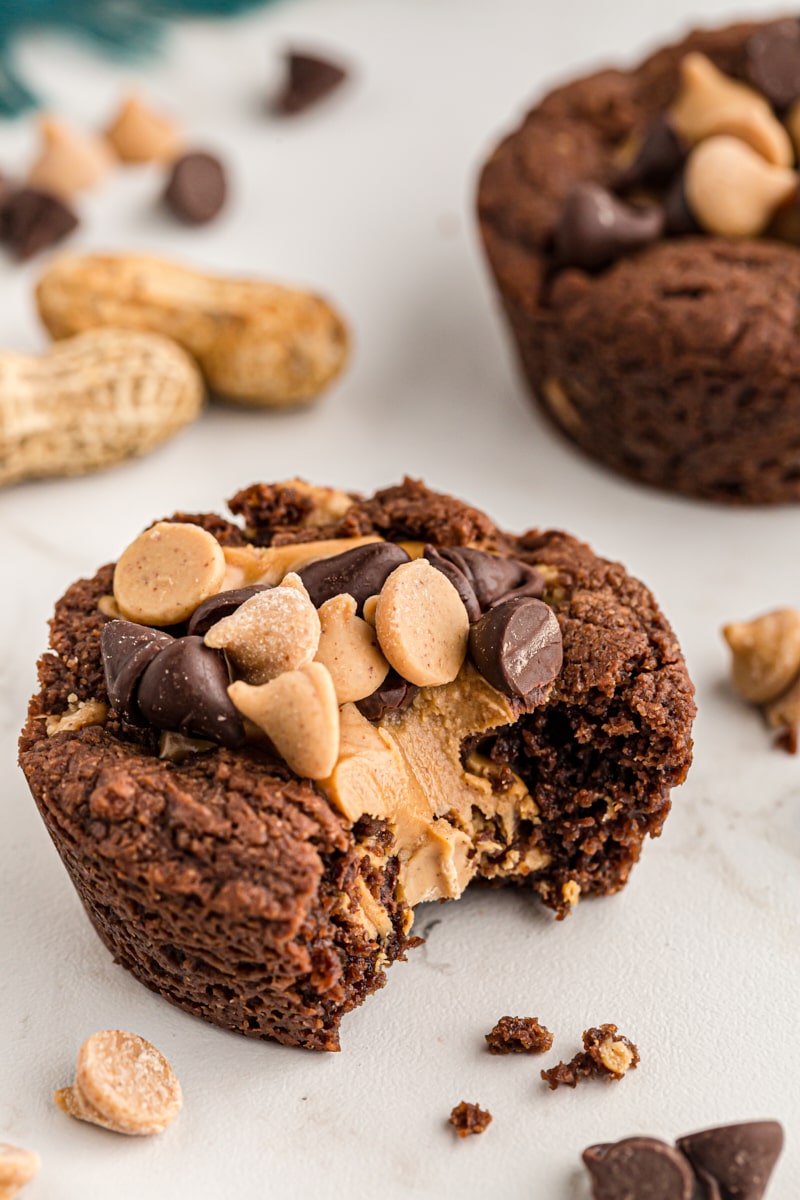 What Peanut Butter Is Best for Baking?
Use a peanut butter that has a uniform consistency at room temperature; in other words, you shouldn't need to stir it before using. The oils and solids in natural peanut butter separate at room temperature as they sit, which means your brownies will get unpleasantly oily when you store them.
How to Make Brownie Peanut Butter Cups
If you'd like to get a head start on these Brownie Peanut Butter Cups, you can easily make the brownie base a day or two before; warm the brownies before serving, then add the peanut butter, chocolate chips, and peanut butter chips.
Prepare. Preheat your oven to 350°F and grease 12 standard-size muffin cups with cooking spray.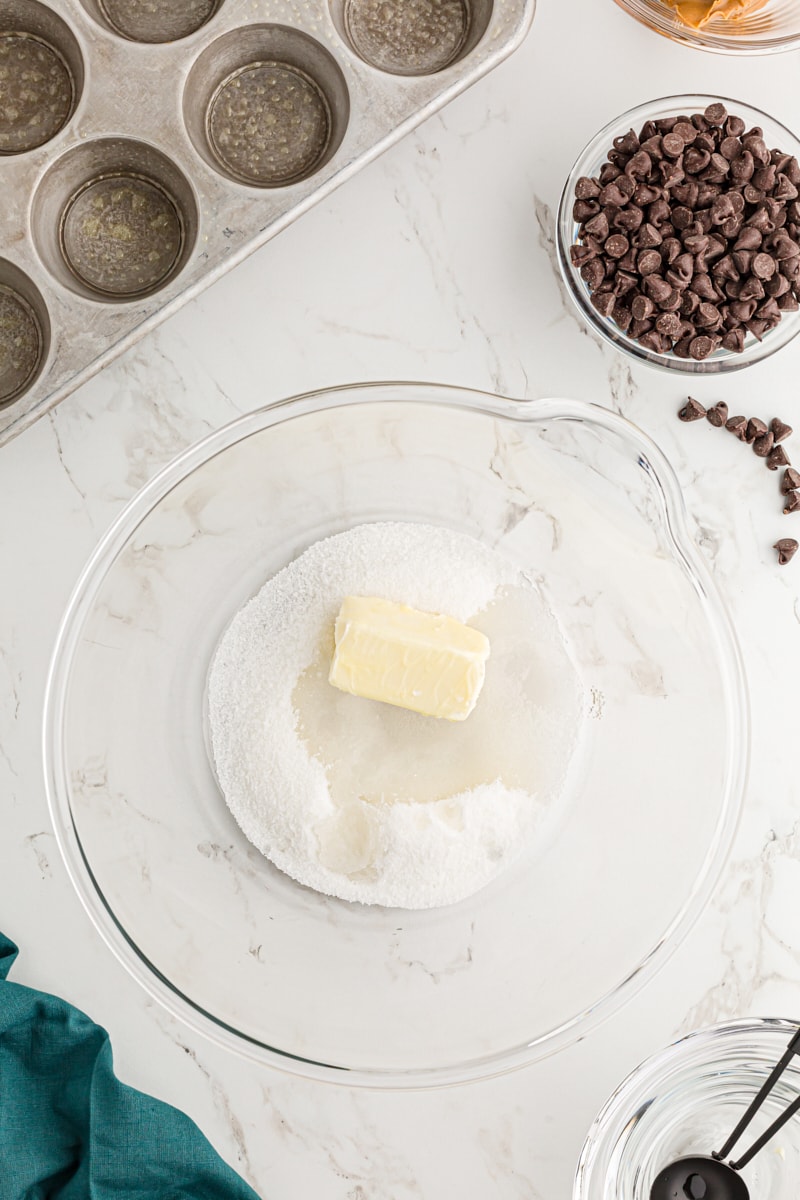 Mix the wet ingredients. Combine the sugar, butter, and water in a microwave-safe bowl and heat on high for about 1 minute, or until the butter melts. Stir in 3/4 cup semisweet chocolate chips and once they melt, stir in the egg and vanilla extract.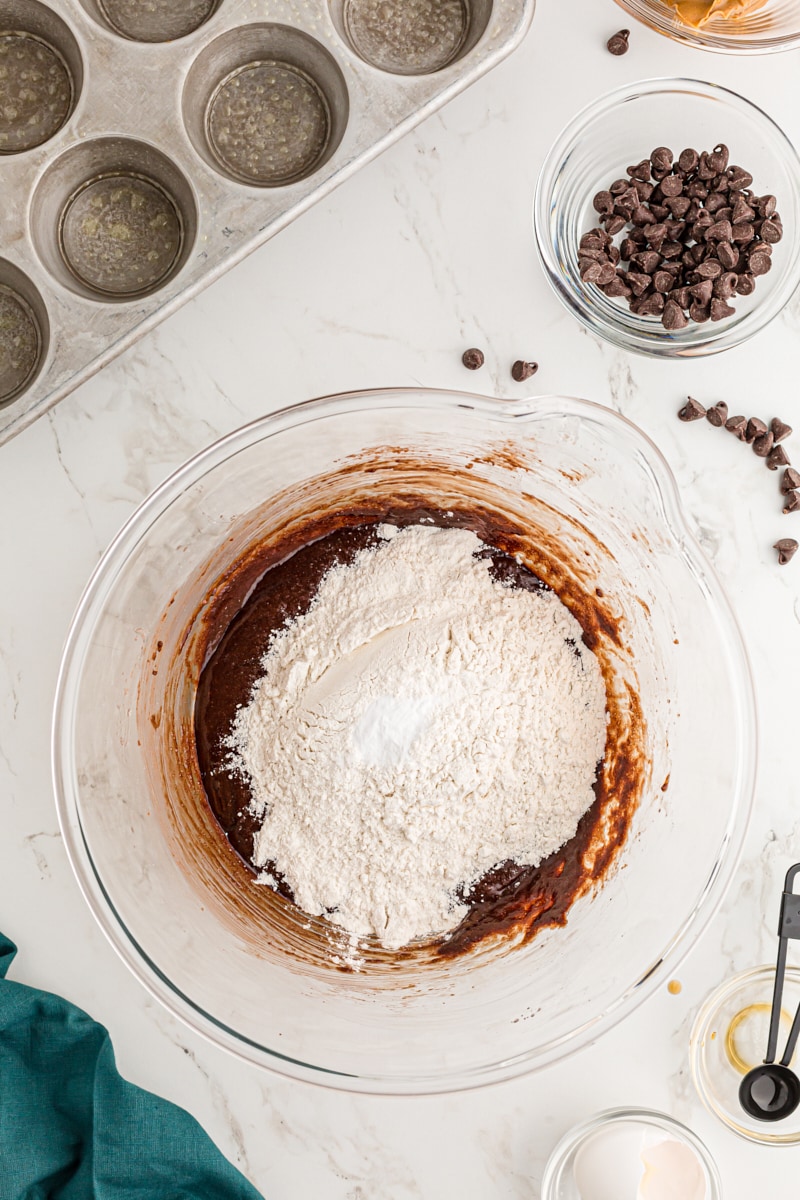 Finish the brownie batter. Add the flour and baking soda to the wet ingredients and stir to combine. Let the mixture come to room temperature, then fold in 1/2 cup of peanut butter chips and 1/2 cup of semisweet chocolate chips.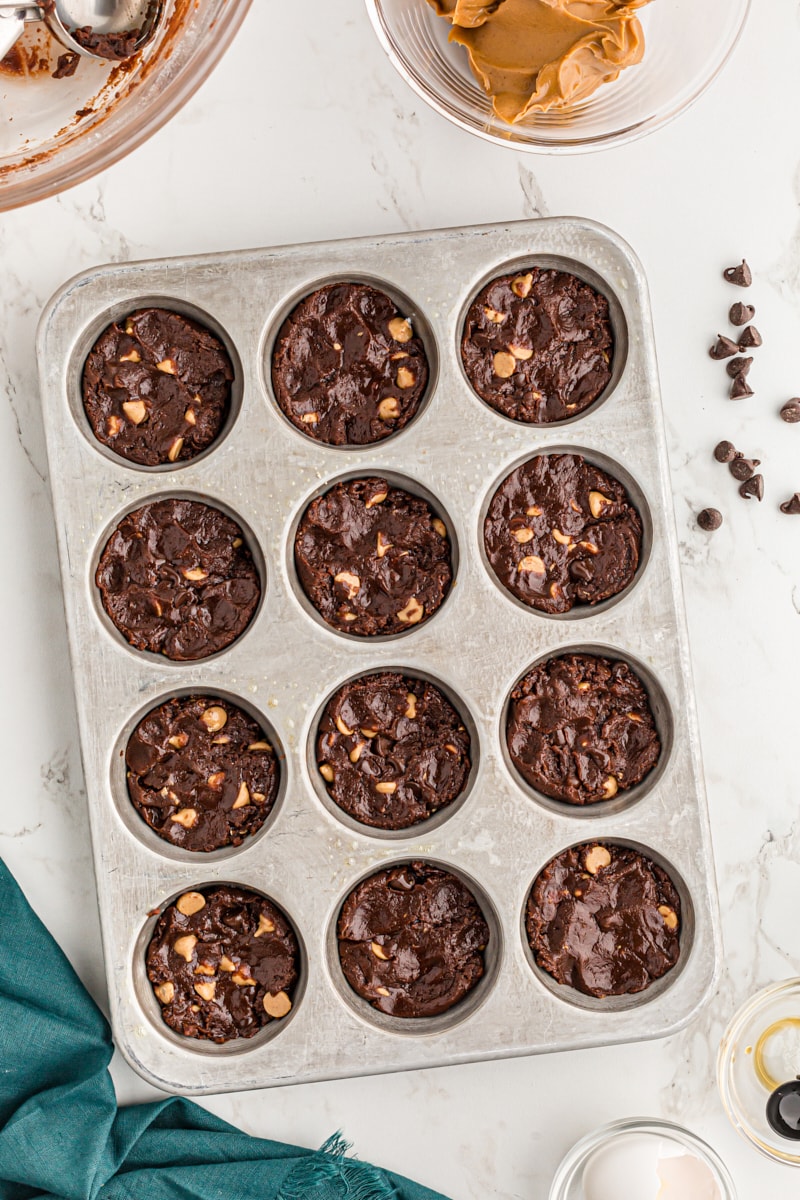 Bake. Divide the batter evenly into the prepared muffin cups, then bake for 13 to 15 minutes, or until the tops are set and a toothpick inserted into the center comes out slightly wet.
Cool. Set the pan on a wire rack and let the brownies cool until the centers fall; if they don't fall, you can use a teaspoon to gently push on the centers to create an indentation. Don't let the brownies cool completely!
Heat the peanut butter. Warm the peanut butter in a small microwave-safe bowl for 45 seconds, then stir.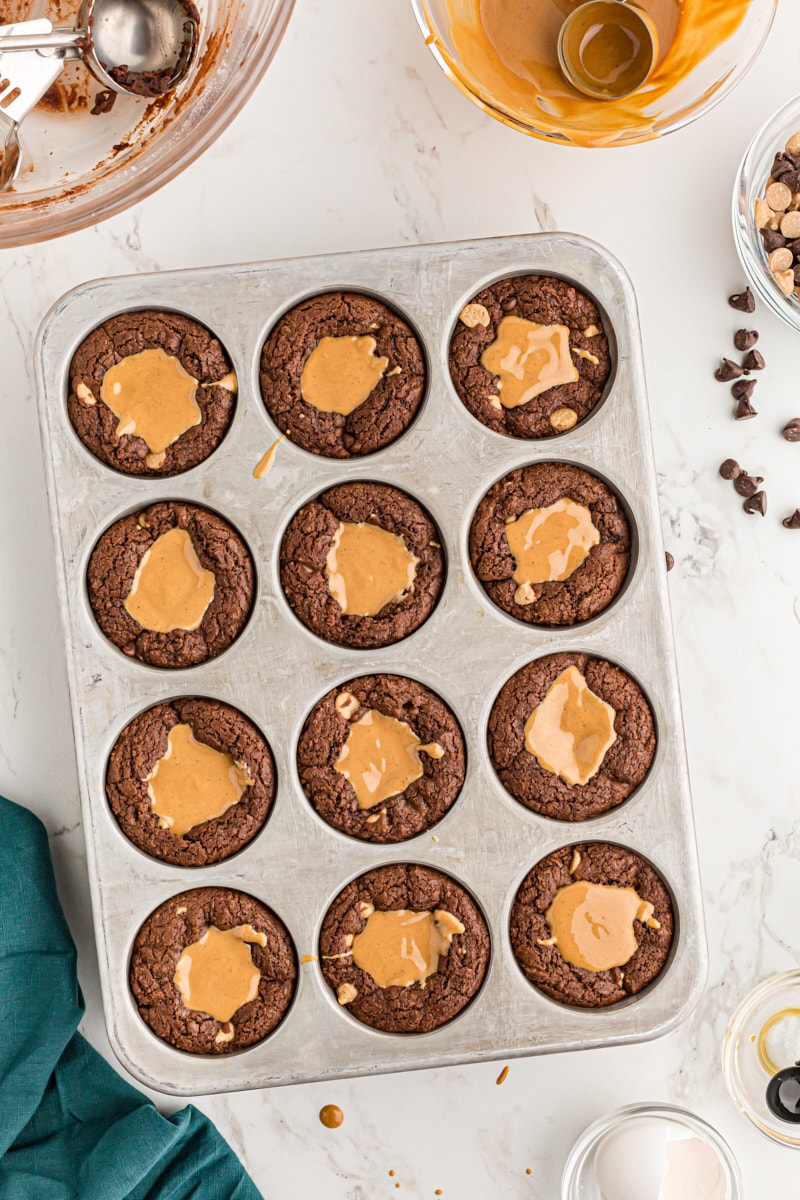 Garnish. Spoon or pipe about a tablespoon of peanut butter into the center of each warm brownie cup. Top with the remaining chocolate chips and peanut butter chips. Serve the brownies warm, or let them cool completely in the pan before storing.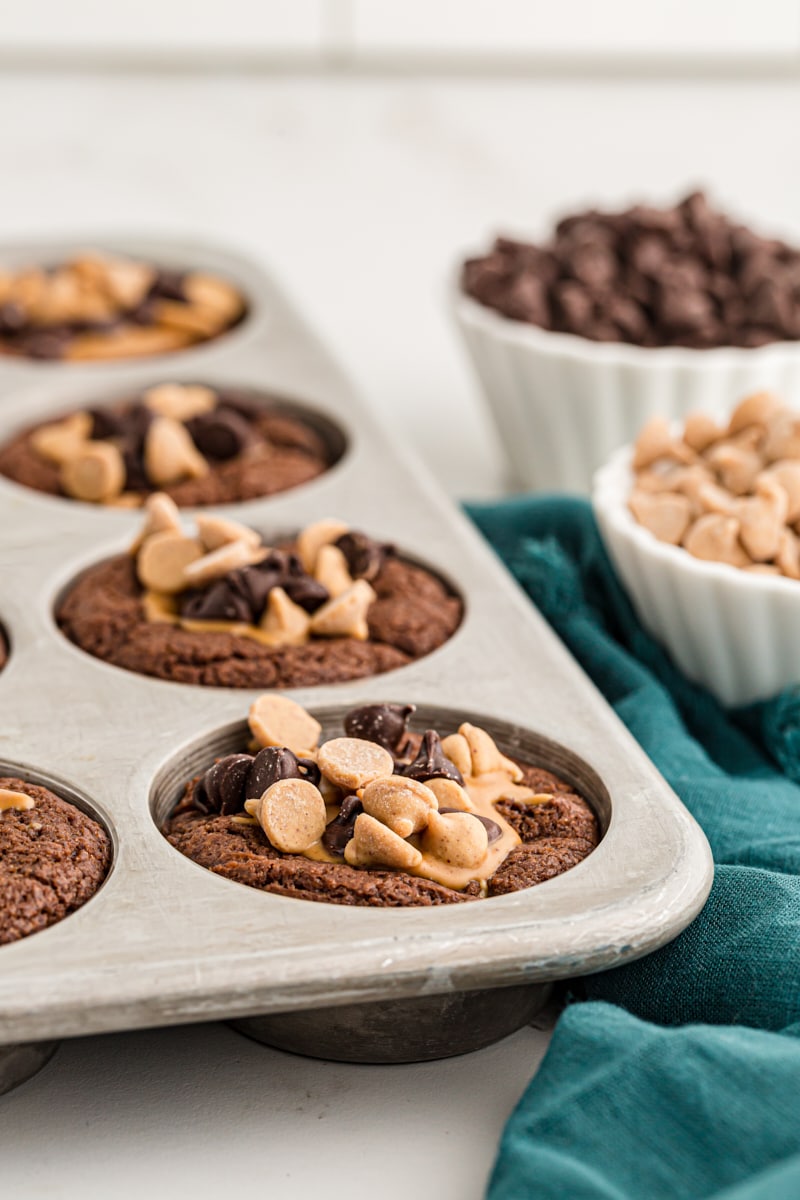 Tips for Success
If you're new to baking, I recommend starting with my baking tips for beginners. Here are some additional pointers for making these Brownie Peanut Butter Cups.
Use high-quality chocolate chips. The brownies get their chocolate flavor entirely from the chocolate chips, so be sure to spring for a good brand.
Don't overmix the batter. As with any recipe containing flour, you should mix the batter just until the flour is combined to avoid over-developing the gluten.
Bake until the edges are firm and the centers are set. It's okay if there are a few wet crumbs clinging to the toothpick; the brownies will continue to bake in the pans as they cool.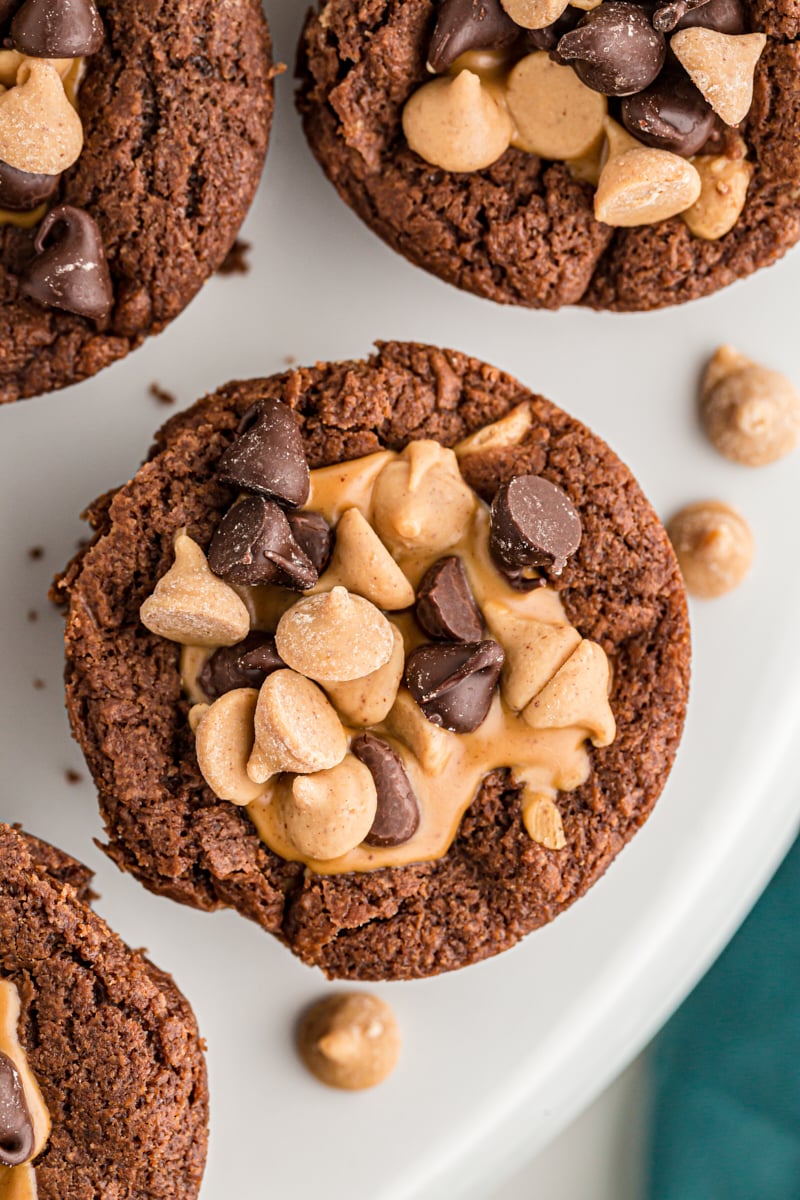 Variations
Substitute the chocolate and peanut butter chips with mini Reese's cups (the baking kind sold alongside chocolate chips), chopped peanut butter cups, Reese's pieces, chopped Butterfinger bars, broken pretzel pieces, or any other toppings that work well with the peanut butter filling.
How to Store
Store Brownie Peanut Butter Cups in an airtight container for up to 3 days at room temperature, or for up to a 5 days in the refrigerator.
Can This Recipe Be Frozen?
You can freeze Brownie Peanut Butter Cups in an airtight container for up to 2 months. Let them thaw at room temperature before serving, or warm them up in the microwave.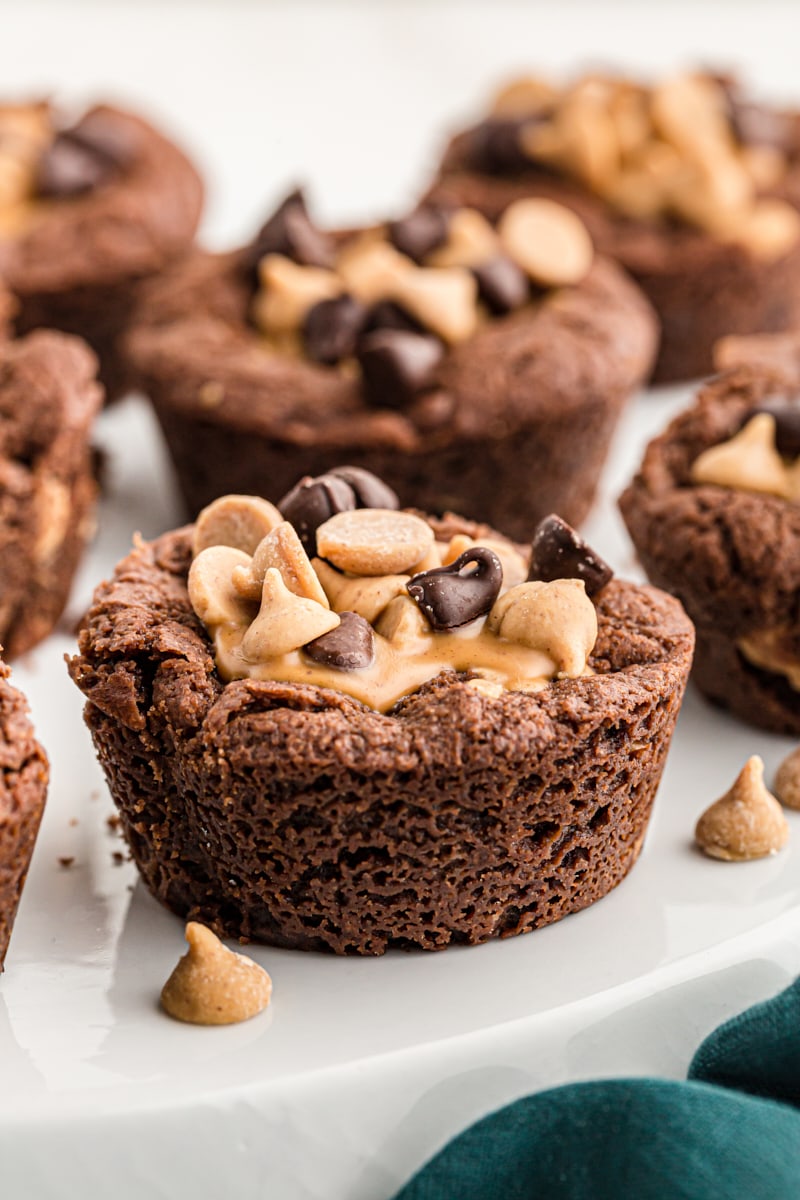 More Delectable Brownie Recipes