May 8, 2008
Brownie Peanut Butter Cups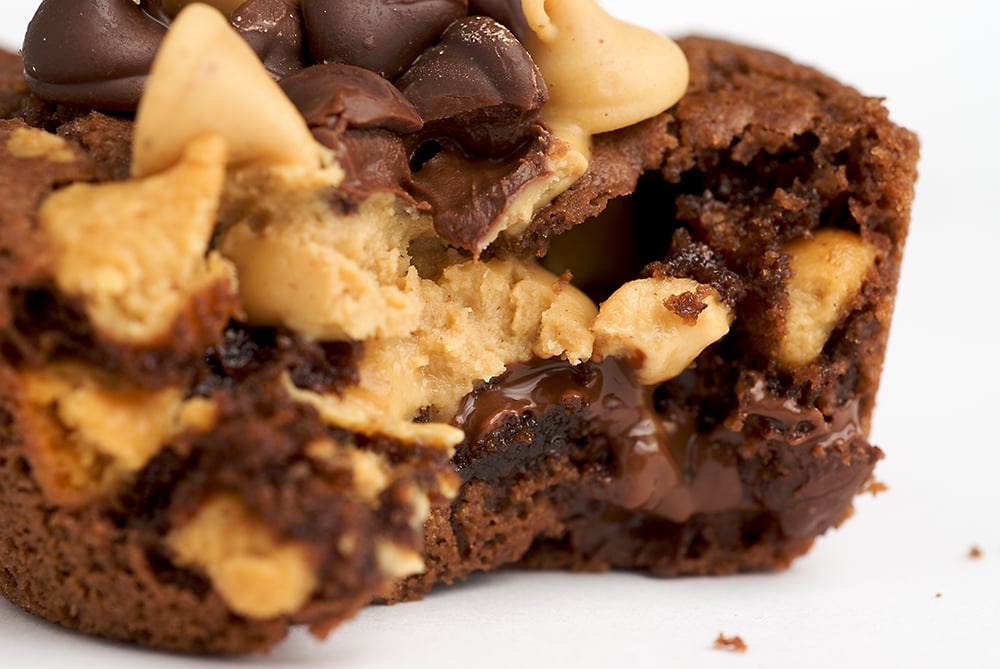 For a while now, I've been wanting to use muffin pans to make brownies. I found several recipes, but none I could really get excited about. Then, I found this one that features one of my favorite combinations: chocolate and peanut butter.

The brownies are prepared in traditional brownie fashion, but scooped into muffin tins like cupcake batter. Instead of the swirled chocolate/peanut butter chips, I used a combination of chocolate chips and peanut butter chips in the batter and also on top. I actually think I like the look of the different chips better than I would the swirled chips. Either way, they are sure to be fabulous.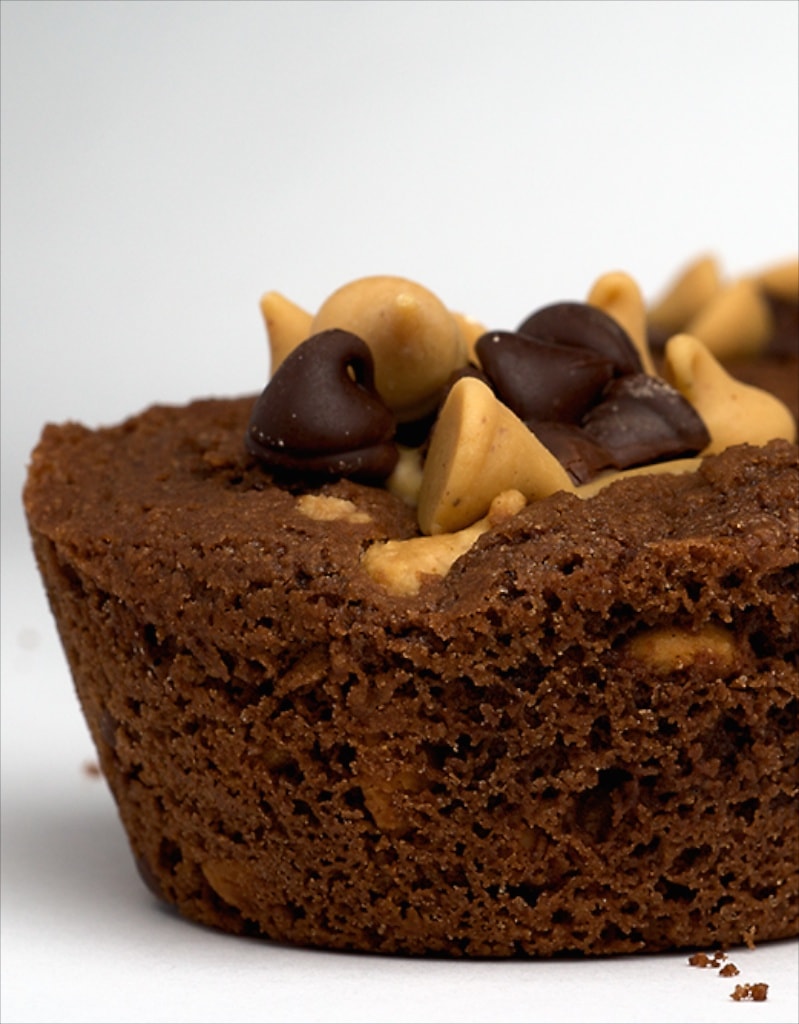 I really love the dollop of peanut butter in the center. I put the warm peanut butter in a zip-top bag, cut a corner off, and piped it inside. For an even more decadent treat, I think you could also pipe in some melted chocolate, creating a chocolate/peanut butter melty, gooey center.
We found these to be best served warm. The edges are nicely chewy and the inside soft and gooey. I wish I could find adequate words to express how good these really are. Quinn said that they are one of his favorite things I've ever baked. With almost ten years of my baking for him, I think that says it all.
Find more brownie recipes in the Recipe Index!
Brownie Peanut Butter Cups
Yield: 12 brownies
Prep Time:25 minutes
Cook Time:15 minutes
Brownie Peanut Butter Cups are rich brownies filled with sweet, gooey peanut butter and chocolate.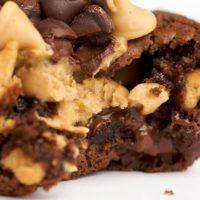 Ingredients:
3/4 cup granulated sugar
1/4 cup unsalted butter, softened
1 tablespoon water
3/4 cup semi-sweet chocolate chips
1 large egg
1/2 teaspoon vanilla extract
1 cup all-purpose flour
1/4 teaspoon baking soda
1/2 cup peanut butter chips plus about 1/3 cup more for garnishing
1/2 cup semi-sweet chocolate chips plus about 1/3 cup more for garnishing
3/4 cup creamy peanut butter
Directions:
Preheat oven to 350°F. Spray or grease 12 muffin cups.
In a large microwave-safe bowl, combine the sugar, butter, and water. Microwave on high for 1 minute or until butter is melted. Stir in 3/4 cup semi-sweet chocolate chips until melted. Stir in the egg and vanilla extract.
Add the flour and baking soda, stirring until blended. Allow to cool to room temperature.
Stir in 1/2 cup each peanut butter chips and semi-sweet chocolate chips. Spoon the batter by heaping tablespoonfuls into muffin cups.
Bake for 13-15 minutes or until the top is set and a toothpick inserted into the center comes out slightly wet. Place the pan on a wire rack. The centers of the brownies will fall upon cooling. If not, tap the centers with the back of a teaspoon to make a hole.
Place the peanut butter in a small microwave-safe bowl. Microwave on high for 45 seconds, then stir. While the brownies are still hot, spoon about a tablespoon of peanut butter into the center of each brownie. Top with semi-sweet chocolate chips and peanut butter chips. Cool completely in pan.
Recipe slightly adapted from Nestle.