These aren't your standard Peanut Butter Brownies! In addition to swirls of peanut butter, they're studded with peanut butter chips and peanut butter cups for the perfect treat for peanut butter lovers!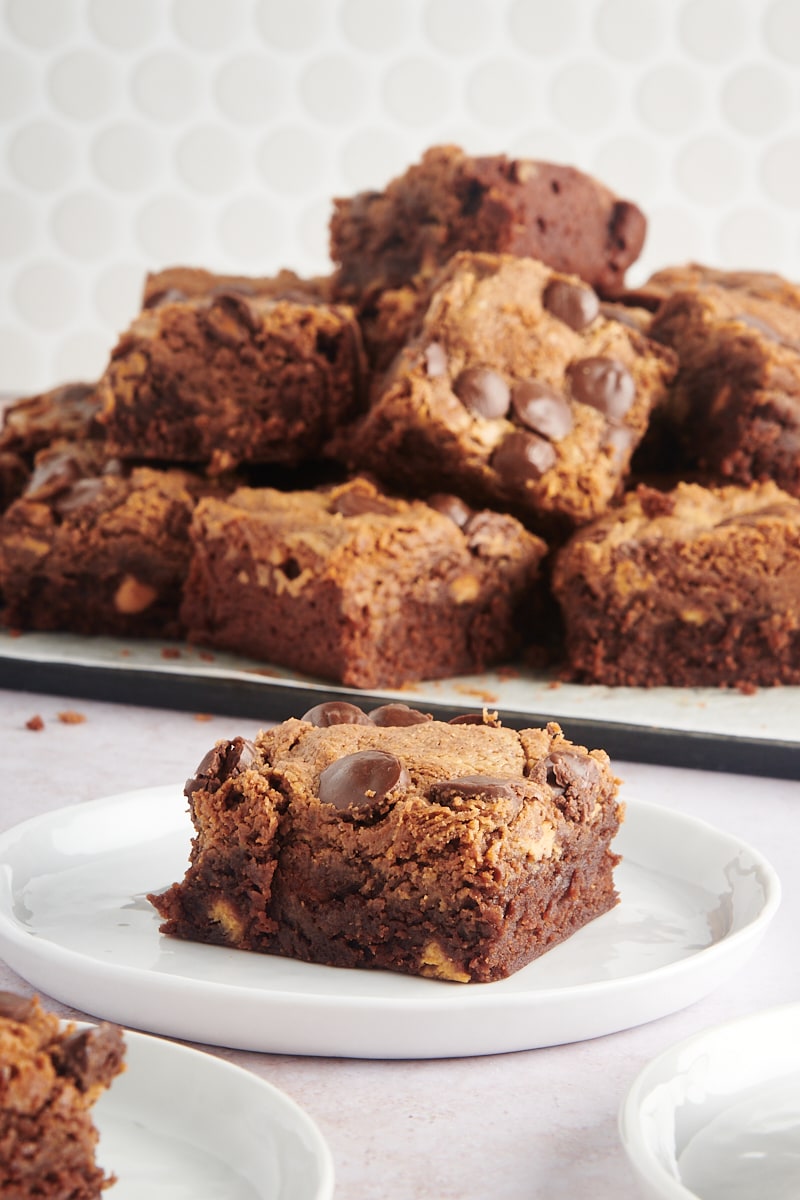 Chewy Brownies Swirled With Peanut Butter
Okay, all of you peanut butter and chocolate fans, pay attention because these peanut butter brownies are for you. (And for me, as I am also a long-time member of the fan club.)
If these rich, chewy brownies were simply swirled with peanut butter, they would be delicious. But, let's make them even better by stirring in some peanut butter chips. Then, a generous scattering of peanut butter cups on top nudges them over the line firmly into decadent territory.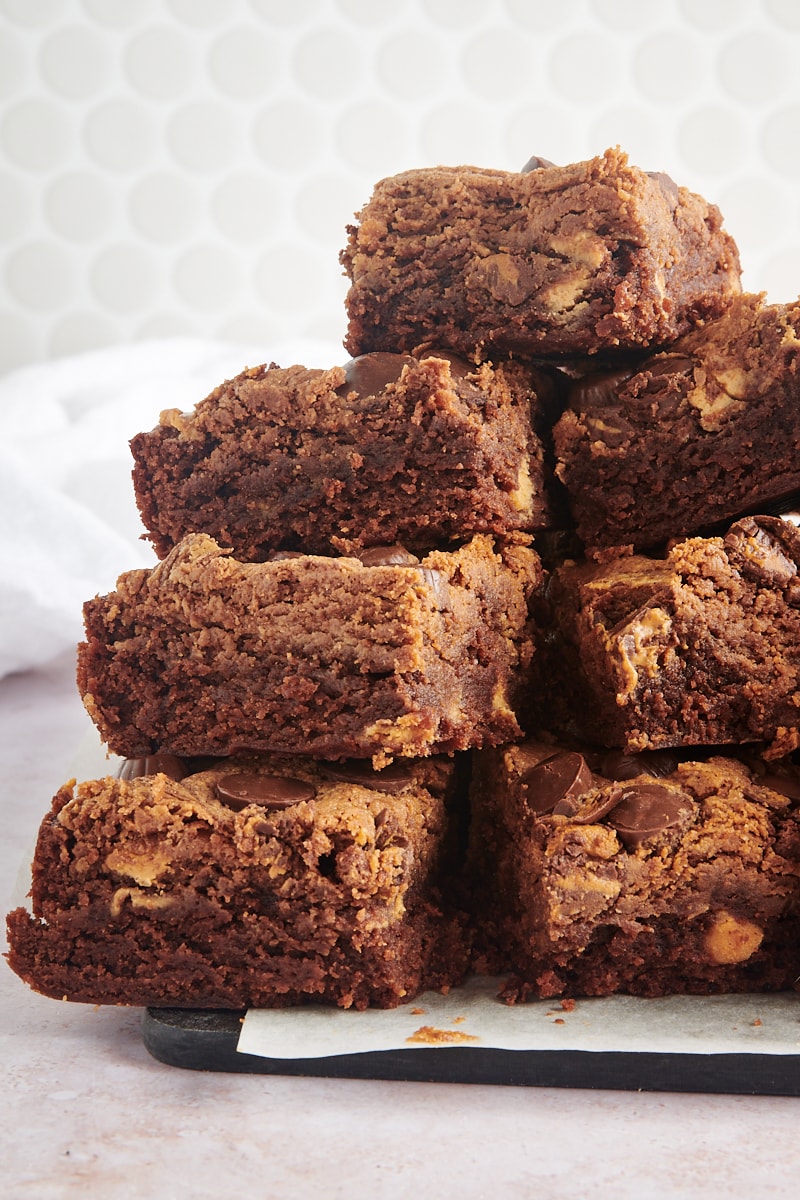 To call these simply peanut butter brownies seems like a less than apt description. I'm not sure there are sufficient words to do them justice. Make them yourself. A bite of one of these is better than anything that could ever be written about them.
(Can't get enough peanut butter? Try my Loaded Nutella Peanut Butter Cookies, Chocolate Chip Peanut Butter Bread, or Peanut Butter Bundt Cake next!)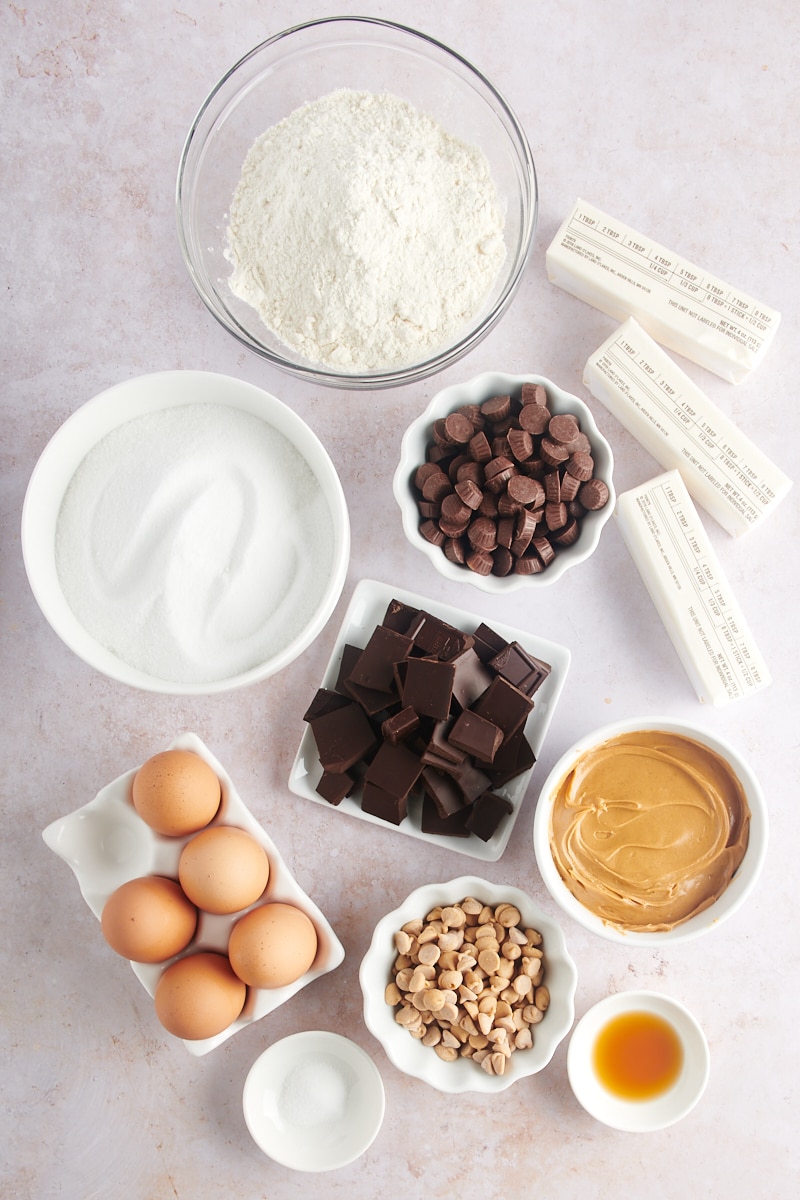 What You'll Need
Scroll down to the recipe card below this post for ingredient quantities and full instructions.
Unsalted butter – Learn more: Unsalted or Salted Butter: Which is Better for Baking?
Unsweetened chocolate
All-purpose flour – Learn more: How to Measure Flour
Salt
Granulated sugar
Eggs – Let these come to room temperature.
Vanilla extract
Peanut butter chips
Creamy peanut butter – I recommend using the old-fashioned kind that's stable at room temperature, versus the natural kind that needs to be stirred.
Miniature peanut butter cups – Or use chopped peanut butter cups.
Which Brand of Chocolate Is Best for Brownies?
I always recommend using a premium brand of chocolate for baking, and that's doubly true for brownies, where the chocolate is the star of the show. Along with supermarket options like Guittard and Ghirardelli, Green & Black, Divine, Theo, and Equal Exchange are all excellent choices.
How to Make Peanut Butter Brownies
As with most brownie recipes, these Peanut Butter Brownies are quite easy to make. Here's what you'll need to do.
Prepare. Preheat your oven to 350°F and line a 9″x 13″x 2″ pan with parchment paper or foil.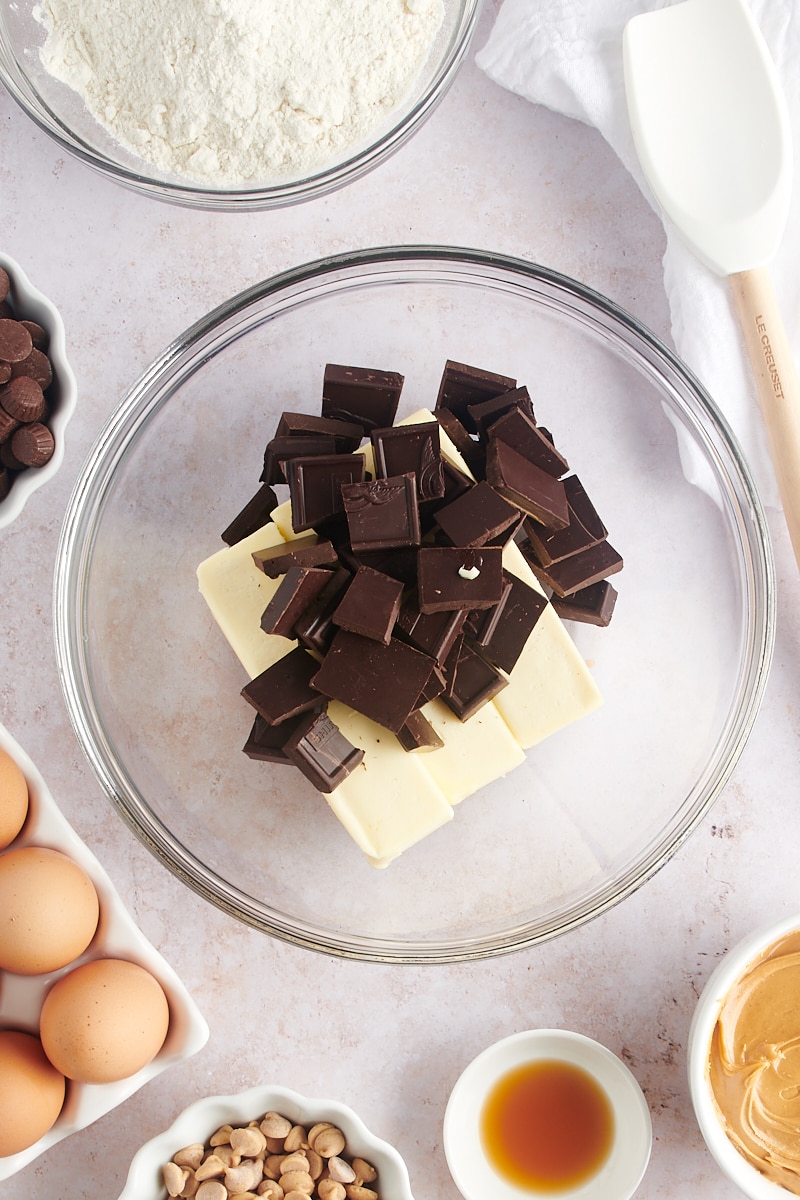 Melt the chocolate and butter. Place the butter and chocolate in a microwave-safe bowl. Microwave for 30-second intervals, stirring between each, until the mixture is melted and smooth. Let this cool slightly before adding it to the batter.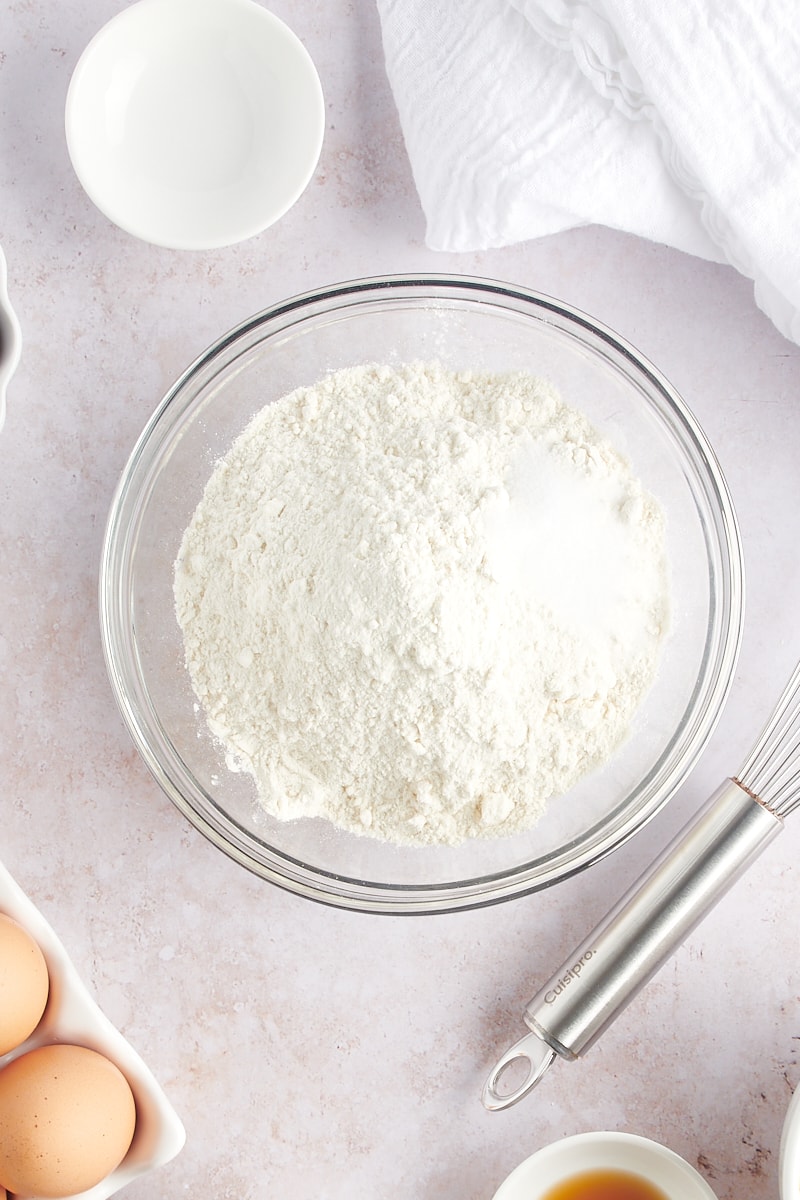 Mix the dry ingredients. Whisk the flour and salt in a small bowl.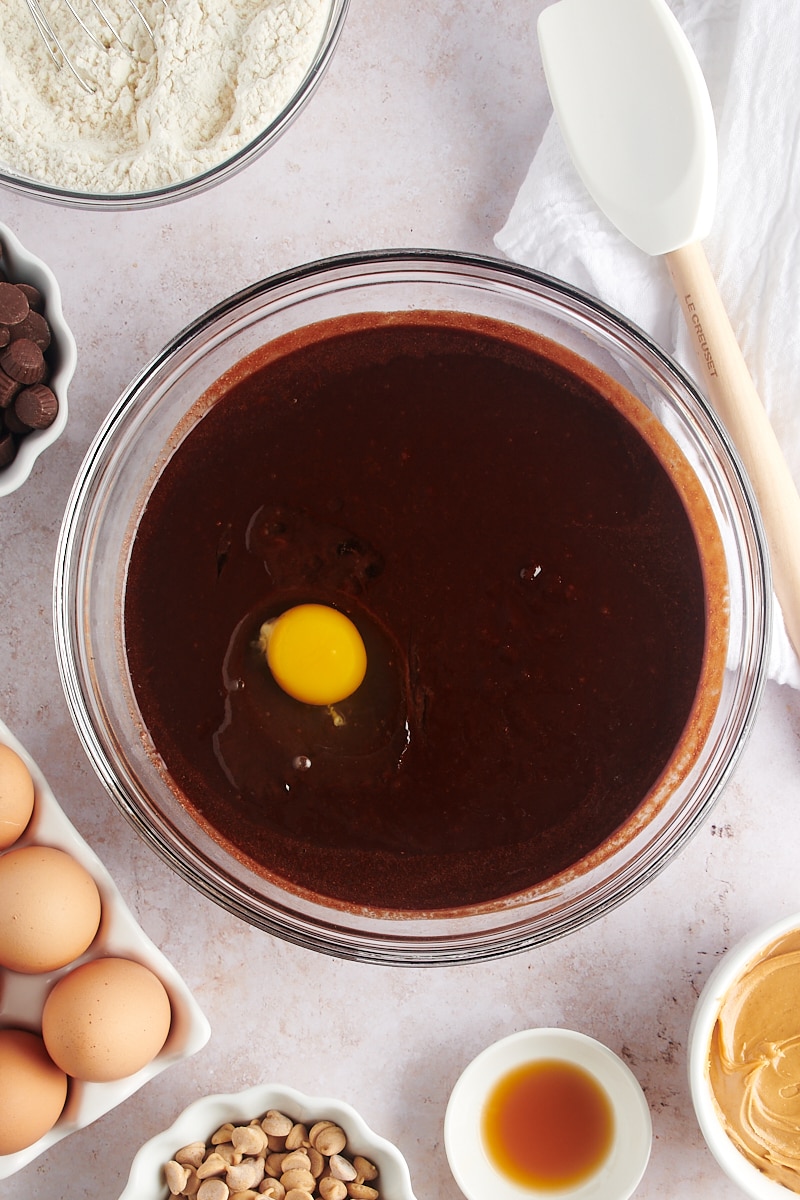 Mix the wet ingredients. In a large bowl, beat the chocolate mixture and 2 & 1/2 cups of sugar with an electric mixer on medium speed. Beat in the eggs one at a time, followed by the vanilla.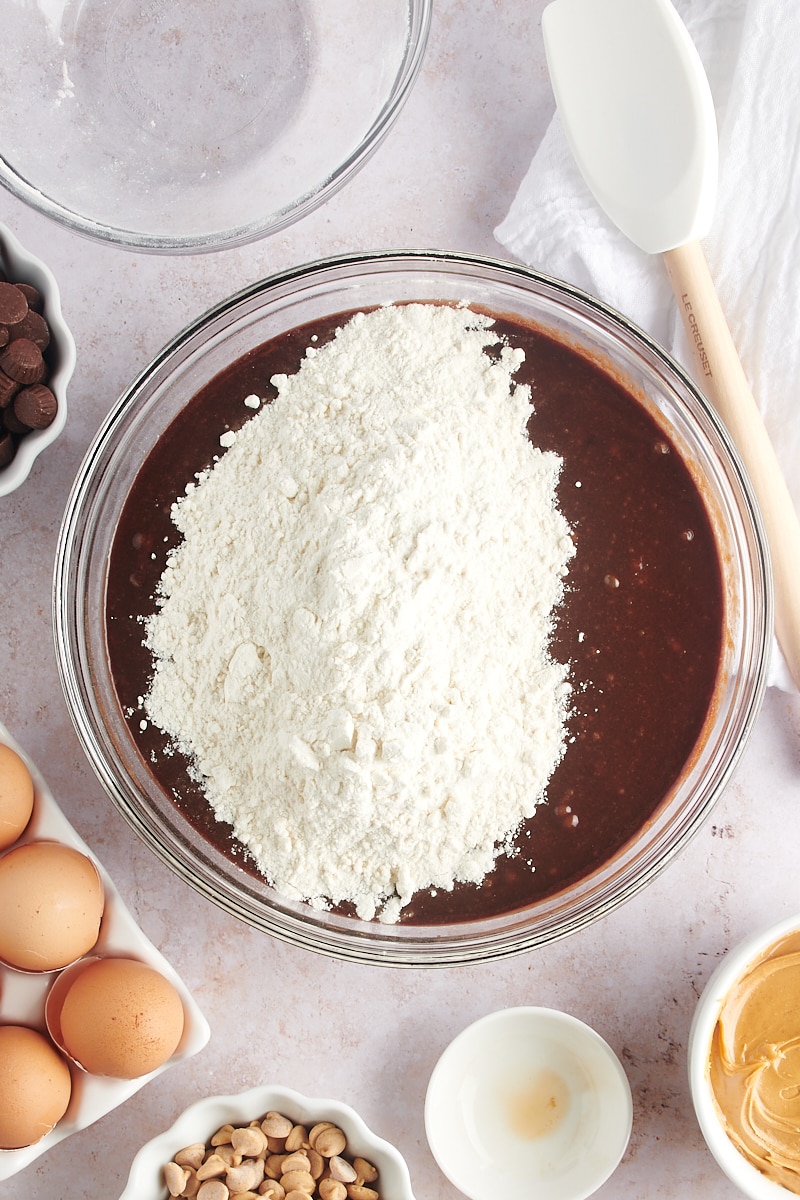 Combine the wet and dry ingredients. Slowly beat the flour mixture into the wet mixture, just until combined. Fold in the peanut butter chips, then spread the batter into the prepared pan.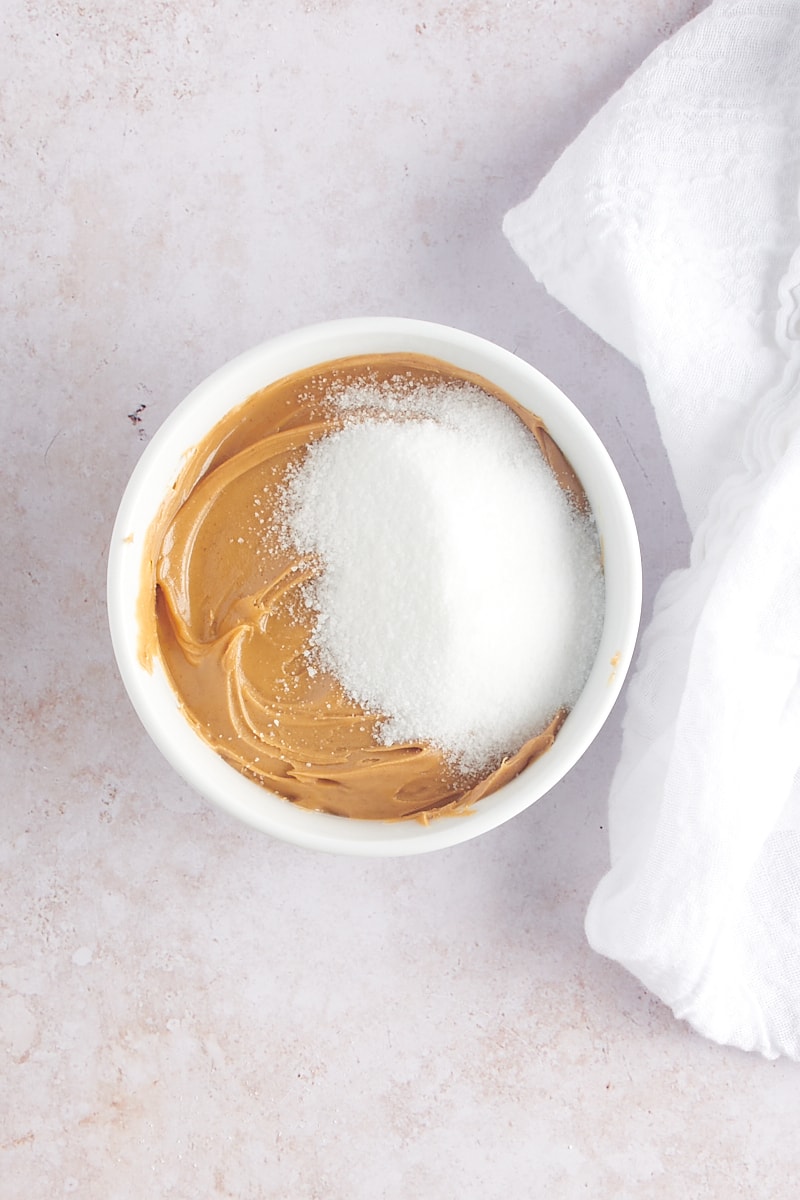 Make the peanut butter swirl. Combine the peanut butter and 2 tablespoons of sugar in a small microwave-safe bowl. Microwave for 30 seconds, then stir until the mixture is smooth.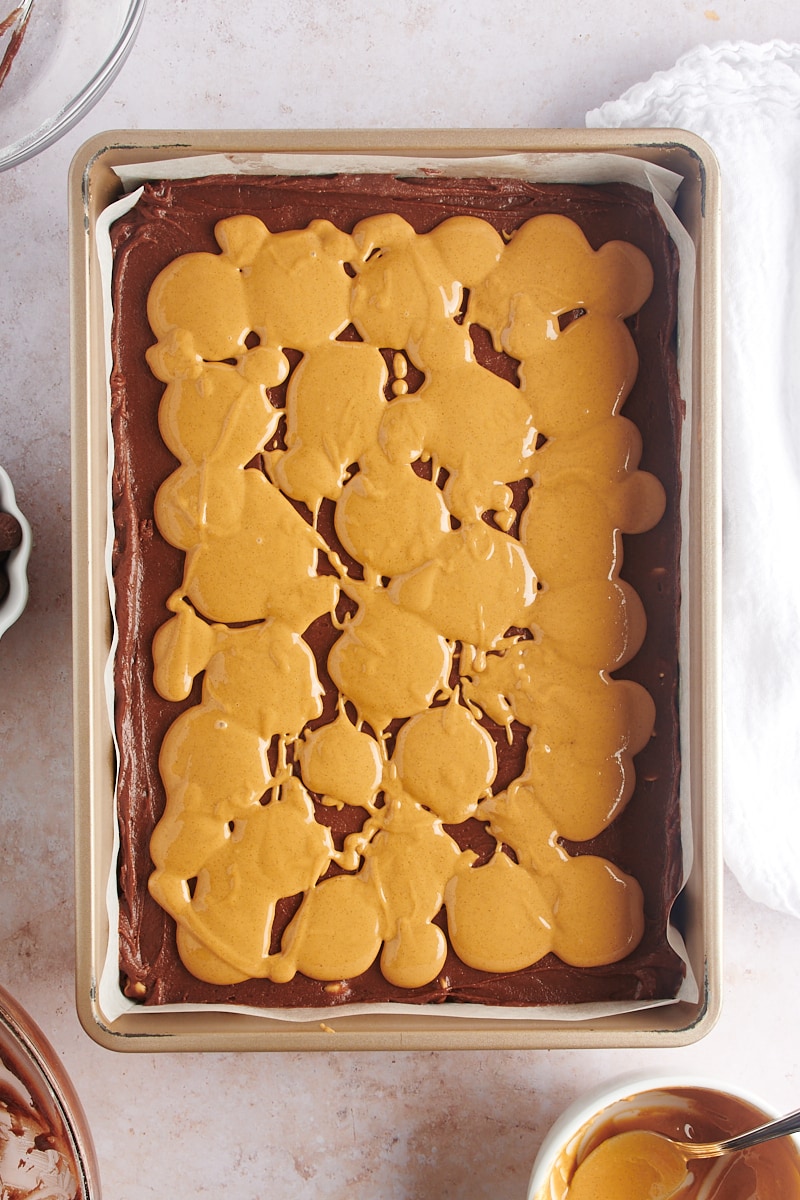 Swirl the brownies. Drop teaspoonfuls of the peanut butter mixture onto the brownie batter. Use a butter knife to create swirls.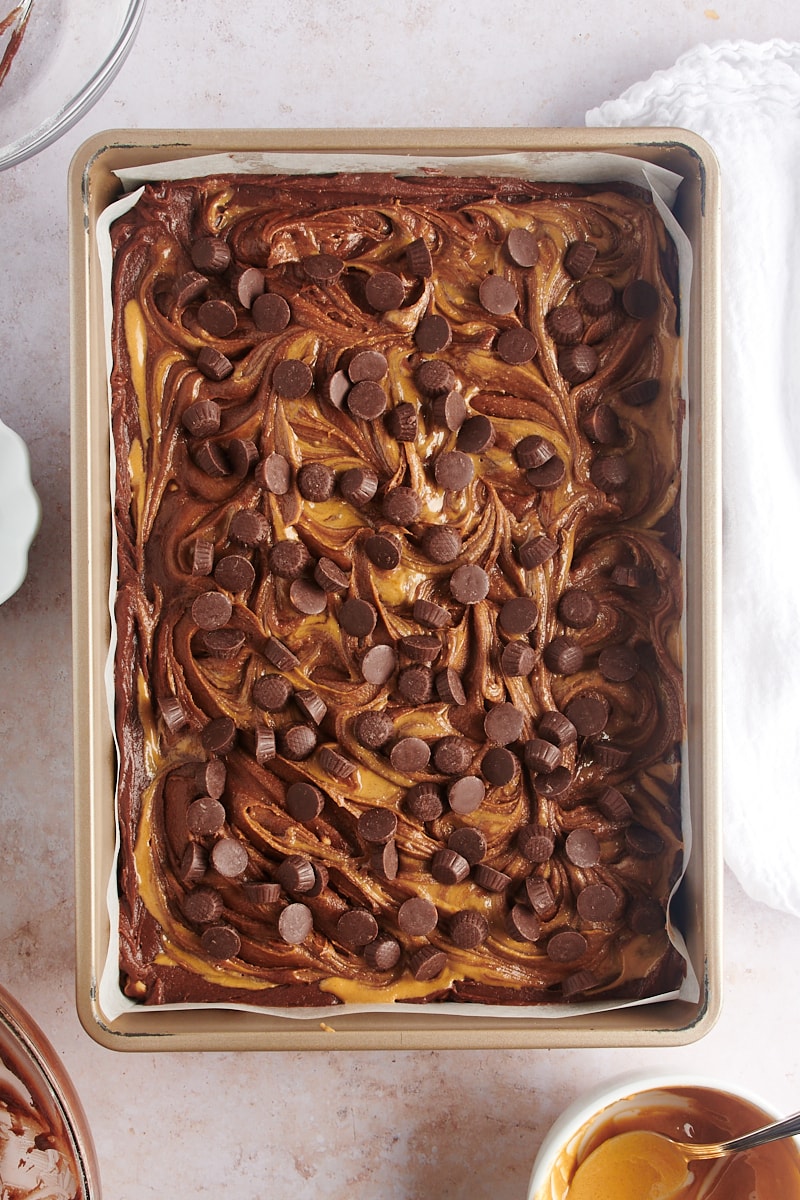 Bake. Sprinkle the top of the brownies with peanut butter cups, then bake for 40 to 45 minutes, or until a wooden pick inserted into the center comes out just slightly sticky. Set the pan on a wire rack to cool.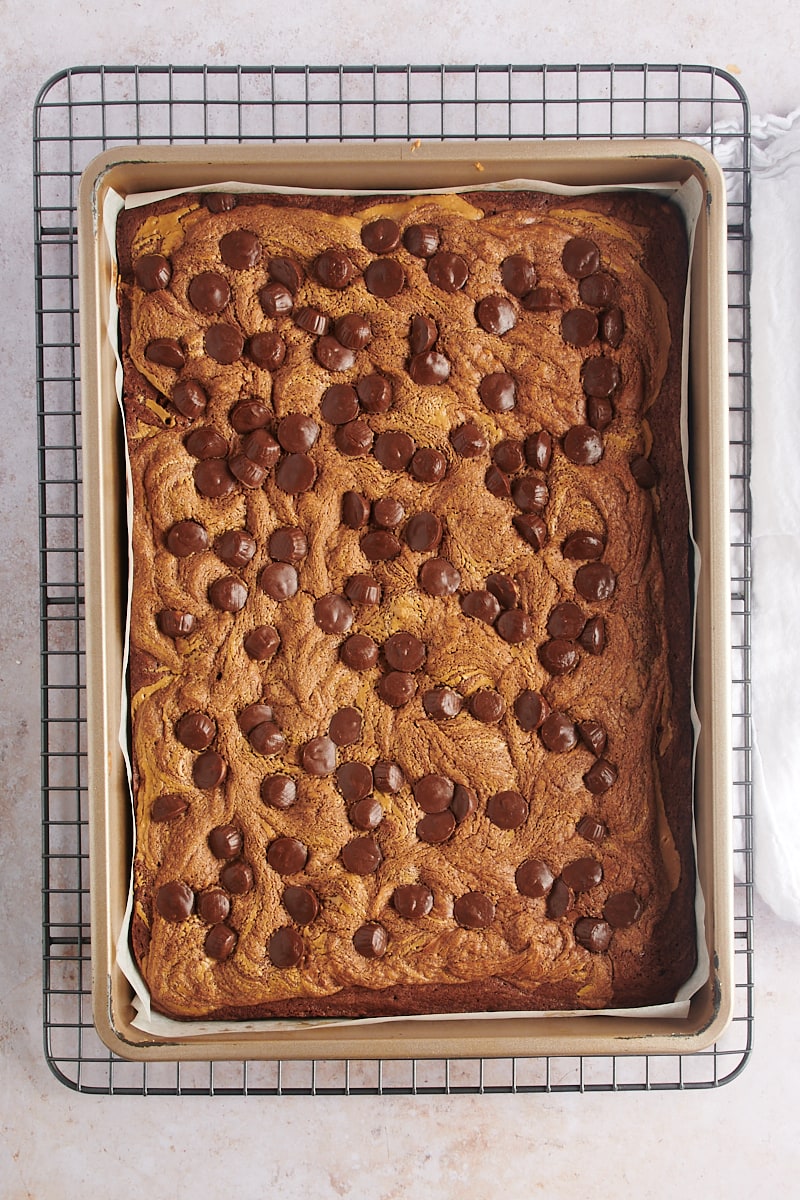 Tips for Success
Here are some tips for perfect Peanut Butter Brownies. (Be sure to read my Tips for Baking Brownies from Scratch too!)
Use unsweetened chocolate. This recipe was developed with unsweetened chocolate, so using a sweet variety will upset the flavor balance!
Don't substitute chunky peanut butter. Chunky peanut butter doesn't swirl as nicely, and it can give the swirls an unpleasant, gritty texture.
Mix just until combined. Over-mixing will yield a tough brownie, rather than chewy!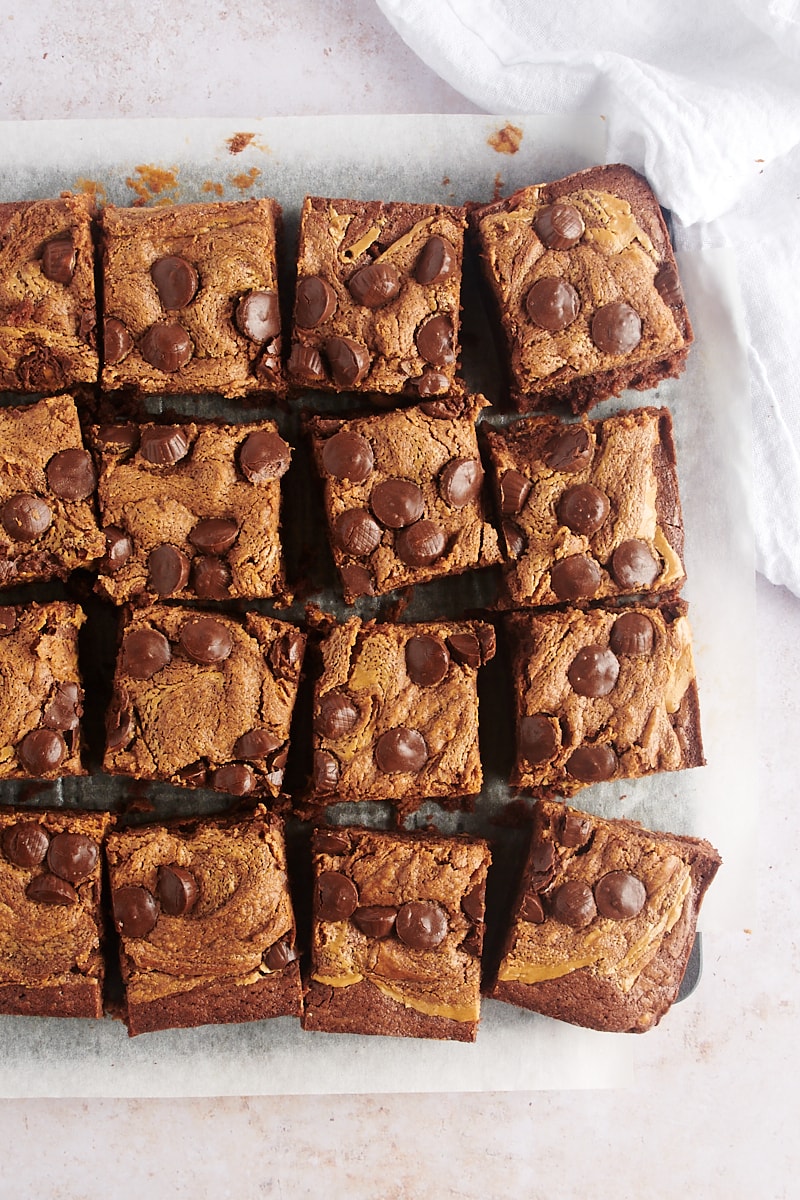 How to Store
These Peanut Butter Brownies can be stored in an airtight container at room temperature for up to 3 days.
Can This Recipe Be Frozen?
Yes, Peanut Butter Brownies freeze beautifully! Place them in a freezer bag or airtight container and freeze them for up to 3 months. Thaw them on the countertop before serving, or warm them up in the microwave.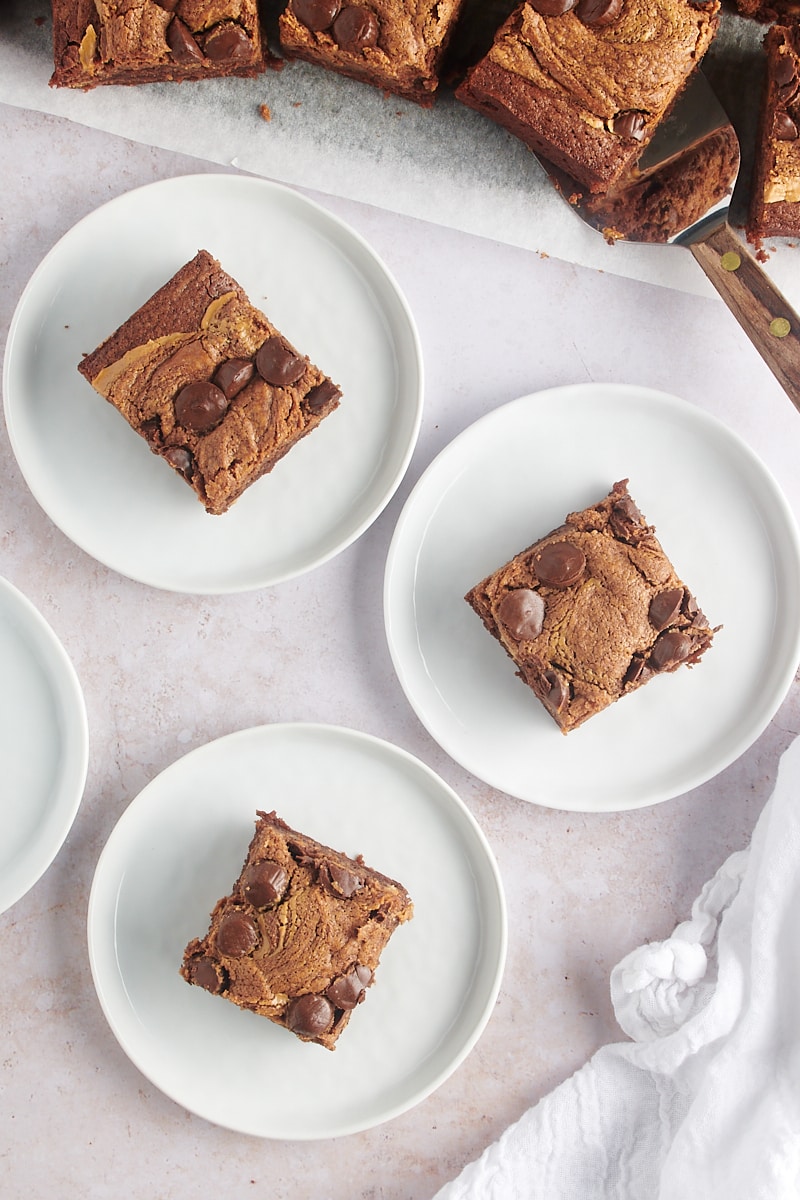 More Brownie Recipes You'll Love