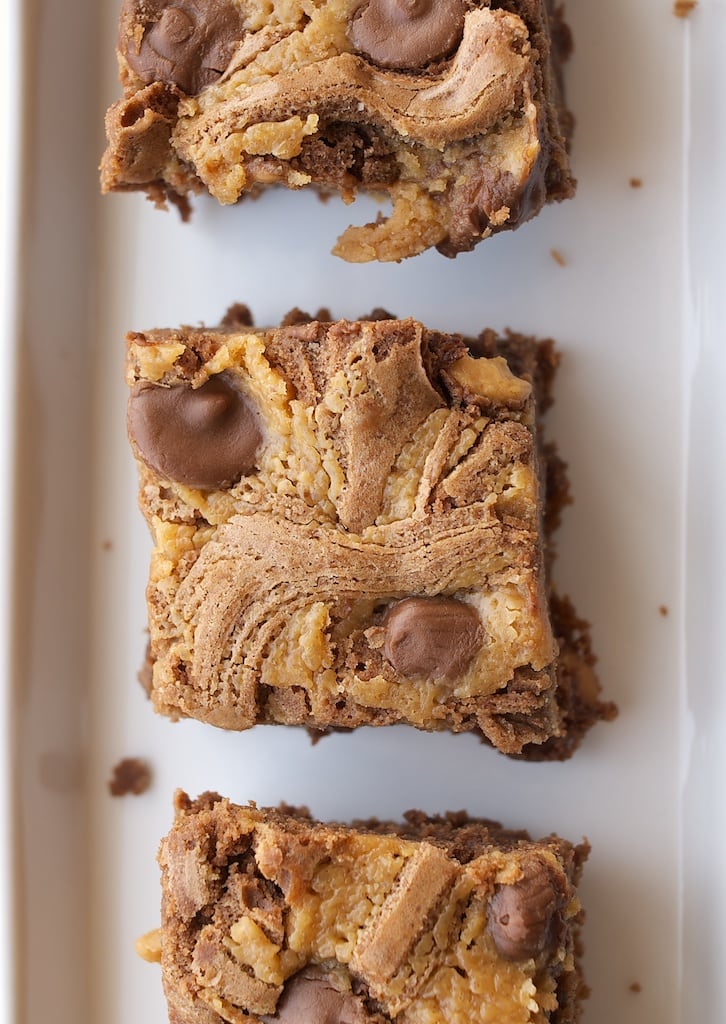 Okay, all of you peanut butter and chocolate fans, pay attention because these are for you. And for me, as I am a long-time member of the fan club.
If these brownies were simply swirled with peanut butter, they would be delicious. But, let's make them even better by stirring in some peanut butter chips. Then, a generous scattering of peanut butter cups on top nudges them over the line firmly into decadent standards.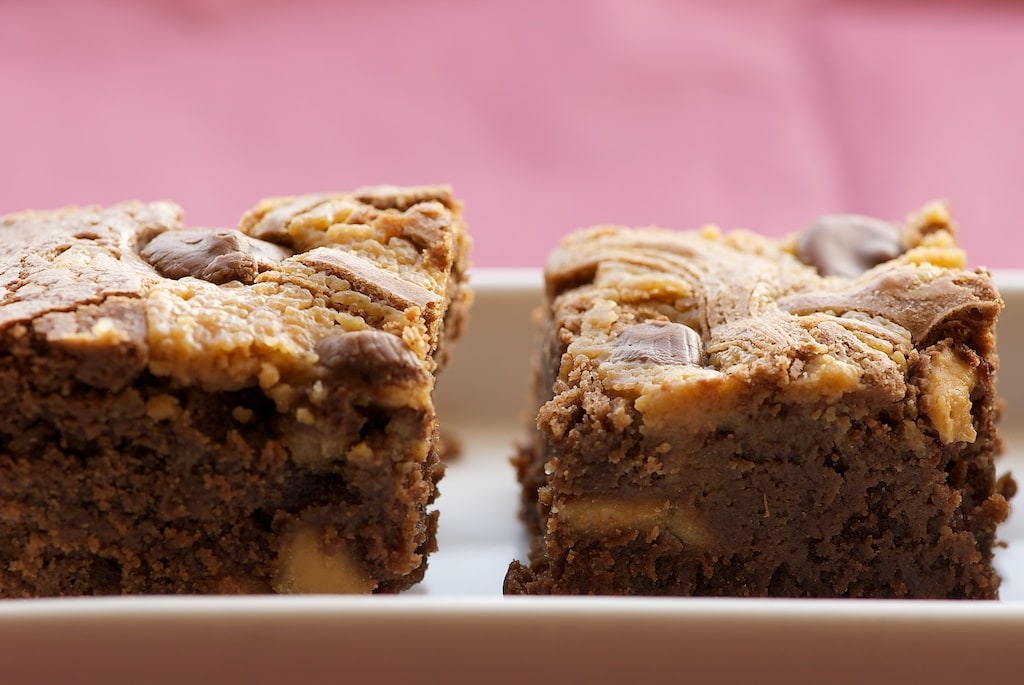 I had some leftover mini peanut butter chips from those cheesecakes from earlier this month. They bite-size-ness was just perfect for topping these off. If you use larger peanut butter cups, I would suggest chopping them into smaller pieces.
To call these simply peanut butter brownies seems like a less than apt description. I'm not sure there are sufficient words to do justice. Make them yourself. A bite of one of these is better than anything that could ever be written about them.
Prep Time: 25 minutes
Cook Time: 45 minutes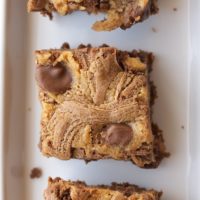 1 & 1/2 cups unsalted butter
5 ounces unsweetened chocolate
2 cups all-purpose flour
1/2 teaspoon salt
2 & 1/2 cups granulated sugar
5 large eggs
1 teaspoon vanilla extract
1/2 cup peanut butter chips
1/2 cup creamy peanut butter
2 tablespoons granulated sugar
1 cup miniature peanut butter cups (or chopped peanut butter cups)
Directions:
Preheat oven to 350°. Line a 9″x 13″x 2″ pan with aluminum foil.
Place butter and chocolate in a microwave-safe bowl. Microwave at 30-second intervals until melted. Stir until smooth. Set aside to cool slightly.
Whisk together flour and salt. Set aside.
In a large bowl, combine chocolate mixture and 2 & 1/2 cups sugar using an electric mixer at medium speed. Mix until well blended. Add eggs, one at a time, beating well after each addition. Mix in vanilla.
Gradually add flour mixture, beating just until combined. Stir in peanut butter chips. Spread batter in prepared pan.
Combine peanut butter and 2 tablespoons sugar in a small microwave-safe bowl. Microwave for 30 seconds. Stir until smooth.
Drop peanut butter mixture by teaspoonfuls over brownie batter. Use a knife to swirl peanut butter mixture into brownie batter. Sprinkle top with peanut butter cups.
Bake for 40-45 minutes, or until a wooden pick inserted in the center comes out still slightly sticky. Cool completely in pan on wire rack.