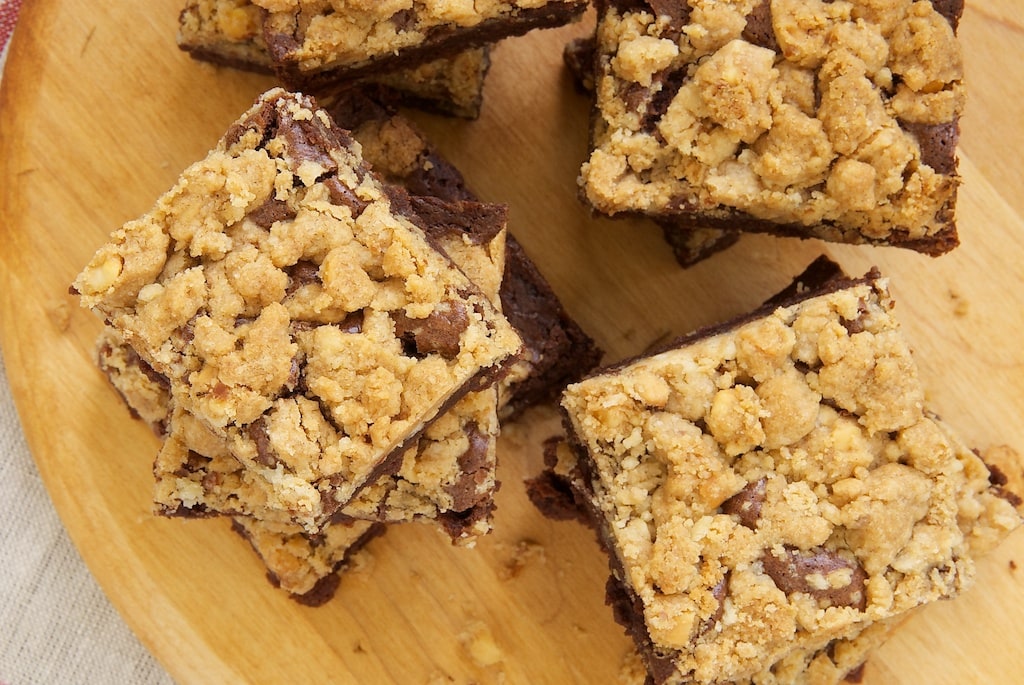 It's been a while since I baked anything using chocolate and peanut butter. While I do believe variety is a good thing, I also believe with absolute certainty that the combination of chocolate and peanut butter is a very, very good thing.
I've made peanut butter brownies many times, but these are different from any of those. The difference? Streusel. Not just any streusel. Peanut butter streusel. I'm pretty sure that's a new one for me.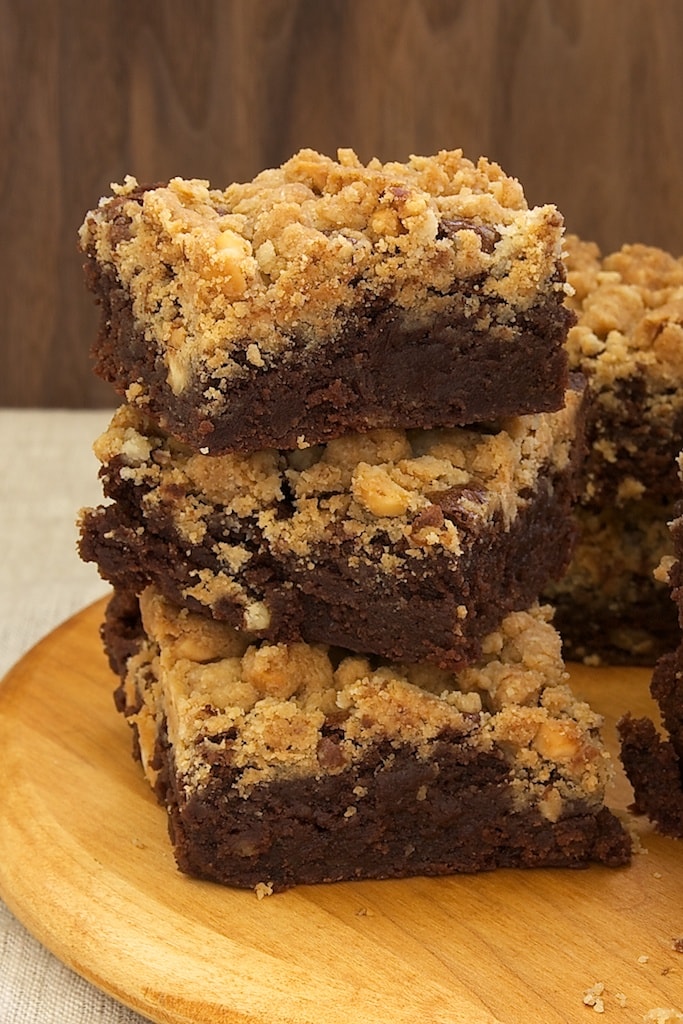 That sweet, nutty peanut butter streusel tops off a dark, cakey brownie for quite the chocolate-peanut butter experience.
I do recommend using crunchy peanut butter for the streusel to give it a little crunch. If you don't have that, you can always mix in a tablespoon or so of chopped roasted peanuts.
I'll pretty much take chocolate and peanut butter in most any combination. But, one of my favorite things about these bars is that you get a layer of each. That way each flavor gets its own little moment to shine while you devour your brownie.
Find more brownie recipes in the Recipe Index.
Yield: 16 2-inch brownies
Prep Time: 25 minutes
Cook Time: 54 minutes
Dark, rich brownies and a crunchy peanut butter topping combine for these Peanut Butter Streusel Brownies.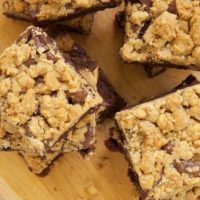 For the brownies:
4 ounces unsweetened chocolate
3/4 cup unsalted butter
1 & 1/2 cups granulated sugar
1/2 cup packed light brown sugar
3 large eggs
1 cup all-purpose flour
1 teaspoon vanilla extract
1/4 teaspoon salt
For the streusel:
1/2 cup all-purpose flour
1/3 cup crunchy peanut butter
2 tablespoons granulated sugar
2 tablespoons light brown sugar
2 tablespoons unsalted butter, melted
1/8 teaspoon salt
Directions:
To make the brownies:
Line an 8-inch square baking pan with aluminum foil or parchment paper, leaving a couple of inches of overhang on 2 opposite sides. Grease the lining.
Place the chocolate and butter in a large microwave-safe bowl. Heat in the microwave at half power in 30-second increments until the butter melts and the chocolate melts when stirred. Stir until smooth. Allow to cool slightly.
Preheat oven to 350°F.
Add the sugar and brown sugar to the chocolate mixture and stir until blended. Add the eggs, one at a time, mixing just until blended after each addition. Stir in the flour, vanilla, and salt.
Transfer the batter to the prepared pan.
To make the streusel:
Mix the flour, peanut butter, sugar, brown sugar, butter, and salt. Stir (or use a fork) until blended and crumbly. Sprinkle the streusel mixture evenly over the brownie batter.
Bake 50-54 minutes, or until a pick inserted into the center comes out with a few moist crumbs. Cool completely in pan on wire rack. Then, use the overhanging lining to remove brownies from pan. Cut into bars.