With fresh berries and sweet cherries, this Cherry Berry Crumble is the quintessential summer dessert. You'll love the irresistible nutty, buttery brown sugar crumble topping!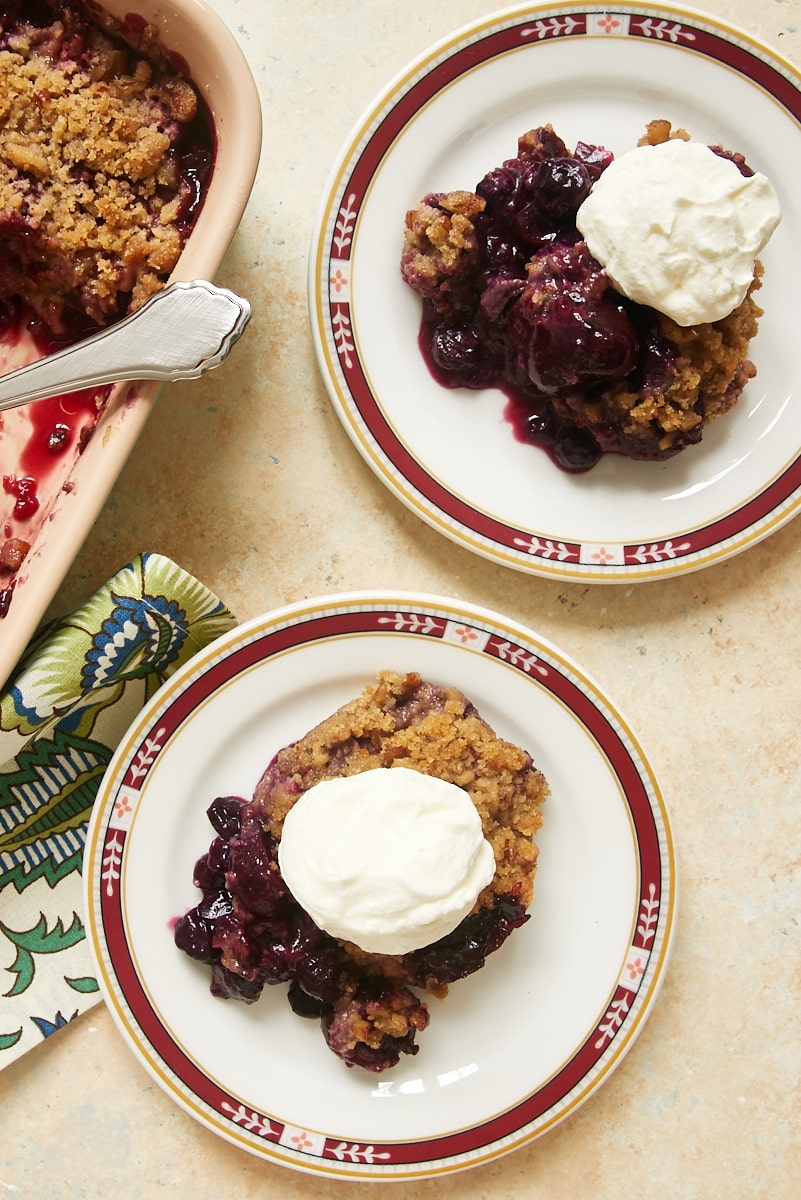 Mixed Berry Crumble With Cherries
When I find myself with small amounts of different ingredients, I try my best to find ways to use them all. Recently, I had some leftover cherries from making Brandied Cherry Trifles, along with some partial packages of strawberries and blueberries. I knew that was the perfect formula for a fruity dessert with a sweet topping!
This crumble has a lot of good things going for it. Not only is it a delicious way to use up summer fruit, it's also quick and easy to put together. Just a few minutes of mixing, a simple assembly, and it's ready to go into the oven. No mixer needed!
Of course, easy isn't everything when it comes to desserts—the flavor matters too, and this Cherry Berry Crumble has it in spades. With an assortment of fruit in this crumble, you'll get a slightly different taste in every bite! Add the buttery, nutty brown sugar crumb topping and you have the perfect summertime dessert.
What You'll Need
This is a clean-out-the-fridge kind of recipe, and as such, you can feel free to change the ratio of berries to cherries based on what you have on hand.
For the filling:
Assorted berries – Strawberries, blueberries, raspberries, and blackberries all work here.
Sweet cherries – Bing or Rainier are perfect!
Granulated sugar
Cornstarch
Lemon juice
For the topping:
All-purpose flour – Here's how to measure flour.
Light brown sugar – Although you can use dark brown sugar in a pinch, it has a deeper molasses flavor that can distract from the berries.
Salt
Unsalted butter – You'll need this butter to be as cold as possible.
Chopped nuts – Pecans and hazelnuts are my favorites for this recipe.
Ice cream or sweetened whipped cream – Optional, but highly recommended!
Is There a Trick to Pitting Cherries?
A cherry pitter is nice, but you don't need one to remove the pits from cherries! You can use a stainless steel straw or chopstick to push the pits out of the cherries instead. Just make sure you do this over a bowl—it will be messy!
How Do You Thicken Fruit for a Crumble?
There are two options when it comes to thickening fruit: cornstarch and flour. In this recipe, you'll use cornstarch to thicken the liquid that's released by the fruit as it bakes.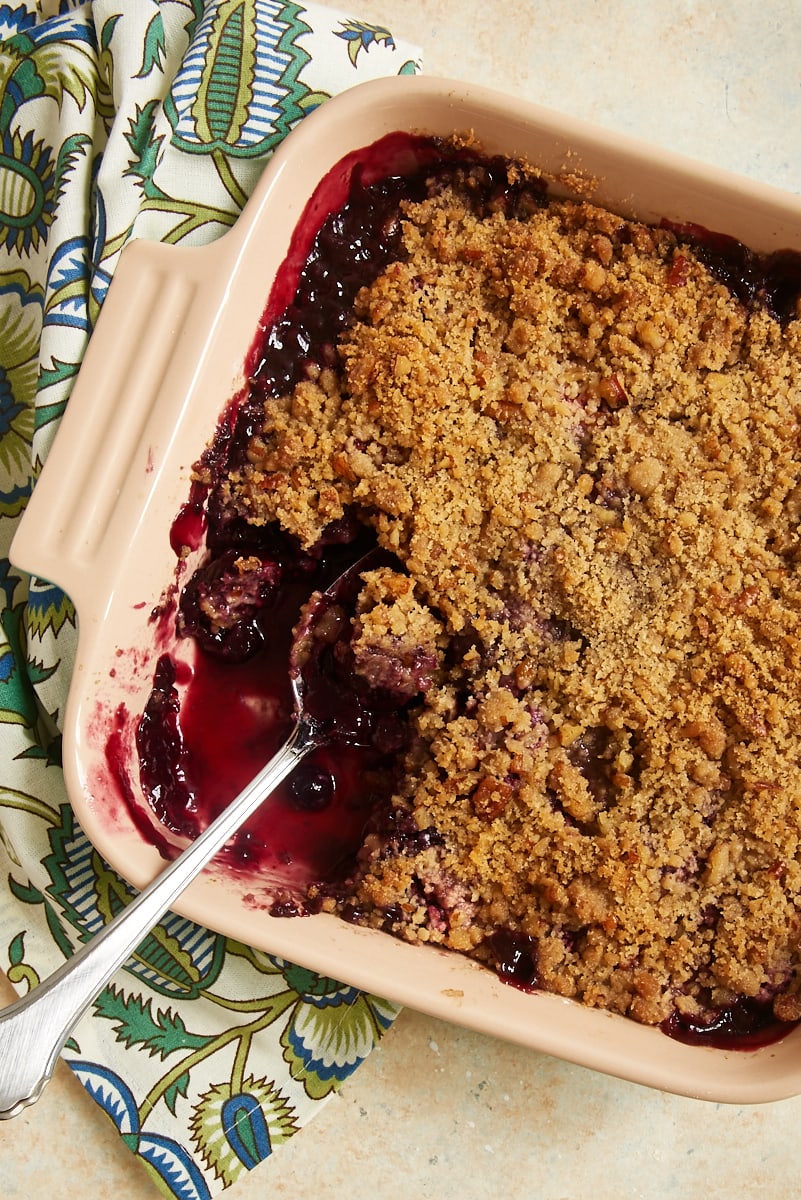 How to Make Cherry Berry Crumble
Ready for a summer dessert that's practically effortless to make? Here's what you'll need to do.
Prepare. Preheat your oven to 375°F.
Make the filling. Gently toss the berries, cherries, sugar, cornstarch, and lemon in a large mixing bowl.
Make the topping. In another bowl, combine the flour, brown sugar, and salt. Mix in the butter with a pastry blender, a fork, or your fingers until crumbs form. Fold in the nuts.
Assemble. Pour the fruit mixture into a 2-quart baking pan, then sprinkle the topping evenly over the fruit.
Bake. Place the pan on a lined, rimmed baking sheet to catch any overflow. Bake for 40 to 45 minutes, or until the topping is nicely browned and the filling is bubbly.
Serve. Serve the crumble warm or at room temperature with a scoop of vanilla ice cream or a dollop of whipped cream.
Why Is My Crumb Topping Not Crumbly?
The culprit here is usually warm butter. If your butter starts out warm, or you mix the crumble topping too vigorously, you can end up with a topping that's more batter-like than crumbly. To prevent this, use butter fresh from the fridge or even pop it in the freezer for a few minutes before making the crumble topping.
Tips for Success
This recipe is easy as can be, but here are some additional pointers!
Use quality fruit. Cosmetic imperfections are fine, but under-ripe or over-ripe fruit won't magically transform into a delicious crumble when baked!
Make sure the berries are dry. If they're freshly washed and still have water clinging to them, they'll introduce extra moisture into the filling. Let them drain in a colander after washing or, if you're in a time crunch, pat them dry with paper towels.
Watch the topping. If the nuts appear to be browning too quickly, you can tent the crumble with foil to keep them from burning.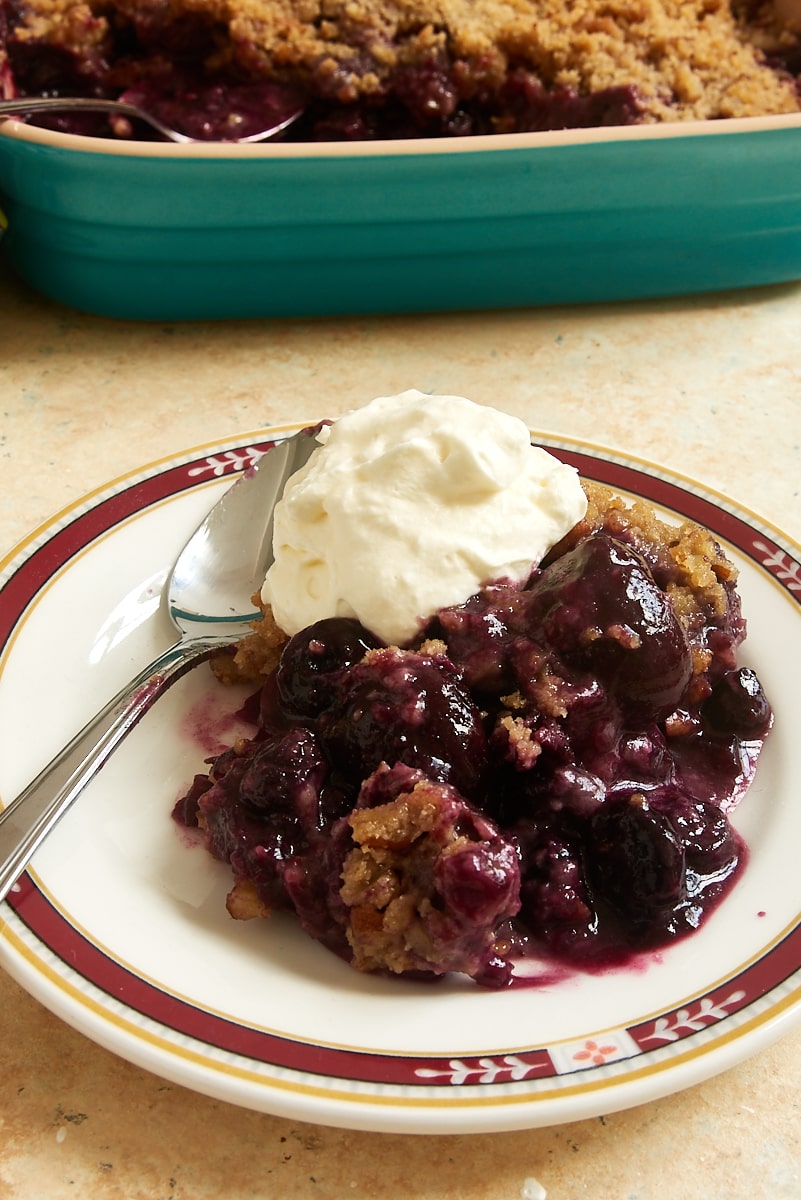 How to Store and Reheat
If you have some Cherry Berry Crumble leftover, you can wrap it in the baking dish or transfer it to an airtight container. Refrigerate it for 3 to 4 days. You can eat it cold, let it come to room temperature, or warm it up in a microwave or 350ºF oven.
Can This Recipe Be Frozen?
This Cherry Berry Crumble recipe can be frozen either before or after baking; wrap it well and store it in the freezer for up to 3 months.
If the crumble is frozen before baking, you can either let it thaw in the refrigerator and bake it at 375ºF for 40 to 45 minutes, or bake it from frozen and add an extra 10 to 15 minutes to the baking time. Only bake from frozen if you used a baking dish that's safe for going from freezer to oven!
If the crumble is frozen after baking, it can be reheated in a 350ºF oven for about 15 minutes if thawed first, or about 30 minutes if it's frozen.