This Chocolate Chunk Banana Bread is moist, dense, and jam-packed with rich chocolate in every bite. One of my favorite banana bread recipes!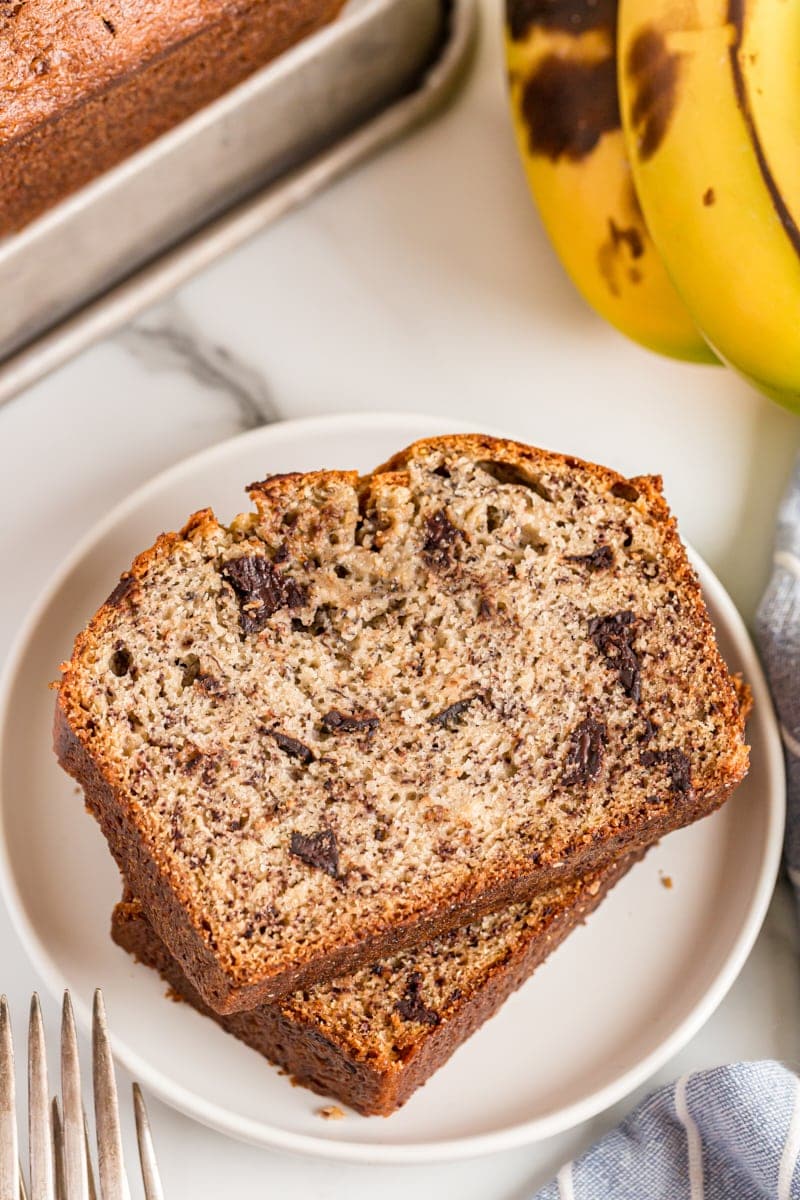 Moist Banana Bread with Chocolate Chunks
Ah, banana bread. I feel bad for it sometimes. As much as I like it (and I do: 8 Must-Bake Banana Bread Recipes), it's usually an afterthought. I never plan to make it. It's only when I spot overripe bananas that I start contemplating what to bake with them.
For a little variety this time around, I went with one of my favorite variations that features the banana-chocolate combo. This Chocolate Chip Banana Bread recipe is quite generous in the chocolate department!
While you can certainly use chocolate chips, I like to use chopped chocolate in this banana bread. This gives you varying sizes of chocolate pieces, including little thin slivers that melt into the bread while it bakes and big chocolate chunks that add a satisfying texture.
The result is lots and lots of chocolate ribboned throughout the bread and more than plenty in every bite—and a banana bread so good, it will never be an afterthought!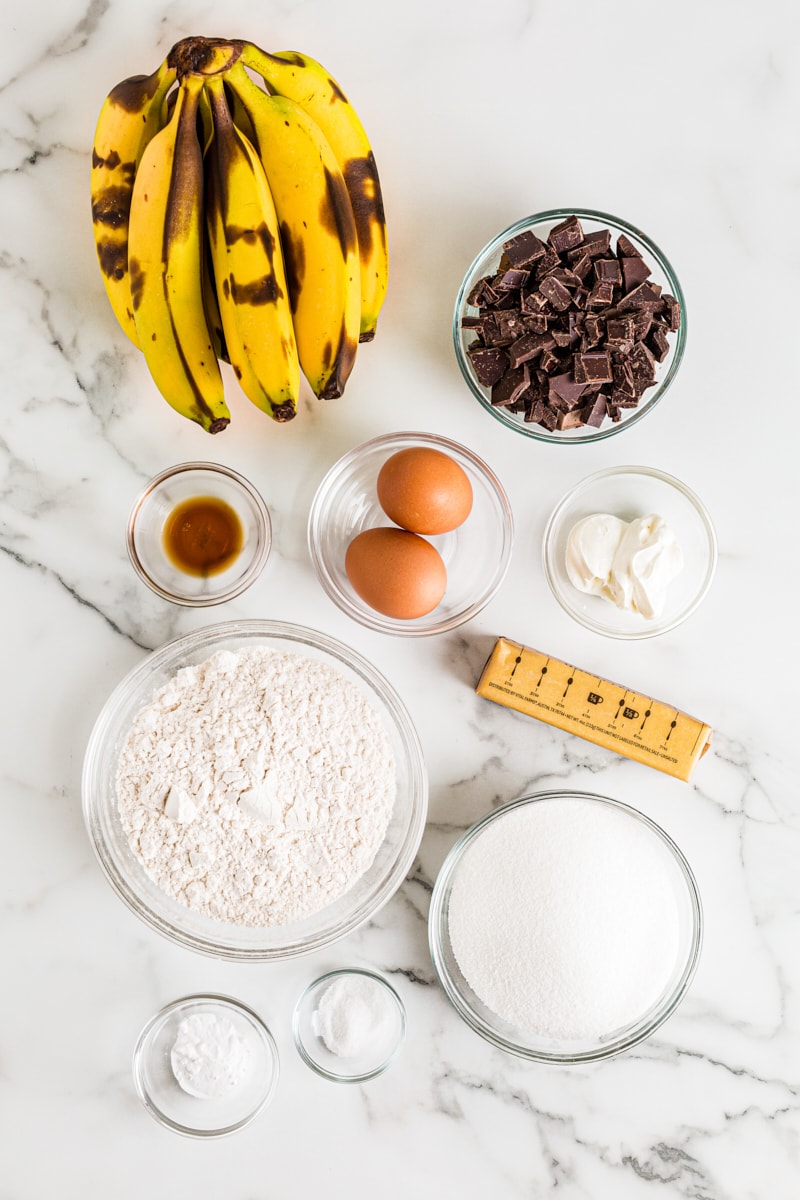 What You'll Need
You don't need anything fancy for this recipe! It's a pretty standard banana bread, made special with the addition of chopped bittersweet chocolate.
All-purpose flour – Too much flour leads to dry banana bread, so take care to measure carefully. Learn how to measure flour.
Baking soda
Salt
Unsalted butter – Let this soften to room temperature for about half an hour before baking.
Granulated sugar
Eggs
Mashed overripe bananas – The more ripe they are, the more banana flavor your bread will have. You'll need about 3 to 4 ripe bananas, depending on their size. Mash them with a fork, a potato masher, or some other implement. (Bananas not ripe yet? Read this: How to Ripen Bananas)
Sour cream
Vanilla extract
Bittersweet chocolate – Use a sharp knife to coarsely chop the chocolate. Alternatively, you can use bittersweet or semi-sweet chocolate chips.
What Is the Difference Between Semisweet and Bittersweet Chocolate?
Bittersweet chocolate is made with less sugar and contains 70% cacao, while semisweet chocolate is made with 60% cacao and it's sweeter because it's made with more sugar. Bittersweet chocolate has a deeper, richer flavor that you'll appreciate in this Chocolate Chunk Banana Bread!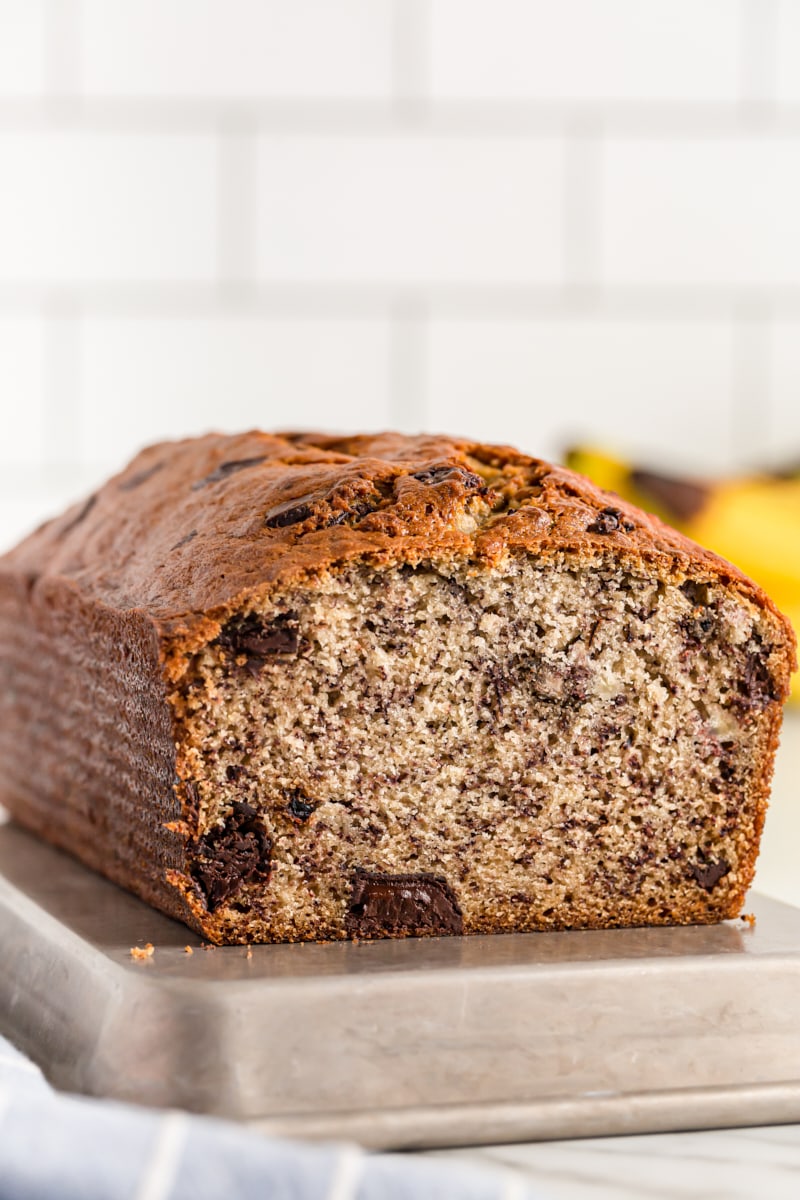 How to Make Chocolate Chunk Banana Bread
Like most banana bread recipes, this one is a breeze to make and comes together in a matter of minutes. The hardest part is waiting for it to cool!
Prepare. Preheat your oven to 350°F and generously grease a 9″x 5″ loaf pan. If you prefer, line the pan with parchment paper and grease the paper.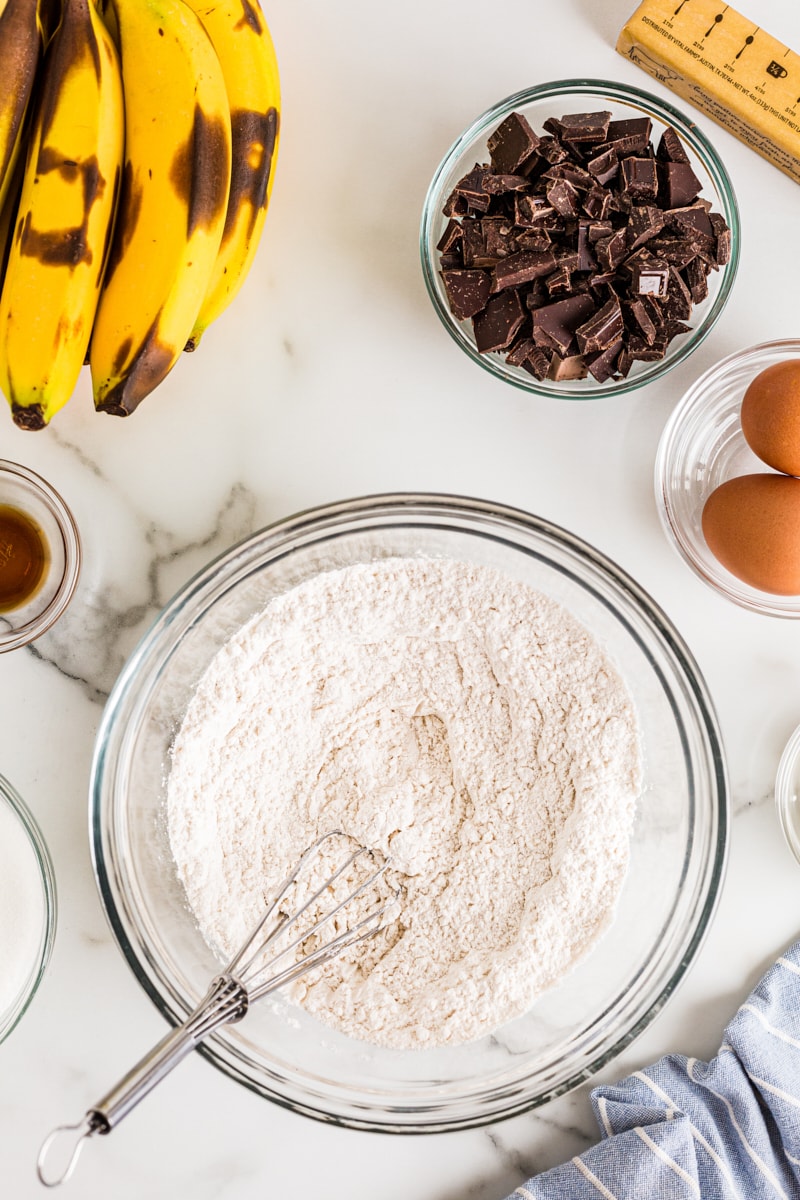 Mix the dry ingredients. Whisk the flour, baking soda, and salt in a medium mixing bowl.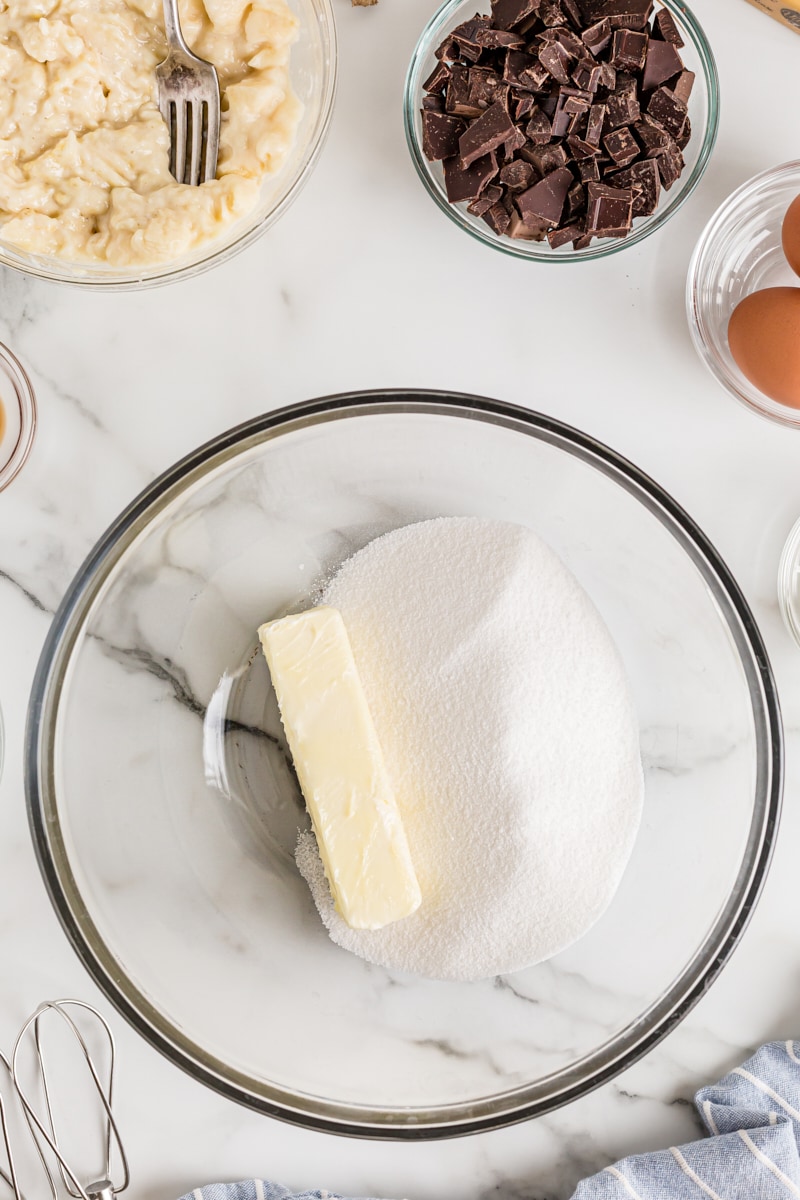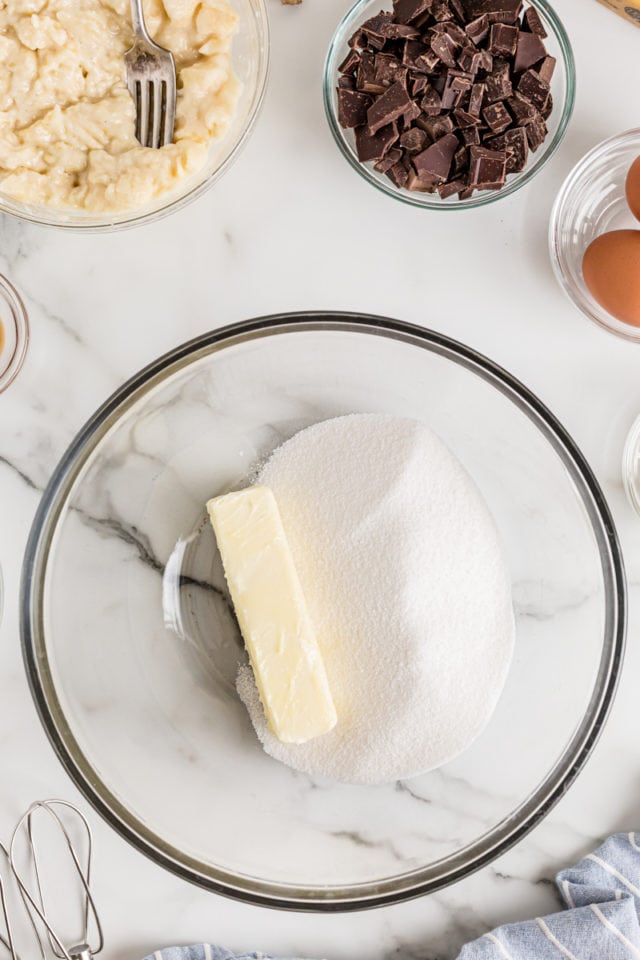 Mix the wet ingredients. Use an electric mixer on medium speed to beat the butter and sugar until they're light and fluffy. Beat in the eggs one at a time, followed by the bananas, sour cream, and vanilla. Continue beating until the ingredients are well-combined.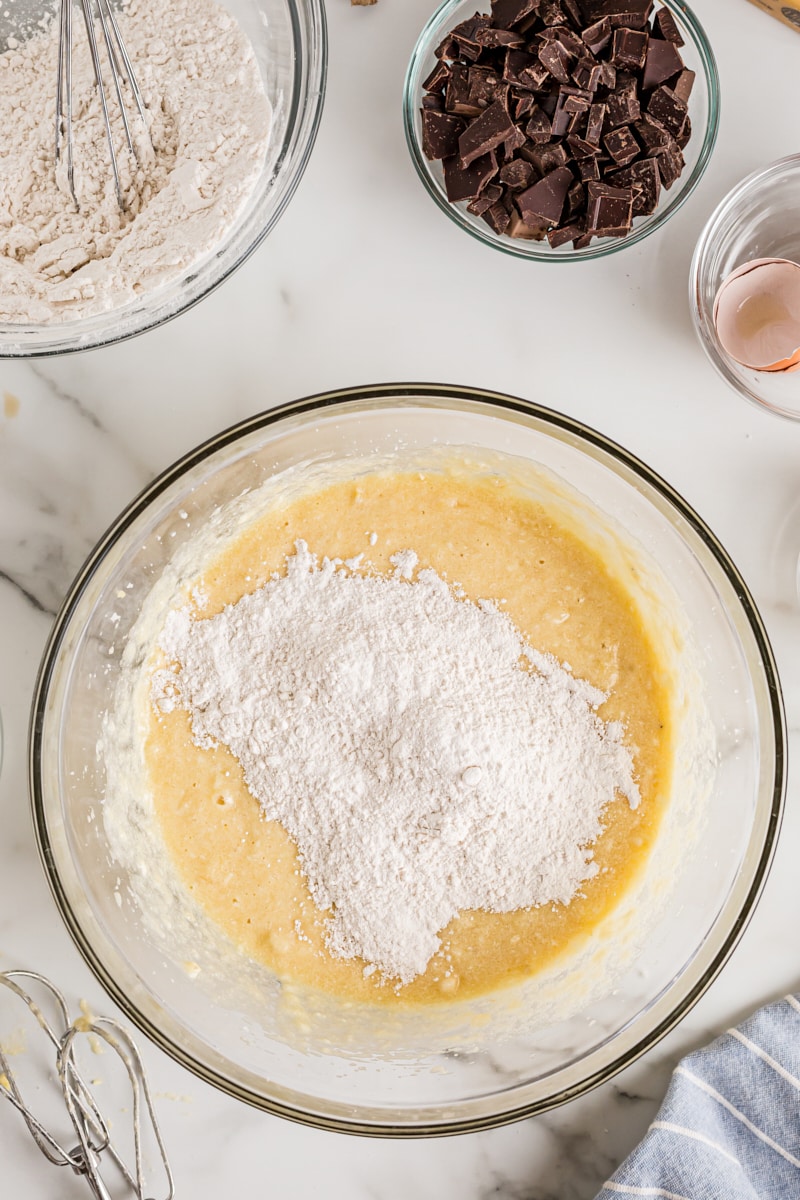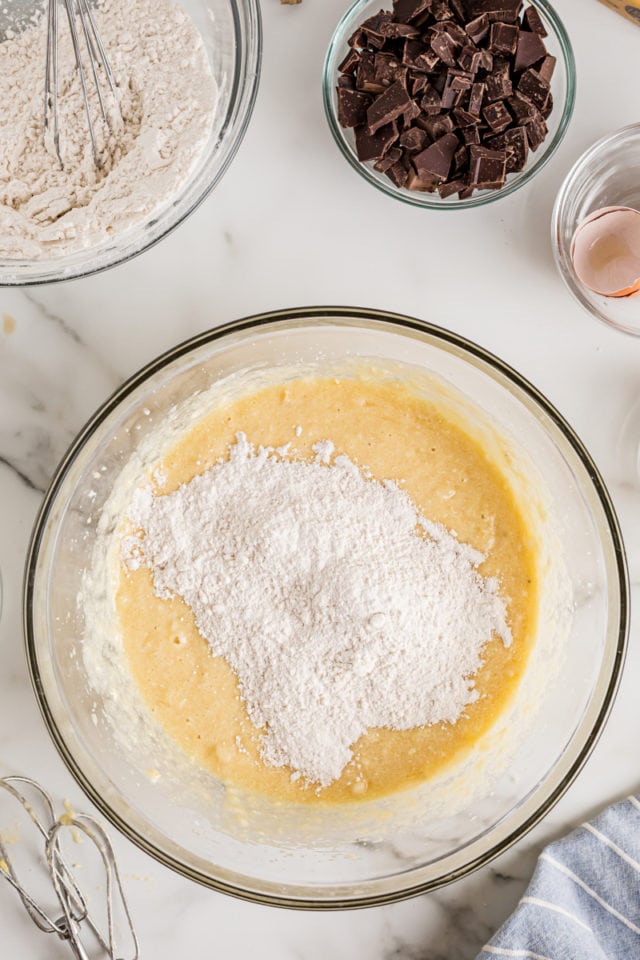 Combine the wet and dry ingredients. Slowly add the flour mixture to the wet ingredients, beating just until combined. Fold in the chopped chocolate.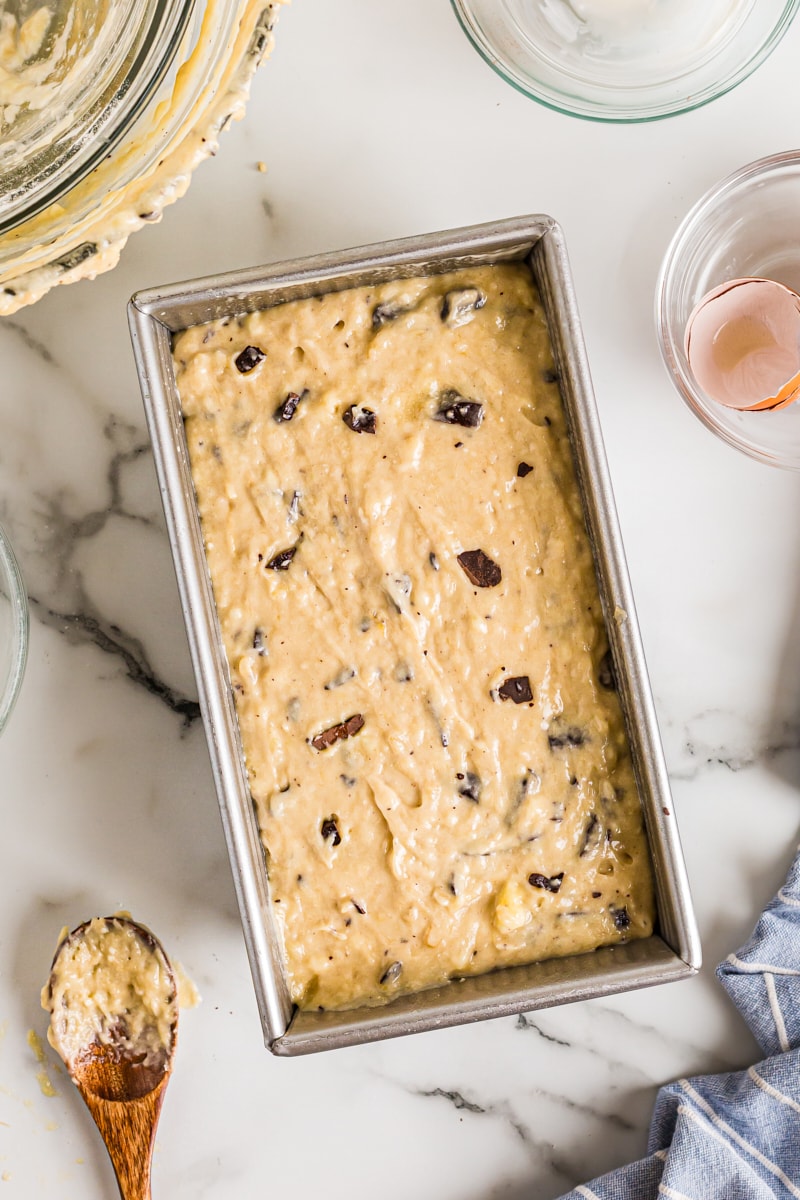 Bake. Transfer the batter to the prepared pan and bake for 50 to 60 minutes, or until a toothpick inserted into the center of the loaf comes out clean.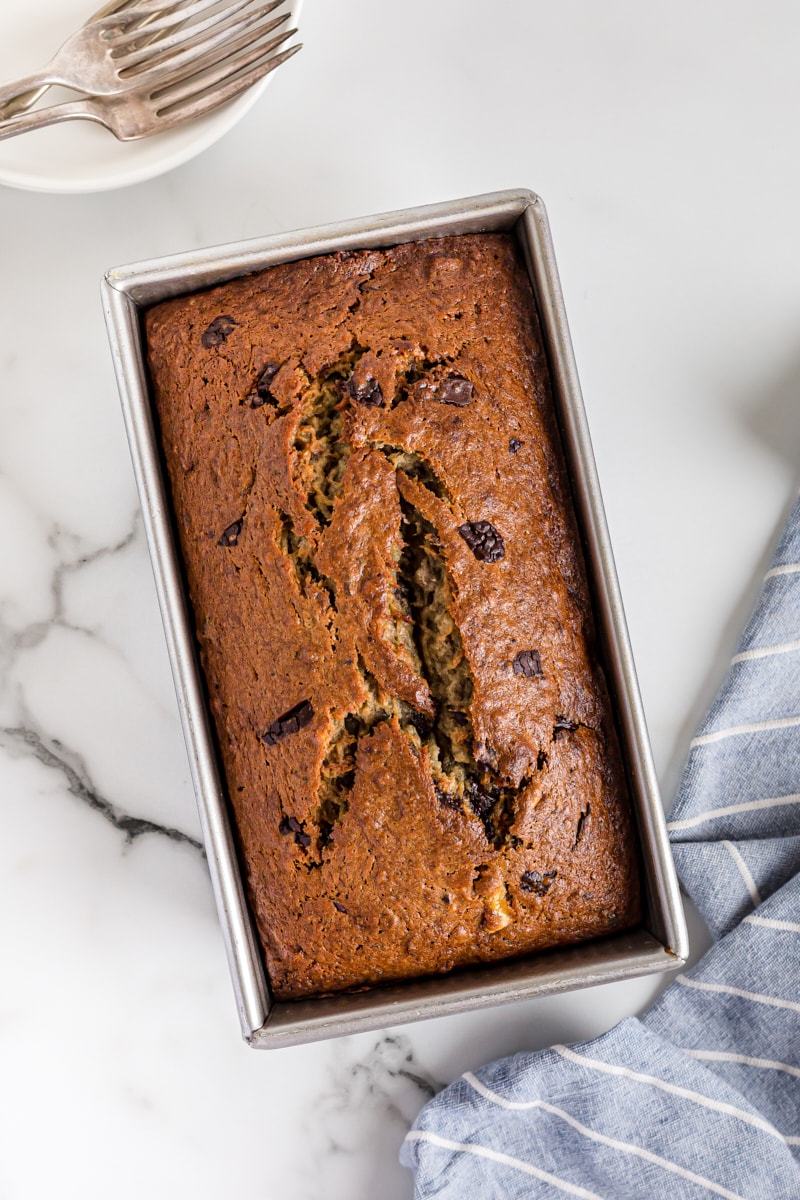 Cool. Let the bread cool in the pan for about 10 minutes, then transfer it to a wire rack to finish cooling before cutting into slices. (Learn more: Why Every Baker Needs Wire Cooling Racks)
Do You Eat Banana Bread Hot or Cold?
Traditionally, banana bread is eaten at room temperature, but with the chocolate chunks in this recipe, it's especially good warmed up a bit so the chocolate melts. Serve it with a scoop of ice cream or homemade whipped cream for a decadent dessert!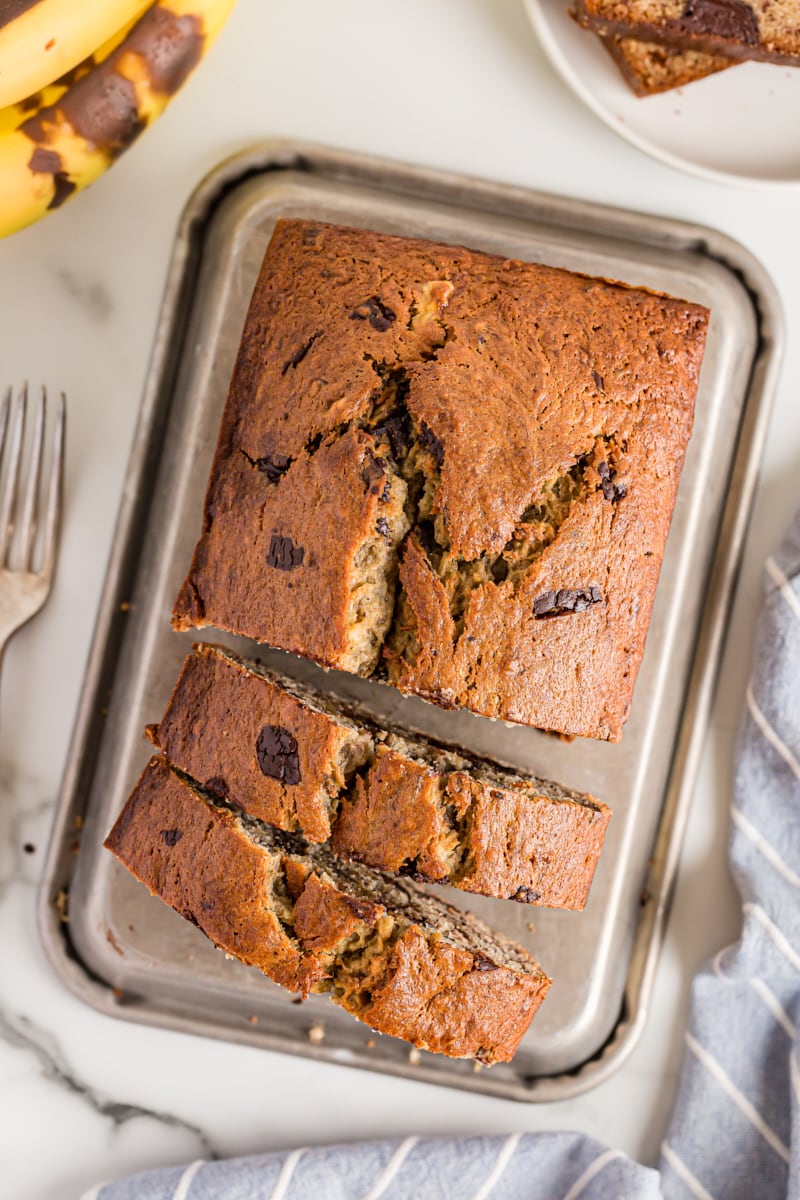 Tips for Success
Here are some hints and tips for perfect Chocolate Chunk Banana Bread!
Swapping out the sour cream. If you'd like, you can use plain yogurt instead of sour cream in this recipe, but be sure to use full-fat (whole milk) yogurt rather than a lighter variety.
Use a tall loaf pan. This bread bakes up nice and tall. Be sure your loaf pan is nice and tall, too, to avoid heartbreak.
Testing for doneness. Another word of caution: It can be a bit tricky to test for doneness with all that chocolate. You may need to test it in more than one spot near the center to make sure the bread is thoroughly baked.
Want to make muffins instead? See my tips for converting quick bread loaves to muffins.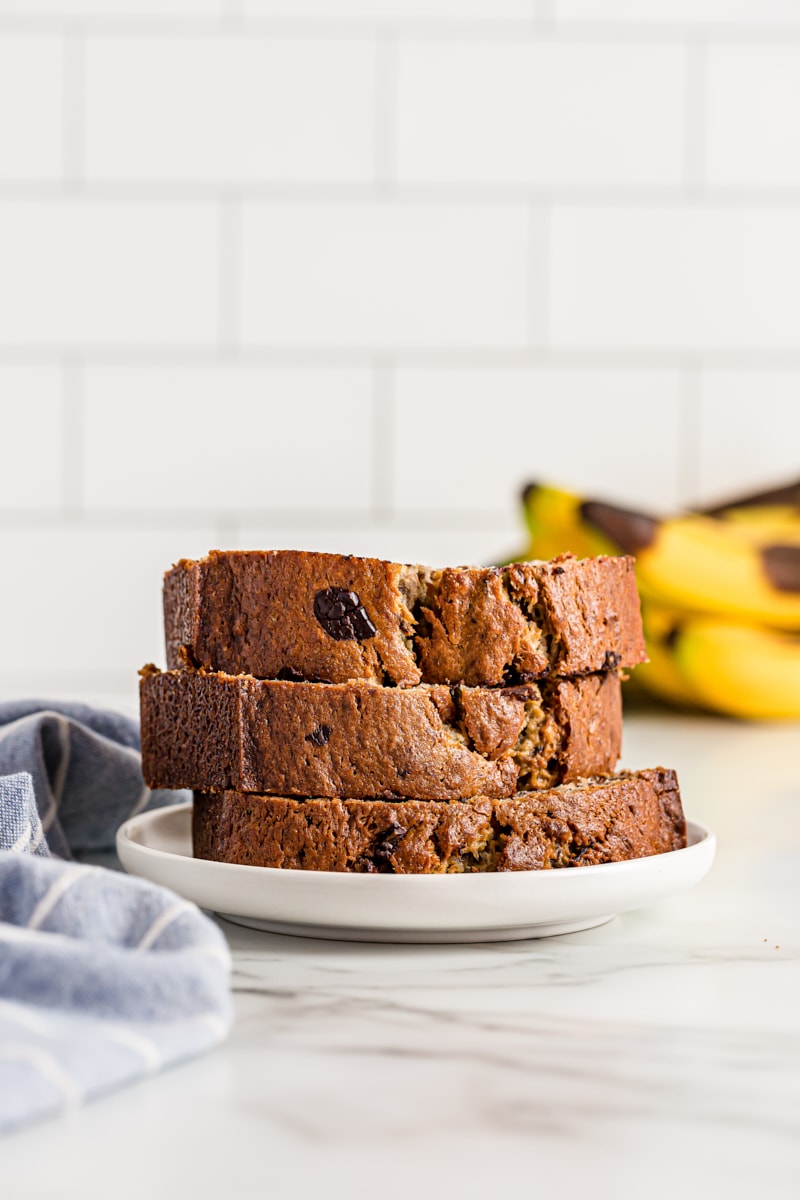 How to Store
Wrap the banana bread or transfer it to an airtight container and store it at room temperature for 3 to 4 days. It will last for up to a week in the refrigerator, but note that it's more prone to drying out in the fridge.
Can This Recipe Be Frozen?
You can freeze Chocolate Chunk Banana Bread for up to 3 months. Wrap it well in two layers of plastic wrap and then wrap again in aluminum foil or place in an airtight, freezer-safe container or bag. When you're ready to serve, remove the bread from the freezer and let it thaw on the counter.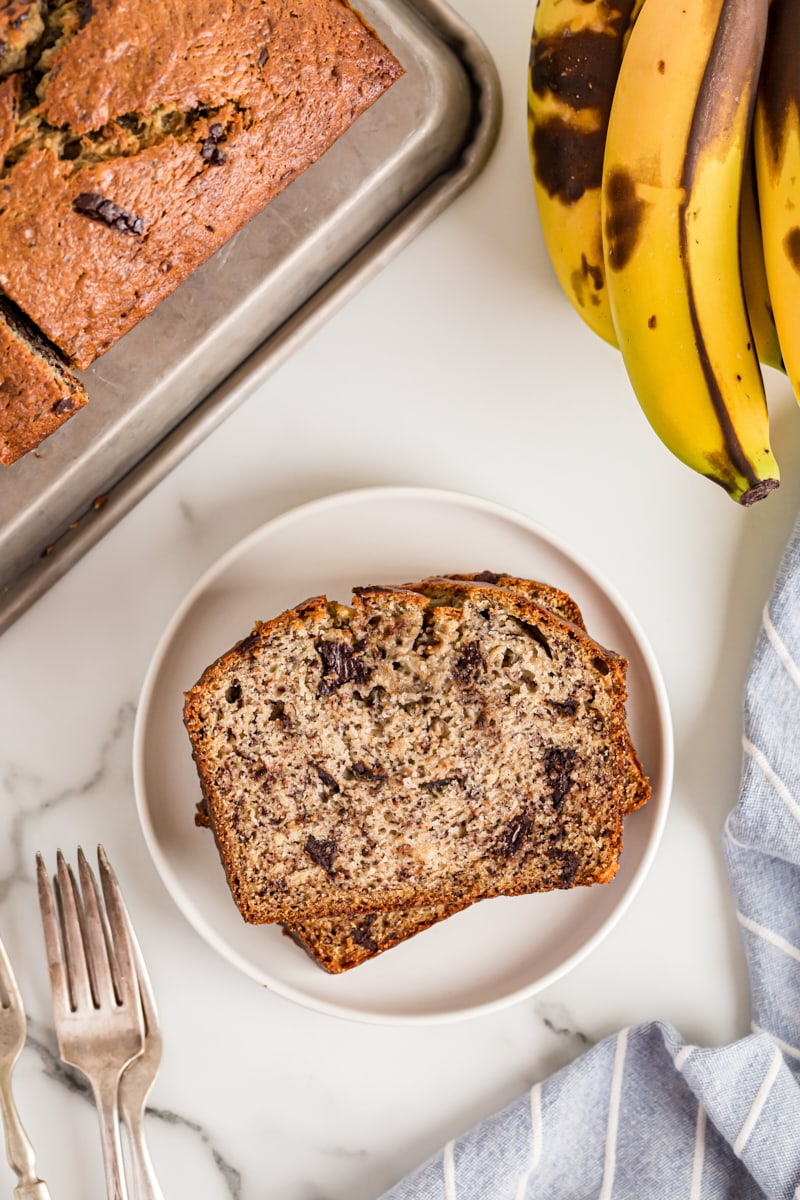 Video Tutorial: Chocolate Chunk Banana Bread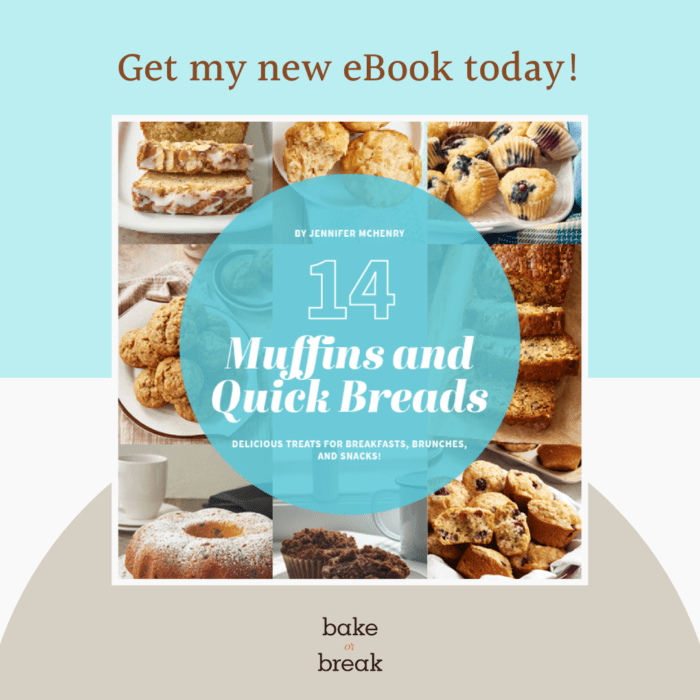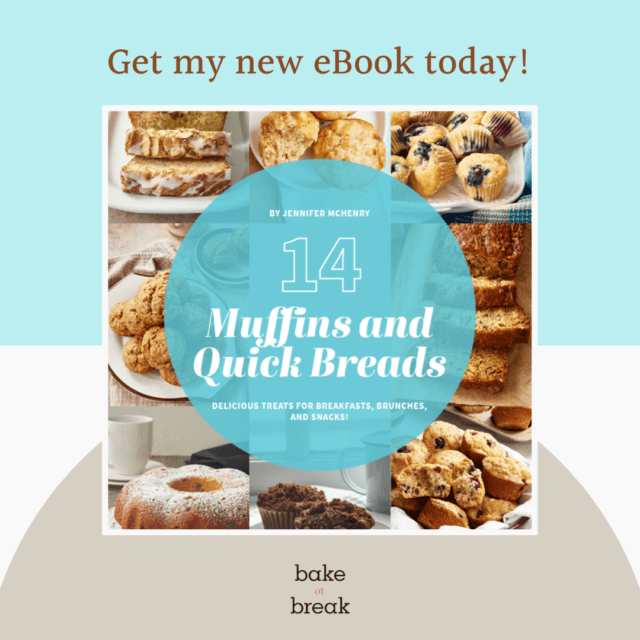 More Banana Bread Recipes