Chocolate Zucchini Bread is the perfect way to use up fresh zucchini from your garden! This recipe is easy to make and yields a delicious, moist loaf of bread. Perfect for breakfast, a snack, or even dessert!
Chocolate Zucchini Bread
I first became enamored with zucchini bread with my mother's recipe for Pineapple Zucchini Bread. I was so fascinated with using zucchini as an ingredient in baking!
I have made countless loaves of that bread, and this Chocolate Zucchini Bread is a variation of that recipe. With some alterations and the addition of cocoa powder and chocolate chips, this quick bread has some seriously amazing chocolate flavor.
If your vegetable garden is giving you lots of zucchini or even if you just like baking with it, this quick and easy bread is a great choice. It's a good excuse to have a little chocolate for breakfast, but it's also a lovely snack or even a simple dessert.
Want even more zucchini deliciousness? Check out my Zucchini Oatmeal Chocolate Chip Cookies and Frosted Zucchini Bars, too.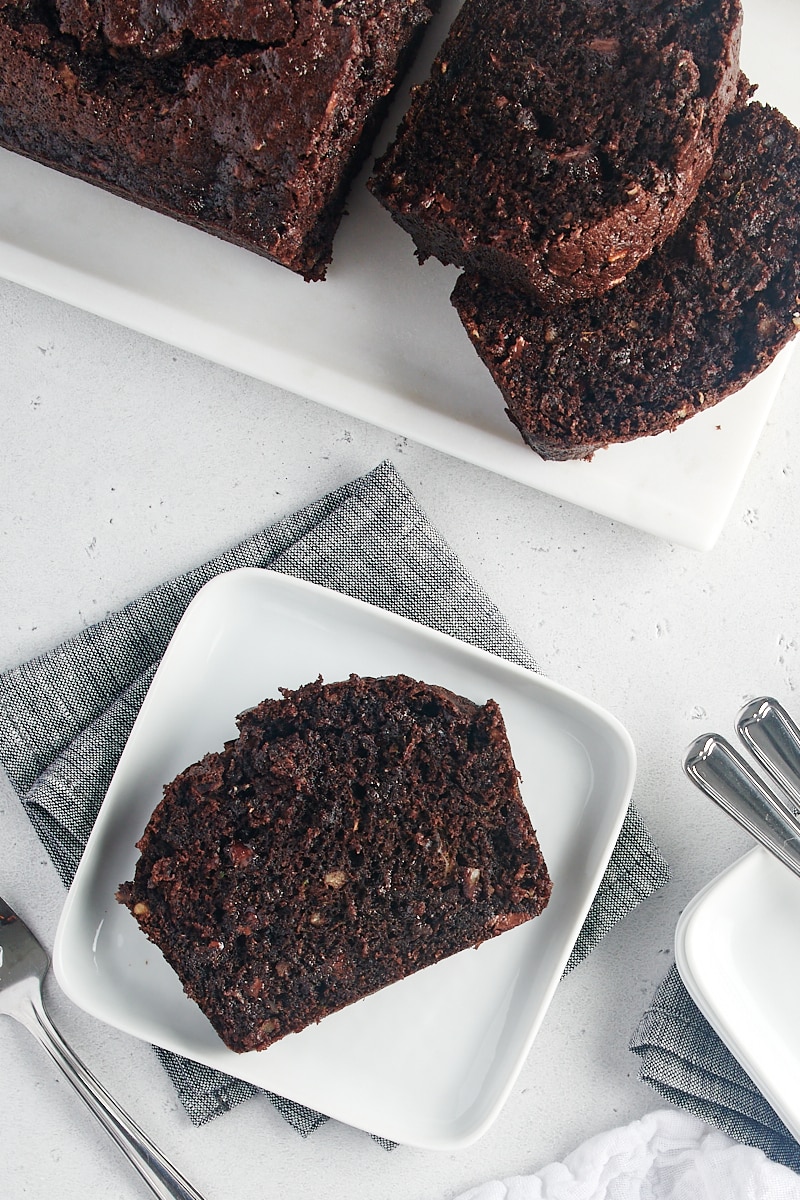 What Does Zucchini Do in Baking?
First and foremost, zucchini has a high water content, making baked goods moist. In fact, there's so much water there that you'll usually need to remove at least some of it before baking so your baked goods won't be soggy.
Keep in mind that zucchini can have varying degrees of moisture, depending on how fresh it is. If your zucchini bread turns out too wet or too dry, that variance is usually the reason.
In addition, it's a tasty way to incorporate some vegetables into your baking. Its mild flavor means that its flavor won't be prominent, so that makes it a great recipe addition for picky eaters.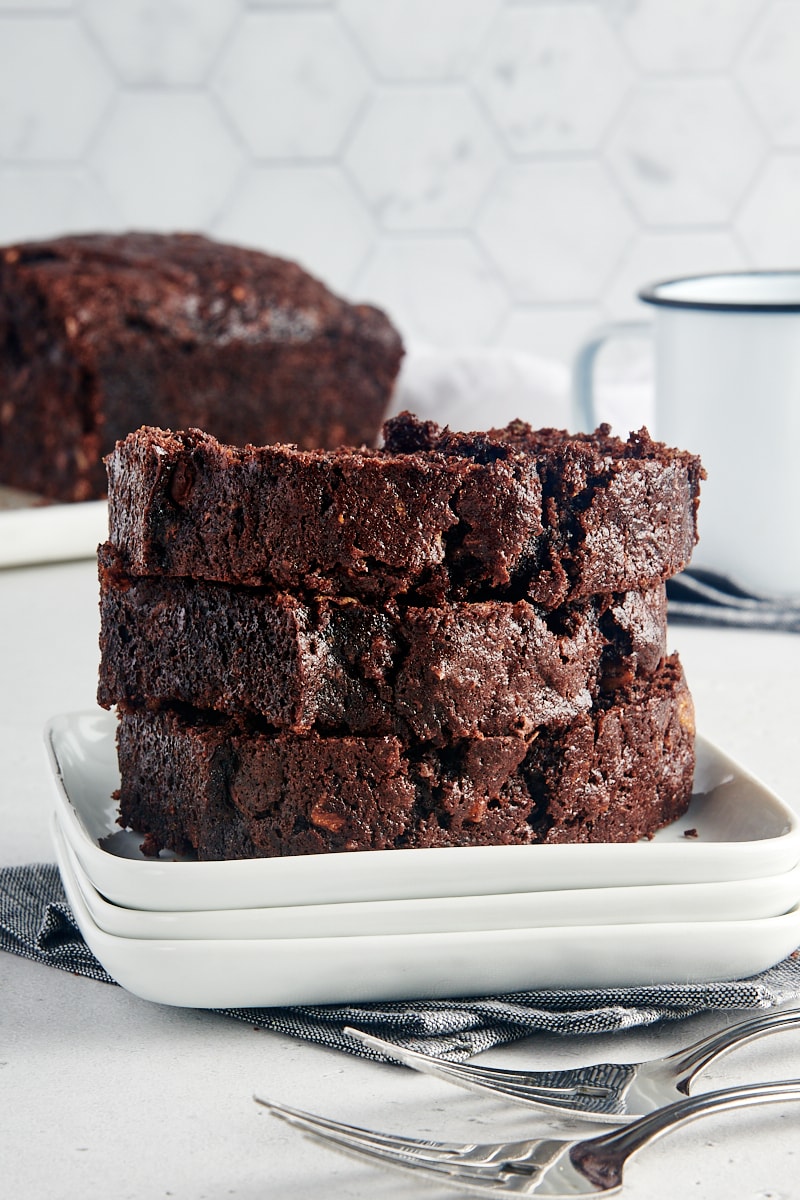 Should I Remove the Water from the Zucchini?
For this Chocolate Zucchini Bread, I like to absorb some of the moisture with a paper towel after the zucchini is grated, especially when using fresh, in-season zucchini that has quite a high water content. You don't need to squeeze it or drain it aggressively; it should still feel slightly wet to the touch. If yours is too dry, simply sprinkle a bit of water over it.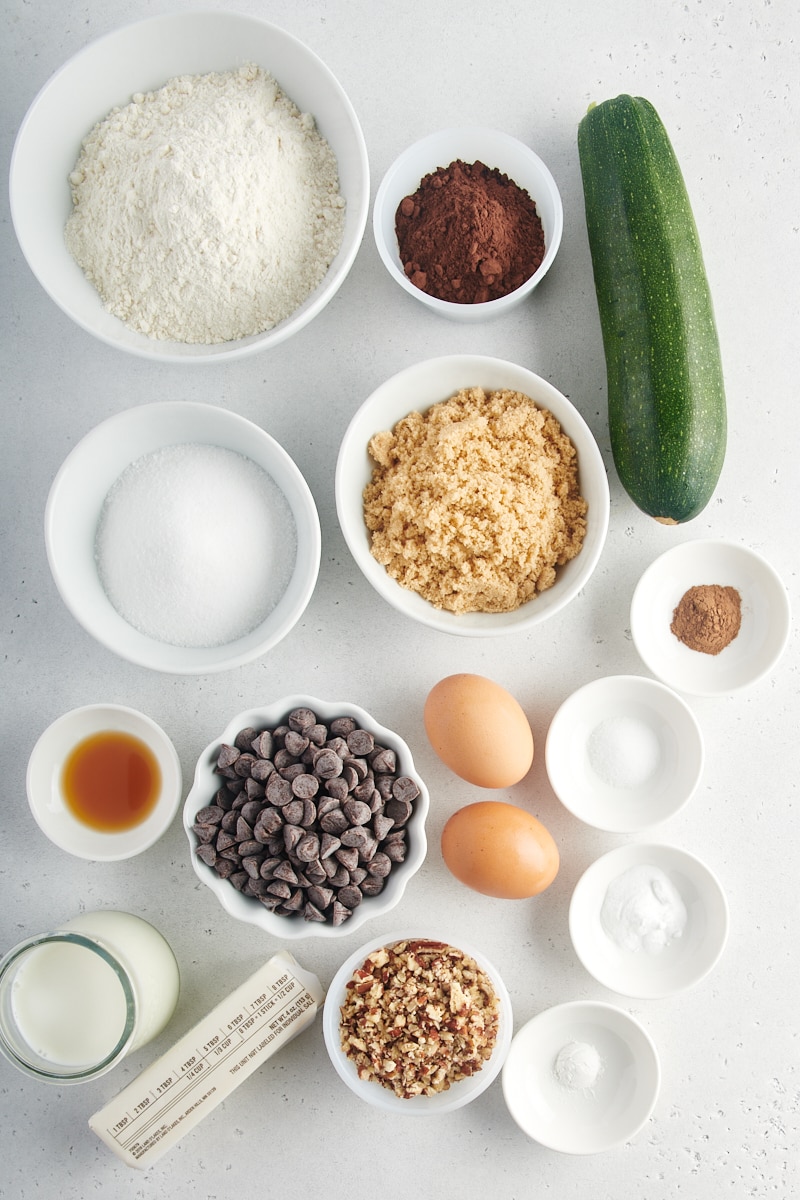 What You'll Need
Be sure to scroll down to the recipe card at the bottom of this post for ingredient quantities and full instructions. Here are some further notes on the ingredients.
All-purpose flour – As always, measure by weight or use the spoon and sweep method. Read more: How to Measure Flour
Brown sugar – Make sure yours is firmly packed if you aren't measuring by weight.
Granulated sugar
Unsweetened cocoa powder – I recommend natural unsweetened cocoa powder for this recipe.
Baking soda
Ground cinnamon – Just the hint of cinnamon in this bread is nice, but you can use a full teaspoon if you want a little more.
Salt
Baking powder
Unsalted butter – After melting the butter, be sure to let it cool briefly before mixing.
Eggs – Set these out before baking to allow them to come to room temperature. I recommend baking with large eggs.
Milk – Let the milk come to room temperature, too. I use whole milk or 2% milk, but a nondairy milk should also work.
Vanilla extract – Try almond extract for something a bit different.
Zucchini – One medium zucchini should give you enough grated zucchini for this bread. Look for a medium zucchini that is firm and doesn't sound hollow when you tap on it. You can use a box grater or a handheld grater.
Chocolate chips – I like semisweet chocolate chips, but go darker if that's your preference. The extra punch of chocolate is nice, but you can also omit them if you like.
Chopped nuts – These are optional, but I like the added crunch. Pecans, walnuts, and hazelnuts are all good choices.
Should Zucchini Be Peeled for Baking?
Whether or not you peel the zucchini is a matter of preference. Like many vegetables and fruits, a lot of the flavor and nutrition comes from the peel. Grated zucchini has so much water in it that it will melt into the bread as it bakes. I generally don't peel it, but some of you may prefer to remove that outer layer.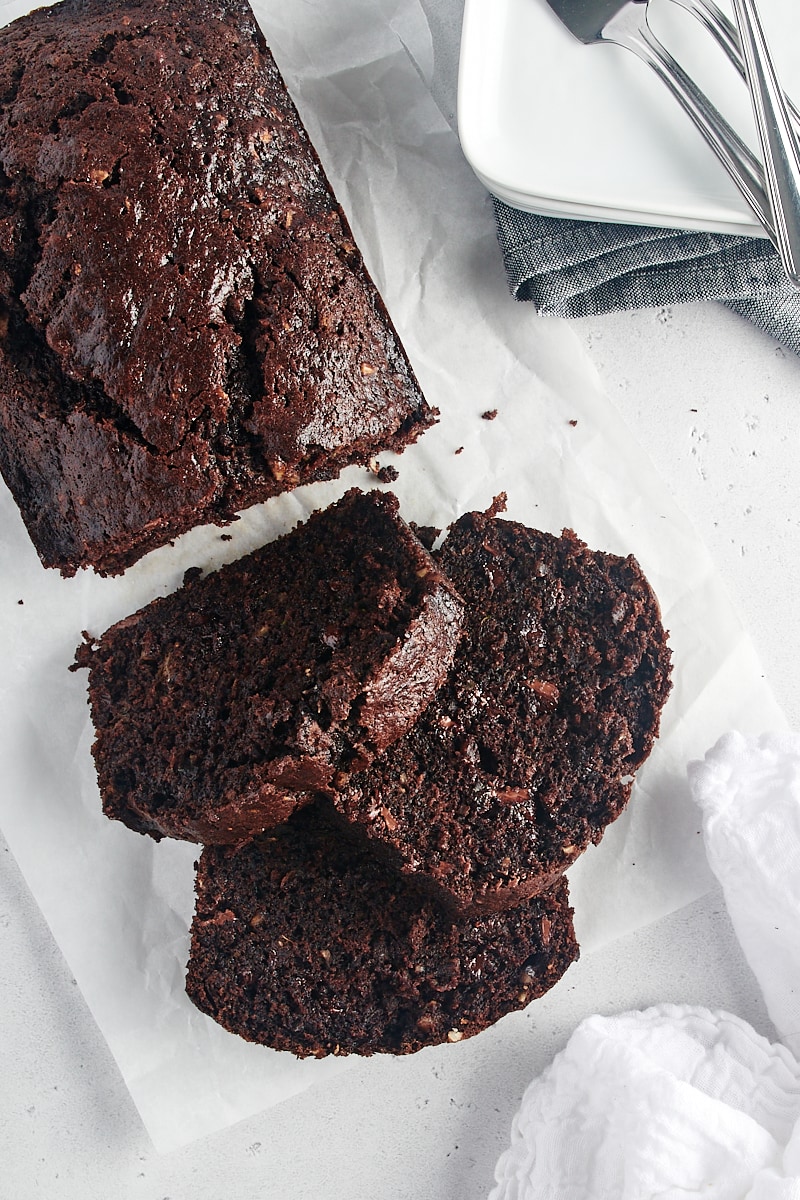 How to Make Chocolate Zucchini Bread
This zucchini bread mixes quickly and easily using the muffin method. No mixer required!
Prepare for baking. Heat the oven to 350°F. Grease a 9- x 5-inch loaf pan. If you like, line the pan with parchment paper and grease the paper as well. I recommend a cooking spray with flour, like Baker's Joy or Pam for Baking.
Combine the dry ingredients and sugars. Whisk together the flour, brown sugar, sugar, cocoa powder, baking soda, cinnamon, salt, and baking powder in a large bowl. Make a well in the center.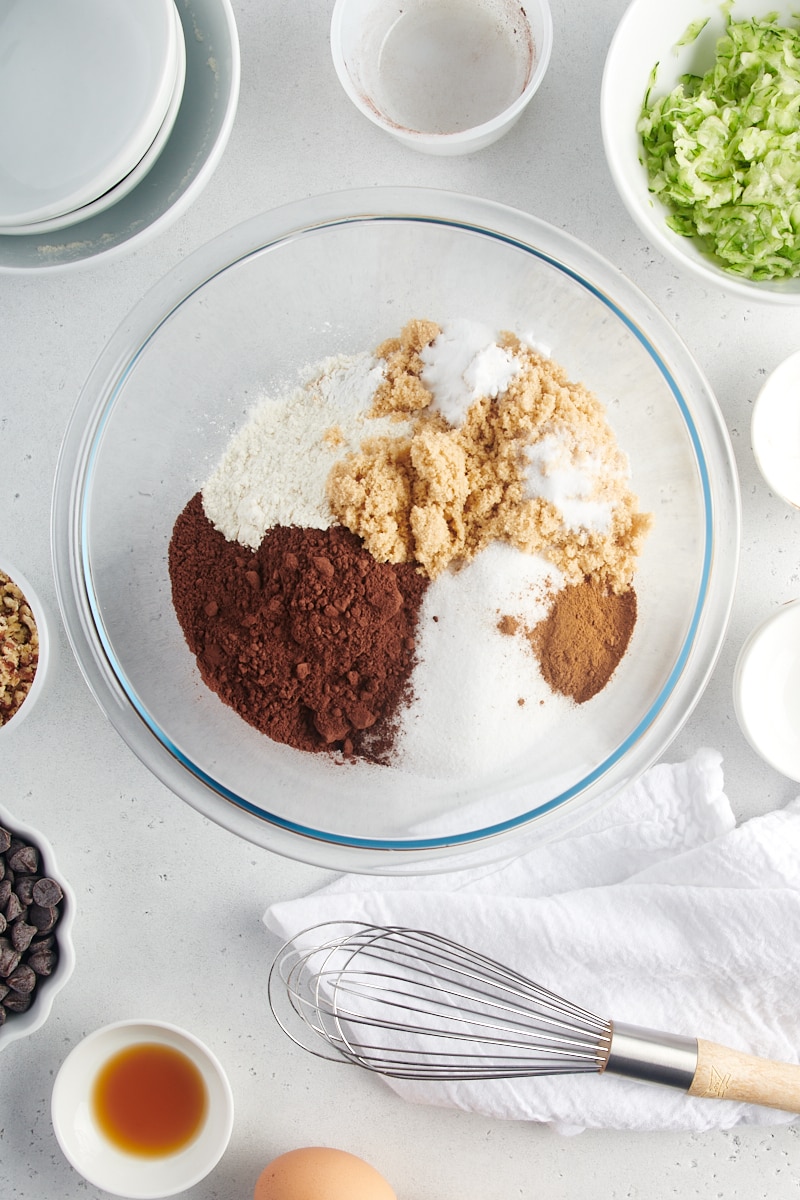 Combine the remaining wet ingredients. In a separate medium bowl, combine the butter, eggs, milk, and vanilla.
Add the wet ingredients to the dry ingredients. Pour the butter mixture into the well in the flour mixture. Stir just until combined or a few streaks of flour remain.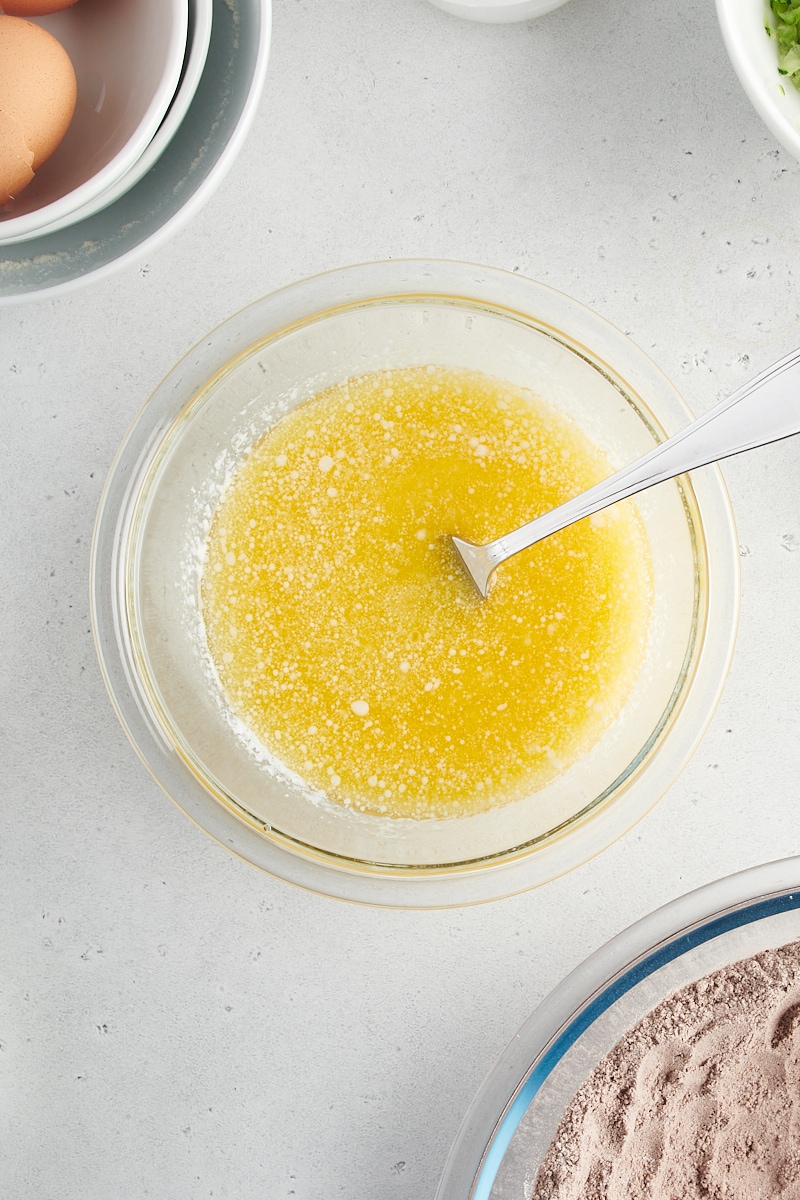 Finish mixing. Mix in the zucchini, chocolate chips, and nuts. Stir just until combined.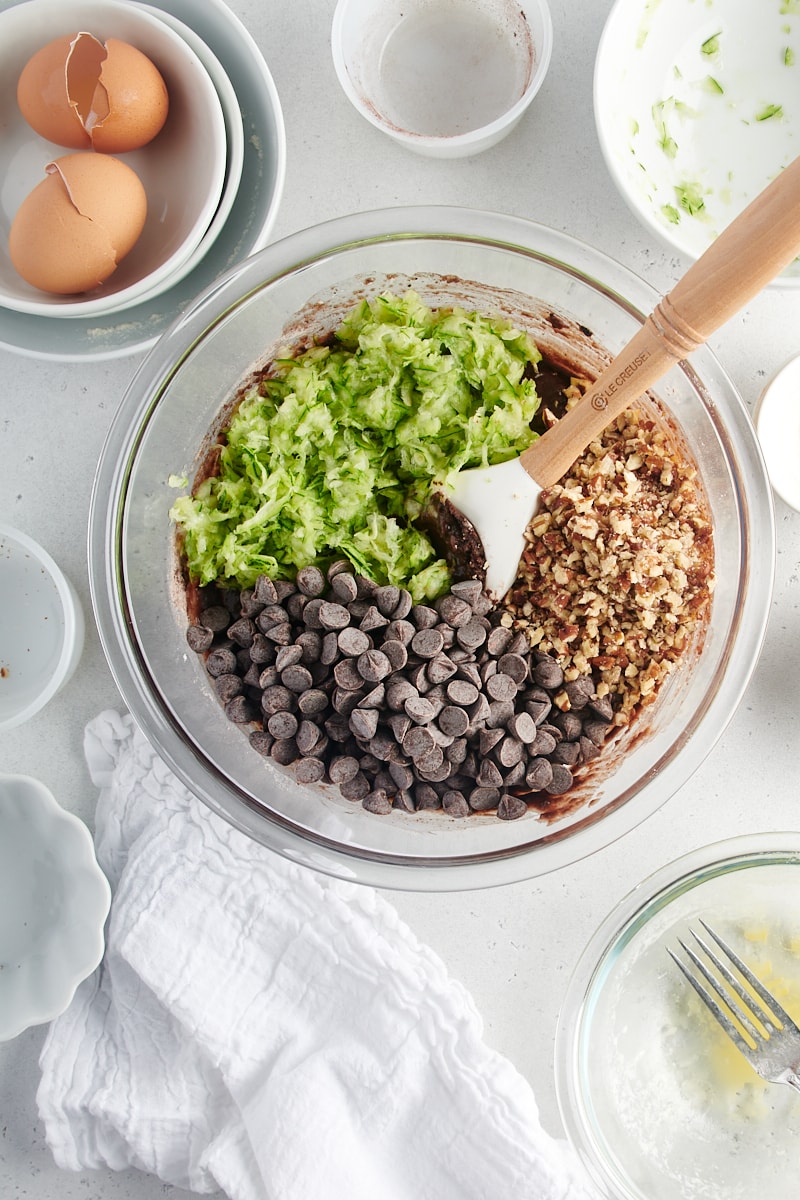 Bake. Transfer the batter to the prepared pan and spread evenly. Place the pan in the heated oven, and bake 50 to 60 minutes, or until a toothpick inserted into the center comes out clean.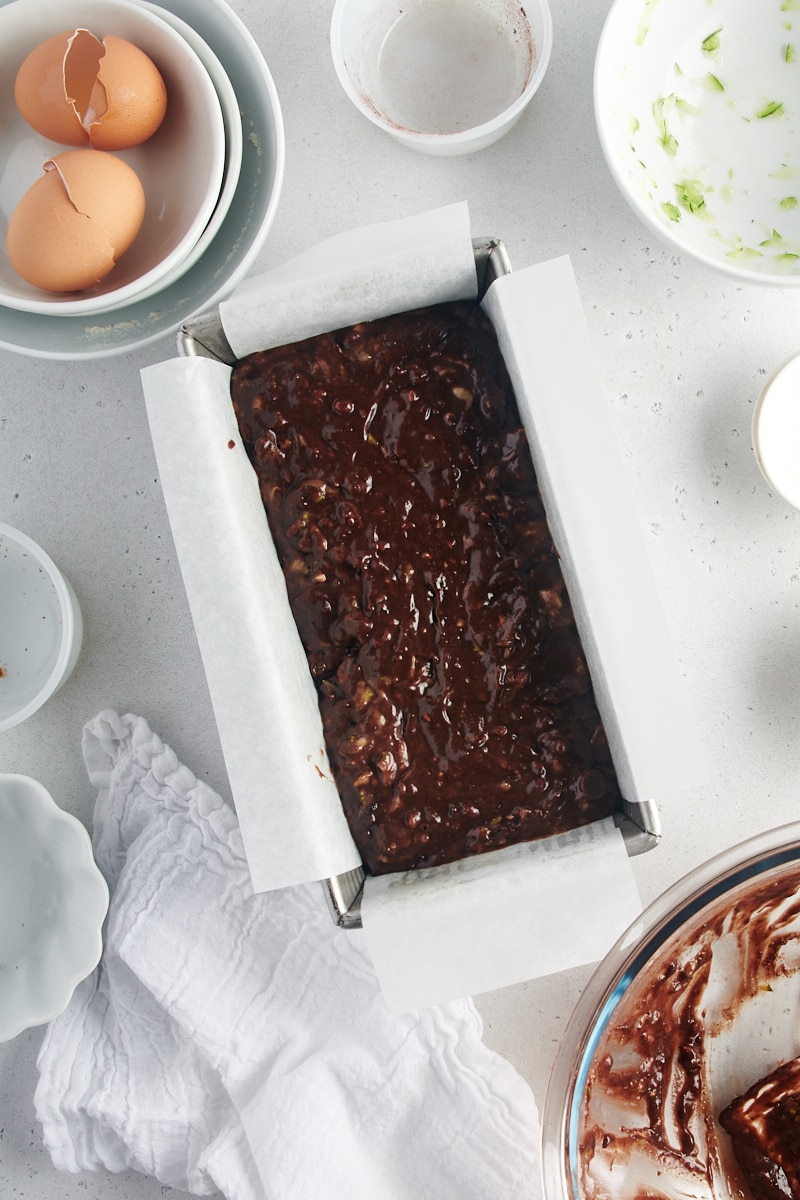 Cool. Place the pan on a wire rack and allow to cool for 10 minutes. Then remove the bread from the pan and place directly on the rack to allow it to cool completely before cutting into slices.
Tips for Success
While this Chocolate Zucchini Bread is quite easy to make, here are a few tips to help make sure yours is perfect!
Use a light-colored metal pan. Dark pans tend to over-bake the edges and bottom of the bread.
Prep the zucchini first. Grate it and place a paper towel on top to soak up some of that moisture while you gather the remaining ingredients.
Let the bread cool completely. As tempting as it is to slice into this bread while it's still hot from the oven, allowing it to cool will help ensure that you'll get nice, clean, sturdy slices.
Want to make muffins instead? See my tips for doing that here: How to Convert Loaves to Muffins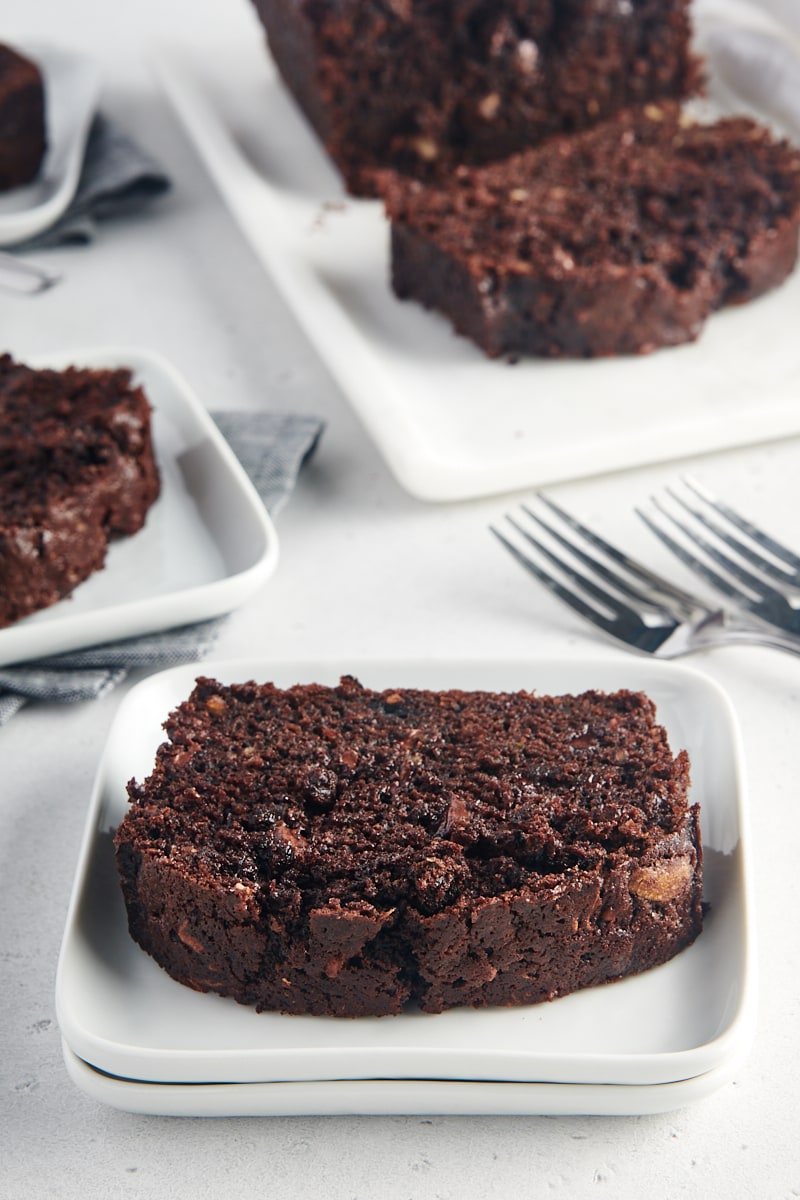 How to Store
Once the bread has cooled completely, cover it in plastic wrap or place it in an airtight container. It should keep at room temperature up to 3 days. You can extend that by a couple of days by placing the container in the refrigerator, although it can become dry when stored that way.
Can This Zucchini Bread Be Frozen?
Yes! Either wrap the loaf or individual slices in two layers of plastic wrap and then wrap again in aluminum foil or place in a freezer-safe container. Properly stored, the bread should keep in the freezer up to 3 months. Thaw for an hour or so at room temperature, or warm briefly in the microwave or oven.